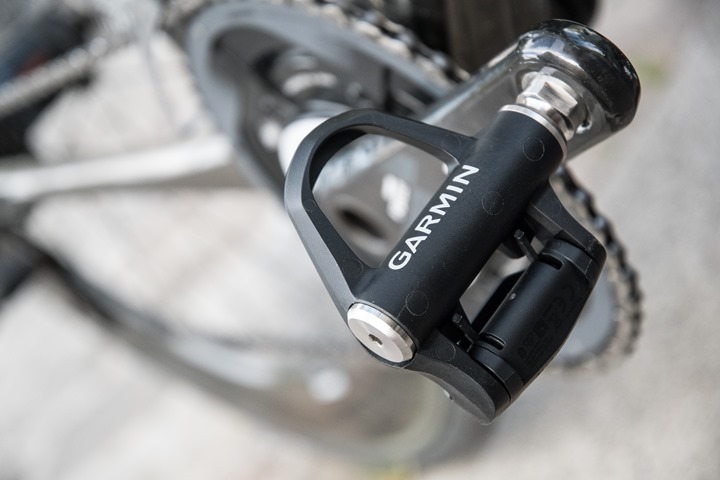 It's been exactly three months (plus a day) since Garmin announced their latest power meter, Vector 3.  With that unit they introduced a slew of both technology features and non-technology new aspects.  From a physical standpoint they got rid of the dangling pods off the side of the unit; everything is now internal.  They also went away from a 3rd party manufactured pedal, and built the whole thing from the ground up in-house.  From a technology standpoint, they increased accuracy claims to +/- 1% while also adding in Bluetooth Smart transmission (*soon), and settings configuration with your mobile phone.
The real question is – when it came to real-world usage out on the road, how would it fare?  For that, I've done a boatload of riding.  Four months of it in fact, well before Vector 3 even was announced.  I've iterated through three sets of pedals: Two pre-production sets, and then the last two months a final production set.  Vector 3 started shipping back on October 14th, 2017 at the Kona Ironman World Championships.  While production was behind schedule and at lesser volumes than Garmin had hoped, many people have seen in the last few days a significant increase in units landing in stores (finally).
Speaking of which, as always, I'll be shipping back the two remaining test units I have of Vector 3 shortly and going out and getting my own via normal retail channels.  Just like always.  If you wanna help support the blog, hit up the links at the bottom.
With that – let's get cookin'!
Unboxing:
First things first is to get things unboxed. In this case I'll be doing an unboxing of the Vector 3 dual-sending set (as opposed to the Vector 3S single-sided pedal).  I've put together a complete unboxing video that runs through all the bits in the box, plus some installation tidbits and a brief look at Garmin Cycling Dynamics:
Want all that in non-video format instead? No problem, here ya go!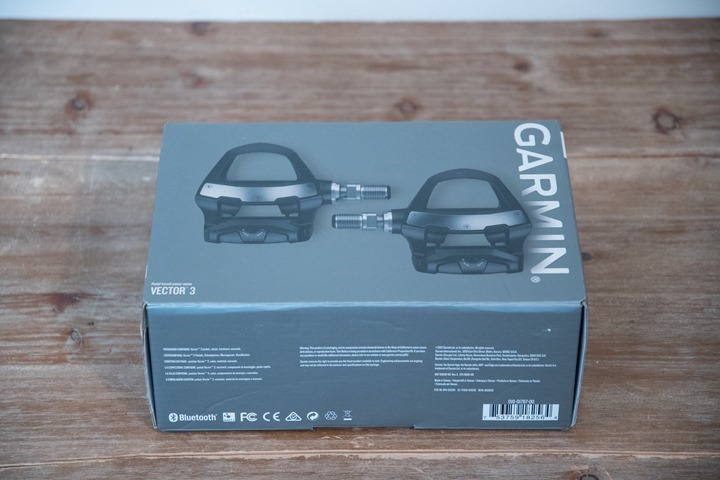 More importantly than the exterior, you'll crack open the box and find the pedal sittin' there looking up at ya: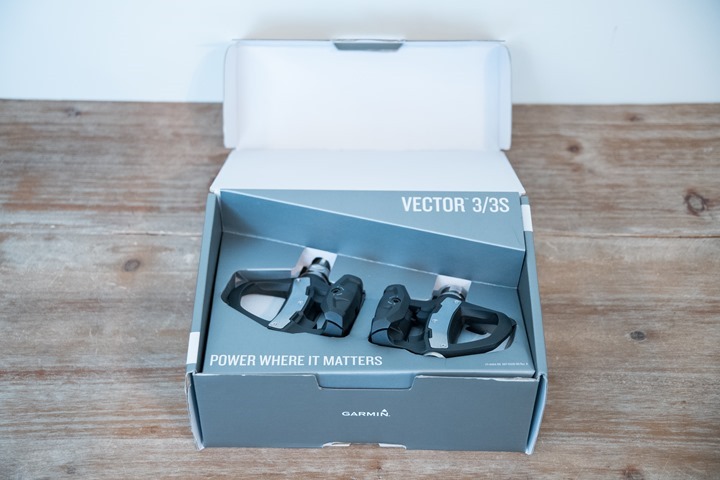 Note that if you bought a Vector 3S unit, you'll still get two pedals.  It's just that one of those pedals won't have any sensors/electronics in it.  The left pedal will have sensors, and the right pedal will be a blank.  The left power will simply be doubled to produce total power (identical to how other left-only products, like Stages Power, work).
While the pedals are fully self-contained, underneath are some additional parts you may use: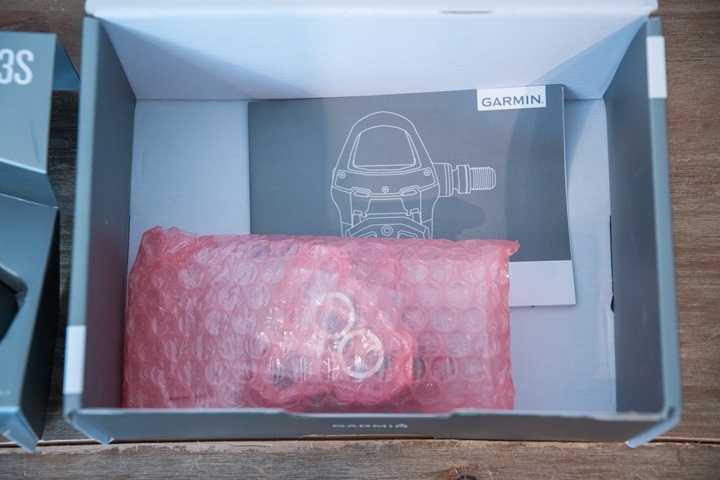 These include optional washers (if the pedal pokes through too far), as well as cleats.  These are standard Look Keo compatible cleats, so if you already have such cleats, you don't have to switch.  But everyone likes new clean cleats, right?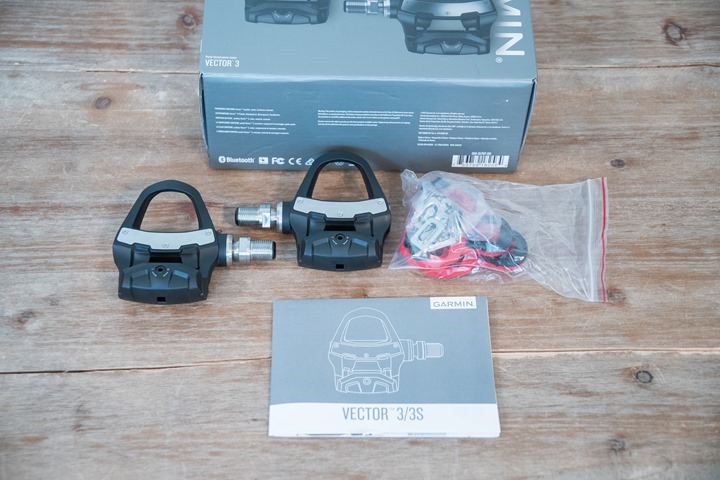 There's also the cleat mounting hardware in there as well, to attach the cleats to your shoes.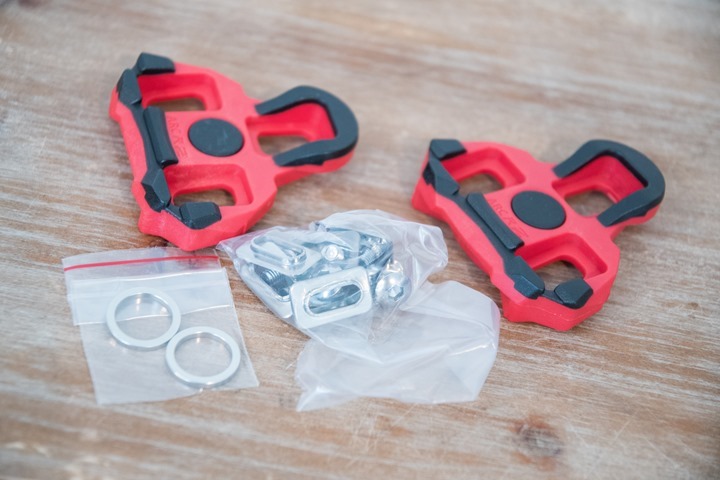 Then there's, of course, the pedals themselves.  But fear not, you're going to get so many photos of the pedals by the end of this post you're going to be…umm…a peddler.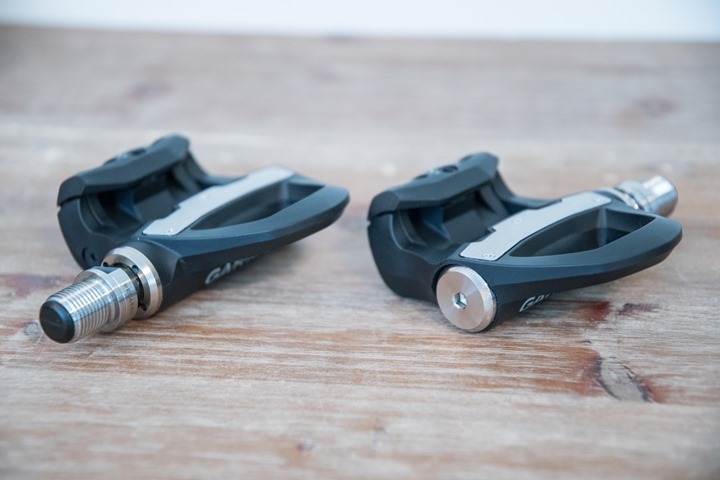 And finally, you've got the paper quick-start guide.  While short, it does a good job of covering everything you'd probably need to know in a concise manner.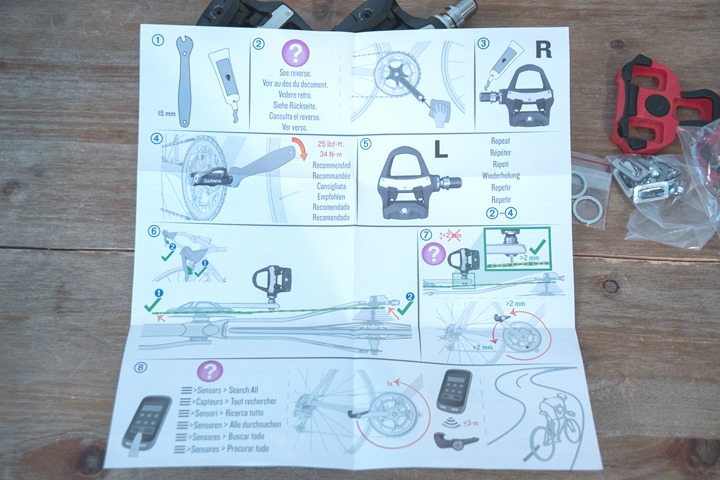 To briefly bulletize all the things that are new in Vector 3 compared to Vector 1/2, I put together this list of sorts.  I cover most of these in more depth throughout the review, so this fits in this section more as a prelude than anything else:
– No longer using Exustar pedals: Instead, they internally developed the pedal.  The Vector team said that while Exustar served them well, their goal with the pedal body "aimed to be considered like Shimano & Look".  You can see the new pedal just looks really clean now – and I'd say that at least from a looks standpoint they achieved that (it'll likely take me a year or so to find out if that's true from a durability perspective).
– Contains Bluetooth Smart: This is used both for firmware updates, as well as connectivity to head units using Bluetooth Smart (i.e. to a Polar or Suunto watch, or Zwift on iOS, or similar).
– Elimination of pods also eliminated SKU's: If you didn't buy Vector you may not know there were actually multiple Vector SKU's, based on pod sizes.  This, in turn, meant bike shops had to stock these multiple SKU's and try and figure out who might buy what size.  Vector 3 eliminates that, there's only one SKU.
– Decreased weight: The unit now weighs 162g, versus the previous 179g.
– Changed bearing type: Previously they were bronze bearings inside, now they're needle bearings.
– Totally different spindle body: Simply put, it's all different both inside and out. Much of this, of course, is the result of changing everything else within the pedal, like the bearings.
– Increased rider weight: The certified weight is 105KG (231 lbs) for rider weight, previously it was 90KG (198 lbs).  That may not sound like a lot, but that's actually a fair bit different.
– Update pedals via phone or Edge: Previously you had to use the desktop or Edge device to update your firmware.  Now you can use the Garmin Connect Mobile app to update Vector 3 firmware.  That's due to inclusion of Bluetooth Smart.
– Slight increase in spacer size: I think Garmin learned that people put too few spacers on, so you'll notice the Vector 3 ones are a hair bit thicker so that if someone only puts one on, it's still safe.  Though, at the same time, spacers are no longer required.
– Slight decrease in battery life: Previously it was 150 hours on Vector 1/2, however with Vector 3 it's roughly in the 120 hour range with Cycling Dynamics and Bluetooth Smart enabled.  If you don't use a Cycling Dynamics capable head unit (it's smart enough to know that now), it'll get you closer to 150 hours again with just normal bike power.
With that, let's see how these compare in size to other options on the market.
Size & Weight Comparisons: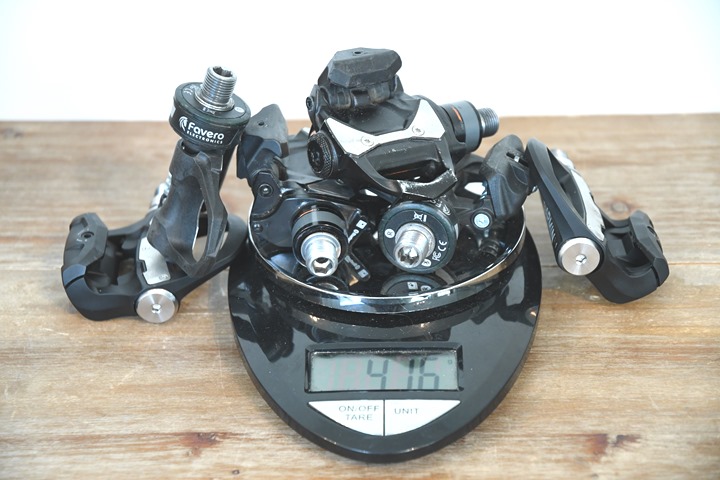 Let's start with all the weights of comparable units.  This includes the following line-up:
– Garmin Vector 3
– PowerTap P1
– Favero Assioma
There's no real reason to belabor this point in text, here's the weights of each pedal, and then the total set of pedals.
For each one, I excluded spacers, since not all cranks/pedals require that.  For fun, here's the weights of the spacers.  I just weighed one spacer from each, but obviously you need either one or two per pedal, again, depending on your cranks.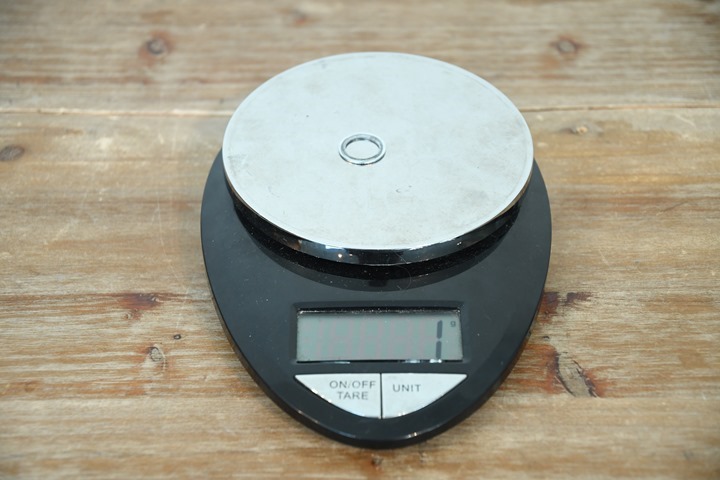 Next, here's how they look side by side.  First, front on: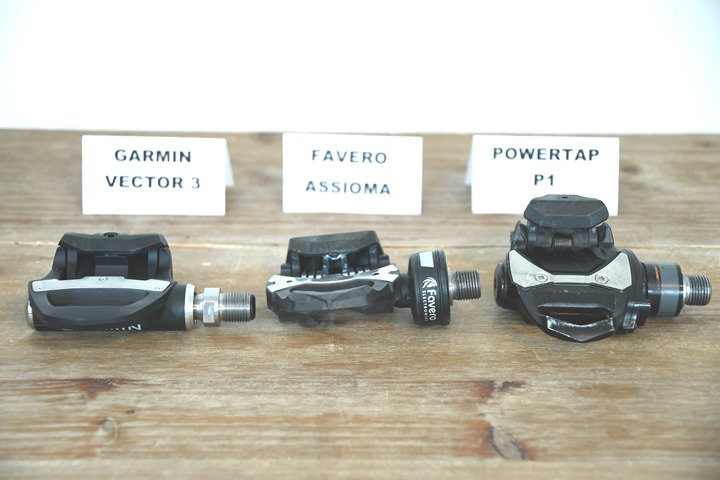 Next, spindle-side: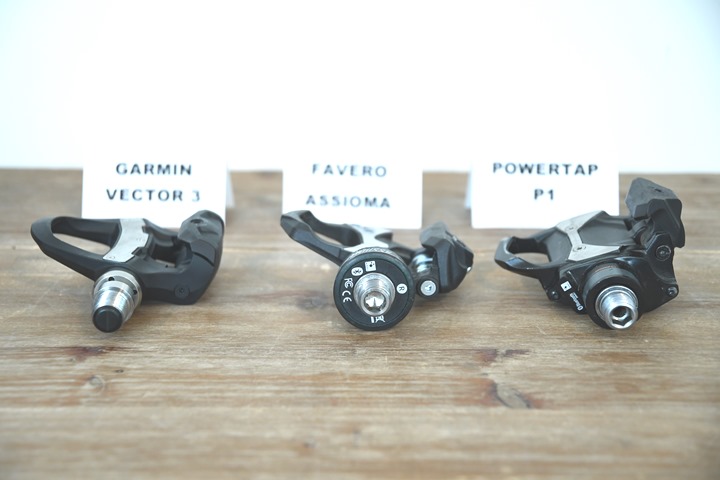 Then the other side: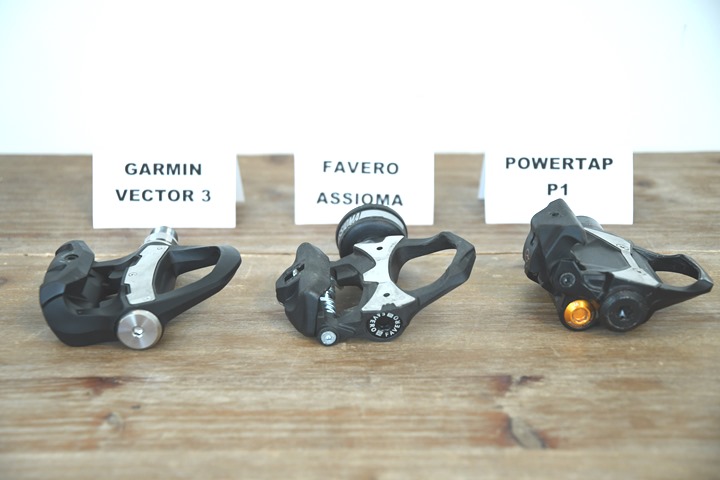 And finally, the rear: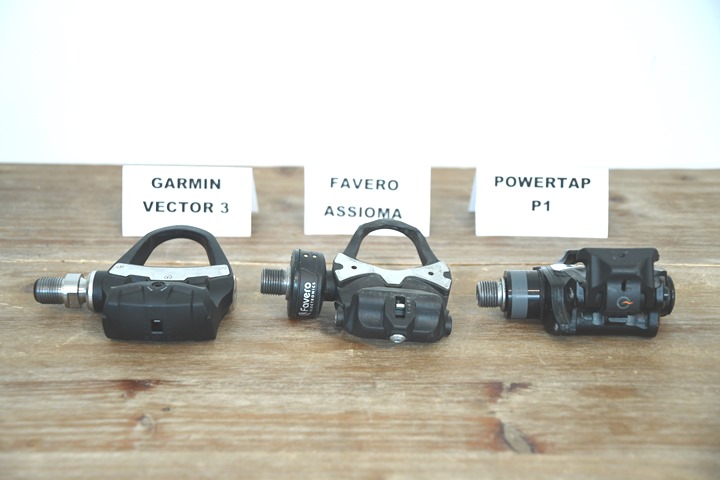 To state the obvious, the Vector 3 is the slimmest of the bunch from a sizing standpoint, and the P1 the chunkiest.  The photos otherwise kinda speak for themselves.
With all of our sizing goodness out of the way, it's time to install and start using the darn things.
General Use Overview: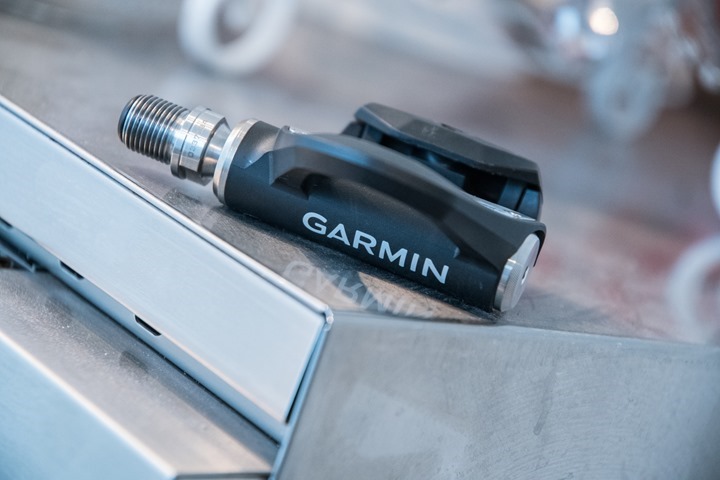 We'll start out with getting them installed on my bike, which is virtually identical to installing any other pedal.  In general though, there are two ways you can install pedals (depending on type):
A) Using a pedal wrench, which wraps around the pedal axle
B) Using an Allen (hex) wrench, which sticks into the end of the axle
Alternatively, you can just spin it on with your hands/fingers most of the way.  But you'll want a wrench to really tighten it up.  It doesn't need to be gorilla tight, just normal tight.
In any event, with Vector 3, you have to use 'Option A' above, since the end of the pedal has the LED status lights on it, so you can't stick a hex wrench in there.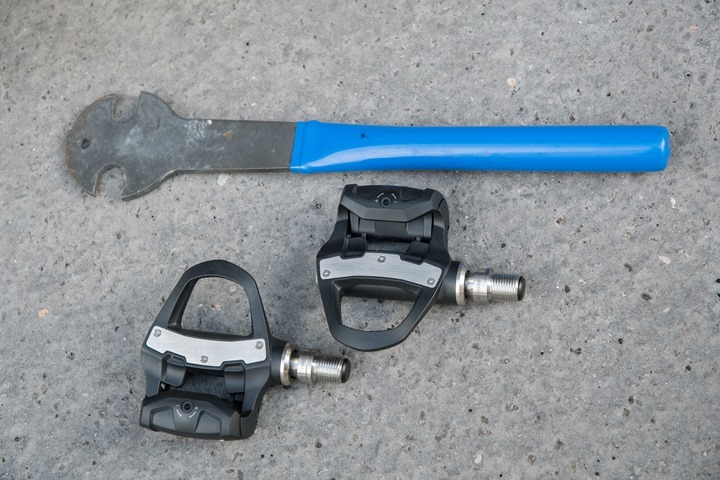 In the case of Vector 3, I use my hands/fingers to get it most of the way in the crank arm, and then a quick twist of a pedal wrench to finish the job: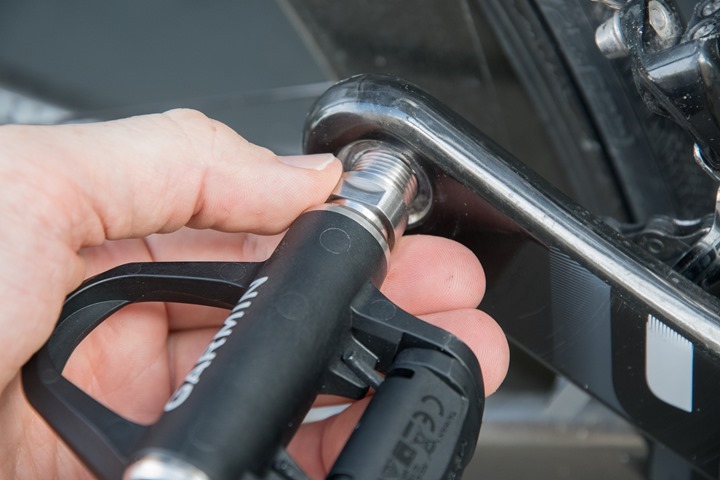 Note, while I have the large pedal wrenches like seen above that are more common, I also bought this tiny little travel bike tool which includes a mini pedal wrench.  It's not the best pedal wrench on earth due to its size (in terms of leverage), but it's great if you want something small for travel: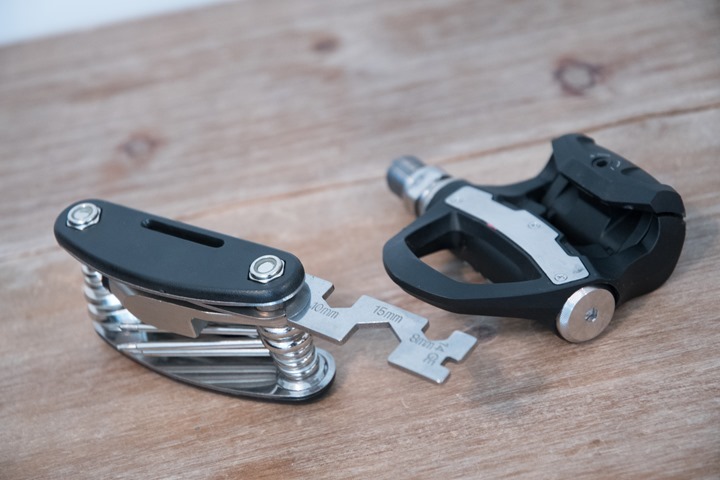 You'll repeat installation for both sides.  Unlike past Garmin Vector pedals, there is no requirement to use a torque wrench, nor are any specific torque specifications required.  I've simply tightened it to what felt fine, and my accuracy numbers have been spot on every time.  Speaking of which, unlike previous generations of pedals, there's no need to do multiple rides to 'settle' the unit.  I find doing a simple 4-8 second long sprint once or twice will ensure it's nice and snug – same as most other pedal power meters.
So what about those washers/spacers that came with it?  Unlike in the past, you don't need to install those.  However, you want to install them in two scenarios:
A) If the pedal rubs up against your crank arm
B) If the pedal spindle goes through too far and clips the chain
The spacers simply push things out.  Again, most pedal based power meters have them for the same reasons as Vector (those two listed above).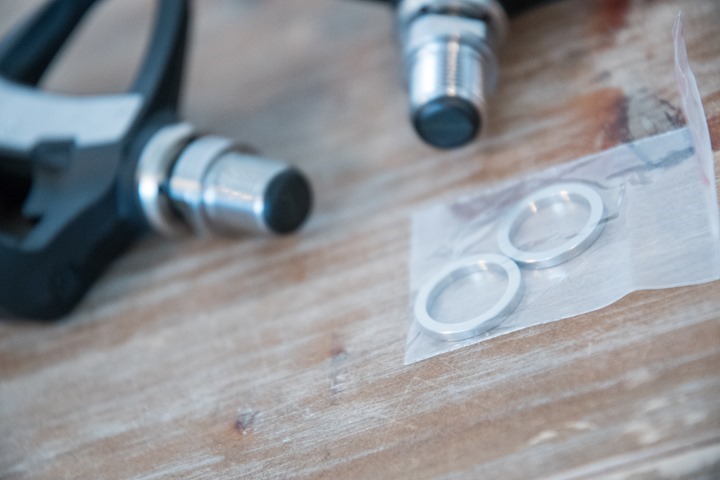 While installing the pedals you'll likely have noticed the little lights on the inside of the pedals: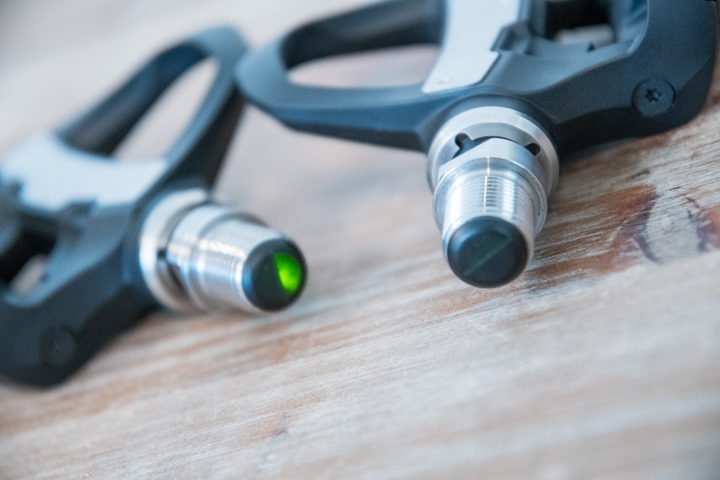 These are status indicators, which let you know what's going on.  These are most useful not just for ensuring the batteries are working, but also during firmware updates.  From a handy list on the Garmin Forums, here's what the lights mean:
3 Green Blinks: Cannot find other pedal – battery good

1 Red Blinks: Battery low

Long series of alternating red/green blinks: File transfer during firmware update – could be from the display unit to the left pedal. This will also be seen on both pedals at the same time when the left pedal is sending the update to the right pedal

20 Green Blinks: File transfer/Firmware update successful

20 Red Blinks: File transfer/Firmware update failed
That same list also details all of the Garmin Vector 3 error codes that can be generated too.
On the flipside of each pedal is the battery compartment.  In the case of Vector 3, the company is using LR44 batteries.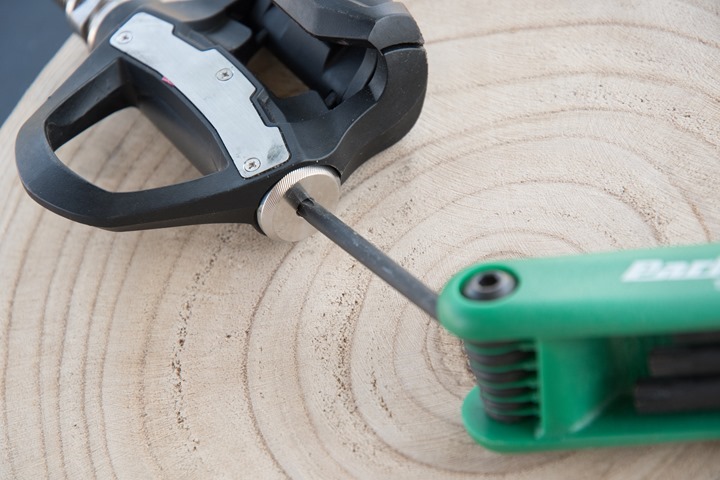 Each pedal uses two of these batteries, which are placed in a little pod holder which slides into the pedal, sorta like peas in a pod: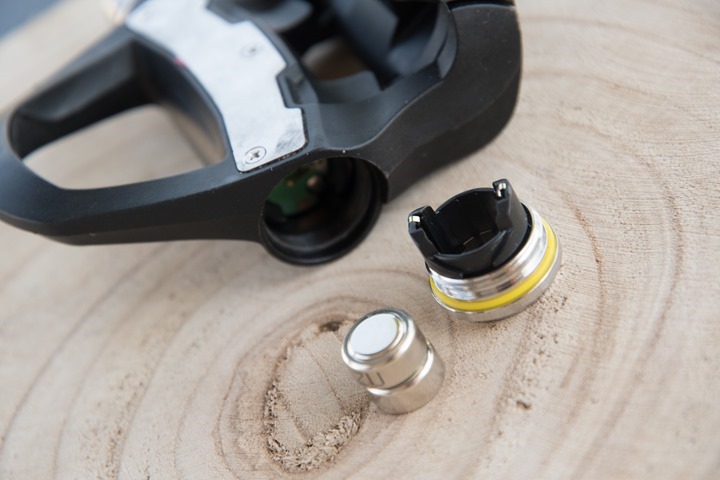 As for using LR44 versus SR44 batteries, that's a good question which many readers asked since launch.  I went back to Garmin on this after your questions and asked what was the difference, specifically, in their recommendation of using LR44 versus SR44 batteries.  They said they started to validate both LR44 and SR44 cells, but found "much more consistent performance" with the LR44's than the SR44's.  They noted that "in the validation, we found overall that the SR44's had higher variability and some even performed worse than the LR's".  Interestingly, as part of that testing they did find that SR44 was giving longer battery life, but that given the variability they saw they settled on LR44's as the official recommendation, coming in at 120 hours (on LR44's).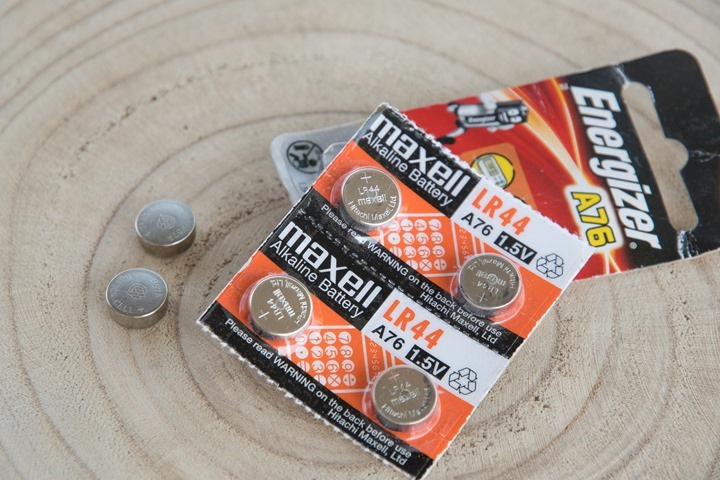 Next, cleats.  It comes with Look Keo compatible cleats as noted, so you're pretty much set there.  One thing that's worthwhile pointing out is that both competitors Favero Assioma/bePro and the PowerTap P1 use slightly unique cleats that are a Look Keo variant.  This means that in theory they aren't fully compatible with Look Keo stuff.  In practice, it varies.  I find they are compatible when they're new – but that over time (wearing out), they become less compatible and you pop out more.  None of this affects Vector, but a lot of people ask about it, so I figured I'd mention it.  Similarly, the lack of precise compatibility doesn't matter too much if you only have a single set of shoes…or if you just buy an extra set of cleats – they're cheap.  Don't let that be a hindrance to what you decide to buy (I've used P1's for years with the non-conforming cleats without issues), but just be aware of it.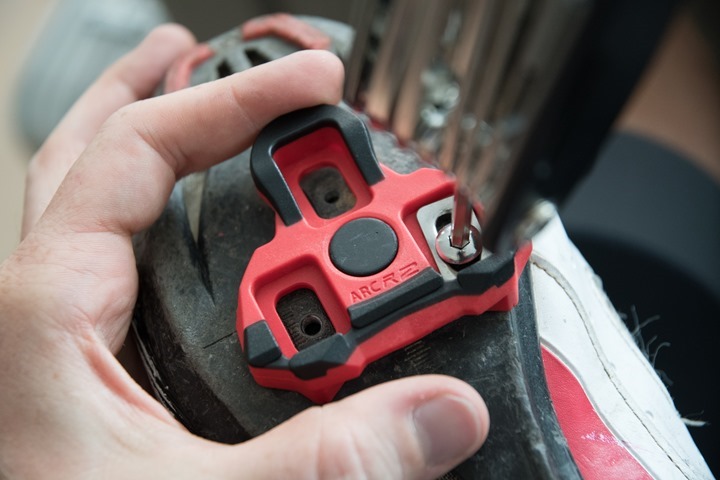 Now that everything is installed (which btw, should only have taken about 30-60 seconds), you're ready to pair it to your bike computer.  I'm going to use a Garmin unit here for purposes of demonstration, but it works with any ANT+ or Bluetooth Smart unit, or app.  I cover which other units I've tested a bit later.
To start you'll pair with your bike computer by searching for a power meter.  Vector 3 broadcasts as both ANT+ & Bluetooth Smart (BLE).  In almost every scenario, most vendors will recommend using ANT+ first for power meters, unless you see issues there (primarily due to some standard quirks between companies on the BLE power meter spec).  By default, Garmin will search for ANT+ first anyway.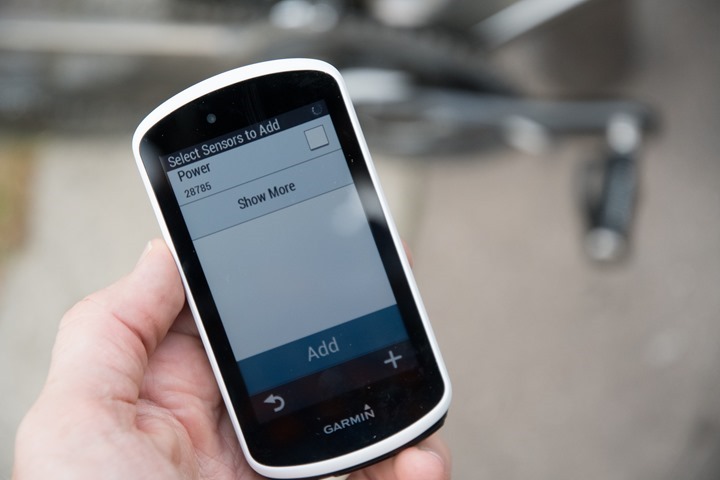 You'll see the ANT+ ID listed on the head unit.  That ID won't match what's etched on the side of the pedals, as with Vector 3 each pedal has its own unique ID.  Note that you can actually 'de-pair' a dual Vector 3 set into a Vector 3S and then…a secondary useless pedal.  By that, I meant that you cannot take a full Vector 3 set and put one pedal on one bike, and another pedal on another bike.  The left pedal is considered master and thus required.  In a Vector 3S kit, you'll get the left pedal with sensors in it, and then an empty right pedal to match.
Once you've paired the pedal, you can go ahead and rename it as you see fit: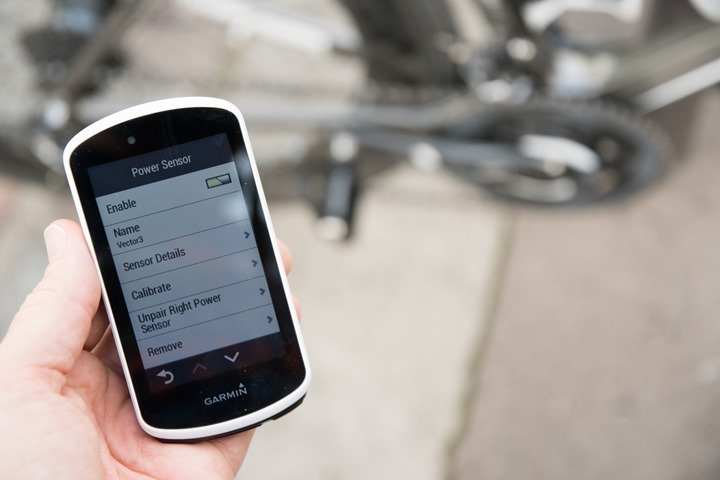 Additionally, and this is really important, you need to set your crank length.  This is listed on the inside of your crank arm, and if you're not sure, look for something like 172.5mm or similar.  In my case, it's 175.0mm (but the default in the industry is shipping with 172.5mm cranks).
And then finally, you'll want to do a zero offset, which is a variant of doing a calibration.  As a general rule I do this prior to each ride to ensure there's no quirks.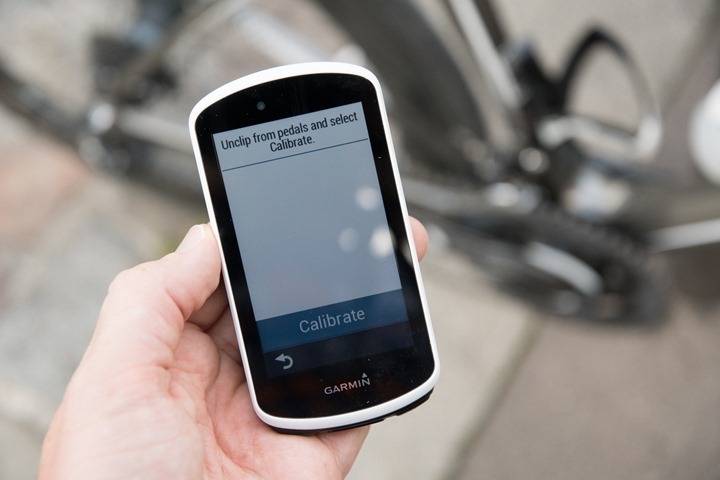 Note that unlike previous Vector units, you can turn off auto zero if you'd like to.  This can be done both on the head unit, as well as the mobile app.  And as with previous Vector units, you can hang weights on them to do a static check if you'd like, as it'll show you the torque value above.
Speaking of the mobile app, if you use Garmin Connect Mobile (Garmin's mobile app), you can pair up Vector 3 there as well:
This allows you to configure settings on the pedal and update the firmware:
Additionally, if you have a recent Garmin Edge unit (1030/1000/820/520), it'll also download updates for Garmin Vector and update the firmware when required.  Note that updating the firmware takes about 4-8 minutes, so it's best not to do that sitting outside on a cold winter day.  Just defer the update till after the ride while you're taking a shower or something.
Speaking of riding, let's talk about what you'll get while riding.  Of course you'll get the basics like total power, as well as cadence.  And you'll get other ANT+ standardized metrics like torque effectiveness and pedal smoothness.  These metrics are shown on pretty much any head unit/watch that supports power meters by pretty much any vendor.
But then you'll get the Garmin Cycling Dynamics metrics as well.  These include things like platform center offset, seated time, standing time, and power phase.  These advanced metrics are shown live on Garmin Edge devices, and then on Garmin Forerunner devices you'll get these metrics afterwards.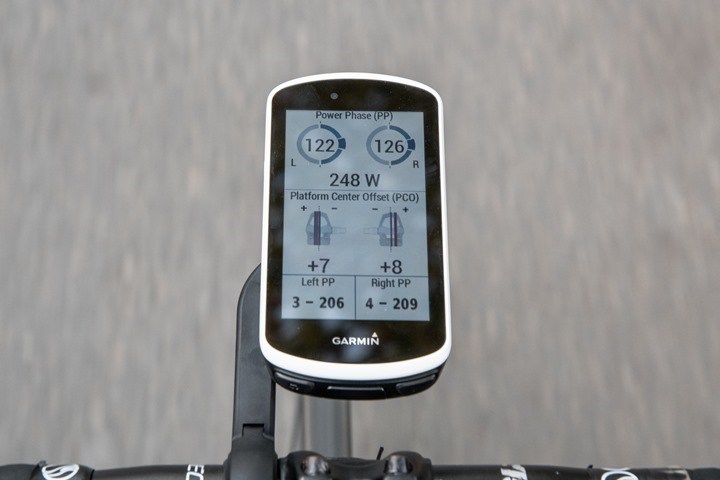 Up until a few months ago, these Cycling Dynamics were only available on Garmin devices.  However, back in September Garmin started opening things up.  First, it was TrainerRoad to get the new Cycling Dynamics metrics: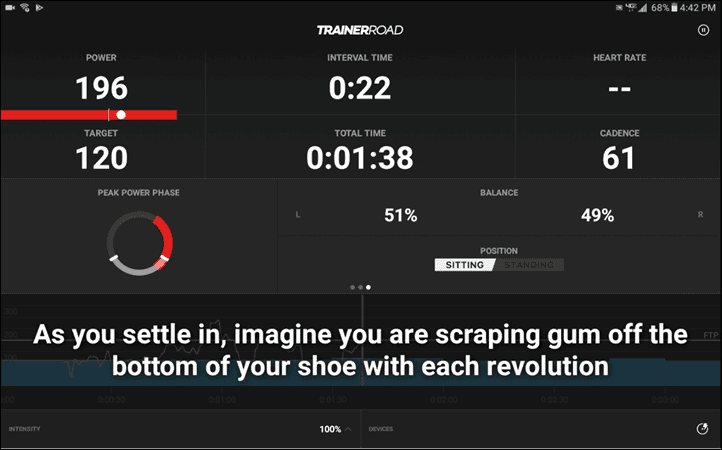 And then they followed that up a few weeks later with opening up things to the ANT+ power meter working group, enabling any vendor to implement cycling dynamics into their products.  Nobody has done so yet, but it's still early.  Read my full post on that to understand what that'll take.
In addition to real-time display of these metrics, you'll also get the metrics recorded for review on Garmin Connect later.  Here's what a sample ride looks like (you can click here to view the full activity and dork around with it):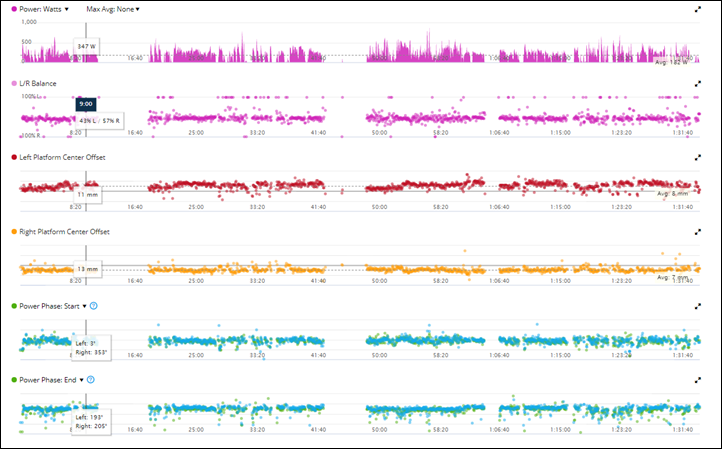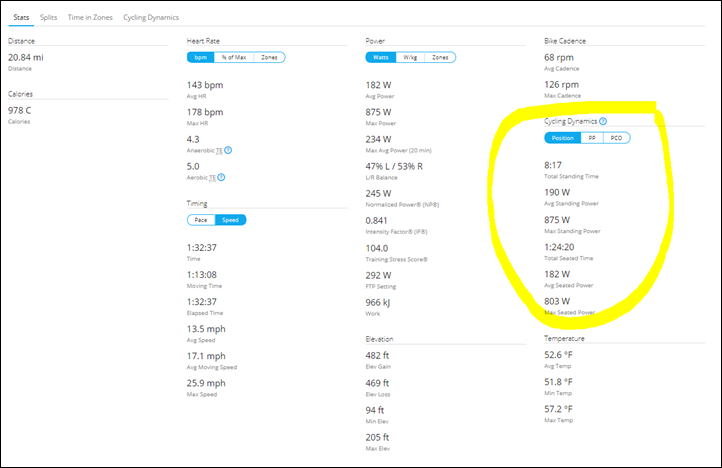 Note that some 3rd party apps like WKO4 also support displaying these metrics as well as SportTracks.
To summarize all of the protocols and standards that Garmin transmits upon, I've put together this quick list;
ANT+ Power (total)
ANT+ Power Balance (left/right)
ANT+ Cadence
ANT+ Pedal Smoothness
ANT+ Torque Effectiveness
Bluetooth Smart Power
Bluetooth Smart Power Balance
Bluetooth Smart Cadence
Garmin Cycling Dynamics (currently private-ANT)
One uniquely interesting tidbit on Garmin's Bluetooth Smart implementation is that it appears to apps as a single unit.  That's logical you say, isn't that the norm?  Actually, no, it's not.  Most other power meter pedals that also transmit on Bluetooth Smart show up as both a left and a right unit.  Some bike computers and apps are smart enough to merge this data together, but most don't.  Instead, they only permit you to connect to one side or the other (meaning you wasted your money on a dual system).  Note, this doesn't impact ANT+.  Update: You can read all about the Vector 3 Bluetooth Smart update here in my separate post.
In Garmin's case though, when you use an app or device to connect to the Bluetooth Smart side, you see a single all-encompassing Vector 3 unit.  Take for example Zwift below (again, just on Bluetooth Smart, in this case on an iPad).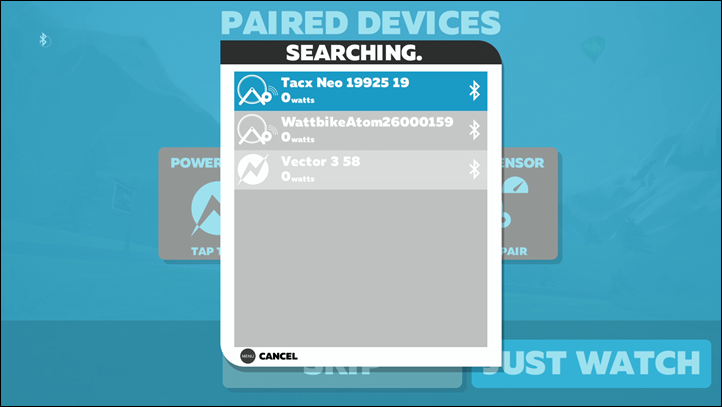 If using Vector 3, I get both pedals' data.  Whereas with the PowerTap P1 or Favero Assioma, I get both the left and right pedals shown.  That means with those systems I can only connect to either the left or right side, but not both sides.  And again, if you connect over ANT+ to those pedals, this isn't an issue.
Finally, wrapping things in the general use section up, what about less technical things?  Stuff like clipping in or float?  All that feels good and natural to me.  I'm not a huge pedal/component junkie (I'm a tech guy), but everything feels perfectly fine to me.  Additionally, since Vector's been shipping almost two months now, I haven't seen any complaints from anyone in this area.  I also haven't seen any issues with wear/tear on the pedals in the four months I've been using them.  They've held up quite well, despite me treating them pretty harshly.
Update – March 2018: Some users are reporting issues with the battery holder mechanism, which results in dropouts during a ride (and sometimes spikes). It can also result in high battery burn (less than the stated results). This is seemingly mostly due to lack of contact between the battery and the connector, likely due to differing batteries having a variance of +/- .2mm. Garmin says they're working on it, and they've started shipping out new battery pods to some customers.  While the Garmin Forums and even the comments section below would make it seem like everyone is impacted, I don't think that's really the case. I think it's starting to come up more often as people hit the end of their first set of batteries. Garmin says it's a small number of customers, and in looking at the sell-through rates I see, I think we'd see far more comments in both locations if it was actually a massive widespread problem. Just my two-cents.
Update – April 2018: See this big-ass long comment I wrote down in the comments section after a multi-hour meeting with Garmin on the issues some folks have seen with Vector 3.
Update – May 2018: Garmin has begun production of new battery pod/caps, which will be sent to all registered Vector 3 users. Non-registered users can also request them via support. Currently it sounds like these should all go out by the end of May. Garmin states this will resolve virtually all outstanding issues with respect to drops and connectivity.  Of course, ultimately it's just going to take time (such as June or July) to know whether that ends up being the case. 
Update – June 1st, 2018: Garmin began shipping the new battery caps the last week of May, and people have begun to receive them.  Garmin is sending the new caps to all users.  Additionally, on May 31st they released a new firmware version. It's too soon to know whether or not this fixes things for good. I suspect by the end of June we should have a much clearer picture of stuff.  Fwiw, my Vector units from normal retail back in December are still fine – I just swapped the batteries again about two weeks ago.
Power Meter Accuracy Results: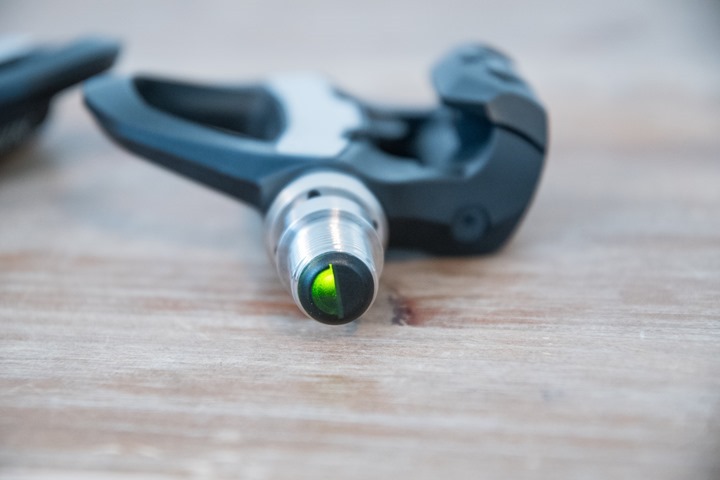 I've long said that if your power meter isn't accurate, then there's no point in spending money on one.  Strava can give you estimated power that's 'close enough' for free, so if you're gonna spend money on something it shouldn't be a random number generator.  Yet there are certain scenarios/products where a power meter may be less accurate than others, or perhaps it's got known edge cases that don't work.  Neither product type is bad – but you just need to know what those use/edge cases are and whether it fits your budget or requirements.
As always, I set out to find that out.  In power meters today one of the biggest challenges is outdoor conditions.  Generally speaking, indoor conditions are pretty easy to handle, but I still start there nonetheless.  It allows me to dig into areas like low and high cadence, as well as just how clean numbers are at steady-state power outputs.  Whereas outdoors allows me to look into water ingest concerns, temperature and humidity variations, and the all-important road surface aspects (I.e. vibrations).  For reference, the Garmin Vector 3 pedals have a claimed accuracy rate of +/- 1%.  It also does not require any magnets for cadence, while also automatically correcting for any temperature drift. Both of these are pretty common though on most power meters these days.
In my testing, I generally use between 2-4 other power meters on the bike at once.  I find this is the best way to validate power meters in real-world conditions.  In the case of most of these tests with the Vector 3 I was using the following other units on four different test bikes equipped at varying times with the following diversity of units:
4iiii Precision Dual power meter
Elite Direto Trainer
FSA PowerBox
Power2Max NG
Power2Max NG ECO
PowerTap G3 hub based power meter (two different units)
Stages Left-Only Power Meter (LR soon!)
Wahoo KICKR SNAP 2017/V2 Trainer
Wahoo KICKR 2017/V3 Trainer
Wattbike Atom Indoor Bike
Given I tested these over the course of four months, I was using a lot of different gear.
In general, my use of other products is most often tied to other things I'm testing.  Also, when it comes to data collection, I use a blend of the NPE WASP data collection devices, and a fleet of Garmin head units (mostly Edge 520/820/1000/1030 units).  For the vast majority of tests on the Garmin Vector 3 I just used the Garmin Edge 1030, and a FR935 watch.  But I also recorded on apps as well, including TrainerRoad and Zwift.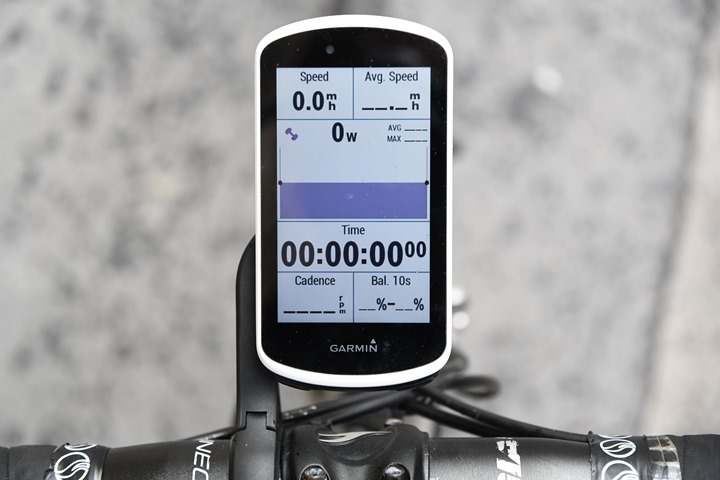 Note all of the data can be found in the links next to each review.  Also, at the end is a short table with the data used in this review.  I'll likely add in other data not in this review as well.
With that, let's get right into it and start with analyzing an indoor trainer ride from earlier this week, in this case a workout on Zwift.  Note that this particular workout also had a PowerTap PowerCal on it (non-direct force power meter), but I'm going to skip it for these charts.  This was a structured workout (Jon's Mix, long-form variant). Here's the DCR Analyzer file set if you want to dig yourself:

What we've got on this one is Vector 3 vs a Power2Max NG ECO vs the Wahoo KICKR3/2017.  As you can see, all three units are very close in comparison across everything (save one brief second where the NG Eco lost contact momentarily with the head unit recording it).  You do though see that the KICKR3 undercuts power slightly on the 30-second intervals for reasons I'm not super clear on.

The Power2Max NG ECO and Vector 3 are very close.  Note that some of the KICKR's undercutting can be blamed on drivetrain efficiency losses (or rather, lack of drivetrain efficiency), which is typically in the 5-12w range.  Though this is a tiny bit more than that at 10-20w on 450w.
If we look at the steady-state sections, we actually see a slight flip between the P2M and KICKR3 in terms of who is highest/lowest between them.  The Vector 3 remains highest (as expected in the proper order of loses).  Note that despite how big that gap may look in the chart below, in reality if you look at the numbers we're only talking 4-6w difference here, which is really darn close.  That's above the margin of error for the accuracy of the two units combined.

For the most part the above is somewhat of a boringly clean set, so let's shift gears to another ride…which is also boringly clean.  In the below ride, I'm using the Wattbike, and as such since I can't swap out the cranks I can really only have two power meters (versus the 3-4 I prefer). Still, I thought I'd include it just because it looks so darn perfect.  In fact, you probably can't even tell there's two power meters there:

Save a few very tiny variances, they match up almost perfectly.  Up above you see around the 27-minute marker a tiny blip on Vector that Wattbike doesn't follow.  That's where I specifically applied extra pressure on Vector 3 that the Wattbike didn't seem to catch (too short perhaps, only a second or so).
And then below, inversely, you can see on the 3rd interval I seemed to undercut it slightly, and the Wattbike appears to carry the momentum of the flywheel through that couple second sprint, when in actuality I probably didn't – thus matching Vector 3.  But when I didn't cut things short, the units are near perfectly matched – far more than I usually see actually.

And again, if we look at another portion later in the workout with more repetitive intervals, it's all the same – boringly clean.

So let's head outside for a moment.  This couple hour ride includes everything from city streets to cobbles to off-road riding on it.  Below I'm first showing it smoothed at 5-second intervals, but then I'll re-smooth it again to make it easier to spot any issues.  You can dig into the full set here.

Here's everything smoothed at 30-second intervals.  You can see that over the course of the entire ride, there's virtually no moments where the three units differ in any manner. Almost the entire time they are within a couple watts of each other, with the PowerTap G3 being the lowest (as it should be).

Within that, if I back down the smoothing factor a bit in the graphs, I want to look at one sprint.  This is still smoothed slightly, thus the peak is actually higher than this.  But I find when comparing power meters, about a 2-3s smoothing factor for sprints helps to make it clear what's going on.

In this case, the sprint is a touch over 800w.  We see the Vector 3 and P2M units very close – 6w difference on 800w (thus 0.7% apart), and the PowerTap G3 seems to shoot slightly higher.  Of course, anytime you're talking max sprint power, it's incredibly difficult to get units to match due to the differing transmission rates and then corresponding recording rates.  So you end up with situations like this were sub-second maxes just get averaged out to a single second, and you get slight differences.
Still, you see the overall trend on this 800w sprint, and then the following 600w efforts is very close.
And if we look at cadence on this ride, all three are nearly identical. Only a handful of times the PowerTap G3 hub gets flustered with its estimated cadence (typically when you quickly back off a sprint).  But this is well known.

Now, let's look at another set – another outside ride.  This has some totally funky stuff in it that's 100% unrelated to Vector 3, but I figured I'd use it briefly to show some data comparisons.  In short, you see how halfway through the Power2Max NG sees drops?  Something started on the most recent Edge 520 firmware with the NG ECO causing this precisely every 60 seconds for 1-2 seconds.  I hadn't analyzed this set till later, so didn't catch it initially since it happens so quick.

So instead, let's just look at the first 45 minutes where the units are all happy.

You can see here that things are really darn close.  If we zoom in on that sprint again, we'll see very close alignment as well:
As always, once you start talking few second long sprints, you get slight variances at the peak, but throughout this sprint things are very close between the units.
And then again here later in that ride on another 800w sprint:

Ultimately I'm not seeing any issues with Vector 3 from an accuracy standpoint.  I've ridden across messy cobblestones, as well as rougher dirt roads – none of which have proven to be an issue.  Same goes for indoor riding, as well as both low and high cadence work.  All of it seems very solid to me.
Here's the full table of rides since the unit started shipping (I've skipped including rides from previous to shipping – such as August and September), since they were on beta firmware.  Though, by and large, I saw very few accuracy issues in beta hardware/software, especially once I got into September and the issues evaporated with software updates.
Garmin Vector 3 Data Sets
(Note: All of the charts in these accuracy sections were created using the DCR Analyzer tool.  It allows you to compare power meters/trainers, heart rate, cadence, speed/pace, GPS tracks and plenty more. You can use it as well for your own gadget comparisons, more details here.)
Power Meter Pedals Shoot-Out: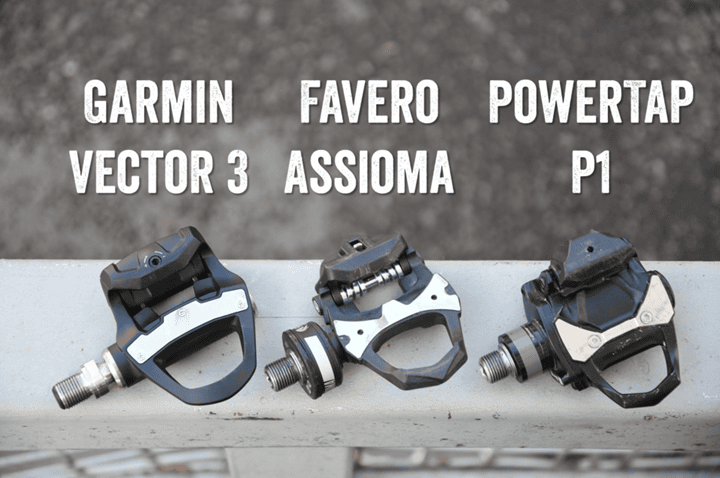 Earlier this fall I did a complete power meter pedal shootout.  So if you can't decide which power meter pedal is best for you, then it's definitely something you should check out.
There are pros and cons to each of the pedal platforms, be it price, compatibility, or sensor aspects.  I did it with a mind-boggling number of those aspects, including:
– Size/Dimensions
– Weight
– Installation requirements
– Cleat compatibility
– Float
– Stack Height
– Max Rider Weight
– Advanced analytics
And much more, all that can be found here.  Alternatively, here's the super short comparison table of specs alone:
But what if you're not sure you want a pedal based power meter? That's great – there's tons of options out there, and pedal based units are just one option (and often one of the most expensive options).  So you should check out my full 2017 Annual Power Meter Buyer Guide, which walks through every power meter on the market, and the pros and cons to each one.  It's massive!
The full power meter buyers guide can be found here.
Summary: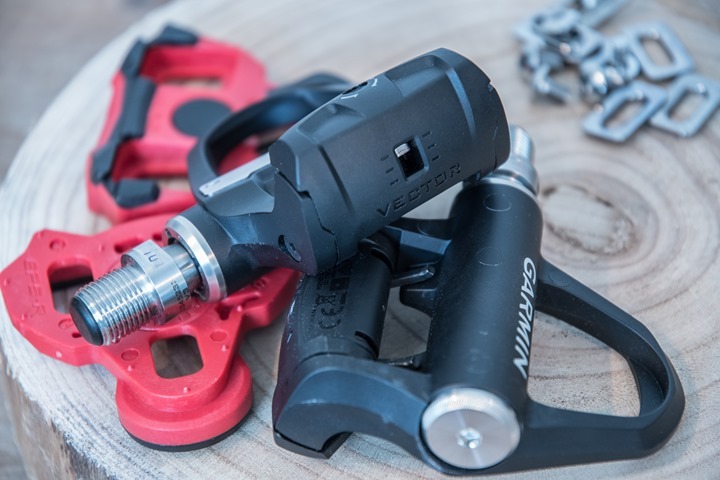 [Update: Please be sure you read my comments above about some of the battery issues some portion of people are having. These are located just before the start of the 'Accuracy' section.]
It's easy to say that Vector 3 is Garmin's best power meter yet.  That's true, but that's also a cliché cop-out.
It's more important instead to understand that in being their best power meter yet, they finally arrived at many of the original promises and goals of Garmin acquiree Metrigear's founding ideas more than 8 years ago.  The goal was an easily transportable/moveable and accurate pedal power meter.  Up until now, there were always caveats with each of those aspects on Vector.  It was accurate, but only if you did X and Y.  And it was moveable, but again, only with A and B.  And it was compatible, but only with P and Q.  And it was supported on R cranks, but only with Z SKU.  Thus, it was full of 'but only if/with' statements.
When I first sat down to listen to Garmin's pitch on Vector 3, they started with the common marketing sentence of 'We wanted to address all of the past complaints'.  Mentally I rolled my eyes at the polite Canadian driven team.  But after four months of using them, it's actually clear they did exactly that.  And your (reader) comments on them checking off all the other requirements boxes are clear too.  They went dual ANT+/Bluetooth Smart, and even opened up Cycling Dynamics to be an open standard.  They removed all those 'but only if' statements with past Vector products and ended up with a clean and sleek power meter pedal that's easily moveable between bikes, and is accurate as well.  Full stop, no more buts.
Third time's the charm.
With that – thanks for reading!
Found this review useful? Help Support the Site!
Hopefully you found this review useful. At the end of the day, I'm an athlete just like you looking for the most detail possible on a new purchase – so my review is written from the standpoint of how I used the device. The reviews generally take a lot of hours to put together, so it's a fair bit of work (and labor of love). As you probably noticed by looking below, I also take time to answer all the questions posted in the comments – and there's quite a bit of detail in there as well. 
I've partnered with Backcountry & Competitive Cyclist. You can help support this website by making your purchases through the links below. Thanks!
For European/Australian/New Zealand readers, you can also pickup the unit via Wiggle at the links below, which helps support the site too! With Wiggle new customers get 10GBP (or equivalent in other currencies) off their first order for anything over 50GBP by using code [Currently Disabled] at check-out after clicking the links below.
Garmin Vector 3 (EU/UK/AU/NZ – Wiggle)
Garmin Vector 3S (EU/UK/AU/NZ – Wiggle)
Or, anything else you pick up on Amazon helps support the site as well (socks, laundry detergent, cowbells). If you're outside the US, I've got links to all of the major individual country Amazon stores on the sidebar towards the top.
Thanks for reading! And as always, feel free to post comments or questions in the comments section below, I'll be happy to try and answer them as quickly as possible.