Today at Interbike, TrainerRoad and Garmin showed off a new capability that allows you to view your Garmin Vector Cycling Dynamics data in real-time on TrainerRoad via their app.  This would mark the first time any company has been able to leverage these Garmin metrics in real-time.  Further to that, the two companies talked about their somewhat recent expansion to allow you to upload training data to Garmin Connect, another notable shift for Garmin.  I'll dive into both pieces down below.
Cycling Dynamics Integration
First, let's start with the Cycling Dynamics integration.  For those unfamiliar, Cycling Dynamics are currently Garmin's somewhat proprietary metrics coming from Garmin Vector pedals.  These metrics provide data above and beyond simple power/cadence, to include metrics like power phase, platform center offset, and seated and standing time.  Certainly other power meter companies have shown variants of these metrics, but all of them have been hampered by lack of head unit support.
Up till now, Garmin has only allowed Garmin devices to show this data live, and only from Garmin Vector pedals.  So other power meters, like Pioneer or Infocrank, that can provide advanced metrics couldn't really leverage it.  Nor could apps like TrainerRoad.  As of today, that second part changes.
TrainerRoad is now showing a beta version that displays these same metrics that you'd have had on your Garmin Edge unit with the Cycling Dynamics page, directly on the TrainerRoad app.  You can then swipe through the TrainerRoad pages to see this data (in the middle of the screen):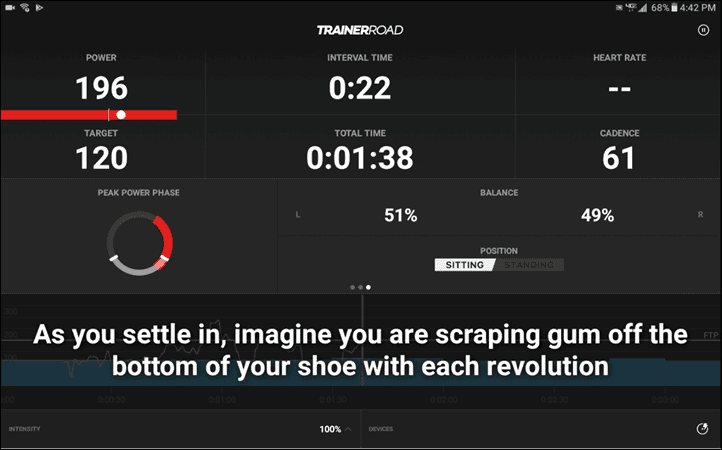 This will appear assuming you've paired your Garmin Vector (1, 2, or 3) pedals to the app as a power meter sensor: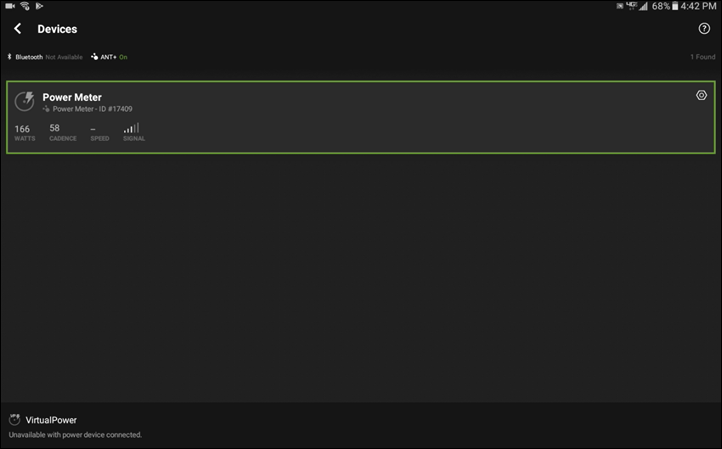 Note that currently this data is only over ANT+.  So the focus would be devices that support ANT+ (i.e., Android, Windows/Mac with a USB stick, iOS with ANT+ adapter, etc…).  But it sounds like Garmin may be looking at how to bring this to Bluetooth Smart as well.  Keep in mind, Vector 3 supports Bluetooth Smart natively.
So how might this be useful?  Well, there are numerous workouts in the TrainerRoad library that leverage focusing on pedal stroke and/or standing up and sprinting.  These workouts would then have the ability to actually oversee what the text says.  So if the structured workout says to stand up and sprint, and you fail to do so, you'll see that visually on the screen.
Of course, I remain somewhat skeptical on how to use some aspects of Garmin Cycling Dynamics, but I think this is a valid and potentially valuable use of it.
To demonstrate all this in real-time, I jumped on a bike on the show-floor and did some poking.  You can watch my video awesomeness of that here:
Note that TrainerRoad doesn't yet record the Cycling Dynamics data from the Vector pedals as would the Edge device, so if that's of interest to you, you'll still want to record on the Garmin device as well.
Garmin Connect Upload
Speaking of files, there's another notable Garmin shift here, which is that Garmin is now allowing certain apps to upload completed workout files to Garmin Connect.  Previously, Garmin only permitted apps to get workout data from Garmin Connect.  Garmin does have some corporate wellness stuff as well for ingest, but that's more focused on steps than workouts.  Back in the way-back days, there used to an API of sorts (from Motion Based when they acquired them) that allowed upload to Garmin Connect, but Garmin steadily worked to kill that off.
Now though, they're re-opening those gates (albeit very slowly and selectively) to allow certain apps to upload completed workout files to Garmin Connect.  This started quietly back in late August with TrainerRoad, The SufferFest, and Zwift.
The main driver for this change was that as more and more people leveraged these platforms, Garmin was realizing that they were effectively getting left out of the indoor training experience.  And more importantly than Garmin's feelings was that users weren't really able to capture their day either from a fitness standpoint if they recorded workouts on other platforms.  Meaning that if you recorded your workout on TrainerRoad and not your Garmin device, then your day's total on Garmin Connect would be off.
For many people, using the Garmin device was just a secondary thing to set up when using a trainer platform.  One that didn't (or still doesn't for many) seem to offer much additional value inside.
In any case, you'll now find a new option on TrainerRoad's site: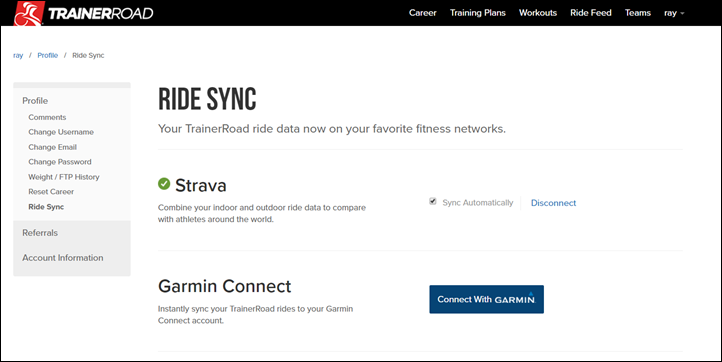 Once you whack that button, you'll get prompted to verify you're all good with things: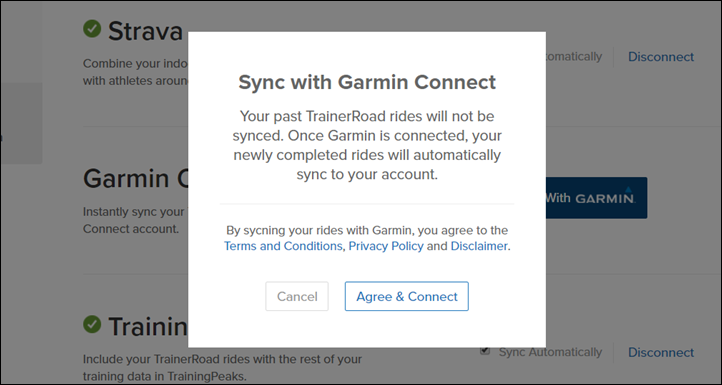 And then authorization from the Garmin side as well: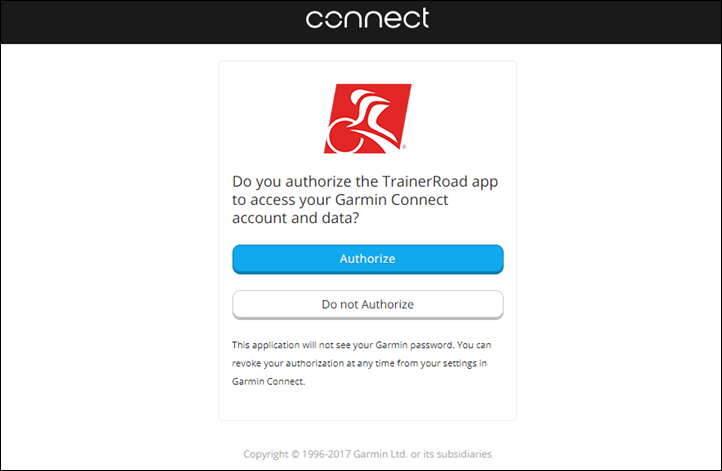 And that's it, you're done.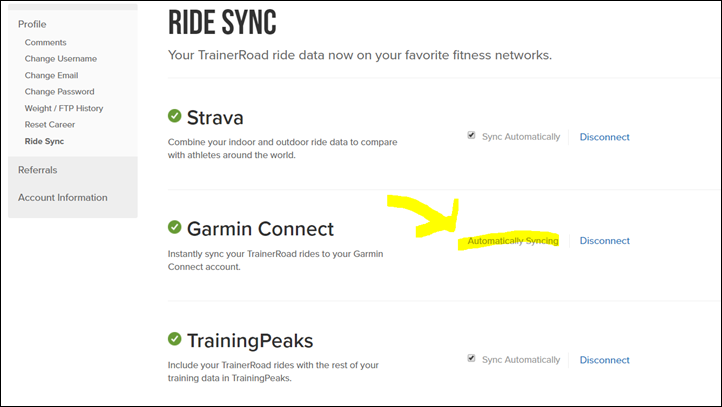 From here on out you'll get your rides automatically synced to Garmin Connect as you'd expect.  Note that you can't sync older rides though, so it's just new rides going forward.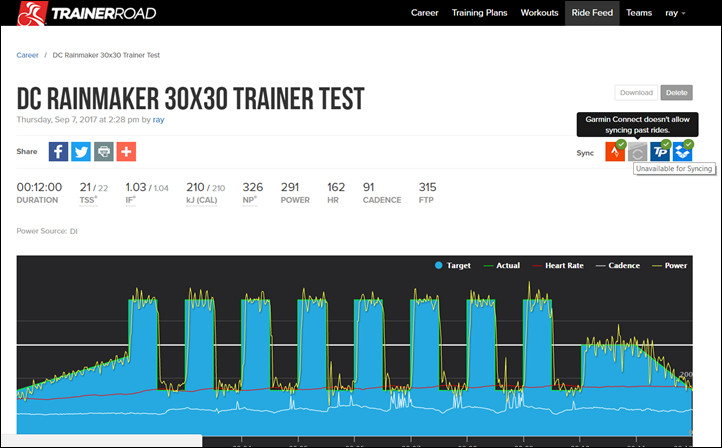 In many ways, today's announcement from TrainerRoad and Garmin is interesting on a lot of levels.  First off, it's the very first app or device to show Garmin's previously locked down Cycling Dynamics data in real-time on a non-Garmin device/app.  Up until this point, that data was only seen live on Garmin devices (like an Edge cycling computer).
But more than that, it's Garmin also opening the doors more on their Garmin Connect web platform.  Hopefully, we'll see more of this down the road, as ultimately it's a smart business move to allow better integration with 3rd parties.  After all, platforms like Strava now boast some 20,000 API partners enrolled.  Even if just a fraction of those are real partners and apps with real users – it's a boon for the company.  Garmin could look to leverage their own active user base, one that's likely far larger than Strava's and with customers that have spent far more on devices than they would on a free or premium Strava membership.
Of course, with the ANT+ Symposium next week, it's when we usually see Garmin announce new partnership-type things in the space.  So we'll likely have to wait a few more days to see what that brings.
With that – thanks for reading!