It got kinda chilly here this weekend.  Not like Finland cold, or Siberia cold.  But the kinda cold that reminds you to ensure you've got colder running stuff at least on deck.  In my case, I still ran in shorts…just with a long sleeve shirt and gloves.

In any case, here's what I was up to this weekend!
1) Running with all the powers
Saturday late morning I headed out for an easy run in some of the nearby parks.  My intention was to record power from the three running power meters I'm primarily using (Stryd, Garmin, and RunScribe Plus).  In addition, I was hoping to get a bit more data on GPS & HR from the Samsung Gear Sport.
But as always, the best-laid plans go to crap when batteries are involved.  Given I only had a finite period of time while The Peanut was napping, I couldn't troubleshoot too much.
Apparently I forgot to charge one of the pods, which somewhat doubled-down on my misfortune.  Sure, it works just fine in a single-pod configuration, but that's not really what I wanted to test.  Also, both pods wanted a firmware update, and neither had enough juice to do so.
Of course, with a functional pod that was the least of my issues.  Meanwhile, the Samsung Gear Sport had decided it was November 1st permanently, and wouldn't talk to the phone anymore.  Given it was cold out and the last time I had to stand outside with my wrist raised for about 10 minutes (since if you put your wrist down for more than about 15 seconds, it'll assume you don't want to run), I didn't even bother to take it with me.
So, I just ran with two watches and…well…still a lot of pods (RunScribe Plus left, then right, Stryd, Milestone).  I didn't connect pods on the insole system, since I didn't feel like taking my phone.  I did take my GoPro though.
Which, is how I took this shot in front of the Pantheon: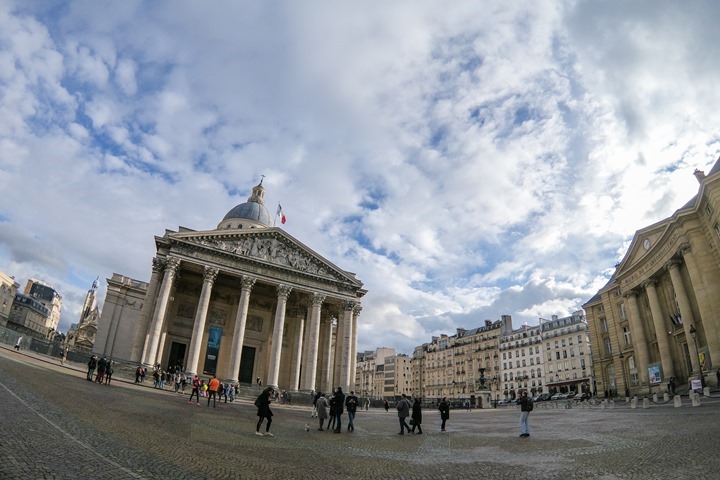 And this shot in front of the Senate: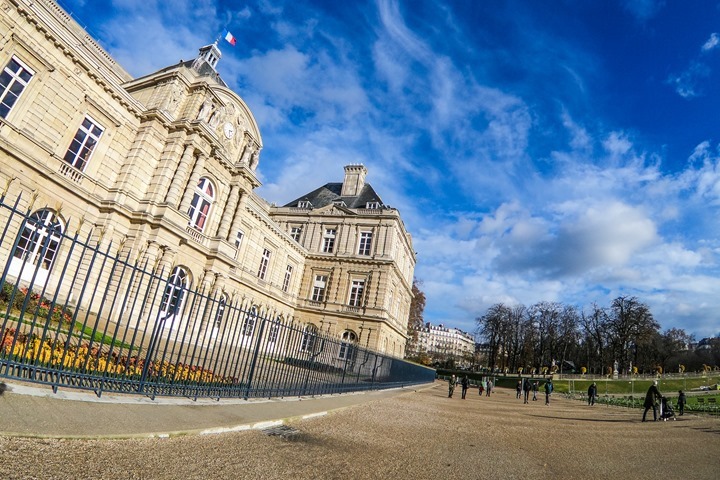 In theory I'll overlay all this stuff and compare the powers, but I haven't done so yet since my Vivoactive 3 ran out of battery shortly after the run, and I didn't open the app to transfer it before that point (the FR935 did transfer via WiFi).  Once again…welcome to my battery drained life.
2) So much time on Amazon
If Amazon has a counter for how much time I spent this past weekend searching the site for deals, they'd probably be concerned.  The challenge is it wasn't just Amazon US, but also Amazon UK, Amazon France, Amazon Spain, Amazon Germany, and Amazon Italy.  Plus all sorts of other random sites too that had occasional deals.
Much of that time was spent on Friday, but I spent probably 2-3 hours each day this weekend as well looping through the sites.  Once you do it enough times you can figure out the patterns.  Some interesting things I noticed:
A) Some Amazon sites actually have a specific category called "Sports Technology", most don't.
B) Amazon France and Amazon Spain have the least well-structured categories, they often contain irrelevant things.
C) Amazon Germany has very well-structured categories – almost too perfect.
D) In general, Amazon Spain and Amazon Italy get deals on the older/lesser wanted things
E) Except the new GoPro Hero6, which Amazon Italy won that game huge on Friday.
F) Amazon UK gets better deals on newer things, with Amazon Germany close behind
G) Amazon US had some good deals this year, but it was incredibly predictable for almost all of it.
H) Most of the 'unexpected' deals on Amazon US were random sub-retailers going off-book for a few hours
I bought a ton of stuff on sale this weekend that I've been wanting to pick up, on discount.  These include new/updated Nest Cams (Indoor & Outdoor), some wireless charging pads (I opted for the really cheap ones), some Philips Hue kits to toy with in the Cave, and a few other random tiny things for presents and such.
Oh, and I bought a bike.
It wasn't on sale.  Neither were most of the components I bought for it either.  I had waited till this weekend in hopes of a deal on some of them, but for the most part, not so much.  The specs are all here.
3) Waffles & Wild Boar Ragu
Remember back a month or so ago when I asked how you make those crazy awesome waffles we found in a food truck?  Well, you all delivered with specific recipe recommendations.  So we ordered up some pearl sugar (we have countless pearly sugary things for the bakery, but not this specific one) and then The Girl did all the work.
End resultant was awesome Liege waffles: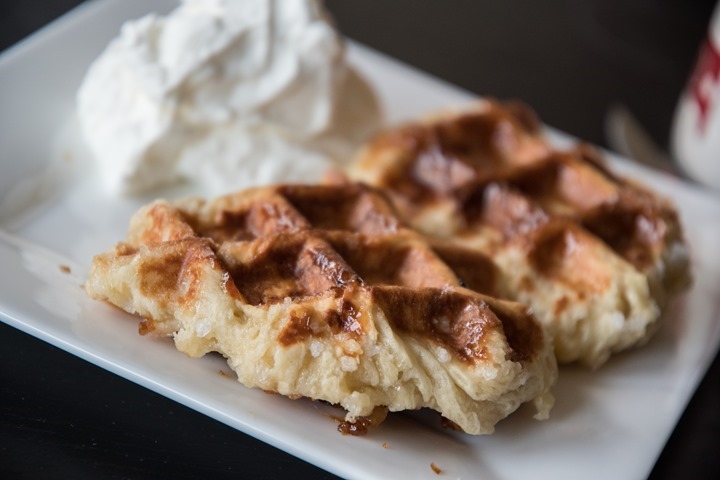 The Peanut was really happy about them, probably too happy in retrospect.
Also, I made fresh pasta later that night.  That's because our friends brought over some wild boar ragu they made (they actually went out and got the boar themselves too).
My plan was to take a photo of the pasta with the wild boar ragu.  Except…umm…I ate it all before I remembered I was supposed to take a photo.  My bad.
4) Skiing in the city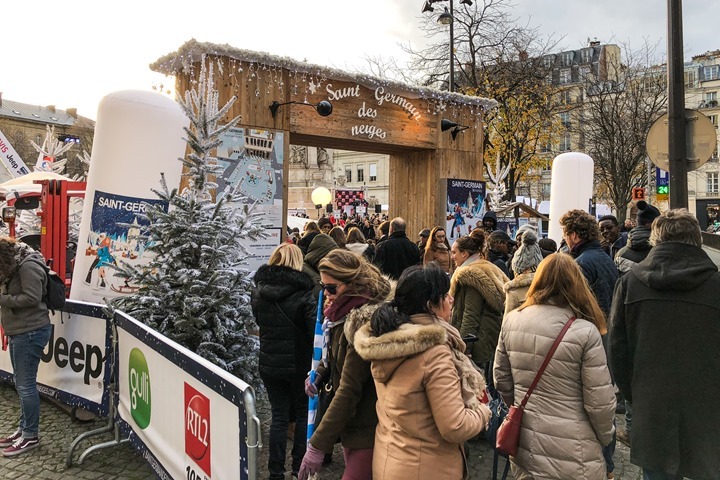 Each November a number of French ski areas from the Alps and Pyrenees put on a bit of an outdoor ski-themed expo not far from where we live.  Its staged in the square in front of the famed Saint-Sulpice church, and is packed full of things to do.  Albeit, maybe a bit too packed this year.
Once inside there were little huts for each ski area.  My guess is maybe 50 different huts in total.  It's fairly impressive they brought these little wooden huts in, given this was only for a 4-day event.
In addition, they had a gigantic ski jump.  Except, instead of skiing you'd go down in a tube.  Still, people could line up and catch some serious air before landing on the large pillow.  That yellow orb in the air is someone having just launched (and probably also someone soiling their undergarments).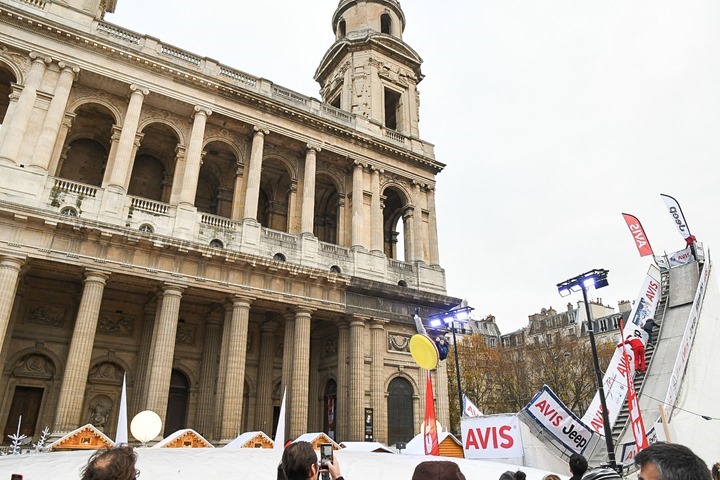 In addition, for kids they had two different skiing areas.  One was a biathlon setup, using little laser weaponry and running around on the snow.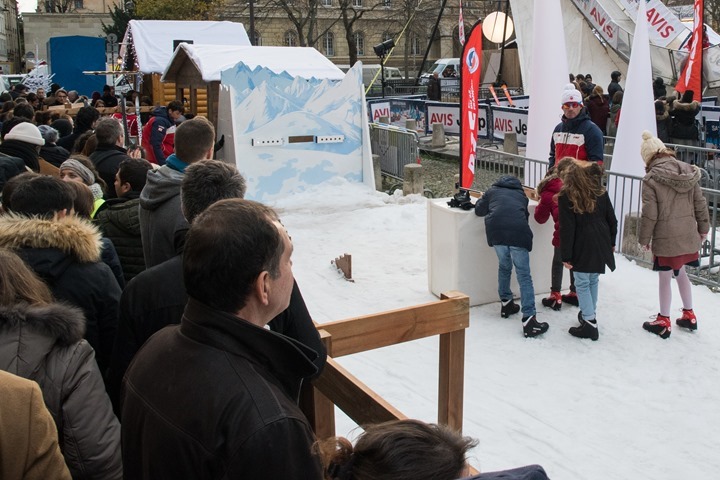 And the second was more of a cross-country setup around a portion of a large fountain, perhaps 25 meters in snow length or so: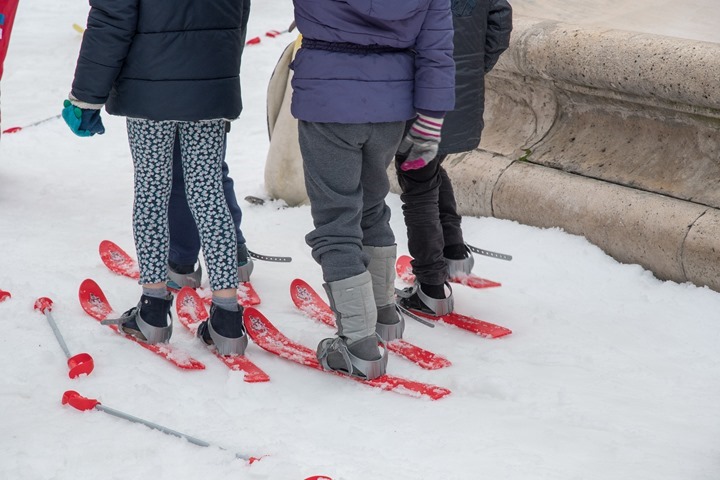 Oh, and they had a very short fat tire bike course.  I'm not entirely clear where the snow came from for all of this, but some questions are better left unanswered.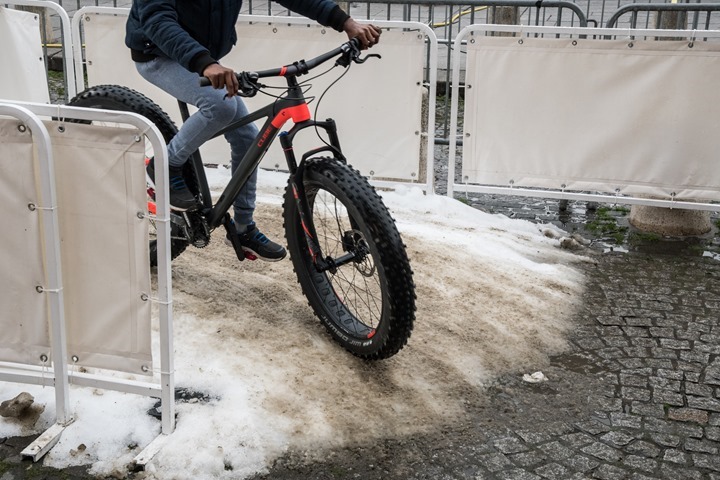 We didn't stay too long, since the area was jam-packed as they had seemingly made a bit too small of a perimeter area this year.  So moving around was really tough, especially with a stroller.  Still, it's always fun to check out.
5) Parisian Cafes
After a long and arduous time at the ski resort, it was time to sit down and get drunk.  Or, at least have some wine and crepes.  We went a handful of blocks away to a spot we hadn't tried before.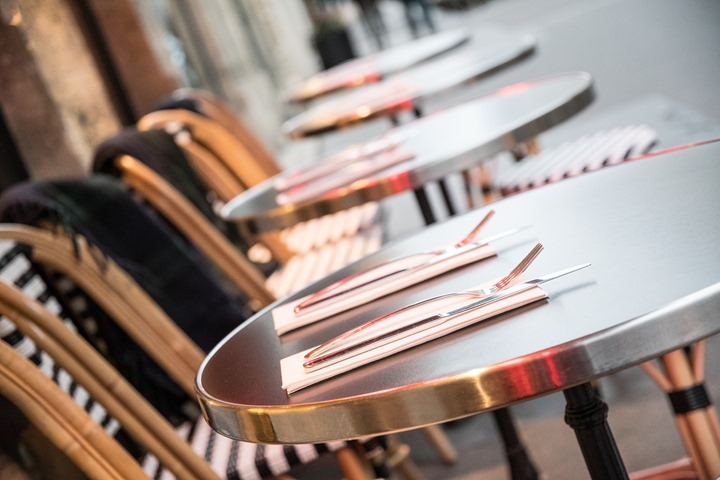 They had heat lamps out, and plenty of outdoor seating available, so we were able to find a spot for both the stroller with Peanut 1, as well as Peanut 2 in the chest carrier (in the event either squawked, it wouldn't upset anyone).
We got some crepes.  Me a truffled ham with fried egg, and The Girl seared duck with mushrooms.  We'd describe both as so-so.  Overrated really.  Not bad, but not worth the premium.  Lacked depth in flavor you'd usually associate when you mention those ingredients.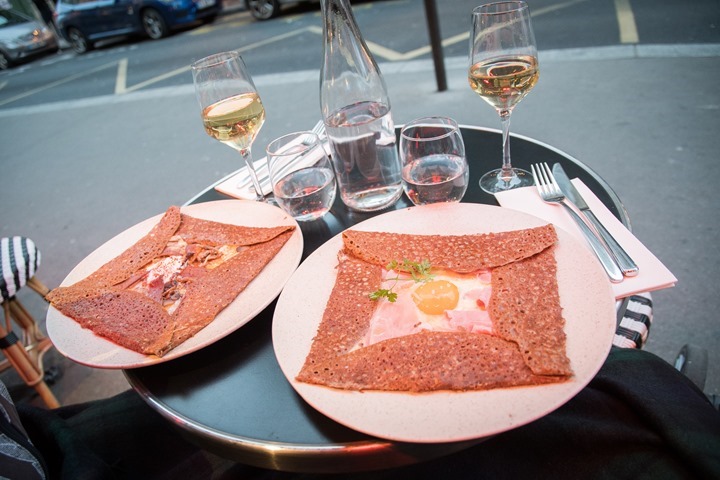 The place is well known as one of the top crepe places (at least for out of towners), though we prefer numerous other spots instead.  At least we tried it once.
In any case – from there we walked on home and called it a weekend.
With that – thanks for reading!