Yet again, it's Monday.  This weekend was filled with both gadgets and non-gadgetry things alike, so go forth and enjoy!
1) The Eiffel Tower: To The Top
Fun fact: Since moving here over 5 years ago, we've yet to go to the top of the Eiffel Tower.  Sure, we've escorted friends to the Eiffel Tower, and certainly I ride/run/whatever around/past it multiple times per week.  And we often picnic on the grounds of it.
But go to the very top? Not so much.
The last time I did so was about 15 years ago, on a trip long ago.  And The Girl? Never before.
So Friday we took advantage of tourist season being over, while still having some nice weather to head up the top.  The lack of others meant our journey was incredibly quick. Virtually no lines at all for the two-elevator ride.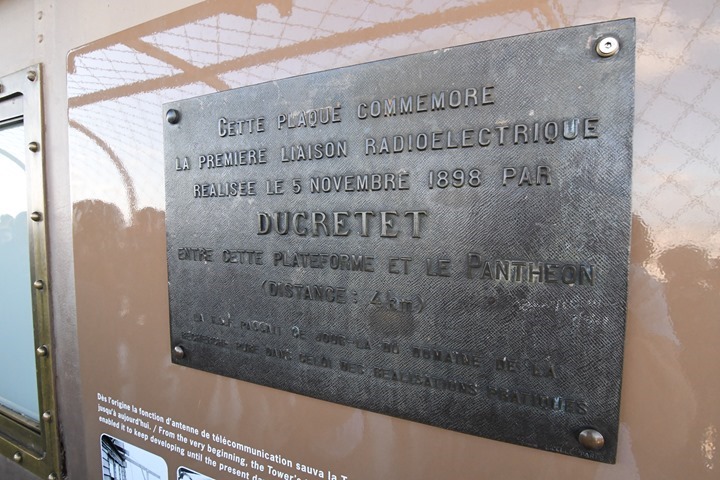 Before we knew it, we were 276 meters (or 906 feet) high on the top viewing deck and looking over the city.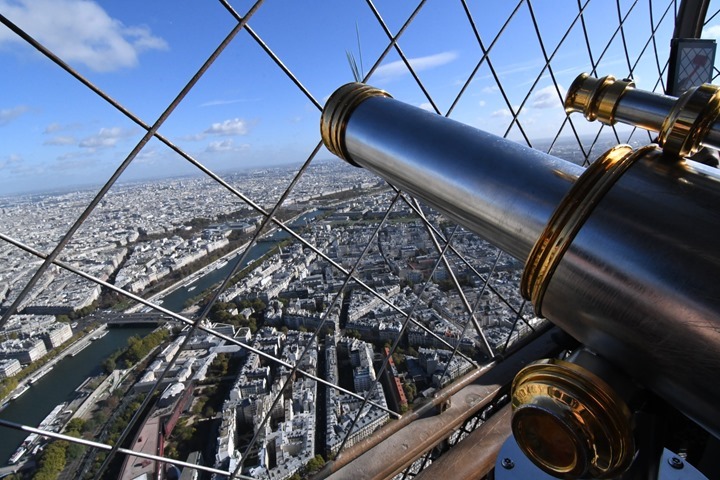 I had The Peanut strapped to me, and she enjoyed things for the first bit: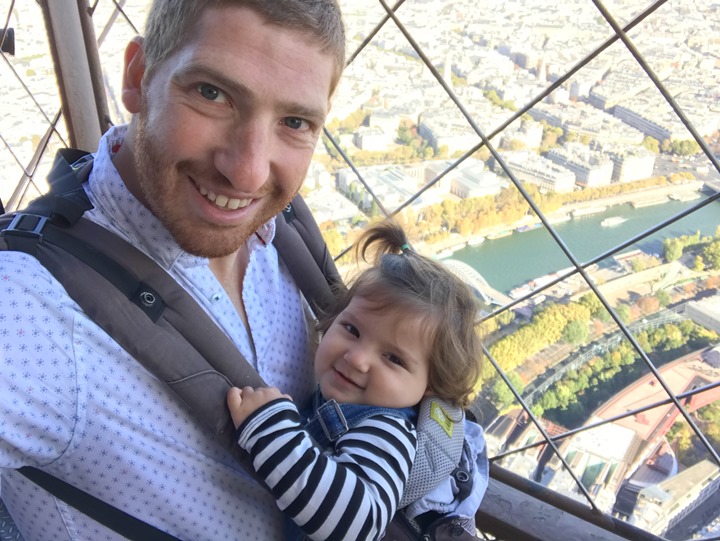 And then she fell asleep.  Apparently a nap was the higher priority for her.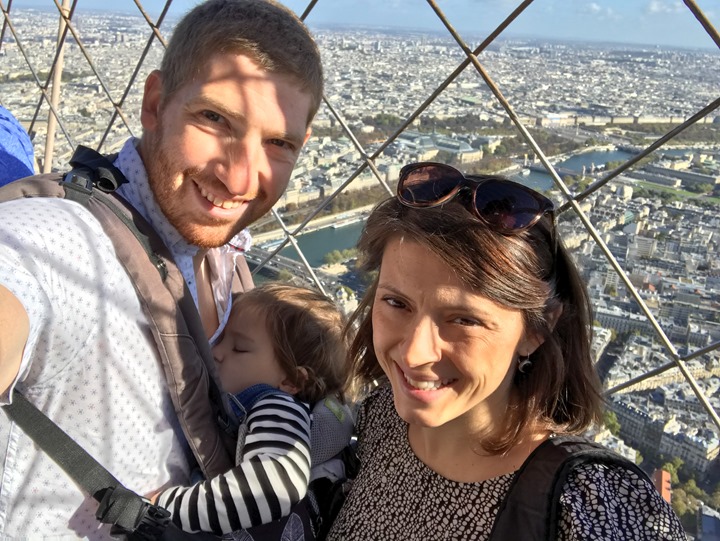 You can see the Eiffel Tower from just about anywhere in Paris, assuming a building isn't blocking your view.  And the inverse is true too – you can see just about anywhere in Paris.  The view really is spectacular:
And thus checking off our list the most notable tourist thing to do in Paris.  Watch out, we might even go to the Louvre together some day.
2) Unboxing goodness:
After getting back from the Eiffel Tower (and a side-trip to the farm for some pumpkins), I got cooking on some unboxing things.  Most notable was the RunScribe Plus.  My unit arrived at my US forwarding back a bit earlier in the week, and then I quickly forwarded it over (along with a pile of other things):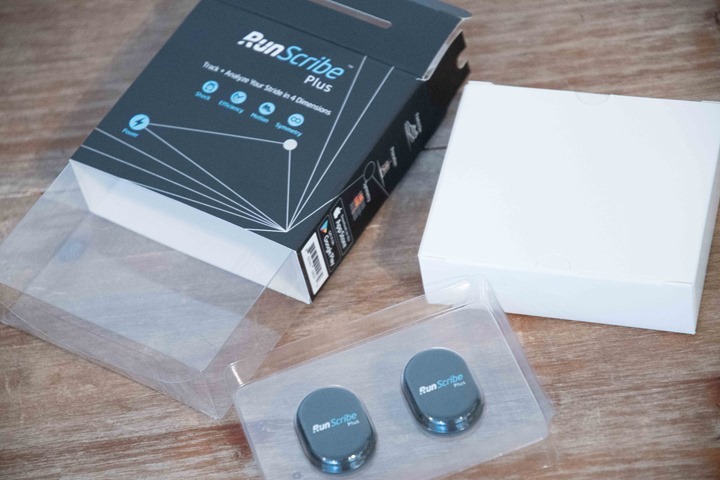 Inside are two pods (left and right shoe), which in turn can give you all sorts of metrics that I'll discuss later in this post.  In the box though are also clips that allow you to install it on either the back of your shoe, or the front of your shoe.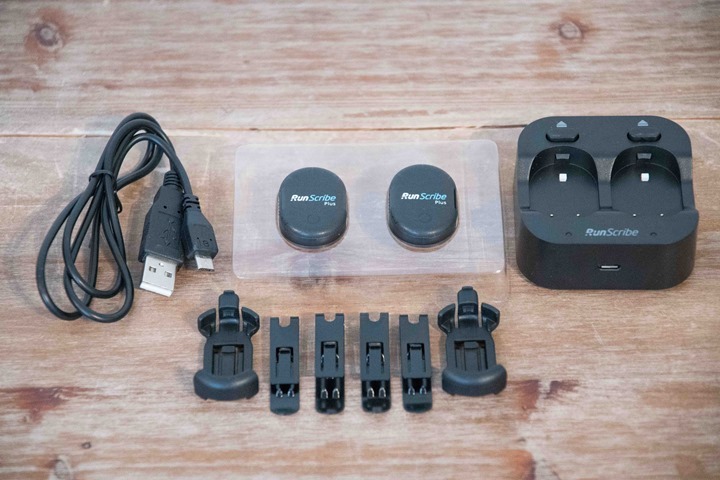 Simple and straighforward, and largely like their existing pods.  Plus, I really do like their little pod charger.  It's like a nice tidy coffin for your pods.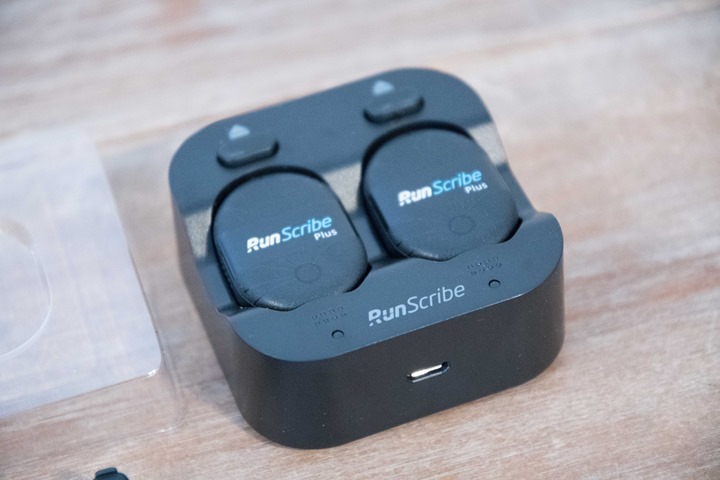 From there I got things charged up, and then spent two hours trying to get three other watches and sensors all situated for my run.  The amount of time I lose daily to getting things on the right firmware, charging, prepping, etc… would astound people.
3) An Evening Louvre Run
After sorting out all my firmware and related woes, I headed out for a run around town.  It was a beautiful Friday night while The Girl was working away on Halloween themed cakes for a friend's party.  Oh, here's The Girl: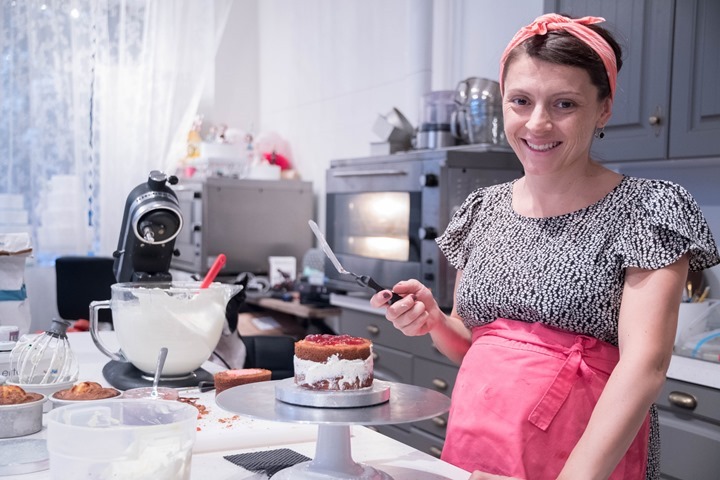 So I aimed for about a 45-55 minute run that would swing through the Louvre and then eventually back along the river.  Nothing fancy.  Here, I found the Louvre: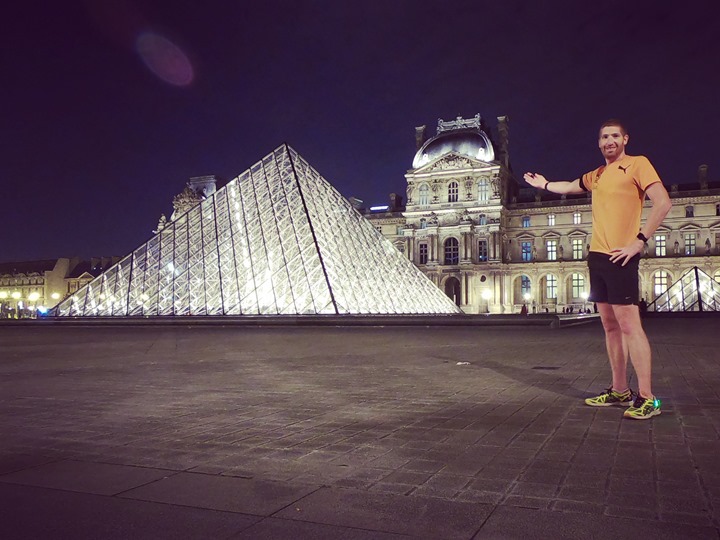 Of course, my main goal was gathering data.  Here was my device list:
Apple Watch Series 3: Connected via Stryd Apple Watch App
Garmin Vivoactive 3: Connected to RunScribe Plus & Stryd
Garmin FR935: Connected to RunScribe Plus & Garmin RD-POD for Running Power & Wahoo TICKR X
GoPro Hero6 Black: Pictures, obviously.
Arion insole sensors: To collect running data, connected to iPhone 7
Milestone Pod: Just another running footpod
Got all that?  Good.
Of course, as with all things, the best laid plans didn't quite work.  After resetting my firmware on my FR935 I forgot to re-pair it to my RD-POD till about 5-7 minutes into the run. At which point I re-remembered that you can't access the sensor settings without stopping the run.  So I just skipped that.
Also, the Arion app stopped recording or something half-way through the run.  But most other things worked.
I got RunScribe Plus data, though I had to wait for some fixes to calibration today to make sense of the data.  So I'll have to try again in the following days.  Either way, I'm impressed by the initiative and involvement the company is taking to rectify any early stumbles.  I think the company has likely finally arrived at the product they wanted all these years, so I'm pretty sure it'll do well.  Oh, and here, you can look at my full run data here.  The dip in the graphs below is where I stopped to take the Louvre photo.

Or, the same data as captured via Garmin Connect IQ on the FR935 here (Note: Due to the calibration piece I mentioned, the data on the RunScribe site is corrected, whereas the data on CIQ isn't.  That's fixed as of today, going forward.)  And, the Vivoactive 3 CIQ with Stryd here.
The Stryd to the Apple Watch did seemingly work well, though I'm still not super-convinced there's a huge cross-over between those two markets at the current Stryd prices.  There's a bit more detailed write-up on what that looks like here.  But right now it's super basic.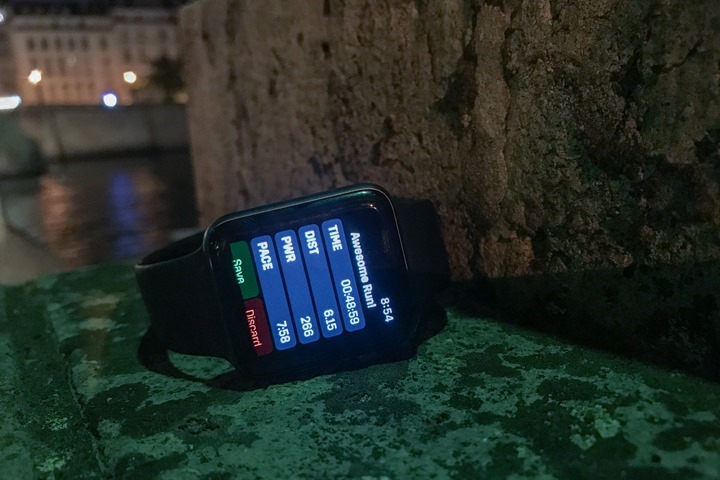 On the bright side, I did manage to take this nifty photo: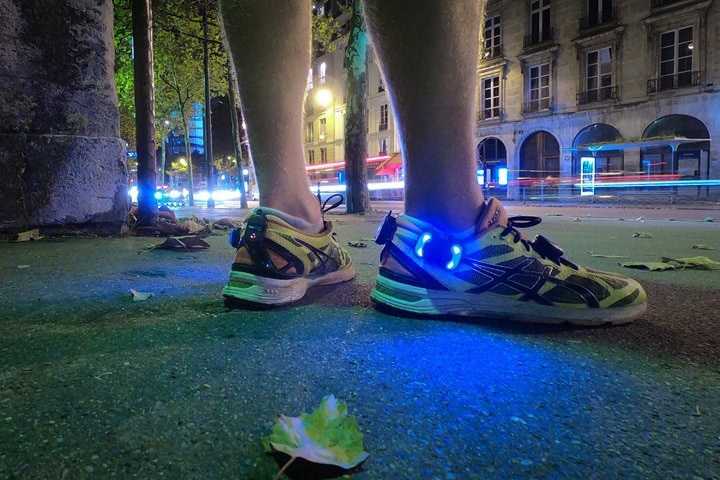 Oh, did I mention the Arion pods light-up at night?  Yes, two glowing beacons of light attached to my shoes.  Just in case folks watching me didn't think I was crazy already.
4) Friday Night DCR Live Stream!
After I wrapped up my run above on Friday night, The Girl was (literally) still cooking along.  So I did a quick YouTube Live Stream.  Historically I've used Facebook Live for this, but I decided to mix things up a bit.  In theory those on YouTube that subscribe to me there got instant notifications.  Also, I tweeted it out.  But basically, you should subscribe to me on YouTube anyway, because it'll increase your awesomeness factor.  Just go here, and tap the subscribe button.
Oh, and for those that missed it, here's the full video from it:
I hope to do it again more frequently.  Which is usually what I say every time I finish a live stream.
5) Food Trucks and Art: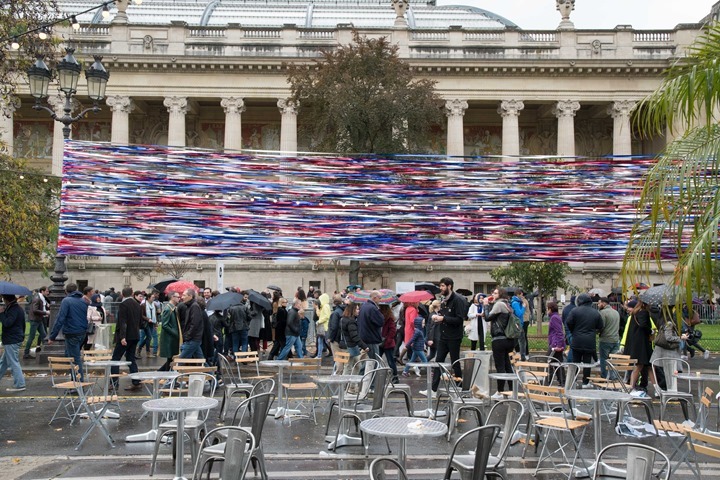 Sunday afternoon we headed out for a wander across town.  There was a big art exhibition of sorts going on in the gardens near the Louvre and then up to the Champs-Élysées, as well as other well-known museums/halls.  So we swung past some of that on the way there: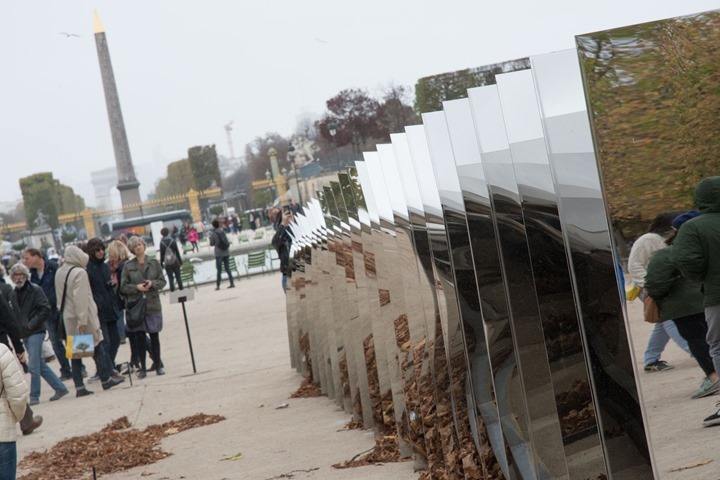 I always enjoy the art they put in the gardens for this event, as it's usually quite 'different' than traditional statutes found there.
Along the way, it started pouring.  And winding.  Lots of wind.  We sought shelter for a bit, but ultimately decided we needed to push through the rain and wind.  After all: Food trucks awaited us.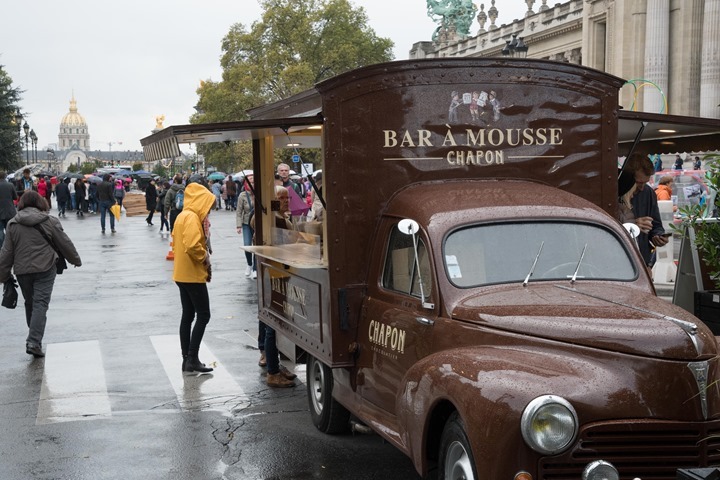 They had two small clusters of 3-6 food trucks and carts each.  Food trucks in Paris tend to be smaller than in the US.  In one case, more like bike cart things.  Still, they had a good collection of options.
We hit up 3 of them and shared different dishes to try as many things as possible.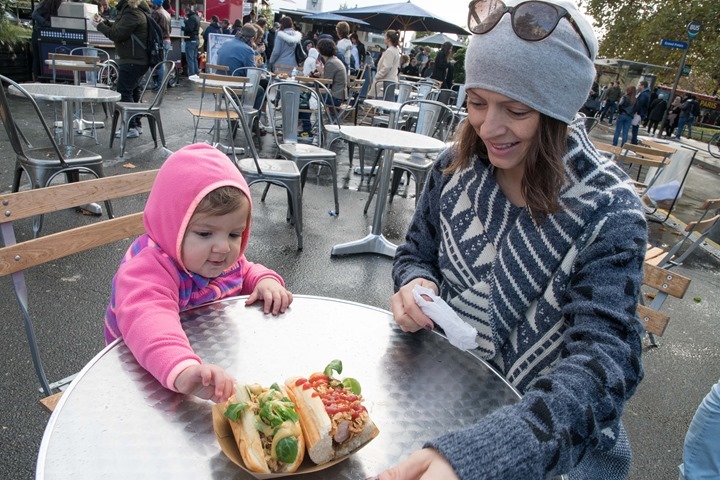 Like these waffles.  They were awesome.  I now need a waffle recipe that makes sugary dough like this that can hold its form.  All of our waffle 'batter' recipes are rather runny and not so awesome.
After eating too much, we decided to walk the 5K back home.  That was somewhat our plan all along, but that was definitely our plan after the waffle and related things we ate.  And with that…our weekend was complete (assuming you ignore the birthday/Halloween party, the pumpkin patch/farm trip, the late night ramen excursion, and chasing around the house a tiny human).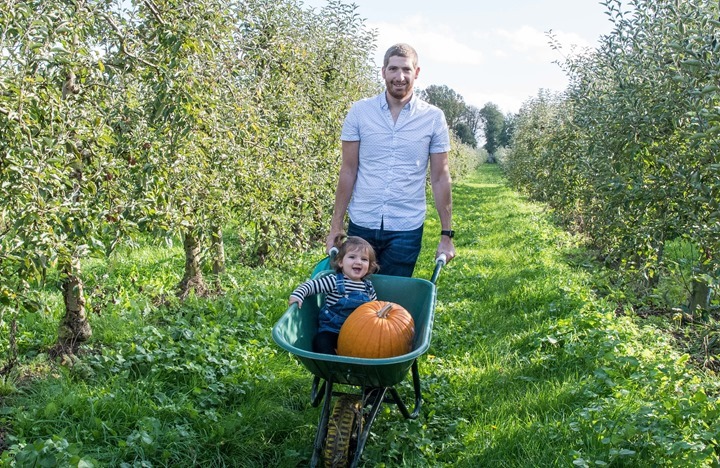 Hope everyone has a great week ahead!