While the weather was almost totally crap for much of the weekend, we still made the most of it here within the pockets it stopped raining.  Or in some cases, we just dove right into the water…literally.  Here's what the last few days entailed.
1) Pre-Race Workouts
Leading into a race on Sunday, I got in a few different short workouts.  These generally lasted 30-45 minutes and tended to ramp-up intensity for short periods of time.  In the case of Saturday for example it started with a short trainer ride for about half an hour.
In this case, I used the Tacx NEO, simply because I have the same cassette (10-speed) on it as the road bike I'd be using.  Whereas if I was on my tri bike, I'd have put it on the KICKR (11-speed cassette).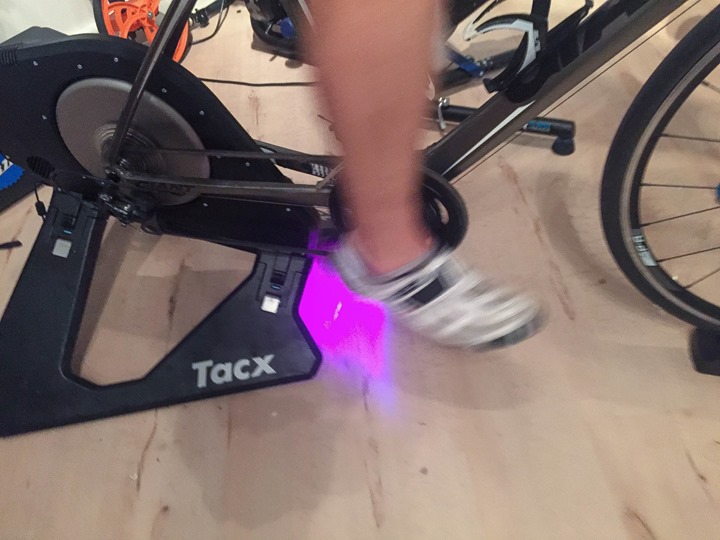 Then from there it's out outside for a short 15 minute run at increasing intensities in 5-minute chunks.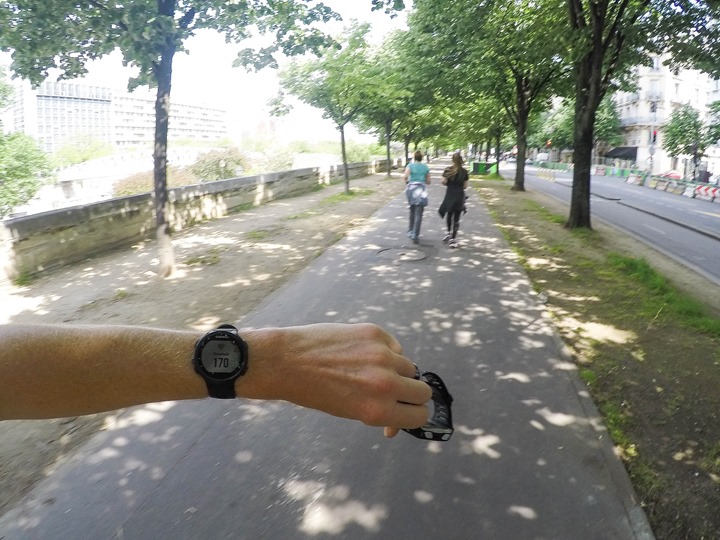 Quick and fun!  I always enjoy the pre-race brick workouts.  Nothing complicated, nor long.
2) Crepes & Picnics
We had a bunch of friends in town from the states over this past weekend.  Two different groups actually.  The first of our friends arrived on Thursday, and we got right into the swing of things and headed to the fromagerie behind the house to pickup some cheese.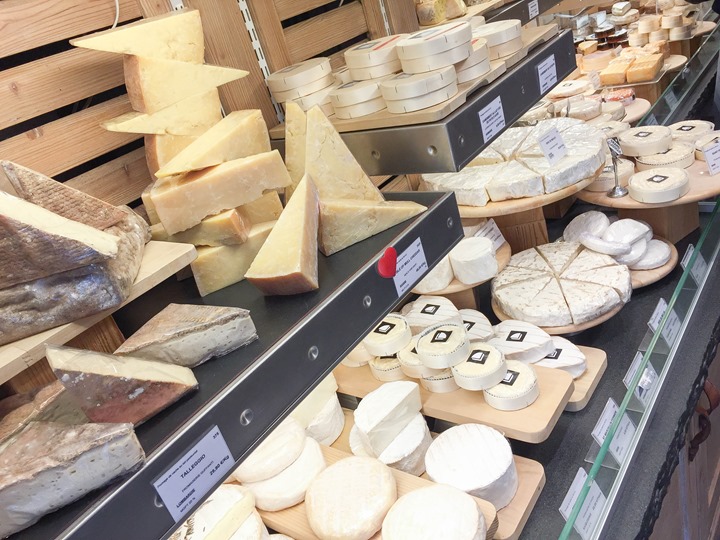 From there we packed up picnic baskets and headed down to the Champ de Mars, where the Eiffel Tower sits.  We may have stopped along the way for a few photos.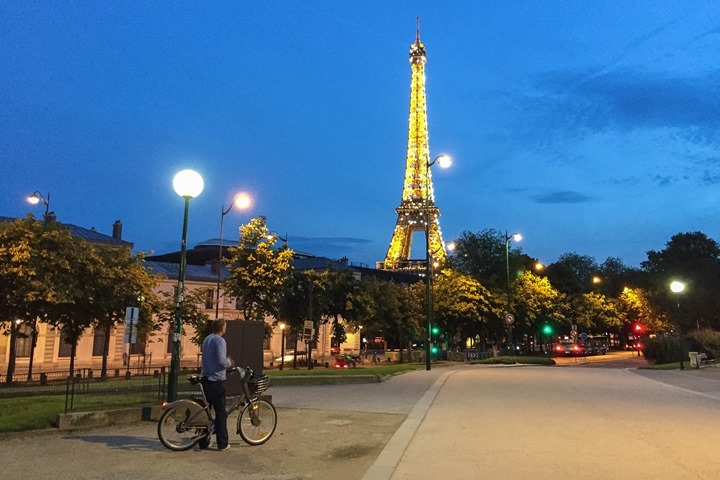 It was a beautiful night out, and the lawn was still fairly quiet.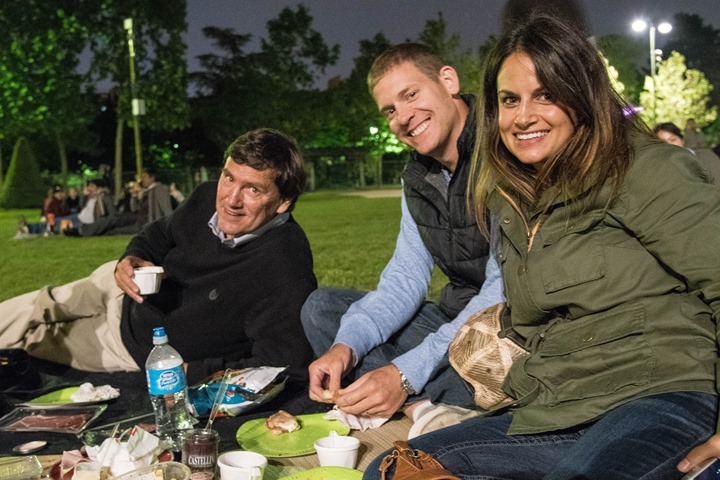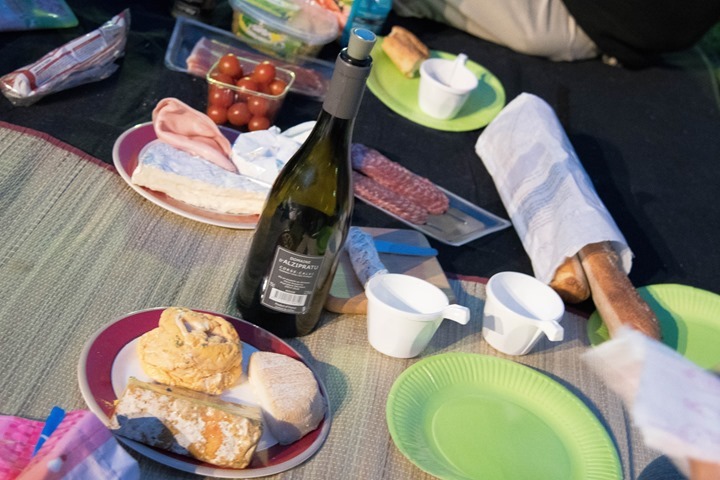 And yes, Little Lucy was around too.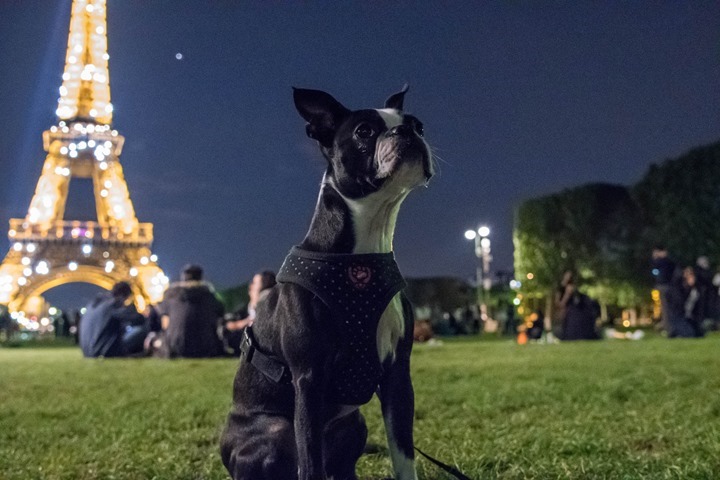 Later in the weekend with the second group also in town, we hit up a local spot for crepes.  We tend to go to different spots for both sit-down crepes and take-away crepes.  And in this case, it was just a quick crepe craving!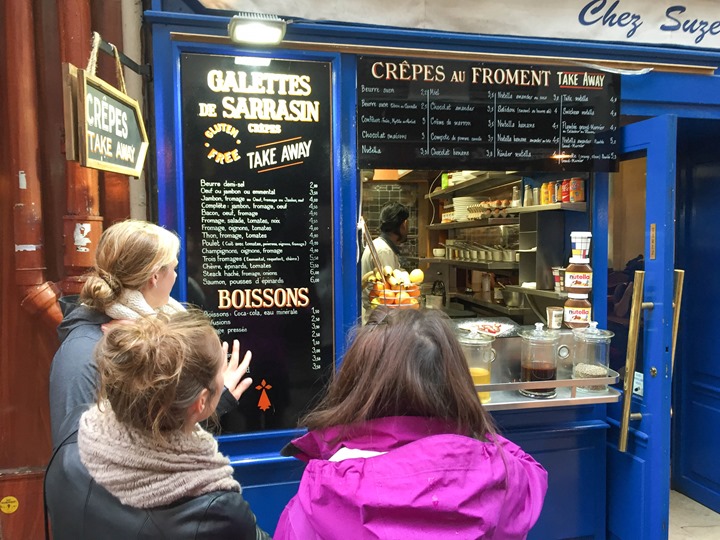 Can't beat a well made Nutella-Banana crepe!
3) A Baby Shower
With the Little Peanut almost here, a bunch of our local friends put together an amazing baby shower for us (or, the baby?).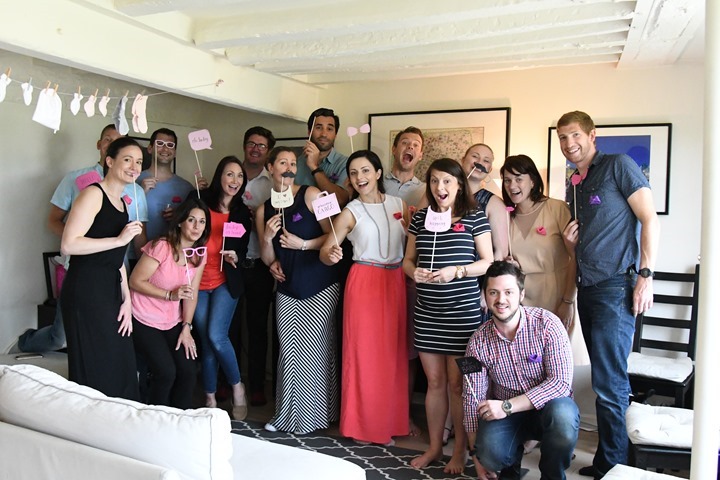 They took over the apartment and setup an amazing spread of homemade food, drinks, and even macaroons and a cake!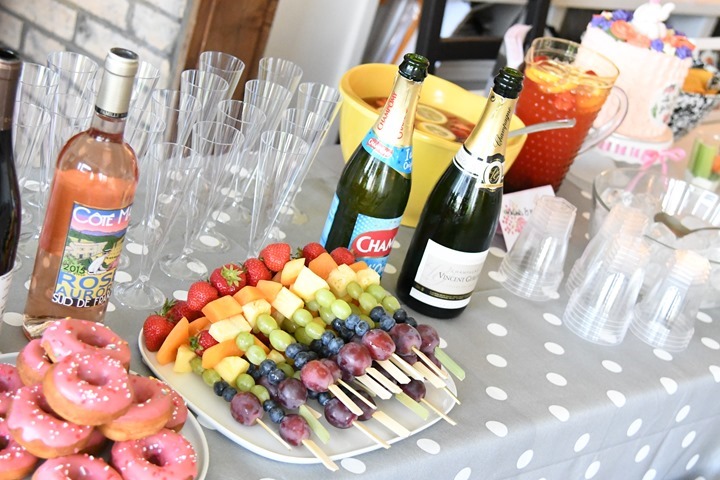 There were two games to be played.  One longer-term game involving predicting the baby's actual arrival/delivery date.  The person who is closest to the actual arrival date has a bottle of wine set aside for them as a prize.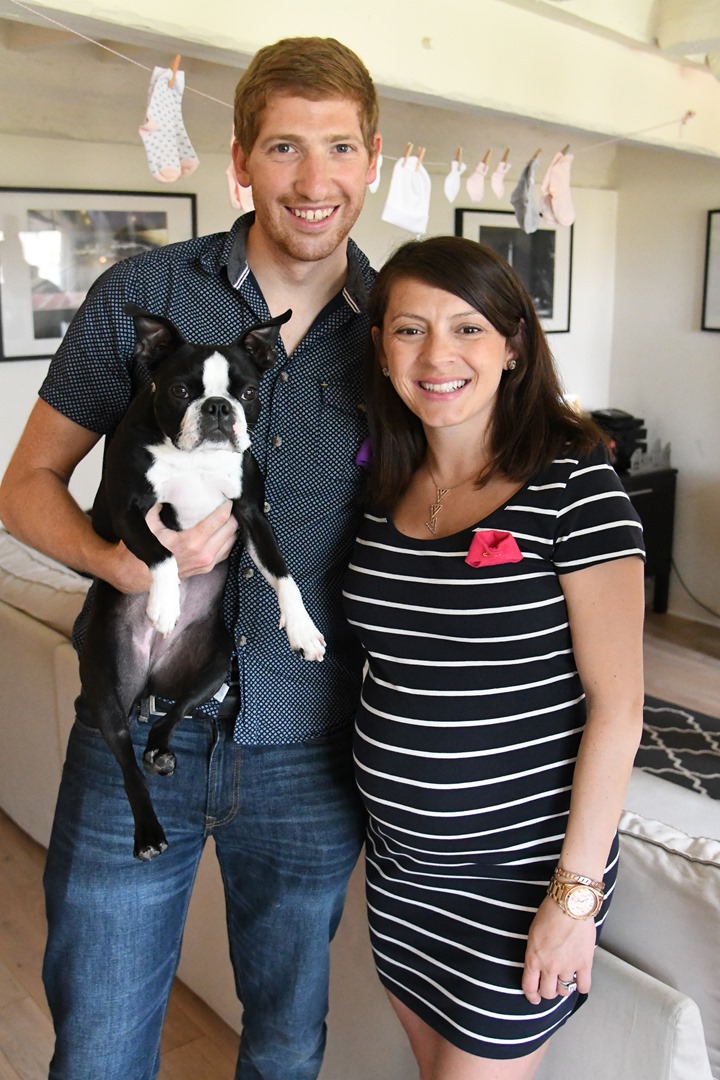 And another to test people's knowledge of baby-related terms in French (i.e. how to say bottle, midwife, diapers, etc…).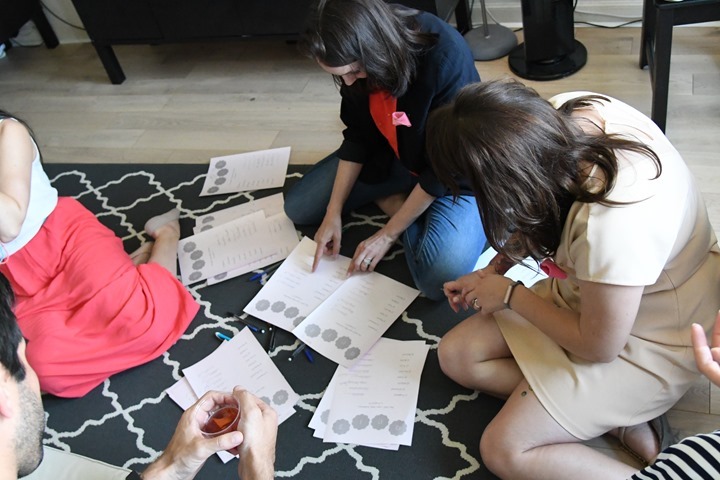 Thanks again to all our friends – you're awesome!
4) Riding Boats & Bikes
With friends in town we jumped on the Bateaux Mouches tour boats.  An hour tour/ride of the city costs about 13EUR, and is super cheesy.  But it's neat at night as the boats light up all the buildings as they go by, and well worth the trip.  Plus, just grab yourself a 5EUR bottle of wine at a grocery store and it makes it all the better.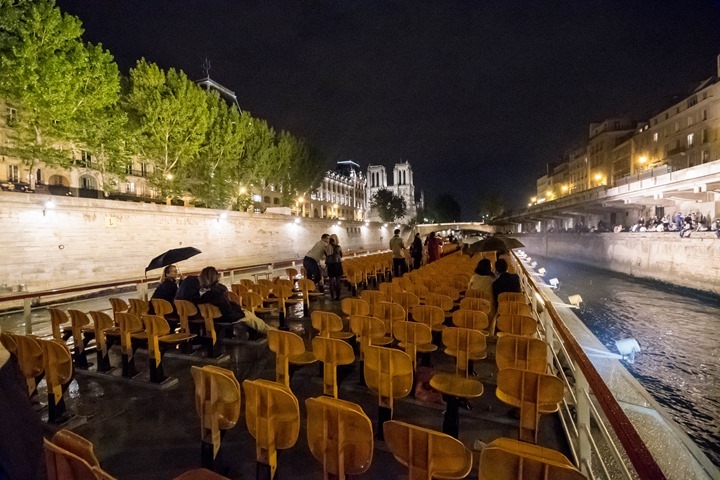 Afterwards some of us biked homed via Velib.  The rain had temporarily stopped, making it a great way to see the city late at night.  Our route from Pont Alma took us down the Champs-Élysées, then through Concorde and eventually to the Louvre for quick photo stop.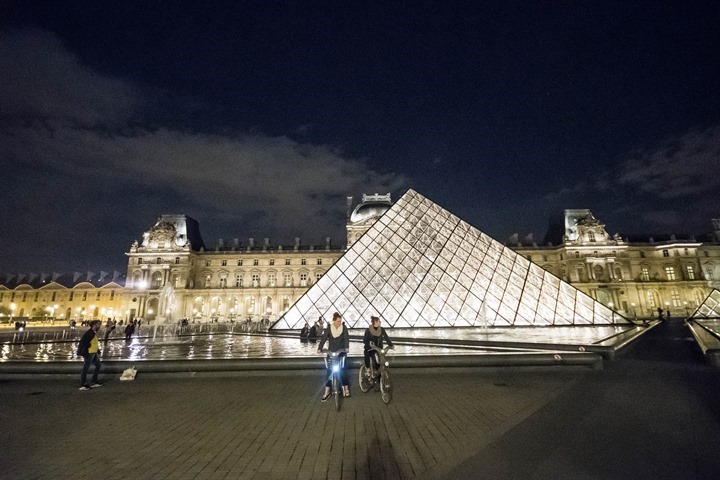 From there we continued on back through Notre Dame and walked home.  Not too shabby a way to end the night!
5) Raced the Versailles Triathlon
Finally, up Sunday was lots of rain.  And more rain.  Oh, and a triathlon.  The Versailles Triathlon. I last did this a few years ago, and it's a great local sprint race.  But, that day was rather sunny.
This year?  Umm…this was the run course: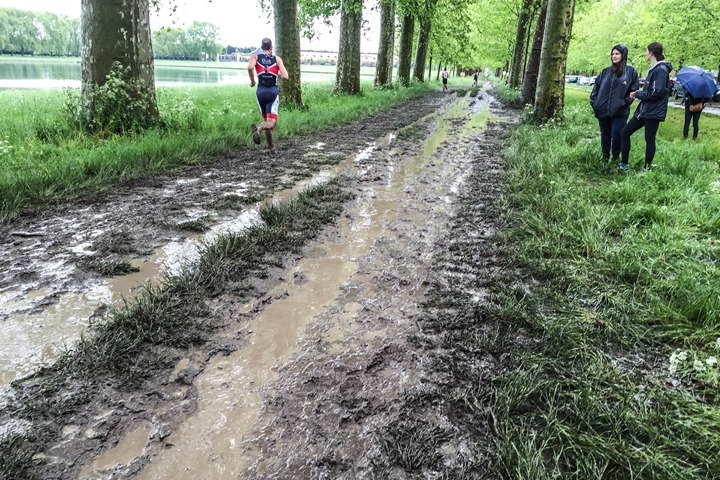 I think it might have been dryer during the swim than the rest of the race.  Plus, it's draft-legal on the bike.  So that adds a whole new element to things.  This was not a race of aerobic capacity or strength.  Instead, it was mostly a race of balance and staying upright.
But…more on that festivus in tomorrow's Race Report.
With that – thanks for reading!