Wow, another crazy busy weekend!  For this week's 5 Random Things, I'm going back to shortness, because there's two posts today and I wanted to be able to cover everything and not leave you too overwhelmed!
1) Weekend Evening Eiffel Tower Picnic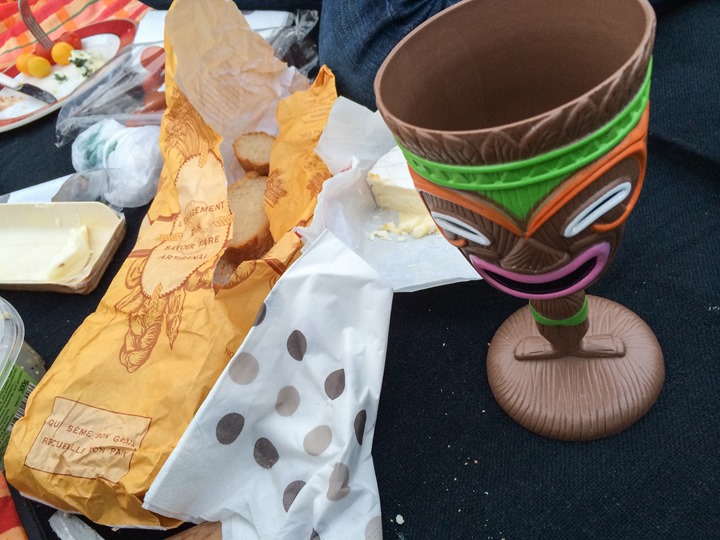 When the weather cooperates, we always enjoy taking folks from out of town out to the lawns in front of the Eiffel Tower and enjoying an evening picnic of baguettes, meats, cheeses and wine (and whatever else we find at the market/store).  This time however, there were no visitors, but rather just a group of friends.
This past weekend they opened the lawns again for the spring/summer.  Sorta like fishing season, the lawns are closed at certain times of the year, and in this case, they're closed all winter to allow them to recover.
With the opening of the lawns also come the roving wine offerings.  Drinking in public at the Champ de Mars (that's the park part near the Eiffel Tower) is permitted, as it is in many (most?) places in Paris.
What isn't so much permitted is the sale of wine on the grasses, though, it's rarely a problem.  While we bring our own, there are plenty of guys willing to sell you bottles of wine for quite reasonable prices.  The trash bags you see are full of bottles of wine, and a little beer.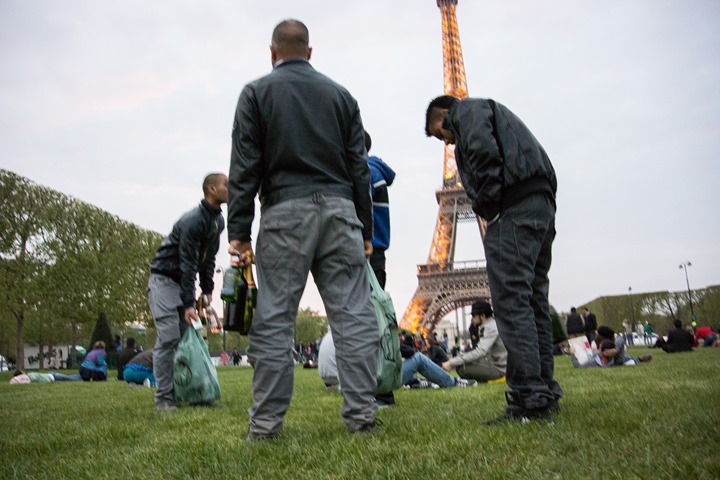 With our own wine and water, we also brought our own mugs.  Long-time readers will remember the origin of these mugs, from nearly 5 years ago, before The Girl and I even were a couple when we went on a road-trip together as friends to her first sprint tri (yes, that post is part of the way back machine).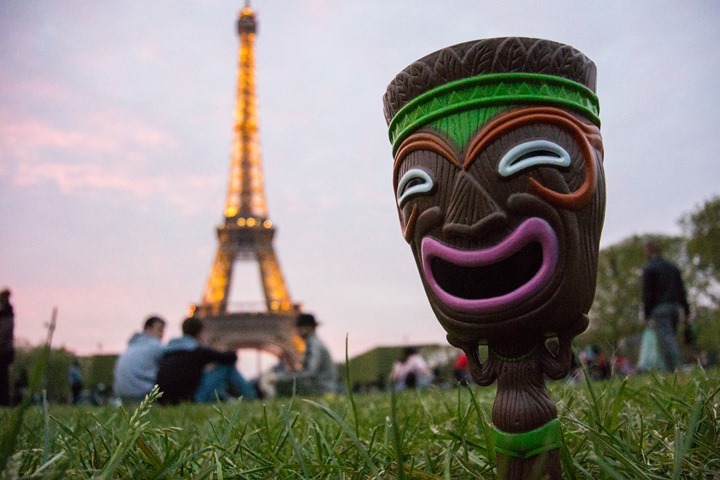 Meanwhile, The Girl found a new friend.  Thankfully, said friend already has an owner.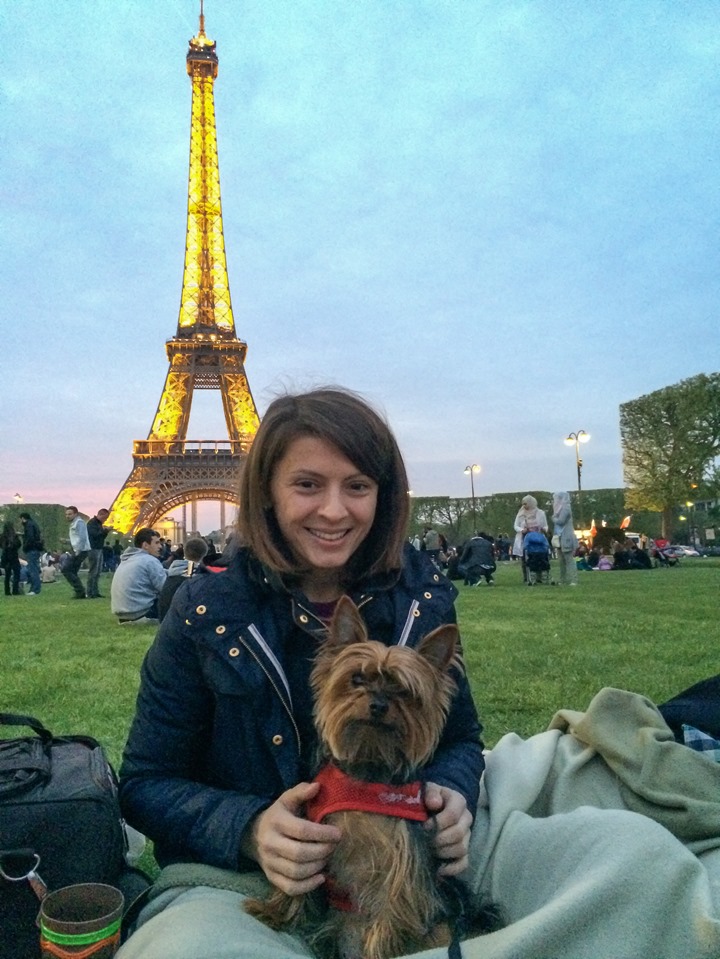 2) Played around the Scosche Rhythm+ optical heart rate monitor, Samsung Gear Fit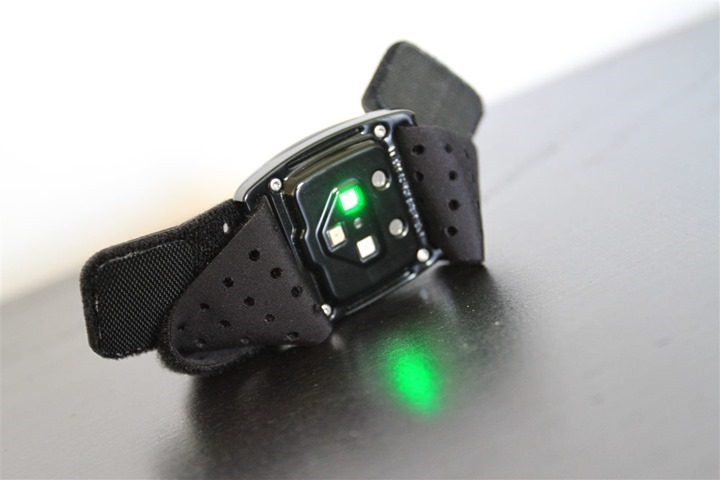 A bunch of new stuff came in on Friday.  First up was the Scosche Rhythm+ optical heart rate strap that transmits on both ANT+ and Bluetooth Smart.  Unlike most other units though, this doesn't go on your wrist, but rather a bit higher up, on your forearm: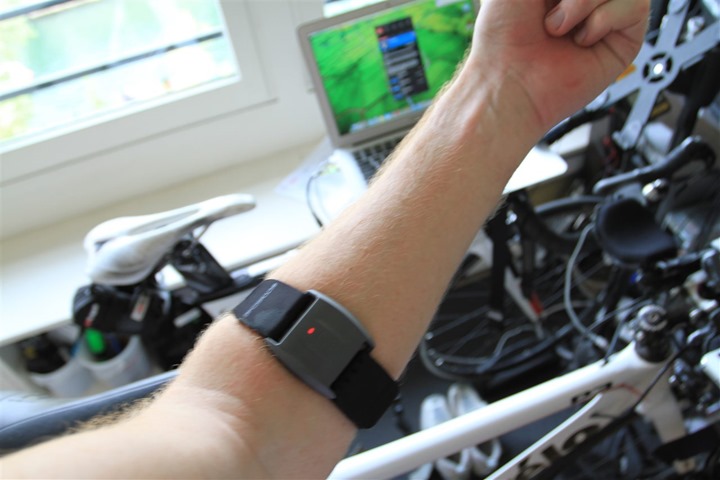 In my initial testing on an indoor trainer ride, and then subsequently during putting it on The Girl for a run of hers, it tracked very well against a slew of other heart rate devices worn at the same time.  So far, so good.
Now that I've also got the production versions of the Mio Link in as well, I'm able to do a bit of a bake-off, since they are very similar in a lot of ways.  It also makes data gathering easy too since they should roughly align to my traditional heart rate strap, as well as in one case, a helmet heart rate sensor.
Looking at more optical devices, is the Samsung Gear Fit.  This beautiful piece of hardware is part activity tracker, part fitness tracker, and part smart watch.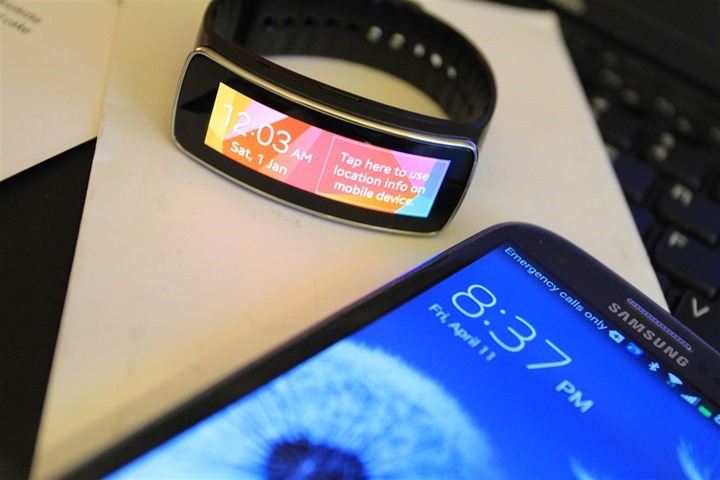 Well, in theory anyway.  I've got a post planned for Wednesday with some of my initial thoughts on the unit.  From a physical device standpoint, I'm impressed.  But, as I'm finding – it's not all about the device.  There are a crap-ton of devices in the market.  It's about the software that makes the difference.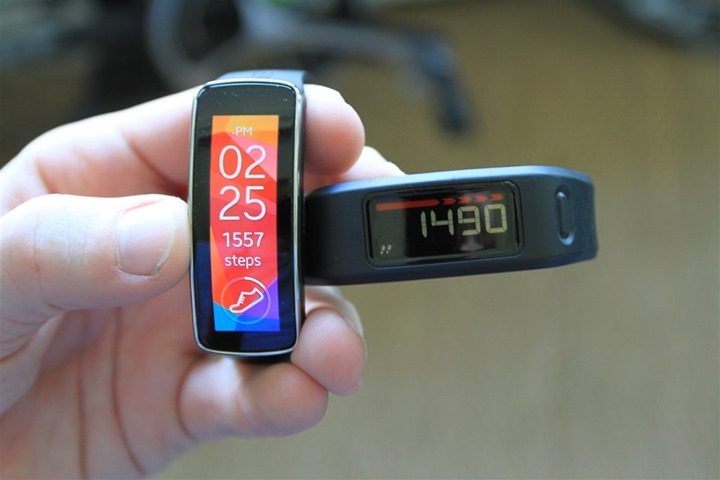 But again, more on that later in the week.
3) Competed in the Paris Super Sprint Triathlon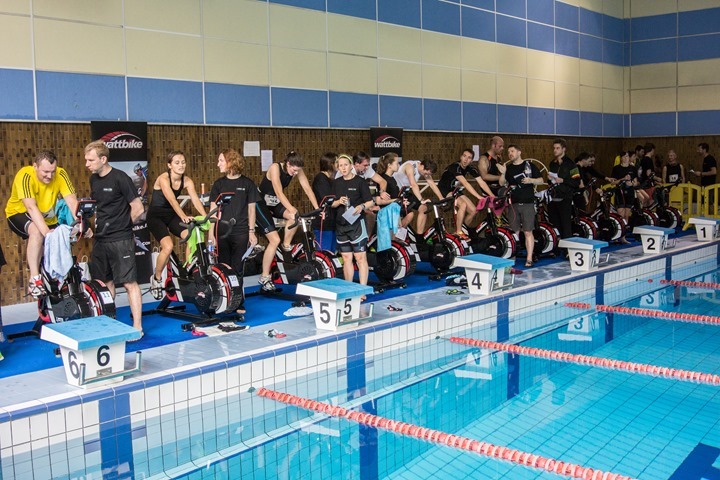 Next, I competed in the Paris Super Sprint Triathlon, which was held Sunday morning on the Western edge of Paris proper.  The 300M swim, 7KM bike, and 2.5KM run was a perfect way to jumpstart my triathlon season (which, I'm still planning).
You can read all about it in my race report here (yup, just published as well!).
4) Ran in the Paris Color Run
As if there wasn't enough things going on Sunday, I added participating in the first edition of the Paris Color Run.  This 5KM journey into the land of powdered paint was quite the experience.  The above photo I took at the finish line, but that's just one of many awesome photos I took along the way.
Lots of goodness coming up there in Tuesday's 'Race' report (look, I can't have three posts publish in one day…that's like eating the entire box of chocolates at once).
5) Went for a night-time ride-along on The Girl's run:
Finally, after a crazy long day of tri's, runs and a lot more running around, I went out and accompanied The Girl on her Sunday evening run: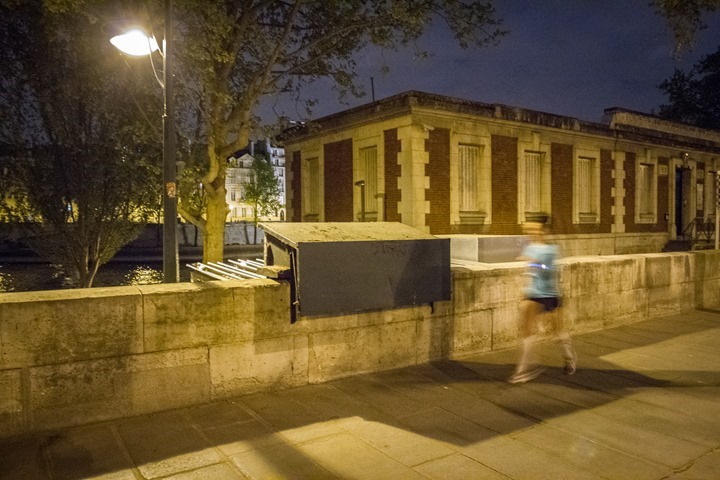 It was a rather nice night for it: no wind, no rain, and just the right temperature.
Post-run, we did nothing.  Just us, Hulu Plus, and some non-healthy food we could scavenge from the house at 11PM.  A perfect end to a busy weekend.
Lots of goodness coming up this week!  Thanks for reading!
(Random side note: Reminder, the Garmin Edge 500 deal for $159 ends today)