Today Specialized continued their slow invasion into sports tech gadgetry with the introduction of the Specialized ANGi standalone pod and fully pod-equipped helmet lineup. These connected helmet pods alert your friends and family when you crash, but also give those folks a tracking link for your entire ride (and even alert when you don't come home on time).  Oh, and Specialized quietly acquired ICEdot (the company) a year ago and managed to keep it under wraps.
Another oh – the company (Specialized) is building out a ride meeting/organizing app that should probably give companies like Strava pause for thought. But more on that in a moment.
First up is the helmets and sensors, which I've gotten a couple of rides in already – but will wait a few months before doing a complete review on it (so I can find out if I get false positives or worse, real positives). However, in the meantime, here's this first look at things. The video below is notable as I show how the crash detection bits work in real-time:
Though, if you want all the textual details, then read on! Note that in case you're just reading this intro bit while deciding whether to read everything else: The standalone pod is available for a mere $49. Quite reasonable actually from Specialized. Do they sell anything that inexpensive? I kid…mostly. Let's get into the tech details.
The Tech Specs: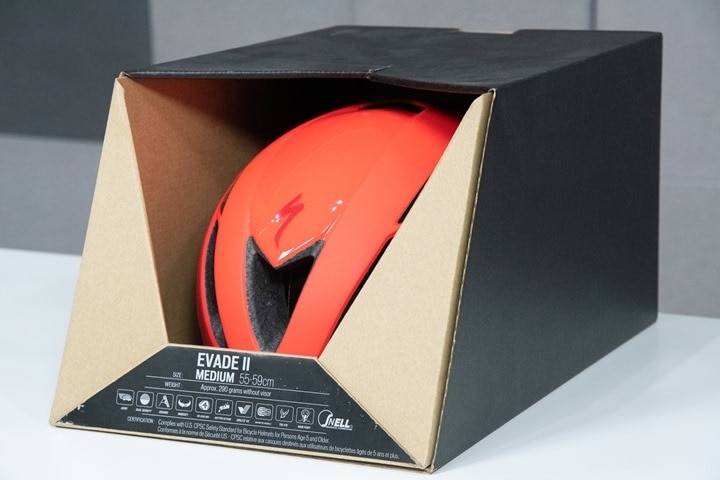 The ANGi lineup is essentially two parts. Or three depending on how you slice it. You can buy basically one of three things:
A) Standalone ANGi pod you can attach to any helmet on earth
B) ANGi capable helmet from Specialized, sans-pod, for later pod addition
C) ANGi equipped helmet from Specialized, with the pod already attached.
About now you're probably wondering what the heck ANGi stands for. No, it's not 'Ahhh….Noooooo….Ground…In my face', but rather "Angular and G-Force indicator". Personally, I think my acronym is much better. But maybe that's why I don't work in marketing.
As mentioned earlier, Specialized acquired ICEdot about a year ago, but this isn't simply a re-branded ICEdot product. In fact, in talking to Specialized it sounds like there's more new than old. The sensor is completely redone. Previously it was a rechargeable system, now it's coin cell. Previously it was just an accelerometer, now it's got a gyro in it as well. Previously they could only detect accelerometer impact type incidents, versus whiplash with the gyro.  Not to mention the entire app and online platform behind it is different.
The pod itself uses a CR2032 coin cell battery, so the same as most heart rate straps and many power meters. Specialized claims it'll get up to 6 months of battery life per battery. All of which connects via Bluetooth Smart to your iOS or Android app. But even the connection is highly optimized. For example, it goes to sleep for five-minute intervals before checking back in to the app. The app on your phone does the GPS transmission and related work. But fear not, if you crash, the pod instantly alerts the app – it doesn't continue to sleep like Garfield for five minutes.
As noted earlier, the pod has two basic variants. The standalone one that you can attach to any helmet uses a sticky mount, just like a typical GoPro sticker would. The pod itself is IPX7 waterproof (so you can go swimming at 1-meter deep for up to 30 minutes).
Whereas the ANGi equipped helmets come with a small mounting plate on the back of them that the pod attaches to.
It's barely noticeable.
Specialized noted that while the pod is compatible with any helmet, their validating testing in terms of detecting crashes and not triggering false positives has only been done on their helmets using that mount system. They're pretty confident it'll carry over to all helmets, but their validating focus has been on their own helmets.
Speaking of which, the new ANGi capable helmets are all MIPS equipped. And in fact, that's actually MIPS SL. It's exclusive to Specialized at this point and essentially integrates the MIPS lining into the helmet padding itself.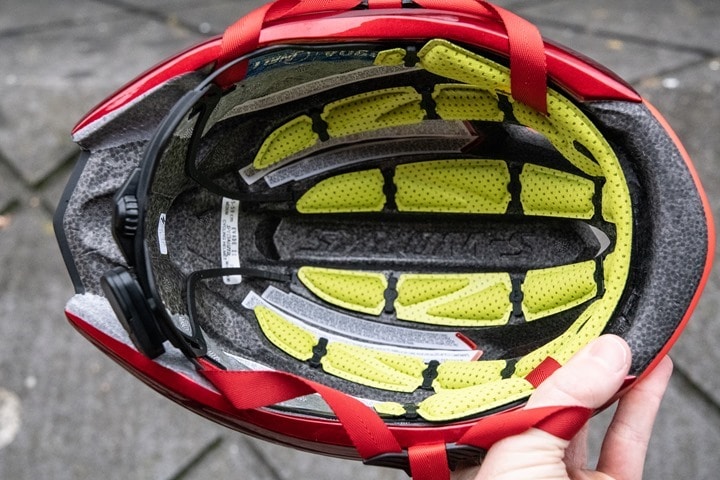 Here's a list of all the helmets that are ANGi equipped or capable as of today (the helmets are available as of today as well).  The ones where I've noted 'WITH ANGi' are those that include the pod. Everything else is just ANGi capable (has the mounting plate):
Recreational:
Align MIPS: $60
Centro MIPS: $80
Echellon II MIPS: $90

Youth:
MIO SB MIPS: $55
Shuffle Child LED SB ANGi MIPS: $65
Shuffle Youth LED SB MIPS: $55

Mountain Bike:
Tactic 3 MIPS: $95
Ambush Comp MIPS [WITH ANGi]: $150
Ambush MIPS [WITH ANGi]: $200
Dissident MIPS [WITH ANGi]: $385 [Holy balls, there's $385 helmets?!?]

Road:
Propero 3 MIPS [WITH ANGi]: $130
S-Works Prevail II MIPS [WITH ANGi]: $250
S-Works Evade II MIPS [WITH ANGi]: $275
Got all that? Good.
Let's talk about what it's like out on the road.
Riding with it:
From a helmet standpoint, it's just a helmet to me. It fits my noggin and is lightweight (obviously, that'll vary depending on which helmet you have). So let's talk tech. The first thing you'd do is get the pod activated in the service/platform. Normally it comes with an activation card inside that gives you a code for the first year of subscription service, but in my case the cards weren't printed yet. You'll also need to provide a credit card for service, even on day 1. That won't be charged until day 365, when it'll cost $29/year for the service.  All of this is done via the app.
[Side note: I've seen a ton of questions in the comments on why can't Specialized simply send text messages straight from the phone. This is blocked, in particular on iOS. Apple doesn't permit *any* 3rd party apps to utilize the text messaging interface. Thus, an app can't send a text on your behalf. Therefor, all 3rd party apps have to use 3rd party cloud services in order to make this happen. Plenty of discussion in the comments section if you want more details.]
To pair up a new helmet to the platform you'll simply wake-up the helmet by giving it a light shake, and then you'll see it in the app to pair. It takes like 6 seconds total.
Once that's done you'll want to add some emergency contacts. These are the peeps that will get notified both for ride starts as well as when you do something embarrassing.
When you add a contact, it'll text them and ask them to confirm. After all, you don't want someone to not know they're getting something about you. Note at the bottom how the alerts are divided into two categories:
1) Emergency Alerts
2) Ride Alerts
The emergency alerts are when you crash, and they go out via text message. Whereas the ride alerts occur when you start and end a ride, and they go out via e-mail. Note that in the case of both myself (Office 365) and The Girl (GMail), our ride alerts got moved into our Junk E-Mail folders. So go white-list them and encourage your friends/family to double-check it at some point.
Meanwhile, text messages worked both times and didn't get caught anywhere.
To start a ride it's super simple, on the app you'll tap that 'Record' tab at the bottom, which then takes you to a single button to press to start the ride. Just press it, and then it changes to indicate it's active.:
At this point, your contacts will receive an e-mail with your current ride location. They can tap on that e-mail and then get a map with your location and then a map of where you've been with track dots:
As of launch day, the complete GPS track with higher quality isn't yet available. Specialized says that's coming in a few weeks (they even joked that I'm sure I hear 'a few weeks' quite often, and then it's months – they promise they're a legit 'real meal deal few weeks', so we'll see).  Once that happens you'll see the full track, which is also what uploads to apps like Strava and others if you want.
So what happens if you crash? Well, first, if you want to just play around with the sensor you can actually do that. They have a test mode to see the impact of various forces. Kinda cool:
But, let's say you crash for real. In that case it triggers the alert, which on your phone starts a really damn loud alarm (you can hear it in the video towards the end). But there's a countdown there. you've got that many seconds to turn off the alarm before it notifies someone. The default is 15 seconds, but you can change that up to 90 seconds.
Once your time has expired then the app and backend platform notify your emergency contacts via text message. This all happens within 15-20 seconds of the timer expiring. The text message allows them to click on a link to show your exact location.
This of course does depend on your phone's cellular service, so if you're out of range, this solution won't really work. Though, the original tracking link will show where you were up until the point you disappeared. Once done with the ride you'll just tap the button to end it.
All of this works pretty well, and in the handful of rides I've done over the last few days I haven't had any false positives. Specialized says they've had 200 riders on a beta platform and haven't had a single false positive since. They didn't note if they had any non-triggers though for real events.  They did note that they tuned the helmet sensor to specifically focus on incidents that were likely to cause situations where the forces are considered enough to have you either be unconscious or otherwise memory challenged. Meaning, if you just make a stumble off your bike (as is common mountain biking), but don't actually hit your head on the ground, the sensor is unlikely to trigger.
They didn't want a scenario where it wasn't useful to mountain bikers because it was constantly triggering due to bumps, jumps, etc… More on my longer testing plans in a moment.
What comes next: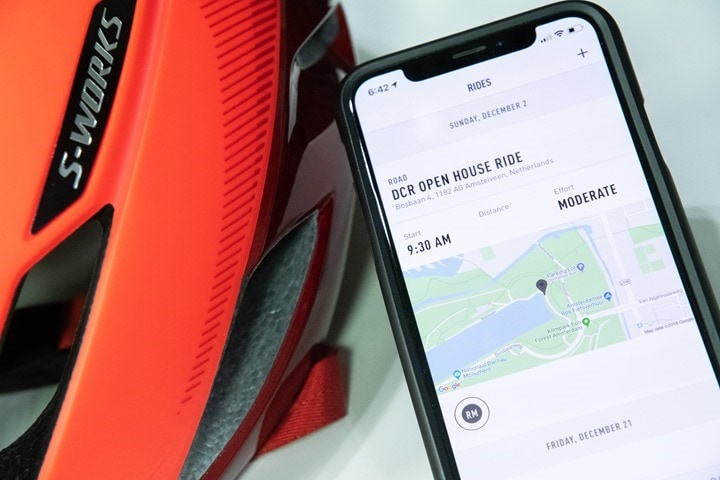 In some ways, what comes next is actually more interesting to me. Right now the platform sends your current dotted location to friends/family. But Specialized is working to onboard a bunch of routing providers so that you can load your planned route straight into the app. They want to connect to apps like Strava, RideWithGPS and – I quote "As many as possible" other platforms. This will allow them to overlay your planned route with your actual route.
That's super valuable if you go out of cellular range and friends/family have to start trying to figure out why you haven't responded – they've got a place to start their search.
In addition, Specialized will soon be enabling a ride expiration alert. This allows you to put an estimated ride time in the app, and then alert friends/family when you're not back in time. Obviously you'll want to add a small buffer for cookie stops, but the idea is that if you've budgeted a 2hr ride and it's been 3.5 hours out in the woods – maybe someone should know about that.
Lastly, in conjunction with all of that (and specifically in the next "couple weeks"), they'll enable the GPS ride recording to upload to platforms like Strava.  The idea being that the app becomes a one-stop shop.
Which in some ways is my only challenge with it. While great for recreational riders, many more experienced riders are going to ride with dedicated bike computers (Garmin/Wahoo/Lezyne/etc…). For that, many of us don't want yet another app to remember to start and then causing GPS drain on our phones.  This seems like precisely the type of thing they could have partnered with Garmin and Wahoo on and captured 99% of the market. For example, Garmin's Connect IQ platform could have allowed a connection to the sensor, and then leveraged the Garmin itself for GPS. Thus no battery drain on your phone. It'd also have meant that the second you start your ride, the sensor starts working. No extra apps. On the flip side, Garmin's device to phone app tracking system isn't exactly known for being the most stable either.
Finally, the bigger picture here is the Specialized Ride app. The app name itself isn't "Specialized Ride", but just 'Ride', and in fact – the sensor isn't predominately displayed anywhere in it. Specialized's goal here is a more general app that anyone can use to plan rides. This way you can add new rides, starting locations, show riders, etc… All of this exists today on the app in the app store [iOS and Android].
Then ultimately this all ties into the tracking so people can see where riders are mid-ride using the app, such as when you miss the group or if you fall off the back.  Why on earth Strava doesn't do this is probably the big question. Specialized says the goal is to replace the usually Facebook-driven ride planning that tends to be wonky at best.
Still, the concept has been tried before by smaller players, and usually without success due to lack of adoption. But my gut tells me that if Specialized spends enough time marketing this – this could actually take-off. We'll see.
Speaking of time – I'm going to use the helmet for the winter as my day to day helmet and see how things go as a long term review. I want to see if I get any false positives, or (hopefully not) any positives. I'll report back sometime this spring, which should hopefully give Specialized way more time than needed to finish up the app pieces.
With that – thanks for reading!