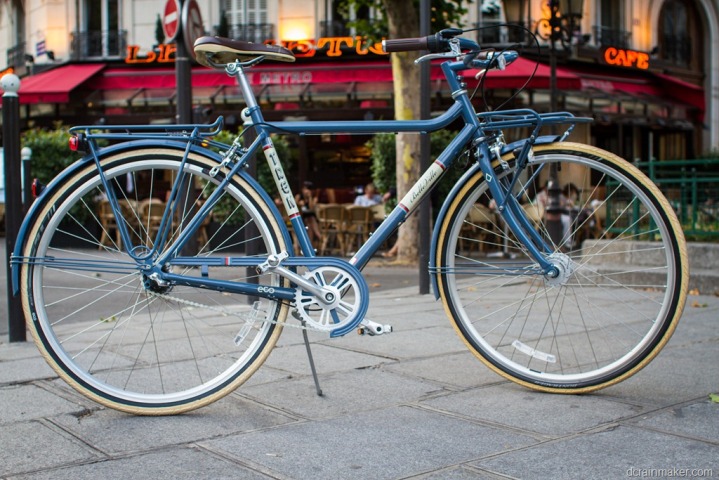 This may well be the longest running series (in time anyway) I've ever posted here on the site.  Not for lack of trying to make it faster, but simply due to a confluence of craziness that made this take far longer than I wanted.  Notably because of the whole moving to Paris thing.  Here were the previous three parts (read the first part for the 'rules'):
Part I: Help me creatively spend $800 on a new bike: Add your suggestions here!
Part II: Help me creatively spend $800 on a new bike: All your responses tallied up!
Part III: Help me creatively spend $800 on a new bike: Looking for your assistance trying to bike the bike…somewhere, anywhere
The good news is – the bike is here!  Though, it took quite an adventure to get it here.  We left off with y'all providing tons of suggestions on where to buy the Trek Belleville at various local bike shops across the country.  This bike has been discontinued, and thus it was only those shops that had a leftover one in their store.  These were few and far between (though you guys found a lot of them!).  The trick was then getting a place to ship it…which would be none of them – despite some of them having the inventory around for years.
But luckily, one shop outside Seattle had a 2010 model that was sitting on their floor begging for someone to take it.  So much so that I got it for $399 – half the retail price!  Of course, they wouldn't ship it either.  Luckily, I was in Seattle last week and could make the short drive over to pick it up in person.  Ironically, the car rental place had given me a Ford Mustang for the week (I only ordered a compact car), so I had to trade it in mid-rental for something else, in this case, a Kia Soul (yes, the one with the bumping hamster commercial):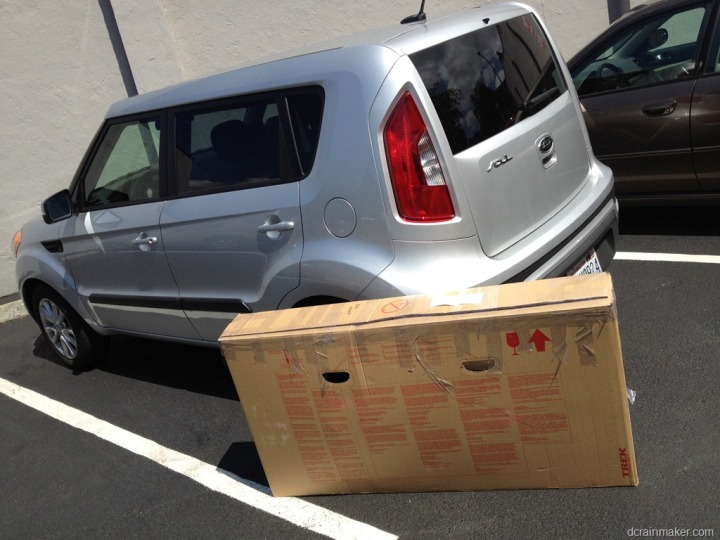 I paid $40 for them (the bike shop, not the hamsters) to box up the bike – well worth it, since they did an awesome job at it.  Fast forward to two days later and I was navigating my way from the (pretty yet horrendously slow/annoying) new rental car garage at Seatac at 4:55AM out to the main terminal: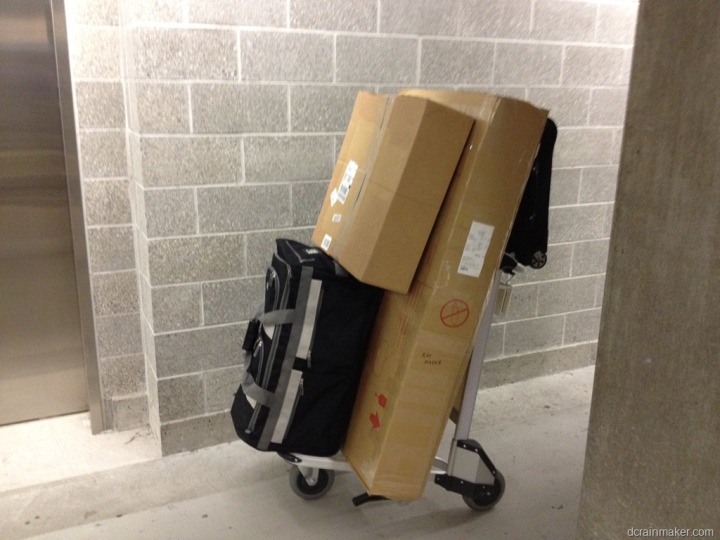 A dozen or so hours later, I found myself doing the whole thing in reverse.  This time without a car, and instead using the Air France shuttle bus (the train, my preferred choice, would have been too difficult with all the luggage):
And finally, arrival into the apartment!  From there, just a big pile of unpacking (though strangely no photos that I can find), and I were all set.
So from here on out, it's time for some solid bike porn photos!  Because quite frankly, we don't have enough pretty bike photos around these parts.  At least, not of my bike anyway.
First up, the bike has both a front basket mounting area as well as a rear rack:
These proved invaluable a few days ago in being able to go and have a picnic at the Eiffel Tower.  We got that astoundingly perfect fitting picnic basket using a wedding gift card from one of our neighbors – Thanks Beamans!:
The bike has three gears, which you shift between using the right handlebar.  Ironically, the shifting system/company is exactly the same in the massive Velib bike sharing program here in Paris:
There are integrated front and rear LED lights, which operate based on the front wheel spinning.  It doesn't have to spin fast, just barely spinning will light them up.  The below hub is what generates the electricity (no batteries!).  I can press a button on the light to change the front light pattern (blinking/solid):
One piece that I'm not a huge fan of though is the seat.  Specifically, the use of plastic zipties to fake the stitching.  Really?  I understand the whole eco-recycling thing, but some couldn't some leather have been used here?
Apparently, the vast majority of the bicycle is designed to be recyclable, hence the Eco symbol everywhere:
The next photo doesn't fit in my storyline, it's just one I took and figured I'd have to include somewhere.  Sorry.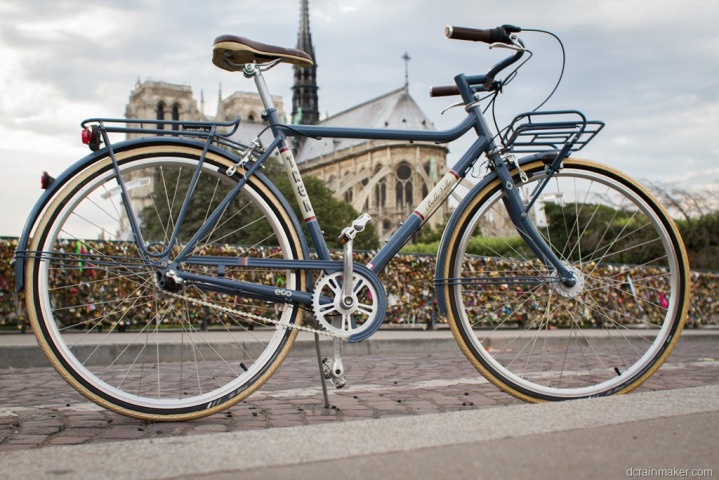 Ok, back to my storyline.
When I'm all done, I park it in the little courtyard of our apartment.  There's only about 5 apartments in here, and just about everyone has a bike themselves, and this is two locked doors deep.  It's locked up, though if someone really wanted it, they could probably take it.  Though, I have a few ideas how to solve that.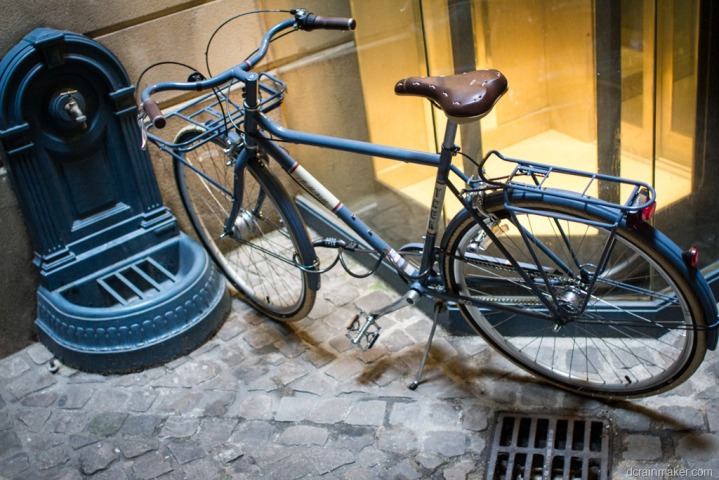 With that, I'll let you get back to whatever real work you may have been doing, and resume your morning productivity.
Thanks for reading!