Last week an astonishing number of you weighed in on how I could spend roughly $800 on a new bike.  As you probably remember, the $800 figure is based on a fitness credit I have from the company I work for – and the specific details state that I can spend it on a gym membership (which I already have), or a new bike (it's actually that explicit).
From there, I provided a bunch of specifications about what I was looking for, with my focus being on a bike that could either replace my aging mountain bike (which I primarily use just to wander around town), or to replace that same function on my rarely used road bike.  I wasn't interested in a high performance triathlon bike, nor did I want to spend too much more than $800.
Nearly 140 of you offered awesome options (with tons of great detail!).  From there, I've been slowly whittling the list down to a manageable number.  It seemed as though most of you knew what I wanted, even if I didn't.  Many of the suggestions focused on either a cross bike, or a single-speed around town bike.
There were a few suggestions on a folding bike, but at the moment I think I'm going to stick with some conventional.
Now, the irony here is that Saturday evening while accompanying The Girl on a run around the Washington Mall, my usually trusty nearly 15+ year old mountain bike gave me a pretty clear symbol that the end may be near.  The front hub literally disintegrated.  The hub portion separated from the internal axle piece.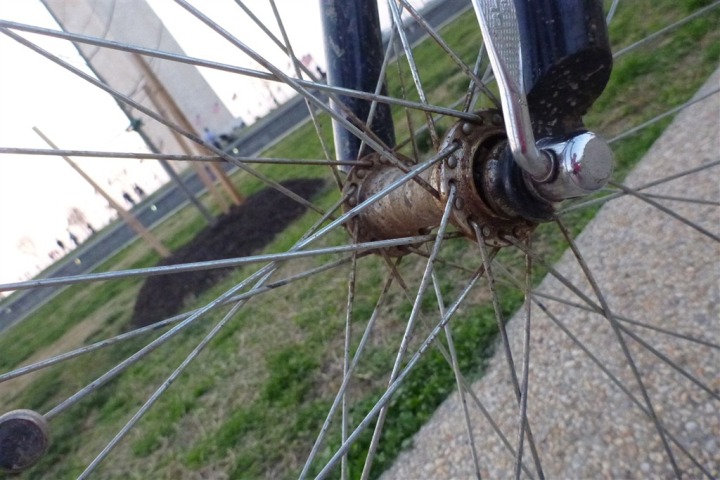 This made for a fairly long and slow journey home from in front of the Washington Monument.  Thankfully, since I was only going about 7-8MPH when it occurred, it was rather anticlimactic.  Plus, the Cherry Blossoms were out, so I made the most of the slow boat home: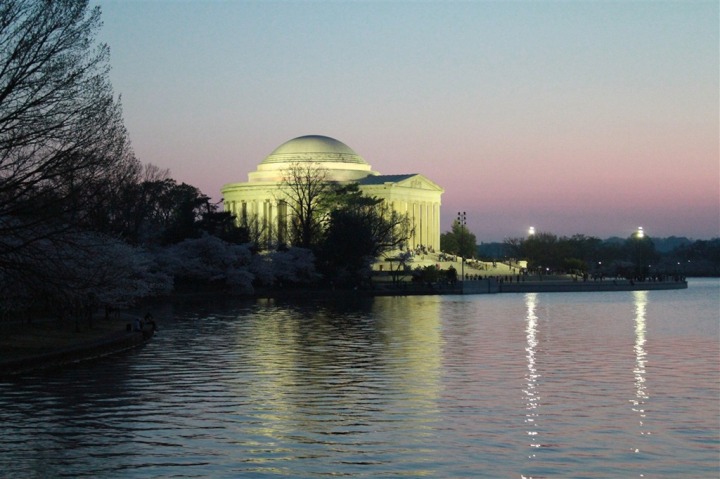 So with that, I started taking all 138 suggestions and putting them into an Excel list.  It seemed like the only logical way to sort everything.  This ended up being slightly more involved that I anticipated – but it was a complete blast!  So many cool bikes out there.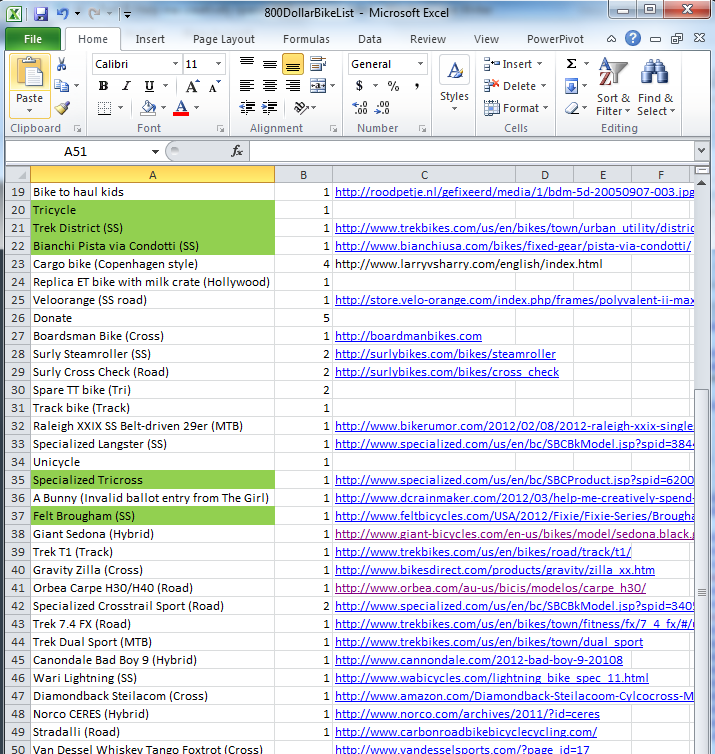 For fun, here's the complete and total listing of all bikes, complete with the number of repeat commenters and links to the various companies.  I also categorized them, though sometimes the category was highly questionable if not confusing depending on company. So don't look at as the end-all-be-all of what the bike might technically be.  It's up on Google Docs, so you'll have to visit the page to see the embedded list – but then you can easily scroll around and what-not. The 'finalists' are the ones that have the Hyperlink on bike name as well.
Here's the consolidated suggestions by category (yes, that's a Pivot Table in Excel):
(There were a few suggestions where commenters accidentally posted twice, or just simply said hello, hence why it's slightly less than 133)
Based on that, I narrowed it down to 5 bikes.  Most of this was based on various things I found appealing in the bikes – from look, to functional aspects.  As I evaluated it more, I realized that I think I really want something that's easily maneuverable in/around crowds (i.e. an urban and/or event environment) – and one I wouldn't look out of place with flat pedals on.  So, here's my Top 5 bikes:
Trek District (SS)
Bianchi Pista via Condotti (SS)
Felt Brougham (SS)
Raleigh Furley (Hybrid)

And, for fun, here's a few pictures (in order) and a brief reason as to what attracted me.

I love the look of the Belleville, and the utility aspect.  As noted, often times I'm trying to carry stuff around.

The District is a bit higher than my initial price range, but some poking around reveals it can be had for cheaper than list.  The belt-drive is one of the key items I like about this one.

The Pista via Condotti probably isn't a real contender in this race…but dang, it's sure pretty.

This is pretty sweet looking, though, there were also a number of other SS road bikes that would have also fit the bill.  So I'd say this is ranking a bit lower at the moment.

This Raleigh bike intrigues me do to the more versatile tire setup it comes with.  Of course, many other bikes I can swap out – but this one seems to be an interesting out of the box fit.

So – what do ya think?  Have I done a good job a narrowing it down?  I know many of you wanted to see a tandem bike for The Girl and I, but let's be honest – very little good is going to come of that (as some of you pointed out).  And no, the bunny is not on the table (well…never mind).

What are your thoughts?  After seeing my narrowed down selection- is there anything just off-center of what I've picked above that I should consider?  My goal is to pick out a bike by the end of the week.

Thanks for reading, would love your feedback!