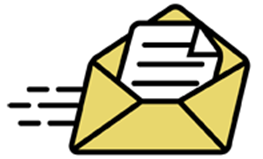 I was sitting down this weekend working through a bunch of unread mail and I realized that there's lots of interesting tidbits that are probably good FAQ (Frequently Asked Questions) items.  Some of them are technology related, some are training related, and some are simply Ray related.  You know, exciting stuff like what color the pillow covers are on my couches (mostly red, but also some soft new white ones).
In the past I've put together two types of posts to cover questions:
Slowtwitch Sports Technology Mailbag:  I post this over on Slowtwitch and answer your sports technology related questions on a theoretical weeklyish basis.  I haven't posted since the fall, primarily due to two reasons.  The first being that I just simply ran out of time in the day.  And the second being that I was finding that most of the questions coming in were answered a number of times over.  This was likely the resultant of simply reaching the critical mass when it comes to questions about the product set and 'which product' to choose.  Now that there's a slew of new products in the last few months, I've been compiling some great content to start pumping out posts there again.  Now, that doesn't actually solve my 'not enough hours in the day issue', but, it at least motivates me more since it's cool new stuff!
The Rare Non-Gadget Mailbag: This mailbag comes out every once in a blue moon.  This mailbag has virtually nothing to do with technology.  Last time I covered training plan questions, why not to follow what I do when I pack my bike, cheap trainers, and other randomness.  I think in the past before they were 'rare', I even talked about when I Sous Vided eggs.  I usually take these questions from various e-mails, Tweets, etc that you send along.  In a lot of ways, I suspect that some of these posts/questions may be just as interesting and fun as the gadget ones – if not more interesting.  For me, they tend to be a bit more fun to answer as well since the topic areas are all over the map, quite literally (i.e. what's my favorite vacation spot).
The challenge of course though is the simple reality that you can't find half the content I write.  Heck, I can't even find half the content I write some times.  Some of that is technology driven, and some of that is simply that I've written so much stuff about so many things that it can be hard to get simple, concrete answers.
So I started working on a FAQ of sorts.  Similar to what I did for the Washington DC Training FAQ I put together. (Wait, you didn't know about that?  Sigh…no worries, it happens.)
But this FAQ is gonna cover everything that's a…well…frequently asked question. To give you taste of some of the 'Blogging' category I started filling out, here's a quick sample screen clip: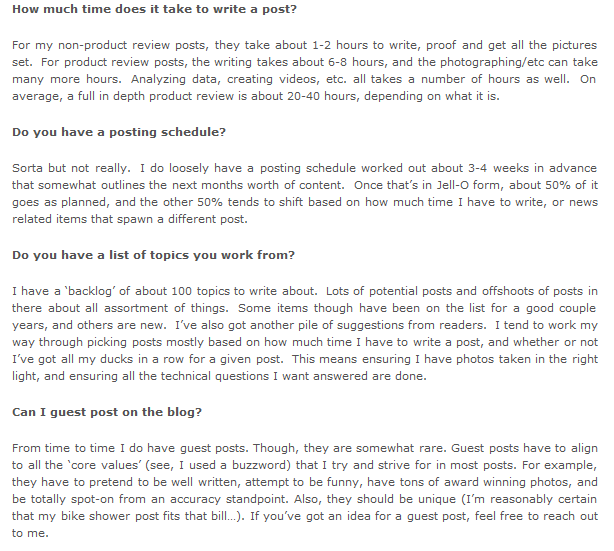 In whole, I've broken down 50+ into the following topic areas:
About me (Background, how I got here, etc…)
Blogging (The Blog as a whole)
E-Mail and comments
Sports Technology & Product Recommendations
Swim/Bike/Run Parts (What I use)
Reviews (Ins and outs of the reviews)
Travel (All sorts of fun stuff)
But, that's all I could think up as far as major categories.  Given how much awesomeness you guys came together with on the $800 bike post, I realized I really enjoy getting a bit more two-way conversations going on.
So, here's your chance to contribute to the giant panda sized FAQ.  And, probably to a bunch of mailbag posts as well.  Things that are more technology specific in nature I'll likely put into an upcoming mailbag – but things that I think lots of folks would benefit from (even if it's which running shoes I use – New Balance 817's) – I'll put in the FAQ.  In other words – any question you've got, go head and throw it out there.
Got it?  Good.
Let's hear what you've got!