(Quick Side Note: Regrettably, since I wasn't in DC on Tuesday, I missed the Space Shuttle fly-by's – which is a huge bummer since I'm a big space shuttle fan.  However, The Girl was able to sneak out there and got some totally awesome photos.  So in lieu of you being able to geek out on awesome photos of the space shuttle here – wing over there.  It's worth it.)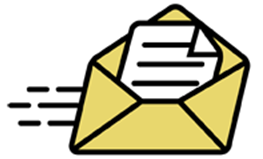 It's that time again…time for the rare non-gadget mailbag to make its appearance!
Since I started doing the Slowtwitch Weekly Mailbag's last year, I realized I'd been slowly building up a pile of non-gadget related questions. See, before the Slowtwitch mailbags conversion, I ended up answering all sorts of randomness that would float into my e-mail mailbox. Everything from nutrition to travel, cooking an egg, and how I plan for races and training.
Since the conversion though, I just answer those in e-mail (well, I try and answer them anyway, sometimes I get behind a bit). But after I send them, they ultimately just hang out in my sent items. So I figured I might as well sift through them and find some that were interesting or otherwise entertaining.
This won't be a weekly column, bur rather just a once in a while sorta thing. You know, like freshly made cannoli's. Unless, you get freshly made Italian treats every week…in which case I'll need to know your address and oven opening time…pronto!
This time, I took most of the questions from this post back about a month ago…
–
Question #1: Taking pics on the fly
From Garrop-
"I always wonder how you manage to take the pics "on the go" (i.e., while running or cycling) Do you stop when you decide you should take a photo or you simply take the camera along, grab it and shot while still running/pedaling? Isn't that annoying from a training perspective?" – F
For the vast majority of shots, I simply take the camera along and then take photos on the go.  I try and take a few more photos than normal if running – since the ratio of good to bad photos tends to be a bit less ideal than cycling ones.  It also depends on a light a bit though.  From a training perspective, I don't take my camera on every run though.  Usually only if I'm in need of shots for an upcoming review – or if I'm travelling and figure a post might come out of it.
So for many of my more intense interval workouts, there's no camera along.  On many of my long runs, I've got a CamelBak for water, so I just stash it in the back pocket there (it fits perfectly).  For cycling, it's pretty much always hanging out in my back jersey pocket.  Ya never know what you're going to see during a ride.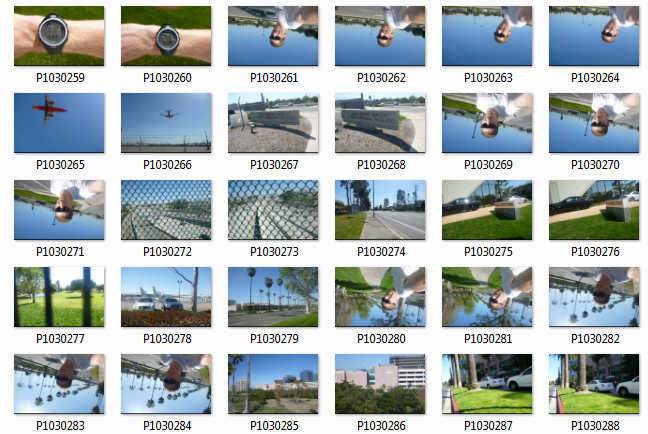 Above is from today's run (down in Orange County).  You'll notice that most of the self-portraits are taken upside-down.  I've found that this makes it easier to press the button while holding it just a bit further away.  Later on, I just flip them over.
For all of my mid-ride/run shots, I currently use a Panasonic Lumix DMX-TS3 (now the TS4).  The biggest reason I selected this camera is it fits in my pocket, and is fully waterproof (and has GPS tagging).  I used to use the Optio W60/W90, but became frustrated with performance in low-light.  While the Lumix is definitely much better than the Optio's (which I've used for years), it's definitely not perfect.  For example, despite only taking a few 50-75 photos over the last 4 days, the battery is somehow dead.  I continue to watch other cameras in the waterproof market, but this seems to be the one that sucks the least out of all of them (none of them are really awesome, it's just a case of finding which one sucks less).
Question #2: What do you do for a living?
From Alberto & W
"I don't think this has been answered before: What do you do for a living? Where do you work?" & "Hi Ray, I always wonder, are you an engineer? If so, what kind? Thanks!"
I work in IT, designing enterprise infrastructures for large organizations (usually 50,000+ users).  My focus area is private and public datacenters with an emphasis on messaging platforms (Exchange/Outlook), authentication and authorization (Active Directory) and data storage/retention (various backup products).  I work with organizations to envision, design and then usually pilot and deploy those platforms.
Though, my responsibilities cover a wide range of areas and a fair bit of travel.  For example, this past week I'll have spent the weekend in team meetings (offsite), then Monday at a conference in Vegas, Tuesday speaking with an organization in California, Tuesday night back in Vegas for discussions with a networking company, then Wednesday in DC, then back to Vegas for Thursday/Friday for the conference.  I often speak at conferences, primarily around the topics outlined in the above chunk.  Though, this week I am not speaking – just loitering.  Most of my international travel falls within the above categories, as well as assisting organizations in high profile migrations.  I'm usually just there for the day +/- of their given rollout/migration date.
Question #3: Sunglass preference
From Tomas-
"Hmmm, well first question I have for you is- what kind of sunglasses do you wear? I feel like the standard is "Rudy Project", but if you have any other preferences too, that'd be great to hear.  Second question (random/nerd alert)… I'm assuming you work with excel a lot… what's your favorite excel formula?
I've got a pair of Oakley's.  And that's about the extend I know about them.  I make them go the distance – with them lasting until they finally break.  The last pair took about 7-8 years before it met an untimely death inside my backpack while travelling (snapped).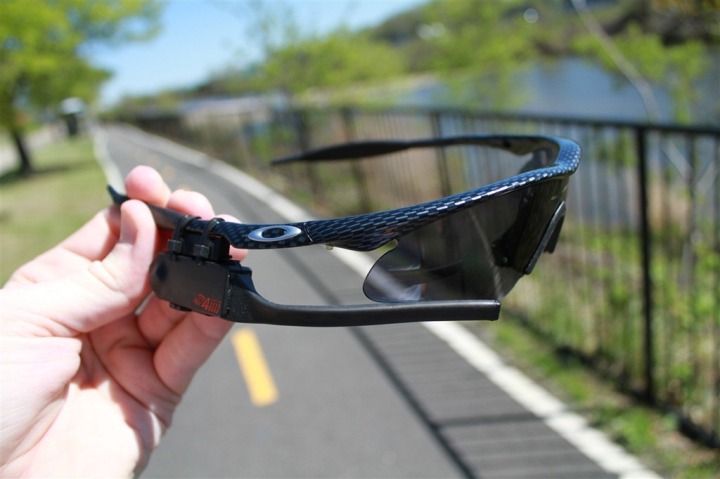 As The Girl will attest to, I'm not super-focused on the fashion side of things (to her dismay).  Which, may be why a few of you teased me in a recent post that I apparently need to upgrade my sunglasses.  To me, they are sorta like my car – as long as it gets me where I'm going in one piece, I'm happy.
As for my favorite Excel formula…I'm going to go with: Any one that I get to work. I'm not too picky.
Actually, I've always found the Lookup function kinda fun…
Question #4: PR's
From dpmb-
"With all your training, you gotta do some racing. What events have you completed and what are your PR's?"
I've probably completed too many events to count at this point.  Though, the cool thing is that I've written a race report on every.single.one.of.them.  So it's actually really easy to look back at them all when I want to.  Here's the big ticket PR's off the top of my head:
5K: No idea – can't remember last time I ran one without a turkey costume!
10K: 37:21 (in costume!) – Jingle Bell 10K
10-Miler: 63:16 (GW Parkway)
Half-Marathon: 1:24 (National)
Marathon: 2:54 (Philly)

Oly Triathlon: 2:10 (From a legit distance race, tons of sub-2:10's with slightly wonky courses)
Half-Iron: 4:40 (Providence 70.3)
Ironman: 10:38 (Florida/Canada – the same)
As you can see, some of the times don't quite make sense from a progression standpoint.  This is simply because I actually don't run that many standalone running races that aren't part of some other training event – most of my seasons lately have focused on triathlon.  Also, some of my PR's at a given distance are actually within other races.  For example, I've actually got a 1:23 half-marathon split within a marathon I did.  Though I don't count it above.
Question #5: Race Schedule this year
From: Jacobes-
"Just wondering what races you're planning to partake in this season. Love the site!"
This has been a tough one this year.  My winter travel schedule was actually really quiet (I went 59 days without getting on a plane – the longest ever since when I graduated high school in the summer of 2000).  But my spring and summer schedules look like a mess.  And, the biggest challenge is that I don't even know what they look like or when.  I just see the storm.
Some of the races I had wanted to do (like the GW Parkway 10-Miler this weekend), I've decided against.  In this case, because with 9 flights in the preceding 7 days – I just wouldn't have a good race or that much fun.
However, I did pull together a good result at the Equinox Triathlon back a few weeks ago – and did fairly well there.  at the moment all my focus is on the Escape from Alcatraz Triathlon in mid-June in San Francisco.  And that one I am indeed signed up for.  Looking forward to it!
Question #6: The Bunny
From: Lieven
"Are you sure the bunny is not just a proxy for a baby?"
Quite sure.
The amount of bunny paraphernalia that I see/get from The Girl is rather astounding (and usually really funny).  Though, I didn't have a chance to send this gigantic bunny I saw here in the Vegas airport to her yet…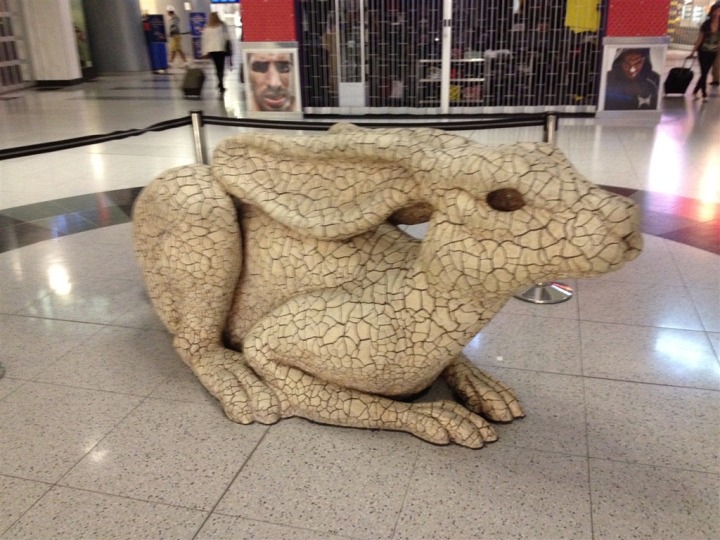 Follow-up question from:
From Morey-
"When you and The Girl start a family together (no rush), will you 1. Give up the blog, or 2. Give up training time?"
Honestly, I have no idea.  There's been a gradual pull back on training over the past few years from Ironman levels, as the blog and work consume more time.  At the moment I'm enjoying distances shorter than a full-Ironman.  Partly because of the reduced training time, and partly because I really enjoy racing shorter distances.
There's a give and take in everything.  So there's no doubt that eventually something has to given to make everything (work, blog, travel, training, etc…) fit.  At the moment it hovers between fitting and not fitting depending on the week.  With the 'etc' part usually being the part that doesn't fit.  Or, when you see the odd day without a post, that's when the 'blog' part doesn't fit.
Question #7: Where to vacation
From Brandon-
"I know you have been all over the world, and have done all sorts of things.  So my question to you, is that if you HAD to recommend anywhere for a couple to go, where would it be and why? I enjoy doing all sorts of things/sports/adventures, while my wife does not and prefers things like animals and relaxation and just sight seeing.  I have thought of South Africa, Australia, Hawaii, Fiji, or just going back to Europe and this time doing a country trip staying in bed and breakfasts."
For us, the vast majority of our big ticket vacations involve two components.  Usually the first half tends to be focused on adventure/things, and the second half focused on relaxation.  For example, looking at the pairings: New Zealand/Bora Bora, Bali/Maldives, South Africa/Seychelles, Greek Cruise/Small Italian Town.
We like to pair together trips that allow us to relax a bit after we're done barnstorming the adventure side.
There's so many places on earth we love.  For me, my favorites are probably: South Africa, New Zealand, and the Maldives.  Within South Africa, I love that you can do safaris, but I even more prefer the Garden Route (coastal areas near/from Cape Town).  Within New Zealand, we'd go back to anywhere in the country in a heart beat – but the South Island was awesome.  So much adventure stuff to do there, outdoorsey.  And the Maldives is purely about relaxation.  Of course, there are many awesome places that offer beaches, relaxation and isolation closer – but for us the Maldives is one of our favorites.
And, that's not to say that any of the 61 countries I've been too aren't awesome (cause they are), it's just that if I ran into someone in an elevator, those would be the big three.
–
With that, they're boarding my flight – so I've gotta run!
Thanks for reading!