The two previous posts I did around Ironman Texas 70.3 in the past couple days were more finitely focused on the race scene (day before and race day), so I wanted to take a second to show off some of the non-race specific activities of my weekend in Texas.  This is sorta like my normal end of weekend post, except, in the middle of the week.  Think of it as a breather after yesterday's monstrous Suunto Ambit review (cause that's what I'm thinking of it as…).
Running with Chris Lieto:
As I noted over the weekend, I was given the chance by the Chocolate Milk folks to spend the weekend checking out the IM Texas 70.3 scene – and part of that effort included spending some time with one of their sponsored athletes, Chris Lieto.
We ended up going for a 4-5 mile run together, along with a couple of the other folks that were down there.  Come to think of it – this would be a good time to mention them.  Along for the journey (from left to right) was Ben (of Everyman Tri and his own fitness site), Kelly (she seemed to have an addiction with running multiple times per day), Monica (she's got all sorts of awesome food and training pics), and Michelle (from just up the train tracks in NYC).  Obviously, multiple Ironman World Champion Chris Lieto is hanging out in the middle.  Oh, and I'm on the right.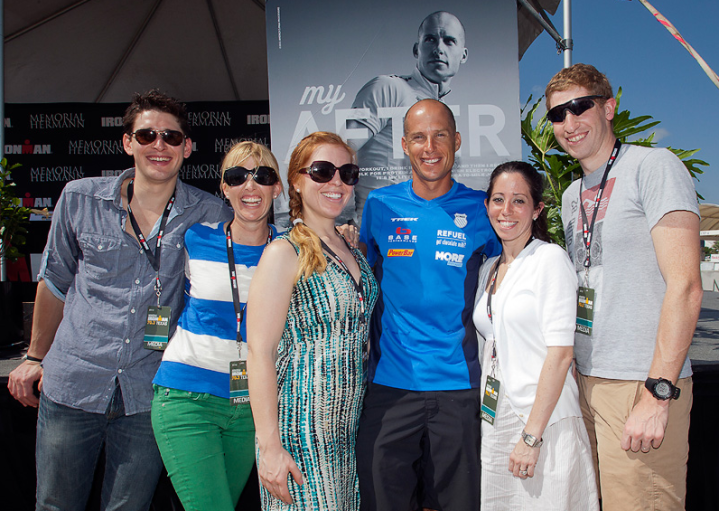 Ironically, all of us being endurance athletes in one sport or another had gone for our own early morning runs.  It was kinda funny as we all sorta ran into each other at 6:30AM in the dark out along the boardwalk running.
After we all got back to the hotel from our main runs, we quickly raided what was the candy buffet now turned breakfast pastry buffet at the hotel before literally heading right back out again to run.
As we were getting ready to start the run they gave us a small bag with a chocolate milk shirt in it.  This is somewhat ironic as I started a quest over 2 years ago to find a chocolate milk shirt, to no avail.  I was looking for something akin to some of the cooler soft t-shirts that Target has these days, but kinda retro.  Never found much.  At any rate, now I have one – and it's fancy technical/dryfit fabric too.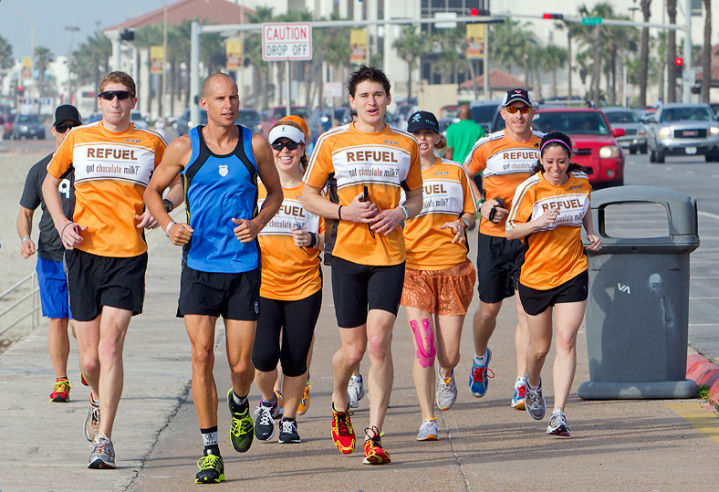 The run was pretty casual, though it was kinda funny to see other triathletes out on the boardwalk doing either bike or run pre-race-day workouts doing a double-take.
Chris is a genuinely nice guy, very down to earth – and not even the slightest hint of pretentiousness.  He had planned to race IM Texas 70.3, but opted to pull out about a week prior to to a nagging injury.  During our run we chatted about nutrition, the struggles of travelling and training, and just general randomness.
About at the half-way point he noticed some surfboard rental stand and seemed like he was quite serious about grabbing some boards and going surfing.  So it probably shouldn't have been a surprise that upon finishing the run the first thing suggested was to do some body surfing out in the ocean.  I thought it was funny that as we walked out into the waves he picked up a handful of the fairly ugly brown-muddy water and mockingly said "I've got my chocolate recovery drink".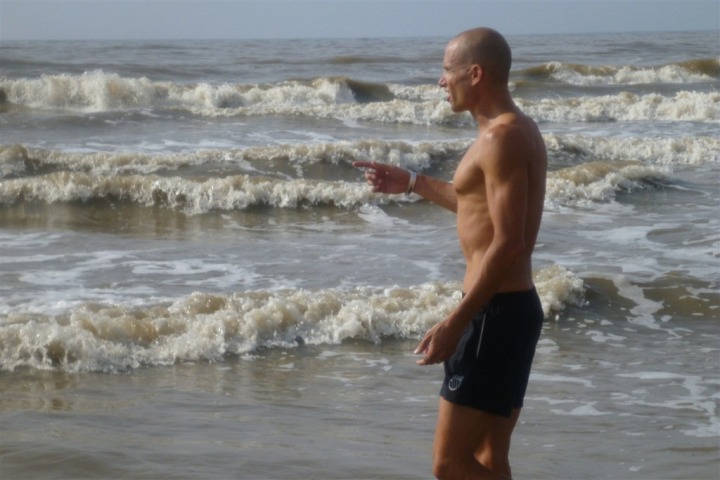 We spent about 20 minutes having fun on a few waves before coming in.
After a bit more chatting, we all cleaned up and headed over the race start for the pre-race press conference – which I covered fairly well in this post.
Shooting with the Pro's: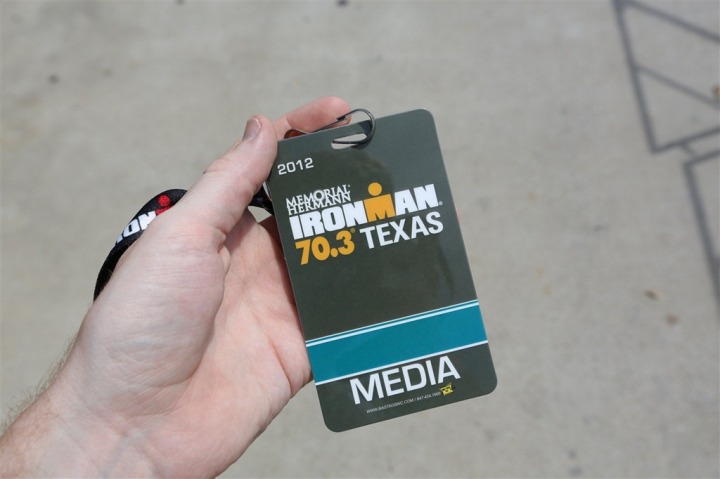 As you know, I had applied for and received a media pass.  I was hoping to also get a moto (motorcycle) for the bike portion, but because I didn't have a plane ticket until 24 hours before I departed, I didn't get to fill in all the forms until the last minute – so they couldn't quite wrangle enough motos.  No worries, next time.  This offered a great learning experience for me as well.
Shooting the professional side of an event is an interesting experience.  As you've seen over the years, I often go out and shoot running races and triathlons more for the fun of it, as fodder for posts here.  Either because I have friends racing, or because I'm cheering folks on.  In many ways, I'm fairly familiar with how to get some of the best photographs in a triathlon.
However, that's somewhat different when you're aiming to follow the professional triathletes, versus following an age grouper.  For one, the whole pace of things moves a heck of a lot faster (i.e. nearly 26-28MPH instead of 16-20MPH on the bike).  Secondly, you're constantly having to adapt to decisions on which pro you want to follow and exactly what shot you want to get.  Partly based on race circumstances, and partly just on what folks you want shots of.
If you're just following your husband/wife, your likely to primarily be concerned about them.  But in the case of a pro race, you'll have to make decisions on whether to follow the top men or the top women – since these are fairly separated.
You can combine some of those, but that gets back to the timing issue.  For example, if you shoot the pro men swim start, then the pro women's start – you can't really hang around to shoot much of the age grouper starts.  That's because in the case of Texas you've got about 1/4th to 1/2 of a mile spring to make over to the swim exit.  If you time that incorrectly, you'll miss the pro men coming out of the water.
You've then gotta decide which shot you want at the conclusion of the swim.  Do you want one coming out of the water, or running across to the transition area, or while in transition, or at their bike rack, or at mount line, etc… And then how does that play into your decision to cover the women 3-5 minutes behind?  Or the reality that you could get boxed into the venue's start area after the pro men get on the bike – potentially blocking your ability to get any bike shots.  Decisions, decisions…
It's all cool stuff though – and it's fun to walk through the day before and decide what and where you're going to be taking shots, a game plan of sorts.
Now, that's not to say that I like shooting pros any more than age groupers.  They're different, with unique cool things about each group.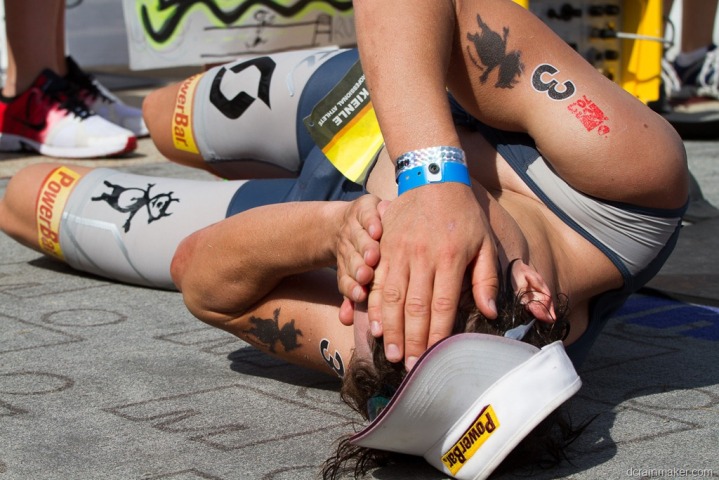 My goal with Sunday's coverage was offering a different perspective than you'd normally get on any of the regular press sites.  I wanted to try and photographically tell the story of the full day and some of the things you might not see otherwise.  This is a bit different than a typical news publication which is usually looking for the 1-5 shots that sum up the entire race.  I'm looking forward to trying it again at some point in the future.
Tethering a DSLR camera (5D Mark III to an iPhone)
Finally, for those following over the weekend via Twitter you likely saw some of my tweets during the morning with high-res images straight from a DSLR camera.  I wanted to give a bit of background on how that works, just for the fun of it.
Today, I normally shoot with the Canon 7D DSLR.  However, for the weekend I decided to have a bit of fun and rent the just released Canon 5D MKIII DSLR.  The primary reason I was actually interested in the camera is that it contains two slots, one for a CF card, and one for an SD card (sure, there are tons of awesome quality benefits, but for me, workflow is more important).  The SD card slot enabled me to use an Eye-Fi Wireless SD card that I had picked up last fall.  For the most part, I find the Eye-Fi cards frustrating, but I was determined to see if I could make it work well in this very specific scenario.
The goal was to enable what's called 'Direct Mode' with my iPhone, which is a function of the Eye-FI card that creates a wireless network that the iPhone connects to, and then grabs the photos from using an app.  In this case, I had configured the camera to spit out RAW images to the CF card for later use, and then I had set the SD card to receive high resolution JPEG images.  Use of the JPEG images then in turn allowed the iPhone to display and utilize them just like any other image taken by the phone itself.  Note that most cameras that have an SD slot do support Eye-Fi cards.  They don't make Eye-FI CF cards however (there are some hacks around that using adapters, but they generally suck).
It took about 1-2 hours to get the whole thing working on my hotel room the night before the race, which was the first chance I had to spend any time with it.  By time I went to bed, I was fairly confident I had figured it out.  If I took an image at 11:10:00PM, and my phone was turned on with the app open, by 11:10:07PM it would usually be on my phone.  There was a small delay, but it wasn't too bad.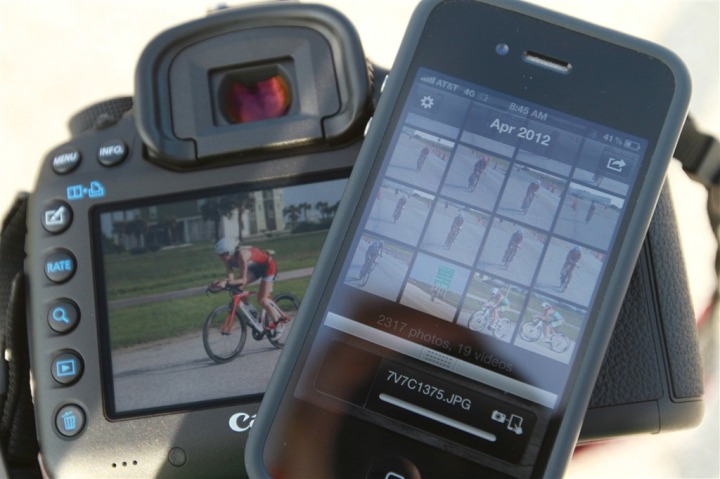 By race morning, I was pretty excited to be able to get good images to Twitter quickly.  In particular, images that would be hard to capture on a cell phone – such as ones in the dark, are ones on the bike with zoom lenses.  During the pre-race stuff, it worked fairly well.  Because I was walking around and could control things easily, I didn't have too many issues.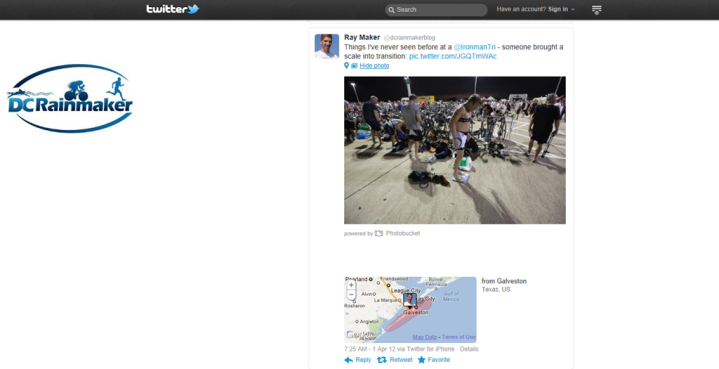 As I got to the swim start, the Eye-Fi app started to get behind a bit from a image transfer perspective.  Likely because the quantity of images I was shooting started to go up – especially when shooting at high speed modes.  Further, it seemed as though when I had the phone in my pocket with the screenlock, the results weren't always consistent.
By time the women started, the Eye-Fi app had basically stopped trying and pretended like nothing new was coming in.  After some finagling, I found that killing the app, then restarting it, then shooting one photo, would resume the transfer process.  Unfortunately, at this point it was pretty far behind (100+ photos).
I headed out onto the bike course, and luckily because I was in a van, I was able to let it sit on the console to my side and play 'catch-up'.  Since it took about 15-20 minutes for the van to catch the main field 10+ miles down the bike course, it caught up fully during this time.  In order to try and speed up that 7-second gap, I decided to reduce the JPEG image size going to the SD card.  This helped bring it down to about 3-4 seconds.  The goal here was primarily to minimize the impact of another hang-up.
For the most part, while in the car it worked fairly well.  The app did seem to trip over itself semi-frequently, but a quick restart of the app fixed it.
It was on the way back towards the run that everything crapped out on me.
At some point, my phone started acting rather strange, but I couldn't quite pinpoint why.  Turns out – I had run out of space entirely.  As in 0.00MB free.  See, I hadn't accounted for the size of the JPEG's at the initial highest quality setting.  At 6-7MB per image,  I had shot 400-500 photos by time I got to mile 30ish on the bike course (pre-race, swim, transition, bike, etc…).  That completely zapped my iPhone space.  Once that happened, everything died, and getting rid of photos became tedious.  I couldn't even open the camera app to delete photos it was so bad.
Further, because I was still shooting, the backlog only continued to grow.  Ultimately, it never recovered and thus no further shots went out that way.  Eventually, I removed a bunch of unrelated random stuff to get enough space to at least use the iPhone normally (and ignore tethering).
The good news is that the size component was purely my lack of forethought.  In the future, I'd just go with the absolute smallest JPEG size, and then be sure to have plenty of space to work with.  And I think with a bit more focus, I could really refine most of the kinks in the process and have it be a really cool way to get high res images during the race to social media outlets like Twitter.  Plus, since an Eye-Fi card only costs about $45, it's not too bad.
As for the Canon 5D MKIII, I'm not entirely sold on it yet.  Yes, I took some awesome shots out there – but not all of that was the camera.  Some of that is the lenses I was using, and some of that was just being in the right place at the right time.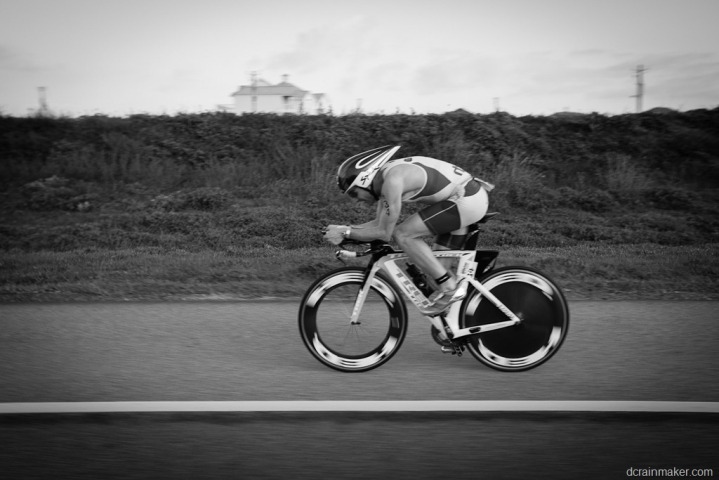 Further, one of my favorite shots of the day was actually taken with the 7D (both of the close-up finisher shots, including the one you see earlier in this post).  This was simply because I was shooting with two DSLR bodies, and that's just what had the lens I needed for the shot on it at the time.
A reader that works for Nikon actually reached out to me and offered trial of their gear – something I'm looking forward to taking them up on.  We'll see how it all shakes out…
Back to reality: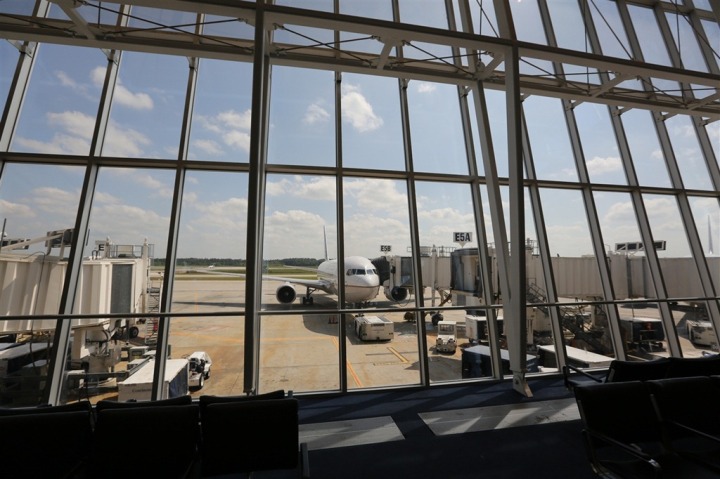 With that, I flew home Sunday evening and I'm back in DC and back to training out on runs in the dark by myself on the trails in front of my house.  No professional athletes, no pro photographers, and no fancy candy buffet at the hotel.  Just me, my running shoes and a running path.
Have a great weekend all!