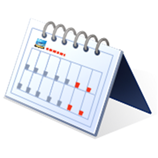 The Week in Review is a collection of both all the goodness I've written during the past week around the internet, as well as a small pile of links I found interesting – generally endurance sports related. I've often wondered what to do with all of the coolness that people write, and while I share a lot of it on Twitter, Facebook, and Google Plus, this is a better forum for sending it on to y'all. Most times these different streams don't overlap, so be on the lookout at all these places for good stuff!
So with that, let's get into the action!
DCRainmaker.com posts this past week:
Here's all the goodness that ended up on the main page of DCRainmaker.com this week:
Sunday: Week in Review–March 18th, 2012 
Sunday: Garmin FR910XT Giveaway Results!
Monday: A weekend of watch previews- Suunto Ambit and the Soleus 2.0 GPS
Tuesday: A&D Medical Lifesource UC-324 ANT+ enabled Weight Scale Review
Wednesday: Part II- Help me creatively spend $800 on a new bike!
Thursday: Mailbag, Questions & FAQ open post!
Stuff that I found interesting around the interwebs:
Here's a not-so-small smattering of all the random things that I stumbled on while doing my civic duty to find the end of the Internet:
1) LA Marathon course 3AM bike group ride: Pretty cool stuff from LA where they pre-ride the closed marathon course just prior to the start of the marathon before sunrise.
2) More chocolate milk scientific research: Woot! I can  continue justifying drinking Chocolate milk for breakfast. Ok, well, probably not, but still – why stop?
3) Interim Suunto Ambit Review: In case you're waiting for my full in-depth Suunto Ambit review to pop out of the oven this upcoming week – check out this non-so-little Ambit post from my friends down under.
4) Skydiving from 13 miles up: Some really cool stuff coming out of this project.  I think it's what happens when you can't quite get that Space Shuttle seat.
5) Fitbit adds Android App: Nice to see the company expand into the Android platform.  Also looking forward to their WiFi Scale here coming up shortly.
6) CEO of Wiggle talks about cycling: If you're from the US, you likely have no idea who or what Wiggle is.  But my UK and Aussie friends will be more than familiar.  This is a great interview from the CyclingTips guys.  For everyone else, consider it a bit of British education.
7) Bike DC Registration is open: If you're looking to enjoy some serious car free driving around the city and up/down the GW Parkway in May – the registration site is now open.  Here's the full PDF map.
8) Lots of really pretty Milan San Remo cycling photographs: I'm not gonna lie – well shot cycling photographs never really get old for me.  Especially when there are so many of them, and at such high quality that I could have cooked a burrito before the page finished loading.
9) More folks who didn't get a Space Shuttle seat: Ok, not folks, but monkeys.  Specifically, stuffed monkeys.  Sent into me by a reader (thanks!).  Pretty cool project to launch a monkey into space on a balloon, even if it is a stuffed animal.
10) DIY Project: How to add grip to your Speedplay cleats: A cool project from James Huang over at Bike Radar that helps make your cleats (and thus, you're shoes) a bit more manageable when walking around.
11) These fools are crazy: Just saw this teaser on various climbing folks, may watch full video on a trainer ride when I need some motivation. Love the quote I saw on Twitter: "Scariest moment was filming Dean's BASE jump. Helicopter pilot cut engine so we could drop with him."
12) How far could a human swim?  An interesting look at the question from an openwater swimming blog.  Note, I have no intention on ever finding out the answer to this question with my own personal experience.
13) Motoactv goes golfing…previous owners get golf: If you saw the news about a newfangled Motoactv Golf edition, you'll be happy to know that previous Motoactv owners will get the update too.  Does this cover me for the put-put course next to my house?  I continue to say though: Watch out Garmin, Timex and Polar – once Motorola properly waterproofs this device, you're in serious trouble.
14) Your spin class did what?: Quote from one woman in this post:  "I had to really grind into the pedals. This must have caused me to rub on the seat in just the right away. I thought I was starting to cramp, but soon realized it felt great. [I] thought I should stop, but chose not to!".
This weekend in DC:
For this in the DC area, I'll be up at the DC Multisport Expo in Bethesda, sometime mid-early Saturday afternoon (this Saturday, as in TODAY).  So if you see me around, say Hi!
Also, I'll be doing a bit of an indoor triathlon in the area too – so if you happen to be around and see me, say Hi there too!
If though you see more more than twice in the same day – I might become concerned.  Just sayin'…
And finally – enjoy the Cherry Blossoms!  Thanks for reading!