Last weekend we headed up to northern Finland for four days with another family. Both our sets of kids are all only a few days apart in age. But since we were busy defrosting from that trip last week, I didn't get a chance to write about it till now. Enjoy!
1) Hello Snowy Runs!
The night before we caught our flights to Finland I frantically hit up the local running store, just prior to closing. I realized that none of my cold-weather running gear was really suitable. My running tights had more holes in them than Swiss cheese, along with being dangerously thin in key areas. I didn't even have a real long-sleeve running top. Instead, I normally just mashed together a vest with a thin cycling rain shell. So I needed to remedy that!
While the weather in Finland wasn't horrifically cold, it was still chilly. The temperature was a pretty constant –11 to -7°C (12-18°F) each day. Given the light only shows for a couple hours each day (and it was never sunny), it didn't change much in temp whether it was 'day' or night.
In any case, we got in a few runs. Brad and I went out the first evening for a bit of a test run. Only 30 minutes, but enough to validate that no key components would be frozen after a longer run.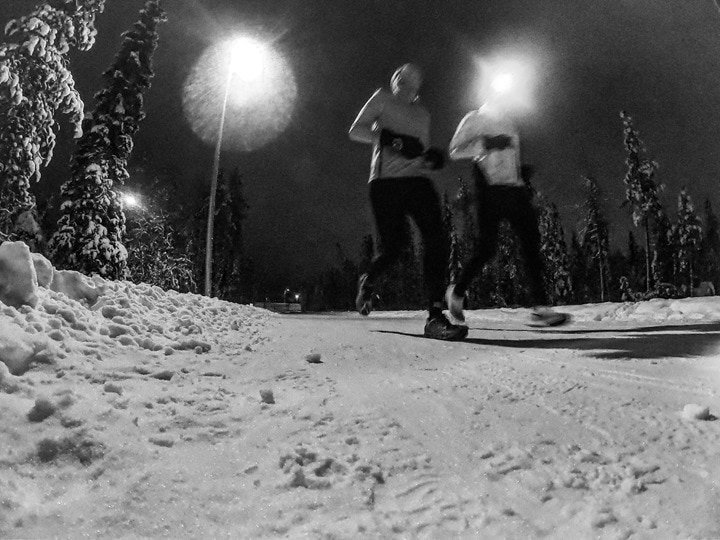 Two days later The Girl joined us on a longer run. This would meander across the line for the Arctic Circle and back again, and have a few solid rollers in there. In fact, despite running on snow in the dead of winter, The Girl managed to take a women's Course Record (KOM) on one of the Strava hill climb segments. BOOM!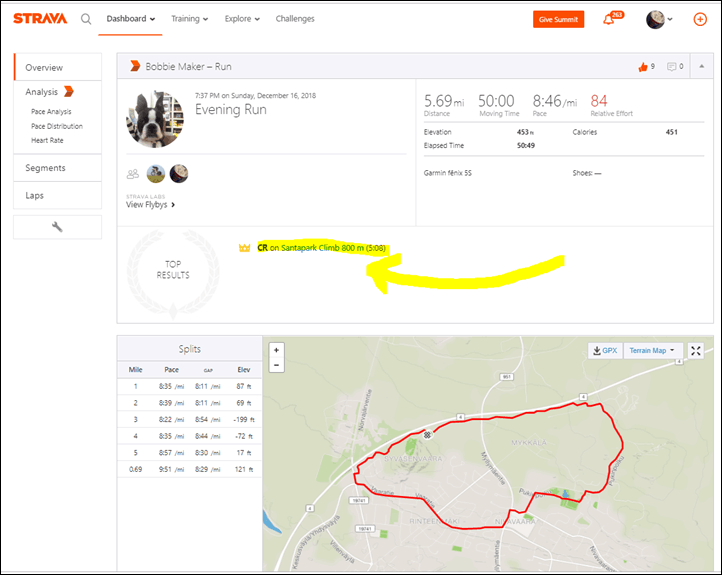 We also paused for a picture at the Arctic Circle line.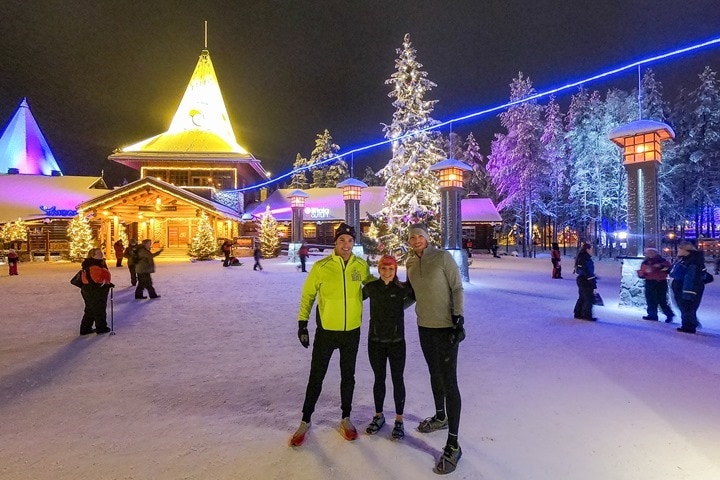 Thankfully our winter gear was on-point. Both The Girl and I wore YakTrax (a requirement for running through the winters of Washington DC), though, Brad went with just luck instead. Running on compact (or even fluffy) snow is no problem in most running shoes sans-studs, but the studs help on icier paths/trails, especially when crossing the street.
2) Reindeer a bunch of ways
Of course, I've been to Finland more times than I can count (or have written about). Both previously for work, as well as visiting both Suunto and Polar a few times over the years (which reminds me, I've got a ton of behind the scenes recent photos for a Suunto HQ post). If you've been, then you know the airport is full of reindeer and moose products. Some elk too. These were two items I didn't buy (because it's too pricey there):
But restaurants serve it as well, touristy and otherwise. While we had a few touristy stops along the way, we actually hit up some nicer spots in Rovaniemi as well. All of which served reindeer. Though, the dishes to the right aren't reindeer, they're some crazy deserts for things I've never heard of before.
Oh, and the supermarkets had it stocked as well: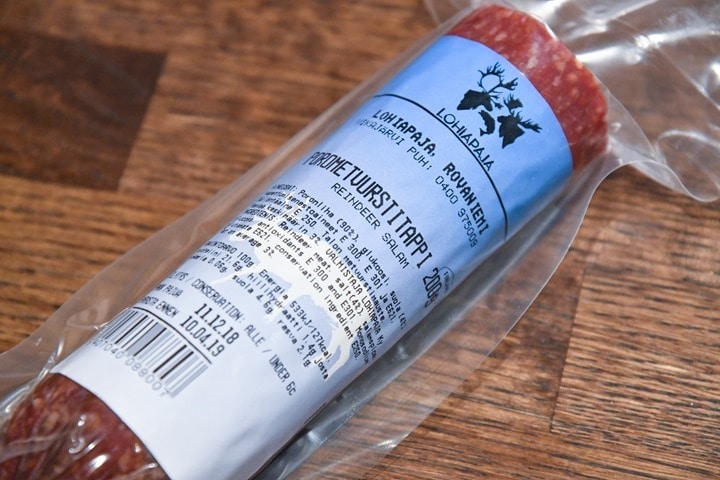 Thankfully at this point The Peanut hadn't learned Rudolf the Red Nosed Reindeer yet (though, as of today, she's now requesting the song hourly).
3) Seeing Santa and Sledding
Of course, when in Rovaniemi, the main name of the game is visiting Santa. The town is basically the self-proclaimed capital of Santa-things, and their Santa game is strong. You go through a winding set not too unlike a Disney ride, ultimately ending up with a minute or two of Santa.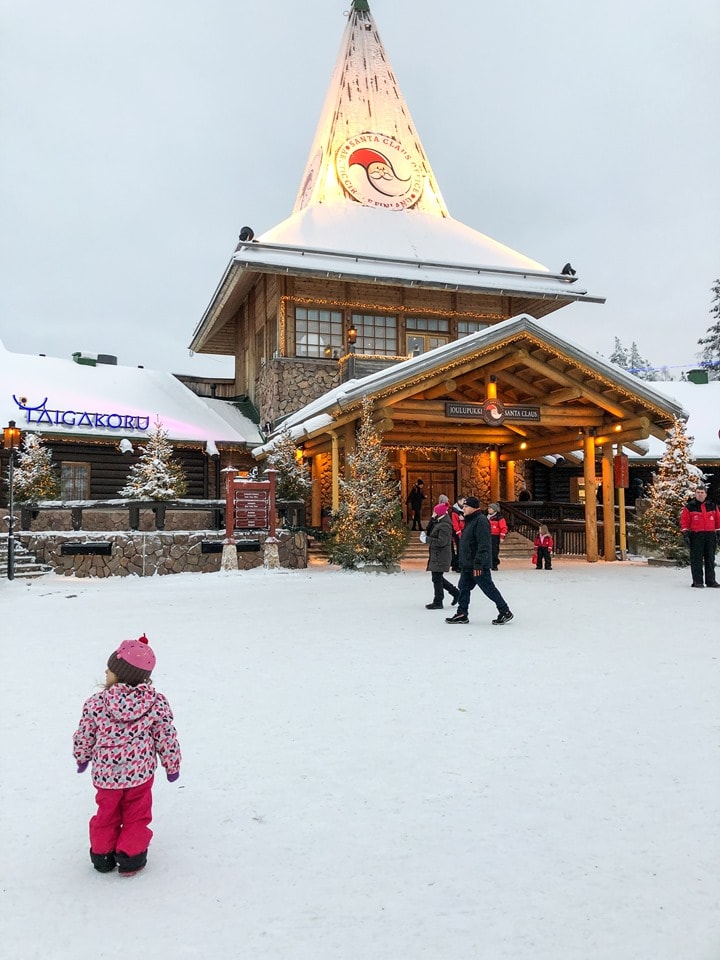 They videotape and photograph the entire thing (and remind you with very visible signs you aren't allowed to do the same), and then charge you an obscene amount of money.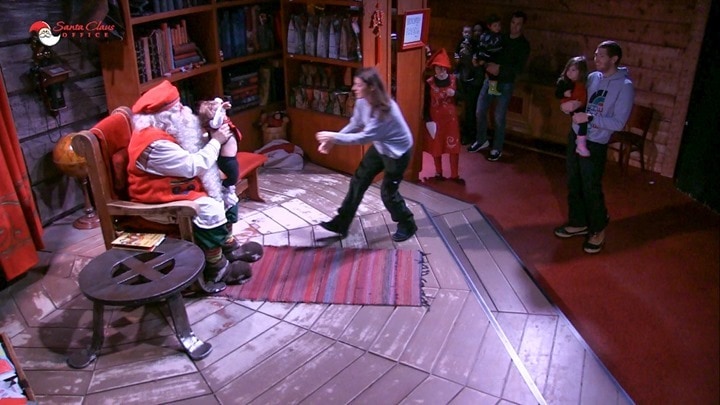 But, when the reaction of both your Peanuts is basically this – it's hard not to pay the money: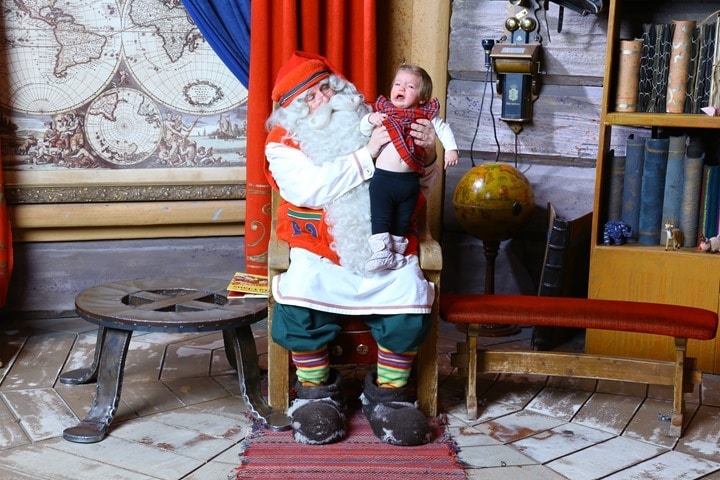 As my sister-in-law said a few days earlier about her own Peanut: "It's exactly the reaction I was secretly hoping for".
Neither Peanut 1 nor Peanut 2 were thrilled with the bearded encounter. Both screamed. Loudly. To say they were displeased would be an understatement.
So afterwards we went sledding. Of course, they loved it. We sledded a bunch. I think 3 or 4 times. Stick both Peanuts in a sled, kick them down a hill, and try to catch them at the other end.
It usually worked without fail. Mostly.
4) Skiing with The Peanut!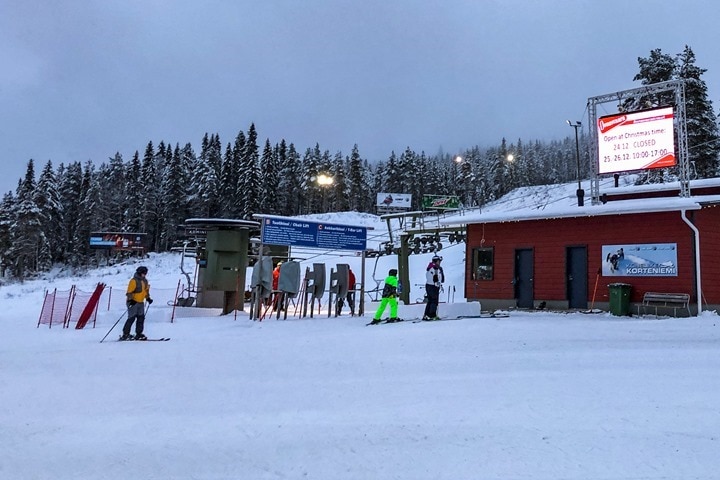 Of course, my main goal for the trip wasn't a stunning Santa meltdown – but instead, trying to get The Peanut (who is now 2.5 years old) on skis for the first time. We started about a month ago reading the Dr. Seuss book 'Squirrels on Skis', and she was getting into it. We continued the education by watching other kids skiing on YouTube.
But as any parent of a toddler will tell you, like Santa they can be thrilled about it in theory, but horrified about it in execution.
So off to the ski area we went. It wasn't big. They have two lifts, neither of which were functioning. But they did have one Palma lift and one magic carpet that were powered on. So into the rental shop we went to get her (and I) all setup with gear.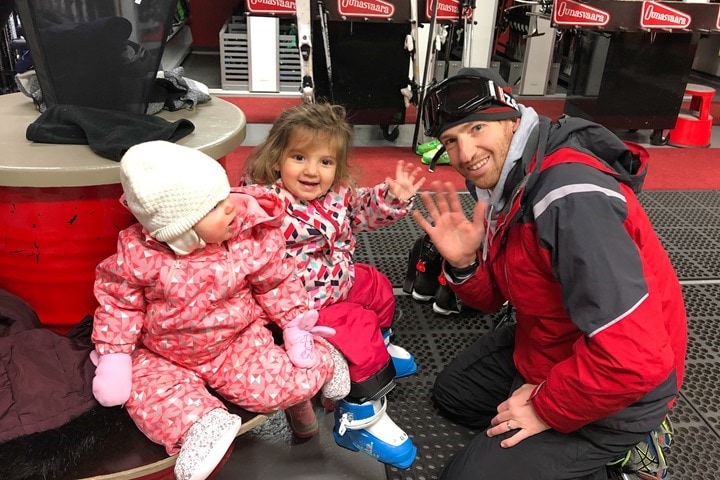 Best news: Because we were just using the magic carpet, we were told we didn't even need to buy lift tickets. #Winning!
From there it was out onto the snow to get her all situated on the two planks:
After that, no point in wasting any time. Up to the top of the hill I went and let her go. One way or another she'd find her way down: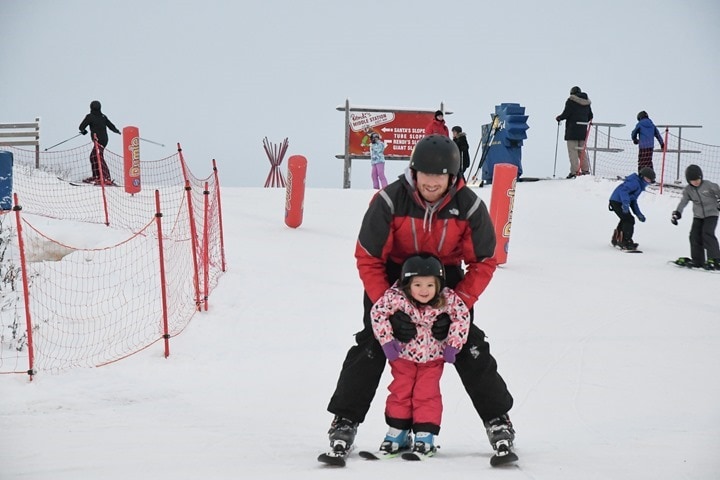 Just kidding, I skied with her. And she seemed to really enjoy!
We were there about 2-3 hours, including taking a short break for some sledding…and another break for a donut.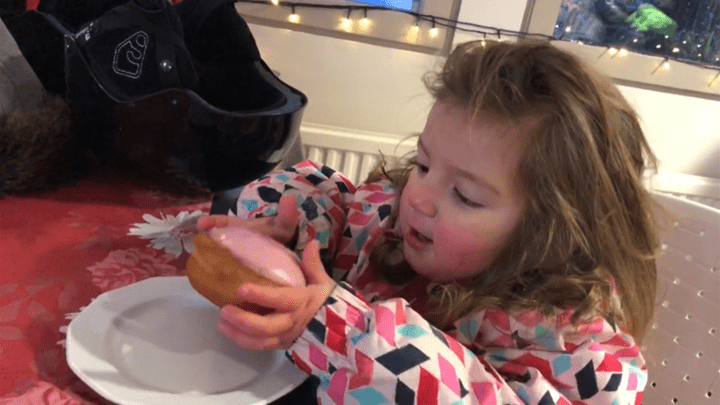 I made a little video for her as well, and now she wants to watch it over and over again. And she's been telling her Dutch teachers all about her ski trip. Awww.
Now, to get Peanut #2 on skis by the end of the winter….
5) Oh, and Polar Bears
Apparently Polar bears actually don't live on Finnish soil anywhere in the wild. But, they are kinda close depending on where the ice goes. And in this case, there's a wildlife spot about an hour away that has all sorts of cold-weather creatures, including our white fuzzy friends.  So we went and checked it out: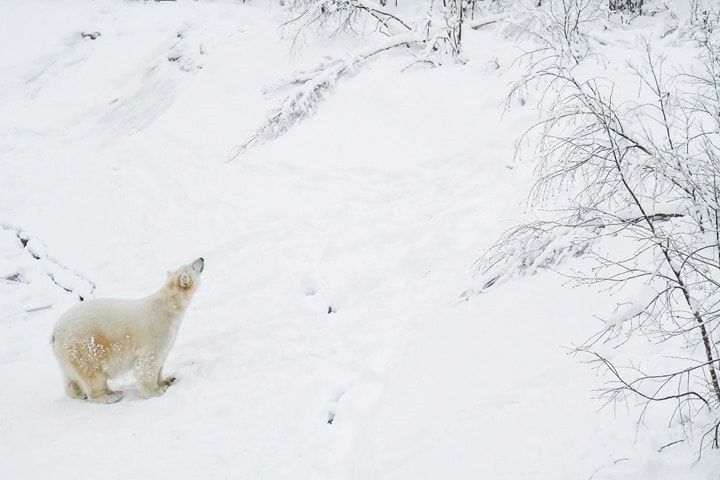 Honestly, The Peanuts didn't care much for the polar bears. It was just like 'oh, huh, ok.' The most impressive thing is actually their size, as this cutout illustrates:
Instead, what The Peanut was most excited about was the moose. She reads a book about a moose a few times a week, and can pretty much recite the entire thing by memory. It also helps that she's Canadian with her Canadian side of the family living in moose-ville.  So she was thrilled about seeing moose.
On the way home across quiet compact snow and ice roads, all of the people in my car fell asleep. There wasn't much on the radio however, only a single station was coming in clearly. It was a blend of Finnish folk music with what sounded like Russian military marches. Next time I'll remember to actually pair my phone to the car via Bluetooth so I can listen to my own music. Though, there's something kinda fun about that combination.
With that – thanks for reading!
—
Side note: In the event anyone here actually lives in Rovaniemi (or going through there soon) and wants some new GoPro Hero 5/6/7 batteries for free, hit me up. The airport currently has a few of mine.  Apparently they went into the wrong bag, and now they're in quarantine. Sad panda.