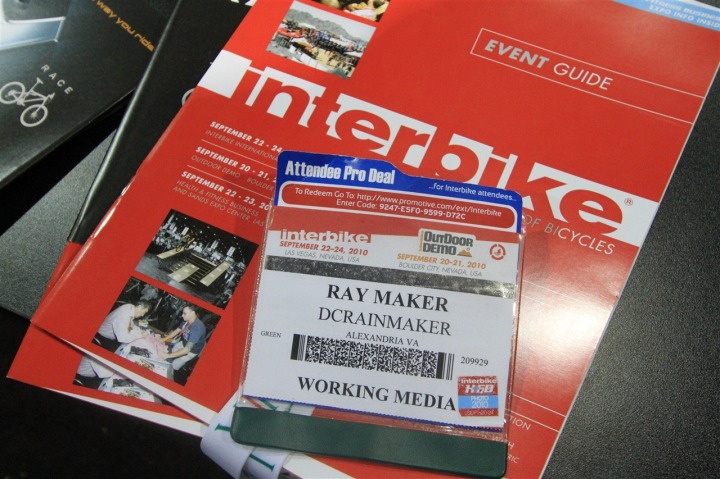 I figured a good Sunday post would be just some random thoughts I had around Interbike – being it was my first time there – and my first time really 'covering' any sort of event.
There was quite a bit I learned in my week there.  But since I'm best at bullet points, I'm going to go that route:
– It was exhausting – at least I found it exhausting anyway.
– My plan going into it was to sprinkle interviews/appointments with companies throughout the day (i.e. – 9-10AM, 11a-12p, 1-1:30p, etc…) and then fill the time in between with writing a post.  That in theory would have allowed me to keep a constant flow of posts.  That didn't work.  In reality it meant that I lost a lot of time because that time in between just wasn't sufficient to get much done once you include any overage or time in transit.  A better scenario would be large blocks of interviews back to back (9AM-12P) and then spending the afternoon writing.
– I had planned to write shorter posts, allowing me to put out more posts as it would take less time to write.  In reality, the posts end up pretty long.  Granted, I know that what ya'll love is detail (or at least I think I know you do) – but with each post taking on average 60-75 minutes to write…my post turnover is low.
– The contacts I made were invaluable, and will pay huge dividends in my ability to get reviews and detail to ya'll moving forward.
– While Outdoor Demo day is/was fun, for the type of products I cover, I'm not sure it was the best use of time.  The challenge is that there's no concurrent events and it falls Mon-Tues, so even if you only go one-day, you might as well be there for both days since not going just one day doesn't save you much.
– I actually don't think I came home with any shwag.  Products to demo/review, yes, but not generic freebies.
– I actually used all three days at the expo to talk to vendors.  But I also talked to a lot of companies in depth.  More than even ever made it to posts.  I could continue doing some posts for quite a while, but I'll save you the detail.
– The Girl's post on the Performance Lingerie is still coming.  So that's an exception to the previous bullet.  I expect though that you'll be able to forgive me for the fact that there will be one more Interbike post, given the topic.
– Internet access somewhat sucked.  Sorry, correction…it really sucked.  While I had my own 4G MiFi access point, it wasn't ideal for all the video uploading I had to do (1-2GB per video in HD).  That severely limited getting some of the posts up.
– I'm sure some of you non-cyclists got sick of Interbike posts.  Next year I want to try and find a way to pre-stage non-bike type stuff in the mix so you have something to read.  You know, like pictures of pasta or something.
– I'm pretty happy with the amount of content I was able to generate.  And fairly happy with the 'return of investment' on making the trip as well (which I measure based on a variety of factors from traffic to ad revenue to free cookies I consumed in the media lounge, etc…).  A lot of cycling/sport news sites have huge teams that go out and cover a much smaller amount of content per person, and without as much detail as I.
– I didn't lose any money at the slots
– I also didn't gain any money at the slots
– Not even a penny
– Ok, I need to stop writing bullet points
– Oh, wait, I'm looking forward to next year!
And here's a few quick pics I took in/around the media center…just for fun
Below…writing the Saris/Joule post-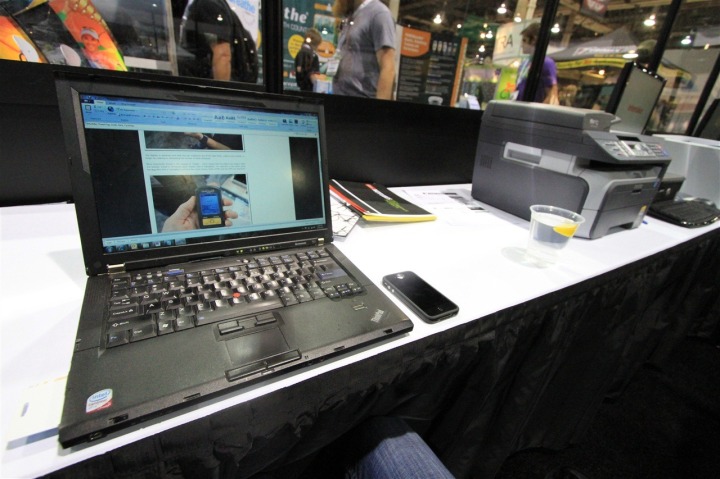 —-
And finally, here's the master list of everything I posted at Interbike:
Daily Recaps:
Monday: Demo Day 1 at Interbike
Tuesday: Demo Day 2 at Interbike 
Wednesday: Interbike Expo Day 1 Overview 
Thursday:Interbike Expo Day 2 Overview 
Friday: Interbike Expo Day 3 Overview
Outdoor Demo:
Braving the mountain ledge bike bus…Interbike style
A trifecta introduction to E-Bikes
Demo Day 1 at Interbike
Demo Day 2 at Interbike
Polar/Look Power Meter Session
A look at Quarq's new Power Meter Configuration/Diag App
Analysis and Discussion with Garmin and MetriGear
A brief teaser of the Joule with CycleOps
An interview with Barry Redmond of Brim Brothers
Interbike Power Meter Seminar Monster Wrap-up
Cycling Computers/Devices/Stuff:
An entertaining introduction to Cyclocross racing
Talking with Timex about the future of the Timex Global Trainer
Hands on with the iBike Dash at Interbike
A look at Pedal Brain
Indoor Trainers/Computerized Trainers:
A look at CompuTrainer's new RacerMate one software suite
A bit of time playing with the Tacx VR Trainer
Spending time with the LeMond Revolution Fitness ANT+ Trainer
Thanks for reading!