The second and final day of the Outdoor Demo Day's here at Interbike promised to be pretty packed – as most folks end up coming in for a day of outdoor action, followed by a few days of indoor action at the convention center.  With the Outdoor portion ending on Tuesday and the indoor portion starting tomorrow…it was last call for anything involving sand.
And the sand was making its finale well known…blowing everywhere by time I arrived shortly after lunch.  I took the morning to knock out some posts and get all set for the next few days – which will be far busier for me than the last two. 
Oh, but back to that wind.
Some tents attempted to battle it out – in hopes of superiority over the gales.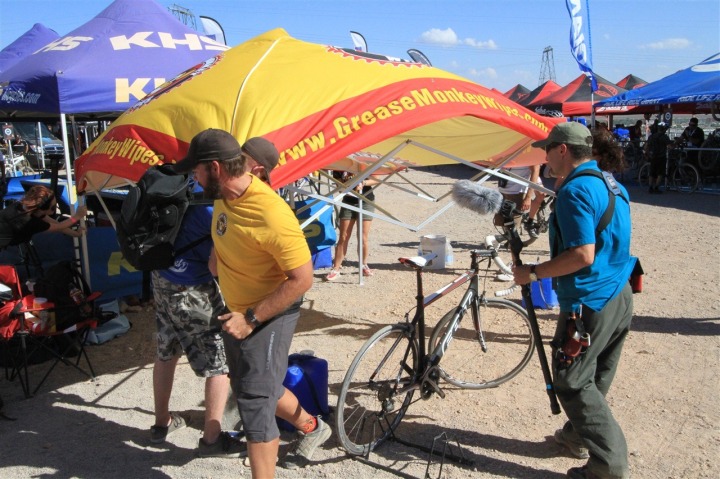 But in the end, the smart ones simply just gave up…like this security guard and his little tent: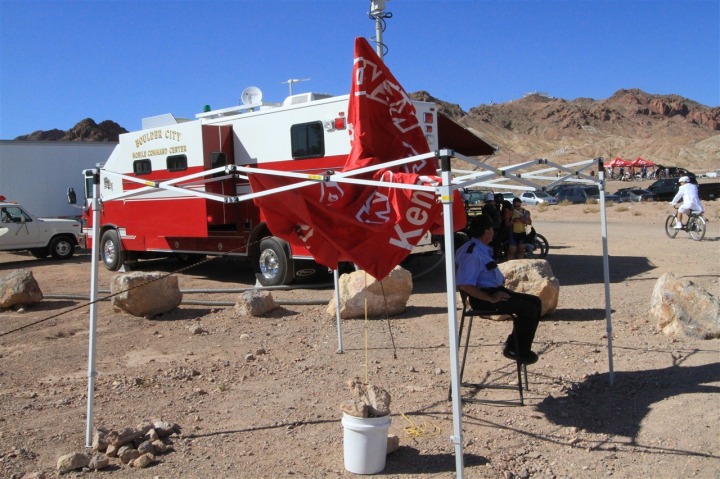 Speaking of security guards…I'm not entirely sure why the whole place was staked out by local Police cars like they were guarding against an oncoming invasion.  Given the huge numbers of fairly off-the-grid cyclists here, I'm not sure they'd look much different than anyone else causing immense amounts of trouble. Well…except we'd do it with a wrench.  Maybe some lube.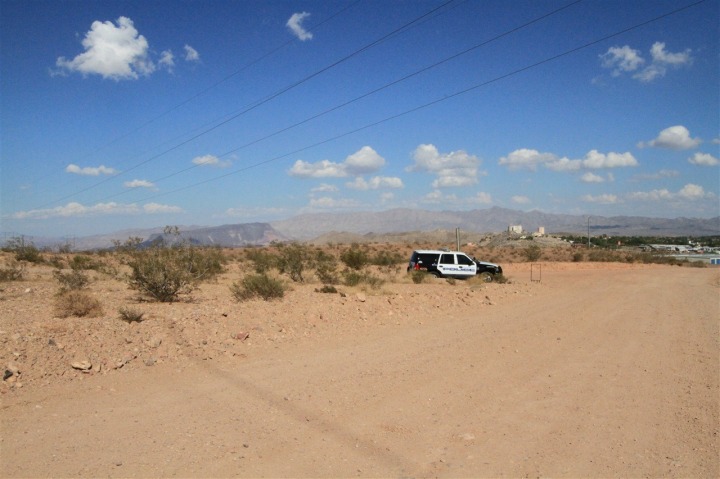 My primary goal for coming out here today was actually to get a bit of mountain bike trail time with the MyNav MN700 GPS navigation bike computer.  Though lacking a bike, Interbike has plenty of vendors more than willing to lend me one, so I walked over to Giant and got all setup on a sweet mountain bike.
From there I travelled about 25 feet to the MyNav booth and got connected with the MN700.  The two guys there took care of getting everything all mounted on the demo bike, and within a few minutes I was ready to roll: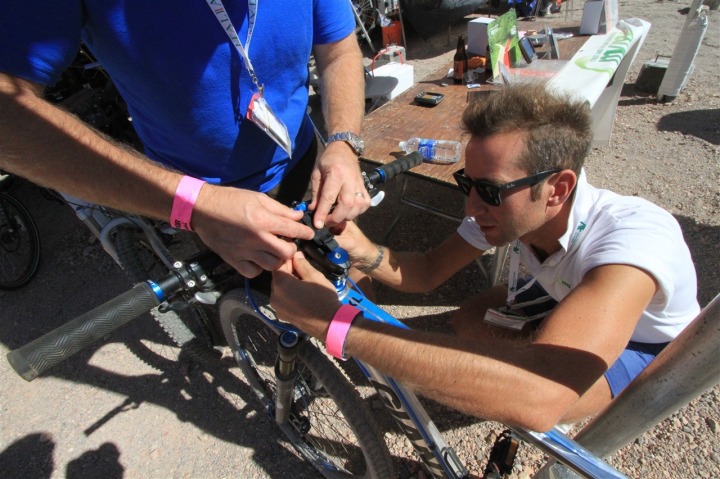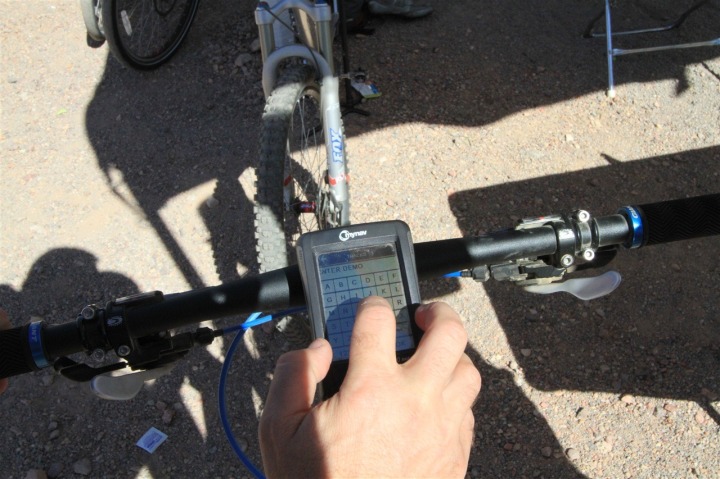 From there I headed out along the short trail to the main mountain bike section.  I surveyed my options very carefully.  Given I generally suck at mountain biking…and I was surrounded by really really really good mountain bikers – I looked around for the most deserted portion of desert I could find…and went there.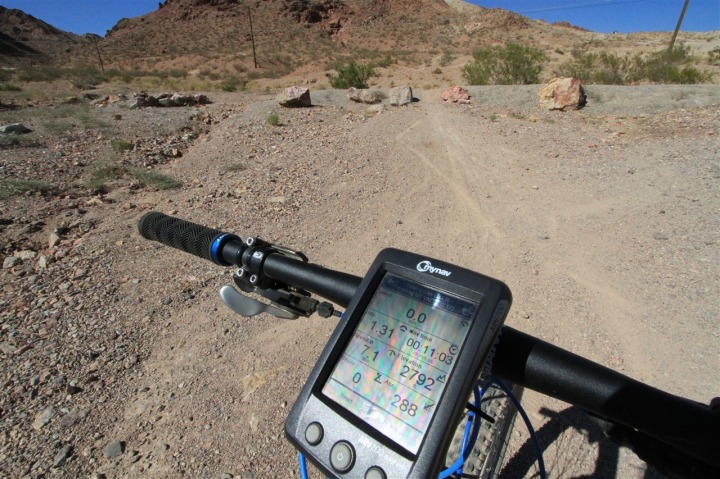 You'll notice from the above that the display pages are fairly similar to that of the Edge or Joule – in that you can customize them till the cows come home, and they both have about the same number of pages structured the same way.
In the above example, I've got everything from altitude to total ascent to moving time.  I can just tap the screen to go to a different page with another 8 unique data fields displayed.  The unit supports 4 data pages, along with a map page.  Below you can see a different set of data fields on a separate page: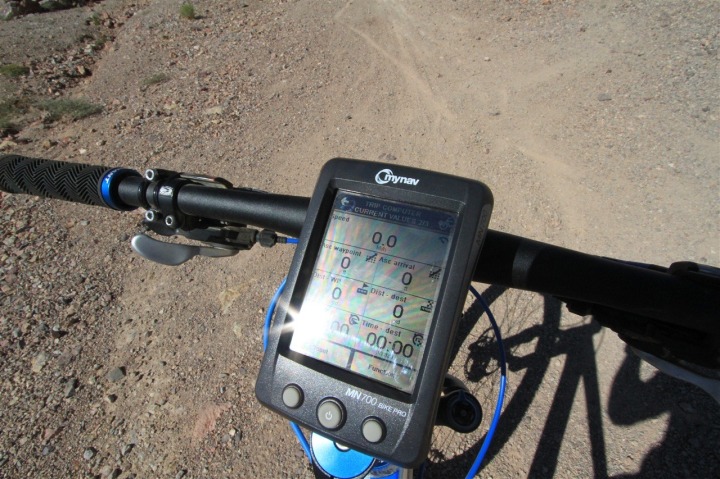 You'll notice above that if you enter in waypoints, it'll not only give the distance to that waypoint – but even the total amount of ascending left until that waypoint.  This is done via the topo maps that all MyNav units ship with.
Despite my attempts at very bright sun photography, the unit is actually quite readable in the sun and never ending desert dusting.  You can adjust the LCD brightness to three different levels – I found that for the bright desert sun, the brightest setting was best.
As noted above, the unit includes a map screen, allowing you to zoom in and out easily and check out where you are.  Because I was basically in the middle of nowhere, there's honestly not a ton to see here.  When I got closer to roads, it becomes more useful.  Though with the topo's, it would be pretty good if I wanted to see whether ascending or descending was in my future.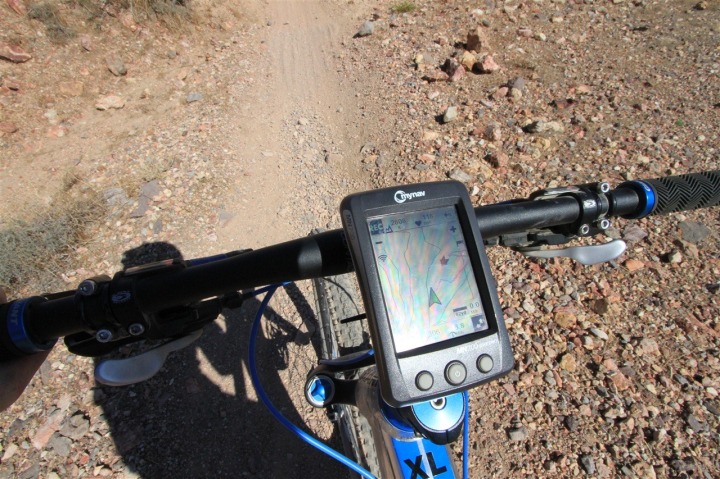 I ended up spending about 30 minutes poking at it while out on the bike – tons of menu options and by far the most customizable unit out there today.  Though it's also the largest.  So that's something you'll need to consider balancing as well.  The guys are letting me take the unit home with me to review more in depth over the next few months until its release in December.  So look for more over the course of the rest of the fall.
In the meantime, it was time to fuel back up at the free Gatorade stop.  This little pit stop is probably the greatest place on earth – serving free ice cold Gatorade…as many little cup refills as you'd like.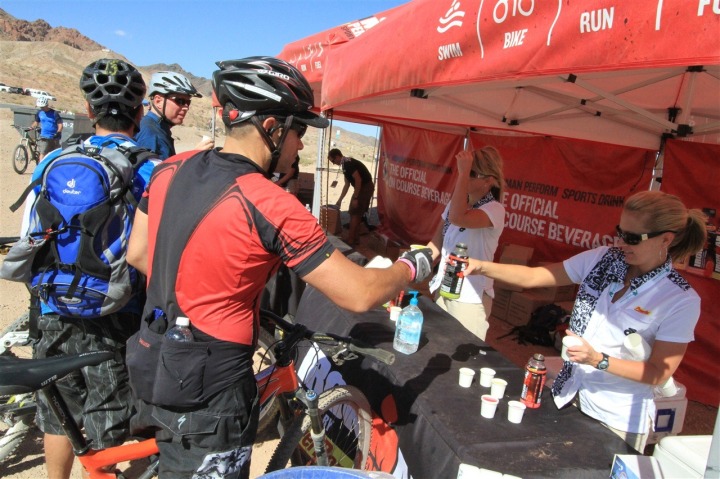 Speaking of marketing…there are many strange marketing things that you'll end up seeing at Interbike.  But I suspect, it's going to take a fair bit to top the Yetti that I saw wandering around the Outdoor Demo area: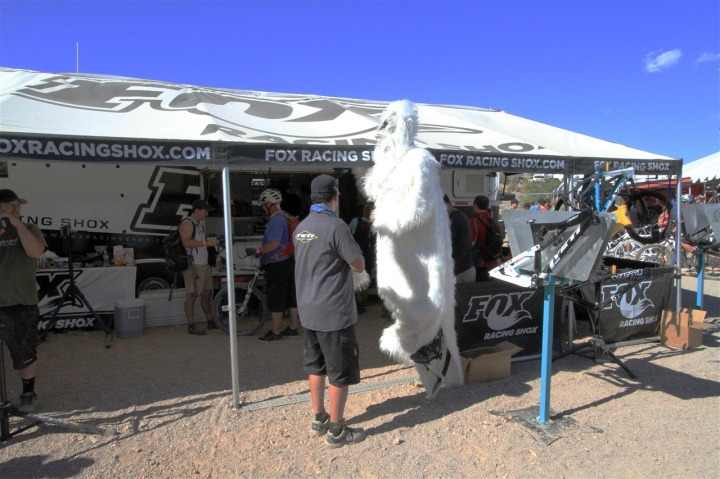 Nor would I want to be the one in charge of marketing for this bike: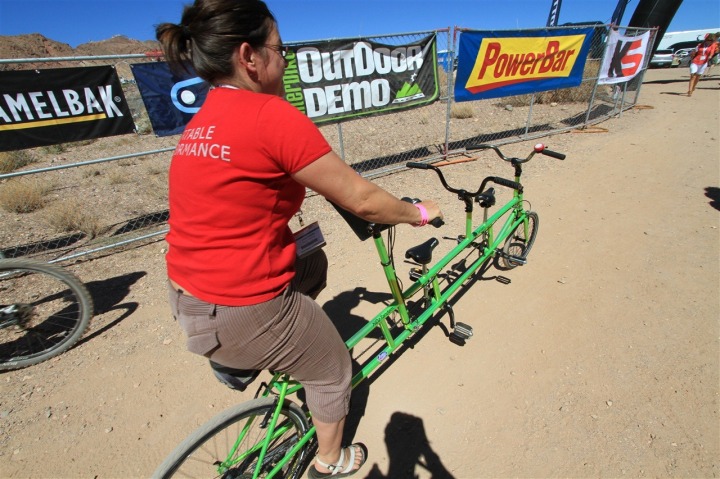 But the marketing peeps from Kenda get extra points for the free water and Gatorade…and more importantly – ice cold water and Gatorade.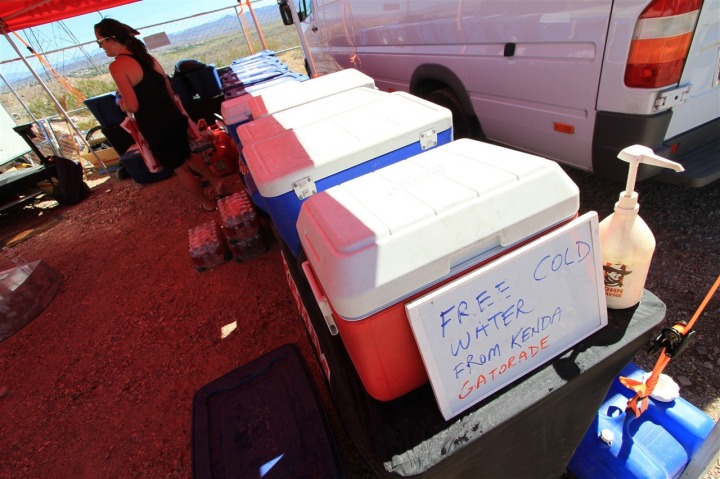 And when it's time to head back to Vegas – the free water people don't disappoint – even if the massive line to board the shuttle buses do.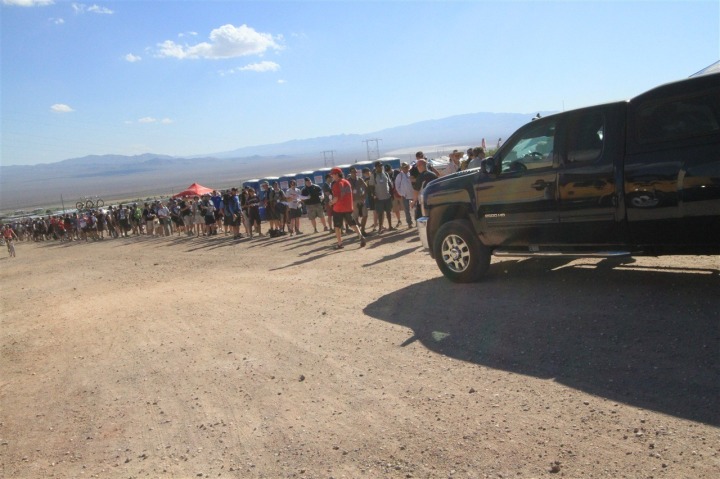 These two girls were working the line giving out all the free water you could imagine.  Nicely done!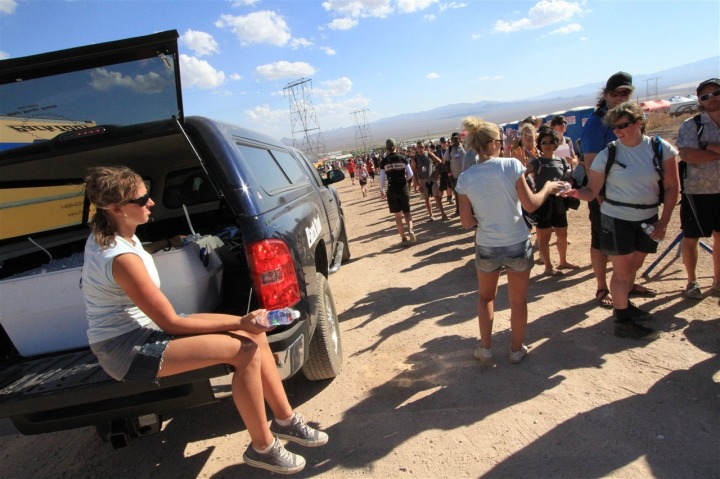 So with that – next stop is Vegas!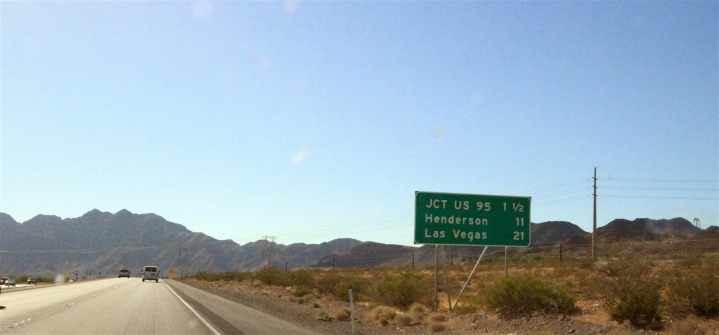 I've got tons of coverage planned for tomorrow, starting off with lots of power meter related news in the morning – including Garmin's acquisition of pedal power meter company Metrigear, along with the latest bits from all the rest of the power meter companies.  Stay tuned…this are just getting started!
And in case you missed any of the coverage to date, here's the run down thus far:
Interbike Outdoor Demo Day 1
Braving the mountain ledge bike bus…Interbike Style
A trifecta introduction to E-Bikes
Thanks for reading!