While I've got all sorts of product and feature specific items lined up all week long, today's first day at the Outdoor Demo was more about getting a lay of the land.  Lots of land.  The drive is about 30-45 minutes from Vegas, depending on how liberal you are with the posted speed limits.  You arrive in Boulder City, Nevada, and then make a quick left at the Taco Bell before crossing the border into Bootleg Canyon Park.  Once inside…an oasis of all things bike awaits you: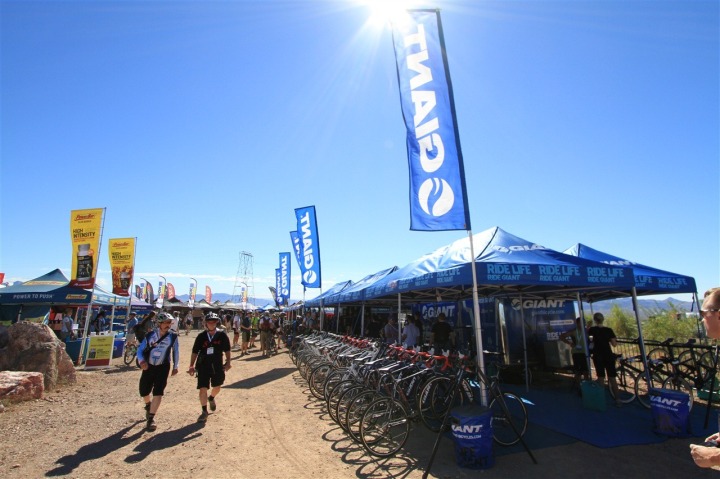 I got there fairly early – before most people had awoke from any after effects of the previous night.  As a result, I had the run of the place for quite a while before the masses showed up.  I promptly stumbled into Felt's booth, with their new DA.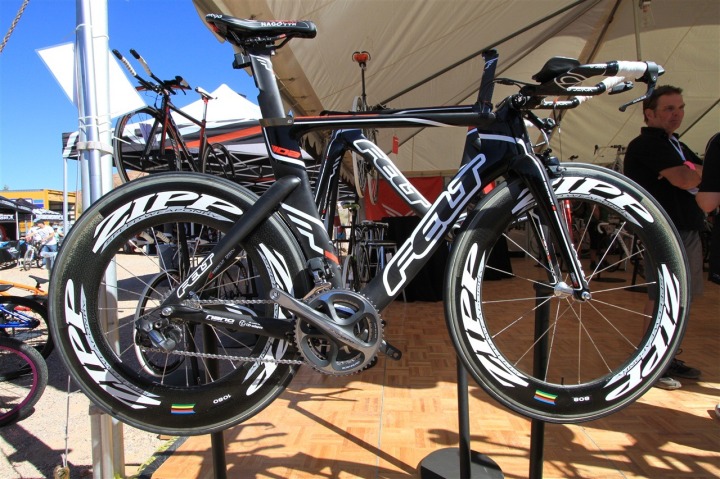 The DA features the Shimano Di2 electronic shifting.  One of the changes I saw on a number of bikes was moving the battery pack to behind the seat, in a location typical of a hydration rack.  Don't fear though, a kit is available to streamline the mounting back there even with hydration bottles mounted.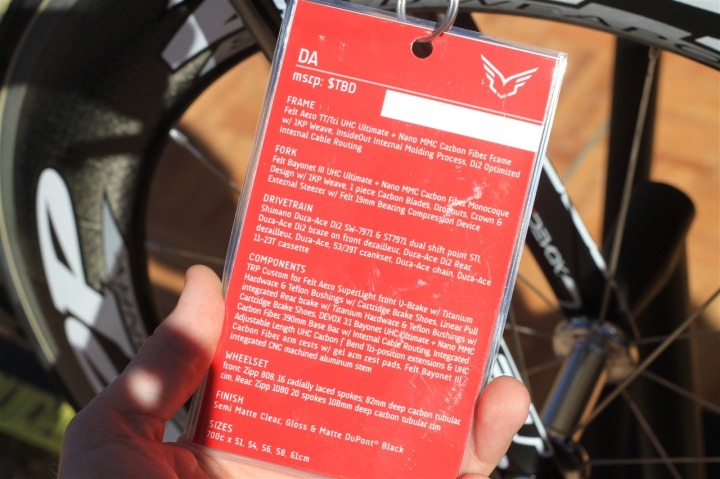 You'll note a lack of price.  I believe that falls under the category of "If you have to ask, you can't afford it'".  I asked, but didn't get a price.
Speaking of similar bikes that I can't afford – I stumbled into this $15,000 bike from Storck.  Where I come from, we call that a new car.  But here they call it a bike complete with the Di2 shifting – also with the rear mounted battery pack.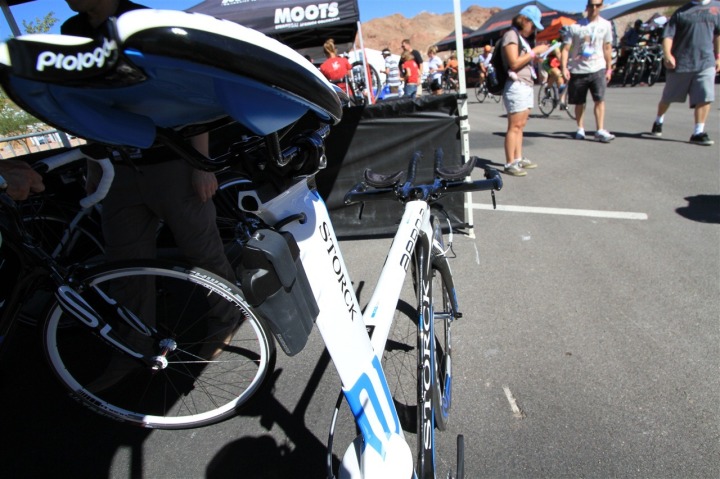 But…that's where I'm going to stop for now showing off cool bikes.  Not because I don't want to – but because there's so many other things to show off first.  Plus, I need something to write about tomorrow…
After my Stork foray, I bumbled over to Trek to test ride the Speed Concept 9.  While the bike is nice and all, what's actually cool is the test ride route that Interbike has setup to test bikes on.  They've closed dome some nearby roads (real closed down, not partially open) and you're able to get out there and hit the flats, along with some climbing and some descending.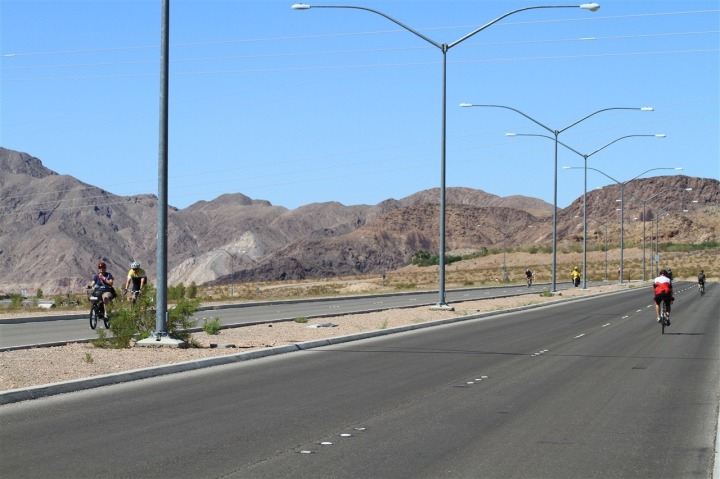 While I was out there, I caught a few others playing on the Speed Concept as well: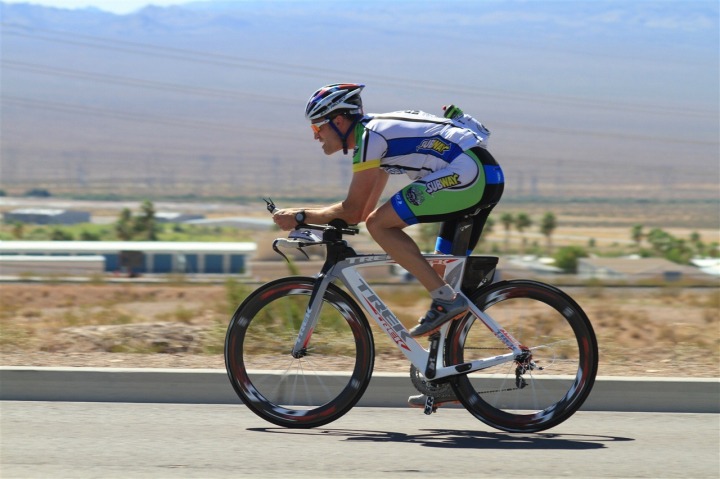 Oddly enough, the person drafting behind him wasn't actually another cyclist, but instead the support motorcycle that did loops all day long nonstop on the short few mile circuit – ready to help swap out a flat: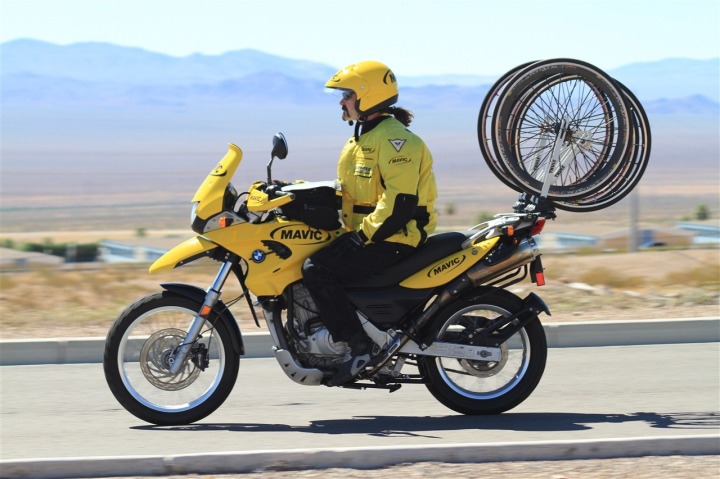 And they had you covered at a nice 'aide station' as well – just in case moto-man wasn't handy: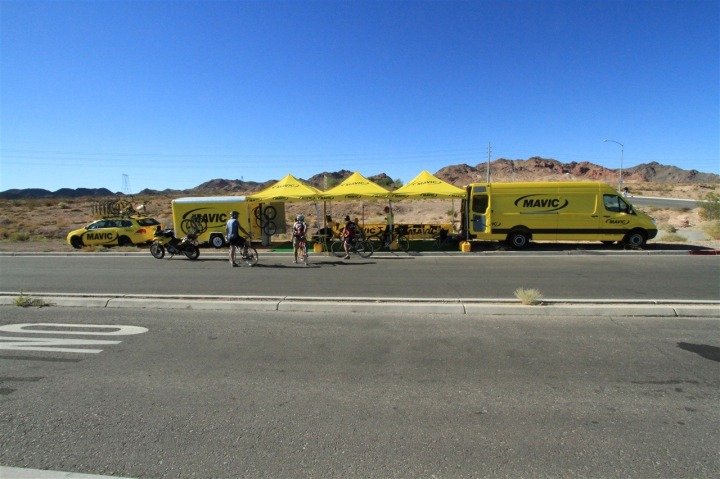 Speaking of moto-man – I tried out three different electric bikes today.  I'd never ridden an electric bike before, and this was an interesting experience.  I'll have all the deets on that tomorrow morning.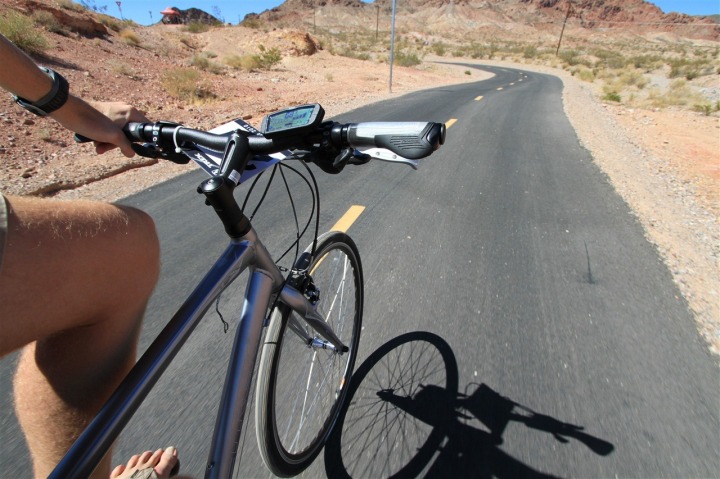 You may have noticed quite a bit of dirt around the area.  That'd be what locals call the desert.  From what I've gathered thus far…there's a lot of it out there.  And while it's not a terribly great medium to test ride triathlon/time trial bikes on – it's superb for giving mountain bikes a whirl: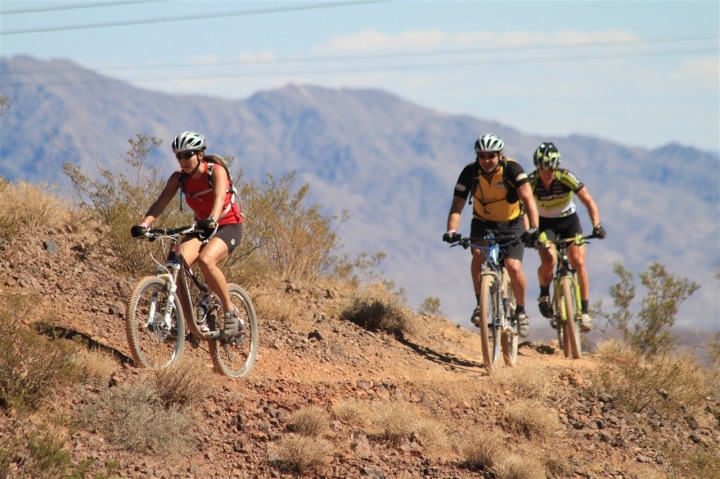 The scenery up here is incredible though, whether you're on road or trail.  But I think today, the folks on the trail have an edge…at least in the fun department.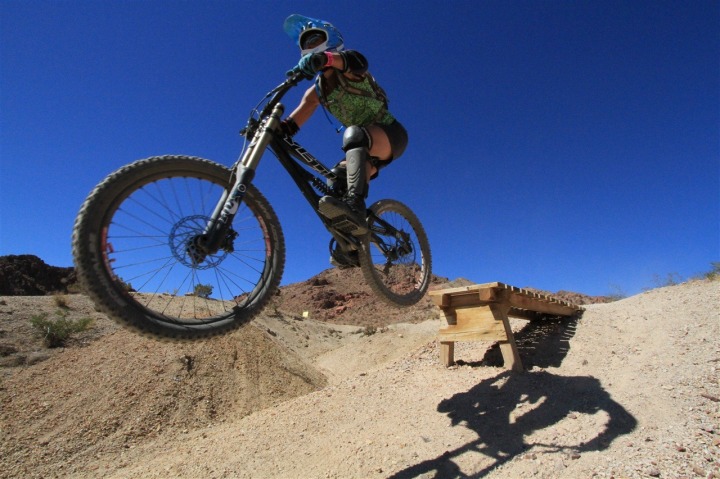 Oh…and the mountain biker above…is a girl.  A number of the guys before/around her wimped out.
It was also entertaining watching as Fox was working to get a number of PR/media shoots.  I'm pretty sure this photographer was there for a solid 30+ minutes working to get this one shot.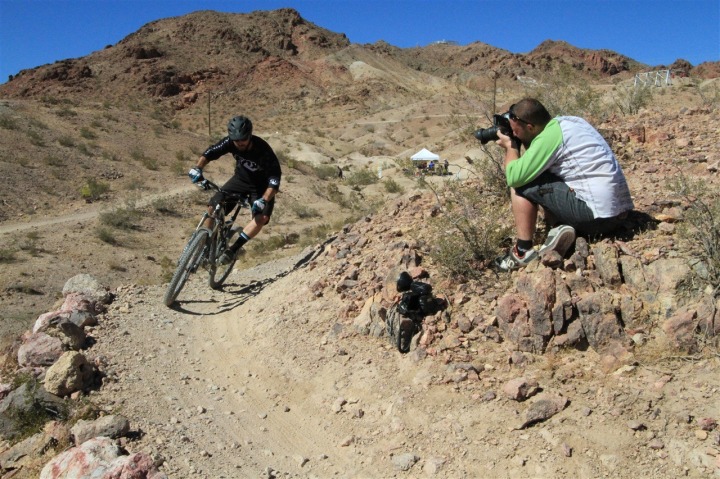 Finally, I had a chance to swing by two different sports technology related vendors.  First up was LeMond Fitness, with their trainer.  They've got a new ANT+ power meter trainer system that I'll be talking more about on Wednesday, but I got a chance to ride their normal trainer today.  Very cool the way it truly feels like the road when you just stop pedaling and then start a few seconds later.  Feels natural like your coasting. 
Oh, and no, that's not me wearing the banana-colored kit below.  Just wanted to clarify that.  Can't have any mistakes there.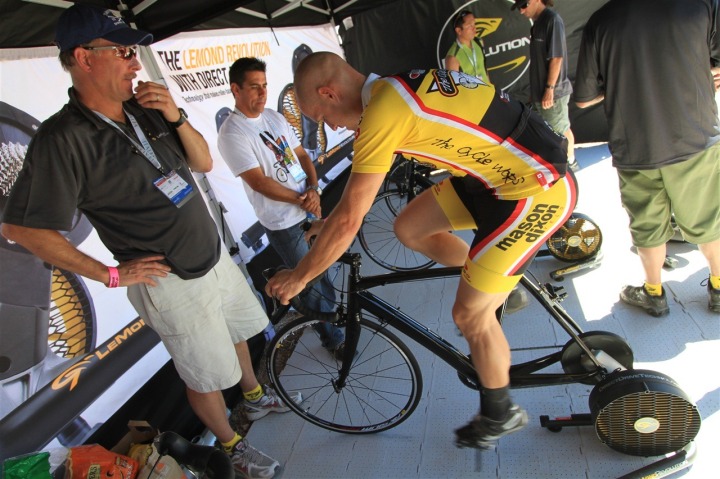 Unlike most trainers, the LeMond trainer actually doesn't use your back wheel at all.  Nope, it replaces it.  No tire, no tire to change, and no tire bits littering your floor year round.  Again…more deets on Wednesday.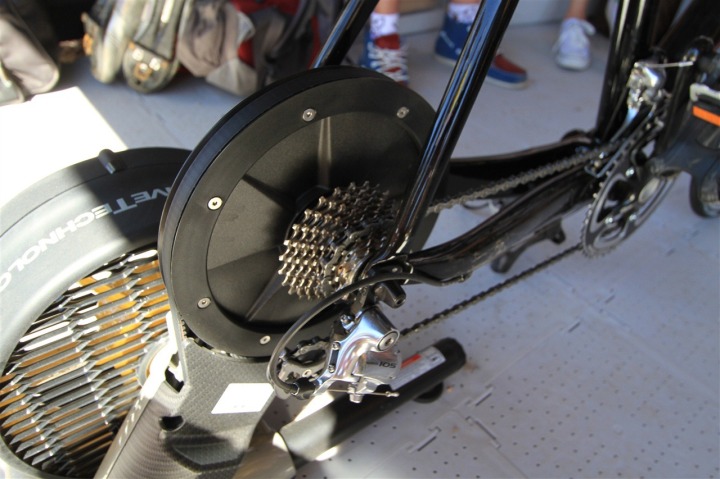 I then wandered across the way to MyNav, which is a bike computer company.  They're making an ANT+ compatible bike navigation computer, that also converts to a normal car GPS as well (even does screen rotation!).  I'll be playing with a unit out on the road tomorrow, and then taking it home to put a review together on.  But in the mean time I was able to grill their two engineers for a while on it.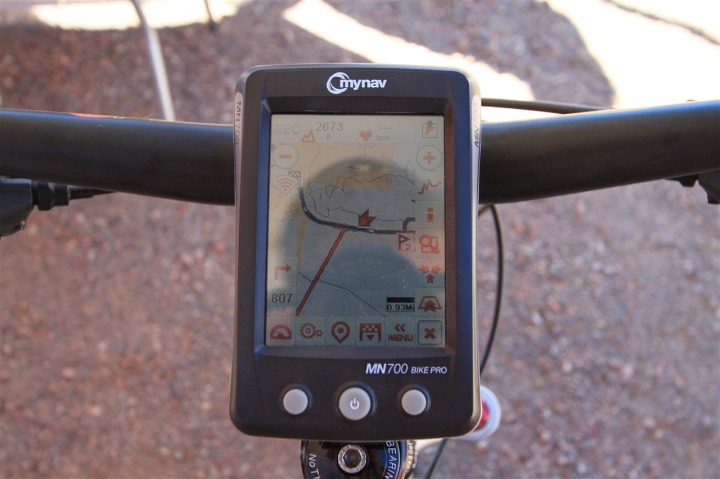 Perhaps one my favorite features was actually the replaceable battery.  Also, they make a small case that allows you to simply swap it out with AAA batteries in a pinch.  Brilliant!  And, it's IPX7 waterproofed.  It'll be available later this year before Christmas.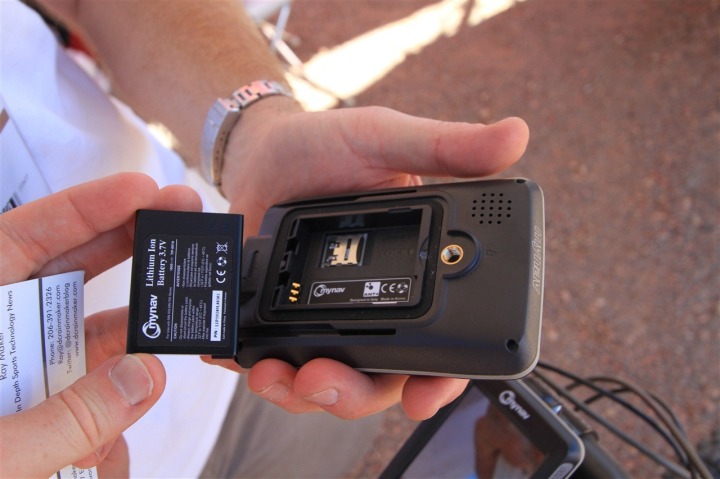 Until tomorrow, I leave you with this picture, as a placeholder for a story yet to come…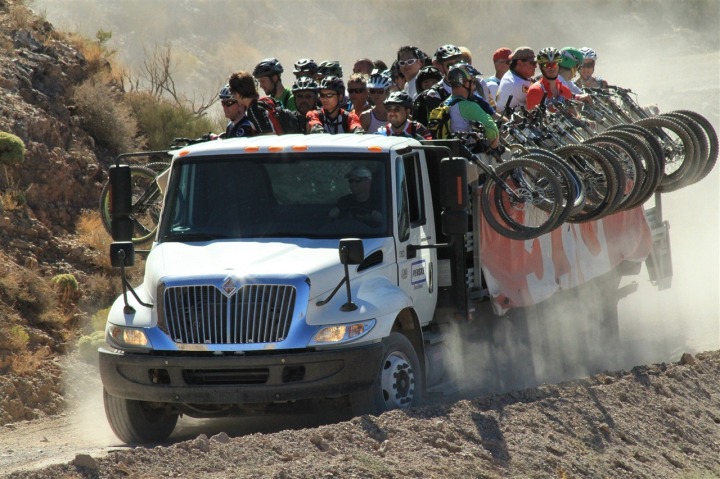 Thanks for reading!