One of the great things about Interbike is the ability to sit down with engineers and product folks about their products and have a good chat.  While some companies shy away from having their top engineers show up at trade shows and conferences – many times tech companies do not.   Timex, understanding the importance of Interbike sent their Global Trainer product development lead to the show.  While I'd like to think it was purely just to talk with me, I'll accept that I was only a small part of it.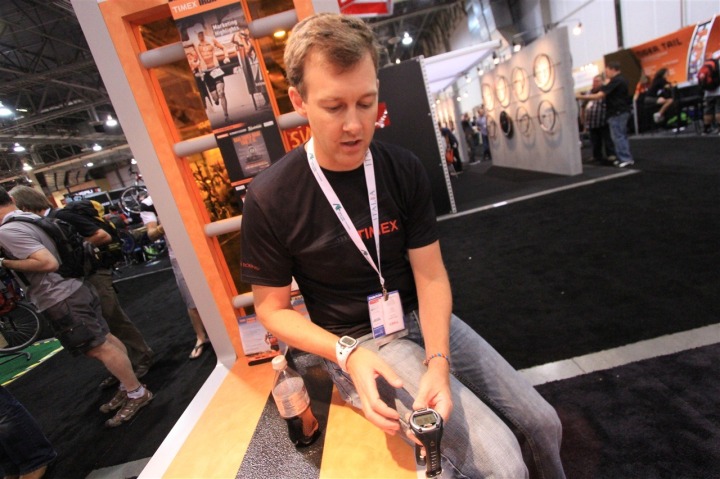 But, I'm also guessing I was probably the only media badged person there not afraid to ask hard questions.
In fact, it was somewhat funny in that when I initially arrived for my scheduled time slot, they had paired me up with one of their external vendor PR folks, who started the usual "So, here's our new product, the Timex Global Trainer – let me tell you about a bit it"…before I kindly stopped him and said "I think I'm supposed to be talking to someone on the engineering team" (I decided against saying "I can tell you more about it than you can tell me about it").  Luckily, just a minute later I got connected with the right person and we were off to a great nearly-hour-long discussion.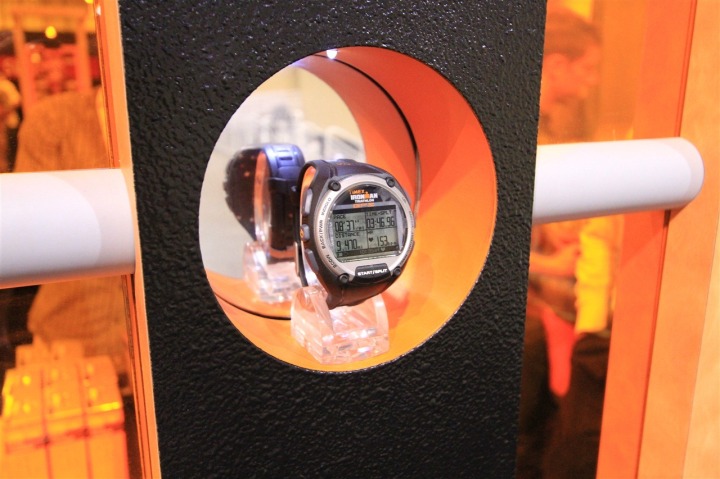 If you've followed around here for a while, you know that I was one of the first to review the Global Trainer in my first look review, and then a few months later in my usual In Depth Review.  While in general I think the product is an excellent 'first attempt' – I've also been fairly clear that it lacked many 'little touches' compared to some of the competition.  I've had a chance to talk to the product team a few times over the past few months – all via conference call – but this would be the first time in person.  Many times things are much more clear in person rather than phone.  So with that, let's recap the discussion…
The Current:
The first area I touched on in my discussions with the Global Trainer was around the fact that while it's a triathlon focused device – it doesn't cater well to the triathlete looking to utilize it across all three sports.  Meaning, it doesn't support any form of quick release kit, making it difficult to switch in transition if you want to mount it on your bike instead of your wrist.
Jason agreed that in some ways the watch was designed better for training, than for racing.  But he noted that it's absolutely something they're looking to address in the next version.  I commented that a quick-release design would be ideal, and he agreed it was something they were looking into.  He also noted that while you can use the lock function to try and remedy some of the wetsuit removal problems, he has found that with a bit of practice he can remove the wetsuit without getting it caught on the watch. (Side note: Jason is no rookie to triathlons, as a recent Ironman St. George finisher himself.)
The next area we discussed was some of the ease of use and polish items of the Global Trainer.  I've argued that some of the menu's can be a bit cumbersome to navigate – especially in races.  Jason noted that in many cases the trend they're seeing is that like any device, folks aren't getting quite enough exposure to it pre-race while in training, and like any other piece of gear you use – getting used to which buttons to hit is key to a good experience (just like your seat for example).  He did agree that one area in particular was the 'Enter'/Center key, which often causes confusion with folks intending to go down, and not enter – thus actually ending up in a different part of the menu.  While he didn't have any comment about future design here – it was clear this is something they're looking at.
After talking a bit about UI, we went onto discuss the ability for 3rd party software applications to access the Timex Global Trainer files.  One of the complaints to date has been that the watch is only compatible with Training Peaks.  While I love Training Peaks for my day to day tracking – I'm also in the camp of wanting more accessible data files.  Today, Training Peaks uses PWX files to hold the data once downloaded to your computer, and you can indeed access these XML based files within your My Documents folder.  However – there's no documentation associated with it.  So that's one area that Timex is going to work with Training Peaks on – providing documentation to allow 3rd party apps to more clearly consume this data.  Though they were clear that the actual watch-to-computer interaction will still need to occur via the Training Peaks device agent, which is available for Mac and PC.
Finally, we talked about power meter head unit configuration.  I commented that one of the challenges with the Global Trainer is that it doesn't support any power meter configuration or calibration.  In the past, that stance has been driven by the desire to remove themselves from the support chain should power meter configuration become an issue.  Additionally, they've stood behind the belief that if you have a power meter, you also likely have another head unit to complete configuration with.  While Timex is still keeping that stance – he did seem to allude to the notion that some of the recent Garmin/MetriGear announcements might drive a bit of change there depending on customer demand for such configuration/calibration options.
The Future:
The bulk of our conversation was actually about the future of the Global Trainer though.  I started off with a rather round-about way of asking when we'd see new (additional) models within the Timex Global Trainer lineup:
Ray: "What type of product cycle is the Timex Global Trainer on, annually, every two years, etc?"
And I got a refreshingly blunt (but simple and good without any marketing spin) answer back:
Jason: "We're looking to introduce a new version as fast as we can."
That then lead down a long and lengthy conversation that can best be summed up with a timeline of:
Jason: "We'll have a new product in time for next year's triathlon season."
He noted that they still plan to sell and update the firmware on the Timex Global Trainer, but that this will simply be another product in that line – similar to how Garmin released the FR310XT, but still sells and supports the older FR305.
I then noted that while Timex has a long history with simple wrist watches, the Timex Global Trainer marked their first foray into the ANT+ connected devices world – and was curious whether or not we'd see an expanded lineup of devices for next year – such as one for cycling.
Jason: While I can't comment specifically on new products, I think our being here at Interbike [a bike show] shows our commitment to the cycling world, especially going forward.
Last but not least, I asked a bit about some of the announcements around power meters over the past few days – specifically Garmin's acquisition of MetriGear.  I noted that at this point, two out of three of major sport and fitness watch vendors (Polar/Look & Garmin/MetriGear) had now paired up with power meter companies to bring branded power meters to market.  I asked whether or not a power meter was in their future, or if partnering with a company such as Brim Brothers was on the radar.  While he couldn't comment on anything specifically, he did note that: "We're always looking at opportunities out there, but it has to make business sense."
And while that was the standard PR line I was expecting – I should note that I didn't get a feeling from him that it was on the 'imminent' radar screen.  Which, to be honest – probably makes sense.  There's now a bunch of power meter companies planning to introduce new products in the next 6-12 months – with some of them planning to go sub-$1,000.  Given all of them are ANT+ (except Polar/Look), Timex can pretty much just sit back and enjoy the ride without having to put money into development.  Though, I'd argue that in order for them to do this – especially with the introduction of new cycling products – they're going to have to get into power meter head unit configuration/calibration options.
So with that, we wrapped up our pow-wow.  It was a great discussion though in that he genuinely seemed excited about what the future holds for Timex, especially with new products next year.  I think, it's also great news to hear that the Global Trainer isn't just a one-time-wonder, but instead the start of a series of products – both in triathlon, and from the sounds of it – in cycling as well.