If you were following my Tweets this past weekend, you know that things weren't quite all rosy in Las Vegas for me.  Shortly after wrapping up my week-long wandering of the Interbike floor, The Girl and I headed out for a nice evening of dinner and a show.  We dined at one of my favorite places – Bouchon – followed by Le Reve at the Wynn.
And just after the curtains closed at Le Reve is when I knew things weren't quite right.  First, I got a bit warm, and then from there, I started feeling a bit dizzy and nauseous.  And not much later after that, I spent the majority of the night in in the bathroom, or running to the bathroom.  I've never thrown up with as much force…or pain, as I did that night.
It didn't take very long to figure out I had gotten a pretty bad case of food poisoning – which I'm relatively certain was from an appetizer of Rillettes aux Deux Saumons (Translated: Salmon that causes me pain).  While The Girl had a bit of it (and felt the effects for a short bit), I ate most of it…and felt the effects all night long.
By time the sun rose on Saturday, I was many pounds lighter, dehydrated, and still unable to eat much of anything.  Nonetheless, we went to packet pickup – where I figured I might at least recover enough by Sunday to give the Sprint Triathlon a whirl instead.  Thankfully, the folks that run the Las Vegas triathlon are super-nice about changes and let me change to the sprint without any hassle.
However, getting any food or drink down was still turning out to be a rather difficult task – with my body generally rejecting it…or it causing more pain.
Despite 11 hours of sorta-sleep on Saturday night it was clear upon waking up for the final time at 5:07AM, that there was no way I was going to be able to race…well, functionally anyway.  At that point in the morning I was legitimately concerned I wouldn't be able to finish the 750m swim, let alone the bike and then subsequent run in near 100*F heat…which is too bad, as I was looking forward to the hilly bike.
So…I did what I do best…
Got my cowbell ready and went out to cheer for The Girl…who went out and (as usual) completely dominated the Olympic Distance race.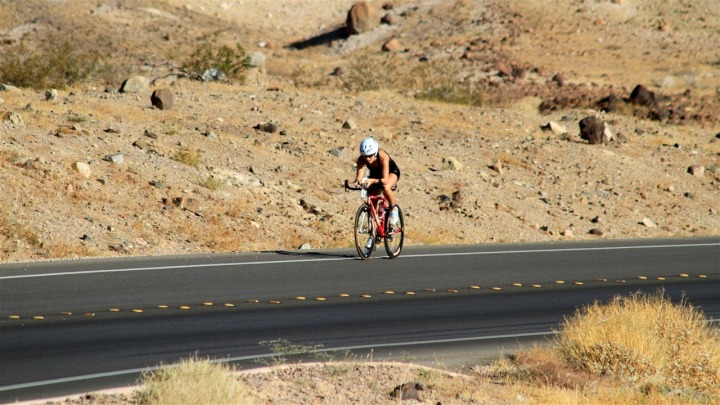 And with that…my Vegas trip is complete, back in DC I am now.  But fear not – still plenty more Vegas Interbike posts that will trickle out automagically every few hours on Monday.
Thanks for reading!