Over the past few months I've received more and more e-mail asking what I thought about the Tacx trainers, and how I thought they compared to RacerMate's CompuTrainer.  And it wasn't until I started poking at the Tacx trainers that I became more and more impressed with their capabilities.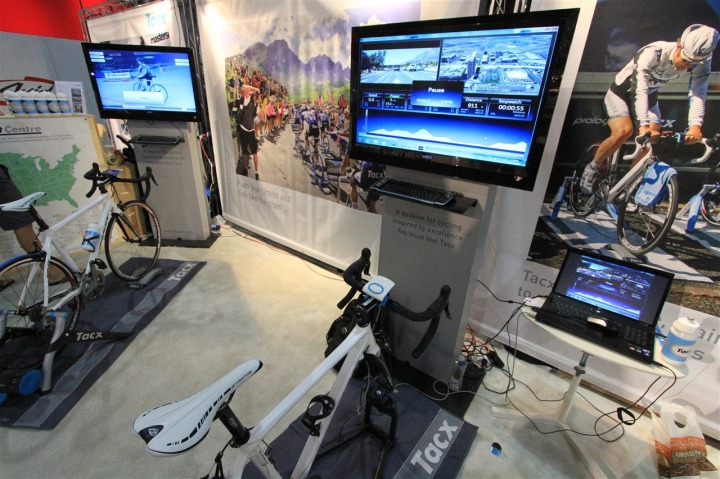 Thus I was looking forward to being able to dig into them a bit more in person down at Interbike in order to understand what the product platform offered, as well as how it stood up to the 'gold-standard' CompuTrainer.
So, let's dive into it!
The Hardware:
There's a few (well, actually a ton of) different sub-models that Tacx offers.  But, sorta like cars, they can all be rolled up to two basic models.  First, is the VR Trainer – which is pretty much their top of the line product: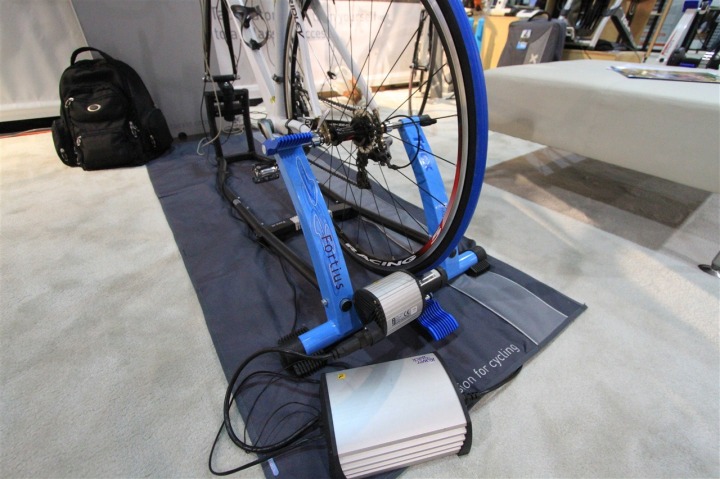 Then, there is the Bushido trainer.  This has almost all of the features of the Tacx VR trainer (aside from steering), except that it doesn't require cables of any sort.  Instead, it actually uses your power, to generate its power.  Sorta like the gym equipment you see sometimes.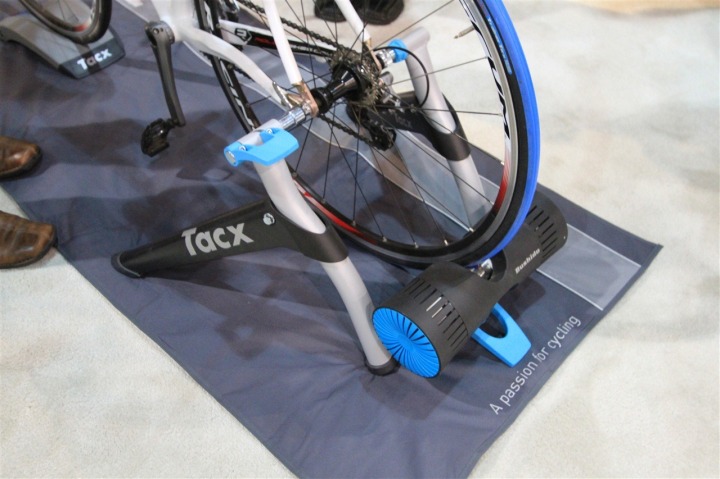 (Look ma!  No wires!)
In both cases, they leverage ANT+ to communicate…though in my discussions with them, it sounds like they're not quite leveraging the technology to it's fullest potential.  For example, while the Bushido transmits ANT+, the folks at the booth noted that you can't actually have your Garmin device pickup the power or cadence data from it directly, as it has to be decoded using power tables on the head unit.
Speaking of head units – there are two options depending on the model your using.  First up is the VR trainer one: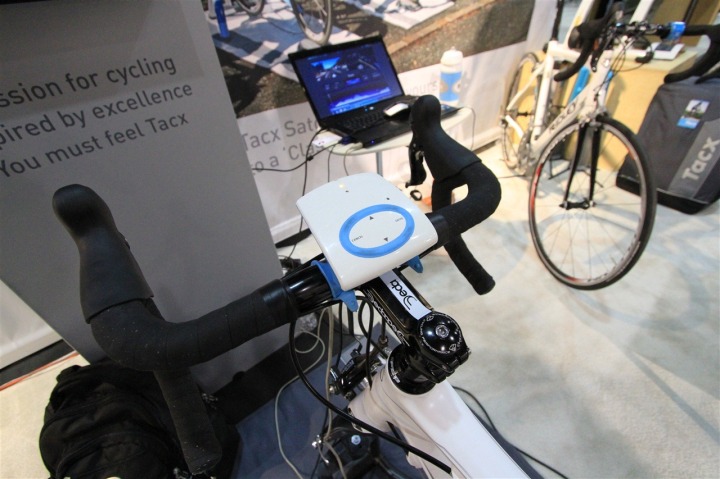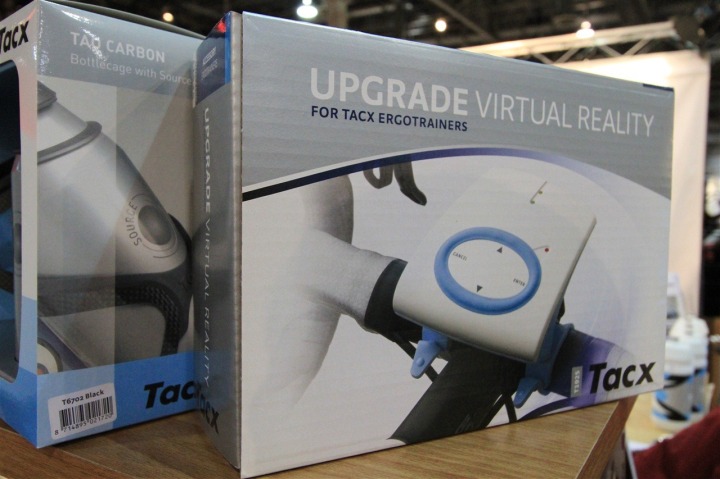 Then we have the Bushido one power via ANT+, featuring a fully integrated display…again, note no wires: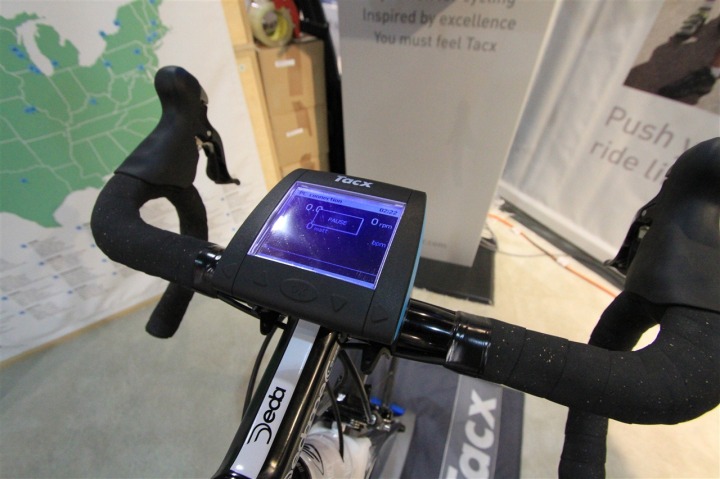 Finally, the last piece of hardware to note is the Fortius VR Trainer's steering system – which allows you to actually steer the bike and have it steer the screen.  While I see this of more value in 'entertainment' scenarios than true die-hard training, the geek in me still thinks this is fun…even if it has no training benefit.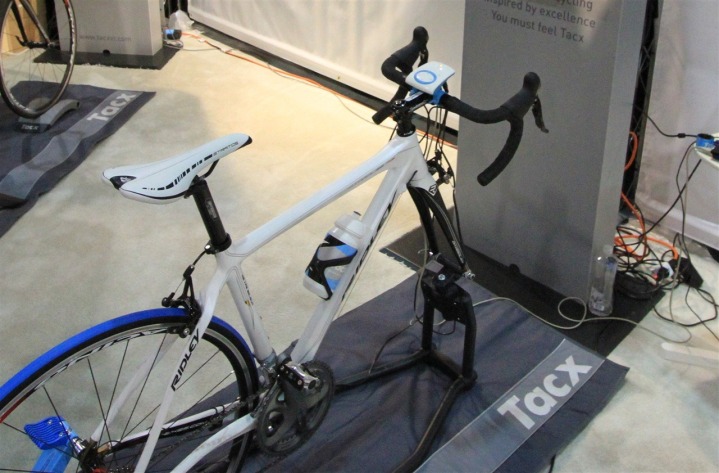 The Software:
The real cool stuff though (aside from the lack of wires) isn't the hardware – but actually the software. And this is what I was really interested in.  For me, I'm incredibly familiar with CompuTrainer's software suite – both their current/legacy software, but also their newer software previewed at Interbike.  So I was interested in seeing how they would compare.
The first thing you'll notice is that like RacerMate One, the TACX software suite is consolidate into one application with a number of different modules that cover different free and paid components.
On the left hand side of the screen you see the major components, the upper toolbar is for importing/exporting and general configuration, and the right side of the screen is for module-specific configuration.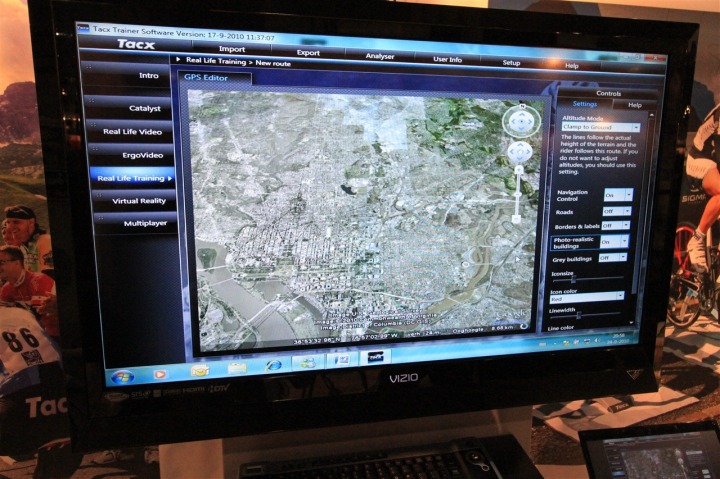 Since the above screenshot is focused on the 'Real Life Training' mode, we'll start there.  This mode could realistically be relabeled 'Google Earth Mode' – since that's exactly what it is.  But the concept is pretty cool.  In this mode you can create your own routes using a ride editor built into the app, as well as import in GPX/KML files from other sources (like your last long ride).  The system will then go ahead and allow you to virtually ride the route on the spot.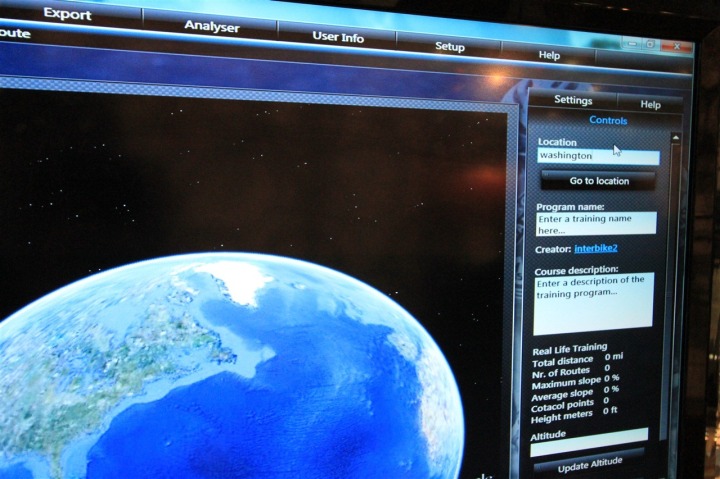 While this in concept sounds similar to the GPX/KML file import that CompuTrainer does – it's in fact very very different.  CompuTrainer isn't allowing you to ride against satellite/3D data from Google Earth, but instead using the elevation data to generate a topography that's identical to the route.  in effect, with the CompuTrainer you're riding the elevation chart with turns, whereas with TACX you're riding real satellite imagery.
Now, riding the satellite imagery can be a bit quirky. And it's hardly like riding down the street.  The guy in the booth went ahead and zoomed in and created a short course in Washington DC.  Not knowing much about the area he choose the White House and went from there.  Aside from the obvious implications of probably getting shot while trying to bike across the front lawn of Obama's pad, the concept itself is cool.
Here's a video I took of the whole creation process and riding across the front lawn:
The next component is the Real Life Video's piece – which allows you to ride actual courses/routes filmed in HD in the real world (not a virtual world).  This is best compared to CompuTrainer's Real Course Video's. When you pedal/go faster, the video plays faster, when you stop – it stops.  This allows you to ride an entire course – such as an cycling race – without ever having to leave your house.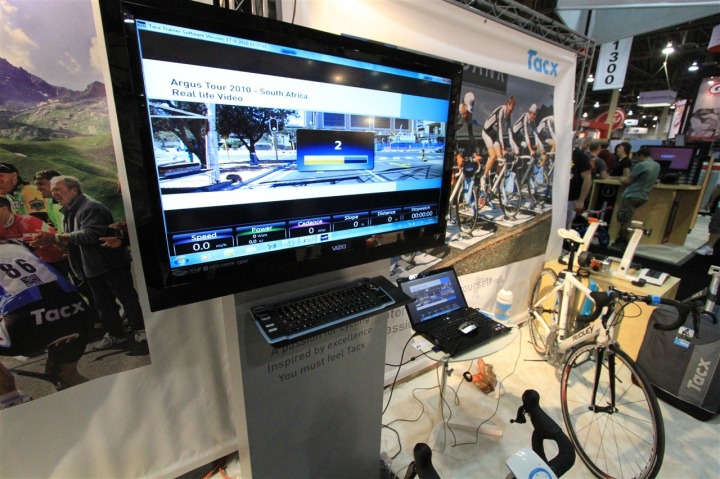 You can buy tons of these different Real Life Video's, here's just half of the pile of different titles they had in the booth: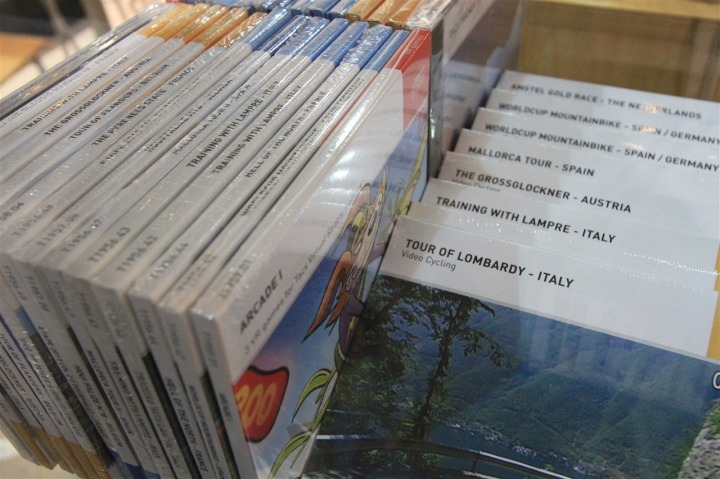 What's cool is that like the 3D and Google Earth simulations, these also include altitude/elevation details as well.
Further, the VR edition can actually simulate the downhill portions as well.  Typically trainers (including the CompuTrainer) are only able to offer resistance, but the TACX trainer (not the Bushido however) can also spin your wheel as if you're truly descending.
In addition to real life and virtual reality, you can also play train across the Internet with friends via Multiplayer mode – even putting together online races: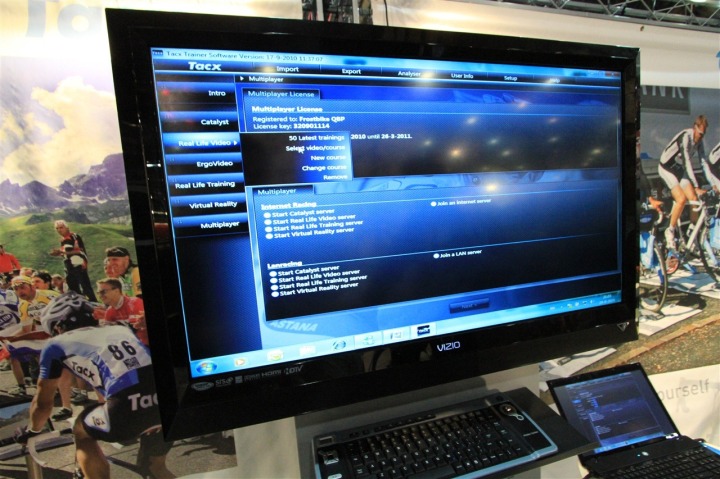 Finally, via the Catalyst software mode on the left panel you can train just like you would in CompuTrainer's coaching mode…which is simply without any of the flash or fanfare of the other modes.  Just simple and easy to consume data around power, speed, cadence, HR, etc… Which honestly, is where I spend most of my time when using my CT.
Once you're done in that mode (as well as any other mode), it'll allow you to view your data using a fairly flashy graphs, tables and summaries within the Analyzer mode: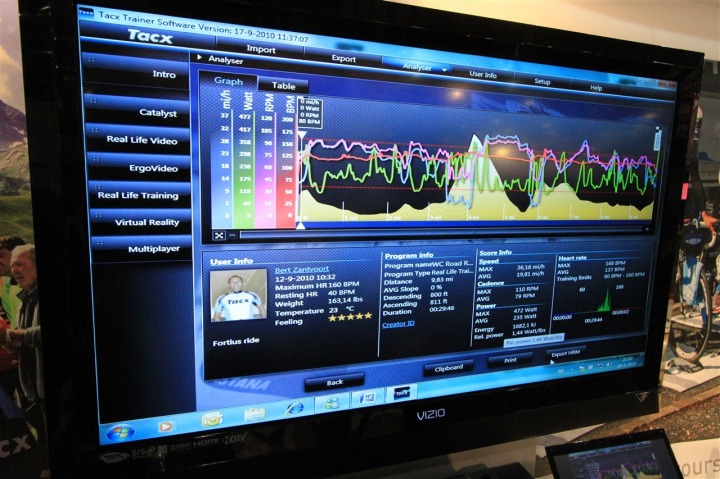 After fawning over your bike skillz, you can go ahead and export it out to a few formats that in turn can be uploaded to different sites, such as Training Peaks…or you can just go to town on that CSV file in Excel.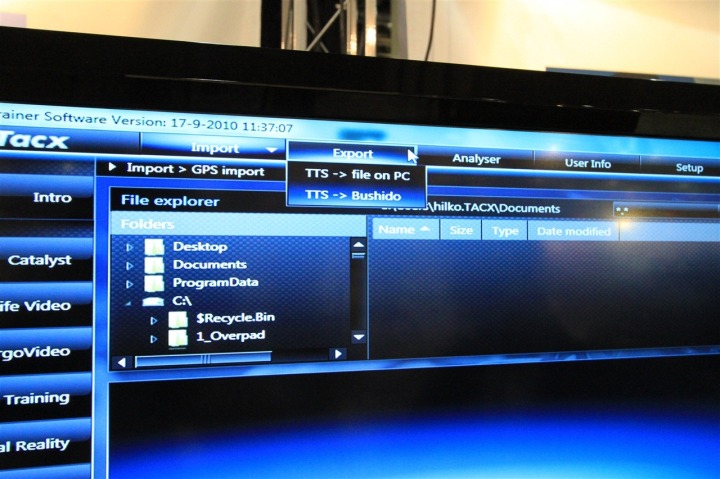 Finally…the pricing:
To say the software suite is cool would be an understatement.  But, cool also comes with a price tag – and like the CompuTrainer, it's not cheap.  In the case of the full VR trainer, it's coming in close to $1,200 – before you start adding in any Real Life Video's (though notably cheaper than CompuTrainer ones).  But the full VR trainer is also cheaper than the CompuTrainer – so that's a consideration as well.  Also, you should be aware there are numerous different variations in exact trainer model versions – so you'll really want to do your homework and especially note some of the comments in the above review link above regarding different vendors including different pieces – as you can save a bundle (no PUN intended).
As for its comparison to CompuTrainer – it's a bit hard for my to truly judge based on 30 minutes spent on a show floor with TACX.  If TACX were to send me a trainer to poke at for a few minutes I'd have a better feel for it.  The software did crash three times while I was in the booth – though I was told it was also running a new build that's still in beta – 3.0 – which will be released in November 2010.  But by the same token – I've seen the CompuTrainer software crash just as many times as well in the same timeframe.
With that caveat out of the way – if I had to go out today (no, not two weeks ago…) and buy a new computer driven trainer – I'd probably be very seriously looking at the TACX VR trainer.  Even with the CompuTrainer updates in RacerMate One – it's still a significant leap behind the TACX from a software standpoint.  I'd even go as far as saying I'd probably go TACX over CT if I got a bit more hands on time with it.
Now until someone drops a trainer on my front doorstep…I'd definitely love hearing TACX owners opinions on it!
Thanks for reading!