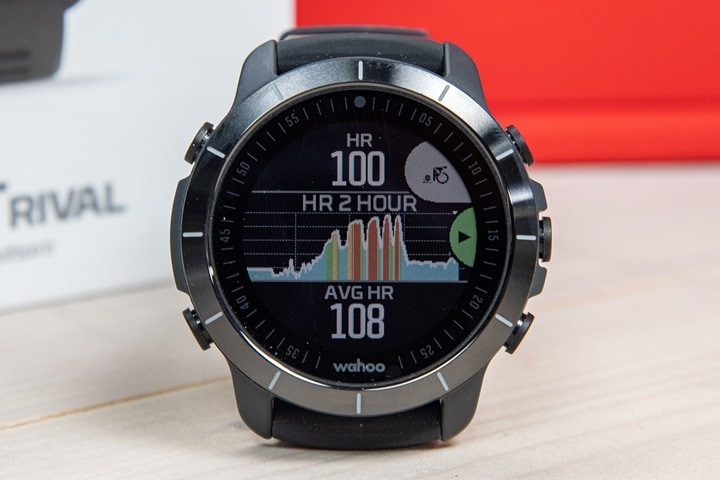 It's here. Finally. After years of rumors, leaks, and even a high crimes story I've got for another day, Wahoo's first watch has landed – the aptly named Wahoo RIVAL, a $379 entrant in a field full of competitive options.
And to begin, despite what clickbait headlines you might read today – no, it's not a Garmin killer. Nor is it a Suunto killer, nor a Polar killer, nor a COROS killer. It's not even a killer of the already dead TomTom multisport watches.
But that doesn't mean it's not promising. It is. And one day, it might take some sales from those companies above – undoubtedly. And while Wahoo has a long road ahead of them, the company also has a long history of coming into the market and causing grief for incumbents. Remember CompuTrainer? Yup – Wahoo was the legit 'CompuTrainer Killer'. Of course, wearables are a far more established, widespread, and a more difficult market to master – as the RIVAL shows.
For Wahoo's first go at this, they're squarely targeting the triathlon market. Specifically – swim, bike, run. RIVAL's marquee feature is a new touchless transition mode that automatically changes the sport modes on your watch as you iterate through your triathlon race. It even allows you to 'undo' mid-race if you or the algorithm makes a mistake, and to top that off, lets you get super precise on transition splits after the fact in the app before it uploads to 3rd party sites like Strava or TrainingPeaks. It's super cool.
But, we'll get into all the features at a high level in the next section, before diving into them in even more detail later on in the sports section. I legit went out and did a mock-triathlon in mid-November in Northern Europe to test it all out. You're welcome.
Finally, note that Wahoo sent me a media loaner RIVAL for the purposes of testing. As usual, afterwards I'll send it back to them and go out and pick up my own through normal retail channels. I don't take any money, ads, or products from companies I review. If you've found this review useful, feel free to hit up the links at the end of the site. Or, consider becoming a DCR Supporter.
With that – let's get on with it.
Quick Summary:
As I started off with, RIVAL is a triathlon watch, which means it can cover swim/bike/run both indoors and outdoors. So you can do openwater swims, pool swims, use a power meter on the bike – and it'll even pair with and record running power data from a Stryd running power meter. It's got a barometric altimeter for more accurate elevation data. It's got the optical HR sensor in the back for workout HR data (including while swimming). For the most part, the features on the RIVAL are pretty basic. They're roughly on-par with a TomTom Multisport GPS watch from 7 years ago, albeit with a few features in different buckets. It's just that the RIVAL looks a heck of a lot better, and also has more robust sensor support (inversely, TomTom had better activity tracking data, GPS/HR accuracy, and full structured workout support).
Here's the top line specs of the RIVAL:
– GPS watch with claimed battery life of 24 hours GPS, and 14 days standby
– Color 240x240px screen (64 colors) with Gorilla Glass
– Barometric altimeter
– Optical HR sensor (for workout and 24×7 tracking)
– Ambient light sensor
– Water-resistant to 5ATM (50 meters)
– Changeable wrist straps
– Broadcasts your heart rate over Bluetooth Smart & ANT+
– Livetrack support when paired with phone
– Multisport/triathlon mode, including touchless transitions
– Has timer & stopwatch
– Supports ANT+ & Bluetooth Smart sensors
– Supports running power meters like Stryd
– Supports Running Dynamics from TICKR-X (new 2020 variant)
– Uploads to 3rd party sites like Strava, TrainingPeaks, Dropbox, and tons more
Now here's the thing – I'm sure Wahoo won't terribly like me listing out all the things that aren't in this watch, but when there's no baseline to establish from, and no clarity on Wahoo's own site, this is the kind of detail people actually want. Else, one can just read marketing fluff (or regurgitated marketing fluff somewhere else):
– No structured workout support
– No courses/routing/navigation/compass support
– No maps or breadcrumb trails
– No music
– No contactless payments
– No 24×7 HR data in the app
– No sleep tracking, stairs, or most other activity tracking metrics
– No watch time alarms
– No sport alerts (e.g. heart rate zones, speed, power, cadence, etc…)
– No 3rd party apps on the watch itself
– No Strava Live Segments on device itself
– No training load, recovery, or other physiological type metrics
– No anything else I didn't explicitly list above.
Now, as for whether or not these features get rolled out – undoubtedly some will. When is a tougher question. Wahoo says they want to aim for roughly a quarterly release cadence for major releases, but may drop smaller things earlier/when ready. Jose Mendez, Director of Product Development for Wahoo Fitness noted that "We're launching a business, a product category, we're not launching a product", and that ultimately, "This is our dipping our toe in the water."
And I'm glad to see them loosely committing to a quarterly release cycle, but the simple reality here is that they need to be more explicit in what they're planning on doing. That's what both Suunto and Polar did when they arrived on the scene with heavily under-featured watches. And while Wahoo might believe they'd be giving their competitors an advantage – that's a pretty hard line to swallow.
What's in the box: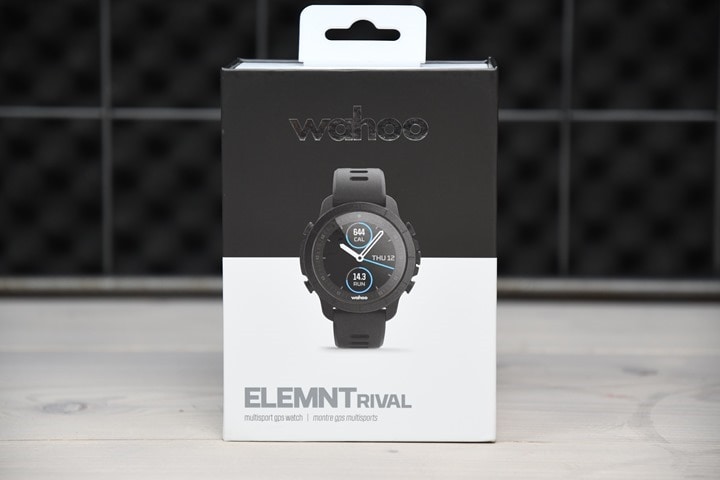 I really like the RIVAL box. It's easily one of my favorite watch boxes out there. And sure, it's very similar to Wahoo's ROAM box, but still…it's super nice.
It unfolds out to the left, telling you to never lose focus. Ironically, a number of my video shots lost focus on this. But that's neither here nor there.

Once you do manage to focus, it's super clear this is all about triathlon. You can see what's clearly a mass triathlon start up top, followed by a triathlete on a triathlon bike, followed by someone realizing they should have stopped after the bike.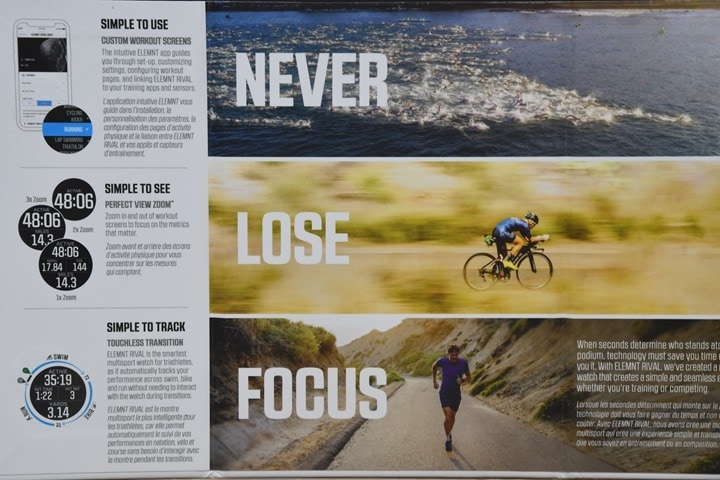 Sliding the box out from itself, you've got the watch: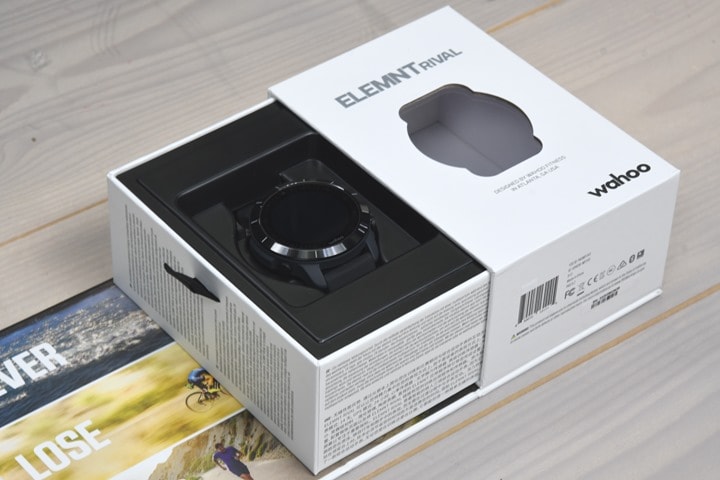 Take all that stuff out, and here's what you've got: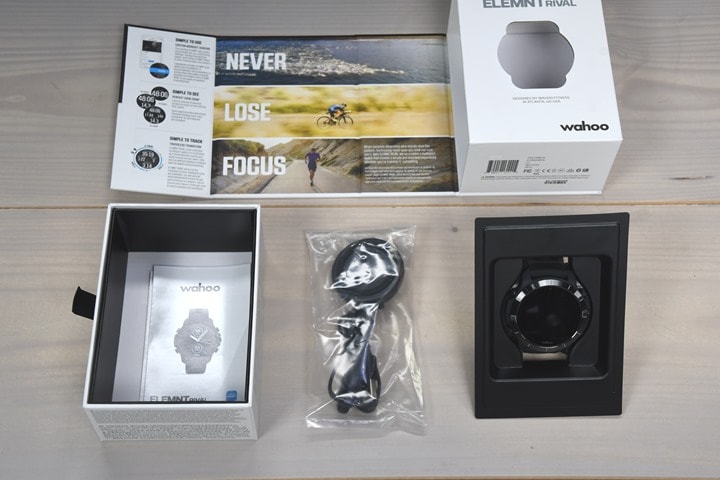 Here's a better picture of that. Basically, it's just two little manual booklets, the watch, and the charging puck: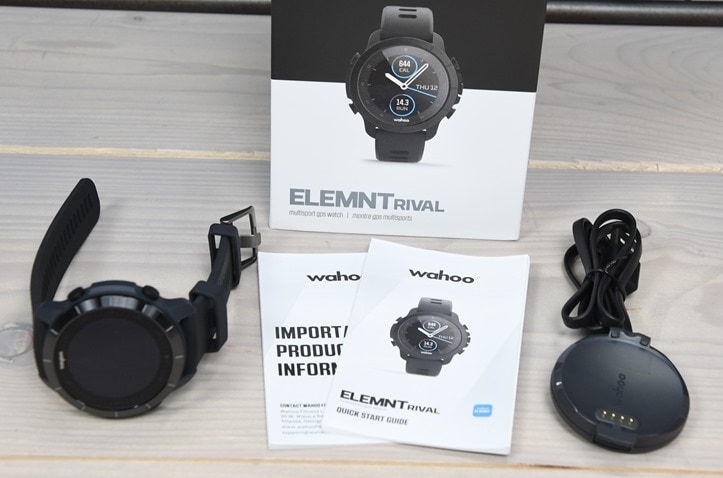 The charging puck is…well…round. And kinda flat. And has a clippy thing, so it does hold the unit securely:
And then here's a close-up of the watch and band:
And for weight comparison, it clocks in at 54g, as compared to a pile of watches in this realm:
Oh, and sizing-wise you can see it's definitely a bit larger than all those, more in line with a Fenix 6 series watch. Here's the rolling pin, first with a bulkier set of watches: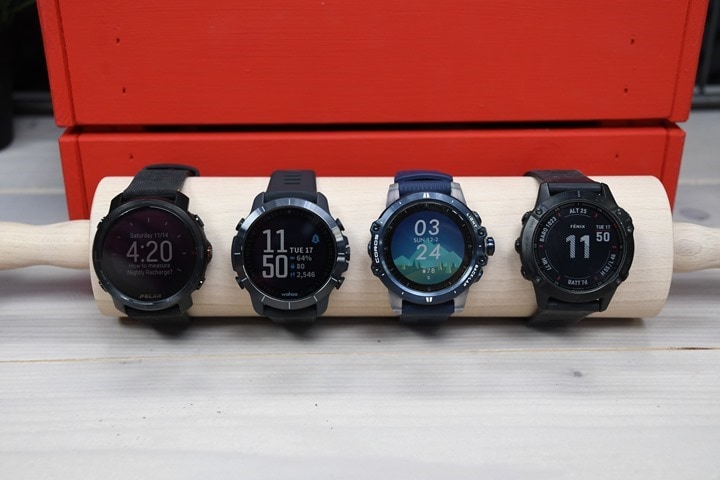 Left to right: Polar Grit X, Wahoo RIVAL, COROS Vertix, Garmin Fenix 6 Pro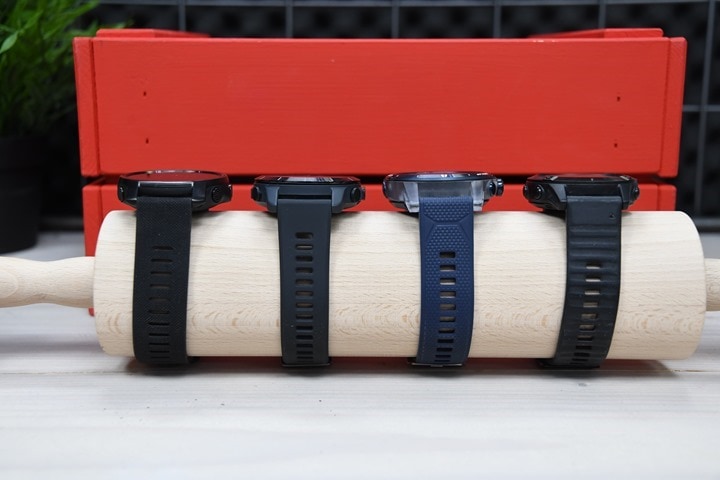 And then with a slimmer set of watches: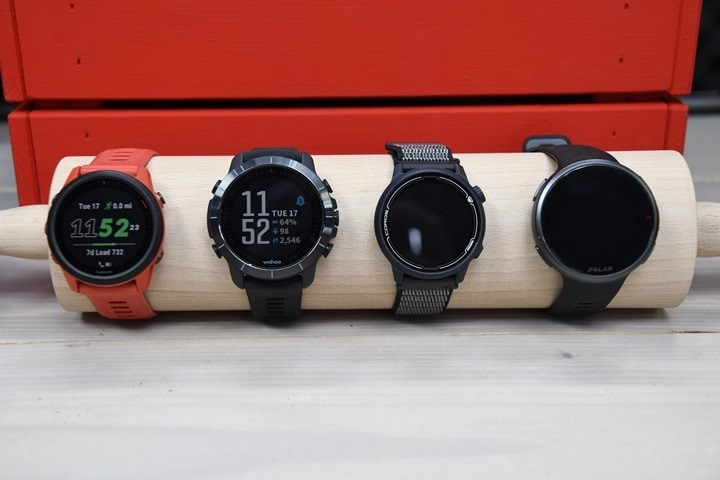 Garmin FR745, Wahoo RIVAL, COROS Pace 2, Polar Vantage V2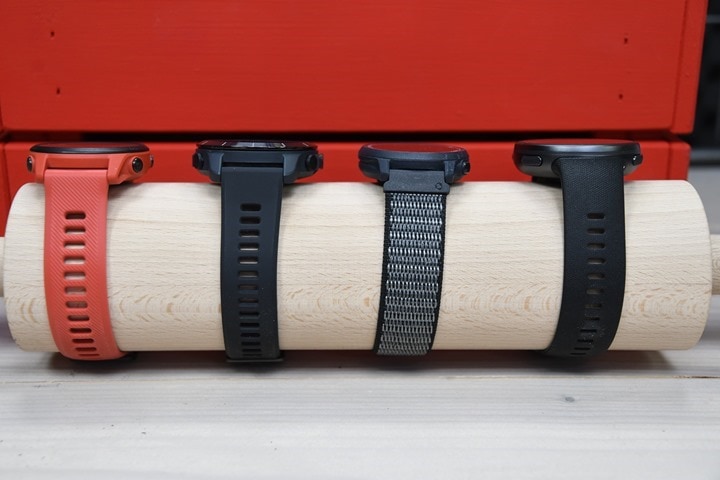 Ok, with that let's start using it.
The Basics: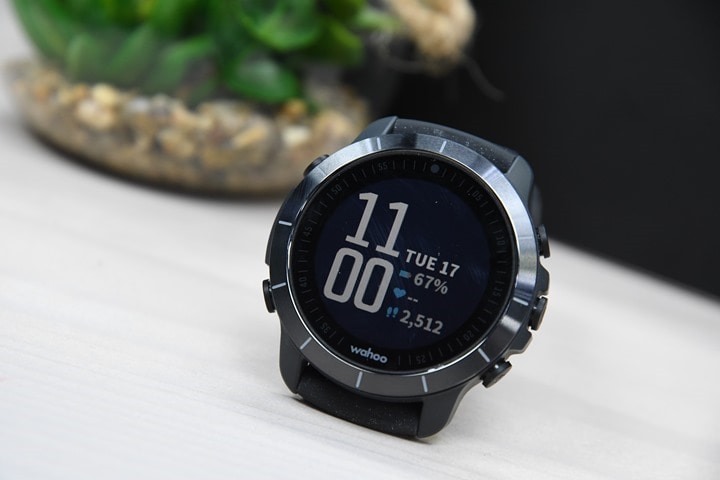 In this section I typically cover some of the basic user interface aspects, such as how to navigate the menus, charging, app connectivity basics, as well as daily activity tracking type features (steps/etc). For the sport-specific features you'll want to hit up the next section.
To begin, the RIVAL has five dedicated buttons. The screen is (thankfully) not a touchscreen device. It's not that I'm opposed to touchscreens, it's just that for hyper-sport specific purposes, I rarely find them useful. Even in the case of the Suunto 9 or Polar Vantage V series that have touchscreens, I very rarely use the touchscreen elements. The buttons work better. Of course, there are good touch-screen implementations, but they tend to skew non-sport focused (like the Apple Watch). The middle-ground options like the Garmin Venu series touchscreens are kinda 'meh' for usability purposes.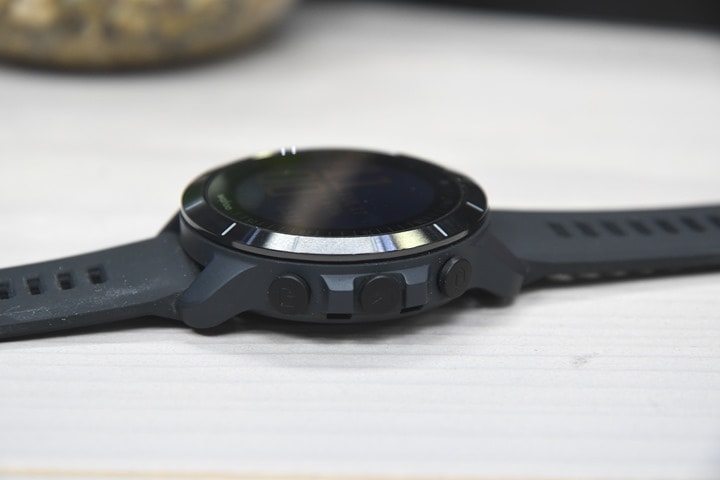 Speaking of 'meh', so is the RIVAL's user interface. The good thing is I expect it'll change mature. As I sit here and try and explain how this works, I realize that's a surprisingly complicated concept. Mostly because it's not super intuitive. I guess to begin, the upper right button is how you access your smartphone notifications. These are read-only, so there's no responding to notifications here.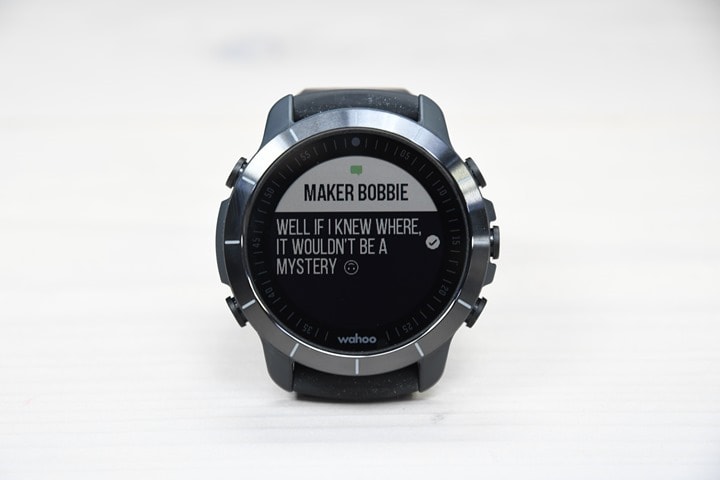 The watch can be configured to automatically enter do-not-disturb mode at a given time each day, or, you can always manually set DND by just long-holding the upper right button.
Next, the middle-right button lets you select from a predefined list of sports to start. These are: Running (GPS), Treadmill, Lap Swimming, Openwater Swim, Cycling (GPS), KICKR, Strength, Yoga, Triathlon. However, you can also make your own profiles (more on that later).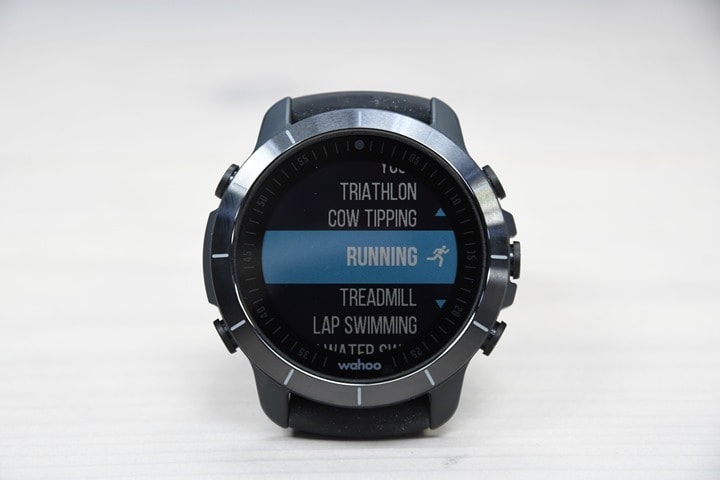 While the indoor cycling option is explicitly labeled 'KICKR', the reality is that you can use it for any indoor training, and it'll pair with any ANT+ FE-C trainer. But we'll talk about all the sports bits down below.
Next, the bottom right button – this…this is where things get confusing. This is essentially the same as the middle right button, but it bypasses the sport selection, and jumps straight to the last sport you used. However, if you press the lower right button a second time, it'll show the data fields for that sport, then a third time it'll show your heart rate for the last 2 hours, and press it one last time and it (might) show you elevation (if on an outdoor activity):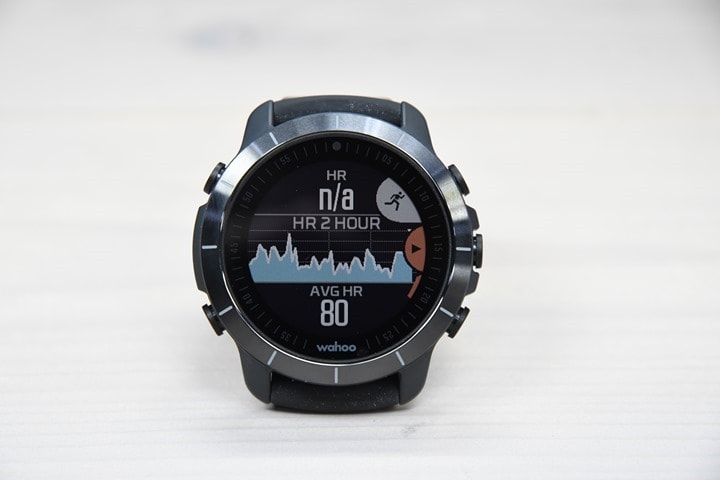 The bottom left button iterates through the exact same way as the bottom right button, but in reverse. What Wahoo is attempting to do here is basically bridge the divide between the 'sport' side of the house (as in, when you choose a given sport to start a workout), and the normal 'widget' side of the house, which is where you'd expect to see things like daily steps, 24×7 HR data, etc… Except, in this implementation they're all confusingly mixed together, and atop that, if you press the lower left/right buttons (purposefully or caught on your jacket), then it immediately begins GPS search.
Wahoo says the reason they did this is because people would get confused on a Garmin watch trying to get to something like the compass or weather widgets mid-workout, and thus couldn't easily remember/figure out how to get back to those. And yes, I actually agree with that. It can be tough for non-savvy users to figure out.
But in this context, the opposite is more annoying. I don't want to be in workout mode anytime I'm trying to check a widget for the other 23 hours of the day I'm not working out. Not to mention, the RIVAL doesn't yet have compass mode or weather widgets or anything else. I think ideally their concept would only work if you were in a workout mode, allowing you to see those non-workout widgets. But unless in workout mode, don't show me workout data pages for a sport I'm most definitely not doing this moment. In any event, I think Wahoo is listening to the feedback around this, so hopefully we'll see some tweaks.
Next, you can long-hold the bottom left button to get to settings. This includes things like pairing sensors, a simple stopwatch & timer, workout history, and turning off the watch.
There are no wake-up alarms at this point, though admittedly I can't remember the last time I set the alarm on my watch as opposed to just using my phone.
Next, you can access the different widgets by double-holding the lower two buttons together, which changes the watch-face data fields. Honestly, this is a bit confusing too.
However, you can customize the watch face, from four different options:
You can see above you can also tweak the seconds, date, and accent color.
When it comes to the backlight, you can manually enable it by pressing the upper left button. There's no raise to wake or gesture support, though, the backlight should automatically stay-on the entire time during a workout at night.
I'd describe the backlight as 'fine' for my pretty good eyes. Not glow fantastic, but…well…fine. I've used it on many night workouts without issues seeing it. In a semi-related setting, you can change between light mode and dark mode, between off/auto/on.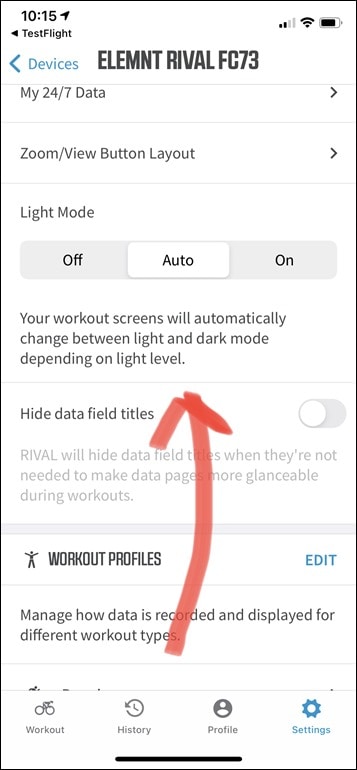 Finally, when it comes to things like tracking steps, heart rate, stairs, sleep, etc… it's incredibly minimal right now. The watch itself will show your current step total for the day against your static step goal (which you can customize). You can see that on the watch face, as well as your current heart rate:
And as shown earlier, you can also see the last two hours of heart rate data in the widget roll.
But when it comes to the app…there's almost nothing. The Wahoo app will only show you the total steps you did each day that week, and only for the current week you're in. Once the clock strikes midnight you can't see/access that data anymore within the Wahoo app. Here's the before/after midnight look at things for steps. There's no method to look at last week's steps, or to dive in and see details about today's steps (such as how they allocate over the course of the day). That little settings icon there simply toggles other week summary pages like ones for cycling, gym workouts, and swimming:
And that's it. There's no sleep tracking, nor is there any way to look at heart rate data. Wahoo says they are storing that HR data, as well as step data. And that better reporting is definitely in the pipeline.
For now, that data is also sent over to Apple Health and Google Fit.  For example, you can see tidbits of this in Apple Health, but it's sporadic at best. I'm missing entire days for both steps and heart rate, and even some days it only plots a single data point. Just one second's worth. Wahoo says they're aware of this issue and hope to have it resolved shortly after launch.
I get it, this is likely low-priority stuff. While I think it's important to feed data into Apple Health and Google Fit, I wonder how many normal people actually ever use that data put there (in a cross-pollination kinda way).
In my mind what's far more important is getting clear reporting of 24×7 type metrics within the Wahoo app, beyond just this week's step totals.
Sport Details: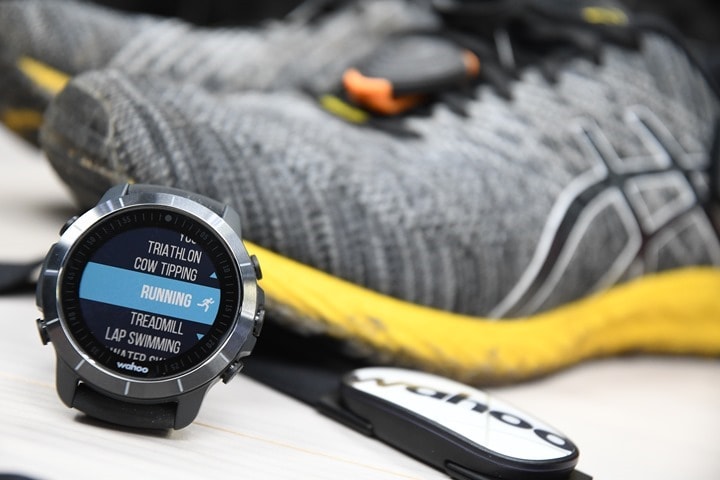 If you're buying the RIVAL, you're doing so for the purposes of sport – and likely more specifically, as a triathlete (at least for now). So throughout the course of this section I'll dive into all the sport features, including doing a test triathlon.
To start with recording a workout (or race), you'll press the middle right button, which brings open the sport menu: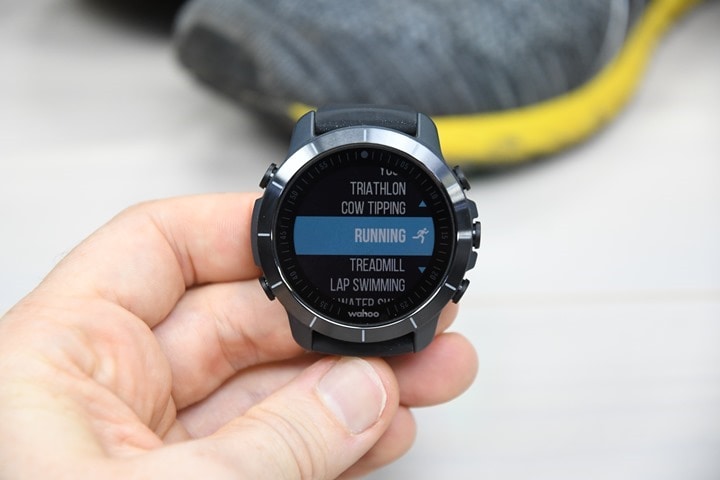 It's here you'll choose the sport mode you want. By default that's: Running (GPS), Treadmill, Lap Swimming, Openwater Swim, Cycling (GPS), KICKR, Strength, Yoga, Triathlon.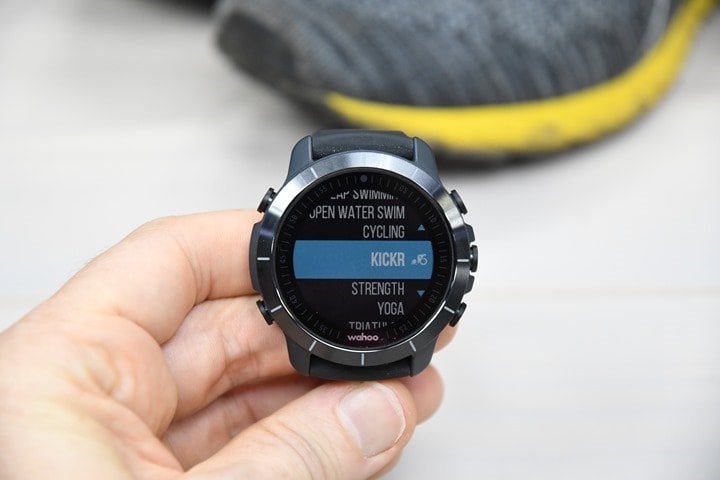 However, from within the app you can make your own sport profiles by selecting 'Add Workout profile". From there you've got three options: Using a template, duplicating one of your previous profiles, and creating a new profile from the ground up. If you choose a template there are piles of sport modes per overall category (5 types of 'running', 10 types of cycling, etc…):
While some of these do include more sport-specific data files, a number of them are basically just a different icon. For example, choosing the skiing one just gives you the empty shell without any data pages specific to skiing (or at all for that matter). I think this is an area where they've just outlined a starting point, but would ultimately offer actual differences in the profiles down the road. For example on a Polar watch, there are substantial fine-tuned differences in calorie profiles. On a Garmin watch if you select skiing you get specific skiing metrics, or specific paddling metrics for certain water sports.
Using the duplicate a profile or build a profile from the ground up isn't honestly much different. For any given profile you've basically got four key things you can tweak + the data pages. So you can enable/disable optical HR, GPS, Auto-Pause, and Auto-Lap. I guess five things if you include the name of the profile.
From a data page standpoint, you can create multiple custom data pages with up to six data fields per page. These are then ranked in order of preference, so you can use the PerfectView zoom function if you want to, on the fly.
Wahoo has long gotten props for their customization of data fields via the app – and it's true, it's definitely good. On the flipside, you can't customize data fields or sport modes mid-workout on the device itself. One of these days companies from both sides of that divide will allow us to do both, depending on our preferences.
Looking at the data fields, here's a quick gallery of what that looks like with a few different data pages. Note that there is an elevation and heart rate graph page in the mix.
Above you'll see some data pages that are 1 field in size, and others that are 6 fields in size. Technically speaking, that's actually the same data page. Wahoo has something they call 'PerfectView', which basically means you can squeeze the bottom two buttons together mid-workout to add or remove fields based on a predefined priority order – the order we set in the app settings above.
This is the exact same concept as on their bike computers, except it just requires the two button press here instead of up/down in the menus. This feature can be handy out on a long-run where you just want to get rid of everything but time, or heart rate – whatever you value the most.
Ok, with everything all set, let's go back to running mode and head out for a run. As you get GPS signal it'll loop around the outside of the watch showing the GPS satellite reception until it's locked. Generally this was about the same time duration as the Garmin FR745 and Polar Grit X units I was using most days concurrently. That's logical, because it's likely the exact same GPS chipset. Wahoo uses Sony for their RIVAL, just as Polar and Garmin do for all their recent units.
Once locked, it'll change that play/start button to green, and you're good to go. At this point, it's honestly just like any other GPS watch – you run/bike/whatever, and it shows your data metrics in real-time.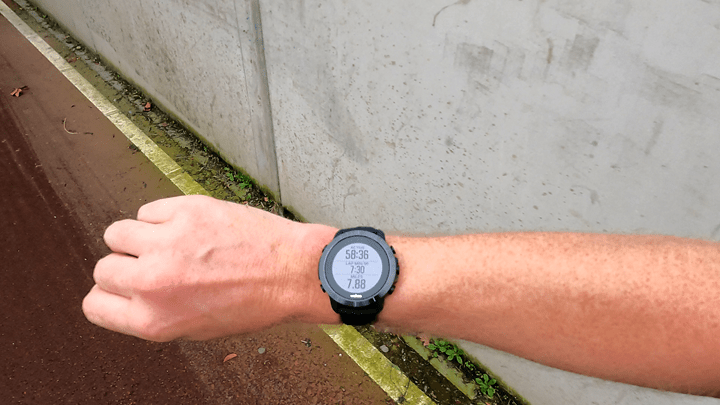 You've got auto-lap if you configured it, using either distance or time. As well as auto-pause if you've got that enabled too.
Also, while the RIVAL is supposed to support the ANT+ Running Dynamics standard, it appears there's still some bugs there. In my testing, using a non-Wahoo strap that's capable of Running Dynamics isn't enumerating any data at this point. Only the TICKR X (2020 edition) is working. In my case, I created a running dynamics workout page for the run profile, and then paired up the TICKR X. Here's a very brief test showing the vertical oscillation and ground contact time data from the TICKR X:
I also tried the Garmin HRM-PRO (which follows the ANT+ standard for Running Dynamics), but that didn't enumerate any data. In theory, the RIVAL should eventually work with the HRM-PRO, HRM-TRI, and HRM-RUN straps from Garmin, which properly transmit that data like the TICKR X 2020 does (after all, you can use a TICKR X 2020 strap with a Garmin device and get running dynamics data).
Note that you'll likely still see a slight difference there, as Wahoo doesn't actually leverage the exact same fields as Garmin. For example Wahoo doesn't do GCT Balance, whereas Garmin does. It's unclear if those added metrics will make the cut once compatibility is sorted out.
Next, for running specifically, it does support running power. Or more specifically, displaying and recording power while running. if paired with a compatible sensor transmitting power using the ANT+ or BLE power standards. You can use any of the cycling running fields in the running profile, and it'll record that data. It's not as extensive as COROS's running power support (natively or for Stryd). But if you just want to display or record the data no-fuss, this works just fine. However, it won't display it in the Wahoo app itself. But it will to 3rd parties.
Here's a run from this weekend with Stryd power, shown on TrainingPeaks: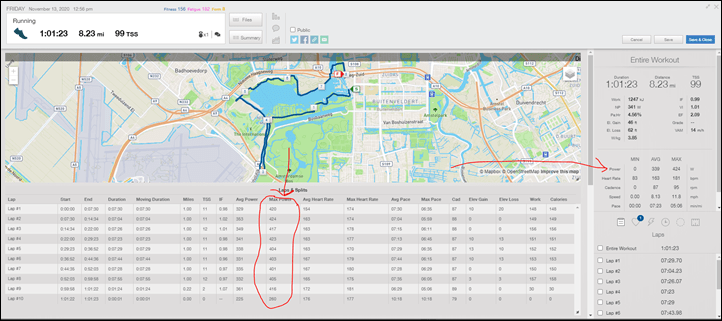 After the run is complete, you'll see your summary metrics. This is super basic and doesn't include maps/route outlines, time in zones, or anything else. Just a list of top-line metrics, followed by your lap splits:
Switching topics over to indoor training, it's all basically identical to outdoor training, except without GPS. For example, on a trainer you'll select the option labeled 'KICKR'. While the indoor cycling option is explicitly labeled 'KICKR', the reality is that you can use it for any indoor training, and it'll pair with any ANT+ FE-C trainer. Though you can't execute any structured workouts on it yet.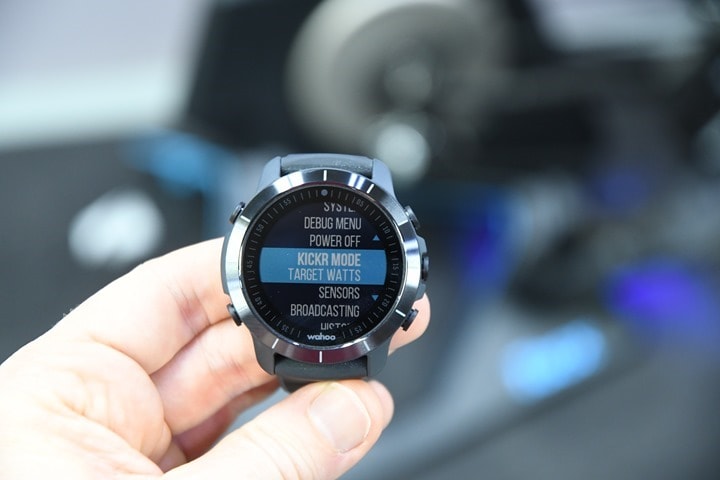 Once in a workout if you want to use control mode, you can two-button hold the lower left buttons, and then manually set a new target one digit at a time (meaning, to set 315w, you first set the 3 using up/down, then the 1, then the 5.)  Realistically, nobody's going to do that. So I'll just wait for actual structured workout support.
In my case, I used TrainerRoad and Zwift, and then just recorded the workout as well on the RIVAL. Mid-workout you'll get data details just like with other sports: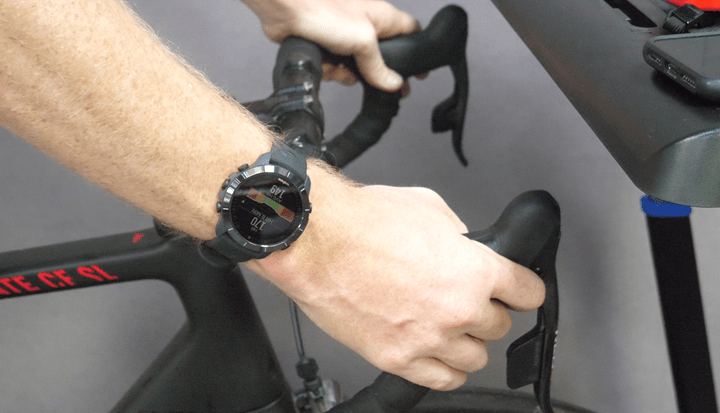 While I had some earlier bugs with trainers, in the most recent firmware update I've used it with various trainers recording the data without issue.
Next, we've got triathlon mode. In this mode you'll iterate from swim to bike to run (with transitions as well). While at present there isn't the ability to create your own custom multisport mode, Wahoo says it's coming. Also, you can technically do something like a swim-run by long-holding the upper right button mid-workout, which will select a different sport profile. You can do this indefinitely, so basically, you can create a manual on-the-fly multisport mode.
In my case, I went out and swam in very chilly water. I jumped in, swore a bunch, and then swam. I kept swearing however.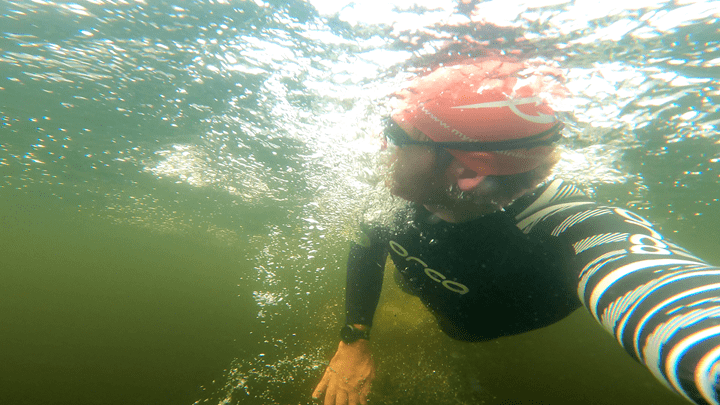 Once I was done with freezing my ass off, I got out of the water and headed to my bike. However, notably, I did *NOT* press any buttons on the RIVAL. I wanted to see how Wahoo's new 'Touchless Transitions' feature worked. This feature is supposed to automatically detect each leg of the race, and transition your watch appropriately to the correct sport. Initially when I got to my bike, it was still showing swim. By this point I had walked down the 50-75m dock, got my cycling shoes on, and put on my coat for the ride.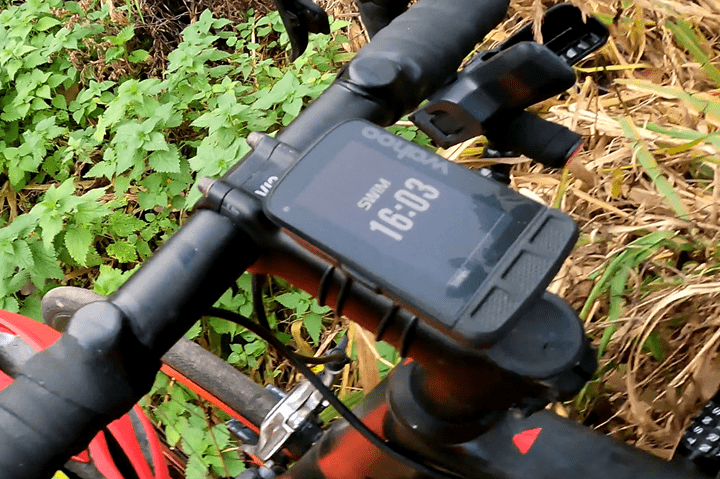 However, a short time later it updated to show T1, and you can actually see it backdate the T1 and Swim times (above it shows 16:03, and then below it shows 15:51).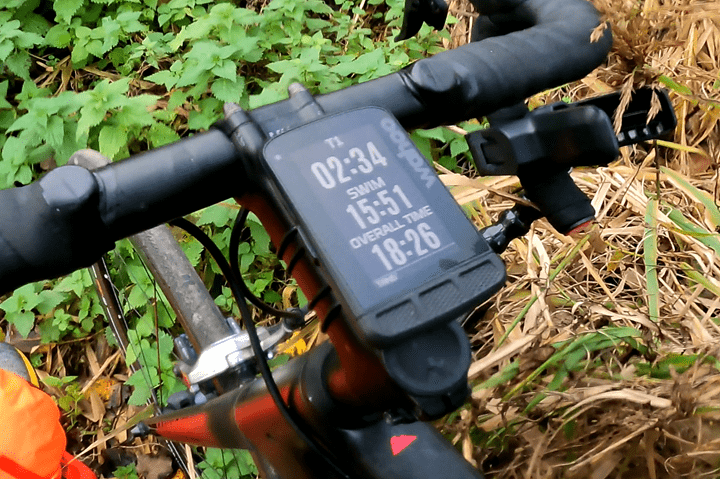 Of course, you're now looking at the Wahoo ROAM. That's because before I started my 'race', I placed the ROAM on my handlebars, and I held the menu button down and entered 'Multisport mode', which basically becomes a mirror of the Wahoo RIVAL watch. It's basically the same concept as Garmin's not-well-known screen mirroring that I posted about a year ago. Once paired together, the RIVAL transmits data to the ROAM, though the ROAM doesn't record anything else. It's just like AirPlay (or casting) from your phone to a TV screen. This works for *ANY* Wahoo ELEMNT/BOLT/ROAM bike computer.
In any case, with my bike unlocked from the post, I headed out to my transition line, which was the start of the bike path. I had decided ahead of time that'd be my mount/dismount/finish line. Also, I didn't take my wetsuit off. It was far too cold for that. November and all: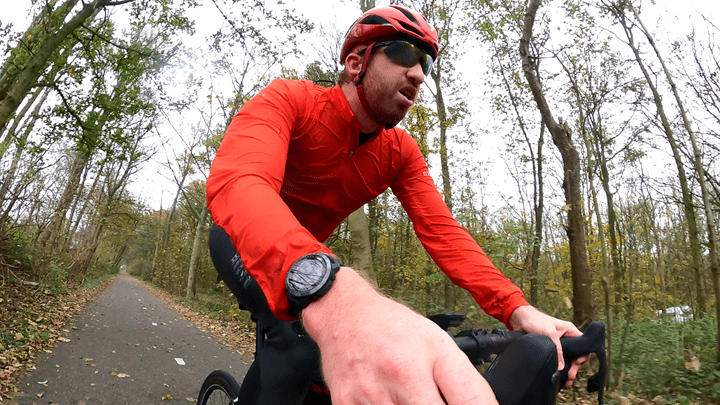 In any case, I left T1, and about 45 seconds later the RIVAL (and along with it ROAM), switched to cycling. In this case, it backdated the start of cycling to about 20 seconds earlier. So not quite perfect, but fine for now. We'll fix it afterwards. And again, you can ALWAYS manually advance through the sports just like you have on any other watch, in this case by pressing the middle right button.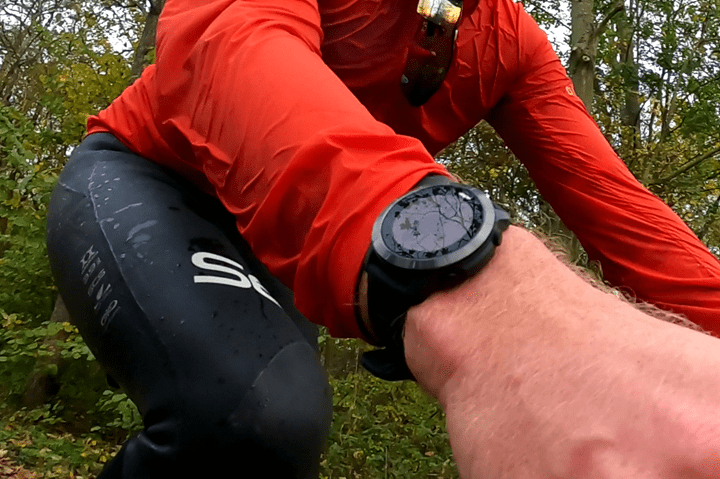 I was a bit surprised it took RIVAL this long to detect cycling, since in this case I had a power meter paired, so logically as soon as I started pedaling more than a second or two, I'd have expected it to switch over. But Wahoo says at this point the algorithm doesn't yet take into account sensor data, rather, just internal assumptions in the watch itself.
Further, and probably even cooler – you can always 'undo' a transition/sport change. So if you accidentally advance to T2 while on the bike, you can simply hold the upper right to undo it back to cycling. Super cool.
While riding, I kept an eye on the ROAM/RIVAL connection. One of the things I'd seen in the past with Garmin's triathlon mirroring mode, is that it's sometimes prone to drop-outs. And that was the case here with Wahoo's as well. While my triathlon test bike segment was short (just 10KM), it did drop out towards the end for my guessing 15+ seconds. When it did that, data updating stopped.
That aside, one of the data fields I loved on the ROAM though was the overall triathlon stats, showing my splits for each segment. I don't know why, but this was just cool.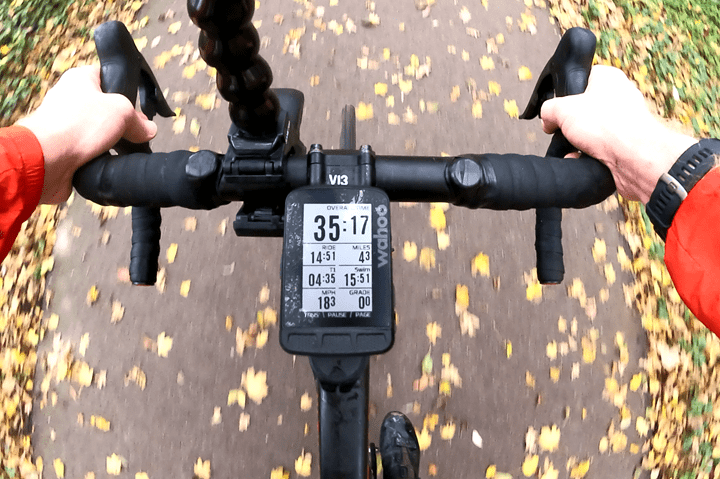 I rolled back into transition, and it took about 15 seconds for it to switch to showing T2. Then, as I left my bike behind, I ran out to my transition line. It switched over to 'Running' automatically, ironically almost exactly on the transition line. Of course, I suspect detecting running is pretty easy by comparison to cycling. Then I ran. And it did its thing.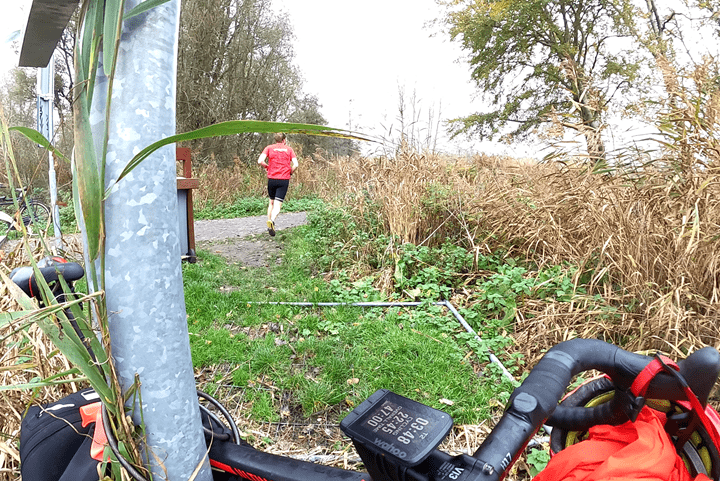 I then finished up my run and stopped the watch like any normal human (or normal watch).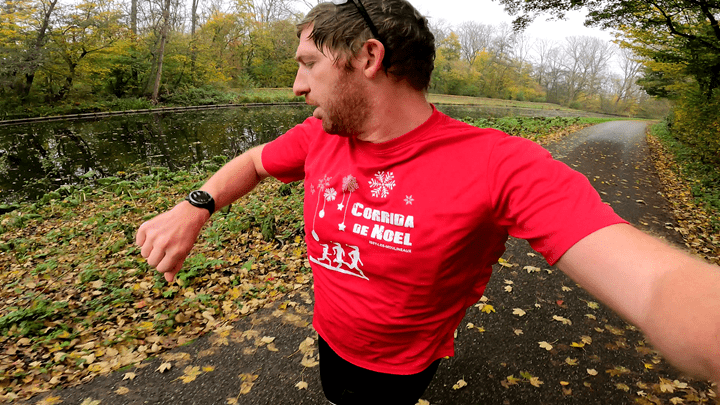 Afterwards, it gave me a summary of all the splits: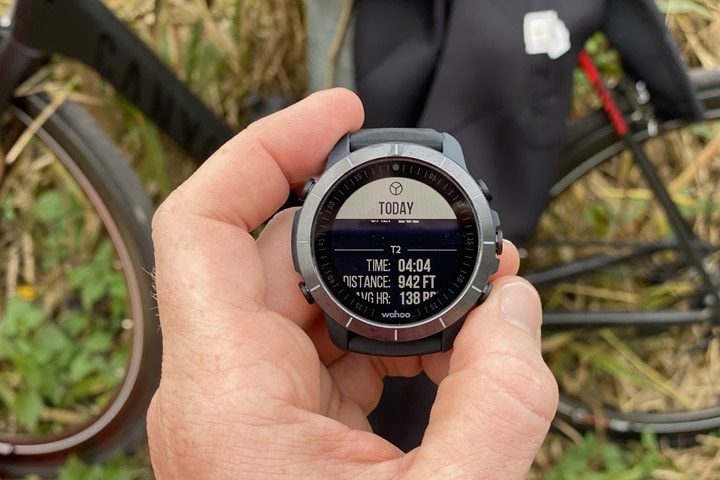 However, probably my favorite feature on RIVAL isn't on RIVAL itself – it's on the smartphone app, which allows you to edit (dynamically) the exact start/end points of each segment in that triathlon. So if auto-detect didn't work, or if your brain to hand signals didn't work, you can easily and quickly fix it afterwards. Silly easy. You just drag the start/end point to where you want it on the map….and done.
In fact, the key bit here is that Wahoo will actually wait before uploading any multisport workout/race to 3rd party sites like Strava, until you've reviewed it. Even cooler is that you can undo and redo this as many times as you'd like on a given workout/race. It's awesome. So awesome. Albeit, it's unfortunate that the coolest and probably most marquee set of features on the RIVAL is something that realistically very few people are going to use over the next 6-9 months due to the world situation.
Last but not least, and perhaps somewhat out of order, is that the Rival can pair to ANT+ & Bluetooth Smart sensors. These include:
ANT+ & Bluetooth Smart power meters
ANT+ & Bluetooth Smart heart rate straps
ANT+ FE-C trainers
ANT+ & Bluetooth Smart cycling speed sensors
ANT+ & Bluetooth Smart cycling cadence sensors
You can pair sensors either via the smartphone app, or on the watch itself – just like you would on a Wahoo ELEMNT series unit: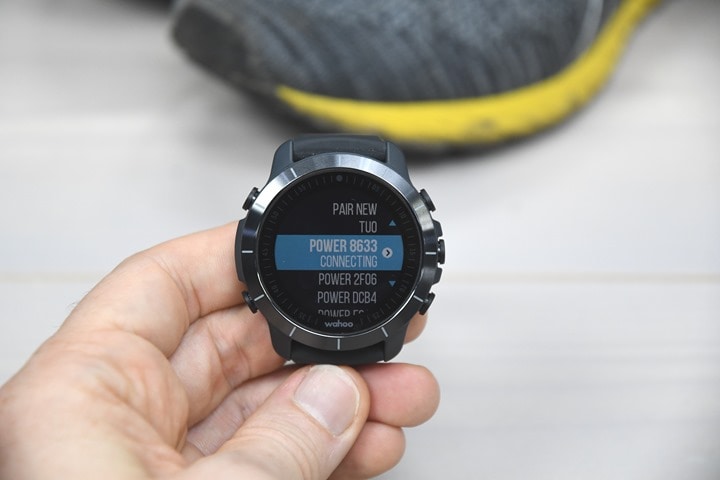 And here's what it looks like via the app, including the ability to rename sensors:
Additionally, for broadcasting of data, the RIVAL will broadcast out your heart rate (as measured by the optical HR sensor) over both ANT+ & Bluetooth Smart. You can toggle this on app or watch, and it'll broadcast all the time behind the scenes.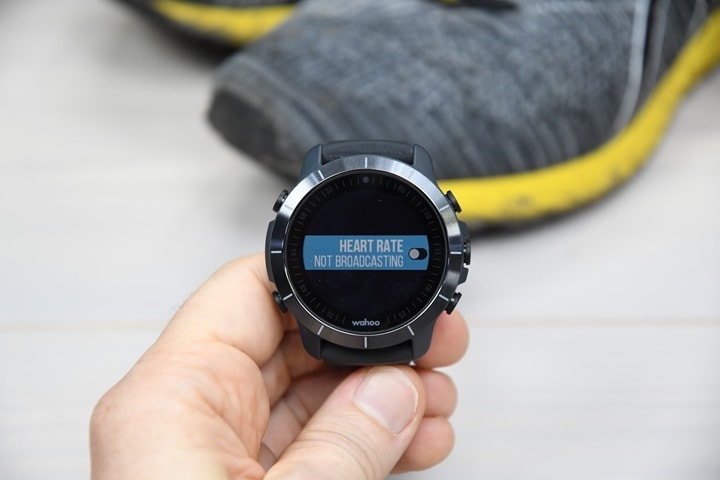 While we're talking broadcasting, there's a few interesting nuances worth mentioning here. First of all, remember how above I used the Wahoo ROAM in the triathlon? Well, you can actually do that anytime you want. However, even in triathlon mode it's doing slightly more than just mirroring the RIVAL. Specifically, it'll quietly record any sensors paired on the Wahoo ROAM into the RIVAL's workout .FIT file. Meaning, the RIVAL itself can't yet pair to Di2/eTap/Varia Radar/Moxy, but it can via the ROAM. While you won't see that data on the RIVAL watch at this point, it is being recorded behind the scenes.
Since I didn't show it above, to make this all work, you need to have both the watch and ELEMNT series bike computer (any of them) paired on the same phone. This is so they initially know about each other. It's like Tinder for sports tech. After that initial date, they can go off and cause trouble by themselves. Then, on the ELEMNT series unit, go into the menu, and simply tap 'Multisport':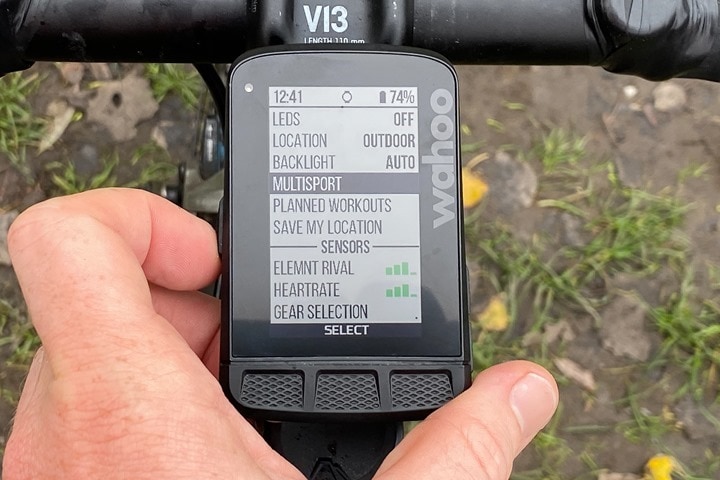 Now you're in multisport mode, and it'll show 'Ready to Transition'. It's that simple. As soon as the RIVAL is nearby and a workout started, it'll begin to display data here.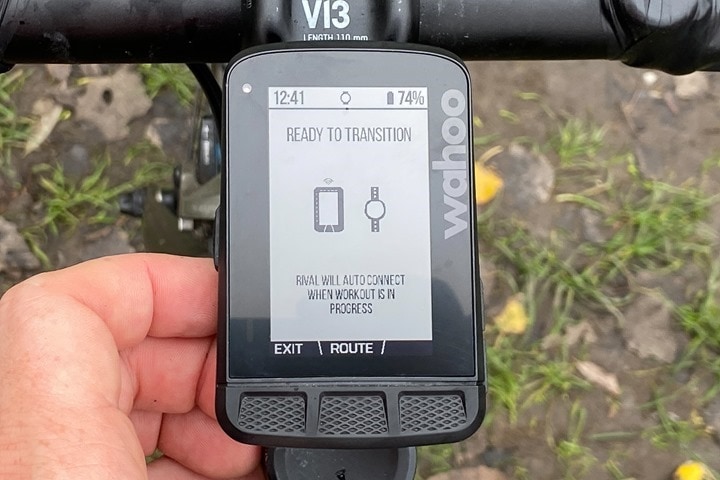 And what's interesting here is that it's actually quietly blending data pages on the ROAM (or ELEMNT/BOLT) behind the scenes, specifically the map, Strava Live Segments, and BestBikeSplit data pages. So in those cases, it'll show you that information in standalone data pages on the ROAM. It won't show up on the RIVAL, but the data is here on the ROAM.
Practically speaking this is really only practical for triathletes, but it's triathletes that BestBikeSplit is really focused on. So it works out in this case. Again, remember that none of this data is recorded on the ELEMNT series unit, just on the RIVAL. It does also allow you to route as well using the ROAM, since the RIVAL doesn't do routing by itself. Though again, unless you're in a triathlon, you're far more likely to just record the data on the ROAM itself.
Once you're done, simply hit exit, and then off you go back to regular ELEMNT/ROAM/BOLT mode: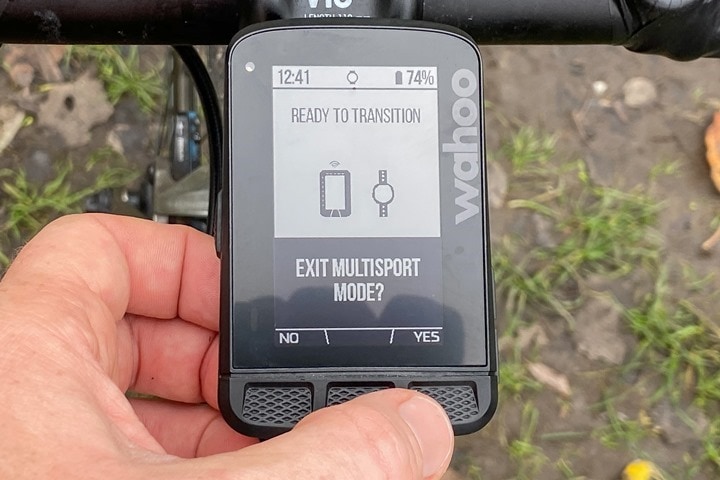 For those geeks in the crowd, it does not appear they're using the official/proper ANT+ Extended Display mode specs here, since I was unable to use a Garmin to broadcast to it like with the extended display mode used by them and a handful of others. In further chatting with Wahoo, this is because the extended display spec didn't meet the full needs of what they wanted to do.
Now before we wrap up this section, note that the RIVAL does support pool swims. Given the current situation, I wasn't able to get a pool swim in, however, the core metrics including lengths, distance, pace, stroke count, stroke rate, and calories are supported. You can customize the pool size from preset options (e.g. 50m, 25y, etc…), or custom options. It seems to allow a minimum down to 1 yard/meter in length, and a maximum 99m/y in length: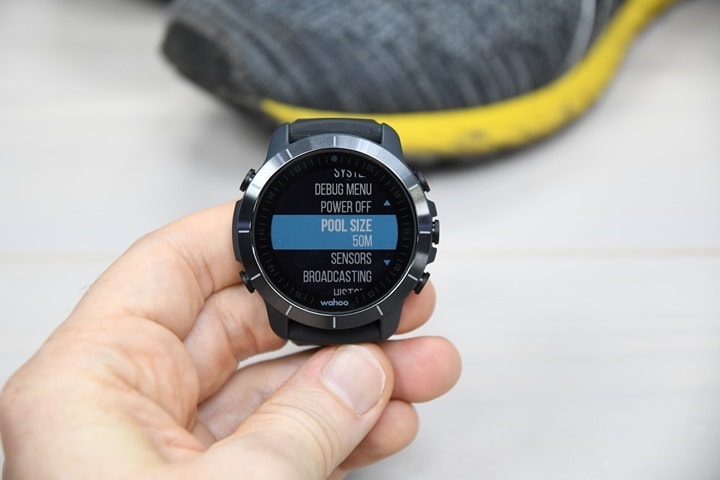 Notably however, you can also do the same lap-editing as in triathlon mode – but even more extensive with merging of lengths, splitting of lengths, or changing of times. That's another super cool feature that nobody else really has, though unfortunately again – another super cool feature that won't likely get as much use given various pool restrictions around the world.
With that, we've covered all there is to cover for now in the sports realm of RIVAL. While Wahoo is saying that functions like structured workout support is coming, there isn't an exact timeframe for that. Hopefully, since much of the underlying code for cycling would already exist in their ELEMNT bike computer series, the timeframes for implementing this (or more simplistic interval workouts) will make it to the RIVAL sooner rather than later.
I'll attempt to circle back in update posts when major features are added. So with that, let's dive into accuracy.
GPS Accuracy: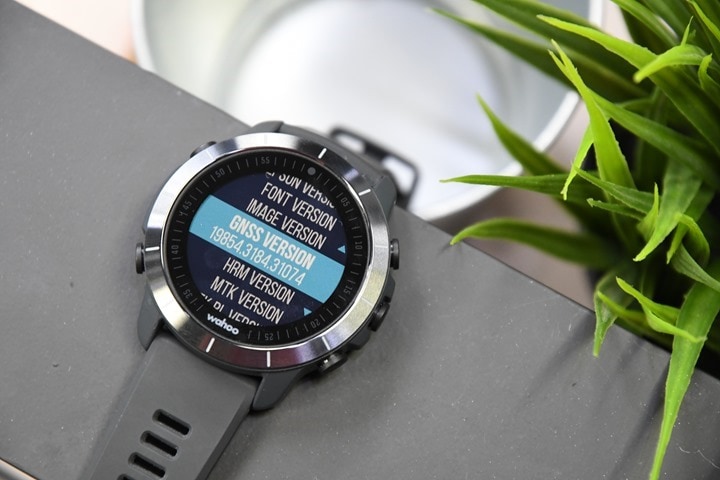 There's likely no topic that stirs as much discussion and passion as GPS accuracy.  A watch could fall apart and give you dire electrical shocks while doing so, but if it shows you on the wrong side of the road?  Oh hell no, bring on the fury of the internet!
GPS accuracy can be looked at in a number of different ways, but I prefer to look at it using a number of devices in real-world scenarios across a vast number of activities.  I use 2-6 other devices at once, trying to get a clear picture of how a given set of devices handles conditions on a certain day.  Conditions include everything from tree/building cover to weather.
Over the years, I've continued to tweak my GPS testing methodology.  For example, I don't place two units next to each other on my wrists, as that can impact signal. If I do so, I'll put a thin fabric spacer of about 1"/3cm between them (I didn't do that on any of my Wahoo RIVAL activities however, all workouts only had a single device per wrist).  But often I'll simply carry other units by the straps, or attach them to the shoulder straps of my hydration backpack.  Plus, wearing multiple watches on the same wrist is well known to impact optical HR accuracy.
Next, as noted, I use just my daily training routes.  Using a single route over and over again isn't really indicative of real-world conditions, it's just indicative of one trail – that's why I use routes all over the place.  The workouts you see here are just my normal daily workouts.
The Wahoo RIVAL has a Sony GPS chipset, which is the same chipset type that Garmin, Suunto, Polar, and COROS all use. Wahoo doesn't allow you to change the recording rate, or GNSS type on RIVAL. Thus, it's always set for 1-second recording with GPS+GLONASS. Therefore, that's what I used in all my tests. Wahoo says that the watch is capable of Galileo, but they haven't begun implementation or testing of that yet.
First up, we'll look at a run or two, then a ride, and then some swim data. For this first run, we'll start with what should be a pretty dead simple GPS test.  It's literally a perfectly straight path with virtually no tree cover. It was an interval workout with my wife, and thus we made repeats back and forth along the path. It's a good test to see how well the watch keeps the track on the path. In this case, it's compared to the Polar GRIT X, and Garmin Forerunner 745 – both multisport watches. Here's that data set:

You can see the RIVAL in teal, and how the majority of the time on this stretch it was either significantly offset from the others, or slightly offset. While hard to see the blue on the GPS overlay below, you can see it's off in the canal, and in particular, struggled going under the bridge:

If we look at the 800m section of pathway that we did the majority of our intervals on, you can see the RIVAL was clearly offset much of the time in the canal. While I'm always up for a good canal swim, this one is bordered by free roaming horses, and they crap a lot. This would not be my preference for a canal swim location.

That said, RIVAL did do better on this other straightaway next to the pony farms. I still wouldn't swim there though.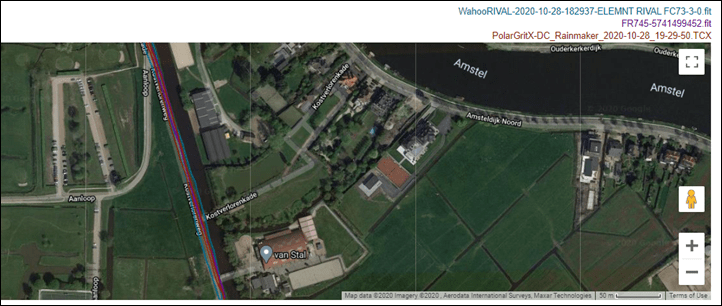 I asked Wahoo about this particular set, as I thought it should have been a pretty easy use case. They said that at this point they haven't really gotten to the full tuning of the GPS data, and thus they expect to see this improve more, likely cleaning up some of these nuances.
And sometimes, other units get it wrong too. For example, a week or so later there's this run that started off on this same pathway. You can see that the RIVAL was still off in the canal (this time on the other side of the path, but at least the water is less horsey there). The FR745 was in the horse-crap-canal, and the Polar Grit X was actually on the path.

But let's head somewhere else, this time into the forest a bit for a longer loop. This time with the same crew of units, plus also the NURVV running shoe pods. Basically they've got GPS on the sides of the shoe clip-on pods.  At a high level, the watches in this data set all look pretty good: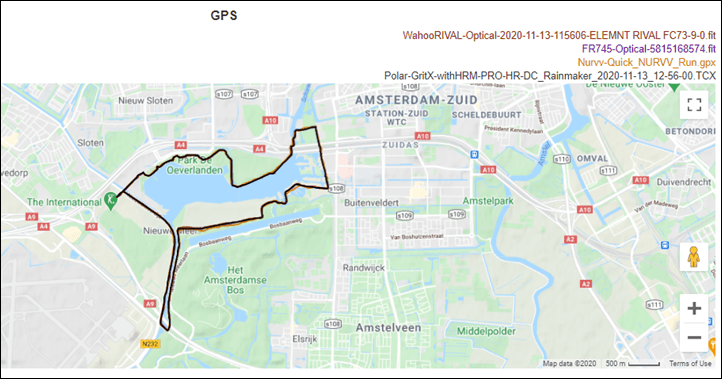 But zooming in tells a different story. Setting aside the drunk NURVV GPS track, you can see the Wahoo RIVAL GPS track is often off smelling the (now very dead) flowers:

It's a pattern that would repeat itself throughout my testing. You can see how it's constantly offset from the Garmin and Polar tracks, which are near identical.

Or the same elsewhere in the run:

Which again, doesn't mean the others are perfect. You can see some slight wobbles from the Grit X and FR745 here in this section along the lake, but ultimately, the RIVAL had these wobbles far more frequently and far more impactfully than either the Garmin or Polar devices.

So, let's switch over to cycling and see how that rolls. And again, at a high level this looks pretty good. For this set I did a route through the forest and main roads, and then dove into a dedicated outdoor cycling track (width of a regular road) for endless loops. Portions of this are well forested.

To begin, I go under this gigantic set of freeways and train tracks. It's like the equivalent of a 10-12 lane road once everything is included, stretching over 100m wide with 3-4 different bridges. It's really tricky for GPS units, and in this case, we can see that 3 out of 4 passes on this the RIVAL did fine, though it struggled a bit underneath. Note that on numerous other times I've passed under this bridge I didn't see any notable issues.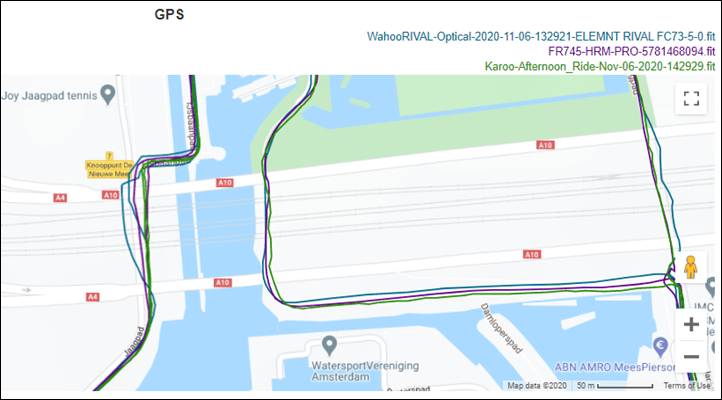 For this section passing through/past the woods, no issues here for the RIVAL:

Next, looking at the upper half of the cycle track (which is about 1.5mi/2.4km in length), we see that it's largely very close. There's a few times it's peaking out here and there, but no more than the Karoo 2 is undercutting the corners slightly.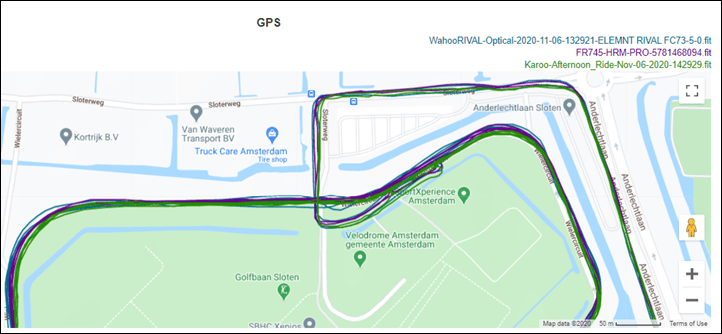 From a cornering standpoint the FR745 is the most consistently on the road on each corner: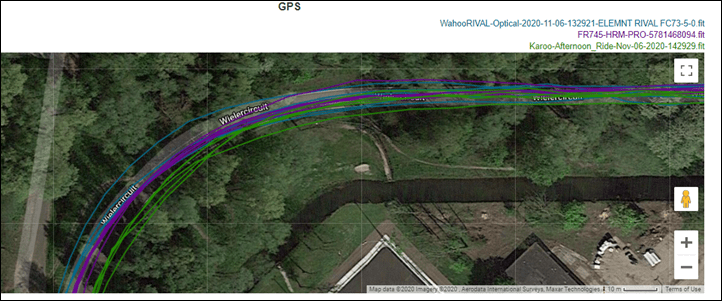 Same for the lower one. The Rival is the most consistently slightly offset. Largely not notable unless you really zoom in.

Though, it does occasionally canal dip: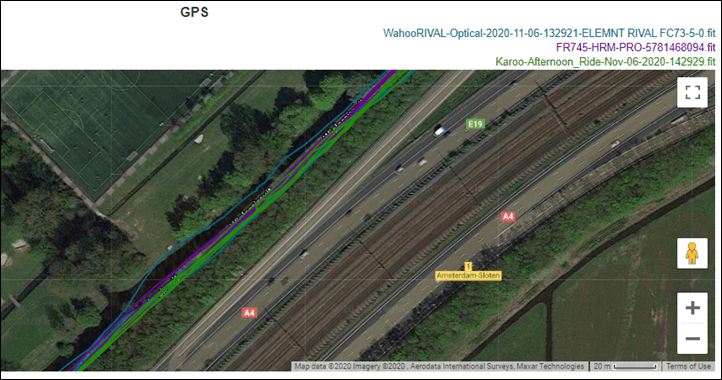 Which, given its propensity to like going for a swim, maybe we should talk about GPS accuracy in openwater swims? Well, not well. Here's an openwater swim session from yesterday, with the FR745 on my other wrist also in openwater mode, and then a reference GPS atop a swim buoy floating behind me.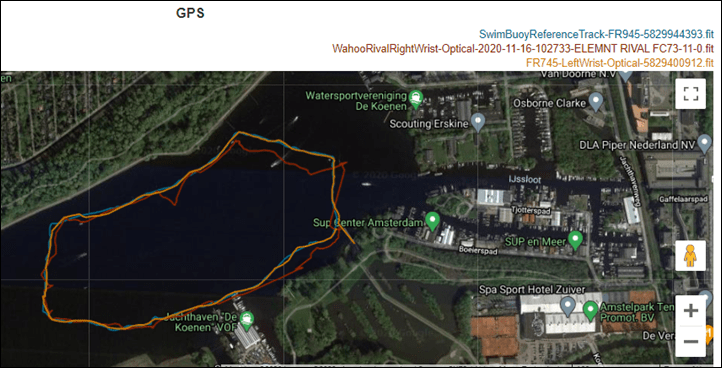 I'm not sure there's really any value in zooming in on that one. The FR745 and swim buoy reference unit are almost identical. Scary impressive close actually.
Just in case this might have been a one-off, here's another openwater swim that I did last week, as part of my mock-triathlon: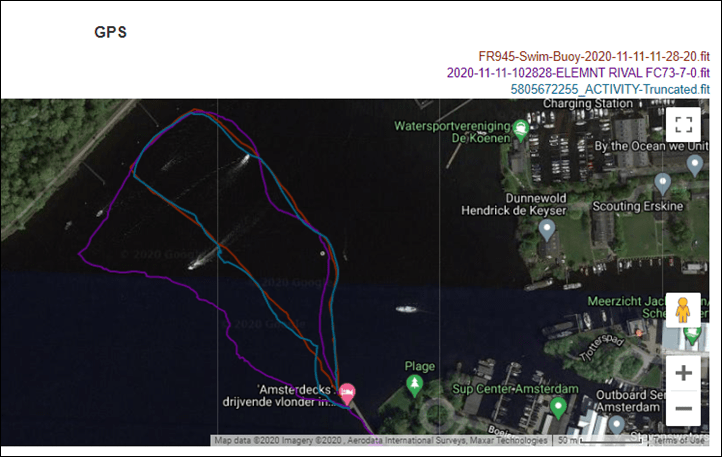 It too showed significant track errors.  In talking to Wahoo about these specific swims, they believe there may be something antenna-wise on my unit. While they acknowledge the other land-based GPS tracks seemed to be about where they expect them, the openwater swim tracks are not at all what they expect.
In fact, one of their engineers even shared a large data set of openwater swims with me – including GPS tracks from this very swim dock, showing quite reasonable openwater GPS accuracy to a swim buy reference GPS (another RIVAL in run mode). Nothing like what I've seen above.
It sounds like they may be trying to get me another unit to go freeze my ass off again. Though, I suppose there's probably not that many people in Europe or much of North America doing openwater swims this time of year (and the RIVAL isn't yet shipping outside those two realms).
[Update: Exactly one minute after this review published, a Wahoo engineer ding-donged my doorbell to swap out a unit of theirs. They have a few engineers in the Netherlands, and in fact had spent the morning just a few hundred meters away from the DCR Cave freezing their asses off to swim the exact same routes I did, trying to replicate my issues. They couldn't replicate it, but took my unit, and gave me theirs. They're going to do a deep-dive into it, and depending on those results, I'll head back out and become a popsicle again.]
Ultimately, in terms of GPS accuracy, the RIVAL as it stands today (ignoring the openwater issues), is kinda 'meh'. It's not as good as anything I've seen recently from Garmin, Polar, or COROS – but also isn't bad either. If they can fix some of the more minor GPS meandering issues through software updates as they believe they can, then it'll probably end up just like the others. If for no other reason than the fact that it's likely all the exact same chipset anyway. But as always, software and antenna design play a huge role in overall device GPS accuracy.
(Note: All of the charts in these accuracy sections were created using the DCR Analyzer tool.  It allows you to compare power meters/trainers, heart rate, cadence, speed/pace, GPS tracks and plenty more. You can use it as well for your own gadget comparisons, more details here.)
Heart Rate Accuracy: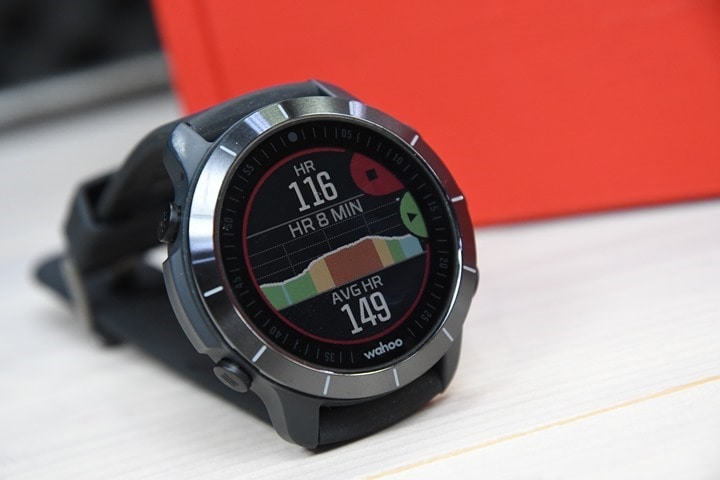 Next up we've got heart rate accuracy.  This roughly falls into two buckets: 24×7 HR, and workout HR.  Unfortunately in the case of 24×7 data, there's simply no way to validate that this time. Wahoo's own app doesn't display that data, and their connection at present to Apple's HealthKit backend isn't consistent enough to extract the data out. Thus, for now we'll focus on the workout only data.
Note that the Wahoo RIVAL uses an optical HR sensor from Philips. It's been a pretty darn long time since we've heard of Philips in this realm. Last time that occurred was back in the Mio days, where Mio licensed the Philips sensor for their initial products – and in fact, then sublicensed that to Garmin for Garmin's FR225, the only Garmin wearable with a non-Garmin sensor. I'm not aware of any other mainstream wearable to use a Philips sensor since then, though, I do know they have actively been courting companies. I'm sure there are some watches out there with a Philips sensor but it's just not disclosed.
Before we move on to the test results, note that optical HR sensor accuracy is rather varied from individual to individual.  Aspects such as skin color, hair density, and position can impact accuracy.  Position, and how the band is worn, are *the most important* pieces.  A unit with an optical HR sensor should be snug.  It doesn't need to leave marks, but you shouldn't be able to slide a finger under the band (at least during workouts).  You can wear it a tiny bit looser the rest of the day.
Ok, so in my testing, I simply use the watch throughout my normal workouts.  Those workouts include a wide variety of intensities and conditions, making them great for accuracy testing.  I've got steady runs, interval workouts on both bike and running.
For each test, I'm wearing additional devices, usually 3-4 in total, which capture data from other sensors.  Typically I'd wear a chest strap (usually the Garmin HRM-PRO or Wahoo TICKR X (2020 edition), but also Polar H9) as well as another optical HR sensor watch on the other wrist (lately the Whoop band, Polar OH1 Plus). Note that the numbers you see in the upper right corner are *not* the averages, but rather just the exact point my mouse is sitting over.  Note all this data is analyzed using the DCR Analyzer, details here.
We're going to start with something simple here first, a relatively stable run. This seems like it would be an easy test, though to add a tiny bit of difficulty, I did a 30-second hard interval every mile. The reddish-brown line below is the RIVAL. Aside from the Whoop strap, it's obviously the one that sticks out the most.

And ultimately, the above graph is basically RIVAL HR accuracy across a large pile of workouts, in a simple nutshell. It's not great. It's not horrific though either. It's just a step below meh.
If we zoom in on these sets, you can see that anytime I add intensity, the RIVAL optical HR sensor gets confused.

Let's switch sports for a second. Here's an indoor trainer ride on Zwift. Pretty stable for all of it as you can see. And as you'd expect, the optical HR sensor is pretty much consistent with everyone else here.
However, at the end I decide to throw-down two sprints. Well, one half-sprint (600w), and then one legit sprint (1,000w). You can see on the first one, RIVAL lost the plot but did manage to find it again half-way through (super rare for a sensor). However, on that second sprint, it totally lost it entirely. We can see that the TICKR-X was fastest, and then the FR745 – but then the FR745 lost the plot and the OH1 found the plot. The Whoop was late to the game, but then the RIVAL made a half-hearted belch and ultimately said 'Nah, we're good here.'

So you want an outside ride? Sure, no problem. Rival in blue this time.
Ok, that was less than ideal. Dance to your own beat or something.
Now I do have this odd set here from a few weeks back, but I think something was up there. Honestly, it's just too perfect. Seriously, it's virtually identical to the Polar H9 strap. So my guess is that despite not listing the paired sensors in the file (while the ELEMNT does this, the RIVAL doesn't), I'm suspicious on this set that it might have paired behind the scenes.
So, let's look at another set. Here's a shorter run from last week. This was pretty evenly paced, minus some intervals towards the end. You can see that the RIVAL, in blue, does reasonably well for the vast majority of it, save one big blip, and a few minor blips.

And it tracks well in the intervals too. My guess is on that first interval below that the HRM-PRO chest strap did some cadence lock or something, as you can see it incorrectly spike high there.

And here's another run, this time intervals with my wife. I'd caution though that this isn't high-intensity intervals for me though, as these cap-out at about my Z2 long-run heart rates. I point that out merely because intensity does matter here for accuracy. We see that for many of the intervals it does well, but it really struggles on the last couple 800's, plus struggles on some of the sprints.

Though equally, the FR745 struggled heavily on the 30" sprints here, as easily seen below:
Note that the Polar Grit X was paired to the Polar H10 chest strap in this case.
As for swimming heart rate? Well, it appears Wahoo has turned that off by default now for openwater swims. It was enabled last week on my openwater swim, but now it's disabled. Maybe it'll return. Note that you cannot do offloading of heart rate data from a TICKR strap (or any other strap). It sounds like that too is in the cards, but as noted, there's a lot of cards on the table to sort and complete.
Ultimately, I'd recommend using another heart rate sensor with the Wahoo RIVAL at this point, as the current optical HR sensor is just too prone to use either in daily non-interval usage, or in interval usage.
Product Comparison:
I've added the Wahoo RIVAL into the product comparison database, allowing you to compare it against other products that I've reviewed in the past.  For the purposes of below I've compared it against the Garmin FR745, Polar Grit X, Suunto 5, and COROS Pace 2. That's perhaps a motley crew lineup, but it kinda works. One could argue doing COROS APEX instead of Pace 2 for a more polished look, or the Polar Vantage M instead of Grit X, or doing FR735XT instead of FR745 for better price but still more features.
But that's no problem, you can always make your own charts in the product database.
Function/Feature

Wahoo RIVAL GPS Watch
COROS Pace 2
Garmin Forerunner 745
Polar Grit X
Suunto 5
Copyright DC Rainmaker - Updated June 8th, 2023 @ 1:15 am New Window
Price
$379
$199
$499/499EUR
$429
$329
Product Announcement Date
Nov 17th, 2020
Aug 2020
Sept 16th, 2020
Apr 22nd, 2020
May 21st, 2019
Actual Availability/Shipping Date
Nov 17th, 2020
Sept 2020
Sept 16th, 2020
Apr 22nd, 2020
Early June 2019
GPS Recording Functionality
Yes
Yes
Yes (with Galileo too)
Yes
Yes
Data Transfer
USB, Bluetooth Smart
Bluetooth Smart (smartphone)
USB/Bluetooth Smart/WiFi
USB, BLUETOOTH SMART
USB & Bluetooth Smart
Waterproofing
50m
50m
Yes - 50m
Yes - 100m
Yes - 50m
Battery Life (GPS)
24hrs GPS (14d standy)
30 hours (regular), 60 hours (UltraMax)
16hrs GPS, 21hrs UltraTrac
Up to 100 hours
Up to 40 hours
Recording Interval
1-second
1-second
1S or Smart
1s
Variable
Alerts
Audible, Visual
Audio/Visual/Vibration
Vibrate/Sound/Visual
Vibrate/Sound/Visual
Sound/Visual/Vibrate
Backlight Greatness
Good
Great
Great
Great
Good
Ability to download custom apps to unit/device
No
No
YEs
No
No
Acts as daily activity monitor (steps, etc...)
Yes
Yes
Yes
Yes
Yes

Music

Wahoo RIVAL GPS Watch
COROS Pace 2
Garmin Forerunner 745
Polar Grit X
Suunto 5
Can control phone music
Yes
No
Yes
No
No
Has music storage and playback
No
No
Yes
No
No
Streaming Services
No
N/A
Spotify, Amazon Music, Deezer, iHeartRadio
No
No

Payments

Wahoo RIVAL GPS Watch
COROS Pace 2
Garmin Forerunner 745
Polar Grit X
Suunto 5
Contactless-NFC Payments
No
No
Yes
No
No

Connectivity

Wahoo RIVAL GPS Watch
COROS Pace 2
Garmin Forerunner 745
Polar Grit X
Suunto 5
Bluetooth Smart to Phone Uploading
Yes
Yes
Yes
Yes
Yes
Phone Notifications to unit (i.e. texts/calls/etc...)
Yes
Yes
Yes
Yes
Yes
Live Tracking (streaming location to website)
Yes
No
Yes
No
No
Group tracking
No
No
Yes
No
No
Emergency/SOS Message Notification (from watch to contacts)
No
No
Yes (via phone)
No
No
Built-in cellular chip (no phone required)
No
No
No
No
No

Cycling

Wahoo RIVAL GPS Watch
COROS Pace 2
Garmin Forerunner 745
Polar Grit X
Suunto 5
Designed for cycling
Yes
Yes
Yes
Yes
Yes
Power Meter Capable
Yes
Yes
Yes
Yes
Yes
Power Meter Configuration/Calibration Options
No
Yes
Yes
Yes
Power Meter TSS/NP/IF
Yes
NP only
Yes
No
No
Speed/Cadence Sensor Capable
Yes
Yes
Yes
Yes
Yes
Strava segments live on device
No
No
Yes
Yes
No
Crash detection
No
No
Yes
No
No

Running

Wahoo RIVAL GPS Watch
COROS Pace 2
Garmin Forerunner 745
Polar Grit X
Suunto 5
Designed for running
Yes
Yes
Yes
Yes
Yes
Footpod Capable (For treadmills)
No (has built-in accelerometer for treadmill)
No
Yes
Yes
Yes
Running Dynamics (vertical oscillation, ground contact time, etc...)
Yes
Yes
WITH RD POD, HRM-TRI, HRM-PRO, OR HRM-RUN (NOT VIA OPTICAL HR)
No
No
Running Power
With Stryd sensor
Yes (wrist based + Stryd support)
With extra sensor
Yes (built-in)
With extra sensor
VO2Max Estimation
No
Yes
YEs
Yes
Yes
Race Predictor
No
No
Yes
No
No
Recovery Advisor
No
Yes
Yes
No
Yes
Run/Walk Mode
No
No
Yes
No
No
Track Recognition Mode
No
Yes
Yes

Swimming

Wahoo RIVAL GPS Watch
COROS Pace 2
Garmin Forerunner 745
Polar Grit X
Suunto 5
Designed for swimming
Yes
Yes
Yes
Yes
Yes
Openwater swimming mode
Ye
Yes
YEs
Yes
Yes
Lap/Indoor Distance Tracking
Yes
Yes
Yes
Yes
Yes
Record HR underwater
Yes
Yes
Yes
Yes
Openwater Metrics (Stroke/etc.)
Yes
Yes
Yes
Yes
Yes
Indoor Metrics (Stroke/etc.)
Yes
Yes
YEs
Yes
Yes
Indoor Drill Mode
No
Via Drill Log
Yes
No
No
Indoor auto-pause feature
-
No (it'll show rest time afterwards though)
Yes
No
Change pool size
Yes
Yes
YEs
Yes
Yes
Indoor Min/Max Pool Lengths
0-99y/m
15y/m-300y/m
14M/15Y TO 150Y/M
20M/Y to 250 m/y
15m/y to 1,200m/y
Ability to customize data fields
Yes
Yes
Yes
Yes
yes
Captures per length data - indoors
Yes
Yes
Yes
Yes
Indoor Alerts
Distance
Yes
Yes
N/A
No

Triathlon

Wahoo RIVAL GPS Watch
COROS Pace 2
Garmin Forerunner 745
Polar Grit X
Suunto 5
Designed for triathlon
Yes
Yes
Yes
Yes
Yes
Multisport mode
Yes
Yes
Yes
Yes
Yes

Workouts

Wahoo RIVAL GPS Watch
COROS Pace 2
Garmin Forerunner 745
Polar Grit X
Suunto 5
Create/Follow custom workouts
Yes (as of May 25th, 2021)
Yes
Yes
Yes
No
On-unit interval Feature
No
Yes
YEs
Yes
Yes
Training Calendar Functionality
Yes, via Structured Workouts
Yes
Yes
Yes
Yes

Functions

Wahoo RIVAL GPS Watch
COROS Pace 2
Garmin Forerunner 745
Polar Grit X
Suunto 5
Auto Start/Stop
Yes
Yes
Yes
No
Virtual Partner Feature
No
No
YEs
No (but can give out of zone alerts)
No
Virtual Racer Feature
No
No
Yes
No
No
Records PR's - Personal Records (diff than history)
No
No
Yes
No
No
Tidal Tables (Tide Information)
No
No
No
No
No
Weather Display (live data)
No
No
Yes
Yes
No

Navigate

Wahoo RIVAL GPS Watch
COROS Pace 2
Garmin Forerunner 745
Polar Grit X
Suunto 5
Follow GPS Track (Courses/Waypoints)
No
No
Yes
Yes
Yes
Markers/Waypoint Direction
No
No
Yes
No
Yes
Routable/Visual Maps (like car GPS)
NO
No
No
No
No
Back to start
No
No
Yes
Yes
Yes
Impromptu Round Trip Route Creation
No
No
No
No
No
Download courses/routes from phone to unit
No
No
Yes
Yes
Yes

Sensors

Wahoo RIVAL GPS Watch
COROS Pace 2
Garmin Forerunner 745
Polar Grit X
Suunto 5
Altimeter Type
Barometric
Barometric
Barometric
Barometric
GPS
Compass Type
Magnetic
Magnetic
N/A
N/A
Optical Heart Rate Sensor internally
Yes
Yes
Yes
Yes
Yes
SpO2 (aka Pulse Oximetry)
No
No
Yes
No
No
ECG Functionality
No
No
Heart Rate Strap Compatible
Yes
Yes
Yes
Yes
Yes
ANT+ Heart Rate Strap Capable
Yes
Yes
Yes
No
No
ANT+ Speed/Cadence Capable
Yes
Yes
Yes
No
No
ANT+ Footpod Capable
No
Yes
Yes
No
No
ANT+ Power Meter Capable
Yes
Yes
Yes
No
No
ANT+ Lighting Control
No
No
Yes
No
No
ANT+ Bike Radar Integration
No
No
Yes
No
No
ANT+ Trainer Control (FE-C)
Yes
FTMS (Bluetooth) only
No
No
No
ANT+ Remote Control
No
No
No (can control VIRB though)
No
No
ANT+ eBike Compatibility
No
No
No
No
No
ANT+ Gear Shifting (i.e. SRAM ETAP)
No
No
Yes
No
No
Shimano Di2 Shifting
No
No
Yes
No
No
Bluetooth Smart HR Strap Capable
Yes
Yes
Yes
Yes
Yes
Bluetooth Smart Speed/Cadence Capable
Yes
Yes
Yes
Yes
YEs
Bluetooth Smart Footpod Capable
No
Yes
Yes
Yes
Yes
Bluetooth Smart Power Meter Capable
Yes
Yes
YEs
Yes
Yes
Temp Recording (internal sensor)
No
No
Yes
Yes
No
Temp Recording (external sensor)
No
No
Yes
No
No

Software

Wahoo RIVAL GPS Watch
COROS Pace 2
Garmin Forerunner 745
Polar Grit X
Suunto 5
PC Application
N/A
No
Garmin Express
Polar Flowsync - Windows/Mac
PC/Mac
Web Application
N/A
No
Garmin Connect
Polar Flow
Suunto Sports Tracker Platform
Phone App
iOS/Android
iOS/Android
iOS/Android/Windows Phone
iOS/Android
iOS /Android
Ability to Export Settings
No
No
No
No
No

Purchase

Wahoo RIVAL GPS Watch
COROS Pace 2
Garmin Forerunner 745
Polar Grit X
Suunto 5
Amazon
Link
Link
Link
Link
Link
Backcountry.com
Link
Link
Link
Link
Link
Chain Reaction Cycles
Link
Link
Link
Link
Link
Competitive Cyclist
Link
Link
Link
Link
Link
REI
Link
Link
Link
Link
Link
TPC
Link
Wiggle
Link
Link
Link
Link
Link

DCRainmaker

Wahoo RIVAL GPS Watch
COROS Pace 2
Garmin Forerunner 745
Polar Grit X
Suunto 5
Review Link
Link
Link
Link
Link
Link
And again – don't forget you can make your own product comparison charts comparing any products using the product comparison database.
Summary: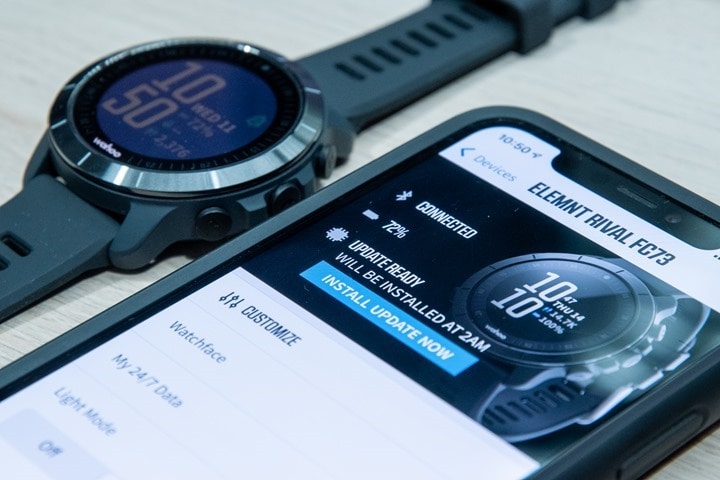 I'm excited about what Wahoo can do in this space. The journey to get to this point has been many years in the making, well before they truly started working on RIVAL (after all, the Magellan Echo was actually a Wahoo watch). Just as I'm excited to see COROS really finding their stride lately in products. Having competition is good for consumers – just as it was when Wahoo started in earnest with the ELEMNT series a few years back. But it was really the 2nd unit – the Wahoo BOLT, that pushed Garmin into responding. That was a great period of new features and increased benefits for the consumers.
And there are a handful of awesome things about RIVAL. The touchless transitions is cool. Not so much for just going freestyle mid-race, but there in case you forget to press the button in the heat of the moment (or, double-press and need to undo mid-race). That's great. Even more awesome is the app editor for super-precisely slicing and dicing your triathlon splits to the exact points on the map you want them to. Super cool stuff that nobody else is remotely doing.
However, that doesn't mean I'd recommend the RIVAL today, not in its current iteration. I think with enough money and developers, we're probably about 8-12 months away from being able to compete with the likes of Suunto in certain areas (non-battery ones). Another year after that, maybe Polar (…but only if Polar were to randomly stop development, which seems totally unlikely). Garmin? Well, that's…who knows. After all – all these companies, COROS included, have teams already hot and running, and all developing the next great thing.
And to be clear – this isn't all about features. Though, one has to remember that while it's easy to dismiss feature comparisons, the reality is that all of us value different features on different watches. One person's 'must-have' feature is another persons 'shrug'. That's ultimately why products with more features do better – they appeal to a broader set of people. Products with less features can instead compete on accuracy, price, or simply brand love. Unfortunately, the RIVAL is easily the least accurate optical HR sensor watch I've tested in a while, and GPS isn't great either. Price-wise, it's almost double the price of the new (and fairly accurate) COROS Pace 2. Or one can pick up a Garmin Fenix 5 series watch for well under this price these days, which is both more accurate and more full featured. Or Polar…or Suunto…etc.
And yes – I get it, Wahoo's success in the bike computer market is all about simplicity over features. Polish over bugs. But RIVAL isn't there today. It's likely gonna be a while. And unlike a bike computer that you power off after the ride, a watch is on your wrist 24×7. It's not the same world.
Anyways, like I said – I'm looking forward to seeing where Wahoo goes here, and seeing where they are in 6 months, 12 months, etc… Plus, as they said – they're building a new product category at the company, not just a single watch.
With that – thanks for reading!

Found This Post Useful? Support The Site!
Hopefully you found this review useful. At the end of the day, I'm an athlete just like you looking for the most detail possible on a new purchase – so my review is written from the standpoint of how I used the device. The reviews generally take a lot of hours to put together, so it's a fair bit of work (and labor of love). As you probably noticed by looking below, I also take time to answer all the questions posted in the comments – and there's quite a bit of detail in there as well.
If you're shopping for the Wahoo RIVAL GPS Watch or any other accessory items, please consider using the affiliate links below! As an Amazon Associate I earn from qualifying purchases. It doesn't cost you anything extra, but your purchases help support this website a lot. Even more, if you use Backcountry.com or Competitive Cyclist with coupon code DCRAINMAKER, first time users save 15% on applicable products! Or, with TPC (The Pro's Closet), you'll save $40 on purchases over $200 with coupon code DCRAIN40!
And finally, here's a handy list of Wahoo accessories that work well with this unit (and some that I showed in the review). Given the unit pairs with ANT+ & Bluetooth Smart sensors, you can use just about anything though.
And of course – you can always sign-up to be a DCR Supporter! That gets you an ad-free DCR, access to the DCR Quarantine Corner video series packed with behind the scenes tidbits...and it also makes you awesome. And being awesome is what it's all about!
Thanks for reading! And as always, feel free to post comments or questions in the comments section below, I'll be happy to try and answer them as quickly as possible. And lastly, if you felt this review was useful – I always appreciate feedback in the comments below. Thanks!