While this was a busy week when it came to new product reviews, there was a small undercurrent of notable sports tech news this past week that my brain couldn't quite squirt onto the page. But…now that time has come. Thus, let's dive in.
Polar's new Vantage Titan and Roadmap Updates: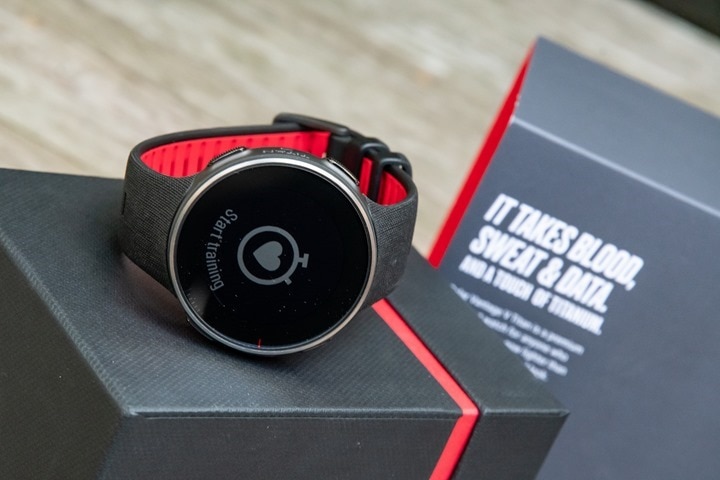 Polar has released a new version of the Vantage V – called the Vantage V Titan. This new unit swaps out the previous case for a titanium case with a black PVD coating on the top edge (which is a protective layer). And interestingly, it actually weighs 7 grams less than before – 59g. The buttons have been polished by small Finish squirrels, and the wrist band is a DCR-kit approved black and red. The unit will set you back $599 – an extra $100 more than the previous Vantage V.
The box design is slightly different, cooler:
Here's a small gallery of pics I snapped, comparing it to the regular Vantage V. The one with the red on the inside of the band is the Vantage V Titan variant.
I haven't had a chance to go for a run quite yet to test out GPS accuracy and such. The company says that the changes to the unit are only cosmetic, and there's no software or internal hardware differences between this and the previous unit.
Speaking of GPS accuracy – the company released a GPS-focused update on Monday for the Vantage series that they note will improve a bunch of GPS items (V/M), and altitude (in the case of the Vantage M). However, some folks have reported substantial GPS issues since that update. Polar reached out in the last couple days and noted that it appears there may be an issue for some people on the first workout post-firmware update. However, it's not clear if it's limited to that or not. I suspect we'll see more in the coming week.
Finally, Polar has added a modest update to their Vantage V/M update schedule for later this year. It includes the following:
Update 4.0 – October 2019:
Fitness Test: You can do it both with wrist-based heart rate and chest strap heart rate sensor
Zone Lock: You can lock a training zone during your workout
Lap details: time, distance, average pace etc., in the training file on your Vantage watch
Manual stride sensor calibration [Added May 9th, 2019]
Update 5.0 – December 2019:
Strava Live Segments support (only for Vantage V)
Race Pace
Most (all?) of these are really focused on matching features that were previously offered on existing watches (e.g. Polar V800). I'd consider them more catch-up features than new per se. But, if it's not on the Vantage series, then it's new to you.
Suunto Platform Updates: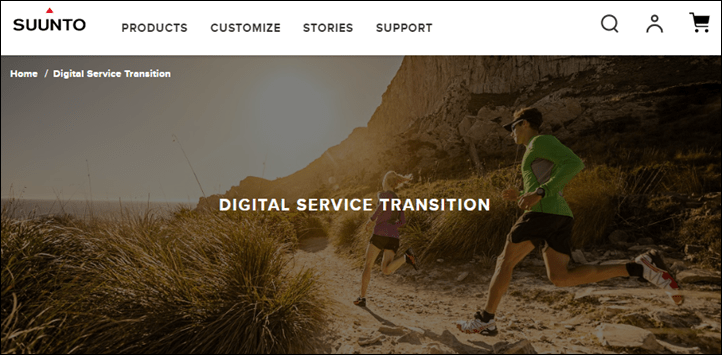 Next, continuing the Finnish based updates, Suunto has made some minor clarifications around their plans as well. You'll remember back in January they announced that they plan to shut down Movescount, and fully transition over to their Sports Tracker based platform, just called 'Suunto'. The biggest challenge so that announcement was that it meant for certain older watches (e.g. Ambit 1/2), those watches would effectively become paperweights. Well, I suppose you could technically use them, but you couldn't upload/sync/configure/download routes to them/etc…
This week's updates cover a pile of different areas:
A) General Reminder: The first part of the update basically reminded you that Suunto added a bunch of features to their mobile apps in the past few months, in particular their Android app. For example, there's the ability to save workouts as a route, as well as importing routes on a mobile device – even from an attached file (like a .GPX file).
B) Data Transfer from Movescount to Suunto: Starting sometime this month, they'll allow you to perform one-time transfers of historical data. Note, this isn't intended to be a constant sync process. Nor does it cover all the things in your Movescount account. For example, saved routes still won't be moved over. The plan is that Suunto 9 users will get this turned on first, and then it will slowly iterate/expand through additional product families.
C) Older Movescount iOS/Android apps: These will be removed from their respective stores by the end of 2019. If you have them installed on your phone, you'll be able to continue to use them however.
D) Older devices: For folks that were on devices that would be left islanded (e.g. Ambit 1/2), Suunto doesn't yet have a plan. Though, they note that they're working to figure out a plan. It's unclear if that plan is basically 'tough luck', or 'we've got some options'. Honestly, I'm still unclear why this is all that difficult. We're not talking that many device types. They just need to be rolled into the newish (already existing) Suunto desktop uploader and call it done.
In any case – for those wanting to use the newer platform instead of Movescount, then the upcoming enablement of the data transfer will be welcome news.
Xert arrives on iOS:
Finally, last but not least, the combination training platform and trainer app, Xert, has made available their iOS app. For those familiar with the company, they've previously had an Android app that could connect to trainers via ANT+, as well as a desktop player for workouts. But there wasn't any way to control smart trainers with Bluetooth Smart.
That mattered (ok, it mattered for a lot of reasons, but one particular) because the app's smart trainer workout capabilities means it dynamically controls the trainer and by extension changes the workout structure based on how well you're executing the workout. They do this as part of their smart workouts.  It's a pretty cool capability, but was always a bit hindered based on people's devices. While Android enjoys strong global market share (meaning, everyone in the world), for the market that owns smart trainers and other high tech consumer fitness goods, it's actually iOS driven (usually around 60%+ iOS users). So excluding that chunk of the market was tough.
The app also has all the core metrics you'd find on their desktop site as well, so it's a good summary of what's going on in your athletic life. But for the trainer control bit, it pairs to your trainer using Bluetooth Smart standard device profiles. So it supports power, cadence, speed, heart rate, and trainers (Bluetooth FTMS).
The only downside to that is that there's still some outliers that don't support Bluetooth FTMS fully. For example, I couldn't pair my Tacx NEO2 as an FTM trainer (most all other Tacx trainers do have it), though just about every other trainer is supported via FTMS or directly (such as Wahoo's trainer).
Anyway – cool stuff. I've long said that Xert is underestimated in the coolness category in terms of what they can pull off and do. But this expansion onto iOS should go a long ways towards people realizing it's a very legit solution – not just as a training log, but also as an indoor training app.
—
With that – thanks for reading and enjoy what remains of your weekends!