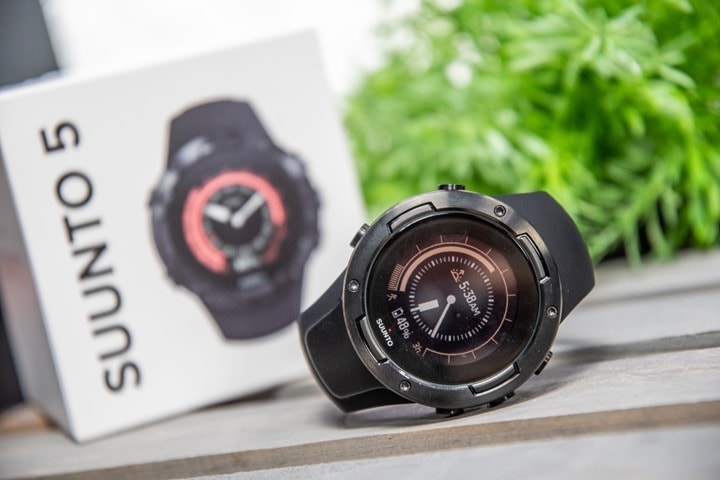 Today Suunto took one more step towards filling in their Wheel of Fortune naming scheme mystery series, by announcing the Suunto 5. The unit's numerals are slotted a step above the Suunto 3, but gapped with the Suunto 9 a theoretical two rungs above it. Here, let me help you understand
Suunto 3: Budget fitness watch, no GPS
Suunto 5: This watch, mid-range multisport watch
[Naming Scheme Product Gap]
Suunto 9: Top-end multisport/outdoors watch
Make sense now?
In any event – naming semantics aside, the Suunto 5 is simply a Suunto 9 with a smaller battery, no compass, and no barometric altimeter. Seriously, that's it (ok, it's got a slightly lesser waterproof spec, but still solidly waterproofed). Actually, there are technically three other tiny itty bitty tweaks – and one of them favors the cheaper unit. But more on that later.
The Suunto 5 is a mostly well priced mid-range multisport watch.  Swim, bike, run, hike, even triathlon multisport option. It can track your sleep and your HR 24×7, as well as follow routes from Suunto's platform. It most directly competes with the Polar Vantage M and Garmin Instinct or Forerunner 245 from a pricing and features perspective. Of course, all of their differences we'll dive into.
In any case, with that intro out of the way, let's get digging on the new bits.
What's new: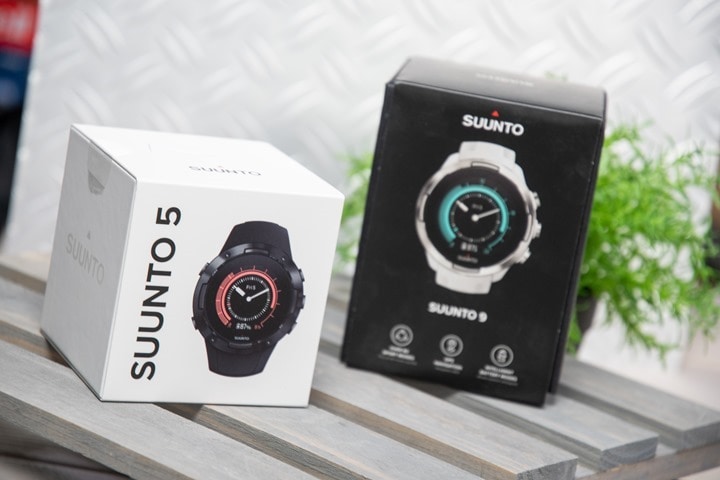 As I was saying, the Suunto 5 is basically just a mini Suunto 9 – and frankly, that's a great thing. Sure, the Suunto 9 isn't the most full featured watch out there compared to other options on the market at the same price. But…when you take that same feature set and slice the price in half…now we're talking!
Thus no better place to talk about what's new than a hands-on video. I give the quick explainer up front, and then we dive into some hands-on menu goodness to show you what the watch is all about. [Note: Depending on how soon you see this, YouTube is still processing the higher resolutions.]
But let's circle back to doing some feature comparisons. The Suunto 5 is actually the successor to the $279 Suunto Spartan Trainer. It came out about two years ago and was essentially a mini Suunto Spartan. In other words, the mini-me Suunto 5 equal of the Suunto 9. Albeit, at $50 less.  So, let's look at how those two devices compare – assuming that's the true predecessor. Here's what the Suunto 5 has that the Suunto Spartan Trainer doesn't:
– Increased battery life from 10hrs to 20hrs in regular modes, and 30hrs to 40hrs in extended modes
– Changed from plastic bezel (base option) to stainless steel bezel
– Changed from plastic screen (base option) to mineral glass
– Added adaptive training plans (not on Suunto 9, update: added Oct 2019)
– Added sleep quality metric (not on Suunto 9, update: added Oct 2019)
– Added stress tracking metric (not on Suunto 9, update: added Oct 2019)
– Added body resources metric (not on Suunto 9, update: added Oct 2019)
– Added VO2Max fitness level
– Changed GPS chipset from MediaTek to Sony
– Changed GPS recording track modes from Best/Good/OK to Best/Good
– Added additional GPS options: GLONASS, Galileo, and QZSS
– Added intelligent battery modes: Performance, Endurance, Custom
– Made the bezel appear slightly more swanky than the plasticky looking Spartan Trainer
– Slightly decreased temperature tolerances: –10°C to 50°C  for Suunto 5 vs –20°C to 60°C for Suunto Trainer
– Approx. the same weight: 66g for Suunto 5, to 57g/66g/74g for Suunto Trainer variants
– Only can connect to Suunto/Sports Tracker platform/apps (not Movescount)
– It's got a new square box. The first new structural box design for Suunto in like 30 years.
Effectively they've blended the FirstBeat physio type metrics from the Suunto 3 (stress, body resources, VO2Max tracking) with the new Suunto 9 GPS chipset related features (intelligent battery and tracking modes). The other tweaks are mostly cosmetic or downstream impacts from the previous two items. So in case you were wondering what the average of 3 and 9 are: It's 5. No, not 6 – that's being pedantic.
Still, let's say you're looking at the Suunto 9, what are you giving up by going for the Suunto 5?
– No barometric altimeter (in Suunto 9 Baro)
– No compass
– Lesser battery life: 20/40h vs 25/50/120hrs (depending on mode)
– No adjustable brightness level
– No touchscreen (buttons only)
– No access to legacy Movescount platform
On the flip side, the Suunto 5 has the following features the Suunto 9 doesn't:
– Has stress tracking metrics
– Has body resources (aka body battery) metric
– Has sleep quality metrics
– Has V02Max tracking/metrics
– Has adaptive training plans
As I've said numerous times before – I simply don't understand it when a company's flagship product (Suunto 9) lacks features that a lesser product has. I don't really even care 'why' that is (in this case, likely licensing driven since these are FirstBeat features). All it does is serve to frustrate the very buyers you want most: People who are buying the more expensive thing.
On the bright side, the Suunto 5 does have a new box. This is essentially the first time Suunto has changed the box designs for their watches in probably a decade. Apparently they finally ran out of the football field sized stash they must have had of the existing boxes (which just featured a swappable outer paper cover).
Oh – and one last thing. The Suunto 5 comes with the Suunto 'Value Pack', which is basically a bunch of free trials and stuff. The trials are generally better than what's available on the open market in terms of length. My understanding is that by launch we'll see a few more things pop-up as well.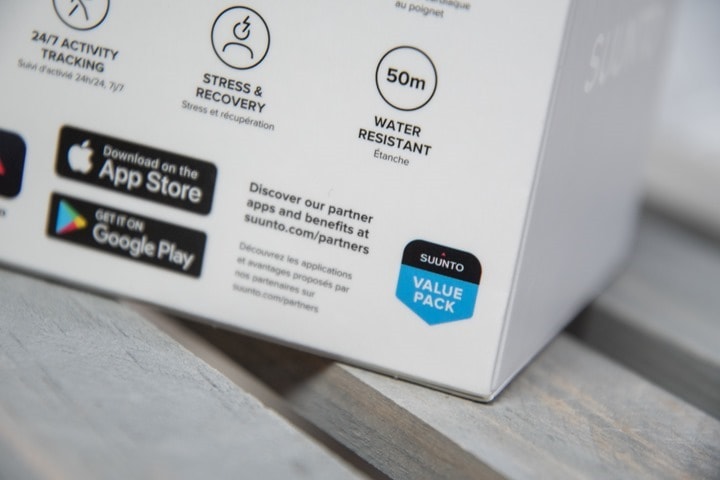 Got all that? Good, let's dive into the basics quickly. Again – I've kinda covered all of the features of this unit in other reviews, such as the Suunto 9 Baro or Suunto 3 in-depth reviews.
The Basics: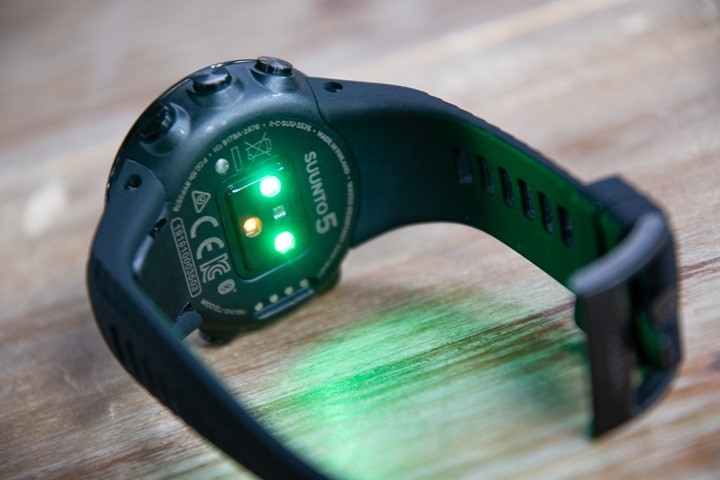 If you're familiar with the Suunto 9, then you'll be old hat at the Suunto 5. The additive difference here are the body battery and stress metrics. But before we get there, let's start with the basics – here's the main watch face. This is slightly customizable with half a dozen other options, though no 3rd party options are enabled.
From the main watch face you can press up/down (it's not a touch screen), you can iterate through the different menu areas. Go upwards once to launch the workout menu and settings pages, or go down to access heath/training stat type pages. Here's a quick gallery of some of those options:
Note that the Suunto 5 does have 24×7 HR tracking, however, it burns battery like nobody's business. On average I'm finding 3% per hour (in non-workout mode). Which means in 24 hours you go through about 3/4ths the battery of the unit.
Let's presume you want to do something like start a workout. Tap up once to exercise, and then again to select the sport you want.
You can customize the sports loaded onto the watch using the Suunto smartphone app. This includes the data fields on those pages (up to 7 per page). Here's a quick gallery of some of those:
Somewhat frustratingly you can't edit an existing default sport modes (like you could on Movescount). Instead, you have to create a new sport mode. C'mon…recycling, it's the thing to do. Though, you can edit new sport modes you create.
Once you've got your data fields the way you like them on the sport you want, you can wait for GPS and HR to lock. In general this doesn't take more than a few seconds assuming you're in roughly the same place as the last time you used the watch. It doesn't appear to use a GPS pre-cache file from the phone like some other companies do, so when I travelled back from Finland to Amsterdam, my next time outside it took quite a while (about 2-3 minutes) to find GPS. Or perhaps it does and it's just not working yet on my unit.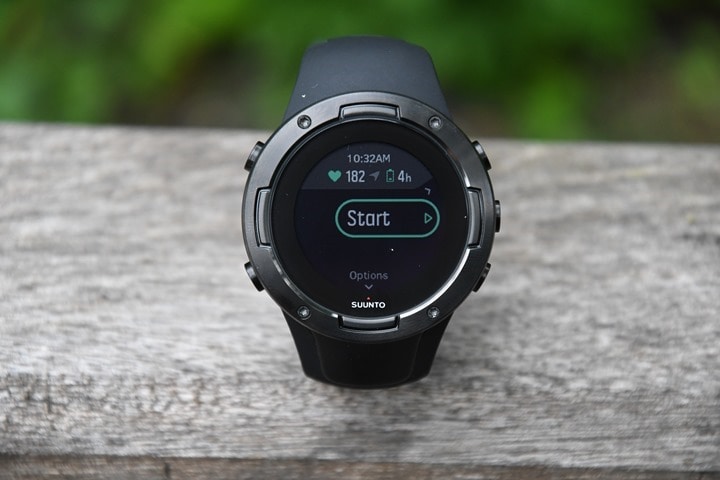 This is also where you can toggle the different battery modes, and it'll show you exactly how many hours are left for each mode: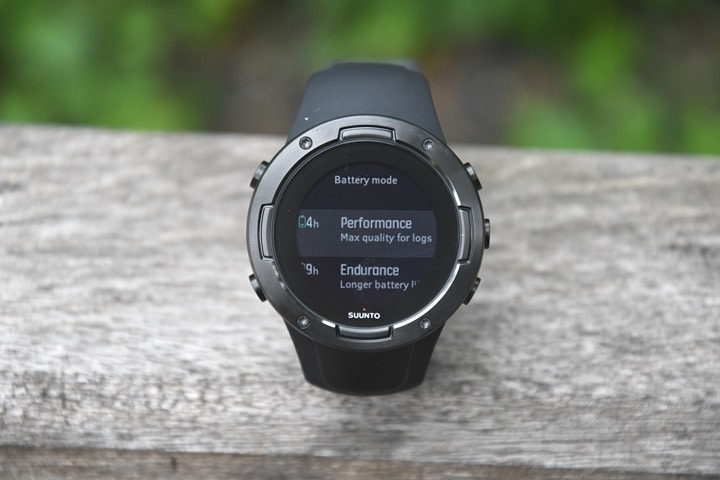 Once that's done you're ready to start doing your swim/bike/run/hike/whatever sport. It's more or less the same from this point. Here's a few shots of what that looks like. I had some mid-run ones, but alas they didn't come out awesome at all.
Once you're done with the workout you can pause it, and then end the activity to view your summary stats. There's a pile of pages it allows you to review:
From there the workout is synced to the Suunto app via Bluetooth Smart. You can then view the various stats on the mobile app. Note that this is sync'd to Suunto's Sports Tracker platform, and not to Movescount. There's no method to sync this watch to Movescount (a definite disadvantage compared to the Suunto 9).
This same workout is then available online on the Sports Tracker site (desktop):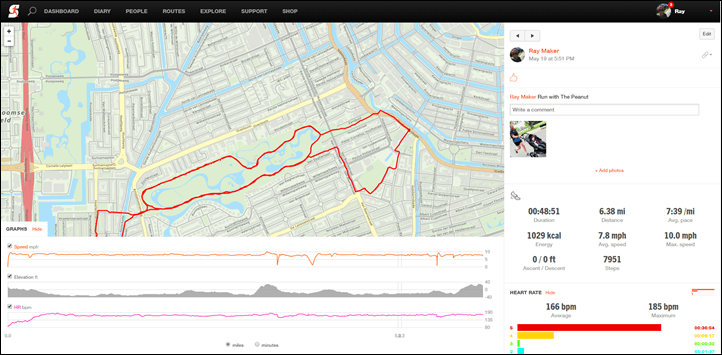 If you've got Strava sync configured, it'll also go ahead and send it over there as well automatically (unless the connection is on the fritz again, in which case, it won't).
When it comes to routing, the Suunto 5 pulls exclusively from the Suunto app/Sports Tracker platform for routes. Meaning if you've got routes in the Movescount platform from past watches, you're on your own to manually move those over (an entirely different discussion). Currently you can open .GPX files with the smartphone app, however, the company says that starting soon also be able to upload .FIT routes too.
In the meantime, you can manually draw those routes if you'd like to from the Suunto smartphone app. And – I will commend Suunto on this, it's by far the best smartphone route builder I've seen from a manufacturer to date. Though admittedly, the pool is only two: Garmin and Suunto (Polar doesn't offer a smartphone router builder). Garmin recently introduced theirs and somehow it's horrible to use. But the Suunto one is exactly what it should be. Sure, I'd like a small elevation graph somewhere, but hey – that gives them something for down the road.
You can toggle sport modes and routing modes, as well as satellite vs heatmap (woot!) vs regular maps. Again, it just works like it should. Kinda like Easy Route, but with better map options (namely: heat maps).
From there it'll sync to your watch upon the next sync. Just remember to sync it manually in case you need it right away. Back on the watch you can select it to get started routing.
Finally, turning directions back to some of the unique Suunto 5 things not found on the Suunto 9 we've first got the body resources. This is akin to Garmin's body battery, as both these metrics are directly from FirstBeat. They show the exact same thing, just in slightly different ways and by different branding.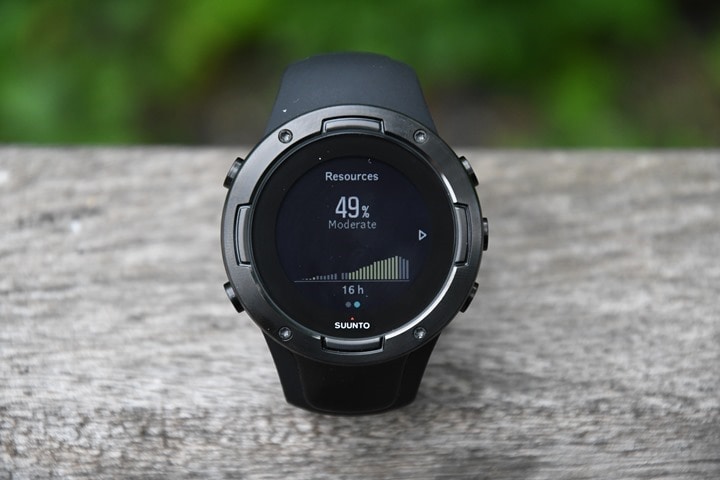 However, both Suunto and Garmin use the same term 'stress' to show the stress level. Suunto simplifies it to a single term, whereas Garmin shows both the single term as well as a bit more of a numeric identifier next to it. Either way, both the same FirstBeat licensed metric.
In addition within your completed workout summary, you'll also get your VO2Max displayed: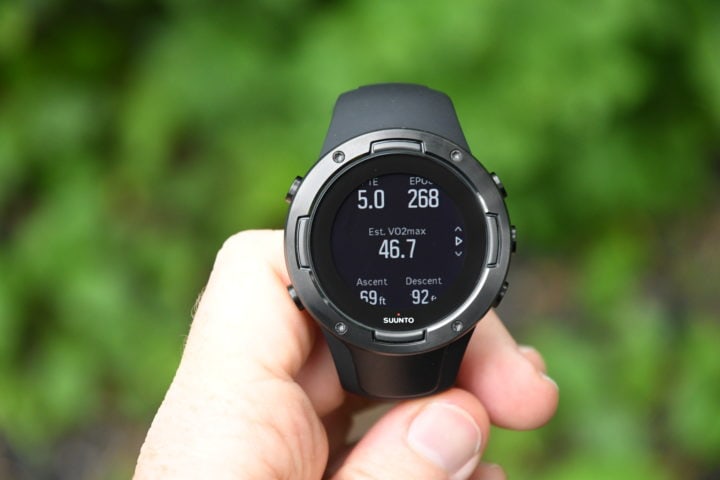 In my case, this is way below what it should be. Typically this value can take a few runs to even out, so I'll give it a few more runs to see if it kicks itself into gear (I should be hovering between 57 and 62 – a broad tested range, but a better range than what this shows). Again, both Garmin and Suunto license the same module from FirstBeat. For that same run above I clocked in on the FR945 at 53 (still a bit low). Though in most cases it takes harder workouts than that run to get a good solid VO2Max estimate. All of this is also plotted and recorded within the new Suunto app.
Beyond that, all of the training related metrics are the same as the Suunto 9.
Meanwhile, back on the smartphone app, there are some improvements with respect to daily metrics on the way. The app should soon be showing 24×7 HR (including the daily avg/max values). Though at present I'm not quite seeing it yet. Though I do see steps/calories/sleep/workouts there, most of which were there before.
You can also, within the app, connect to 3rd party platforms and get your workouts synced to them:
With that, that's the nickel tour of the watch. Again, down the road in a full in-depth review with more time and variation in workouts/sports/etc I'll dive deeper into all the features and functions.
A Quick First Run Look:
With the basics covered, let's head out for a quick run or two. One in Helsinki, another in Amsterdam. One through some cityscape, and the other a bit of forest. Neither crazy difficult, and neither with much altitude.  We'll start with the Helsinki one, since that one I've got it compared to the Garmin Forerunner 945. I typically like to have more than just one other comparison, but on this day my other watch battery died just short of the run. So, two it is.
Here's the GPS track (and data set):

As you can see, it frankly looks near identical. This shouldn't surprise too many people. Both companies are using the same Sony GPS chipset. Though obviously the companies differ in their implementation of it beyond the hardware itself.  Even in the woods, there's not much difference between the hard to see lines. Neither is perfect, but neither are super different either.

The HR however, that's got a fair bit of difference – at least initially. The Suunto 5 struggled to lock HR in the first few minutes, showing me well above my actual HR:

However, once we got past that first few minutes, things calmed down and it matched both the FR945 and my perceived effort.
Next, a run on Sunday in Amsterdam. This one I had more watches with me. On the left wrist was the Suunto 5, while the right wrist had the COROS Vertix. Meanwhile, on the running stroller was the Garmin Forerunner 945 paired to an HRM-DUAL chest strap, and then a Polar Vantage V paired to an OH1+ upper arm optical sensor. Here's that GPS track (and data set).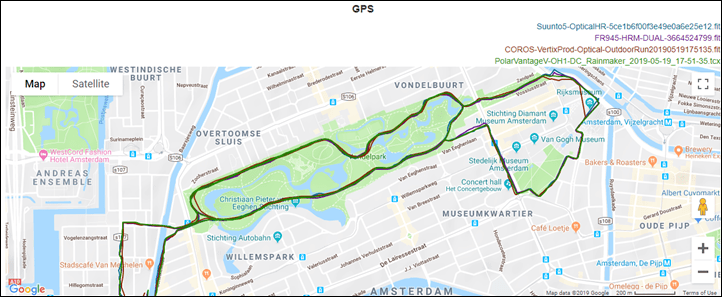 As you can see, the Suunto 5 did well. Only one minor quibble exiting the tunnel at the museum in the upper right, but it was only perhaps 5-7 meters off there briefly, whereas the COROS (beta) struggled a fair bit more there, as well as in the park in general. The Suunto also briefly went on a canal boat tour prior to entering the park, but it's not super substantial. No meaningful differences between the Suunto/Polar/Garmin while in the park.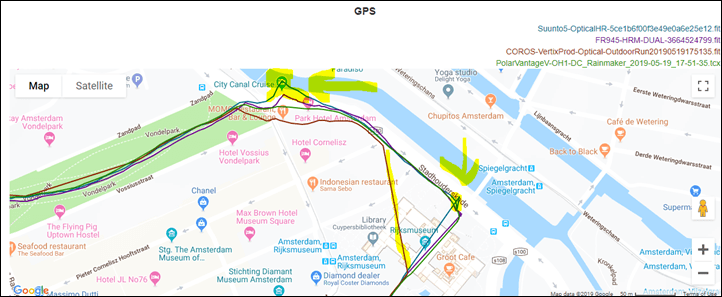 However, on the optical HR side we again see the Suunto (and COROS) really struggle the first 7-8 minutes:

And in fact, continue to struggle for most of the run. For this run I very purposefully only pushed the stroller with my right hand (the Suunto was in my left hand). So it shouldn't have had any issues. But it's a problem with accuracy I seem to be seeing with most of the new Suunto watches over the last year or so.
In any case, it's still early times with the watch not due out for a few more weeks. So perhaps we'll see some changes there too.  Now, with the run done, we shift our attention to the platform itself.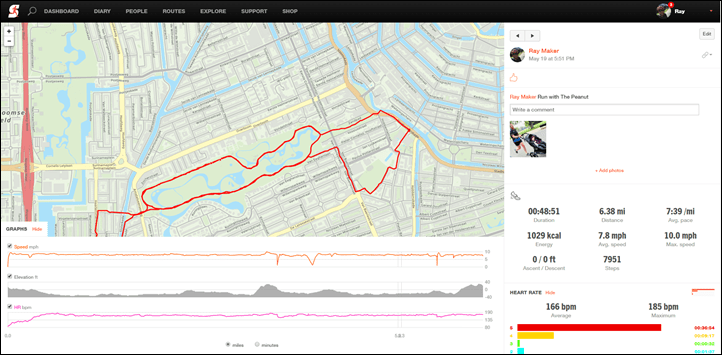 With the Suunto 5, it's fully tied (and only available on) the Sports Tracker driven Suunto site, it's just super limited in comparison to the existing/legacy Movescount platform. I know I've talked about this numerous times, and each time I say more or less the same thing: Hopefully it'll get better in 6-9 months. But here's the thing: It mostly hasn't.
Sure, the app has gotten better, but the underlying platform is still mostly a dumpster fire in comparison to Movescount. And I get it – all platforms have their flaws: Garmin's Connect, Strava's…well…Strava, Polar's Flow, Suunto's Movescount – everyone has things we don't like. But hey – at least they have things we do like. And I struggle to find things I actually like about the Sports Tracker platform. I mean, I suppose that since it's so limited in functionality I get back my time quickly and can move onto eating cookies again.
But some things are really much more problematic. For example, I wanted to analyze my run from yesterday and compare the HR data against three other devices. So I exported the .GPX file of the run and stashed it into the DCR Analyzer. Except, this is what I got for the HR plot: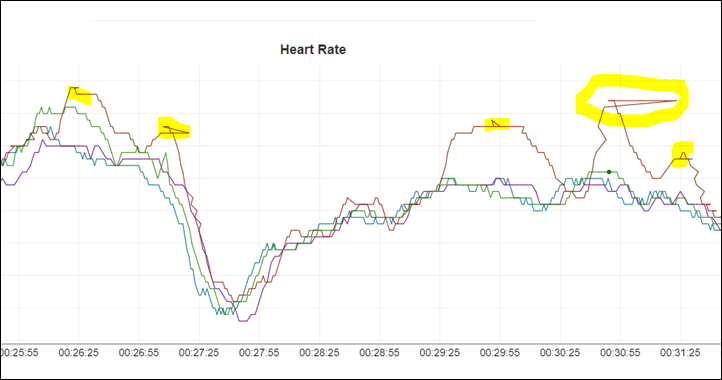 Why? Well, because of a bug that's been there a year now that incorrectly writes the HR timestamps to the .GPX file occasionally out of order. It'll jump to 36, 38, 39, 36, 40, etc… There's other bugs.
Another is that when I tried to manually import last Monday's workout to Strava (since it wasn't setup initially as an autosync partner), it showed my run taking 97 minutes (it was only an hour run):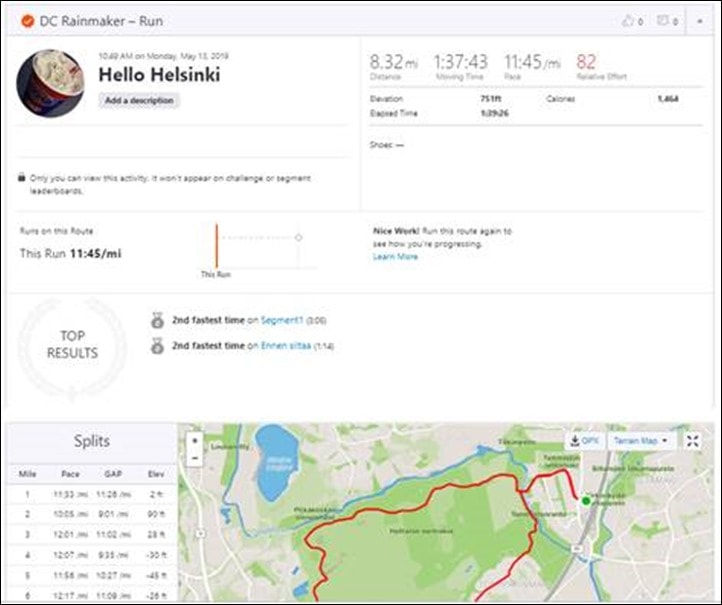 Now, Suunto says they're working to address these bugs. And in the case of the export issues, they're somewhat going to entirely sidestep it – starting in June the platform will allow exporting .FIT files – which is the modern way of writing this day to exportable fitness files (that the rest of the industry uses). Of course that's also important because it allows more proper export of things like running power too.  In order to test this, Suunto offered to manually export both my runs using the new service so I can do my analysis. Sure enough, once I had them, the .FIT files were just as I'd expect.
Which doesn't mean the runs HR data was accurate (as you saw above) – but rather, the data was just correct. The GPS data was fine.
I bring this up mostly because I don't entirely think Suunto understands why this really matters. Sure, for the Suunto 3 they kinda got away with it because it was a watch aimed at a different crowd. But with the Suunto 5 that changes. They're competing against legit platforms of Polar Flow and Garmin Connect. Love 'em or hate 'em, they're a heck of a lot better than the non-Movescount platform Suunto is pushing now. And that's going to be a real legit problem going into the future.
Product Comparison:
Picking and choosing which devices you want to compare the Suunto 5 to is a funny exercise, as it depends on entirely which side of the equation you're coming from. For example, consider this:
Runner: Best compared to Garmin Forerunner 245 or Polar Vantage M, or COROS PACE
Triathlete: Best compared to Garmin Forerunner 735XT, Polar Vantage M, or COROS APEX/PACE
Hiking/Outdoors: Best compared to Garmin Instinct, Polar Vantage M, or COROS APEX
I suppose it's really the Garmin side of the house that shifts depending on what you want to do with it.
In any case, below is the complete product comparison chart. Remember though you can build your own comparison chart here in the product comparison tool – which is honestly your best bet in this case. Sure, I could add like 6 columns here, but then it looks like someone threw a container of pudding at a ceiling fan.
Again, don't forget you can make your own comparison charts in the product comparison tool here.
Wrap-Up: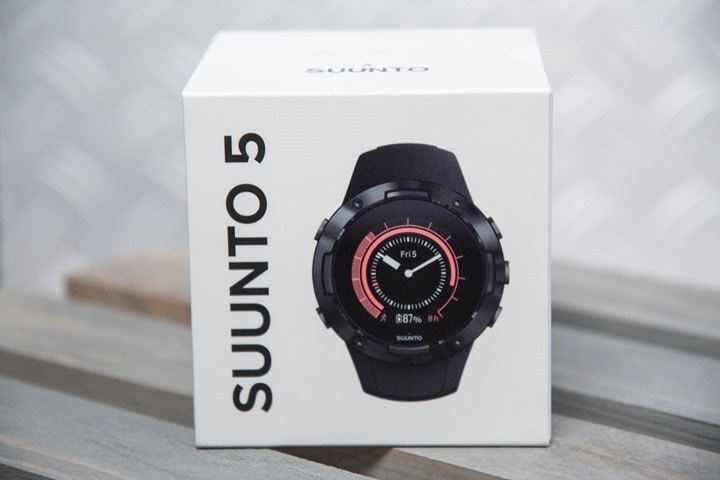 It's funny, long-time readers will know that the singular Suunto watch that I frequently run with is the Suunto Spartan Trainer, often using it as a reference unit. The reasons are somewhat two-fold. First, I like the small form factor – and in general it puts down good GPS tracks (mainly because of the satellite 'bump'). And second – it's without question Suunto's best-priced unit in a long time. At $279, it is/was spot-on. I'm a big fan of well priced mid-market GPS units.
So it won't take too much creativity to realize that the Suunto 5 basically takes that unit, adds a handful of things and continues the lineage (and thus in general my support for it).  The Suunto 5 is launching at $329, which is some $50 higher than the previous unit. However, this model includes a stainless steel bezel and mineral glass display (some Spartan Trainer models also had that, but at a higher price). One could argue perhaps not offering a lower priced plastic model to match the plastic Polar Vantage M at $279 might be a slight mistake. Just like they could argue that matching the Garmin Instinct at $299 (also plastic) might also be a slight pricing test. But I think that people wanting this watch will get it whether it's $270, $299 or $329.
From a GPS accuracy standpoint, initial testing is looking pretty good. This is using the Sony GPS chipset that everyone else is using, but more uniquely has the external satellite bump – which does increase GPS accuracy in most scenarios. Of course, it also decreases comfort and aesthetics. I guess nothing in life is free. For HR accuracy, it seems to continue to be a mixed bag. A trend I saw start on the Suunto 3 and has continued through the Suunto 9 to Suunto 5. I don't know why.
Ultimately though I think that the Suunto 5 should be a pretty good option within the multisport market, especially for someone not super fussed about a barometric altimeter or a bunch of super running focused metrics. More to come down the road in a full review after Suunto starts shipping (which is slated for the first week of June).