It's not really getting any warmer in our neck of the woods – though, it is at least getting slightly sunnier. So I'll take what we can get. Here's what I was up to the last few days. Sorry for the slightly late edition, had to ensure my post and video for tomorrow were done first. More on that…well…tomorrow.
1) Ikea DCR Cave Showroom
As anyone who came to the open house noticed – we have had one space in the DCR Cave upstairs that was built, but not yet furnished. It mostly served as a storage room for the last 5 months. Not hardcore storage like the crazy downstairs storage area, but just more casual. There was a leftover Ikea table in there, and in fact, one poor DCR reader who mistakenly showed up early got stuck cutting hundreds of vegetables alone in that room for a while.
However, I've been wanting to turn it into a bit of a recording spot and secondary work area. Sometimes I or The Girl need to make phone calls while the other is already on the phone, and the main workspace is a bit too echoey for that.  So…off to Ikea we went to make this little room less echoey.
We had ordered the couch online, so that came…well…about a month ago. But the rest of the shopping we needed to do in person. We used a car sharing service to go there, and then the remainder of the way back to the Cave we packed everything by bike: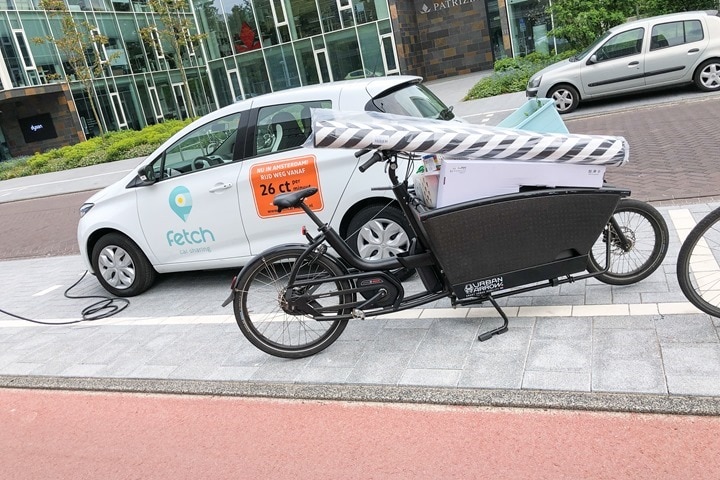 When all was said and done, literally everything in this room is from Ikea. The rug, the chair, the table, the couch, the lights (even the ceiling light), the curtains…and yes, the plant.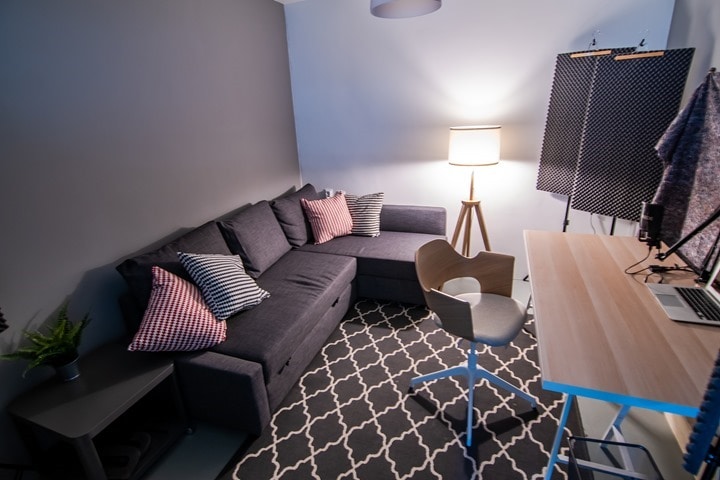 Actually, I bought a lot of plastic plants at Ikea. I use them all over the place. Both as decorative pieces in the Studio/Cave, but also in the background of piles of photos and videos.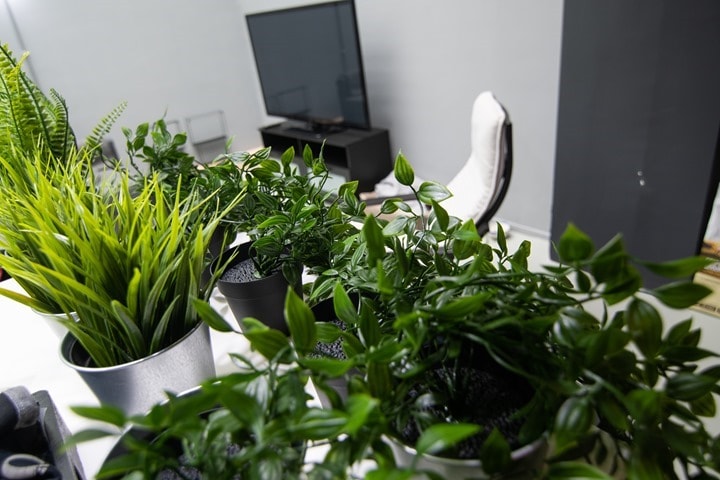 It's not done yet. We'll make the back wall look less spartan. And I've got some more curtains to hang on one wall to kill more sound. But, the audio sounds a heck of a lot better now. If you listened to the latest podcast episode we published over the weekend – I think it sounds pretty darn good! Oh, and it doesn't look half-bad either.
2) Windmills and Ice Cream
Saturday morning we headed out on the town. Or I guess more correctly – out of town. First there was horses, then goats, then fuzzy cows, and even some bunnies. And some ponies. Also known as: Just bumbling around bike paths in the Netherlands. We had no particular agenda in mind. Just enjoying the morning with the kiddos in the bike.
In the most round-about way possible we eventually stopped at a windmill not far from home (seriously, we created the biggest circle on earth) for ice cream.
There's also a cheese shop next door:
I've passed this windmill countless times when going out for legit road rides, as it's right alongside one of the most popular cycling routes for road riding in the greater Amsterdam area. It's also a rarity in that the windmill actually spins. And usually the ice cream shop at the base is packed.
Though on this morning, we had to wait 3 minutes for it to open for the day. Three minutes well worth waiting.
3) eTAP Batteries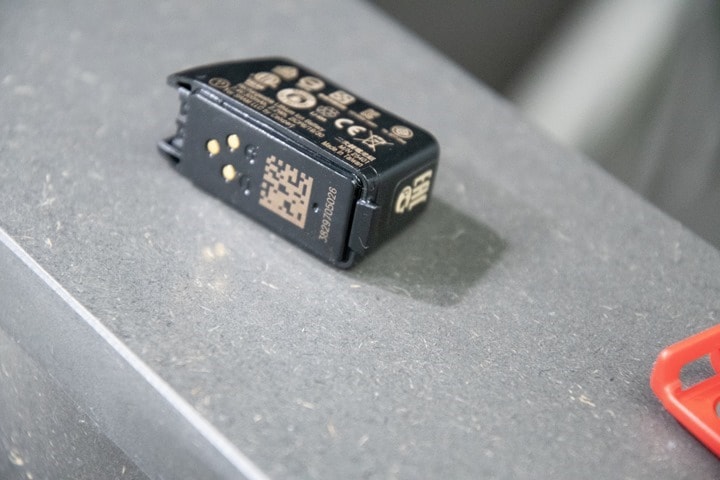 Remember way back when in February that ride where I somehow managed to break an eTAP battery tab? Well, the next day I simply charged up the battery fully and then taped it back on nice and tight. Then I forgot about it.
Given how much travel I've done and riding on other bikes I've done in the last three months, I hadn't really depleted a battery…until this past week. Wherein I found myself out for a 90 minute ride with no ability to shift (since…uhh…I had already depleted the other battery). No, really, there's zero reason for me to use my front derailleur on my rides.  Don't believe me? Look at a random ride in my account for shifting stats on Di2Stats.com: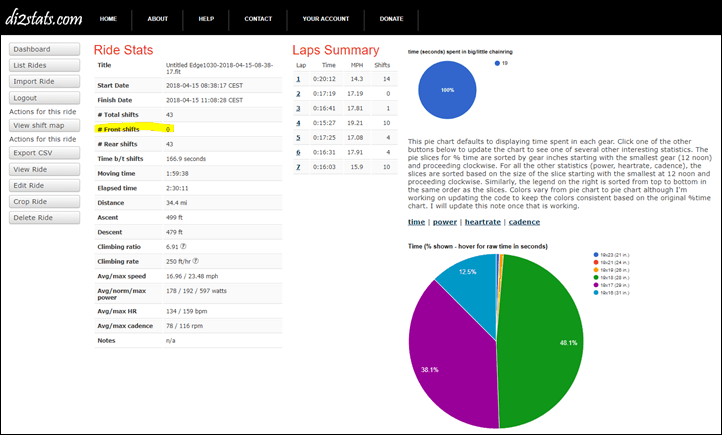 Yes, zero times. Even my rear shifting is rare here.
Here's another: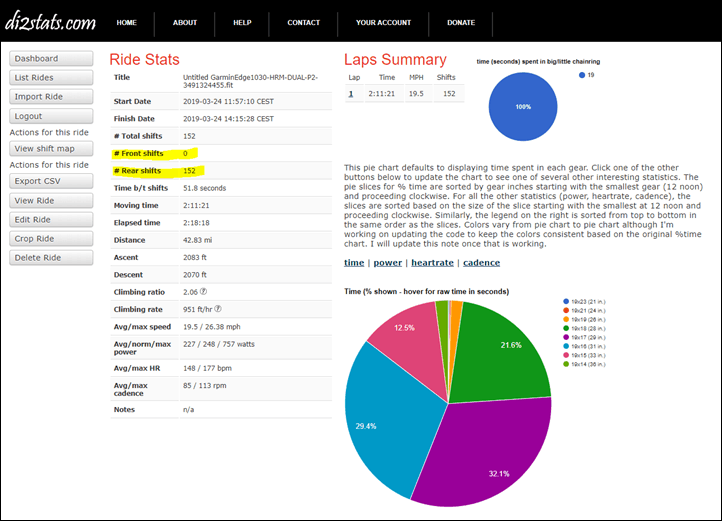 In any case, I tried using my previously taped battery and something isn't quite setting well again – so…yeah, time to get a new one for realz.
So I set out to get a battery replaced, which, turned out to be harder than I anticipated. Most bike shops don't actually stock them (something I learned in Cape Town when this originally happened) – so you have to special order them. And I did that, but somehow the order got delayed.
Thankfully my LBS (local bike shop) is awesome enough that while they didn't have an extra battery in stock, they did steal one from a $12,000 RED AXS equipped bike. Hopefully nobody needs to buy that bike in the next few days. #Winning(me)
4) Cycling to Swim:
No, I did not do a brick workout. Are you effin' crazy? It's freakin' cold out here. This country did not yet unlock the 'Warm spring' achievement yet.
It be indoor swims only right now. And a weekend? That means the whole family is going: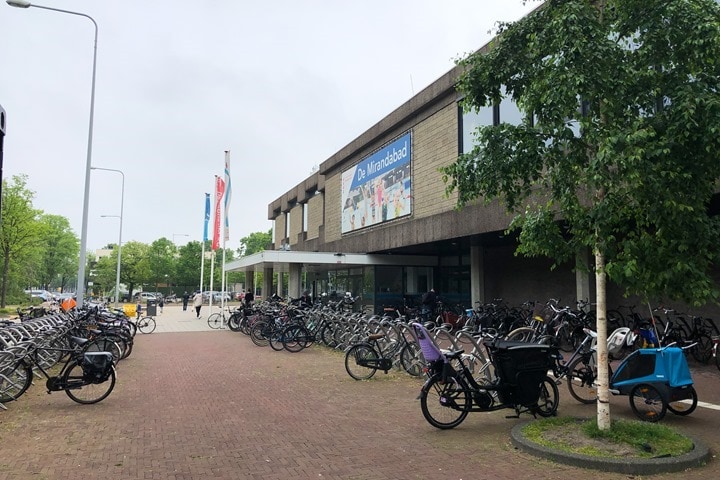 Unfortunately, this swim facility doesn't allow cameras/photos inside (at least in the main kids area), so no pics there.  Though, I can't wait to use the pool for other workouts. They've got both a large indoor lap lane pool and at least one outdoor 50m lap pool that's heated. And, it seems to be less than 10 minutes from the DCR Cave. Plus, I only counted a max of four people per lane – a huge upgrade over my Parisian pools with 10-19 people per lane!
Though, I guess this does mean I have no excuse to get more swims in now (most of my pool swims I've been doing while travelling to nice warm pools elsewhere in the world). Which is fine, I've got some swim gadgets to test anyway.
5) A Family Run & Ride:
Sunday evening before calling the weekend done we went out for a run and ride. I was running, everyone else was riding. Or, along for the ride. I didn't have an exact distance in mind. I figured 10KM would be nice as a pre-dinner run, but it'd honestly depend on both peanuts cooperating. I figured the older peanut (P1) would fall asleep pretty quickly, while the younger P2 had napped already. My guess was under 5 minutes from crossing into Vondelpark. I'm not sure exactly when we lost contact with P1, but by the 10-minute marker I looked at my watch and she was out: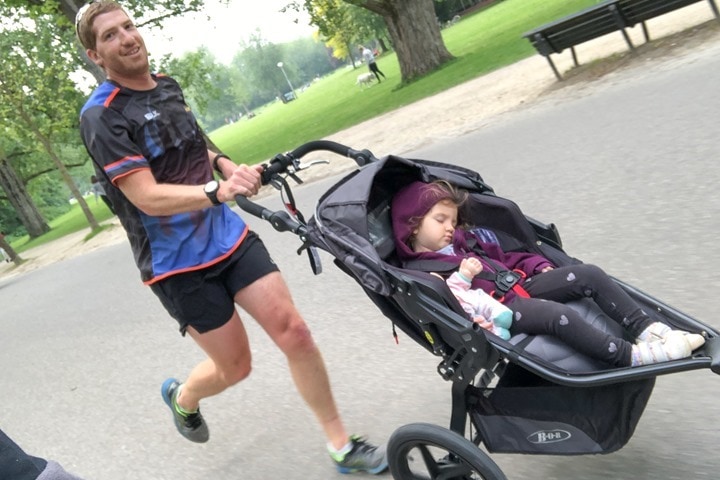 Meanwhile, P2 was happy as a clam on the front of the bike:
The Girl was riding alongside, and we were singing Baby Shark the vast majority of the time: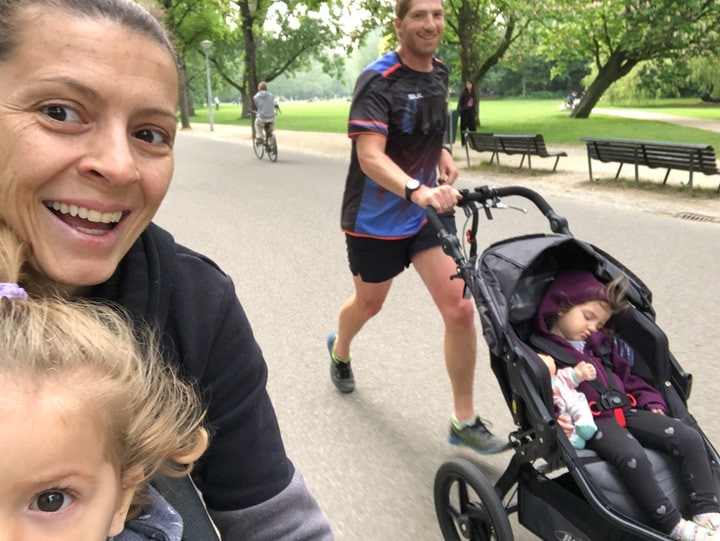 We did one loop through the Rijksmuseum as well. Sometimes it's a bit of a mess there with the crowds, but it wasn't too bad this time.  In fact, on this particular Sunday, it was probably slightly less busy than Vondelpark was in some areas.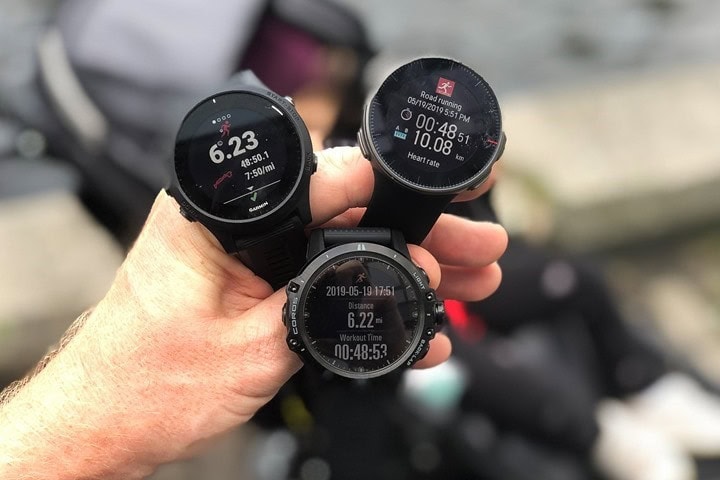 All in all I got in a near-perfect 10KM cruisin' along run. I was also testing some watches too of course, including what I understand to be the final production COROS Vertix unit, alongside a Polar Vantage V (connected to the OH1+) and a Garmin Forerunner 945 (connected to the HRM-DUAL). I've pretty much converted into using those two accessory HR sensors as my baseline for testing lately. They just work…and work really well. Here's the GPS track: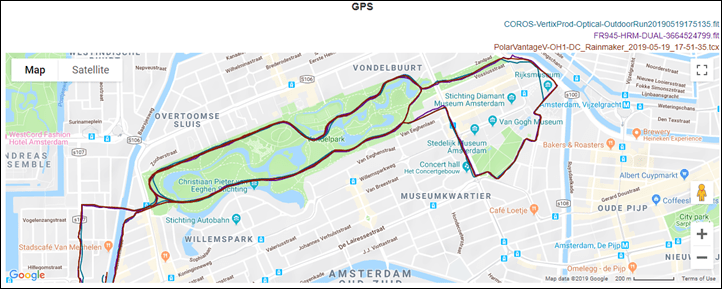 The COROS stumbled in the exact same spot as the previous unit I had did – coming out of the tunnel under the museum.

It appears to struggle to gain satellite lock back again there. The others did fine. The rest of the run the units were closer, though still a bit soft on the curves on the Vertix. I think COROS still has a few weeks left, so I suspect we'll continue to see tweaks here.
And here's the HR graph:

Or, you can look at the full graph set in the DCR Analyzer here.
—
With that – more to come on all sorts of fronts this week. Good times ahead. Hey, maybe even another trip to Ikea. I'd love me some Ikea meatballs.
Thanks for reading!