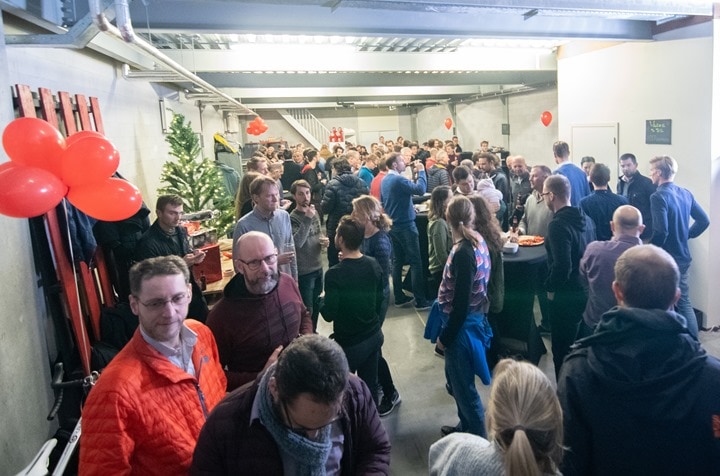 This past Saturday was the 5th annual DCR Open House, and most notably – the first time I've shown off the new DCR Amsterdam Cave. A spot that the construction crews finished moving out most of their tools around 1AM the night prior. When we say the paint was still drying…we truly do mean it!
It was also staggeringly bigger than any past DCR Open House. Nearly 200 folks showed up for the big event (with still more on the waitlist), with over 50 people showing up for the run. Holy cow! We never expected anything that big, and around the 200 person marker we might need a much bigger beer transport device than our cargo bike.  But more on that later!
The Morning Run:
First up on the day was the annual tradition of the morning run. The folks at All4running, a local running shop, offered their spot as both a starting point but also a place for everyone to store their gear. We had initially thought of having a friend stay with our cargo bike and people could stash stuff there. But then once the numbers soared to 50+ confirmed runners and a pile of 'maybe's, we realized our bike wasn't exactly going to be big enough.  Thankfully, their store was: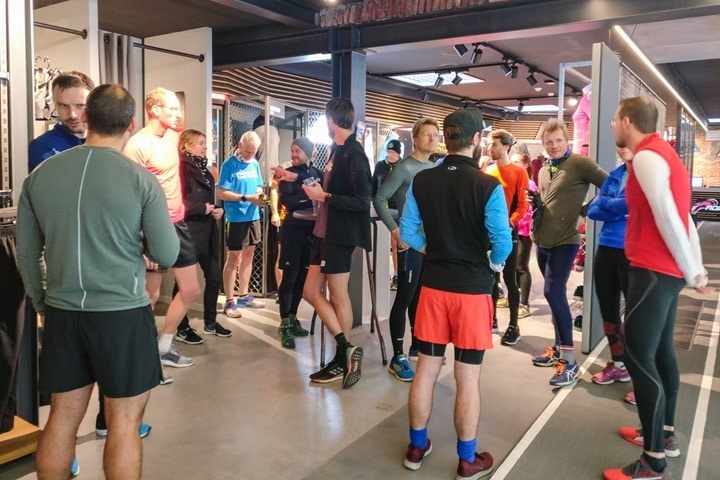 Plus, they had drinks and such both before and after, as well as lockers and a place to change. Oh, and even a nifty running track in case we just decided to give up entirely due to weather: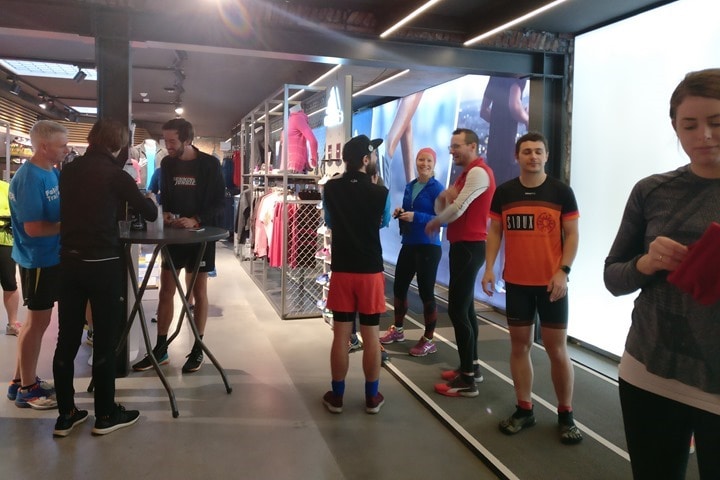 Thankfully though, the weather turned out quite stunning. So after our quick photo session out-front, it was into Vondelpark to begin the run: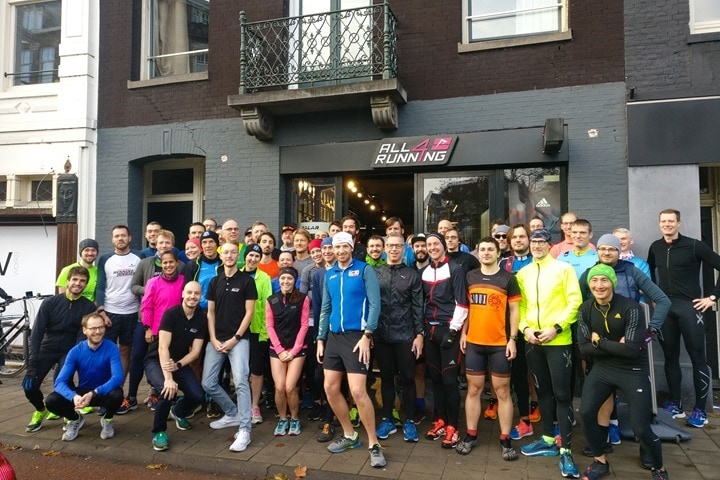 We kept everyone together as one big group, rather than splitting it up. This worked out well, though did somewhat limit our routes simply because of the size of the group. Still, being a quiet winter weekend morning meant that we weren't battling too many others out there.
About 10-15 minutes into the run we made a quick stop at the IAmsterdam sign.  This was notable not because of its famed status, but because a day later, it'd be gone. The city has removed the permanent sign, though, the 'travelling' variants of it will remain popping up at events and such in the city.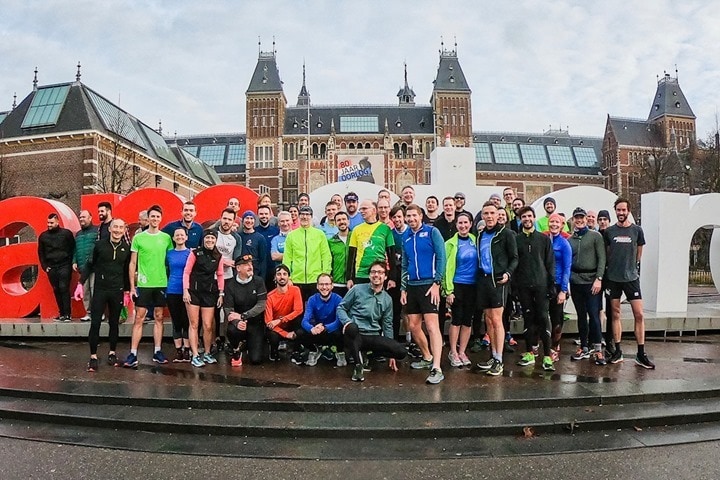 From there it was onto various side streets and canals as we worked our way across the city: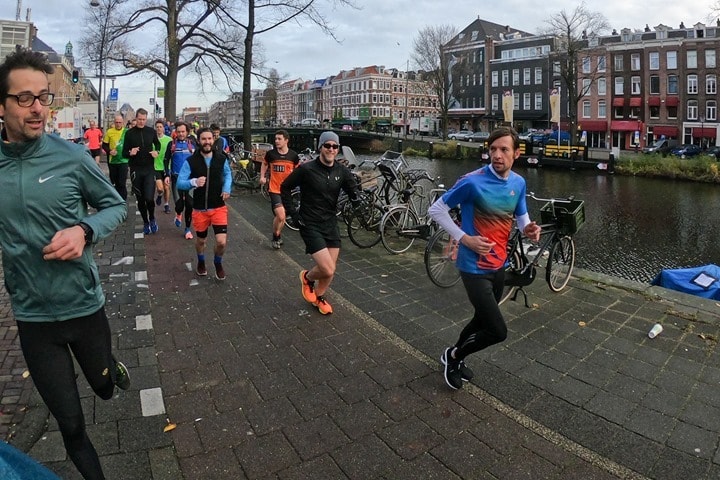 Shane and Von were taking up the back as well, and getting photos and video snippets by bike.  About 30 or so minutes into the run we approached the gates of Olympic Stadium, where a beautiful track sits inside.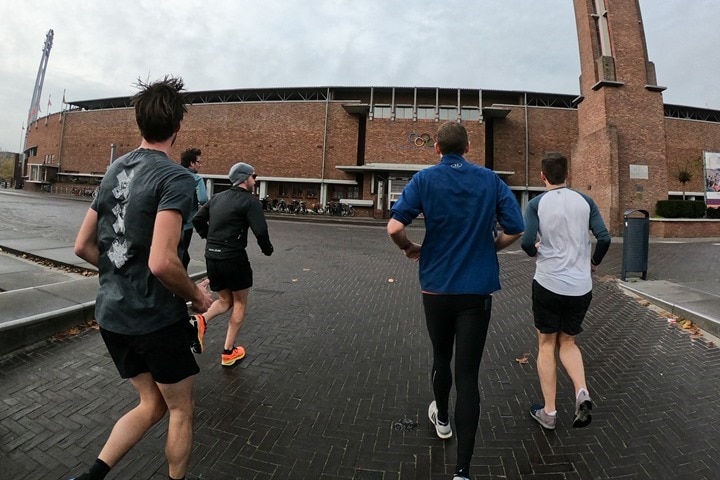 Luckily, we had connections! A member of our group had keys to get inside and do a quick lap of the track. Super cool!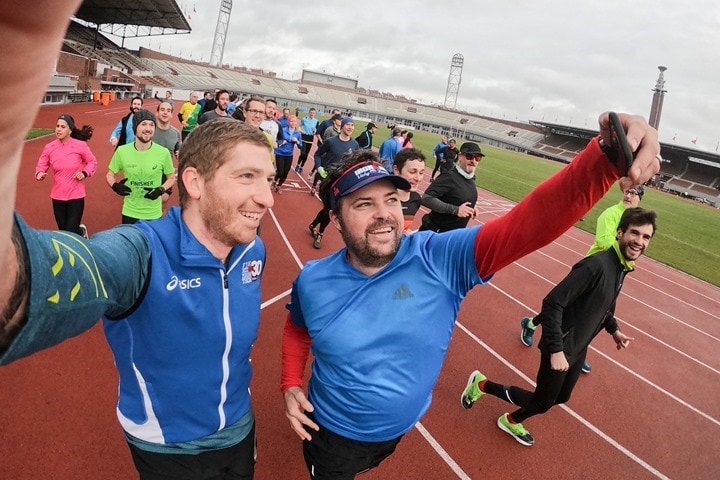 Yes, that's The Girl down below deciding to start sprinting on the inside lane past all of us. Because…The Girl.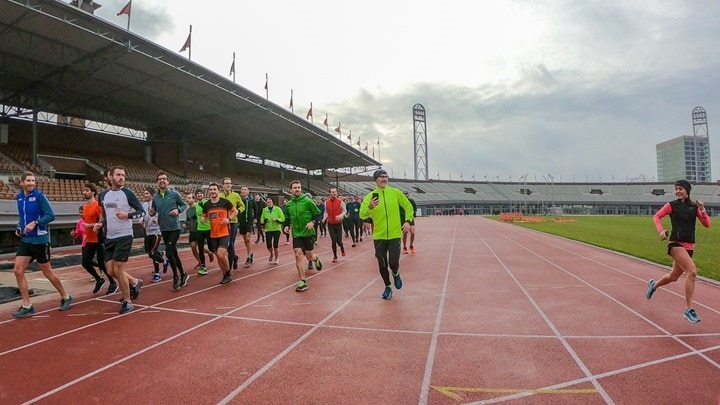 After we finished up at the stadium we headed the kilometer or so back to the running store where they had some drinks and other edible goodies waiting.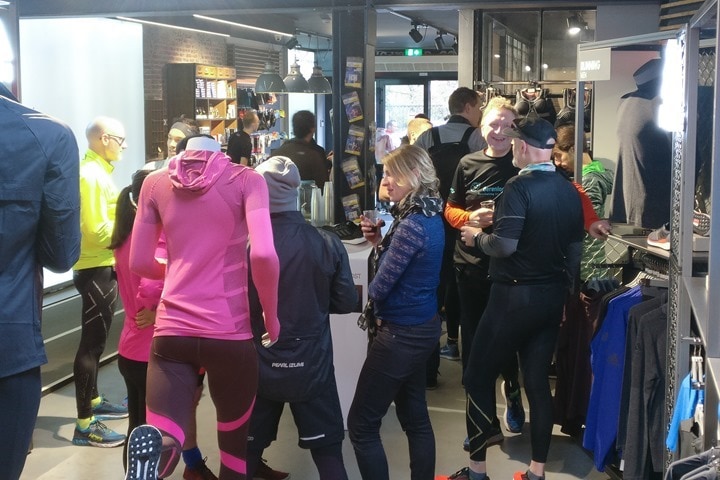 Thanks to everyone who came out and ran. Luckily we got reasonably good weather this year, so that certainly made it easier. Here's a map of the Strava route as well for those that are curious.
The DCR Open House:
Once we left the run it was straight to the industrial tools rental place to rent a large floor washing machine. I believe there's a clip of it in Lama's video down below. Then we had about 7 hours of frantic cleaning, sorting, and generally making the place look passable for the night. Exciting stuff like printing off signs to indicate a toilet was behind a mysterious door and ensuring said toilet was cleaned and stocked with toilet paper.
Shane (GPLAMA), Des (DesFit), Von (GPLAMA's The Girl), and The Girl were all throwing down all on the cleaning front. Preparing bikes, hanging decorations, endless dust cleaning, and sorting last minute gadgets were on all the docket. And this crew nailed it!  Unfortunately, with all of that craziness I didn't take any photos prior to the start of the event. Heck, I don't even remember the start of the night – the door got opened and all of a sudden there were people as I was hanging things up. Eeks!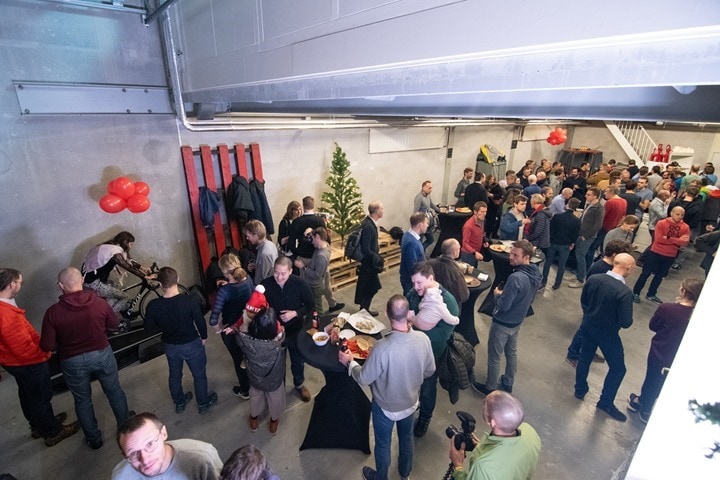 Oh – and one reader, Johan, made the mistake of coming about 20 minutes early. He got assigned vegetable duty. Hundreds of pieces of chopped vegetables, so many vegetables. Poor guy sat alone in a storage closet chopping them all. You're awesome Johan!
Now, I'll be doing a full DCR Amsterdam Cave post and video in the very near future to run down everything that's there.  But for now the general gist of the setup was slightly different of course, given it's a party accommodating 200 people. Essentially the DCR Cave is a large industrial space split into two levels. The downstairs is as barebones as you get, whereas the upstairs is where the bulk of the DCR gear and testing/shooting/editing/etc occurs.
For downstairs, we had set up various stations for folks to check out and try things.  For example the CycleOps Rocker Plate thing, and the KICKR + KICKR CLIMB setups: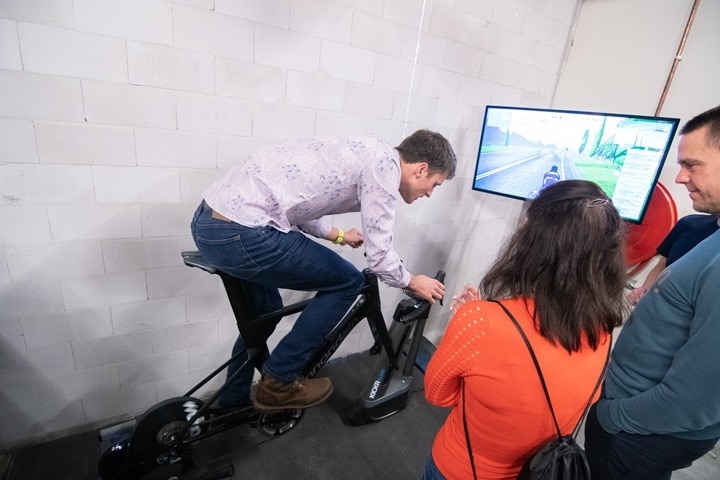 In the back, we had a portion of my trainer collection placed up on pallets. I use pallets for lots of things around the Cave, but that's probably a discussion for another time.
We had high-top tables set up everywhere, and in the back we had The Girl (as well as Von) as the bartender. With over 800 servings of alcohol, they were kept busy!  The Girl did an amazing job of organizing all of the food/beverage logistics of the party. You can see a few photos of that within the overview video below.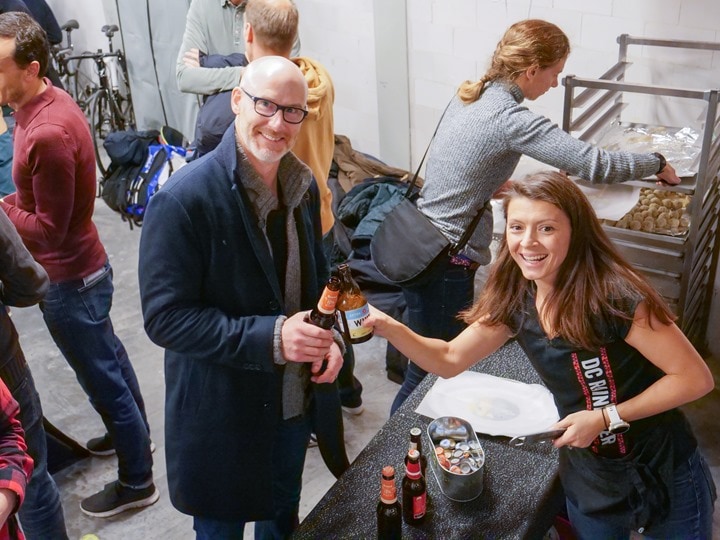 Oh, but the real goods were upstairs I suppose. That's where my main studio is. In that, we had the Tacx Neo 2 and Tacx Neo Smart Bike setup, as well as a Kinetic Rock & Roll 2018 trainer and an Elite Zumo trainer.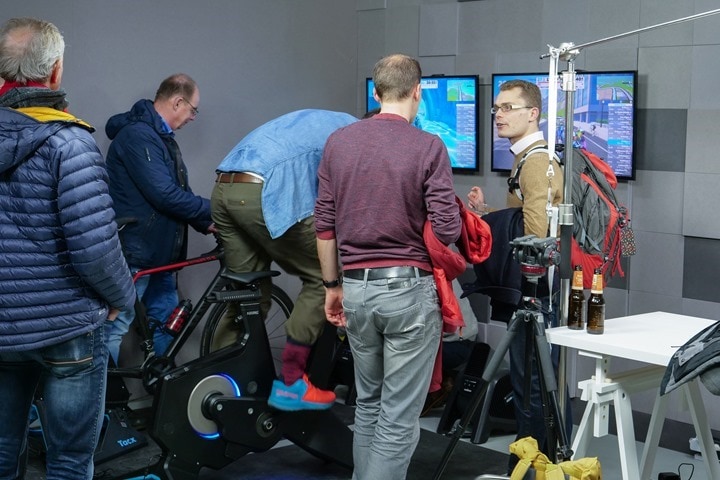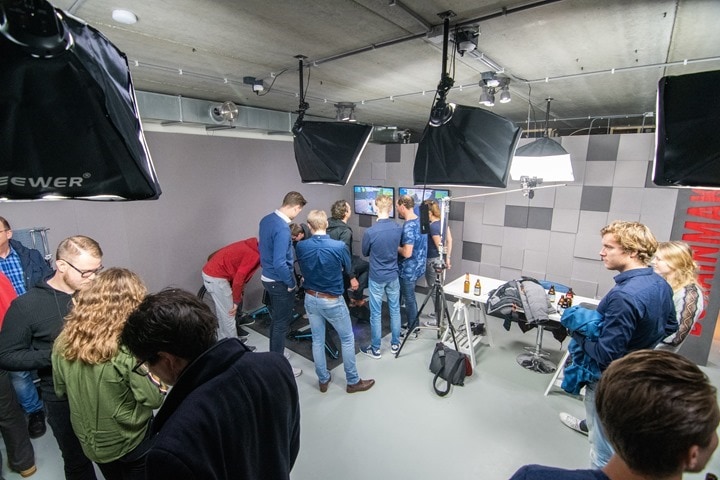 Down the hall a bit was the storage room with all of the gadgets. This isn't quite finished yet in terms of unpacking, but a huge shout-out to Des here in making the mad scramble to get many more boxes unpacked and cleaned in the hours leading up (many, many hours). You'll see a bit of a snippet of that in Shane's video as well.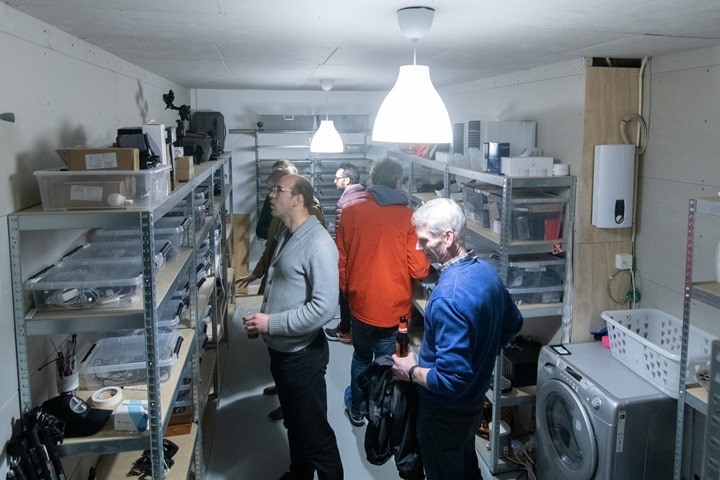 And finally in the back we have the kitchen, offices, and a couch. People used that as a bit of a lounging/reprieve from all the craziness elsewhere.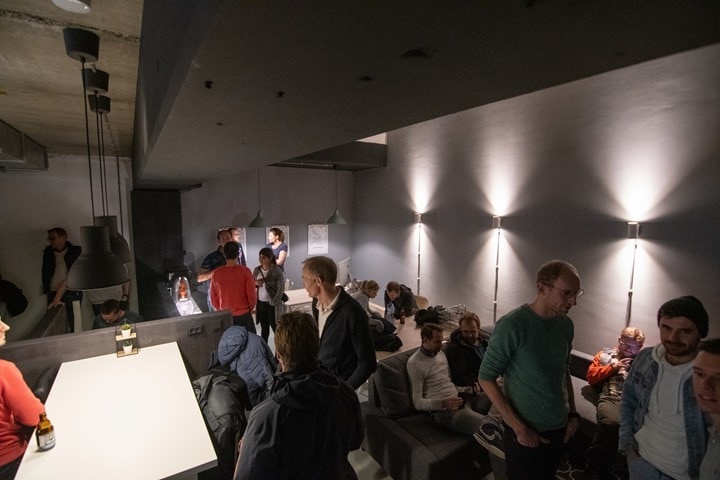 Also, it's where I happened to answer a lot of questions: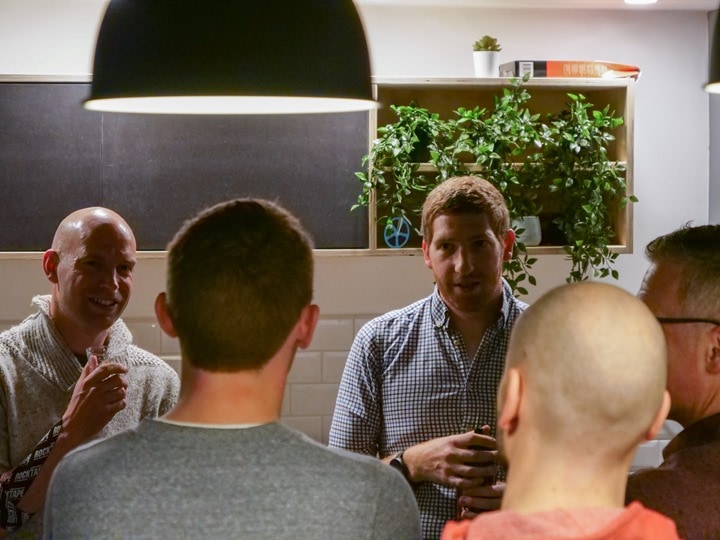 Meanwhile, around 9:30PM or so I did a bit of a Q&A. GPLAMA came up with the idea, and it worked out really well.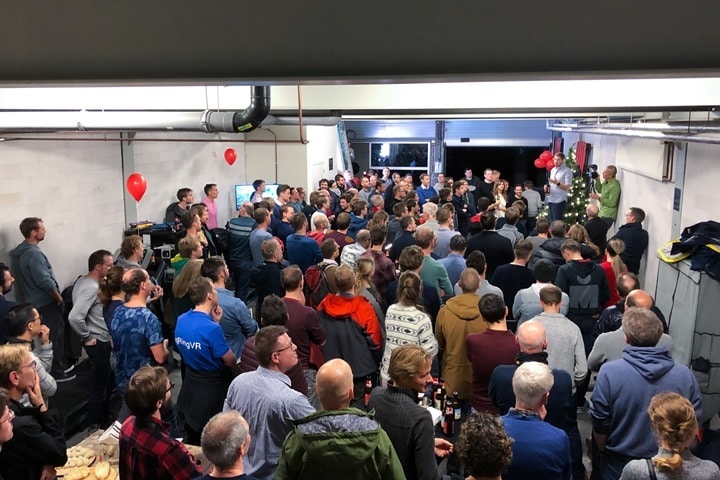 You can see a few of the questions in the overview video down at the bottom.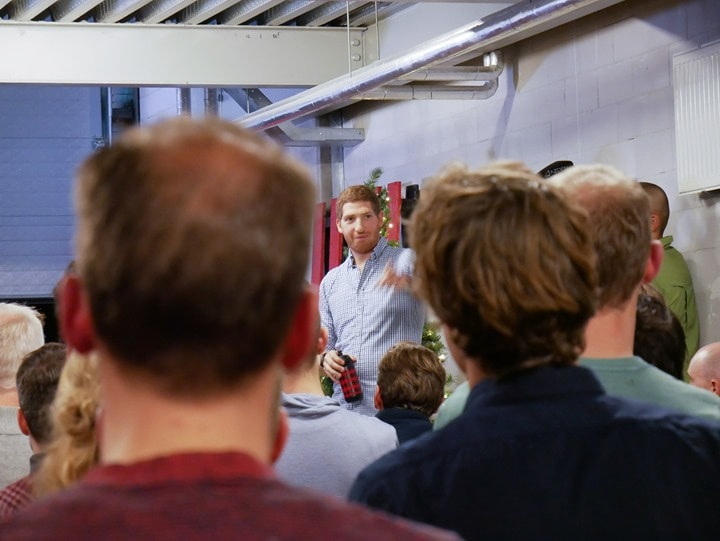 I think it lasted maybe 25-30 minutes? I'm not sure – it lasted until my voice was starting to die.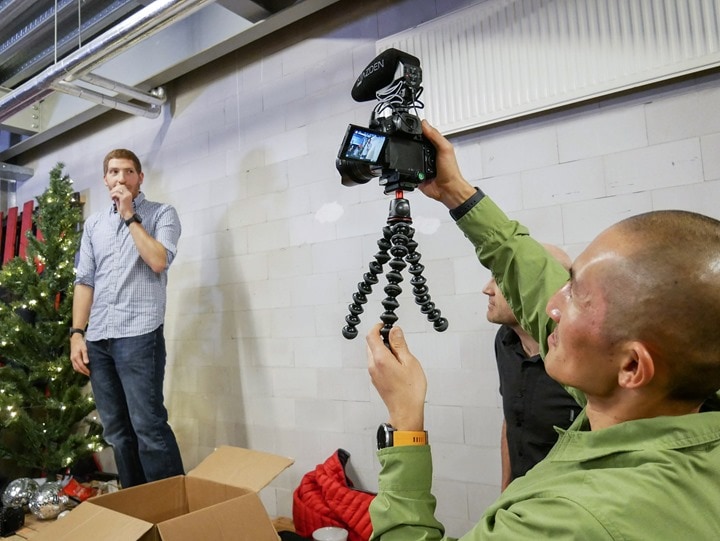 After that it was time for a grand giveaway. Clever Training had sent over a huge box full of all sorts of things. This included a boatload of t-shirts, but also watches like the Garmin Forerunner 35 and Fenix 5 Plus. So we gave away a ton of stuff for a while.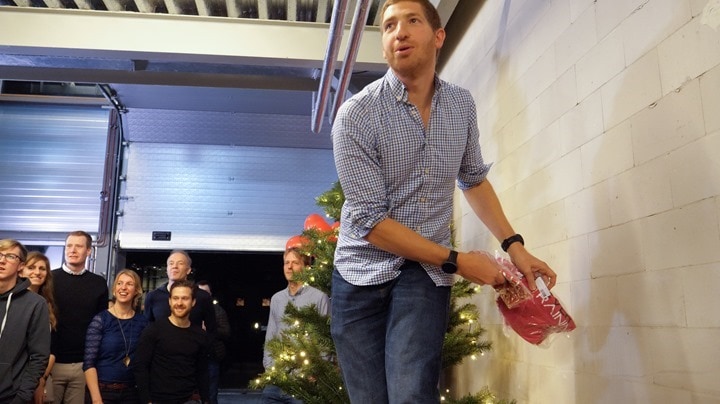 And then The Girl reminded me that I had more stuff upstairs that she set aside to giveaway, so while I fetched that, she answered some questions too.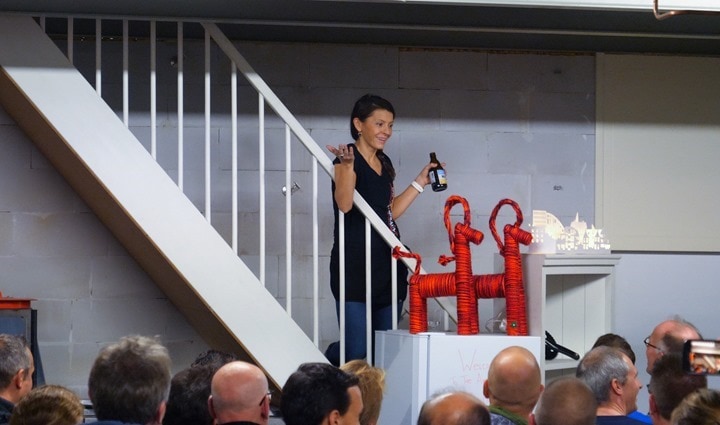 After which, it was back to drinking beer and playing with sports tech. Folks stayed till around 1:30-1:45AM – mostly as the beer supply started to dwindle.  As an aside, I did find it cool how many people came by bike. Early in the evening before the peak, I snuck out and shot this photo outside: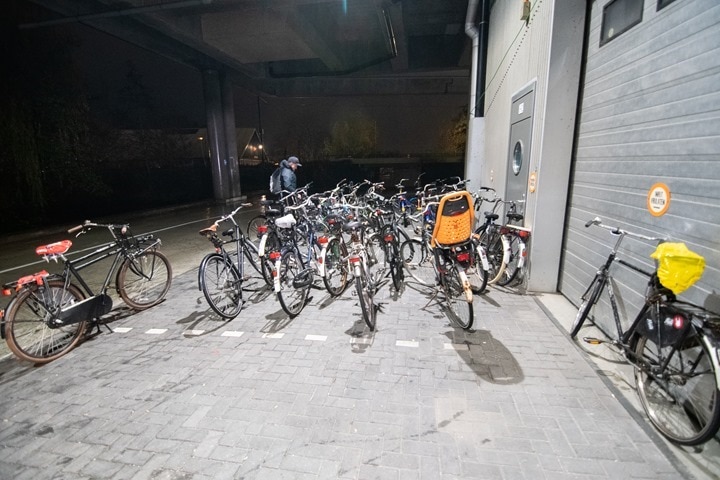 There were smaller piles of bikes parked here and there not in this main section as well though.
But – no matter how people came, I really want to thank everyone for coming out for the event. Folks flew in from all around the world – well beyond the typical pedaling range of Amsterdam. Many people came in from the UK, one man from Ukraine, numerous from Germany, France, Belgium, and of course Australia (GPLAMA) and the US (DesFit).
Speaking of which, both guys put together some cool videos. First up is DesFit's video – which he did 100% of the work on, and then handed over to me to publish on my channel. It's a complete overview of the morning run and the night. If you haven't subscribed to DesFit's channel – you should absolutely do so. Tons of cool sports tech content, especially wearables and cycling.
And then Shane (GPLAMA) put together a preview walk-through of the DCR Cave about 90 minutes before the open house. You can still see us all working as efficiently as possible to set things up before everyone arrived.
Totally awesome – and actually some pretty hilarious little snippets in there.
Oh, and I leave you with a pic of Harry and I. He's made it to 4 out of 5 DCR Open Houses AND Open House Runners – the current record holder!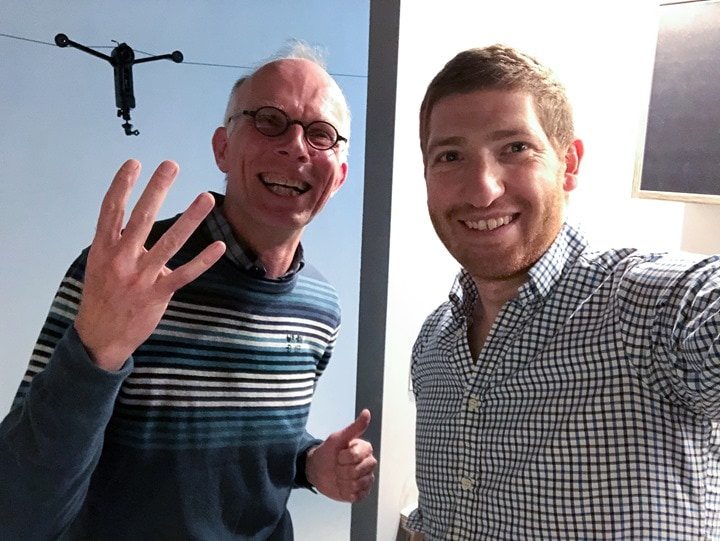 But again – a huge thanks to everyone that showed up, we really appreciate it.  And we look forward to seeing everyone again next year!
(P.S. – Huge thanks for many of the pics here to Des, The Girl, Tim, David, and Shane. I managed to take like 5 photos the night of, so without their collective photos, this post wouldn't have happened.)