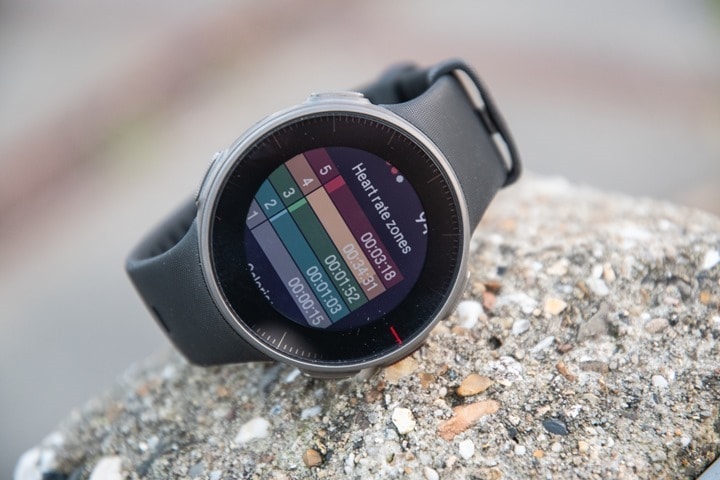 It's been four months since Polar announced their new Vantage series of multisport watches. This series is currently comprised of two watches, the Vantage V and Vantage M. The V is the higher end multisport watch, meant to be a direct replacement of the nearly 5-year old V800.  While the Vantage M focuses on the mid-range, and carves out a bit of a new segment for Polar, it is meant to compete with Suunto's Spartan Trainer Wrist HR, as well as undercut Garmin a bit in the multisport game.
The two units are incredibly similar, both from a design and functionality standpoint. Despite that, this review will be focused on the Vantage V from a data collection standpoint. Said differently: I've just done the vast majority of the workouts with the Vantage V as opposed to the Vantage M. I will note however in this review when there are V-only features that don't apply to the M.  By and large most people are finding similar performance between the M and V units from an accuracy standpoint. Still, I'll likely aim to do a Vantage M focused review later next month (which also coincides with travel to warmer locales where getting more openwater swim testing is viable again).
In any case, once I'm done with these reviews I'll be shooting Polar back the small collection of media loaner Vantage V & M watches I have, and going out and getting my own through normal retail channels. Additionally, while I have data stretching as far back as early September, this review accounts for features in the watch as of the latest firmware update two days ago (and includes tests on that firmware as well).
What's new: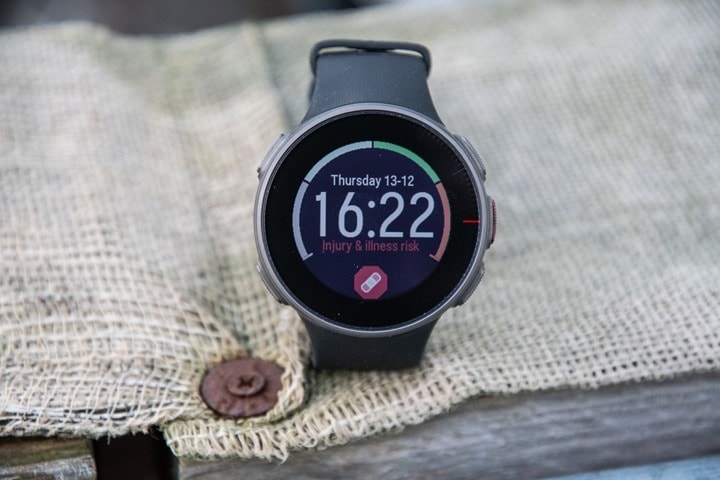 If you already know what's new in the Vantage series, then you can likely skip this section. Whereas if you're just walking up to the bar, then this is a good place to start understanding the unit.
I always like condensing everything down into a single bulleted section of newness. It helps you filter the cool stuff from the marketing fluff.  So let's dive straight away into it. Fear not, down below in the 'overview' section I go through things in more detail too.  Note I'm looking at the 'what's new' from the perspective primarily of the V800 (its predecessor).  Also, this list is specifically for the Vantage V:
– Addition of optical heart rate sensor (both for workouts and 24×7 HR)
– Added electronic skin-contact sensor to validate a human is attached to watch
– Added color touchscreen, still retains buttons for all athletic functions
– Changed GPS chipset maker to that of Sony (same as what Suunto 9 uses)
– Changed max GPS-battery life to 40-hours 1-second recording with optical HR too
– Added running power from the wrist (no sensors required)
– Added new training load metrics (cardio/muscle/perceived stats)
– Added new 'Recovery Pro' metrics (daily recovery, training, and balance stats) – requires H6/H7 or H10 chest strap.
– Added both segmented real-time and post-processing of optical HR data to fix quirks (I'll explain later)
– Made watch round, from rectangular shape previously
– Reduced weight of watch from 79g to 66g
The price is $499USD/EUR for the base models in orange, white, or black. It's $549USD/EUR for the bundle with the Polar H10 HR chest strap.
When it comes to the Vantage M, here's the core differences to the Vantage V:
– No barometric altimeter
– No native running power, as it lacks a barometric altimeter (still works with 3rd party running power like Stryd though)
– GPS 1-second battery down to 30 hours instead of 40 hours (but seriously, that's still incredible)
– Added swappable straps using industry standard quick release bands (the Vantage V doesn't have this)
– Not a touch-screen, just buttons only
– No Recovery Pro metrics (but does have other training load metrics)
– Weight is a mere 45g instead of 66g for Vantage V
That's priced at $279USD/EUR. That's priced well, though it's also on-par price-wise with the Suunto Spartan Trainer Wrist HR.  In talking with Polar – they were eyeing that watch as their main competitor in this space for the Vantage M.
But it's not all bubbles and rainbows. The following features aren't available on the Vantage V/M series (but were previously found on the predecessor Polar V800), but are slated to be re-added by the end of February 2019 through a handful of scheduled updates:
– Smartphone notifications (I.e. call/text notifications)
– Back to start navigation
– Route Guidance for waypoint navigation of downloaded routes (Vantage V only)
Meanwhile, the following features are slated to be added, but no timeline has been specified:
– Fitness test functionality
– Strava Segments
The following features also were on the V800, but aren't on the Vantage series. There's no specific/current plans to re-implement in the Vantage series:
– GoPro Action Cam Control
– Reduced GPS recording rate activities (I.e. beyond 40hrs of GPS time, the V800 also supported a reduced recording rate to 50hrs)
– No longer an option to use HR strap while swimming, only optical HR sensor [Older 5hz straps no longer supported]
Phew, got all that? Good, time to get the unit unboxed.
Unboxing: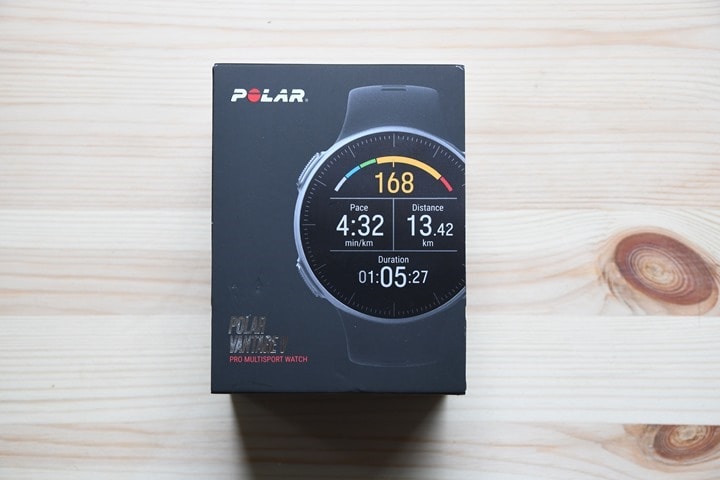 The Polar Vantage V comes in three colors: White, Black, or Orange. And within that, two editions: With or without the Polar H10 heart rate strap. While normally I'm not a huge fan of HR strap bundles, this is a rare scenario where given most of the Vantage V specific features depend on the H10 heart rate strap, you probably want that.
Once you slip out the protective sleeve, here's what lies inside: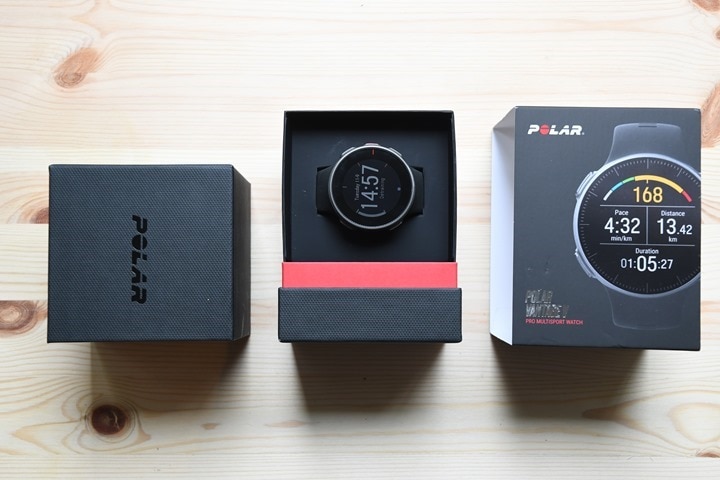 Below that you'll find a small tray full of bits, including the charging cable, Polar H10 strap and transmitter pod, and the Vantage V watch itself.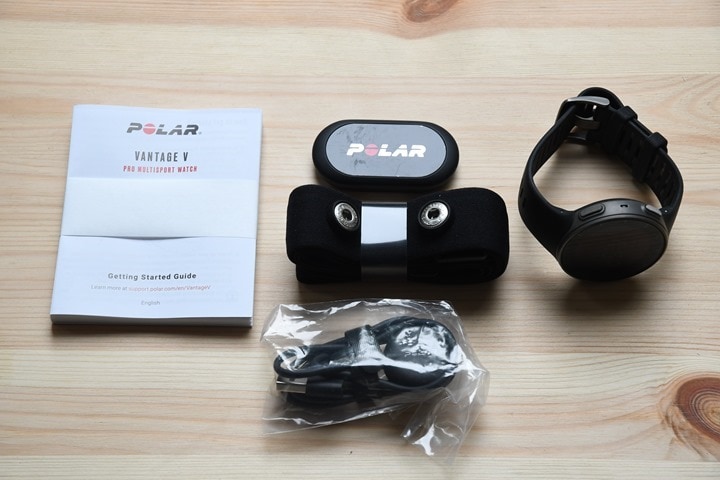 There's a small getting started guide in there, though realistically you won't need it after this post: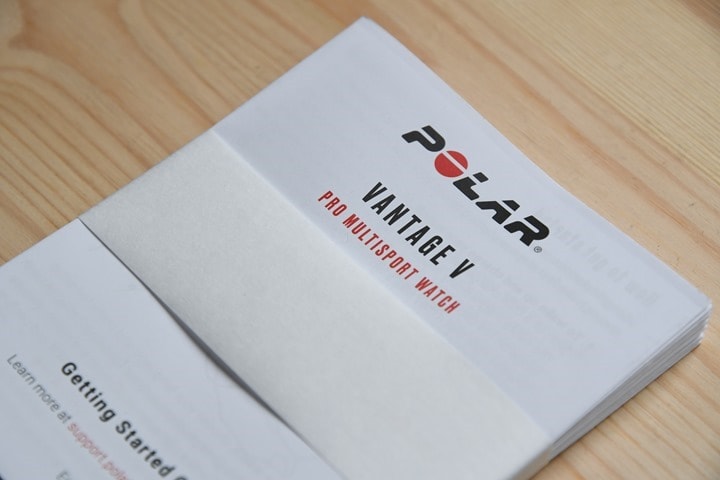 The Polar H10 chest strap is the same as sold separately. Of course the Vantage series watch has an optical HR sensor on the bottom of it, but the H10 is used for the orthostatic test, which helps with recovery details.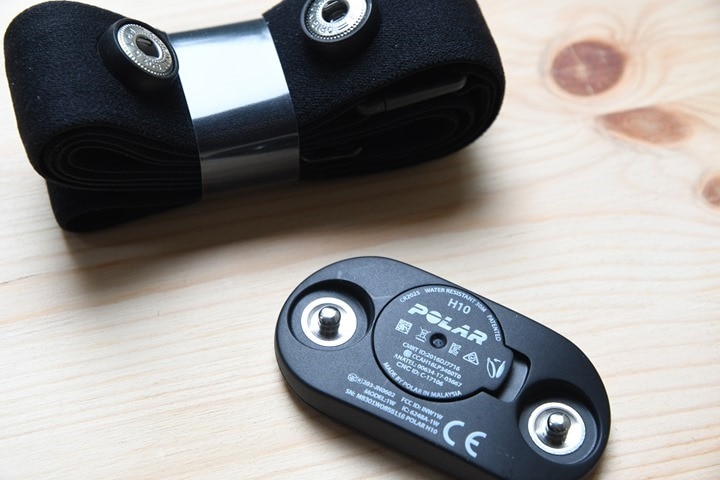 The charging cable is unique on the Vantage series compared to other Polar devices, and has four small charging connectors that magnetically attach.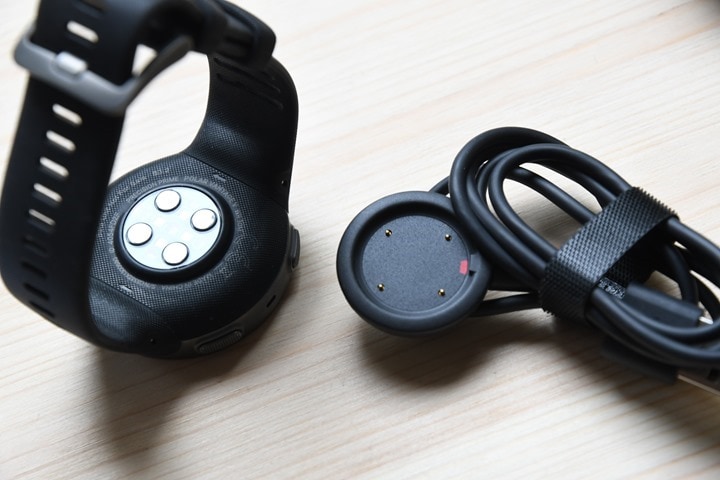 With the box contents out of the way, let's dive straight into using it.
The Basics: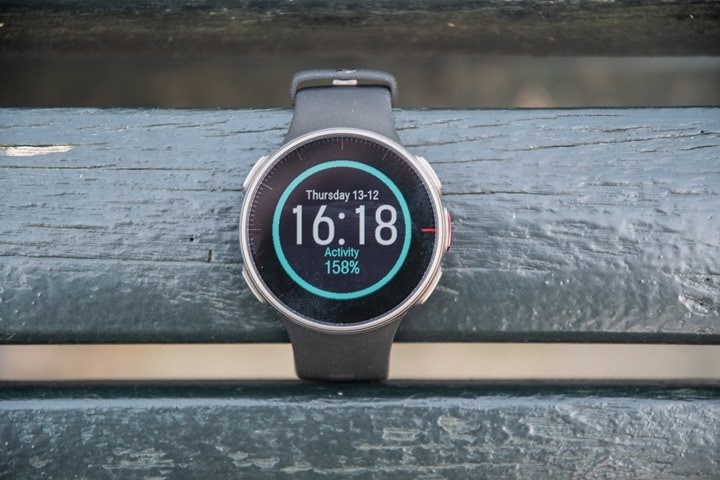 So let's get right into things, starting with the touchscreen of the Vantage V. From a practical standpoint there's no screen menu differences between the Vantage V and Vantage M. The only difference is you can't control the Vantage M by the screen as it doesn't have a touchscreen. Plus of course the smaller battery and lack of some metrics I'll call out when I get to them. But otherwise, it all feels the same. The button layouts are the same on both watches, and the menu interactions using those are also the same.
In general, I've preferred using the buttons over the touchscreen. It's not a knock to the touchscreen per se, but it's just faster for me to use buttons.  You can swipe through menus using touchscreen or buttons, and to enter a menu using the touchscreen you'll double-tap it. Responsiveness of either option is mostly so-so. It's definitely not the fastest smartwatch I've tested. I wouldn't say it's the slowest, but it's definitely slower than most of its competitors.
Since we chatted buttons we should at least talk hardware for a moment. The buttons have a pretty nice etching in them, as does the rest of the band of the Vantage V (below on the black unit). The Vantage M buttons (below on the white unit) are a bit more simplistic.  But again, I really like the Vantage V button design.
Meanwhile, as the Vantage M doesn't have the swanky etching pattern, it does make up for it by having swappable straps. They use standard watch quick release straps. That's oddly a feature the Vantage V lacks.  Speaking of which, Polar is selling a few straps of their own, and I think the grey one actually looks pretty nice.  The orange is very Strava/Zwift-esque.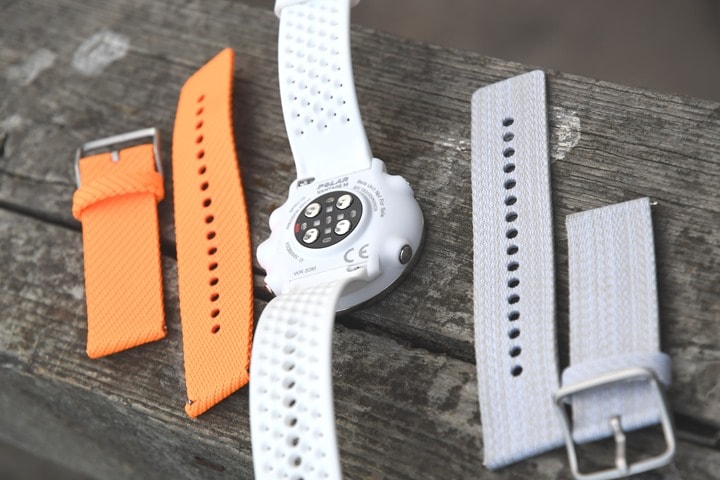 Back on the watch, you can swipe to access the different watch face dashboards. One for activity, another for training load, past workouts, and heart rate.  In the case of the Vantage M, you use the up/down buttons to access these.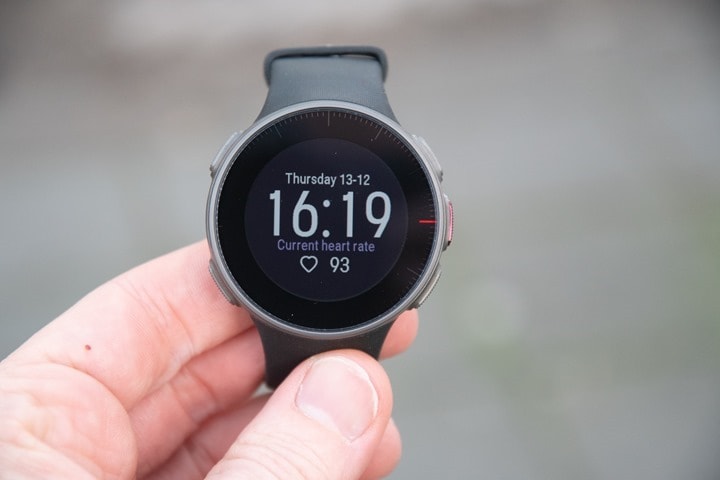 You can dive into each of these by pressing the button. For example, here's the new training load status. This includes your cardio training load, but will also include your muscle load and perceived effort as well. You can also double-tap the screen instead of button pressing, if touchy-feeling screen stuff is your thing.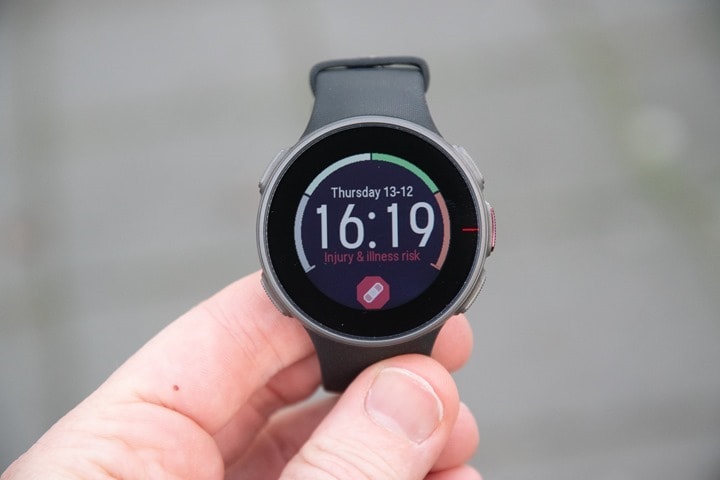 But I'll dive more into the training load/recovery bits in later sections of this review. Let's shift back to some more watch basics pieces first. Being an activity tracker, it'll track most of the metrics you'd expect. That includes steps, % against daily goal, calories, and 'active time'.  Oddly however, you can't see on the watch your distance walked per day or stairs – both common attributes found in inexpensive activity trackers.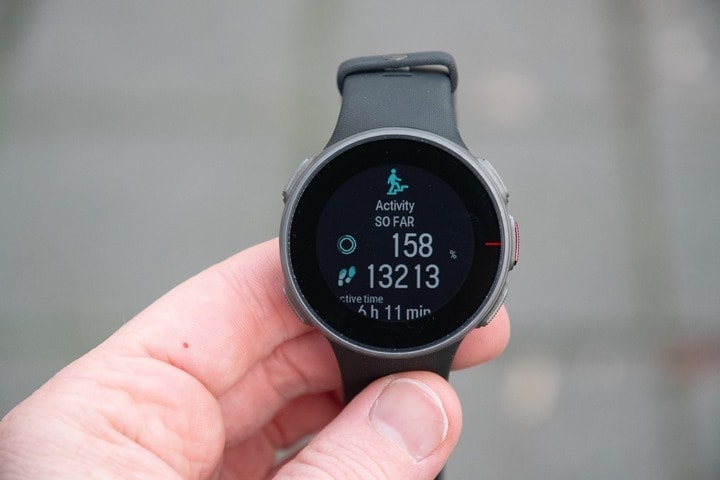 You can see the distance metrics over on Polar Flow – desktop or mobile apps. Though, I'm not terribly clear where that total miles walked metrics is coming from. Seems to be a minor math error there in terms of time. It doesn't match my 30-day totals for distance, nor does the summary 'active time' match anything except maybe the last 24 hours. But those are minor things and most platforms seem to have quirks like this, it's just that I happened to notice this one since it's a long-ass way to walk.

You can see steps and such (distance inclusive) in the mobile app as well:
It's here you can see your entire day from an activity standpoint, as well as any inactivity stamps. Though oddly, despite often sitting for hours straight with the watch on (as I am this very moment writing this), I've yet to get an inactivity stamp.
As part of this, you can enable continuous HR tracking. Polar leverages that massive block of optical HR sensors on the back of the unit to do that. Well, actually, they leverage a portion of them for continuous tracking, and the remainder for sport tracking:
And now's a good time to talk about that beast of an optical HR sensor. I'd love to have sat in on the conversations on the design of this one. It's got 9, yes 9 LED's on it. It's got four sets of dual red/green LED's, followed by an extra green. And technically, I just lied to you. There's also an orange LED in there too (absolute center pairing) – making that 10 LED's. But the orange one isn't used at this point and Polar isn't seeing the benefit to enabling it based on their testing to date.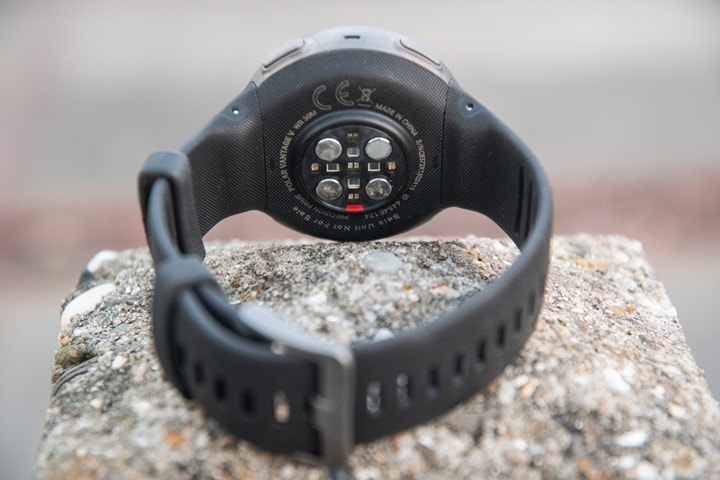 Note that you'll need to enable the 24×7 continuous optical HR tracking in the menus, by default it's off (to save battery life):
Once you've got it enabled you'll see 24×7 HR data displayed in the app.
You can also take an instantaneous HR reading at any time within the watch via the main dashboard menus.
Next, we've got sleep. The unit will automatically track your sleep, inclusive of activity during sleep as well as the time you fell asleep and woke up. For the most part, it tends to get pretty close to spot-on for me. The below wake-up time was within about 5 minutes of when I actually woke up. And the falling asleep time was correct as well.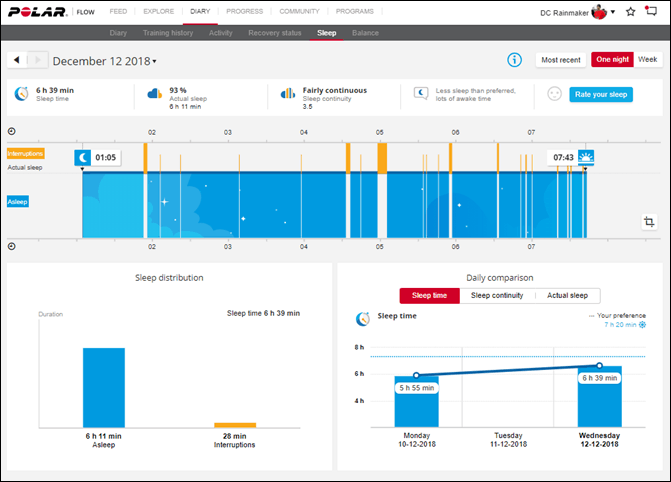 When it comes to your smartphone, as of present the Vantage V has a very limited relationship with it. Sorta like someone that's only willing to go on a lunch-time coffee date. Today you can use Polar's Flow smartphone app (Android/iOS) to sync with the Vantage series. You can also use it to perform firmware updates wirelessly via Bluetooth Smart. There is no known WiFi in the Vantage series.
One downside though is that there's no continuous sync with the Vantage series, meaning that you have to manually initiate the sync of data to the app when you want to sync. That occurs by holding the lower left button down.
(Update: While this is supposed to be working, and does for most people apparently – it isn't for me as of this morning, or even this afternoon. It never syncs unless I manually sync it. Latest firmware, software, iOS, etc…)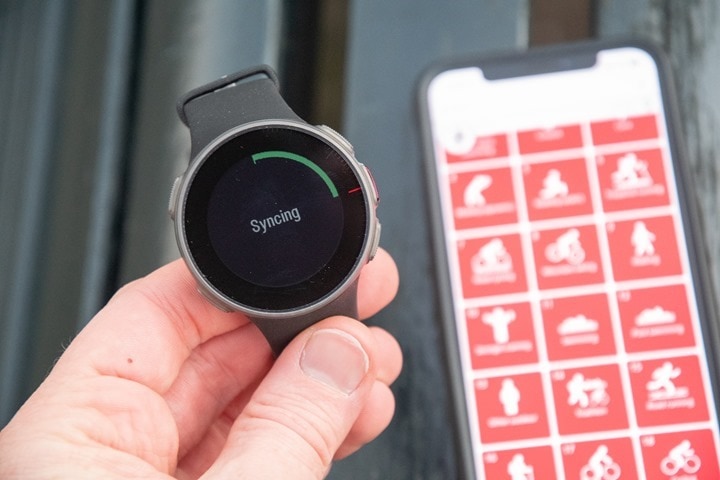 It probably sounds trivial, but it's ultimately part of the 'death by a thousand cuts' issue here. These sorts of trivial features are common on every other mainstream (and non-mainstream watch). They just quietly sync in the background 24×7, ensuring your workouts are uploaded to Strava and the like before you even get in the front door.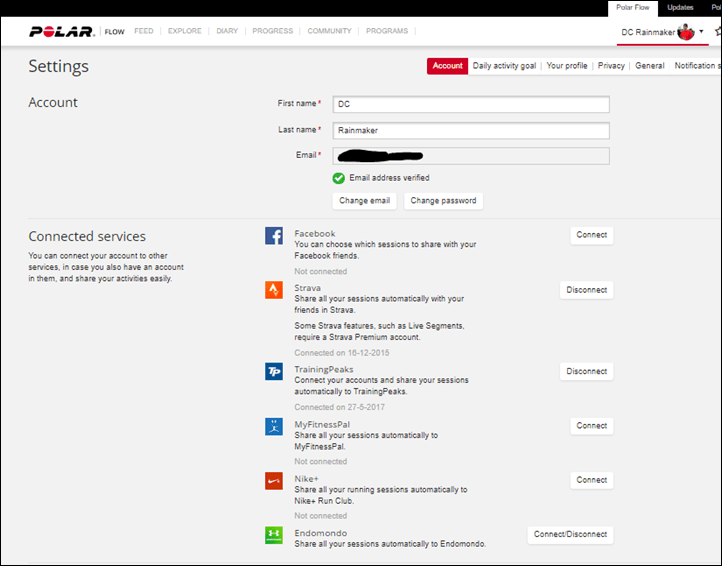 As noted in the intro section, there are no smartphone notifications at this time. These are currently slated for the February timeframe. Obviously this is a pretty big deal – but there's not much more I can say that drives home that point. Again, death by a thousand cuts. Oddly however, you do get a blank always present 'No notifications' dashboard page as a painful reminder of what once was.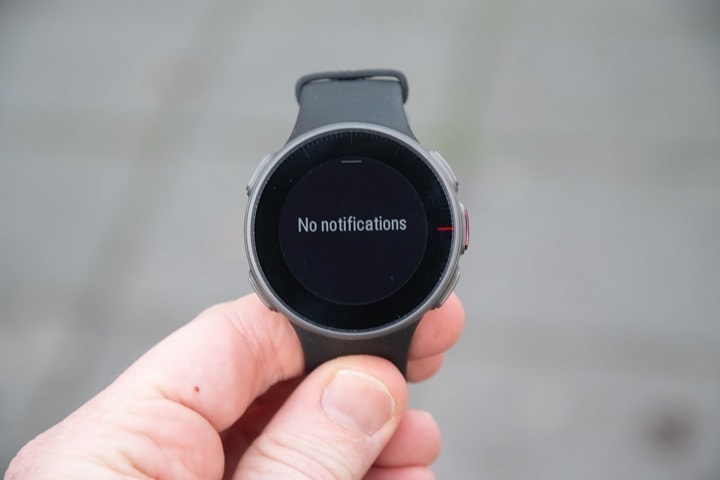 Finally, note that you can change a handful of settings on the watch itself. Generally speaking, companies tend to have you change settings on either the watch, a smartphone app, or via desktop site. In Polar's case, it's mostly via smartphone app and desktop site, with a handful of settings on the watch itself. Whereas inversely, in Garmin's case it's mostly on the watch itself and only a handful of settings via app. There's no right answer (ok, there is – allowing both), so it's really just a user preference thing.
On the watch side first you can tweak things like the time and whether certain tracking features are enabled:
Whereas on the smartphone app you can tweak sport mode specific settings as well as general/profile settings:
And finally, on the main Polar Flow site you can tweak these same settings as well.  At this point we've clicked and tapped on all the things there is to tap on, without getting into the sport-specific modes.  So now's a good time to actually use the watch for what you bought it for: Sports tracking.
Sport Usage: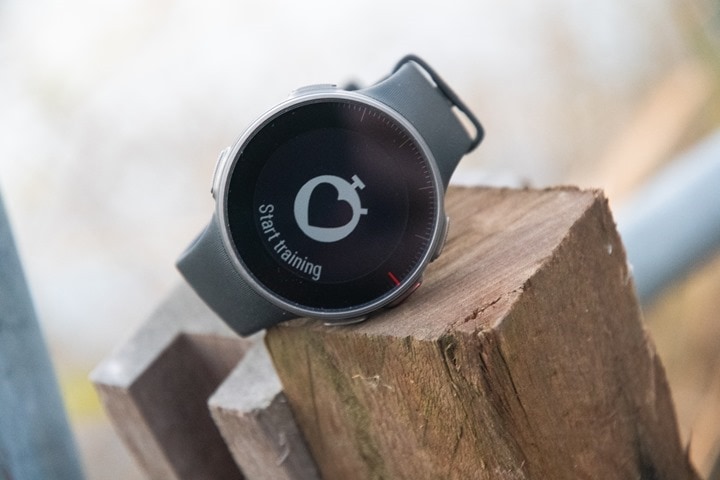 With all the basics set, we'll dive right into the sport side of the house. The Polar Vantage series caries with it the massive pile of prebuilt sport modes.  You can add up to 20 of these to your watch at any one point in time, each fully customizable. You'll add these via the smartphone app or website, you can't add/remove/configure them on the watch itself:
When it comes to data pages and data metrics, you've got customizable data pages (up to 8 pages) with each page supporting up to 4 metrics on it. Additionally, there are some 'common' data pages that you can enable or disable, such as time of day, pace, altitude, power, and the newly added via firmware countdown and interval timers..
From a data field standpoint, Polar is roughly in-line with Suunto in terms of available metrics to choose – though, has quite a few less metrics than Garmin does. Some of the disparity comes in the power realm (primarily cycling), where Garmin has popular fields like Normalized Power (NP), Intensity Factor (IF), and Training Stress Score (TSS). Polar lacks these, as well as the ability for 3rd party developers to create their own custom data fields via Garmin's Connect IQ platform.
Inversely however, Polar has more flexibility for native running power fields, which Garmin somehow still lacks. This means that on Polar it's easier to natively display and record running power data, especially tied to specific running power zones. That's messy at best on Garmin (plus requires extra sensors and apps).  But more on running power later.
Here's a look at what a handful of data pages look like going from 1 field up to 4 fields:
At this point there is no method to customize GPS recording interval to save battery life. This means that all outdoor activities are recorded at a 1-second rate. This is both good and bad. On one hand Polar is blowing away the competition for baseline GPS 1-second recording durations (up to 40 hours).  On the flip-side, the competition blows away Polar when it comes to ultra-type activities, where Suunto and Garmin can stretch up to a mind-bending 120 and 85 hours respectively. Polar hasn't announced any changes/plans here for tweaking the software, though, since Polar and Suunto are using the same GPS chipset – Polar could certainly aim to implement similar functionality.
Speaking of sensor type things, if you've got Bluetooth Smart sensors, these are paired within the sensors menu in settings.  You can store power meters (cycling or running), cycling cadence sensors, cycling speed sensors, running footpods, and external HR straps.  Note that the Vantage V does not support using HR straps for swimming data, because unlike past Polar units, the Vantage series doesn't support the analog frequencies that can transmit through water (digital variants like ANT+ & Bluetooth Smart can only transmit a few inches at most through water).
Note that at present the Vantage series only pairs with Bluetooth Smart sensors. Though, my understanding is that the hardware is dual-capable, should Polar wish to enable it via software. I actually don't believe that horse is dead at this point (in fact, I'm very confident that horse isn't dead). And I think them looking to add ANT+ support might win over some triathletes. Further, it might help to win over cyclists that want to capture their power data for Recovery Pro while on indoor trainers riding Zwift or TrainerRoad – and heck, even runners indoor on treadmills for running power via Stryd/RunScribe. Today that's largely impossible due to the max concurrent connections most sport Bluetooth Smart sensors have (a single concurrent connection). Whereas all current ANT+ devices allow unlimited sensor connections.
When it comes to starting your workout you'll long-hold the red button down, which then takes you to the sport selection menu.  This is where you can pick one of your preconfigured sports. You can press the up/down buttons to iterate through them. If choosing an indoor sport (like treadmill running below), then you'll see the HR acquisition circle above it, but not the GPS acquisition circle.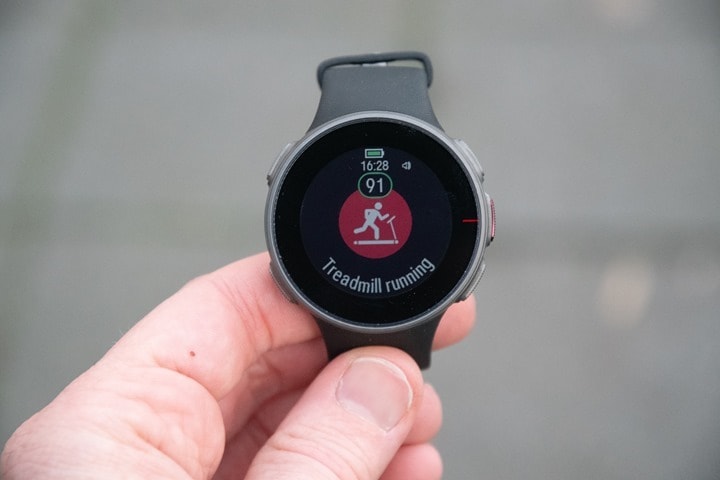 Once you've stopped iterating through the sports, it'll start searching for your heart rate, and GPS signals. Assuming you've been wearing the watch already, the HR acquisition is pretty much instant. Whereas GPS can vary a bit. In my testing it's quick most times, but I've had some longer duration waits as well (upwards of a minute or more). At present Polar is only doing GPS+GLONASS, and not doing any form of GALILEO satellite connectivity. The Sony chipset they are using is capable of doing so, should Sony enable that in firmware – Polar says they'll in turn enable it on the unit down the road.
GPS will show as acquired once you've got the green circle around the satellite icon. Same goes for HR. If you've got extra sensors, then it'll show lock of those extra sensors as well (such as a cycling power meter as seen below). Additionally, if you're using an external HR strap instead of the optical HR sensor – you'll see that here too.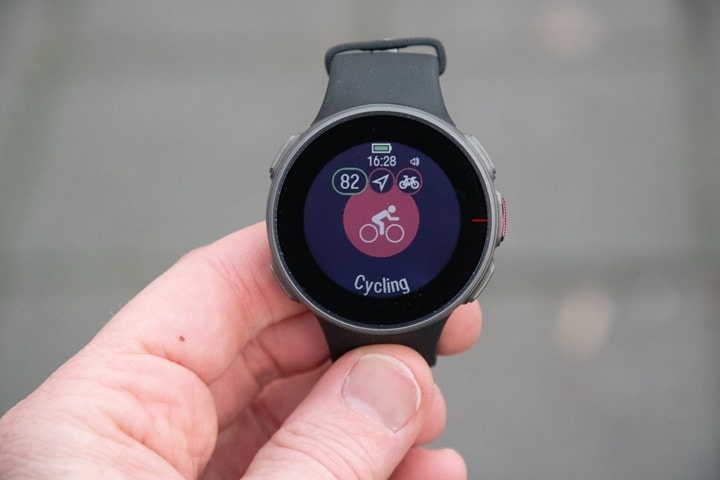 With all that set, off to start your workout you go. The watch will display stats from the workout in real-time as you expect. This is pretty much the same as all previous Polar watches.  Note that in workout mode the touchscreen is disabled, and you need to use the buttons (which isn't a bad thing, to be honest).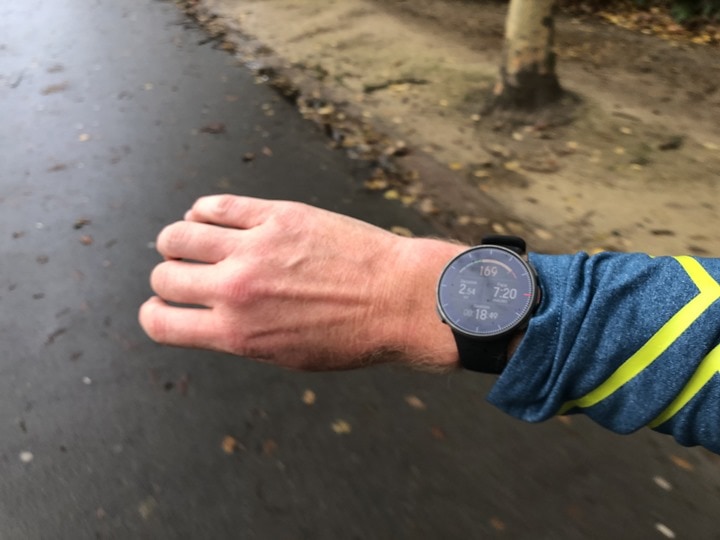 You can use either manual laps or auto laps (or both), by pressing the middle red button, which triggers a lap.  Automatic laps can be setup via Polar Flow on a given sport mode basis. One area that Polar has an edge over Garmin on is that you can have both automatic laps and manual laps at the same time. They operate on different time-space continuums.
If you want to pause your workout, you'll simply press the lower left button.  That's also where you can long-hold to end your workout and get workout summary details: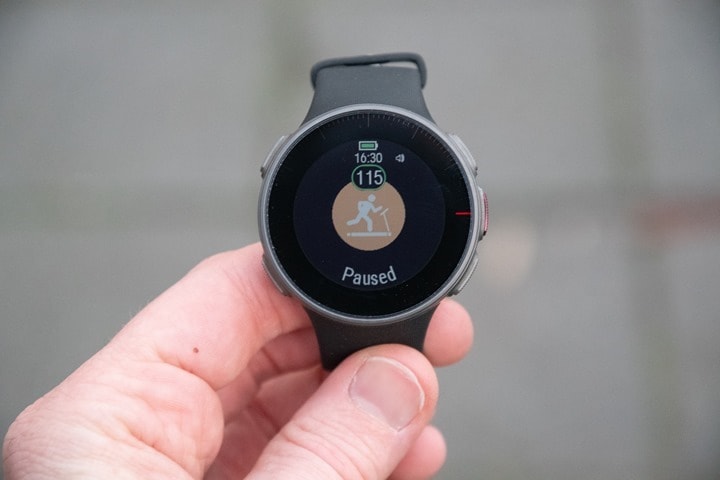 After the workout is completed you'll get summary details about the workout, including time, calories, distance, power (if applicable), and so on.  Recovery time is also displayed.
You can view these stats on Polar Flow as well, once you've manually synced via either long-pressing the lower left button from the main dashboards, or just attaching it to your computer via USB charger: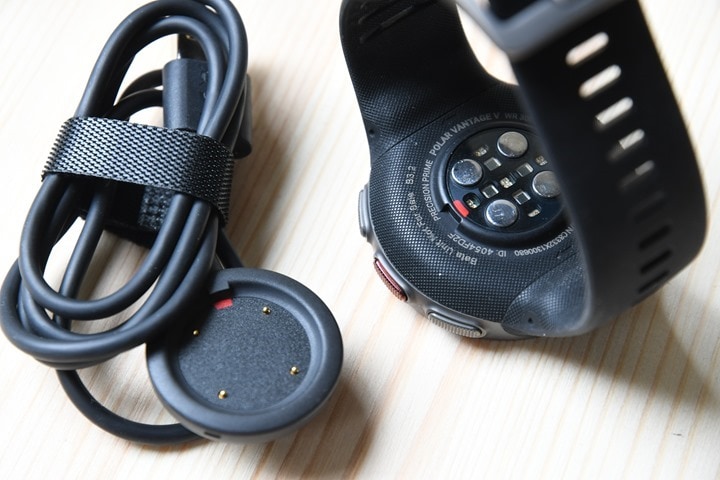 Here's how they look on Polar Flow mobile:
And here's how it looks on the Polar Flow desktop website: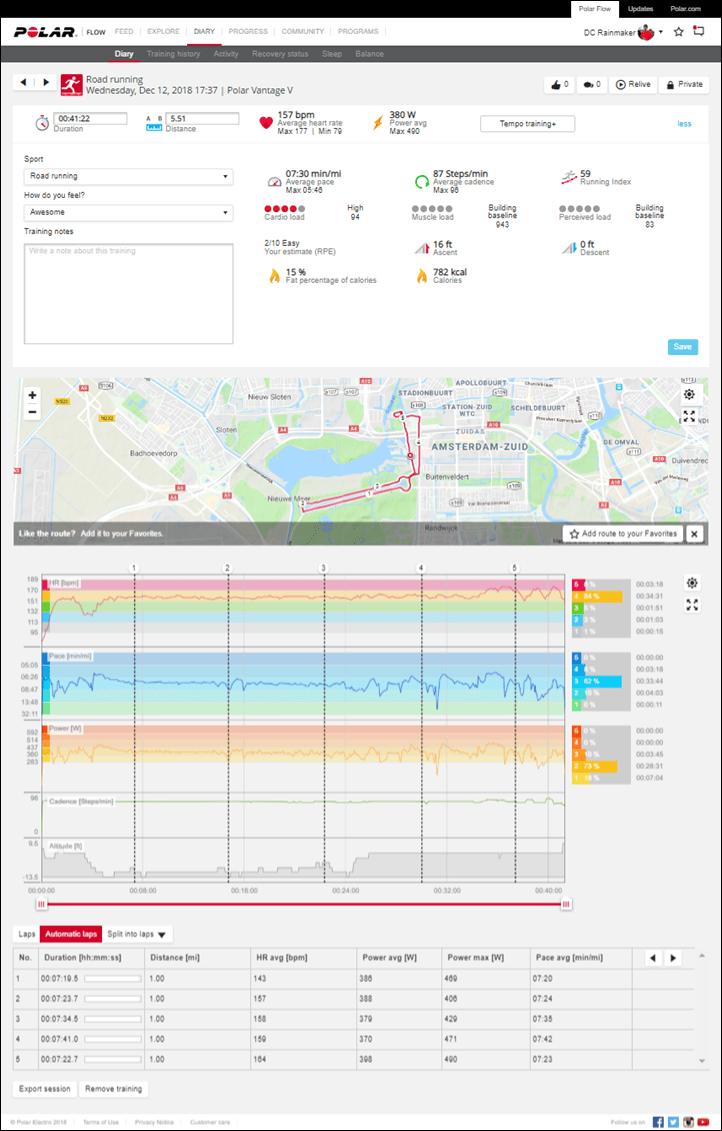 In terms of differences between various sports during the workout itself – there's virtually no appreciable visual difference be it running or cycling, or doing core workouts or what-not. All of this is fairly standardized between the different modes – so what you see above is applicable no matter the mode.
What does differ though is some of the more advanced metrics, specifically coming from Recovery Pro (which is only on the Vantage V series), as well as running power
Recovery & Training Pro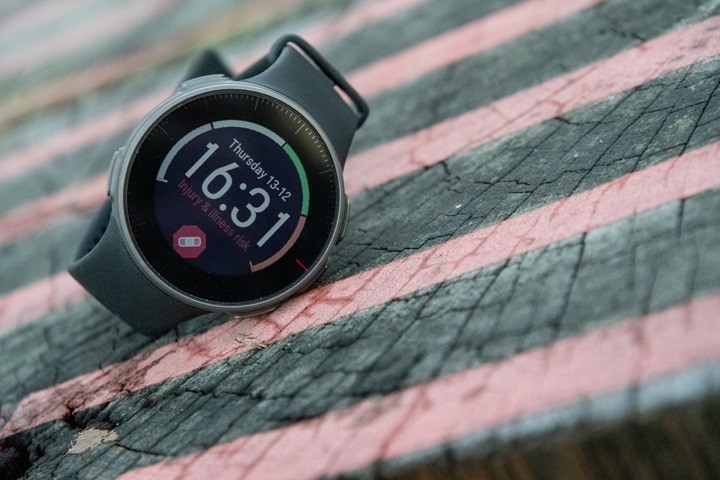 In some ways, the entirety of Polar's Vantage V product marketing effort rests on the Recovery Pro and running power features. Thus, I'm going to dive into these two in back to back sections.
To recap in a sentence or two, the Vantage V has their new Polar Recovery Pro stats, which aims to cover daily recovery, training, and balance stats. These stats do require the use of a Polar H10 heart rate strap though (the H6/H7 also are said to work), so, you'll need to pick up that too.
Now, I'm going to dive into both here. But ultimately, if you want the super-short answer, it's actually kinda simple. The power stats are no better or worse accuracy-wise than anyone else out there, they're just different. And the Recovery Pro stats? Kinda the same. Both Garmin and Suunto have the exact same things, just branded differently. There's some minor nuances to each company's implementations, but at the end of the day you're basically getting about the same stat-wise.
I'm sure I'll get nasty-grams from both Polar and FirstBeat (who make Garmin and Suunto's stats here), saying how each technology is better and more detailed than their Finnish brethren (both FirstBeat and Polar reside in Finland). But ultimately you're basically getting the same basic recovery guidance telling you to either do more, or do less. Presentation and color-coding differs slightly, but not meaningfully, which in turn is also based on a blend of  TRIMP and EPOC.)
Anyways, let's first talk Polar Vantage V Recovery Pro. There's two components to this: The semi-daily orthostatic test done with a Polar H10 HR strap, and then the workouts you're doing that add cardio load (recorded ideally on the watch).  You need to have both those pieces of the pie in order to get Recovery Pro data.
For fun, we'll start with the Orthostatic test bit. That's the bit that requires the H10 strap. And yes, it must actually be the Polar H10 chest strap, not just a generic Bluetooth Smart chest HR strap. The reason for that is Polar needs to know the quality of the data. While normally I'd call that marketing BS to make you spend on extra (expensive) Polar accessories, in this rare scenario there's actually some basis for that.
In the past I've done tests that have shown just how different the HRV/RR data is from different HR straps. Now, rightly or wrongly, Polar has to base their algorithms on something. And so in this case, having a known good (or known stable), is key. Thus it is what it is.
In any case, once you've got your strap on you'll press the lower left button to start the orthostatic test: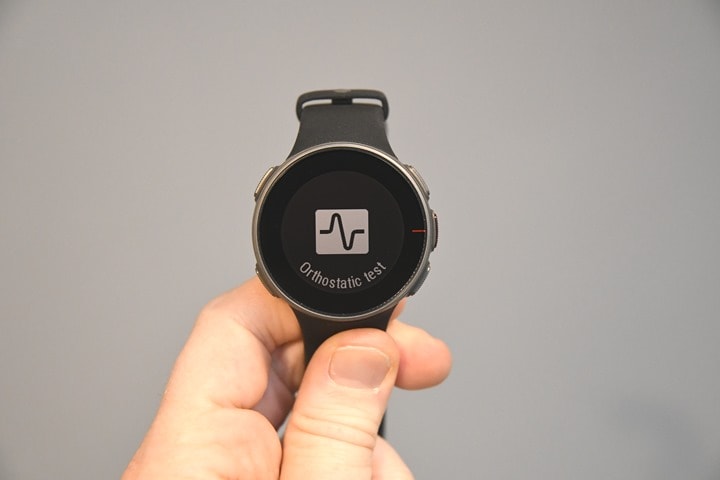 The test takes exactly 4 minutes. The first two minutes are spent lying down, and the remaining two minutes spend standing up. It's as simple as that. No physical fitness test is required, just lay down and stand up. Simon says style.
Once it's done it'll give you some quick stats:
Then it'll ask you three questions Monty Python style:
– How do your muscles feel?
– Are you more stressed than normal?
– How did your latest sleep feel?
Once it takes all that into account (including your actual workouts) it'll give you some guidance on recovery. Interestingly this guidance is specific to that day, up until midnight. While writing this very section I decided to take an orthostatic test at 11:48PM to ensure I had my order of questions correct above.
Interestingly, it shifted my recovery state from a variant of 'You're broken' to 'Good to go'.  However, while the Orthostatic test told me that immediately, the watch itself didn't switch over until midnight. Not that it matters, but I found that a fun tidbit.
The test data is recorded both on the watch, but also to the app/site, where you can view it whenever you'd like – just like any other workout would be:
In any case, as for that guidance, here's what it looks like on the watch itself in a few different forms. First, is the main dashboard page for Recovery Pro: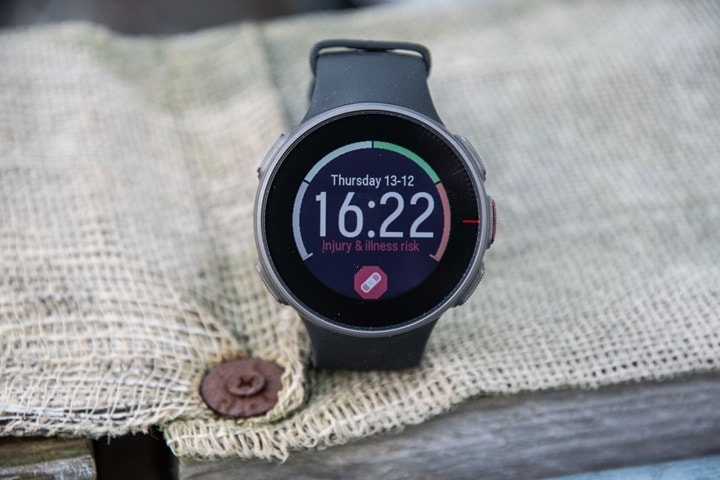 If you double-tap that, you'll then get a more detailed chart of where you stand for both strain and tolerance.
Strain shows your average daily load over the past 7 days, while Tolerance shows your average daily load over the last 28 days.  I've never understood why physio focused companies create terms that are confusing AF (and this is hardly limited to Polar).  Why not just label these '7-Day Load' and '28-Day Load'? Seriously.
In any case, you'll see these numbers fluctuate based on how much load you're applying via captured workouts.
At the top of that widget is a color-coded gauge that gives guidance on where you are, within the following:
1) De-Training
2) Maintaining
3) Productive
4) Overreaching
Lately, I've been in the Overreaching category apparently. Probably because a fair chunk of November was quieter for me training-wise being sick. Whereas the last 3 or so weeks I've added a fair bit of volume. In some ways, this is exactly what this feature is built for – to keep me from getting injured. And the watch reminds me of that every day:
Now, there's some odd quirks even within this though. For example, again, as I write this at 12:22AM (moving about 30 minutes from above), I've got a green thumbs up and text on the home page telling me to 'Go for it', despite being in the overreaching orange category (not the green category).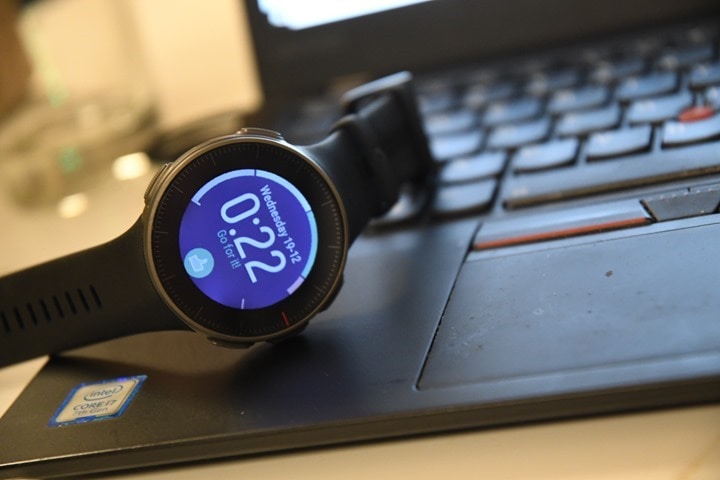 Perhaps those two aren't exclusive to each other, but it's just inconsistent.  It's OK, let's set that aside.
Within the app you can dive into a bit more detail, though, it's still kinda clumsy. For example, I can see lines showing my cardio load, but I can't see actual numbers. It's just unlabeled dots (even in horizontal graph view).  You can tap on each dot and hold to see the numbers, but that's clunky as heck. If there was at least a scale, that'd help alleviate things.
If I look at a given workout, I'll see my cardio load and muscle load. These are two separate metrics. Cardio load is based on heart rate data, while muscle load is based on power data (running or cycling power meters).  Note that you won't get indoor running power data with Polar's solution since it requires GPS to get data from.
That means you won't get muscle load for activities that don't have that. For example – I went skiing this weekend. That meant I got cardio load (HR), but not muscle load.
There's also an element of perceived load and estimated RPE – which comes from a rating that you do each time you complete a run on the app.
You can view the entirety of the training load data on the Polar Flow site as well: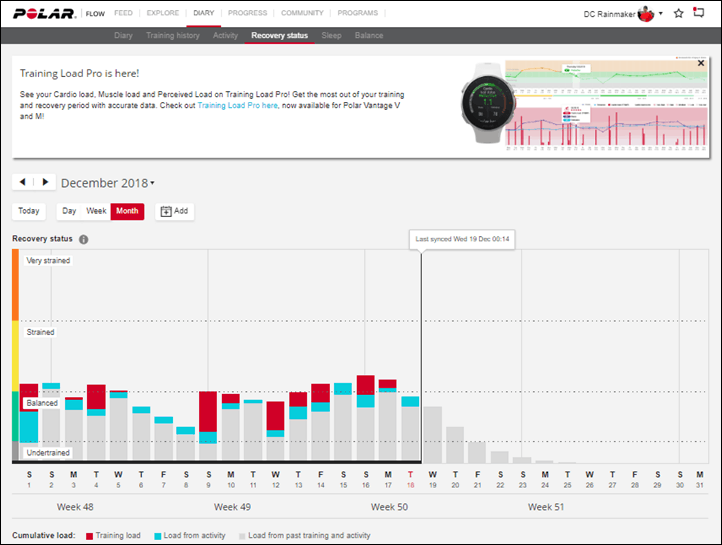 And, here's a prettier view of what things could look like if you had a super structured training schedule (a screenshot from Polar):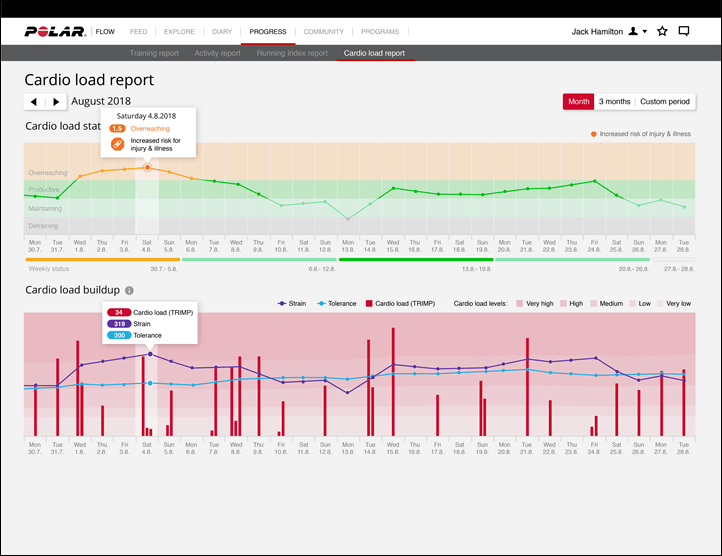 The above allows you to plot your cardio load, including the strain (7-day) and tolerance (28-day) metrics too.  Again, this is effectively what other platforms have done for years – just with different terms.
And that's sorta it when it comes to the new recovery metrics. Which might sound like I'm down on them – but I'm really not. I think they're cool. But there's virtually nothing unique about it. Everyone else is doing practically the same thing (and in some case, with more detail).  I do think Polar is probably doing a better job of rationalizing some of it via the orthostatic test, though inversely, I think the other companies are doing a better job of making it easier to see and understand these stats.
So my wish-list to Polar is to simply make these numbers and metrics clearer in the app. It just requires too much menu digging and fumbling. If these stats are as big of a deal as Polar implies, then it should be it's own tab for Vantage V owners at the button of the app. I tap it, and I get clear guidance on what I should and shouldn't be doing.
Running Power: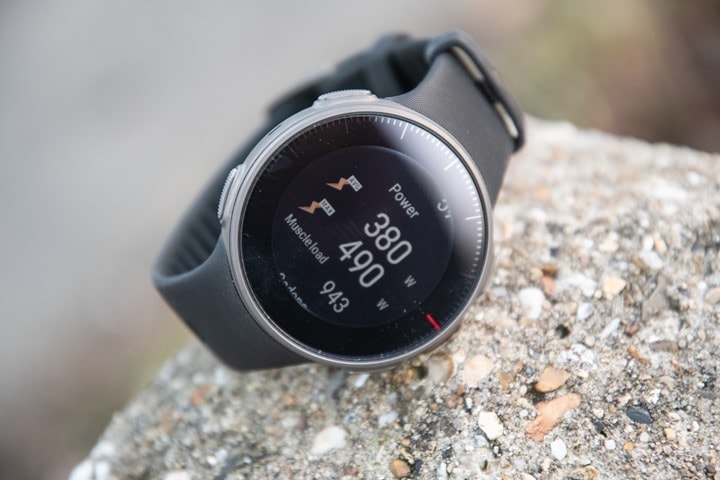 So…switching topics entirely: What about running power?  Well, that's an entirely different can of worms than Recovery Pro. Not a bad can though, just a different can.
To start, Polar has added running power directly into the wrist of the Vantage V product (the Vantage M lacks built-in running power, though supports 3rd party running power sensors). This marks the first time a wearable has done this without a 3rd party sensor (normally placed on the shoe, a chest strap, or a small pod on the waist).
Polar's aim here was to make running power as easy to see and use as regular pace or heart rate is today. And as we temporarily set aside any questions on accuracy – Polar has absolutely succeeded here where everyone else has largely fumbled and failed. You simply go for a run, and you get running power data in real-time.
No extra sensors, no funky app configurations, no extraneous setup. It just works.
And somehow, as silly as this may sound: That's huge.
Up until now you've had to spend a minimum of about $60 for running power (for a Garmin RD Pod or older HRM-RUN strap), or upwards of $200 for the Stryd or RunScribe sensors. Then you had to configure 3rd party apps to work (in the case of Garmin). With Suunto the watch side was cleaner, but you still needed that $200+ sensor. All of which ignored how messy the software side of the equation was (especially on Garmin).
From a running power standpoint, it's pretty straightforward. You can either choose to select running power fields like any other metric. Alternatively you can just enable the one-touch running power page, which has them all consolidated:
Data fields-wise the options are: Maximum power, average power, lap power, maximum lap power, automatic lap power average, and automatic lap power maximum
Out running, you'll see running power just like cycling power: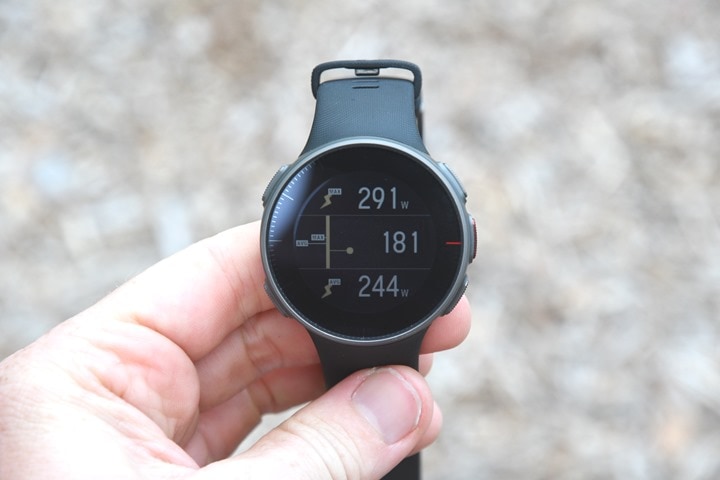 I could drag this part of the section out a bunch – but honestly, that's all there is to it. You see the power exactly as above, and that's it.
The running power is displayed on what appears to be about a 10-second smoothed average. I based that on how long it took when I stopped running for the power to come down. It's based on GPS pace, and not footpod or wrist-detection pace. This is notable because it does NOT work indoors (treadmill), nor should it work in a tunnel Polar tells me (I haven't found a tunnel long enough to meaningfully test it).  Assuming you're outside though, this data will be written to your files just like a cycling power meter. And 3rd party apps can easily handle it as well.  Here's how it looks afterwards in your workout: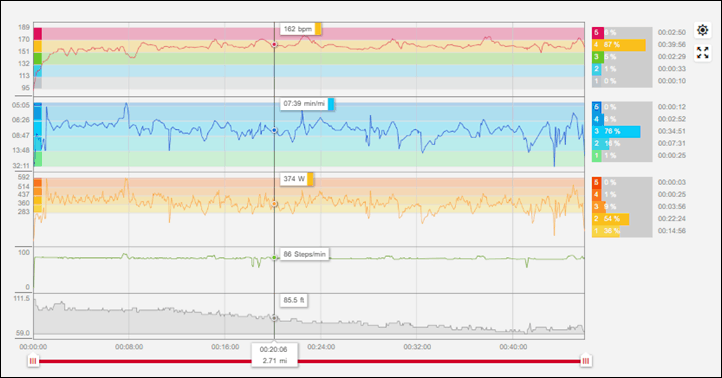 It'll automatically show up in all outdoor running workouts – effectively making the Polar solution the 'easy button' of running power options.
When it comes to zones, you can define specific zones for running in a variety of ways, as well as enable Zone Lock for running – which gives you alerts when you stray outside that zone: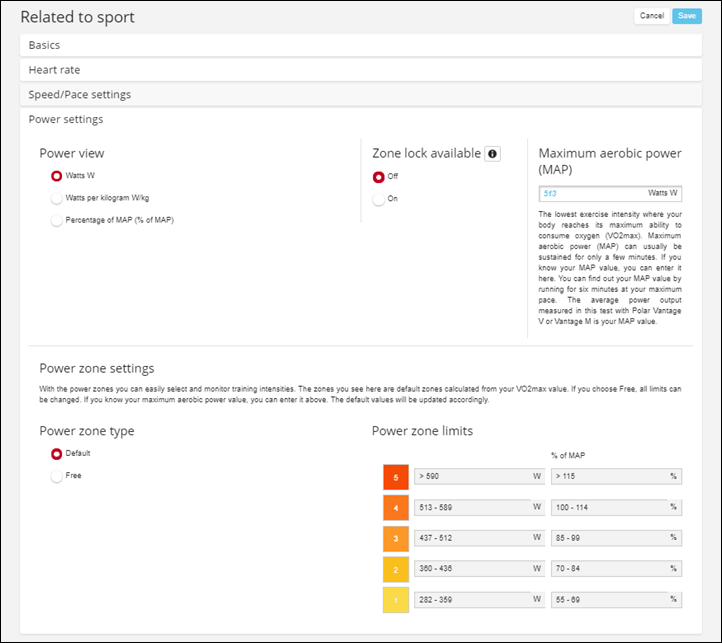 It's this zone bit here that gives Polar an edge over Garmin's running power solution. Garmin and Stryd off-load this into wonky app configurations that are just too cumbersome. Whereas Polar makes it clean and native.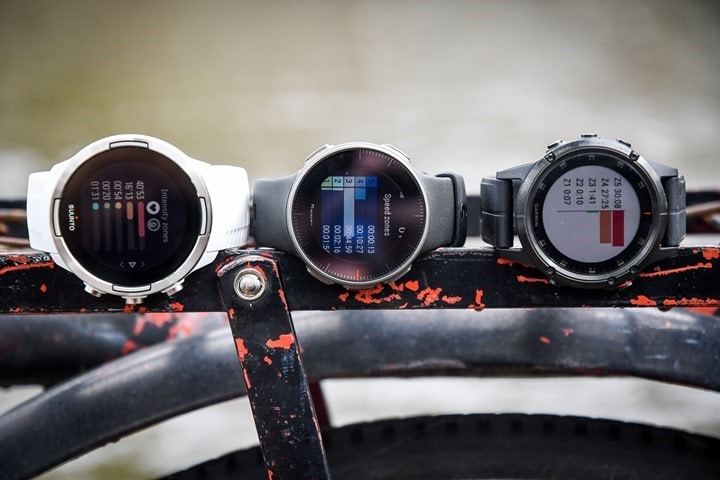 The next question is whether or not running power is 'accurate'. Well, first off, if anyone says that it's accurate or inaccurate, just close that browser tab. Seriously, there's no definition of that agreed upon by anyone out there with any meaningful scientific credentials. Instead, I'd argue that running power is more in the 'is it plausible' range, with a side of 'is it at least consistent'.  Even Polar noted in my discussions with them that there are many interpretations of how to measure running power and at which point it should be measured.
But certainly you'll want to know how it compares on the same run to Stryd or Garmin Running Power? No problem, I've got you covered down below on that bit. Short version: It's half-way in between them. Again, no idea whos right or wrong. But I did encourage Polar to be as open as Stryd, Garmin, and RunScribe have been in terms of publishing papers and studies that support their algorithm and thinking.
Like others, Polar has done a bunch of work on validation here. They too went to a force-plate treadmill to validate their power metrics, and the results they shared in a presentation seem promising. They also went out and did some pretty technical measuring of hills and did all the science math backwards to validate the numbers after test runners ran them. But again, so did Stryd – yet these two companies don't match on the same run.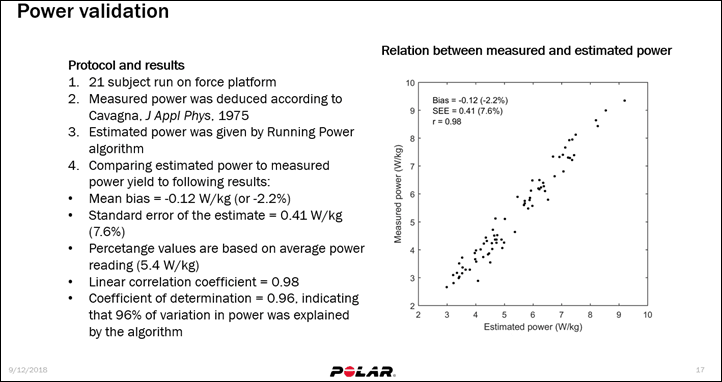 Now, don't mistake me for thinking I'm down on Polar. Cause really, I'm definitely not. Instead, I'm just 'less optimistic' about running power in general. Mostly because we can't seem to get any two companies to agree.  As such, I think it's tough for consumers (or myself) to know what to make of it. Or whether to trust it when training. Similarly, as much as we as humans want our cycling and running power numbers to equate, there's no science that says they should. Just like our heart rate numbers for cycling and running certainly don't match for the same perceived effort.
You only need a single run to illustrate comparing these between devices. Here's a look at a run with Garmin Running Power (Teal) vs Stryd Running Power (Purple) vs Polar Running Power Red):

I've done some other one to one comparisons over the last few months and all have fared the same. Ultimately, what you see is tons of variability.
Each unit by itself might be repeatable, but none are comparable. How's a coach with a dozen athletes (likely using different devices) supposed to compare these? Every company claims theirs is validated, and yet none are remotely comparable.
Polar and Garmin's are theoretically a bit more limited because they're tied to GPS pace instead of Stryd's accelerometer pace. But practically speaking that doesn't seem to matter above. Everyone is more or less equally as jumpy.  And in some cases – Stryd isn't jumpy enough.  This run actually has some legit sprints where Stryd seems to entirely miss them. Just like inversely Polar and Garmin are too variable when they shouldn't be.
So at this point my overall impression of Polar's power functionality is kudos for making it easy, though, I'm not really sure anything in running power is truly worth it at this point.
GPS Accuracy:
There's likely no topic that stirs as much discussion and passion as GPS accuracy.  A watch could fall apart and give you dire electrical shocks while doing so, but if it shows you on the wrong side of the road?  Oh hell no, bring on the fury of the internet!
GPS accuracy can be looked at in a number of different ways, but I prefer to look at it using a number of devices in real-world scenarios across a vast number of activities.  I use 2-6 other devices at once, trying to get a clear picture of how a given set of devices handles conditions on a certain day.  Conditions include everything from tree/building cover to weather.
Over the years I've continued to tweak my GPS testing methodology.  For example, I try to not place two units next to each other on my wrists, as that can impact signal. If I do so, I'll put a thin fabric spacer of about 1"/3cm between them (I didn't do that on any of my Vantage V workouts).  But often I'll simply carry other units by the straps, or attach them to the shoulder straps of my hydration backpack.  Plus, wearing multiple watches on the same wrist is well known to impact optical HR accuracy.
Next, as noted, I use just my daily training routes.  Using a single route over and over again isn't really indicative of real-world conditions, it's just indicative of one trail.  The workouts you see here are just my normal daily workouts.
I've had quite a bit of variety of terrain within the time period Vantage V testing.  This has included runs in: Amsterdam, California, Nevada/Tahoe, Mexico, Canadian Rockies, Northern Finland in the Arctic Circle, and plenty more.  Cities and countryside, mountains, trees, water, and open-air. It's been everywhere!
First up is a run last week on the latest firmware that takes a loop around the forest and then a bit of southern Amsterdam at night. There's also one loop of a local track for the heck of it. It's a good blend of different obstructions for GPS. It's compared against a Garmin FR935 and Apple Watch Series 4. Here's the data files for that, if you want to dig in deeper.

At a high level, things look mostly passable. But that's kinda the rough trend for the Vantage V. It's not until you dig closer that stuff starts coming out of the woodwork. So, let's zoom in and do that.
On one of the first slow looping turns, we see both the Vantage V and Garmin FR935 go off-track. Whereas somewhat astoundingly, the Apple Watch Series 4 actually managed to stay on-track. I say astoundingly because usually the Apple Watch goes astray on turns, but this one appeared slow enough that it managed to not fall off.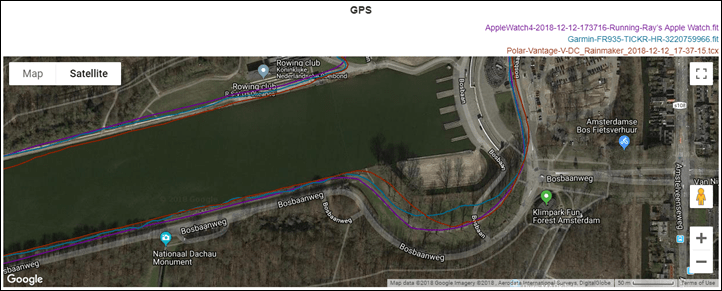 For the first 5K of this run, I ran along a rowing basin. The path was generally a few meters from the water. On the southern side, the Vantage V and Apple Watch stayed on the path, while the Garmin seemed to barely dip its toe into the water (just barely).
However, on the northern side, it was the Vantage V who was waist-deep in the water, while the Garmin and Apple units stayed on the path.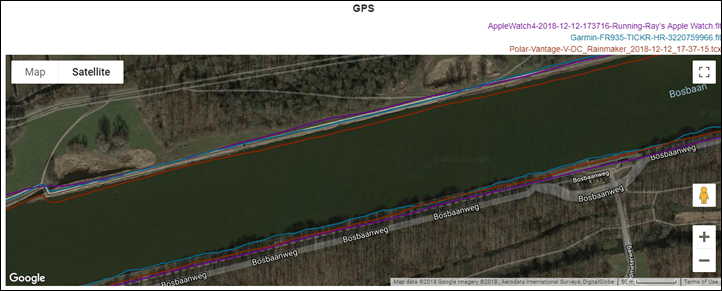 At first (above), that wandering doesn't appear too serious, but as the run goes on, it gets further and further away. At this point I'm definitely out boating with the Vantage V, and no longer running. Note how there's a slight offset that's occurring where I put the red arrow. That's where I dip inland a bit to go over a bridge, and the GPS tack mirrors that offset dip.

A bit later the tracks consolidate again as I go up a slight switchback.  Well, except the Apple Watch – it displays its trademark 'I ain't got no switchback mode' GPS tracks for sharp turns, by just cutting the corner.

A short bit later we can see both the turn in and out of the basin – and the Vantage V missed both of them (the Garmin slightly missed one, and the Apple Watch didn't miss either).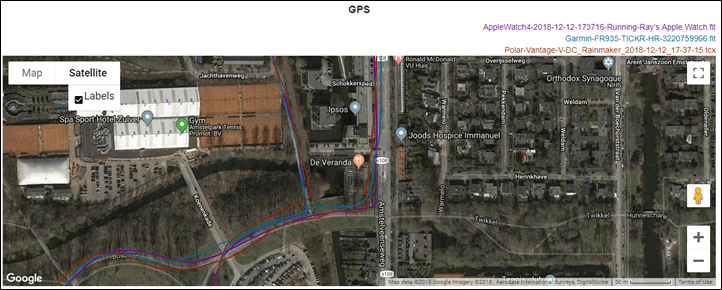 But what about tunnels and bridges? All watches did reasonably well here actually. I've run and rode under this section a bit – and things are good. This bridge festival has about 150m of one giant bridge after enough – just enough time to maybe re-acquire GPS poorly, but it tracks nicely for the most part going through.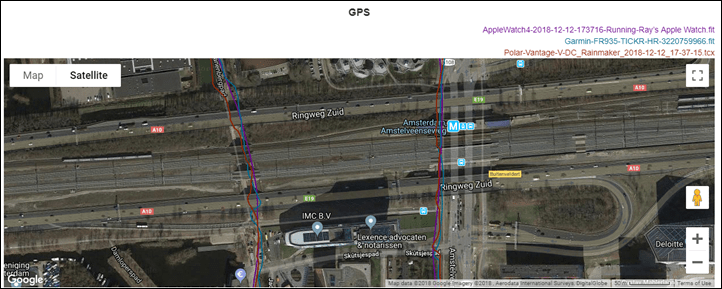 So to wrap up – here's a loop of the track I did. You can see that all three GPS units fumbled over themselves as I crossed the street to the track. A reasonably tall building exists there, but hardly reason for this cluster.
Meanwhile, on the track itself all the units stayed almost entirely on the red part of the track. Minus the Apple Watch entering/exiting. It cut corners as always.

I'd note that I generally don't use GPS data for track workouts. You're on a track after all – the distance is known. I use my brain to simply count my intervals, and then I use the GPS data for my post-analytic stuffs. When I'm on a track I'm doing the math in my head for pacing. Anything afterwards is icing on top. So as long as the GPS tracks aren't horrible here I'm good with it (since a running track is one of the most difficult things for GPS watches to deal with, due to the constant turning).
So overall for the above run it's a mixed bag. The Vantage V certainly didn't put down a beautiful V800 style GPS track, but it wasn't horrible either. It was just so-so.
Let's head up to what's an easier route in Finland from this past weekend, a simple out and back and out again sorta route in a neighborhood. Some light tree cover. Here's the data:

Again, at a high level it looks fine, but there are a few quirks – for example this section:

The Vantage V is off in the woods, I'm on a trail adjacent to the road. Normally I don't like using just two watches on a GPS test, but after getting off the plane my Apple Watch's battery was dead, so this was it for now.
But in this case it doesn't matter – since I was running on a clear and marked path the entire time. Thus it's easy to see where I went versus where the watch thought I went. The rest of the run was fine though – so not entirely sure why it went offset during those sections.

Next, another run in snowy Finland. This time a giant loop over some rolling tree'd terrain. I know, the colors make it a bit tough to see, don't worry, it gets easier in a moment.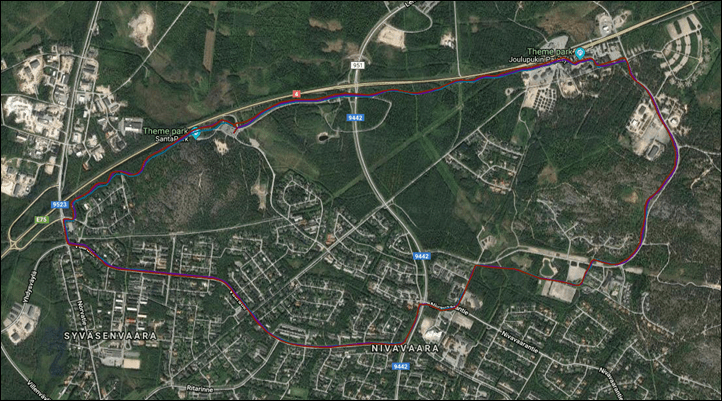 Things got off to a bit of a rough start, with the Vantage V offset from the running path and off in the trees:

In fact, it actually stayed that way for quite some time: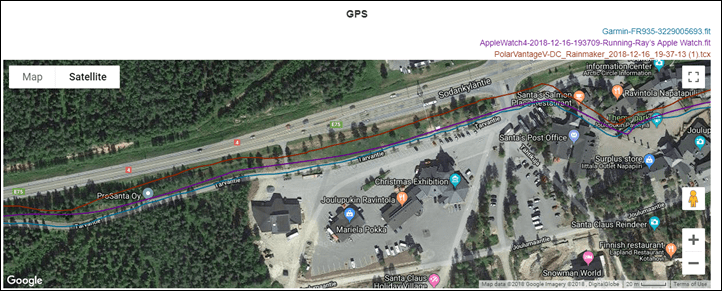 It wasn't until I made a 90-degree turn that the track 're-aligned':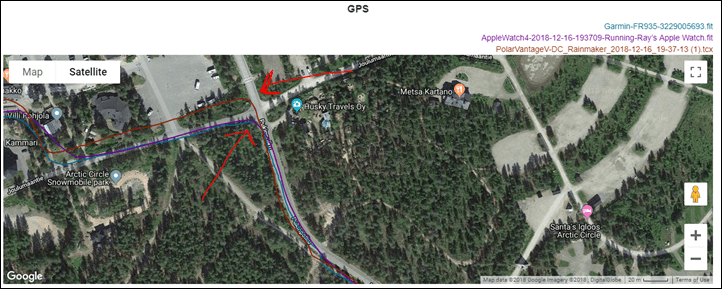 It would mostly stay on track, but still it strayed here and there off into the woods: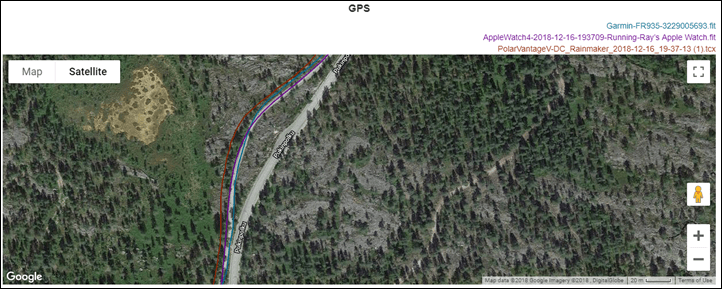 Towards the end of the run, in the last kilometer or so, the Vantage V finally got back on track, and apparently kicked the FR935 off track. Go figure.

Again, this may be nit-picking, but that's what GPS is about these days. Either you're on track or not. At a high level it's not bad, and most wouldn't likely notice on Strava, but eventually these offsets do add up (either high or low).
I will note that while cycling I've had no issues at all with GPS accuracy. This is likely because I'm road cycling, so speeds are higher and GPS units tend to do better at higher speeds. This is true of virtually all GPS units I test: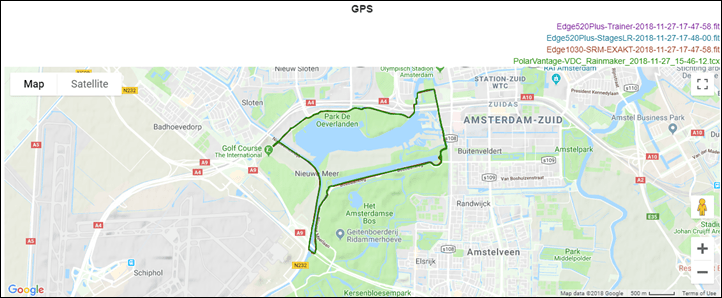 I could dig into the above GPS track here, but honestly, it's boring – it's exactly where it should be.
Ultimately, it's clear the Vantage V is no V800 in terms of GPS accuracy – which was generally regarded as one of the most accurate GPS units ever made (alongside the Suunto Ambit 3 series). Both companies have shifted GPS chipsets to more power efficient models, and with that, lost the accuracy edge they once had.
It's clear that accuracy is getting better on the Sony chipset over time. There's no question accuracy has improved in the last three months in using the Vantage V (and in the case of Suunto, their Suunto 9 on the same chipset).
But neither watch is any better than Garmin here (who uses MediaTek these days). In most cases we see the latest FR935/Fenix 5 Plus GPS units outperforming the Sony GPS chipsets in Polar/Suunto just slightly. Not every time of course as noted above, but enough times that it's notable. Is it enough to matter to most though? Probably not.
(Note: All of the charts in these accuracy portions were created using the DCR Analyzer tool.  It allows you to compare power meters/trainers, heart rate, cadence, speed/pace, GPS tracks and plenty more. You can use it as well for your own gadget comparisons, more details here.)
Heart Rate Accuracy: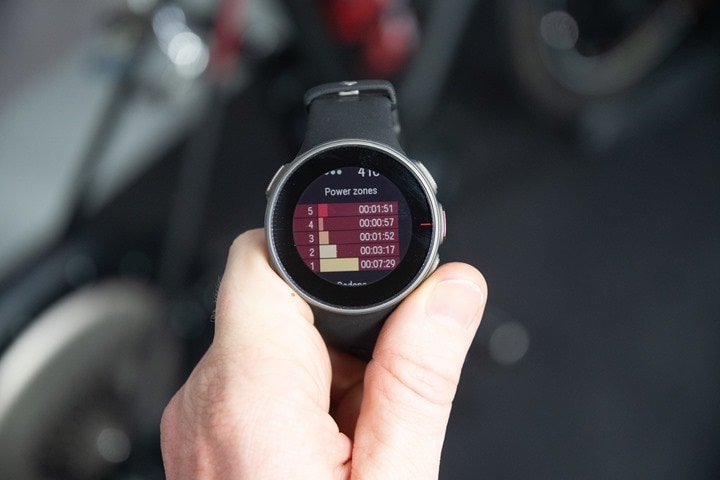 Before we move on to the test results, note that optical HR sensor accuracy is rather varied from individual to individual.  Aspects such as skin color, hair density, and position can impact accuracy.  Position, and how the band is worn, are *the most important* pieces.  A unit with an optical HR sensor should be snug.  It doesn't need to leave marks, but you shouldn't be able to slide a finger under the band (at least during workouts).  You can wear it a tiny bit looser the rest of the day.
Ok, so in my testing, I simply use the watch throughout my normal workouts.  Those workouts include a wide variety of intensities and conditions, making them great for accuracy testing.  I've got steady runs, interval workouts on both bike and running, as well as tempo runs and rides – and cold weather runs in the Arctic Circle too (it's winter, after all).
For each test, I'm wearing additional devices, usually 3-4 in total, which capture data from other sensors.  Typically I'd wear a chest strap (usually the HRM-TRI, Polar H10, or Wahoo TICKR), as well as another optical HR sensor watch on the other wrist (and sometimes also either the Scosche Rhythm 24, and Scosche Rhythm+).  Note that the numbers you see in the upper right corner are *not* the averages, but rather just the exact point my mouse is sitting over.  Note all this data is analyzed using the DCR Analyzer, details here.
Note that while I've been using the Polar Vantage V since September, I'm mostly going to use recent data in this review – since that's the firmware that it's currently on and the production firmware that real world people are using.
First up is a night run from last week. This is compared against a Wahoo TICKR heart rate strap and the Apple Watch Series 4 HR. Here's the data set.

This run displayed all of the HR stereotypes in one tidy bundle. First, Apple takes the usual 45-60 seconds until it locks HR. This is because it doesn't start trying to figure out your HR until you press record/start. Whereas other watches lock that prior to pressing record.
Next, the chest strap of the TICKR (on this cool and dry night) takes a while until it's happy too (despite me applying spit to it).  And finally, the Polar Vantage actually nails the start for the first 2 minutes or so, and then goes off the rails randomly for a bit.
By the 5 minute marker, all of the units are happy though and in agreement. It was just a bit of a fight to get there.

Towards the end of that yellow line I decide to increase the pace as I head around the track. This wasn't a sprint, but rather just a nice solid and even push of the pace, up to roughly a 6:00/mile pace (3:45/km).
After that, I did a couple of sprints on the way back home:

And it's not horrible, but you can see the slight inaccuracies and delays there. At one point towards the end as I'm on the track pressing harder, the Vantage V HR drops by 10bpm randomly for a few seconds.  We see it display a much lower recovery HR than the other two units.
Perhaps that's correct – but I really doubt it. It's unlikely my HR recovered that fast and that low while I was still running.  And we see as I start the sprints that it's delayed on catching up to the other two.
So let's look at another run, this time where I did 0.10mi/.16km sprints roughly every mile or so.

These were reasonably hard efforts, sorta fartlek style.
As you can see though, the Vantage V was delayed on all of these in comparison to the Wahoo TICKR chest strap and Apple Watch Series 4.  In some cases, it went under the previously established steady-state baseline:

In general though, what you see is the delay in intervals for the HR to pick up – it seems to be roughly about 6-8 seconds behind, give or take.

Interestingly though, it does seem like Polar's algorithms for HR recovery are faster though, so it catches that quicker when I slow back down.
One interesting tidbit that Polar is doing behind the scenes is retroactively correcting the optical HR readings, within 60-second blocks. So while you're working out you might see a given incorrect reading (such as 205bpm), but then 60 seconds later the watch will actually correct that in the file in the watch after it does some post-processing.
Polar is looking at patterns more broadly than just typical instant HR validation to correct for errors, and is instead retroactively looking at bits where it got things wrong and fixing them before you ever even upload the file.
This vaguely sounds like what Apple is also rumored to be doing on the Apple Watch, but it's supposedly done in real-time there (I've yet to get confirmation of that directly from Apple).
In any case – all of the data you see here would be from Polar's corrected variant, and not trying to read the display every second and somehow orally record that. What I notice though while running is roughly what these graphs show: Most times it's close, but sometimes it's off.
Ok, another few quick examples. Here's a run from this past weekend in cold and dark Finland (home of Polar!). As you can see, the Scosche 24 (in purple) most closely ramps up the start of my run properly. The Polar H10 chest strap (ironically paired to a Garmin FR935) is lose for a while until I applied yet more moisture to it and made it happy. While the Polar Vantage V gets off to a slow start, it does seem to agree with everyone else around the 6-minute marker. Here's the data:

Still, you'll notice around the 9 to 14-minute markers the Vantage V seems to lose the plot multiple times for no apparent reason. This is again on the absolute latest firmware, and in relatively easy state-state running. The watch is even under my long-sleeve shirt, making it 'warmer' and this better for optical HR. It's dark out (because: Finland in winter) – again, making it easier for the optical HR sensor.  No luck until about the half-way point of the short and easy run, when it's finally happy.
Here's another run we did in Finland, this one a bit longer. This time there's a Scosche 24 paired with that FR935, and an Apple Watch Series 4:

Clearly, the first 8 minutes are a crap-show, but the winner on this nice and steady build is obvious: The Apple Watch. The Scosche was off lost in space, and the Polar was well under the expected heart rate in the 120bpm range.
The remainder of the run was pretty good. There's a few quibbles from the Polar, but nothing I'm too pressed about.
So what about riding? Ok, let's start outdoors:

Well then. The Vantage V is in green, whereas the Scosche 24 and TICKR X are in red and purple.
Perhaps we'd better move indoors.

Generally speaking, I see optical HR sensors do poorly outside riding (though, not that poorly), and do fairly well indoors. There's no vibrations indoors to deal with.
For this ride, it's mostly steady-state and the Vantage V handles that well enough. I do however knock out three sprints, and it completely misses the first sprint until I'm already done. The 2nd and 3rd sprints aren't too bad, it's a bit delayed, but not horribly so:

Hmm, so why was it so bad on that outside ride? I'm not sure.
But I went digging through more outside ride files. Since so much of my riding is indoors right now being winter and trainer season I had to go back to the last few days of October when I wore the Vantage V on an outside ride (I've done other rides since then outside, just not with said watch). Here's one I found (actually on final firmware/hardware btw):

That's actually not bad. The Vantage V has a couple of minor slip ups, but all-in-all it's actually pretty good for optical HR – almost as good as the Apple Watch's optical HR sensor and the chest strap on that ride (easily surpassing Garmin's recent optical HR sensors).
I'm going to guess that there was just some weird oddity on that earlier ride. Going back further into October and September, I never had something that odd before.
Note that I don't have any good swim HR data that's worthy of review here. Meaning that while I do have swim HR data – I frankly don't know who is right or wrong in them. They're about 20bpm apart and with swimming I don't know my swimming HR zones that well to be able to figure out which one is correct. I've gotta do more work there on that piece – likely in conjunction with the Polar Vantage M review.
So where are things overall with the Polar Vantage optical HR sensor?
I'm mixed. I don't think it's the mother of all optical HR sensors that Polar and others wanted it to be in terms of accuracy. At least not for everything. I think some of their processing algorithms need work, as it's latent in most sprints (more so than most optical HR sensors). But in cases like cycling it does appear that the work is paying off, that's one of the better optical HR tracks out there.
Like most new optical HR sensors it does seem to take companies a while (usually 6-12 months) to work out kinks and one-off type conditions. Hopefully we'll see things quickly iterate on this front.
Product Comparison: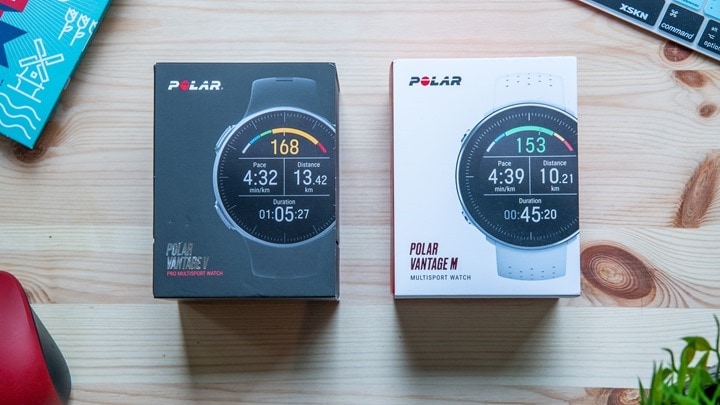 I've added both the Polar Vantage V and Polar Vantage M into the product comparison tool, so you can mix and match and create your own product comparison charts as you see fit. The tool allows you to compare against other products I've reviewed or had hands-on time with.
For the purpose of the below charts, I've compared the Vantage V and M against the identically priced Garmin Forerunner 935, as well as and the Suunto 9 Baro.  You can make your own charts though if you want against the Fenix 5/5 Plus series or anything else in the database.
Don't forget you can create your own custom product comparison chart using the full database here.
Summary: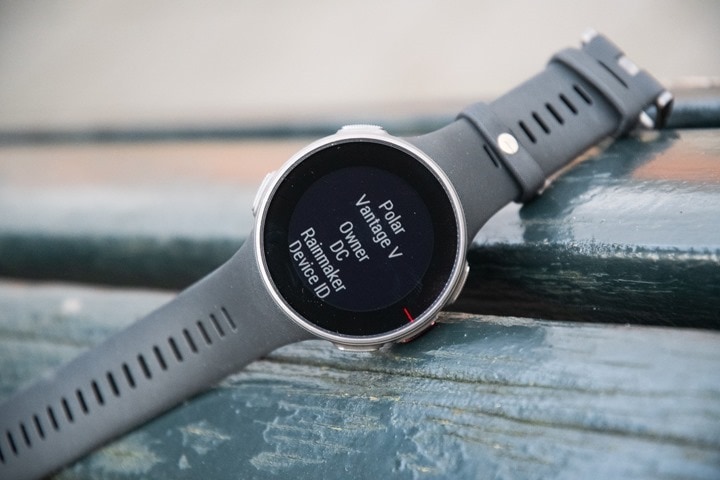 It's been a long road for Polar faithful, a nearly five-year road in fact, as the top-end Polar V800 was announced in January 2014. As such, there's been significant expectations built in terms of what a V800 replacement should be.  Without question – those expectations wildly exceeded reality (since Polar basically took away features compared to the V800). Polar simply doesn't have the staff of Garmin to compete on features these days, and I don't see that changing anytime soon.
Instead, Polar has to compete on accuracy and 'pro level features'. At least, that's the marketing message. But I'm not sure they did that. There's no part of the Vantage V product that's more accurate than their competitors (let alone Apple).  And when it comes to 'pro' level training/recovery features for training, I see this more as catchup than outpacing. After all, these are basically the same features that Garmin and Suunto have had for years.
So what is Polar's strength at this point? Perhaps their 1-second recording rates for longer distance runners. It comes in at 40 hours, which is more than Garmin or Suunto can do at 1-second recording. I see that positioned best in slightly shorter ultra races to say 'We'll have plenty of battery left over', rather than a UTMB race where you'd probably end up short in 1-second recording mode.
I'm interested in seeing where Polar plans to go with the Vantage series in terms of features and accuracy. While they've outlined the next few months – that's mostly backfill of missing V800 features. I'd love to see them put together a bit of a more roadmap that compels potential buyers into the platform being more future-focused, rather than catch-up focused.
With that – thanks for reading!