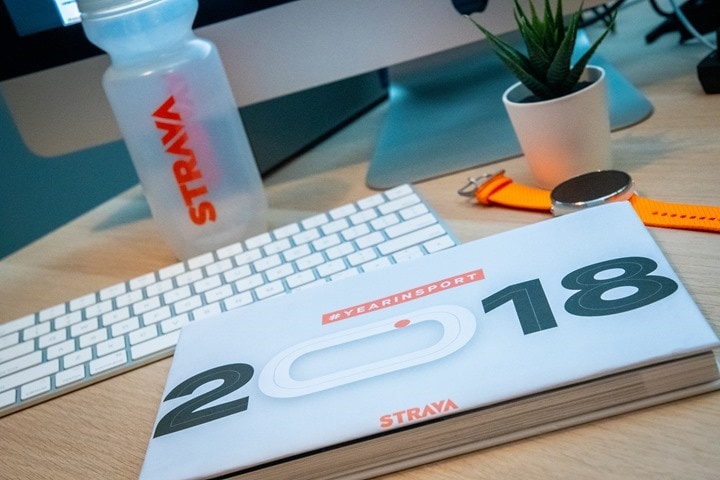 Well folks, it's November 29th, so it's time to have a detailed look at all of our socially exciting athletic data from the entirety of calendar year 2018 to see what patterns we might be able to discern. No better time to do it then now, before we all get drunk at holiday parties!
Oh – wait, what? The year isn't over yet?
You mean there's still over a month remaining to pretend to be fit? Nah!
Don't let that get in the way of a good PDF file. Nobody runs or rides (and god forbid, not swim) in December anyway.
Wait, hold on – you're telling me the '2018 Year in Review' report isn't actually for calendar year 2018?
You say it's for Sept 1st, 2017 till Aug 30th, 2018?
What the bloody hell kind of athletic accounting system is this? Are we sure there isn't motor-doping involved here too?
In all seriousness, Strava's apparent calendar confusion aside, the report is actually pretty interesting – no matter the precise timeframe that it encompasses (and yes, all of the above is actually true). The company releases the 'year in review' report each year, inclusive of…well…a semi-nebulous slice of time. In fact, one year I actually got sent a massive printed version of it to a hotel I was staying at. This year I just printed the first page of 37 included pages and stuck it on a random book I had sitting around (apparently I'm quoted in it, but I don't read Finnish).
Still, I long for the good ol days of giant printed PDF files. It brings me back to working in corporate America with copy machine rooms and the like.  Anyways, onto the details.
The Stats:
There's all sorts of fascinating stats in there. You could play trivia all day long with it. 37 pages of PDF stats, most pages include 5-15 stats that you can throw-down on unsuspecting fitness friends at a moments notice.  For example, Lululemon has more members in their Strava group than Zwift. Bet you didn't see that coming: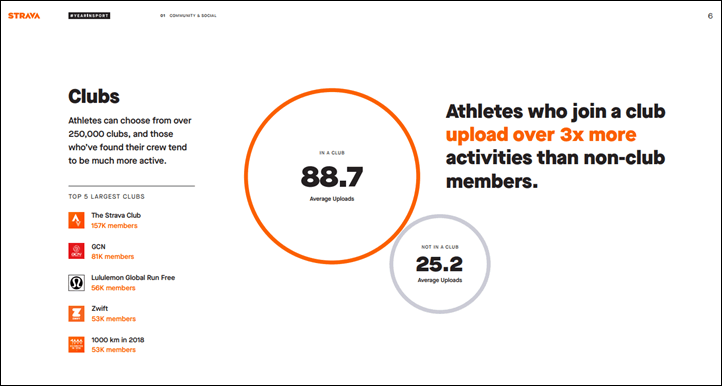 And of course, people not in a Strava group are three times lazier than those in a group. Or, at least socially lazy. And of course – if it's not on Strava, it didn't happen.
But in reality, the stats do support that those in groups both spend longer durations doing the activity and also go longer distances. This isn't a surprise, as half the time I go out with friends we get lost – whereas when travelling solo my navigation skills are impeccable.  Thus naturally I'll go longer with friends, because I've made the mistake of letting them navigate.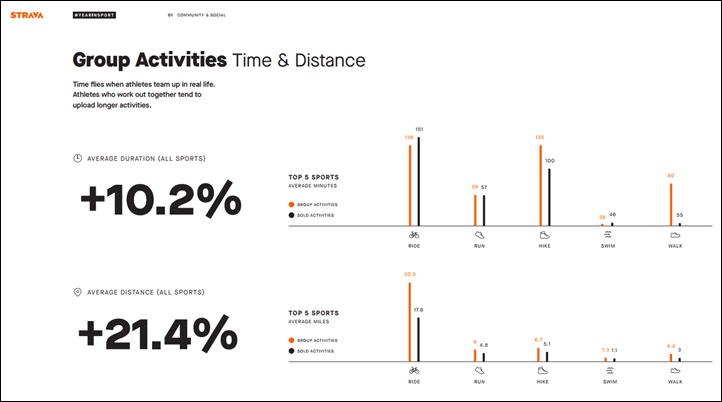 Speaking of social, there's a number of socially interesting things in here. Some of these are items are obvious to those that are on the platform – but they're also things that brand ambassadors, sponsored athletes, Instagram husbands and the like should be paying attention to. Most notably, pictures equals likes. This isn't a surprise to anyone that's attached a photo to their activity, it gets twice as many likes according to Strava – and I certainly believe it.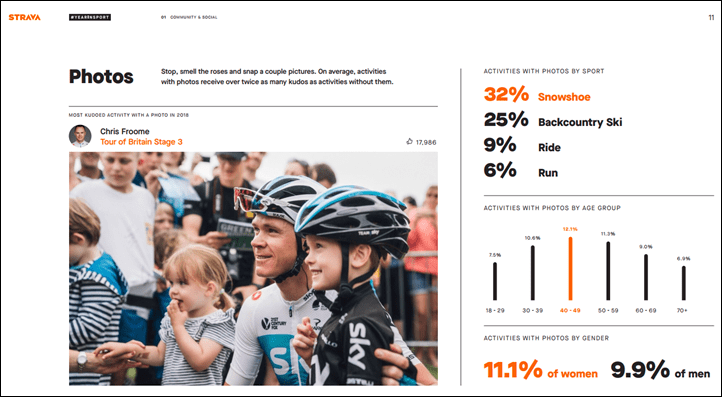 What is most fascinating is that 32% of all snowshoeing activities include photos. I mean – I kinda get it. If I go out and put on giant oversized shoes and flop around in the freezing cold for hours, I'd want some photographic proof posted as well.
Next, we've got the most used emoji by country and state. First off – I'd love to have a detailed analysis of the Belgium/France/Netherlands 'sunny' emoji usage. Because quite frankly, having lived/living in two of three of those countries, there's no part of 'sunny' that I'd consider a frequent occurrence.
Perhaps people are making titles talking about the lack of sun for every workout?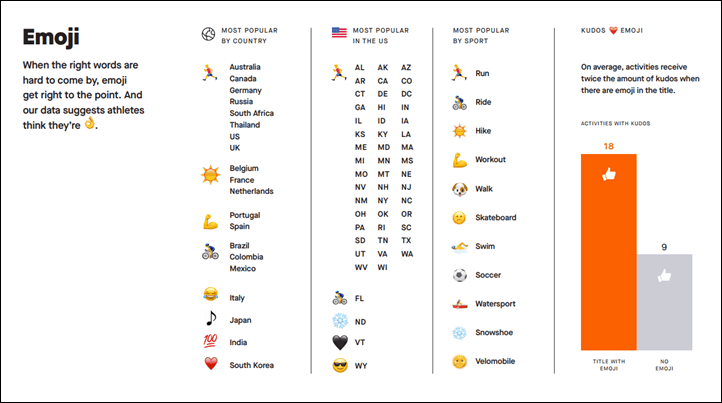 And Vermont – what's up with the creepy black heart emoji?
From the international consortium on how this emoji should be used:
"A heart shaded completely black. May be used to express morbidity, sorrow, or a form of dark humor."
I mean, at least I get you North Dakota – I'd totally agree with the snow emoji as well.  Though again, the key takeaway from this slide is actually that emoji's double the number of kudos on your activity.  Thus I'm adding emoji to all my uploads from here on out (plus the photo as well).
Next, some interesting stats on the most popular days for workouts: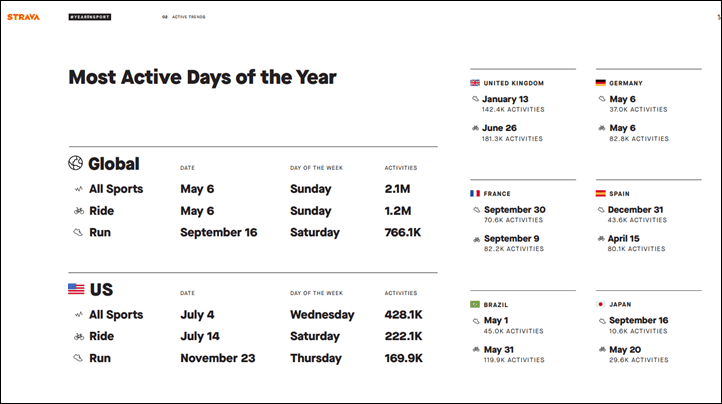 The May and September dates definitely make sense – both time periods that globally tend to have pretty good chances of great weather, especially in the northern hemisphere.
The inclusion of July 4th in the US as the most popular day for sport is interesting given the holiday must be driving people outdoors. However, as an American, I don't actually associate July 4th with fitness. Rather, with hot dogs and trying not to blow your fingers off. Certainly the November 23rd (Turkey Trot that year) makes sense, and maybe July 14th encourages folks to get out on the bike due to watching all that Tour de France coverage.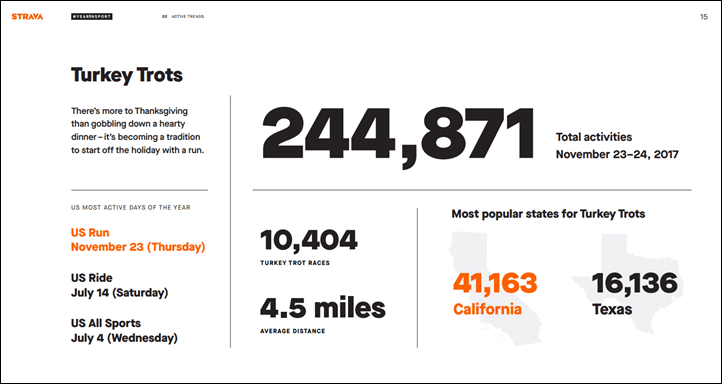 A quick check of the other countries reveals some similarities:
Brazil – May 1st: Public holiday
Japan– Sept 16th: Public holiday weekend
Spain – Dec 31st: Next day is public holiday
Germany – May 6th: Sunday in between two holidays, often used as bridge holidays
However, the dates for the UK and France don't align to anything. They're just random outliers where it must have finally been sunny outside.
On a more serious note, I thought it was interesting how Strava presented various gender differences in stats. Many slides highlight the nuanced differences to how men and women differ on uploads or other metrics. However, they never explicitly point out the gender share breakdown in percentage between men and women using the platform. Likely because it would unfortunately show that far less women use Strava than men (despite Lululemon's stellar standings in group membership).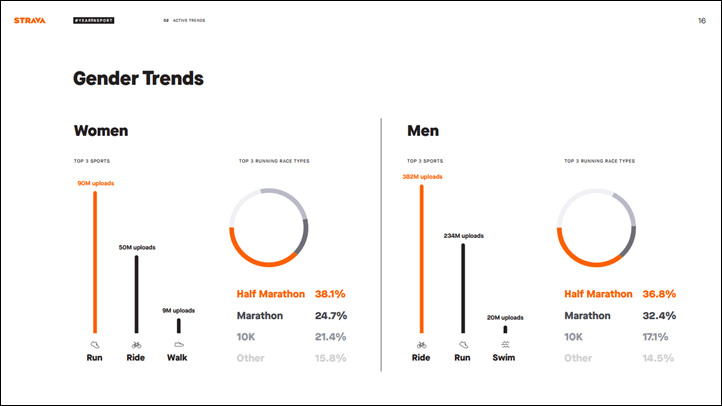 The above slide is the closest we get to actual hard numbers, and even that isn't telling the whole story as it skips a large number of sport types. Still, it does tell a story. If we total up those three sports (run/ride/walk), we get:
Total women uploads: 149 million
Total men uploads: 636 million
In other words: 77% men, and 23% women.
That said – the differences in speed, or duration aren't actually that much different between men and women. Only 5-8 minutes shorter for rides, and slightly slower for runs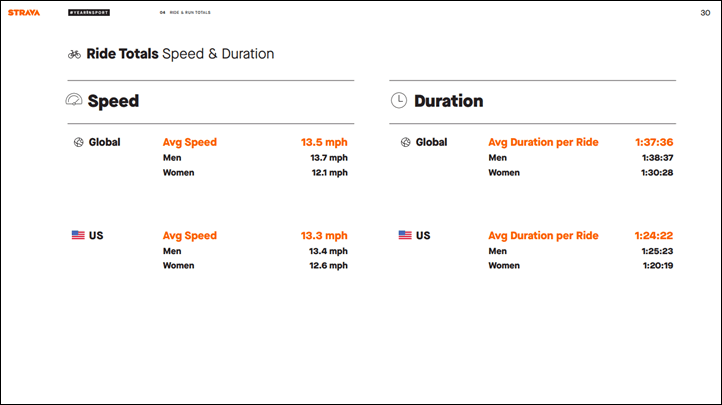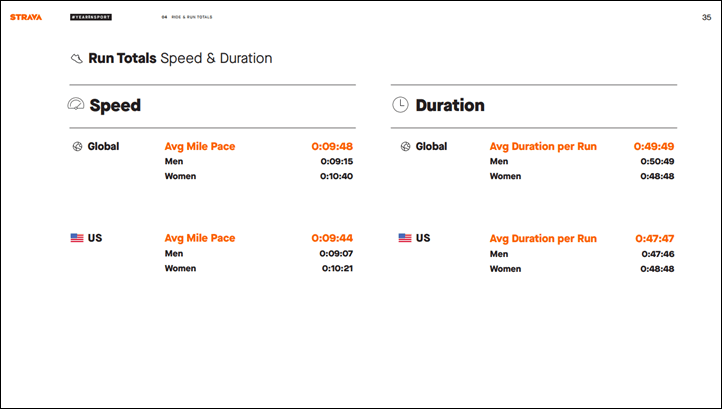 However, US women do actually tend to run for a longer duration than US men. Whereas the inverse is true more globally. A different slide helps paint that picture that the average distances are slightly less for women than men.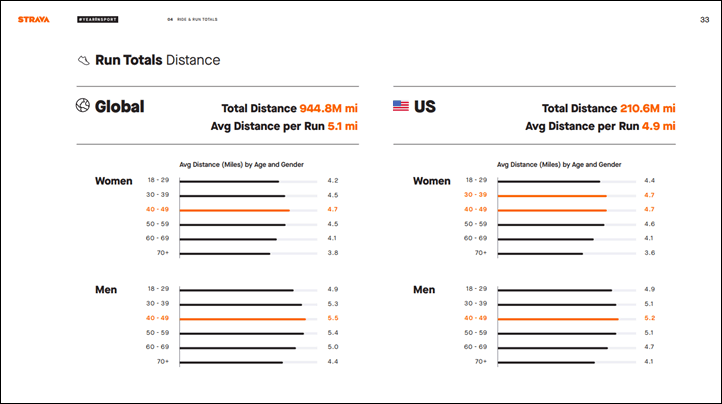 We do also see that race participation in the US is growing slightly faster for women than men, and if we look at year over year stats, then women have nearly doubled that of the men from a growth perspective.  This slide also shows that for running, people are clearly favoring Sunday over Saturday for their long runs.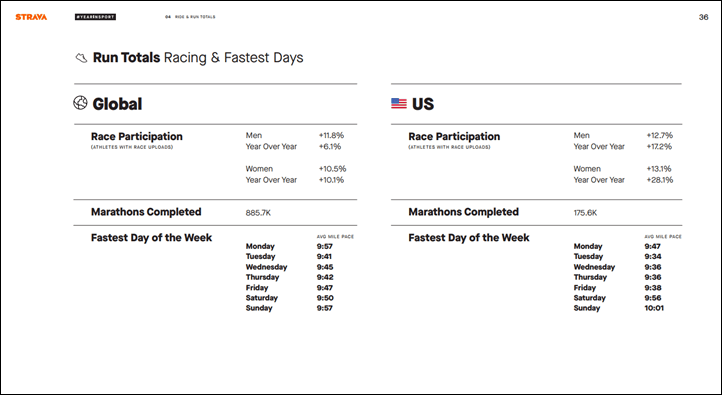 There are really so many 'WTH?!?!' stats in here though. For example, the bike commuting stat is without question the most interesting to me. It notes that the longest bike commutes are from those in Mississippi.  I can guarantee you that if you asked me to name the top commuting state, heck, the top 25 states for longest bike commutes – I'd never have guessed Mississippi.  This is furthered by the fact that the Bike League of America ranks the state towards the bottom – 40th of 50 states for bike infrastructure.  Same goes for Oklahoma – 2nd on the Strava list, but ranked 46th in the bike infrastructure list.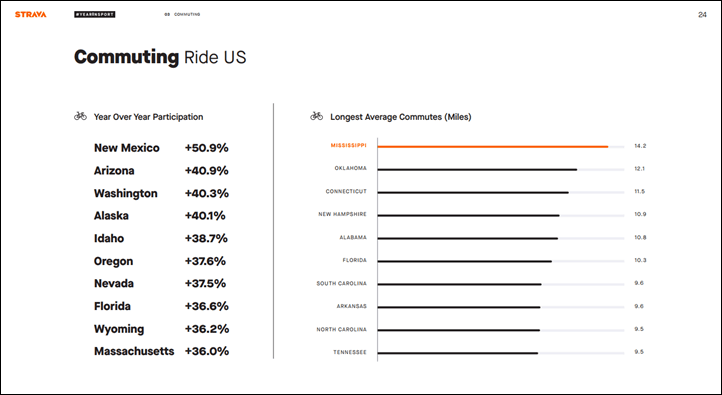 I'd love to know what types of routes those are. Are they dedicated bike paths? Are they on roads just on shoulders? I mean – going 14 miles (22km) is a heck of a long way for a one-way commute – well above the global average: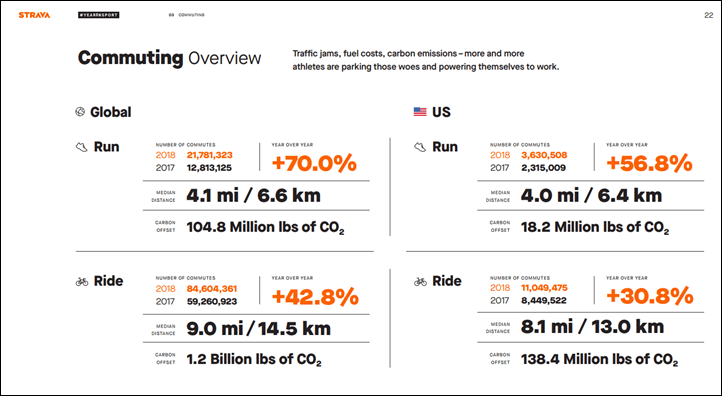 But it also gets into some of the nuances of how people use the platform. For example – one of (if not the most) bike friendly nations on earth – the Netherlands – doesn't rank towards the tops of the ride commuting list.  But that's logical, because most people living here (including myself) don't bother to start the Strava app or record commuting rides. For example – I haven't uploaded a single commute to the office since living here in Amsterdam. Despite commuting 7 days a week to/from the office (yes, even weekends).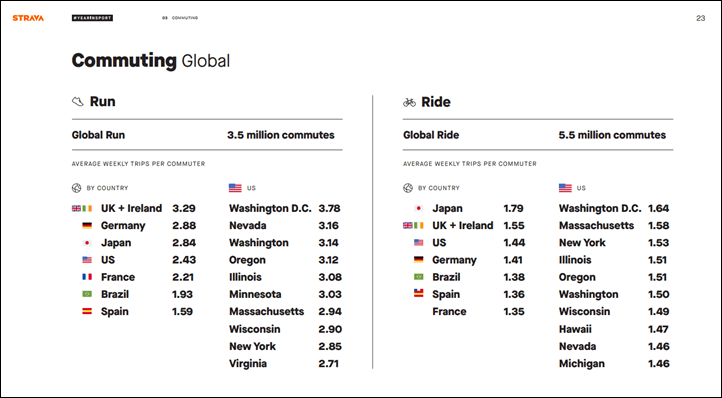 In any case, I'll leave you with the most important stat: Beer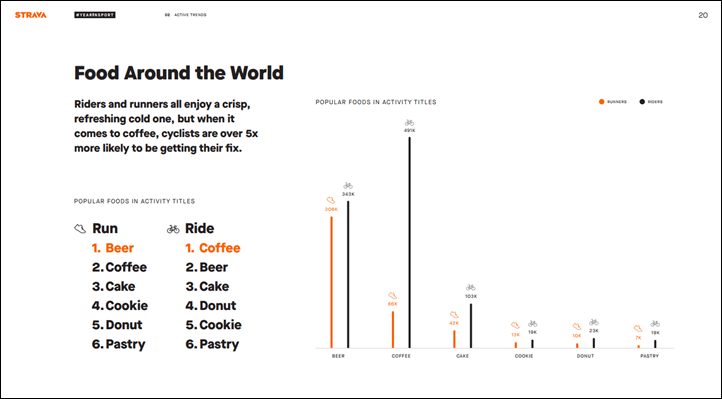 Beer wins for runners, and coffee wins for cyclists. At least in terms of titles.  Approvingly though, #3 behind both of those is cake. The Girl would be happy.
With that – thanks for reading. And again, you can download the entire PDF report here.