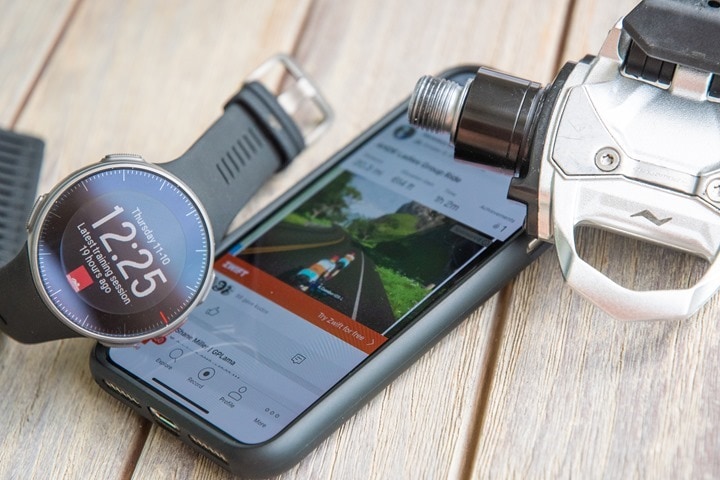 There's been a handful of non-headliner tech tidbits this week in the world of sports tech that are worthwhile mentioning and chatting about. Of course, given this is Friday, the post length is required to be short. Apparently people have shorter attention spans on Friday. Or maybe that's just me. Either way, onwards we go.
Polar Vantage Series Updates Plan: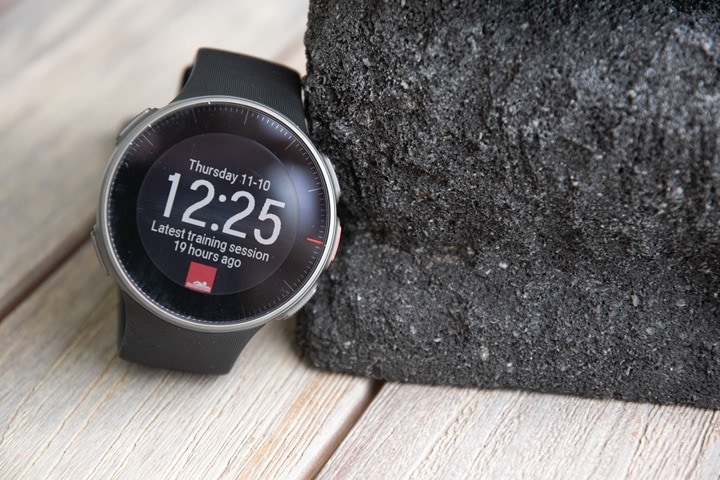 It's no secret that the new Polar Vantage series announced last month landed with a thud. In large part due to the oddly significant number of features missing, especially important ones. Some of those features were on lists to be implemented in the coming months, while other features weren't on any list at all.  All of these features were 'removals' of features that had been and are in current/predecessor Polar products.  For example, route navigation was removed, as was smartphone notifications, along with timers and the like.
Again, some of these were outlined as future additions for likely early next year, but one in particular – route navigation – was not found on any list. While one can academically debate whether or not they utilize route navigation, the results from the vast majority of people in the comments sections of any post, forums, Facebook, and bathroom stalls around the world was clear: WTF?
Thankfully, Polar has amended and published their longer-range plan of action to list out exactly which features they'll be adding going forward – and route navigation has now made the cut. Here's what else is on the list:
Update 2.0 – December 2018:
Polar Vantage V: Stopwatch, countdown timer, and interval timer
Polar Vantage M: Stopwatch, countdown timer, and interval timer
Update 3.0 – 'Early 2019':
Polar Vantage V: Smartphone notification, back to start guidance, waypoint navigation for downloaded routes
Polar Vantage M: Smartphone notifications (calls/messages/etc…), back to start guidance
Future Updates – 'Timing to be confirmed'
Device type not specified: Strava Live Segments, Fitness Test, 'other features to be confirmed'
Note that all of these updates all say 'enhancements to existing features', but don't specify what such enhancements they are.
When I met with Polar back a month or so ago prior to launch, I noted that they'd really need to have a clear-cut plan on how to restore these features. I pointed out that years ago with the Suunto Spartan series when that company found themselves in a similar predicament, that they ended up putting together an entire site dedicated to how their Spartan series was going to get a series of updates. And by and large, Suunto hit all those milestones – and usually in the timeframes noted. In fact, they did the same things many years ago with the Ambit series too, well before Spartan.
Of course, it remains to be seen whether or not Polar can hit their timeframes. Historically speaking that's been trickier for them to meet promised updates/timeframes. And given it'll be nearly five years since the Vantage's predecessor came out (the V800), I'm not super confident that all the features will be hit according to schedule.
Now both Polar and Suunto have been very explicit that they aren't trying to chase Garmin in features anymore. Instead, they're going to focus on the more hardcore/professional athlete (at least in terms of specific features). But even if Polar isn't trying to chase Garmin, they need to be chasing Suunto. And the entire purpose of the Vantage M unit (the little brother to the V) is to undercut Garmin and challenge Suunto at the also-$279 price point for the Suunto Trainer Wrist HR. Yet Suunto's offering does navigation, and Polar's won't.
I'm not convinced that'll help sell the Vantage M – especially when sale season comes along for Suunto and they drop the price down to $224 like they tend to do every 2-4 months.
As for my in-depth review of the Vantage series – later this month. I've continued to use it on runs/rides/swims (including these last few days openwater swimming). Polar says they'll start shipping in early November [updated].  So I'm curious to see how others fare compared to my latest tracks. I will say though that given the 9 (yes, nine) LEDs they have in the optical HR sensor, that the HR accuracy there has been on-point so far.  More to come.
Strava Integrations: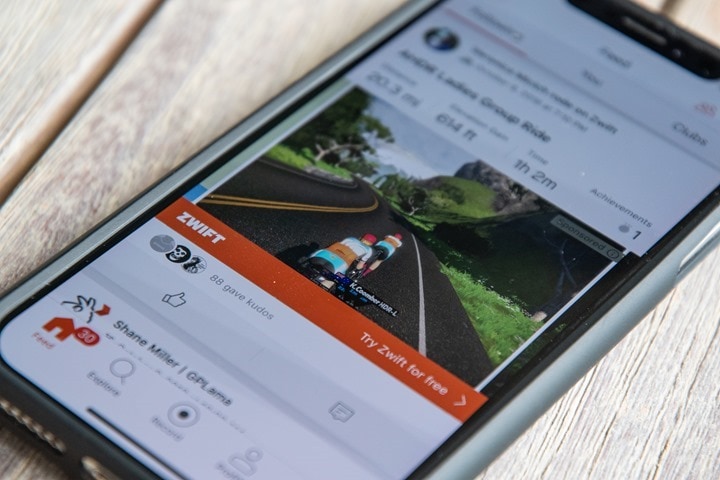 At this juncture you're probably trying to figure out what the heck 'Strava Integrations' means. Here, I'll rephrase it for you:
"Zwift and TrainerRoad Ads in Strava."
See, now that makes sense, right?
Of course you've seen these ads – not just for Zwift and TrainerRoad, but other companies as well. The SufferFest, Peloton, Mindbody, Wahoo, and as of Monday, Suunto.
In general the opinion is split between:
A) WTF is wrong with Strava!?!?
B) Shrug…swipe.
I tend to actually fall closer to the 2nd category. It really doesn't bother me. And honestly, if these companies find value in paying Strava for it and get good 'conversion' rates, then so be it. You can see an example of an activity, and what happens when you click on it:
However, Strava has heeded some of the yelling and given us a new option (sorta). Specifically the ability to turn it off. The biggest complaint to date was that for many premium (err… Summit) members, you're paying for a service only to be served ads. Though, I suppose both Hulu and the New York Times subscriptions I also pay for do the same. Still, the point is valid.
So Strava now offers the ability to disable certain 'integrations'. You can see this option down in the settings on the app:
Alternatively, if you click on one of your own activities and the sponsored info, you can see the same options for that particular company:
Except, there's some sorta weird quirks here.
Quirk #1: Only the poster (the person posting the workout) can disable the integration as to whether or not their followers see said integrations (ads). So in my case, it's me that makes the decision on whether you (if you follow me) see the ads. It's not you. You've apparently got no control/say over it.  This is bizarre on so many levels, and seems to be ill-thought out in two ways. First, is the consumer minded way. In this scenario the consumers that hate it the most still can't turn the darn thing off unless they bug the people they follow.  But second is the real kicker: In this scenario high-profile accounts that have thousands of followers (and thus the most impactful to both Strava and the connected integrations bottom lines from an ad standpoint) are making the decisions.
So let's take me. As of this writing, I have 11,678 followers on Strava. Hardly a big deal in the grand scheme of Strava accounts. In my case, if I turn these integrations off – then those 11,678 won't see the integrations for the crapton of services that I use. Not a single person. Yet, as I've seen in the past – a number of folks are actually interested in knowing (and frequently ask). So in this scenario, because I make a fart in the wind choice to turn it off, Zwift/TrainerRoad/etc loses out on 11,678 opportunities to convert…every…single…day I post a new workout.
And more importantly, the people who hate the ads still can't do squat about it. I'm struggling to think of any scenario where either side (actually, three sides – Strava, Consumers, Partners), wins in this case.
Quirk #2: Strava says in the e-mail that integrations technically fall into two categories. Sponsored and non-sponsored. Sponsored are ones where Strava has entered into a partnership with the company and the company gets a link on your feed from your activity off to their site to sell something to you. Additionally, they might do things like screenshots from the app/etc.
Here's how they explain this bit:
"We're going to be even more transparent by labeling paid-for integrations as "Sponsored." We want you to know which brands have paid for the privilege of showing up differently in your feed (and to be clear, today's updates do not make sponsored integrations more or less likely to appear in your feed than unsponsored ones)."
Hmm, except, I'm not clear on something here: Since all of these companies are already paying for the privilege of doing so (they pay on a per user basis), aren't all of them sponsored?
They do note some interesting things coming though:
"You'll soon see some of our partners creating new integrations for their GPS devices. Go for a run or ride with select watches or head units, and your activity might highlight stats that are unique to those devices, or show an upgraded map of where on your route you snatched up a PR."
And that sounds like it could be good. And in theory, if they reverse the way they handle the integrations bit in Quirk #1, this might actually be useful to folks. In talking with a number of GPS device makers about the integrations over the past year, their main pushback to Strava was that people were frustrated they couldn't turn them off in their feed. So much so that they were getting angry at these companies (as we saw towards Wahoo), thinking Wahoo was turning it on when it was more directly a Strava feature.
So the idea that there could be some legit value for GPS/device makers is interesting.  Unfortunately, it's a little unclear on what these newfangled integrations might look like beyond what we have today. On Monday, Suunto entered into the partner realm with Strava for device integrations – but it's all kinda same-same there. Nothing fancy that I can see in my testing – akin to Wahoo's integrations (they only seem to show a PR icon on the map for a given segment if you hit one). They're almost placeholders by the looks of things.
Of course – my voice is only one, so I'm curious to see what folks think below in the comments on the integrations. Love 'em, hate 'em, think they should be different – drop a note. While I know Strava is paying attention to these comments, what matters more is that many 'partner integration' companies are also paying attention. And since they pay the bills in that relationship (between them and Strava), voicing your thoughts to them matters more than voicing it to Strava.
PowerTap P2: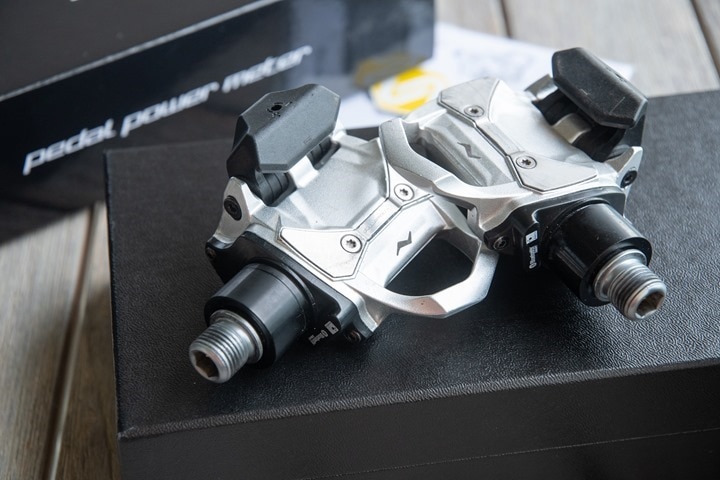 Finally, we've got a tiny bit of news I'll dive into in more depth in the coming weeks. Since I've been in snowy Canada and hot and steamy Mexico these last two weeks I've been without my bike. But, I did receive more power meters instead – specifically, the PowerTap P2: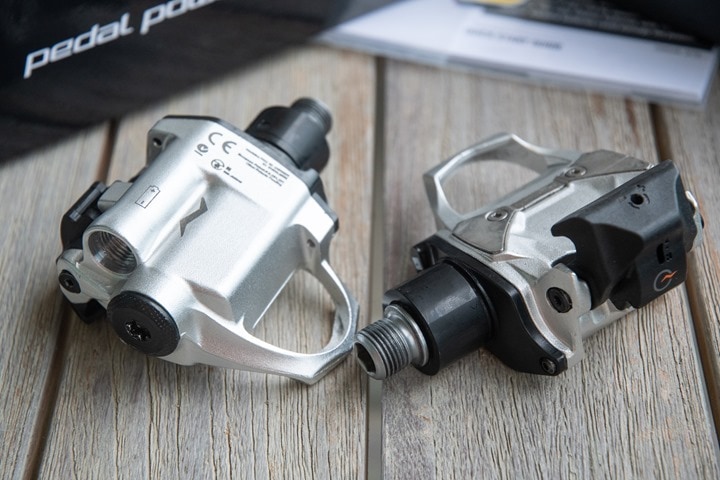 Above is a half-unboxing. I find hotel rooms don't make great unboxing venues, so this is like a strippers tease of an unboxing. What you really want is the specs though. Here's how it's different than the PowerTap P1:
Weight: Reduction of total pedal mass, down below 400g now (previously was 437g). This reduction was done mostly internally inside the pedal body by cutting away inside. However, there is now a small cutout from under the skid plate as well. Externally there's no visible differences in size.
Battery life: The company says the units will now get 80 hours of battery life per battery (still AAA), however with more steady-state and longer rides, you could see up to 100hrs of battery life. They noted that this was done by tweaking some of the electronics inside to gain back some battery life.
Improved sealing: The company says they learned a lot from the PowerTap P1, and specifically had a lot of "why are people using it like that" moments when troubleshooting issues. They say that the new unit improves various sealing points more than before. They did note that the PowerTap P1 did see a lot of changes in-line though over the years (for example we saw the new battery caps pretty quickly after introduction).
It got a paint job: It's now silver, which, PowerTap admits is…'polarizing' (their words, not mine). I probably would have selected other words, but given the majority of this post (outside the PowerTap P2 section) is mostly ranting, I'm running low on creative ways to phrase this one.
So in a nutshell, it lost some weight, got an exterior makeover, and in the process, the batteries last longer. It doesn't receive any new features at this point.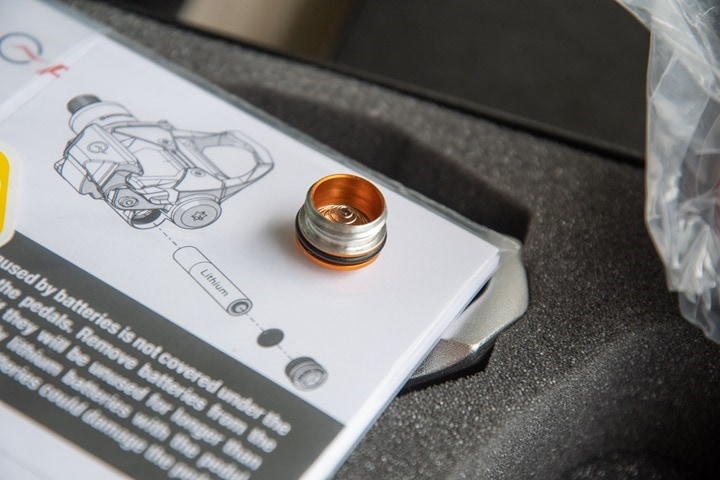 And I think that's a bit of a disappointment. With the Favero Assioma pedals slated to get the new ANT+ Cycling Dynamics, PowerTap doesn't appear set to join them. I asked about this, and they (PowerTap) felt that their existing mobile app driven process was the best place for that. Frankly, I can't think of a worse place for it (except printing it on a latte). It's clunky to use, doesn't work well when riding outdoors in terms of people's workflow, and doesn't translate very easily in the end-state app. Just like trying to take a latte outdoors on a bike.
Pricing wise, the new PowerTap P2 will go up in price to $899, while the PowerTap P1 will stay at $799 (and the PowerTap P1S will stay at $529). There's no immediate PowerTap P2S on the books.  Availability for the PowerTap P2 is slated as November 15th.
Ultimately, I'm not sure this will help PowerTap much – especially in the fight against Favero, but also against Garmin Vector 3. While Garmin's Vector 3 has had a messy year, most signs indicate that it's past the troubled waters they've crossed. And even if it's not, people are still buying a crapton of them – so something must be working.  And with Favero – the story is also true (except they've got no issue). So they've got a lower priced product than PowerTap that's more or less universally loved.
I think people were hoping PowerTap would come into the market with a sleek Vector-like looking pedal, sans the pods of the Favero Assioma (that some people dislike). That would have hugely driven sales. Or at least introduced the P2 at the same $799 price point and dropped the P1 down below Assioma's price point.
Either way – I'll still be throwing them on my bike and seeing how they fair. Given that the crappy Netherlands winter weather shall soon be upon us, I'll be able to see how well those new robust sealings work.
—
With that – thanks for reading and enjoy the weekend ahead! I'll be spending a good chunk of it in a metal tube crossing back over the pond to home and a giant pile of new trainers to review!
P.S. – Today is the last day to order our DCR Cycling Kits/Gear – so definitely hit up the page and pick your color! Also, today will likely be the last day the DCR Open House/Cave registration is open. It's nearing capacity and frankly we won't be able to fit any more people in.