Phew – a whirlwind of a weekend – here's what we were up to as our visitors wrapped up their stays and the holidays got into full swing!
1) DCR Live Stream With Lama and DesFit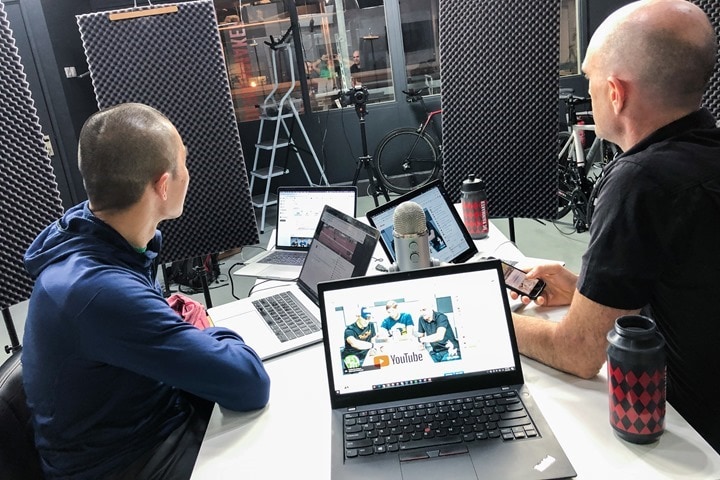 Friday evening we kicked the weekend off with one last collaboration between GPLama and DesFit, as they wrapped up their stays here in Amsterdam (which started with the open house last weekend).  Both left on Saturday for the long set of flights home, Des to 'Merica, and Lama+Von to Australia.
But before that, here's our YouTube livestream we did. We consistently had about 300 concurrent folks watching at any one point in time, which is definitely a high for any of us (all in about 1,500 people joined us live, and then thousands since).  Note that the audio is a bit rough for the first 8 minutes, and then it's totally passable after that. Our bad!
All of us have pretty good audio setups for ourselves solo, or even the three of us together for recorded sessions.  But we lacked similar stream-able audio gear for three of us to have lav mics on.  And I haven't yet purchased enough soundproofing to remove all the echo from the new DCR Cave. Don't worry – by the time they come back, I'll have this all figured out.
Oh – and in case you haven't seen it – you definitely need to watch DesFit's latest video below. It's flippin' hilarious!
Hope to see this crew back in Amsterdam soon!
2) Vintage Trolley Holiday Ride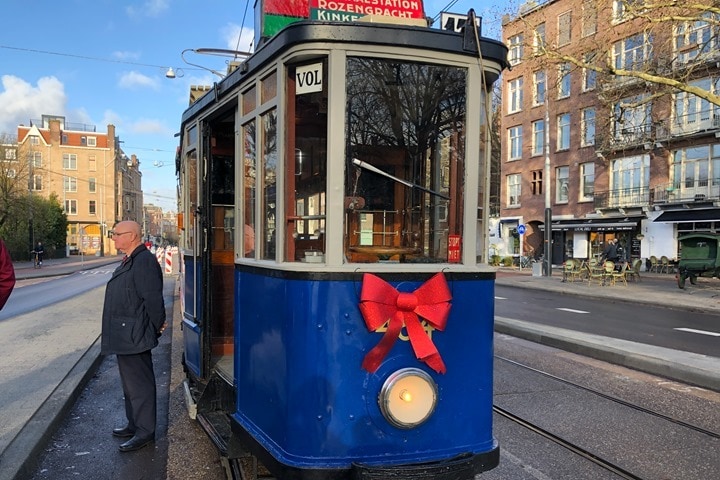 Sunday lunchtime The Girl had arranged for the kiddos (and us) to go on a trolley ride with a bunch of other kids and parents. These vintage trolleys are often seen on the weekend, primarily as a tourist thing, but also can be booked for events and such.  In fact, the shed for them isn't very far from the DCR Studio and they go right by it on a now unused spur track of sorts.
The loop with the kids wasn't too long – mostly a giant circle around Vondelpark (on the railroad tracks of course). They had some slightly older school kids singing carols as well. Thankfully the trains weren't too packed either, so it was a more enjoyable ride than a totally full train.
Sometimes on the weekend I'll take The Peanut via bike to the weekend track they often use for rides. There's a bike path right next to it, and she loves keeping pace with the trolleys by bike (which is fairly easy to do, as they don't go super fast).  She waves and they ding the bell, all good fun for a couple kilometers until we turn around and follow the next one. Rinse and repeat.
3) A few loops running
After the train adventures, I headed back out for my own locomotion loops around Vondelpark. This time by foot. Well, two feet.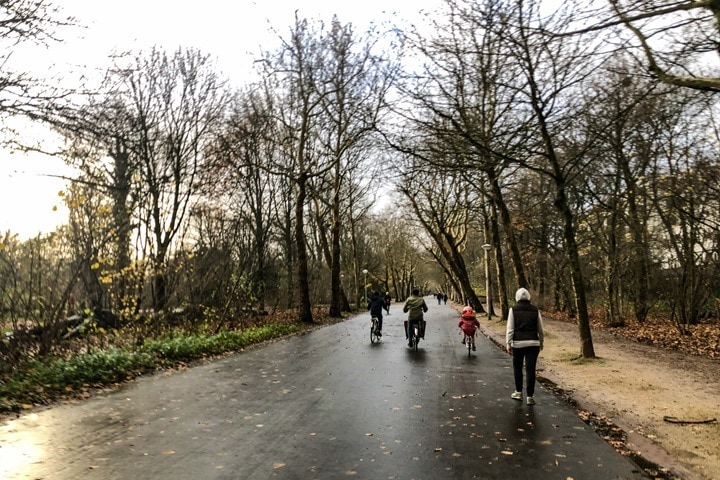 Of course, it rained about 60 seconds after stepping out the front door, but it wasn't a complete downpour – so it wasn't horrible.  I mostly just kept the pace steady Z2 for the entire run, save doing 1/10th of a mile sprints each time I triggered a new mile.  I did these mostly to dork with the optical HR sensors of the Apple Watch Series 4 and Polar Vantage V. Nothing like a good sprint to see how things handle.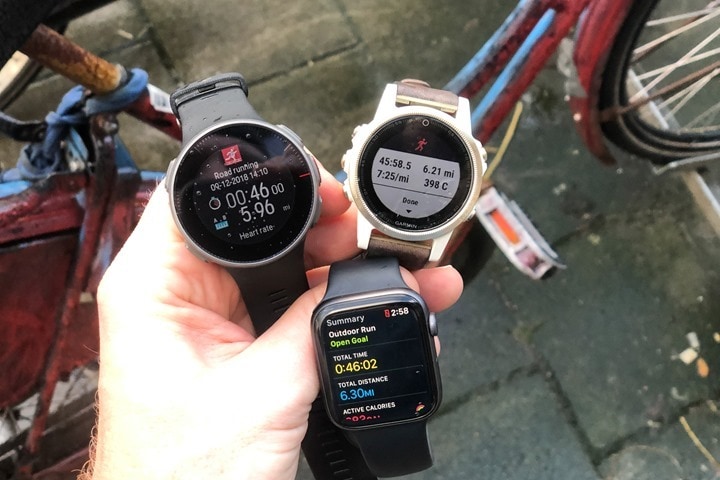 I'm looking to finally wrap up my Vantage V in-depth review by the end of the week – so stay tuned for that!  Oh, and here's my run on Strava. And in case you're wondering why I'm using a Fenix 5s, the reason is simple: I stole The Girl's. I had left mine back down at the DCR Cave for the weekend, and needed one more device to collect heart rate strap data…so hers got commissioned.
4) Movin' the data!
(Geekery ahead, you've been warned!)
Now that the DCR Open House is behind us, and the DCR Cave is mostly functional – I've moved on to knocking out less critical items. One of them being getting all my data consolidated.  I mentioned in past weeks that I was looking at Black Friday sales for certain things, one of them was a deal on the Synology NAS that I wanted (DS1817, non-plus variant as it has 2x10GB whereas the Plus has 1GB ports only but more processor stuffs that I don't need).
That's because at present I've got:
1) Smaller Synology DS416 NAS with ~16TB of data on it
2) A Lacie ruggedized 4TB External USB drive with ~4TB of data on it (full)
3) Another Lacie ruggedized 4TB External USB drive with ~3TB of data on it
4) My laptop with about 1TB of data I need to put somewhere
5) An Akitio Thunder3 RAID Station with about 5TB of data on it
So roughly, about 28TB of data to get consolidated.  There is a bit of duplication between the Lacie drives and the smaller RAID station as I had done some backups of the most critical stuff to it from the orange drives.
Thus my guess is that I've got about 25TB of unique data locally, then probably another 1-2TB of random data floating around on SD cards and other computers that needs to be cleaned up/sorted.  Almost all of this is currently backed up to various cloud providers though – which is actually good.  And in fact, even my 1TB or so of Dropbox storage is reverse backed up onto the Synology NAS. Woot!
In any case – I started that consolidation process this weekend.  The older Synology NAS only supports 1GB Ethernet, so that's my primary limiter.  I suppose I could use a hard drive in between and do it sneakernet style, but that's just messier. I'd rather just leave things overnight and let them copy via network than play FedEx man with hard drives back and forth and back and forth and back and forth.
As for those Black Friday deals, I didn't find one directly on the NAS, but I did find some really good deals on the Seagate 8TB hard drives I wanted (making them by far the most cost-efficient size for now).  Though, while writing this I realized I'm going to need one more – so I just ordered another at a pretty good price.  Always funny how much the different Amazon Europe sites (FR/IT/DE/UK/ES) differ in prices for the same item. All in that'll give me for now about 36TB or so of storage, with the ability to add another 16TB or so, giving me about ~52TB or so of usable space in a simple RAID5 config (screaming speed isn't an issue for me on this, thus the RAID5 choice).  After that, I can always add another Synology expansion shelf if needed (something I couldn't do with my previous unit)
Ok, geekery done.
5) Holiday Art Canal Ride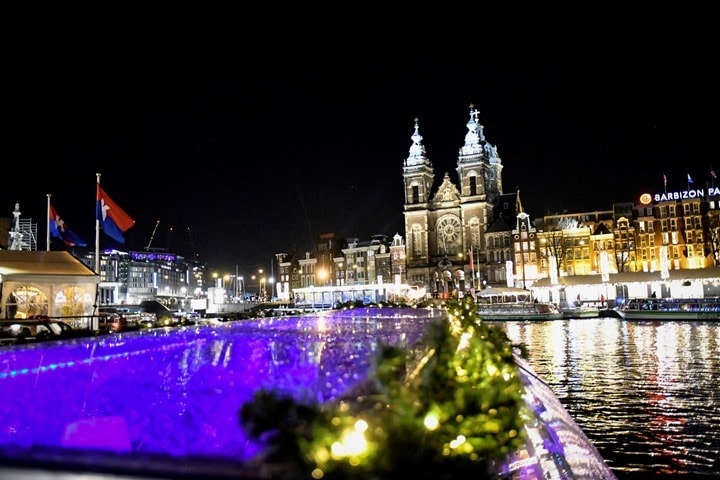 Finally, on Sunday evening we met up with another group of parents+kids for more transportation touring. This time by canal boat. The city currently has a canal-focused art exhibit going on with ~20 art installations on/above the canals throughout the city. It's strung together such that it's best seen by boat (it'd actually be relatively difficult to do it efficiently any other way).
Here's two of the installations (the hanging lights are actually washer/dryer tumbler parts):
Of course, we went by bike there, as always. The kids love it: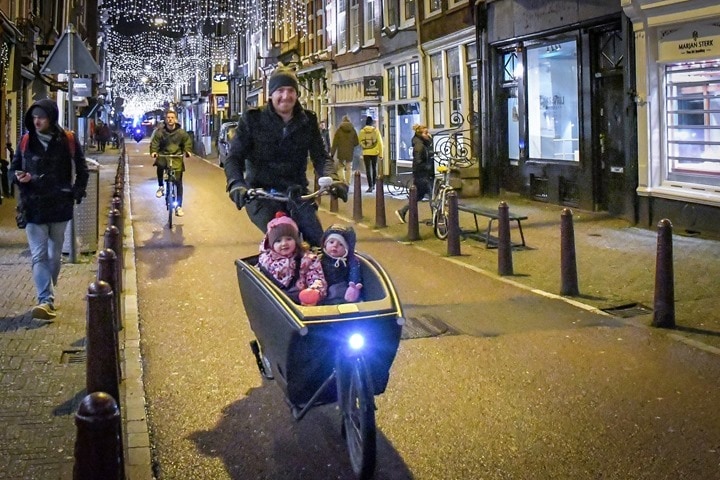 On the way back it started really pouring out just as we got to the Rijksmuseum, so we temporarily took shelter (like many others) on the bike path that goes through it. It was our route home anyway.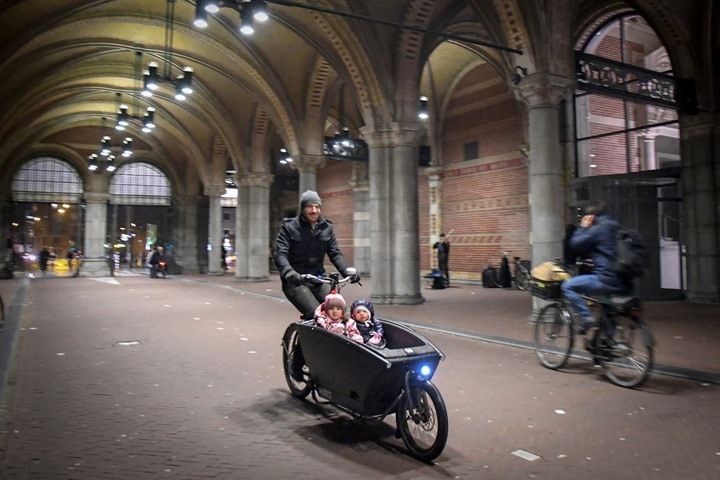 Thankfully the hard rain didn't last too long and we were back to pedaling on home to wrap up the weekend.
With that – thanks for reading and have a great week ahead!