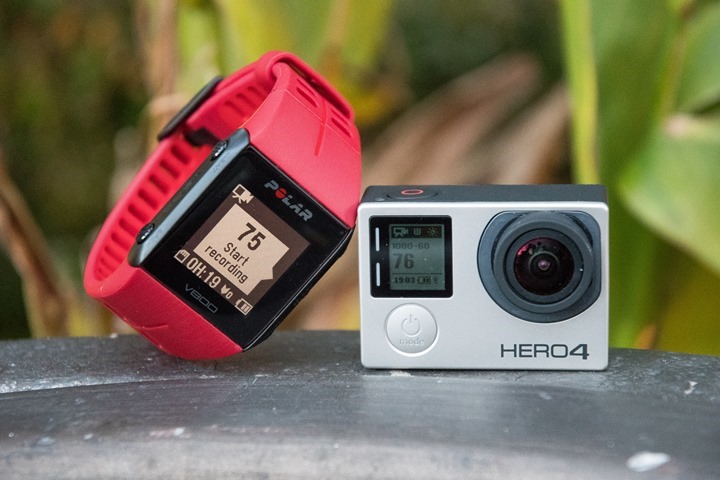 While Polar started off the week with an announcement about their new wearable shirt that has integrated heart rate sensors in it, they began today announcing details on GoPro camera control and a new H10 heart rate strap.  I got the chance to dive into both last night, giving you an early look at what's to come over the coming months.
GoPro Camera Control: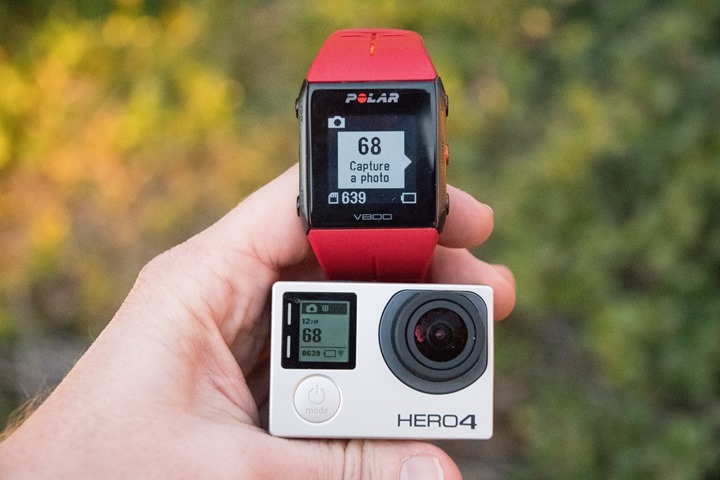 First up is Polar's integration with GoPro.  You may remember last spring the two companies announced integration which would allow data from a Polar device to be overlaid onto a GoPro action cam. While that hasn't come to fruition yet (sounds like maybe March, maybe not, call me maybe), they are instead pushing out control over your GoPro from your wearable.
Later this month the Polar V800 GPS watch will receive a firmware update that enables the GoPro control.  At present that's the Hero5 series, along with the Hero 4 Silver/Black.  There's a possibility that the GoPro Hero4 Session may get it, but that's still up in the air.  Then by the end of March, the Polar M600 Android Wear GPS watch will also receive the same update, granting it action cam powers as well.
Let's dive into how it works.  First, you'll pair up the Polar to your GoPro in basically the same way you'd pair a GoPro remote.  It does this via Bluetooth Smart, an important point that we'll circle back to in a moment.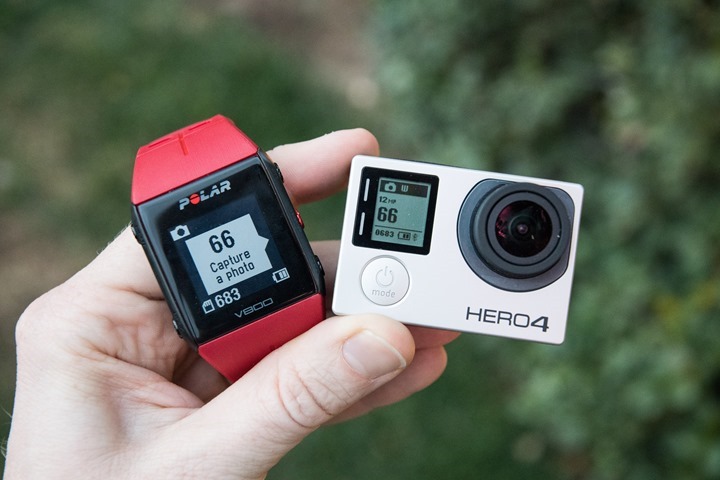 In the final firmware, you'll see the camera on the sport profile screen in much the same way you'd see a HR sensor once paired (little HR icon, bike icon, etc…).  You can also access this from a non-sport mode as well.  Once you've opened up the GoPro page, you'll see the current mode of the GoPro.  At this moment, you can't change the mode from the Polar app, rather, it's more of a confirmation.  When you press the mode button on the GoPro, it'll instantly reflect that on the Polar – even to the settings page.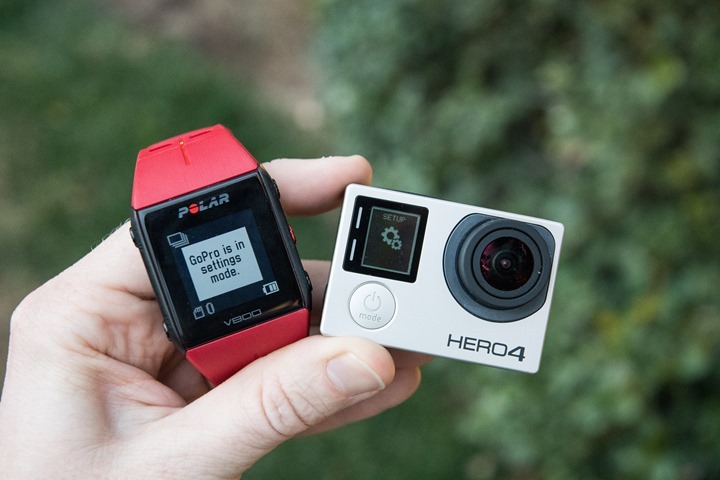 Of course, the main advantage here is being able to start and stop recording.  You'll press the middle button, which triggers the starting/stopping of recording video.  Or, if you're in photo mode, it takes a picture.  It simply follows whatever the GoPro recording button would do natively.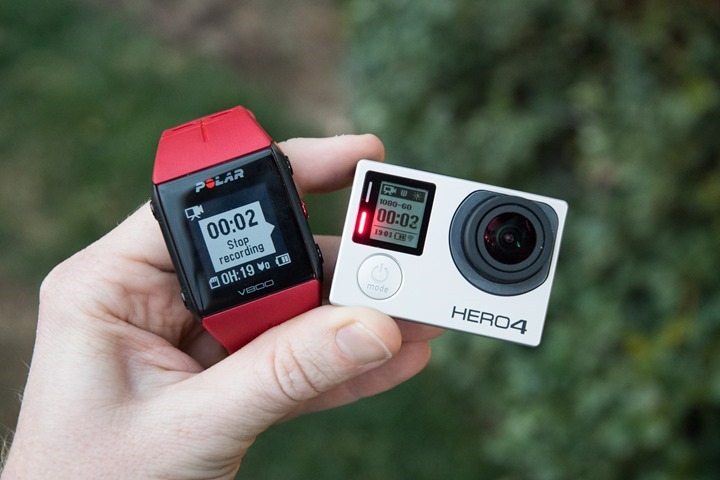 Next, you may have noticed that the Polar unit reflects the state of the camera from a battery/storage/photos standpoint. So it's showing how much battery life is left on the GoPro, as well as the current recording time of the video, plus the storage remaining.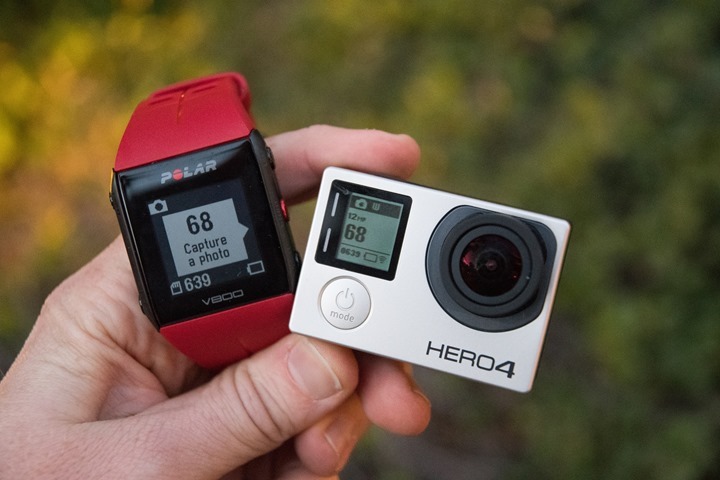 The last trick up the sleeve is the ability to take a highlight tag.  This is probably the coolest feature, and is brilliantly implemented. Simply whack the Polar watch, and instantly a highlight tag is recorded.  These tags are used by GoPro's Quik software when doing automatic video compilations.  Or, you can just use them manually to find the best (or worst) parts of your day.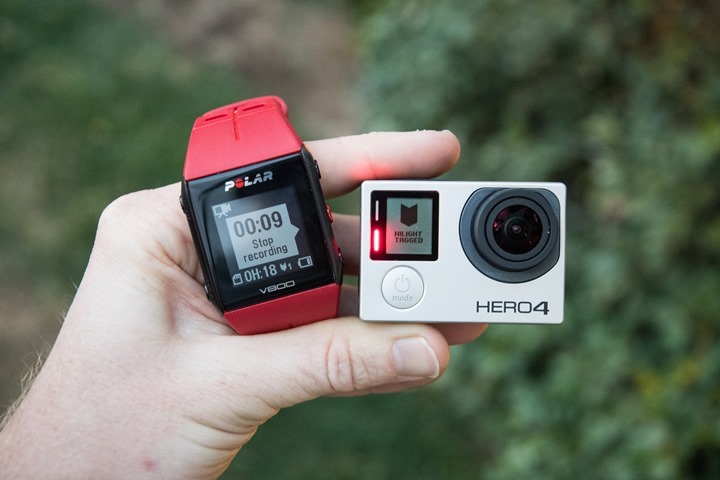 Now one disadvantage of the GoPro control is that it's going to block your ability to connect to Bluetooth Smart sensors on your watch.  So that means you won't be able to connect to a speed/cadence sensor, or a Bluetooth Smart HR strap.  You *can* though connect to the analog signal on the V800, meaning you can still connect to an H7/H10 strap.  This restriction is simply because the V800 goes into a different Bluetooth mode to connect to the GoPro, which blocks inbound connections.
Of course, this being a post about video – I've got a video for ya.  Here's how everything works (plus the H10 strap I talk about down below), in one tidy video:
Again, the round-up of compatibility here is:
Polar V800: Firmware update coming later in January
Polar M600: Firmware update coming by end of March
GoPro Compatibility: Hero5 cameras, Hero4 Silver/Black, and Hero4 Session maybe
The lack of other cameras is simply because they lack Bluetooth Smart.
Polar H10 Heart Rate Strap: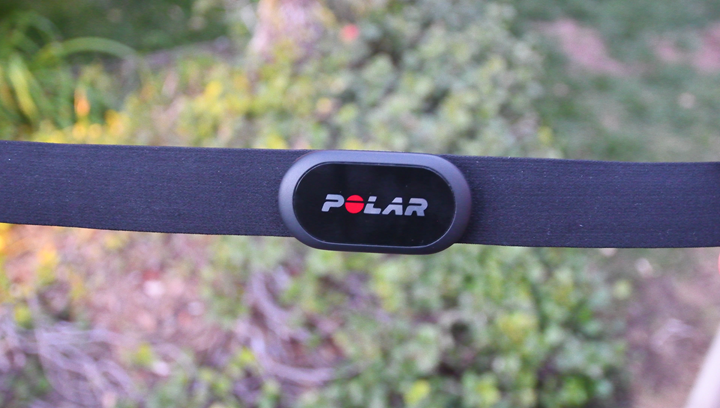 Next up we've got a new heart rate strap from Polar, the H10 ($89).  This is essentially the next generation H7 strap. As such, it has dual Bluetooth Smart and analog signals, meaning it'll work with your gym treadmills and such.
The strap has some minor external changes.  First is that it has extra electrode sensors on it, which will roughly align to the sides of your chest.  The goal here being to increase accuracy.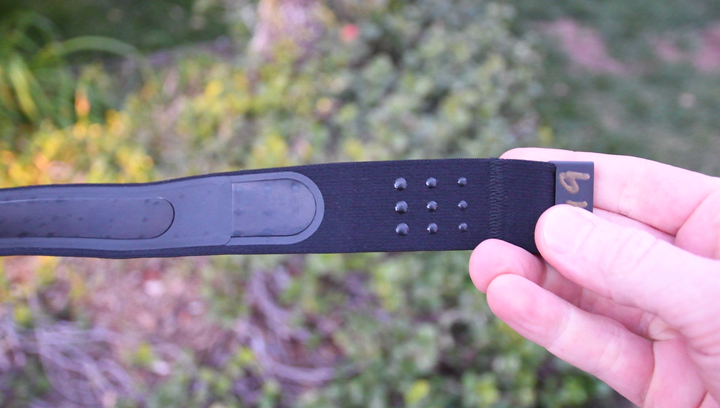 Then you'll notice a slight change in the clasp of the strap itself.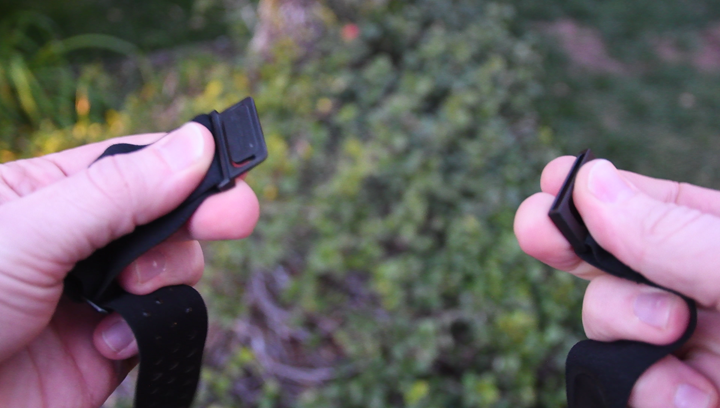 But it's the changes under the hood that are most notable.  In the pod they've now got storage, so it'll be able to record your workout even if your watch isn't nearby.  This is similar to the Wahoo TICKR Run/X series, as well as Garmin's HRM-TRI units.
In the case of Polar, when you return from your workout you'll be able to use the Polar Beat app to download the workout (just HR data, no accelerometer/distance/pace data at this time).  That workout can in turn be sent up to the Polar Flow website, where you can dig into the stats.
The other under the hood notable on the H10 is that it supports concurrent connections as a Bluetooth Smart sensor, specifically from the GoPro cameras.  This isn't Bluetooth 5.0, but rather 4.2, and is enabling you to then concurrently use the H10 with something like the GoPro camera directly (coming by end of Q1) and your watch/bike computer.
Note if you check out the video above, I show a bit more within that of the H10 as well.
Want to save 10%? Here's how:
I've partnered with Clever Training to offer all DC Rainmaker readers exclusive benefits on all products purchased. You can read more about the benefits of this partnership here. You can pick up the Polar H10 through Clever Training using the links below. By doing so, you not only support the site (and all the work I do here) – but you also get to enjoy the significant partnership benefits that are just for DC Rainmaker readers. And, if your order ends up more than $49, you get free US shipping as well.
Polar H10 Chest Strap (US – Clever Training – Save 10% with DCR10BTF)
For European/Australian/New Zealand readers, you can also pickup the unit via Wiggle at the links below, which helps support the site too! With Wiggle new customers get 10GBP (or equivalent in other currencies) off their first order for anything over 50GBP by using code NEWGB at check-out after clicking the links below.
Polar H10 Chest Strap (EU/UK/AU/NZ – Wiggle)
—
With that – thanks for reading!
Don't forget to check out all the CES 2017 coverage, as well as continual updates throughout the day on Twitter.  It's gonna be a crazy busy week.