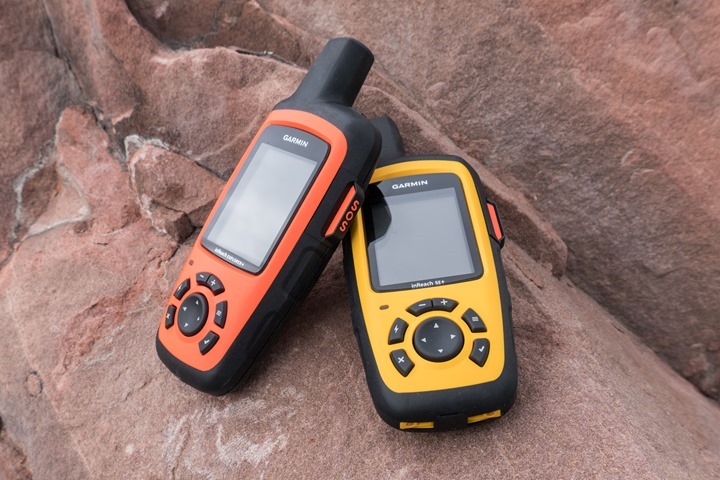 Back in February of 2016 Garmin purchased U.S. based GPS device and map maker DeLorme.  In the press release of that acquisition Garmin specifically called out Delorme's inReach two-way satellite communication devices.  Those devices packed a unique capability that allowed the user of the handheld GPS to send and receive SMS messages as well as trigger an SOS message in the event of an emergency.  Said differently: These devices don't require cellular coverage to send messages, but instead leverage satellite connectivity (something that's otherwise incredibly expensive).
Fast forward to now, nearly a year later, and Garmin has officially unveiled their first branded inReach handhelds at CES: The inReach SE+ and Explorer+.  These two models come in identical form factors but pack a slightly different feature set.  I had the chance to get an hour or so of hands-on time with them earlier today to check out what they have to offer.
Note that while these might be slightly different than your average wearable reviewed here – there tends to be a fair bit of crossover in the DCR audience to those interested in hiking and trekking in places that have spotty or non-existent service.  Thus the slight diversion to check out something related yet interesting.  Plus, variety is the spice of life.
So what is it?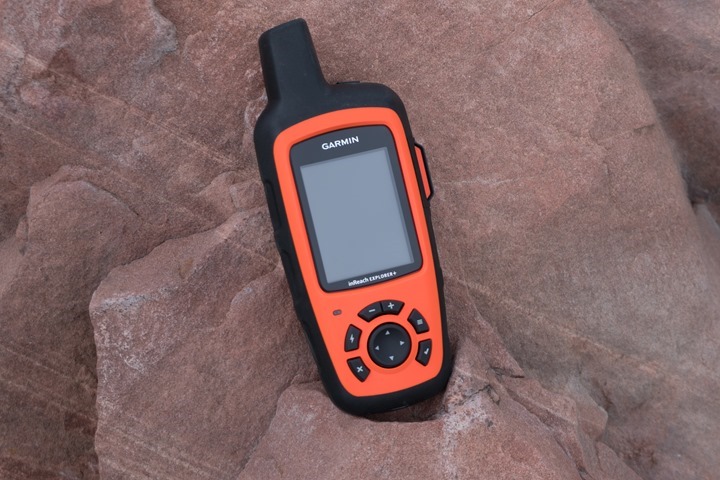 Let's start out with what these are designed to do.  While noted above that Ray typically focuses primarily on traditional endurance sports (running, cycling, swimming etc.) and the gadgets that accompany them, the inReach series is a bit of a different animal entirely.  First things first, you are unlikely to wear these as a daily watch.  These are designed to be used as handheld GPS units and either put in a holster or clipped to a bag or belt.
The units themselves come in either yellow for the SE+ or orange for the Explorer+.  Both of the devices leverage the Iridium satellite network for 'pole to pole' GPS and communication coverage.  What this means is the device is able to send an receive communications while outside of traditional cellular coverage.  This comes in handy if you are going to be deep into territory with poor to zero coverage and need to maintain communication.
Why does that matter?
Both devices also have a dedicated SOS button which triggers a response from GEOS, a 24/7 search and rescue center.  Once an SOS is initiated you have the ability to communicate with GEOS to describe the actual nature of the SOS call as well as provide any relevant information around injuries and receive confirmation that someone is actually coming to help.  They can be programmed to also send an SMS to emergency contacts in the event of an SOS trigger.
Herein lies the real value of these devices, two-way communication.  Garmin has made GPS handhelds for the outdoors for years but this is their first device allowing for worldwide two-way communication.  The device has an app called Messages (yes, creatively named) which allows you to send and receive SMS messages in the same way you would expect to on a phone.  There are plenty of uses for this type of communication, be it coordinating with others while out in the wilderness, sending messages for urgent long-range Pizza Hut delivery on the trail, or I suppose even the odd sext.
The messaging portion worked surprisingly well given the fact that all typing is done with a four-way button and a check mark.  The messaging app does include predictive text which comes in handy while typing longer words.  I probably wouldn't use this to send long form poetic text messages, but it is absolutely functional for what it is designed to do.
When you go to send an SMS it starts by asking who you would like to message.  You can enter the number directly or search through any contacts you've added to the device.  When you send the message, you get an audio alert confirming it was sent.  Meanwhile the recipient receives your message, as well as a link to the inReach site where they can see the GPS location the message was sent from.
Knowing that the device is sending and receiving data, it makes sense that there is some type of service plan and activation process.  In order to use the devices, an active satellite subscription is required.  You have several options here ranging from a minimalist plan up through the Cadillac unlimited plan.
The different sizes are going to determine how many messages you can send/receive per month as well as how frequently the service will update your tracking point or 'breadcrumb'.  You have the option of month-to-month or an annual plan with prices ranging from the $12/month range to the $100/month range depending on which level and whether you go with month-to-month or annual.
Rather than try and type out all the plan craziness, below is the relevant snippet from their site: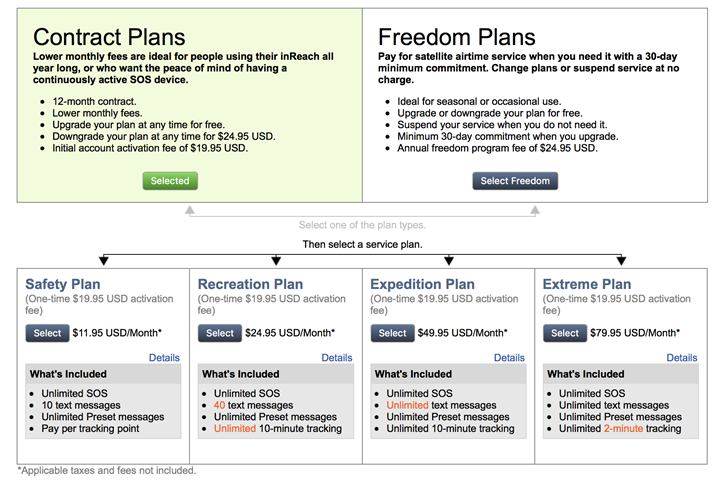 Setting the devices up for the first time requires you to provide the device IMEI number and an activation code, plus you'll create your username/password. Note this is a different account than one you would use for Garmin Connect.  Because two is always better than one.
After they know who you are, they will ask for some information about your emergency contacts and then provide you with the service plan options.  Once that's finished, you'll need to head outdoors and power the device on.  It will then establish a GPS connection to begin the activation and registration process.  This might take a few minutes (GPS was acquired almost instantly, but the handshake between the inReach system and Garmin took a few minutes longer).  Once everyone is on the same page, you are good to go!
With the communication portion out of the way, the device does function as a handheld GPS including basic navigation, location and tracking data.  This allows you to see where you are going and drop little breadcrumbs as you go so you don't end up lost in the wilderness.  Essentially you're going to get all the major handheld navigation functions you've become familiar with on existing Garmin outdoor devices.
The device will use the waypoints to help guide you back to where you started from.  The Explorer+ actually takes this one step further by including preloaded topographical maps, a digital compass, barometric altimeter, and an accelerometer.  Both devices allow you to pair with Garmin's Earthmate app for additional map data and imagery.
If you are going to be using a handheld GPS on a long or overnight hike, it has to have good battery life.  I didn't get a chance to test battery life but Garmin is claiming 100 hours while in tracking mode and up to 30 days while in power saving mode.  The units charge using a micro-USB port located at the bottom under a rubber cover.  The unit is IPX7 waterproof, which means it can withstand 30 minutes at 1-meter deep immersion.  So snow/rain/etc is just fine.
Wrap Up:
The inReach SE+ will retail for $399.99 with the Explorer+ coming in at $449.99.  Again, that $50 difference is due to the inclusion of a magnetic compass, altimeter and an accelerometer.  And the color orange, as obviously orange is the new black.  They aren't yet available for preorder but Garmin expects to bring them to market in the first quarter of the year.
Of course – these won't appeal to everyone.  Even those that spend a fair bit of time in the mountains may not find a ton of value in splurging for the connectivity features compared to some of Garmin's other outdoor devices.  Whereas for some users, such as mountain/river/etc tour guides – having an emergency type device like this is relatively low cost for the benefits it brings.
Both Ray and I think what may be the most interesting thing to watch for is how Garmin might adapt this technology into other markets.  Obviously Garmin paid a fair sum of cash to acquire the tech, and certainly it's going to want to leverage it in more than just two handheld mapping devices.  One wonders if they'll eventually expand into a SPOT-like competitive device, which would become more interesting to athletes that wanted coverage in non-cellular areas, but without the bulk of a full mapping device.
One of the advantages that Garmin would have over a company like SPOT is Garmin's in-house manufacturing capabilities, allowing them to likely get into smaller form factors at a lower cost.  Of course, I suspect Garmin will first evaluate how things go with these first generation products before any expansion.
—
With that – thanks for reading!
Don't forget to check out all the CES 2017 coverage, as well as continual updates throughout the day on Twitter.  It's gonna be a crazy busy week.