Caught up in the announcement of the all new Garmin Fenix 5 series this morning was the release of a host of new Connect IQ apps, watch faces, and data fields.  Garmin is making available for download apps from Uber, Trek and Gu Energy.  The apps are already showing up in the Connect IQ Store for all compatible Connect IQ devices.  Some of these have shown up in the past few weeks as holiday presents, while the biggies – Uber – are today's presents.  These apps follow on some of the previous Connect IQ announcements that occurred this past fall.
While Ray was busy getting the details on the 13 different variants in the Fenix 5 series, I had the chance to see a few of these new apps in action.  Of particular interest is the new Uber ETA application.  The line between smartwatch, GPS Watch, and activity tracker is growing narrower by the day and the inclusion of an app like Uber into Connect IQ eats away just a bit more.  To this point, the majority of Connect IQ apps have been watch faces and additional fitness related data fields. Uber ETA is a great example of a true smartwatch app with broad appeal beyond the fitness realm.  This brings Garmin closer to its main competitors in the space and sets the stage for other mainstream smartwatch apps to launch into the Connect IQ ecosystem.  This ecosystem is now the third largest wearable app platform, behind only Apple and Android.
Uber ETA: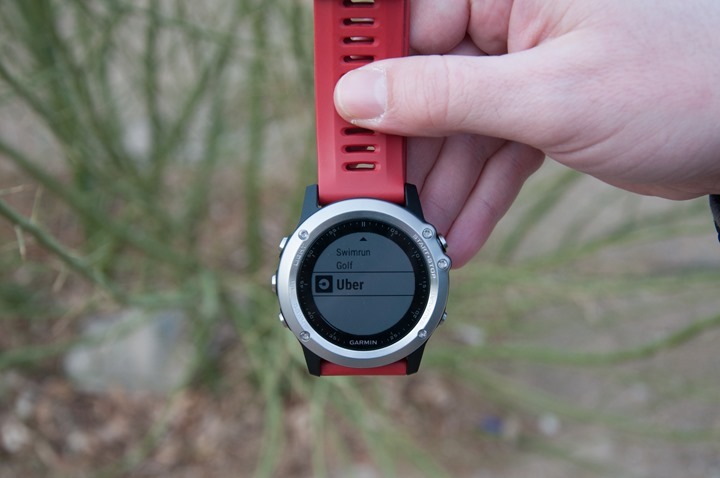 We should start off by clarifying what this app actually does.  You'll note that the application is called Uber ETA.  That is because it does just that, provides an ETA for your Uber ride.  It's not designed to call your Uber for you.
Instead, the app is focused on three distinct phases of your Uber journey, none of which are actually hailing your car.  And I suppose if you think about it, it's probably ideal to verify your pickup and drop-off locations (and any crazy surge pricing) within the phone app itself.
So to start, you'll need to call your Uber the same way that you typically would using your Android or iPhone.  Once you have requested your ride, you'll put your phone away and launch the Uber ETA app on your Garmin watch.  The first screen you'll see gives you the vehicle information needed while you wait for your driver.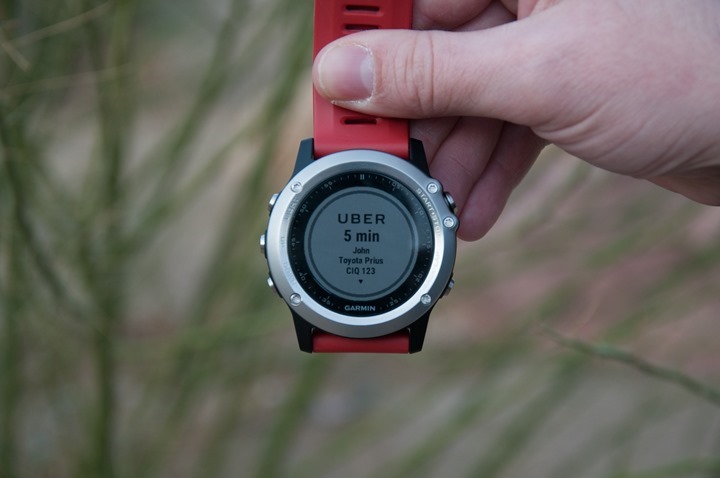 Note here that the application will provide the ETA, your driver's name, vehicle type, and license plate.
In some instances your Uber pickup location will be different than your current location (when leaving a stadium, hotel, airport etc.).  In this instance, the Uber ETA app will provide you with the distance to the correct location as well as a waypoint/compass to point you in the right direction.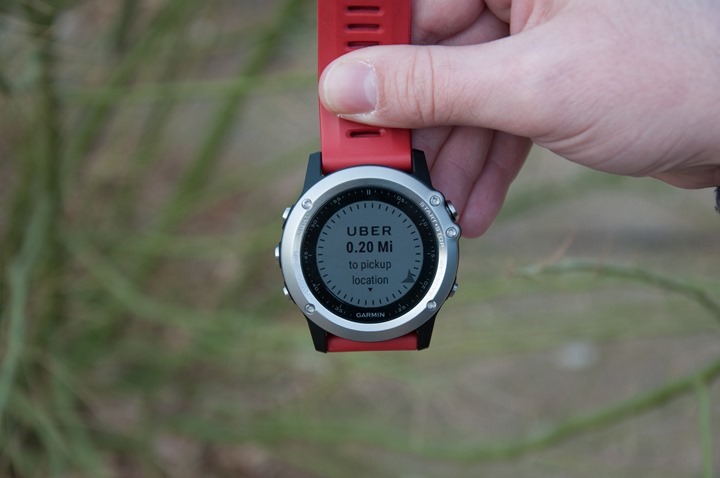 Finally, once you successfully hop in the correct car with your driver and are on your way, you can check your estimated time remaining until you reach your destination.
Setting Things Up
Setting up the app is pretty straightforward.  You'll download and add the Uber ETA app from the Connect IQ store, then you'll need to grant Garmin certain permissions to your Uber account.
To do this, run the Uber ETA app from your watch.  When you do, you will see a screen that says 'Continue on Phone' and will likely receive a push notification on your phone that will take your directly to sign in to the Uber ETA app within Garmin Connect.
Uber will ask you to verify the permissions it is granting Garmin.  Once you accept, you are good to go!  Simply launch the Uber ETA app on your watch the next time you call an Uber.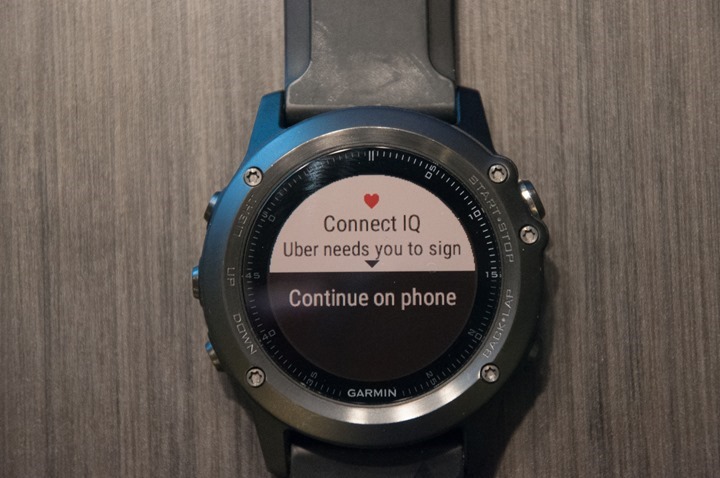 The Uber ETA app is available here as of a late last night.
Other Connect IQ Additions
Finally, there are a few other new and recent additions to the Connect IQ store that Garmin is drawing attention to at CES.  Ray mentioned a few of these back in October, but you can now find them below if you missed them back then.  Plus, some of these weren't finally launched until just the last few days/weeks (or today).
Strava Live Suffer Score (across any device now)
STRYD IQ
Trek/Bontrager Light Control
AccuWeather MinuteCast
Nuun Active Hydration
Gu Energy Reminder
Join Cycling
Obviously, there are plenty more Connect IQ apps out there, but these are ones that have specifically been highlighted because they're taking advantage of new Connect IQ functionality that rolled out this fall.  For example the ability for the Join Cycling app to hand-off routing from their CIQ app to the native Edge routing engine, or the ability for the Bontrager lighting control to have more access into the sensors.
Last but not least – over the weekend Garmin opened up registrations/applications for the Connect IQ Summit.  That event is being held at Garmin headquarters in April, timed handily to the Garmin Marathon (and other distances).  Note that this event is being targeted more at businesses, like those entities seen above, than hobbyists developers.
With that – thanks for reading!
—
Don't forget to check out all the CES 2017 coverage, as well as continual updates throughout the day on Twitter.  It's gonna be a crazy busy week!