With a bunch of mid-summer travel to all sorts of places complete, it's back to a few weeks at home in Amsterdam before…well, a bit more travel for Eurobike and some excitement. Until then, here's what I was up to!
1) Picking up Ikea's new SONOS Speaker:
Sometimes things happen by pure chance, and this is one of those things. I had seen tech coverage earlier in the day that the new Ikea Symfonisk, which is basically a rebranded SONOS Play:1 speaker (an original, which we have and love) was now available as of that morning. At $99 it's a good deal compared to the usual $149 for the SONOS variant. Sure, it doesn't have Alexa voice control, but I don't really care about that. I primarily just use Spotify to control it via phone and laptop.
As it would happen The Girl ended up wanting to go for a late afternoon field trip to a store nearby Ikea. So afterwards I got permission to do a quick two-block away detour to Ikea. In what has to be an IKEA world record, I was in and out of Ikea in under 9 minutes – including walking deep into the store to get the speaker and checking out, and getting back to our carshare thing. From door close to door close – 9 minutes.
I ended up getting the non-lamp variant (as it's $99 instead of $179). Though I will say that the lamp variant looked way better in person than any of the ads/product shots make it look. In promo materials it looks like crappy plastic, but in real-life the texturing is better than I expected. Or maybe my expectations were so low that anything was an upgrade.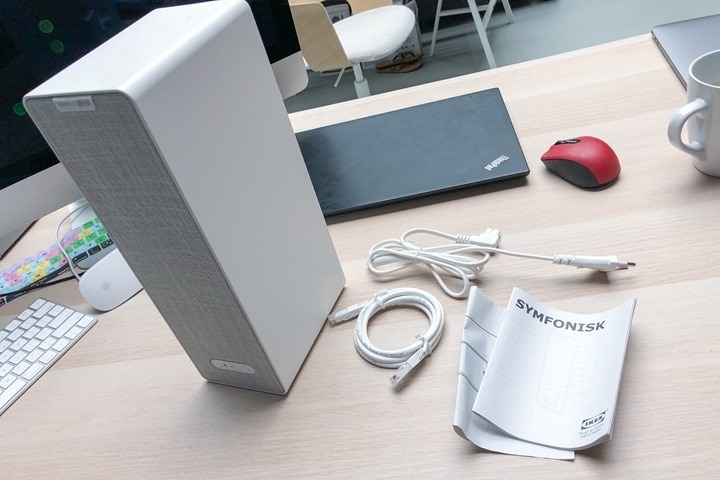 Here's the one I got though instead. It sets up just as a normal SONOS speaker does. No special app or anything, they just tell you to go grab the SONOS app. It found it instantly, though stumbled a few times during the firmware update process. But eventually it finished and life was happy.
I put it on the shelf in the main office area. It fit in quite nicely there:
It has the usual SONOS buttons (Play/Pause, and then Up and Down volume). And honestly sounds basically the same as the Play:1 speaker best I can tell. I'm perfectly happy with it. I did see a few dropouts in the first 15-20 minutes, but then it was fine after that. Not sure if that was a Google WiFi thing, a phone thing, a SONOS thing, or just a Friday afternoon thing.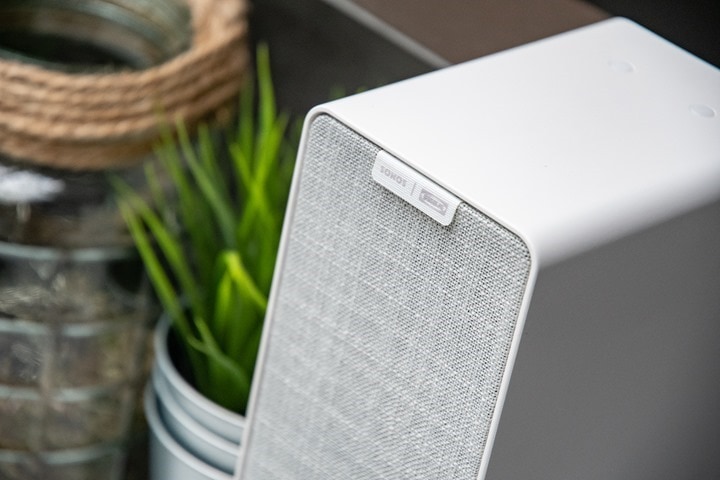 I suspect I'll pick up another one or two for the remainder of the Cave space (upstairs/downstairs). We also have a Play:3 at home, but honestly that's a huge overkill for us. We never play loud enough for that to matter, and the spaces aren't that big anyway. I might take the Play:3 down to the downstairs of the Cave and then buy another Ikea one for home. Either way, my non-review review of it is 'Solid deal'.
2) Amsterdam Pride Canal Parade
This past week was Pride week in Amsterdam, which is heavily celebrated by not just the population of the city but many businesses. For example on Thursday I pedaled past a building that had just freshly put out bicycle seat colors on all the bikes parked out front the building: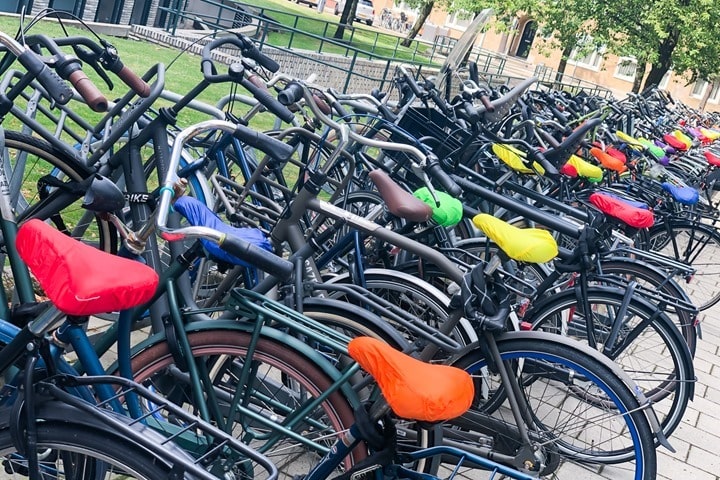 Or the front (maybe it's the back?) of the Rijksmuseum: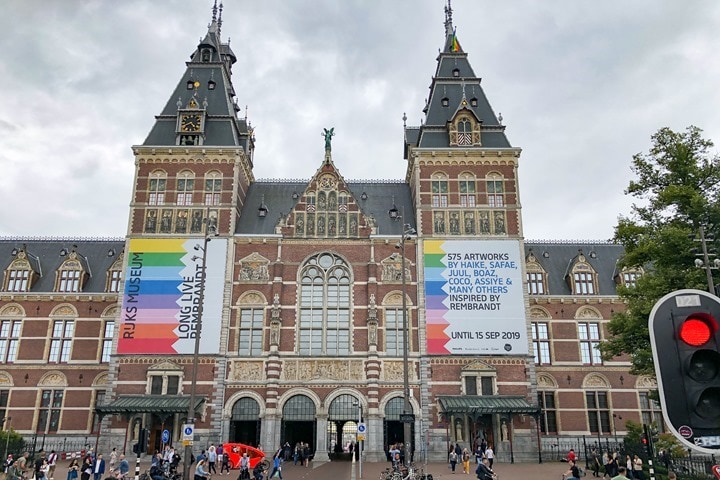 But all of this culminates in the huge canal parade on Saturday afternoon. It's a pretty crazy event, also fairly heavy in drinking. It would have been a bit tricky for us as a family to get down into the middle of it all. So instead I took the older Peanut down to watch some of the boats, as I had to pick up some ingredients for dinner at a specialty store nearby.
The place was packed!
I put her on my shoulders, both because it gave her a better view – and because she really didn't want to be anywhere near the ground. Fair enough, if I was not yet three feet tall, I'd probably want up too.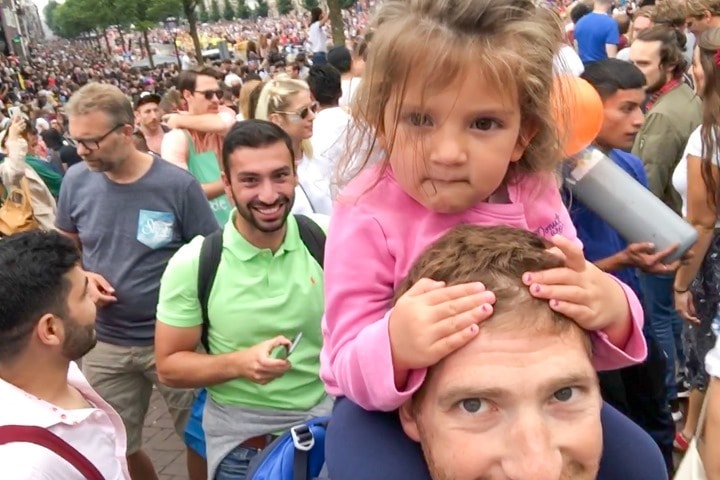 But mostly, she wanted to see the boats: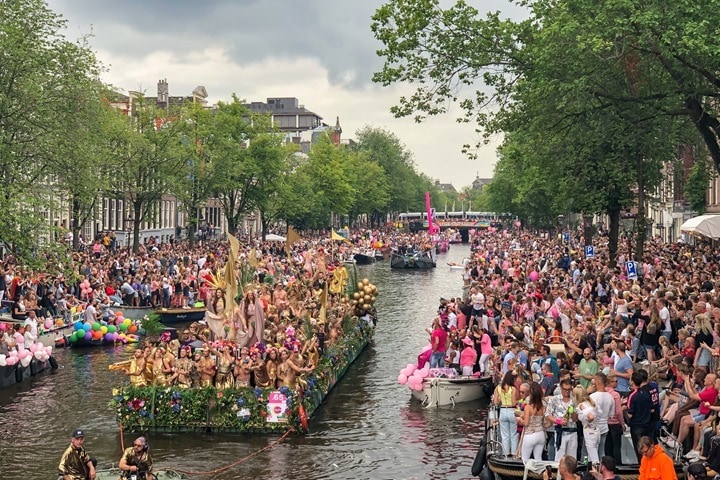 And it certainly didn't disappoint in her mind: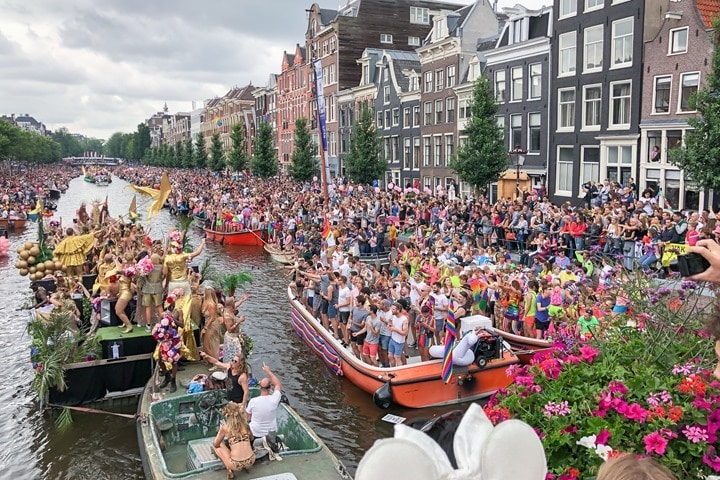 We didn't stay terribly long – we had to get back and prep dinner, but she enjoyed watching the boats and all the 'rainbows', which she now assumes means 'love'.
3) Drills, Trainers, and Bikes:
It seems that as of late I'm spending almost as much time with trainers atop bikes as bikes atop trainers. I've had a stack of five different unopened trainers to get relocated from home to the office. They had mostly come in while we were out of town (friends were staying at our place then), and so they kinda piled up.  So for example, here was a trip the other day getting the Kinetic R1 down to the studio:
New trainer delivery day. The final-final (after an 8 month rework pause) version of the Kinetic R1 has arrived. It's the one that rocks side to side and is direct drive. This one just barely fit in the cargo bike. I hear from @gplama the packaging is 'very thorough'. pic.twitter.com/jbnlbMKw8n

— Ray Maker (@dcrainmakerblog) July 30, 2019
And then there's this trainer here. It was simply next on the pile to relocate.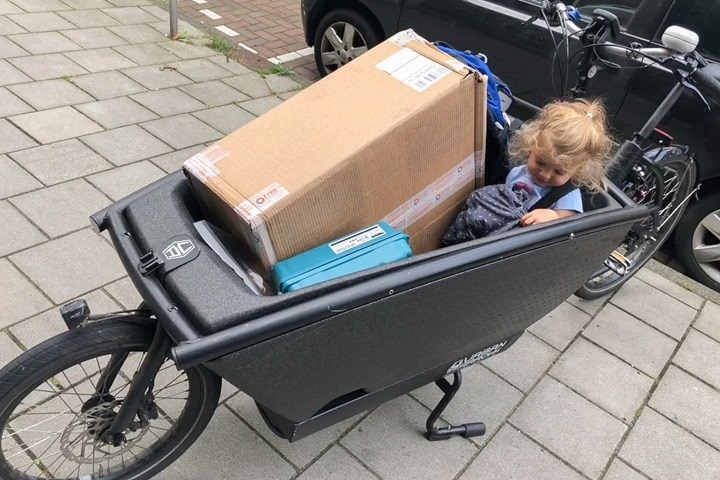 As for that drill, the day prior I had gone to the hardware store to pick up a replacement faucet…and walked away with a new cordless drill. I mean, how can you not walk the entire hardware store while there?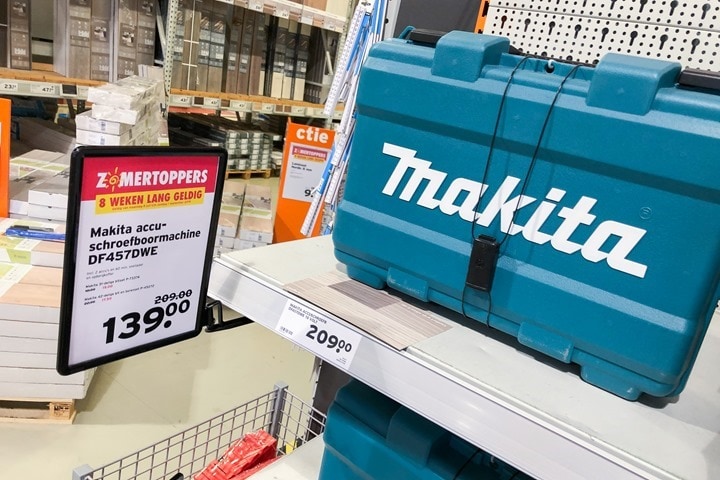 I had actually bought this exact one a month or two ago when it was also on sale. It was marked down just as much, so a really solid deal (and it comes with an extra battery). That one was originally for the Studio, but then we realized we used it just as often for projects around home. So I got 'approval' to get a second one, so we'd have one in both places. And being identical helps with fleet logistics, obviously.
Plus, the entire cave is concrete, so virtually all drilling I do involves going through concrete – so I didn't want something wimpy (even with a concrete/stone drill bit).
Anyway, with all that set I loaded up Peanut 2 and we took a brief road trip. On the way back, we stopped to watch the horses.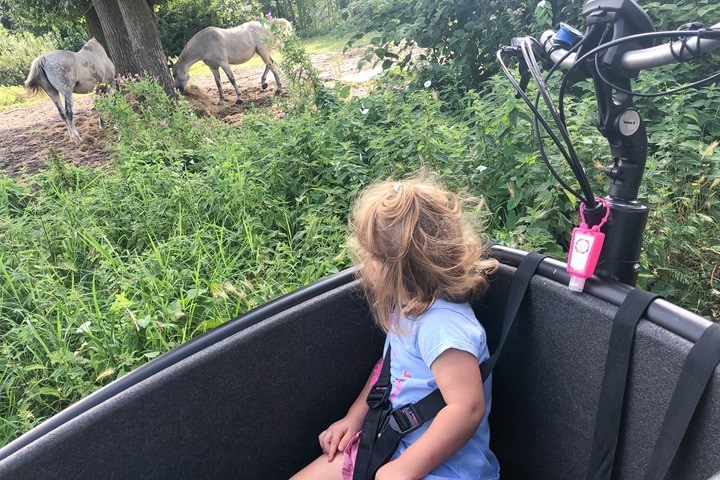 All trips between home and the studio include a stop to watch the horses. Except when the horses aren't there and are working (they pull carriages or something, sometimes). In which case you better hope the goat is at least out for viewing instead!
4) Running via Boat
Once Peanut #2 went to sleep for her nap mid-day Sunday, I bolted. Though, this time, I took Peanut #1 with me. She went into the BOB running stroller. I told her we were going for a safari to find bunnies and fuzzy cows, along with a boat ride. Which is technically all very much true. After all, I didn't want to run into an angry fuzzy cow mid-stride.
No really, I'm serious. It's a valid issue for the area I was running through.
In any case, I was trying to get some final data for the Polar Ignite GPS Watch In-Depth Review, as well as the Suunto 5 In-Depth Review. The Polar has been on my right wrist since mid-June, with the Suunto making occasional appearances since a bit earlier. I then placed both a Garmin Forerunner 945 (connected to a Garmin HRM-DUAL chest strap), and a Garmin Forerunner 935 (connected to a Polar OH1 Plus optical HR sensor) on the stroller. They were collecting a bit of GPS data, but mostly HR data.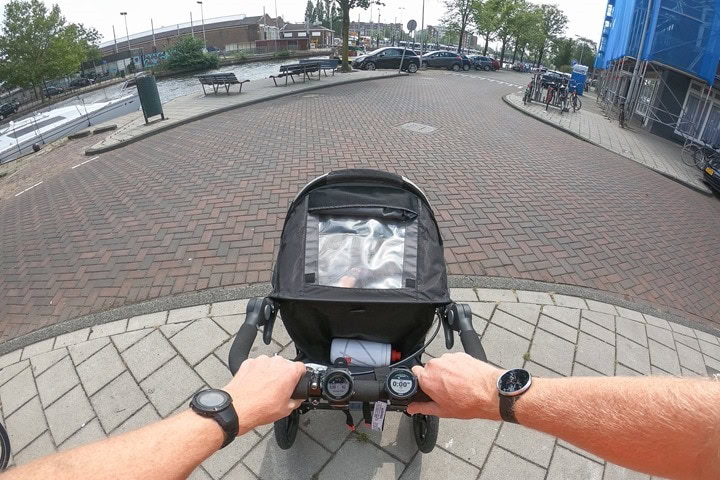 After that, it was off we went towards the fuzzy cows. The Peanut was on the lookout for them, though the only sign of them was cow pies: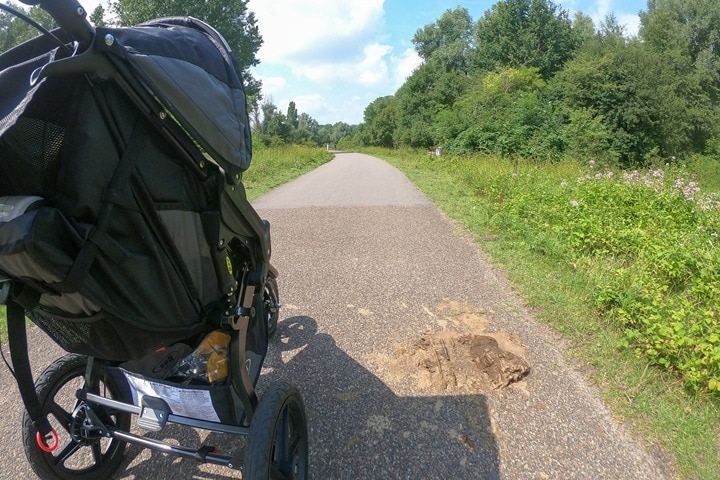 Unfortunately, she was a slacker in our scouting responsibilities, and fell asleep on watch. Figures. No worries, I kept running while she napped.
I climbed a vast Col…also known as a river overpass. It'd be my peak elevation for the day – and one of the highest non-building points in all of Amsterdam.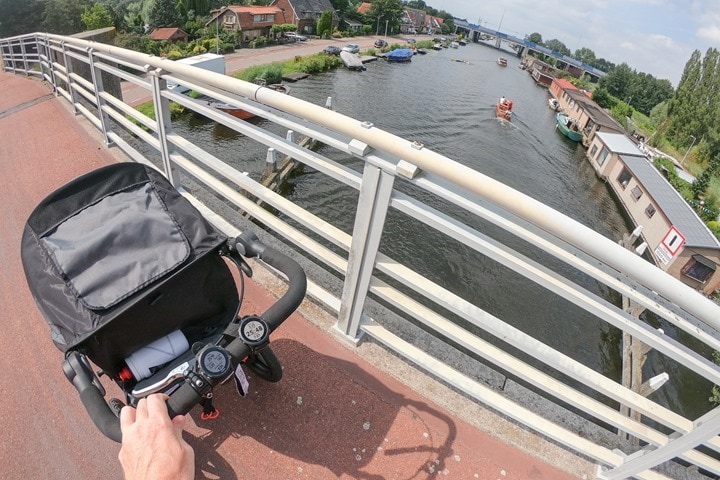 The only trick was I needed to keep following the lake around, which a thin canal blocks. Thankfully there's a solution for that: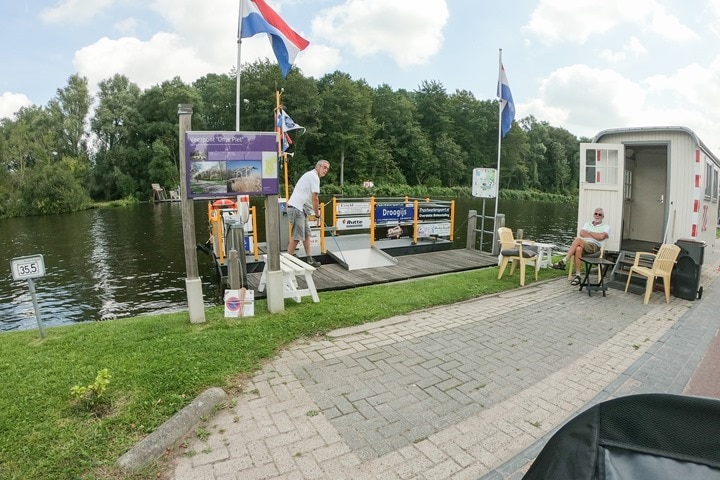 This little passenger ferry will take you across the 40-50 meter wide canal. It costs 50 cents, though The Peanut was free. In the past, I have run all the way down to the next bridge, but that adds like 4-5 miles to the route, and I wasn't game for that trek today. Fear not, I stopped my watch: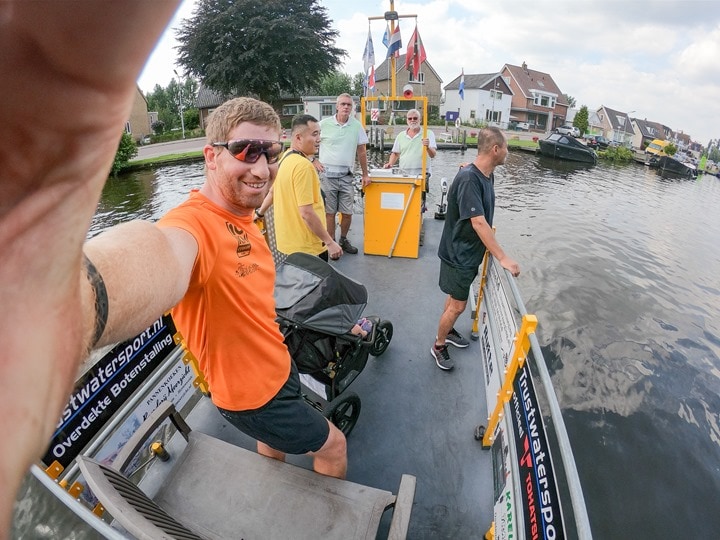 After that, I cruised the rest of the way home. The Peanut kept on sleeping.
From a GPS track standpoint, all the units were actually fairly similar. Some nuances to each one that I'll nitpick in my reviews, but nobody had horrible tracks, which was kinda nice for once. Here's the DCR Analyzer set.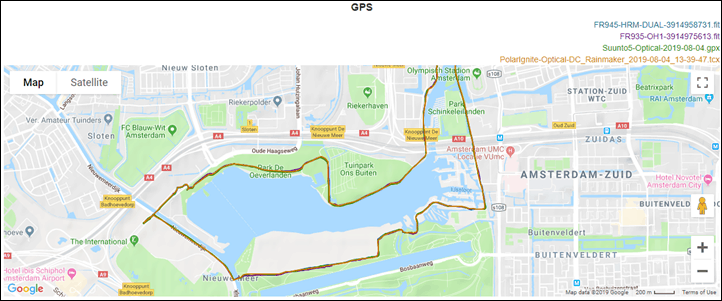 And for HR, some blips there during the start – where the Suunto 5 overshot and the Polar Ignite GPS optical HR sensor undershot. The Polar OH1+ and Garmin HRM-DUAL held steady in the proper middle. The Suunto also seemed to struggle a bit throughout the second half.

Fwiw – I used my right arm (with the Polar Ignite) to push the stroller the entire time, whereas my left arm/wrist virtually never touched the stroller (it had the Suunto 5 on it), and was able to swing normally.
In any case, stay tuned for the reviews. The Polar Ignite one should be up later this week.
5) Riding to Ice Cream
After getting back from my run I took a shower timed to less duration than it took for my lunch to heat up in the toaster oven. With that, we were out the door on our family bike adventure. The kids were both fresh from naps, so it'd likely be a halfway peaceful journey.
We headed out towards the Amstel River for a wander down to Ouder-Amstel. It's about 11KM each way, so roughly 45 minutes at easy pedaling pace with stops for critical things like baby farm animals and ducks. And windmills.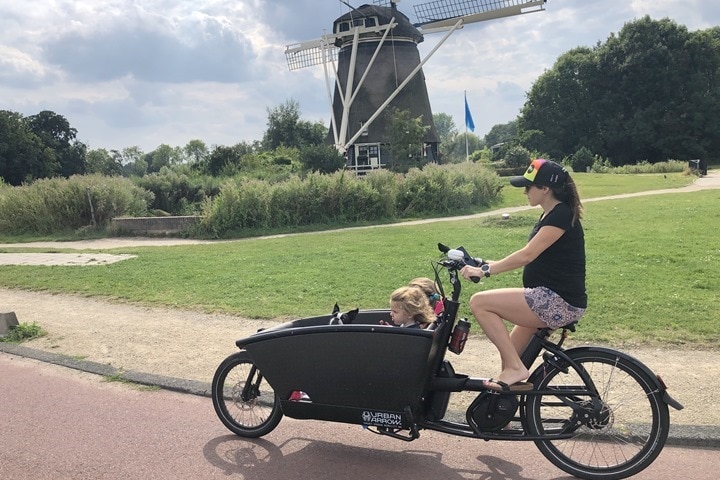 Our goal was simple: Ice cream
It was the central tenet of keeping the kids on good behavior. If they caused trouble, we'd turn this bike around and they'd get no ice cream. In actuality, of course we (The Girl and I) were still gonna get ice cream – whether or not they would get any was an entirely different issue. Thankfully, all went well, and we arrived to the small town where many others come by boat instead.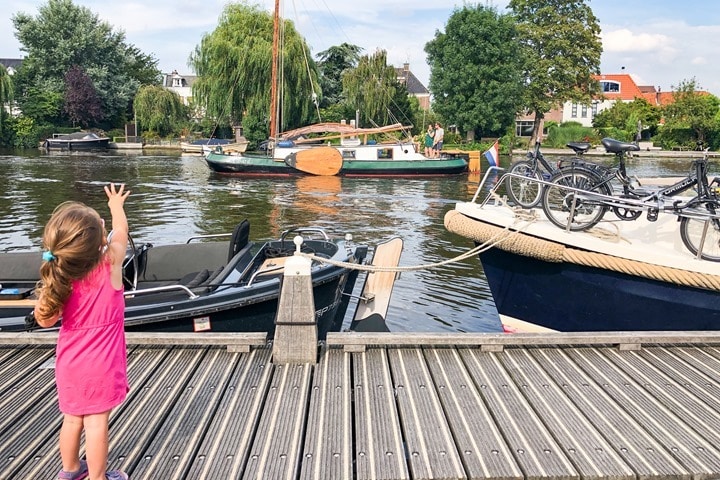 Oh, and in case you're wondering how toddlers could get in trouble in a cargo bike – it's really no different than two kids in the backseat of a car. The only difference is they can throw things overboard in a solid tantrum and you have to pedal back and get them. Also, if in a solid terrible twos moment, the entire riverbank hears it.
In any case, ice cream: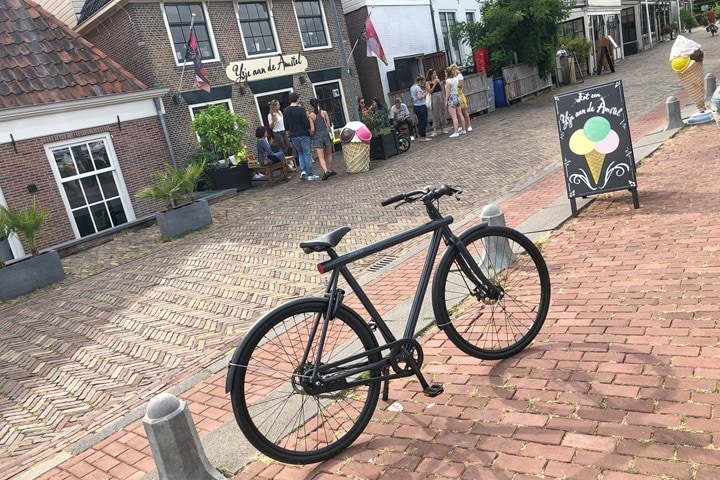 It was good…and…a bit messy: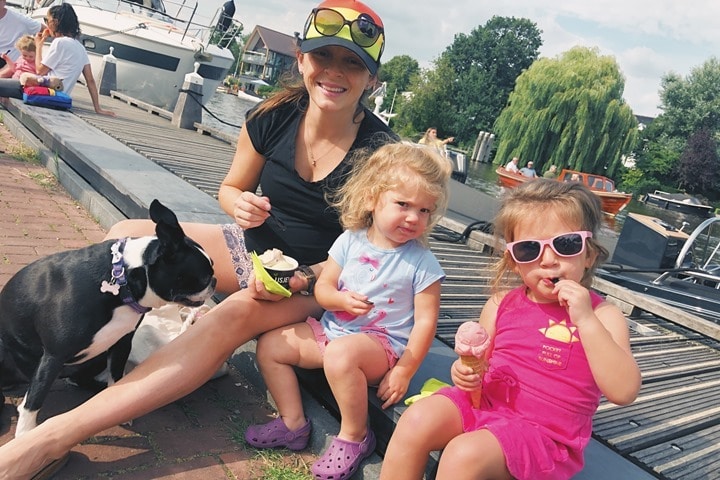 After which, we pedaled on back home – cooking dinner awaited. And the kids sang the entire way. And there were goats.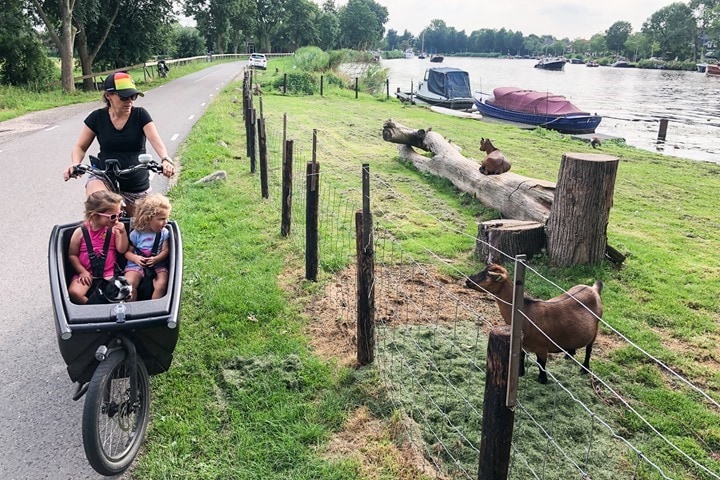 With that – thanks for reading, and hope everyone has a good week ahead!