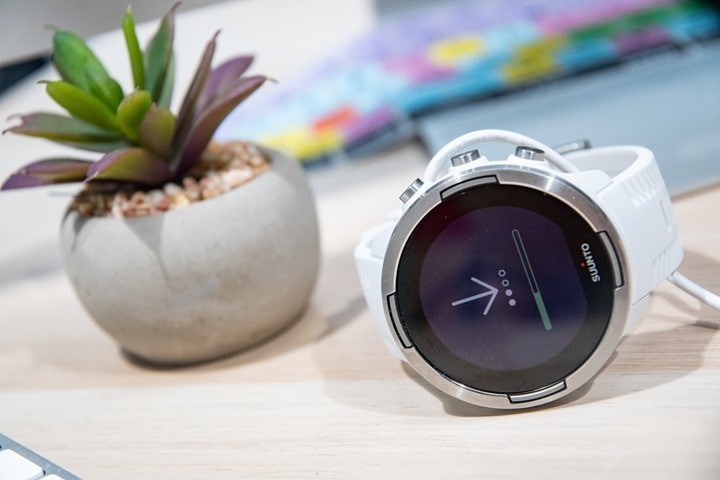 Suunto has pushed out an update today to the Suunto 9 series (Baro and non-Baro variants, plus all the colors of the rainbow) that adds in three fitness-focused features that originally premiered back on the Suunto 3 and Suunto 5 units. These three features were all from the greater collection of FirstBeat features, used by companies including both Suunto and Garmin.
In the case of these features, Suunto initially launched them on the lower end Suunto 3/5 series, but like Polar recently, they came to discover that people buying higher-end watches at 2-3x the price prefer to have all the features, versus just some of the features. Not to mention that more and more higher-end endurance sports focused watches are just as much about the daily training grind as they are about the other 22-23hrs of your life that you spend sleeping/recovery/working. So having stats to measure and monitor that is key.
In any case, the Suunto 9 gets the following new features:
Sleep Quality: This will give you a nightly score for how good your sleep was, by leveraging heart rate variability

Fitness Level: This gives you your VO2Max score as well as fitness age, after workouts are completed (and in a dashboard widget)

Stress & Recovery: This shows your body 'resources' (think Street Fighter Battery Level), as well as current recovery state. This is akin to Garmin's Body Battery functionality, and both are identical from FirstBeat.

Automatic Time Zone via smartphone: Now, when connected to the Suunto App via your smartphone, it'll automatically sync your time-zone to that of your phone. Previously you had to manually adjust that every time, which for those of us living in this decade felt awfully old-school. Thankfully, that's no more.
Atop that, there's two additional sets of 'enhancements' listed on the release notes:
Improved GPS tracking accuracy with new GPS firmware: Like Polar and Garmin, Suunto also uses the new Sony GPS chipsets that everyone else is using. In fact, Suunto was the first one to adopt them. And, like everyone else, it's been a super-slow roll to get these Sony GPS chipsets producing accurate tracks. I think we're largely there, and this update takes the latest from Sony and ports it into the Suunto 9. Suunto says this should fix some GPS track wobbles seen previously.

Tips for altitude added: These are some tips around understanding altitude drift, and how to use calibration or GPS to correct for that.

Tips for first usage added: These are for first time users, to help them understand how to use the watch better. This is actually kinda cool, and the first time a user starts a workout it tells them (and forces them) to wait for HR lock, and wait for GPS lock, before starting. They can quit the prompts, but it's a cool 'Stop effing with me' type message that helps users get better data by just waiting a second for HR/GPS lock.
Now, for lack of anywhere else to stick it, note that while the Suunto 3 & 5 also have adaptive training programs, the Suunto 9 won't be getting that. From talking to Suunto, they don't see the target market of that overlapping with the Suunto 9 buyers. I'm not sure I agree, as Polar also found out (the hard way) that didn't apply when they brought FitSpark (which is vaguely in the same category of adaptive training programs) to their similarly priced Polar Ignite, but skipped the Vantage series. This winter though FitSpark will be ported from Ignite to Vantage.
In the case of Suunto though, they may attract just a bit more hardcore enough of an audience that their thinking might actually hold true. Maybe. Or maybe not. I'm not sure. Either way, it does cost money to license that from FirstBeat, so that might simply be a factor as well.
The Features:
So let's do a quick look at all of these, first up is Fitness Level. You'll find this down in roughly the same area as other day to day type trending features. When you first upgrade, it'll say that you need to do a 15-minute run or walk with GPS and heart rate in order to get a value: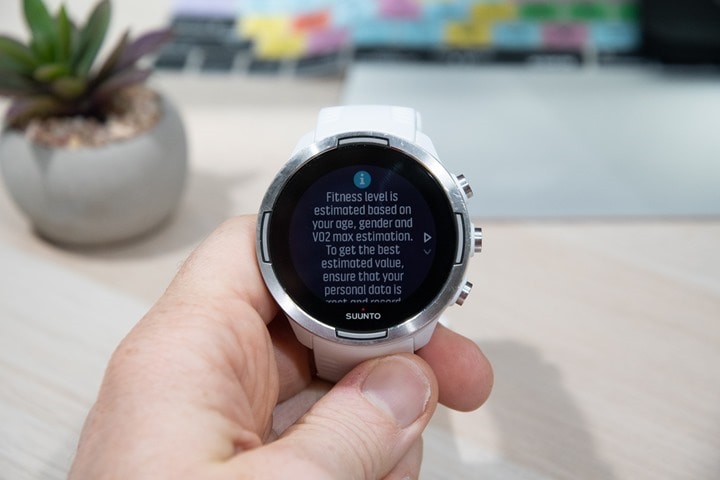 So, I did that.
I went out and did a simple 5K run. Mostly long-run paces (easy), and then the last few minutes I pushed the pace into 10KM paces. At the end of it I received a VO2Max Estimate: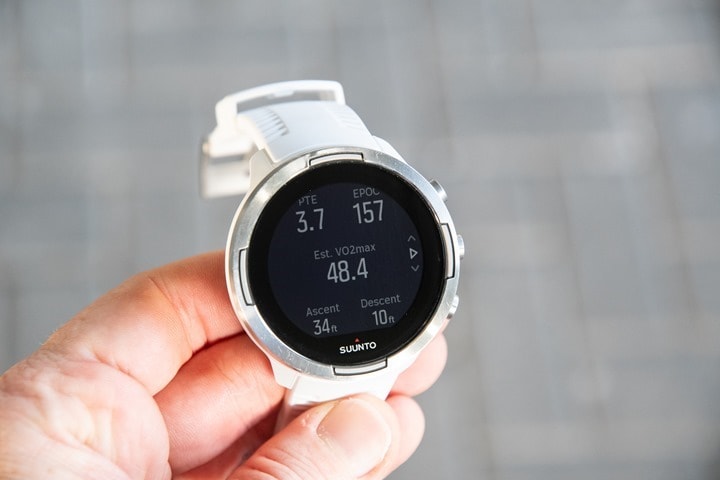 Of course, if you know me – you know that's a wee bit low. But that's pretty common in my experience for initial VO2Max estimates from companies. Most times (and this is true of FirstBeat driven data), it takes longer workouts and more of them before it gets more accurate. In other words, it learns. And undoubtedly I'd have gotten a better set of data from a 90-minute run versus a 5K run. But that isn't in the cards on today's schedule.
In addition to displaying this in the post-workout summary, it also now shows in your widgets down below. In fact, it shows two values here. First is the VO2Max (48.4), along with the fitness state below that ('Excellent').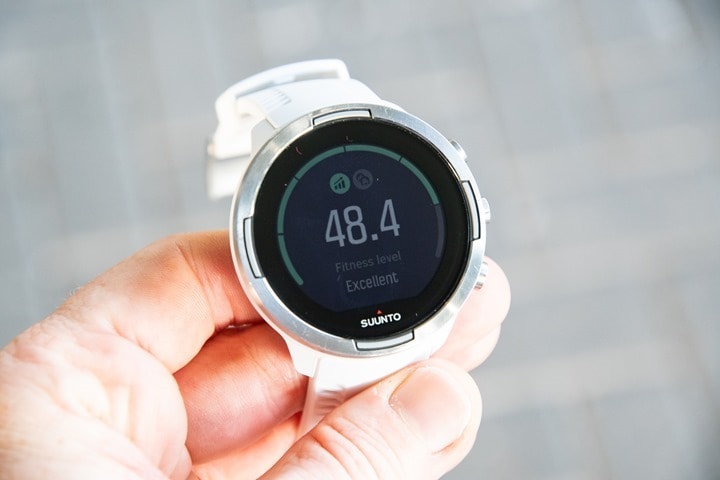 And then if you swipe to the right you'll see that VO2Max value again, but along with your fitness age below it. Yeah – it thinks I'm only 20 years old! Boom!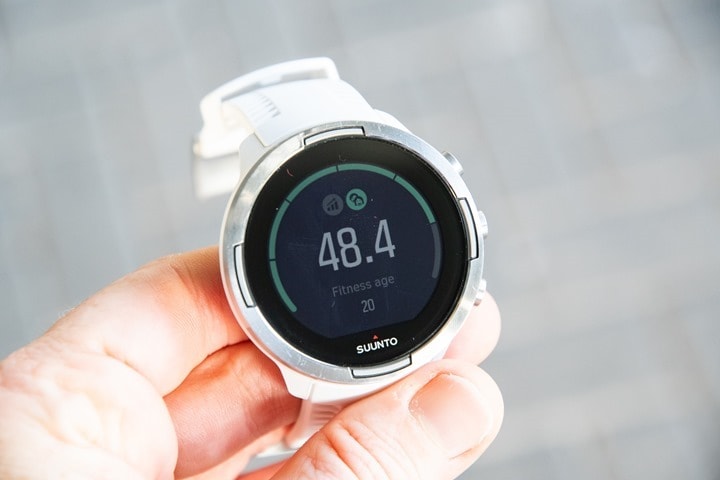 These are also then sync'd to the Suunto smartphone app as well.
Next is the stress and recovery via resources. As noted earlier, this FirstBeat function basically is how much energy you have. As you sleep, this number goes up, and as you do hard exercise or are otherwise stressed, this number goes down. Sit on a couch and watch a romantic comedy, and it'll usually go back up again. For the most part, on other Suunto & Garmin watches that have this functionality I find it pretty good (after at least one full day to calibrate itself).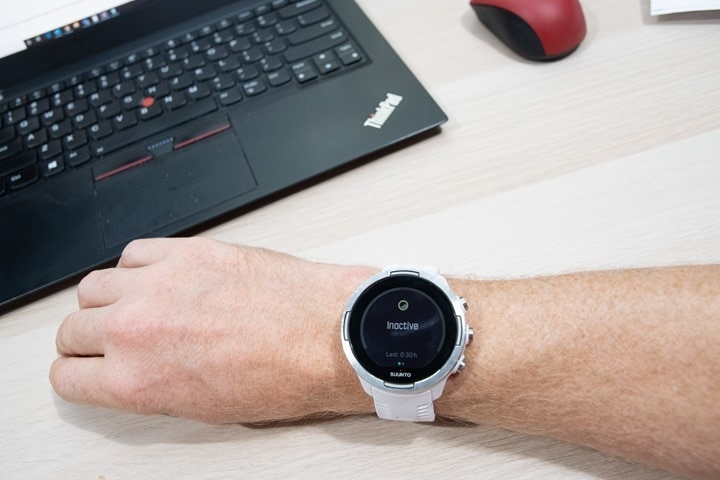 And here's an initial look at the resources after wearing it a short period of time:
Whereas, if you had a full day's worth of data, it'll look like this (the last 16 hours worth):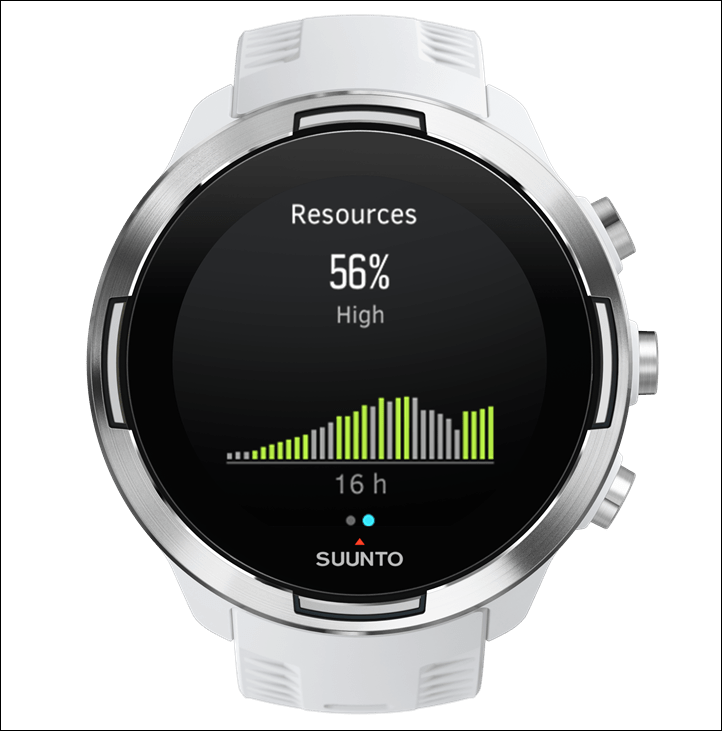 Next, there's the sleep quality. In order for this to work you'll need to remember to enable sleep tracking on the Suunto 9, within the settings. Once that's done then you'll get sleep tracking data after a night's worth of sleep. This sleep quality level is based on heart rate variability primarily, which is leveraging the optical HR sensor on the back of the unit. Sleep quality is then given in a metric of 0 to 100. 100's the highest, and 0 means you have a newborn at home.
I don't have the data yet from a night's worth of sleep, but here's what it'll look like according to Suunto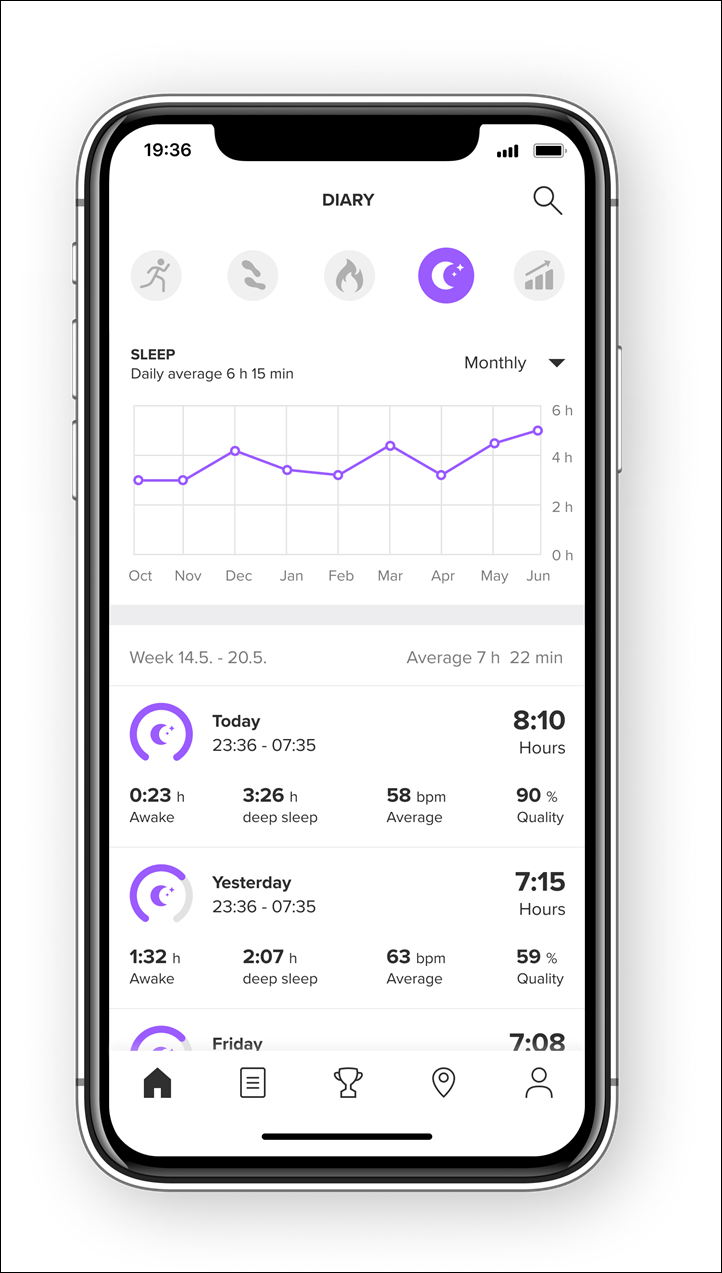 Finally, as for the GPS accuracy updates – my test run puts that in the category of 'Meh'. For this run, I had the Suunto 9 on my right wrist, the Garmin Venu on my left wrist, and then a FR935 hand-held. Overall it was blah, actually one of the worse FR935 and Suunto 9 tracks I have. The Venu had the best track of the three, but nothing to be terribly proud of. Here's that data set.
In any case – GPS accuracy aside, it's good to see these features arrive on the Suunto 9 – it brings them more in line with their endurance sports competitors at Garmin and Polar in terms of features. Obviously there's more to watches than just features, such as reliability or durability, but features and by that extension accuracy, are two of the biggest drivers in this market.
With that, go forth and get your watches all updated, and start using the newness!
Thanks for reading!