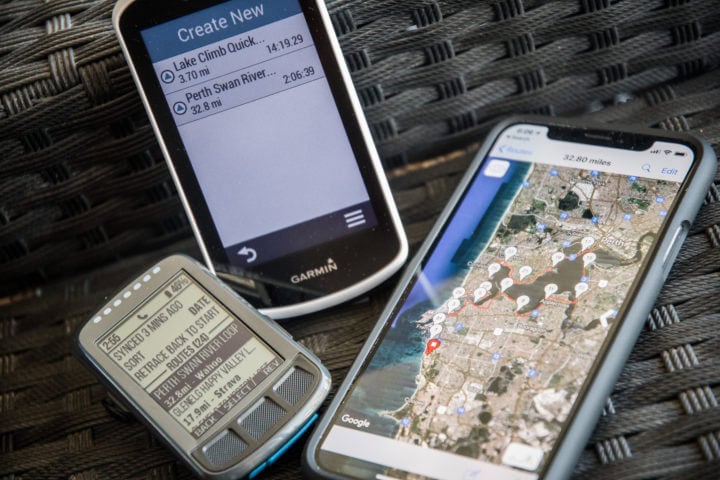 Longtime readers know that one of the biggest annoyances I have with Garmin's entire mobile platform is that for a company whose sole existence was for location purposes, you actually can't create a darn course/route in Garmin Connect Mobile.  Nor can you in Wahoo's app for their navigation devices either.
The closest you can get in Garmin's case is that you can now create automatic routes, which are routes based on you providing how many miles you want to ride or run, and it'll spit back a nifty course using heat maps and such.  And in the case of Wahoo, you could route to a specific point, but it's just whatever the most efficient route is to that singular point.  Not for a looped course.
Again, I've long been annoyed about both of these.
However, as of today, we now have a solution on the Garmin front, which also has actually worked for a while on the Wahoo front.  Consider this post a Tuesday Twofer.
The Details:
(I'm going to outline the iOS app here, cause that's what I use.  But the concept is exactly the same in Android in theory with this app,  however, it doesn't seem that the Android GCM version is accepting the .GPX file from it (meaning, it doesn't show as a valid end point). Also, be sure you have the *latest version* of Garmin Connect Mobile on your phone if using it on the Garmin side.)
In order to create your route, you need some sort of route creation app (because neither Garmin nor Wahoo do it yet).  The app I've used for years (many years) is called "Easy Route".  It's 100% free (as of December), and doesn't require any account creation or logins.  You can just tap your way through a map for your route and you're done.  I use it both at home and travelling, when I just want to quickly figure out how long (distance-wise) a route might be.  Tap…tap…tap…done.
So, I did that for my ride this weekend.  I actually created it fully within Easy Route.  You can see that above:
Then, I saved it.  You can give it a name if you'd like within Easy Route, though it won't really transfer that name to Garmin Connect.  Next, you'll see two options at the bottom: "Open GPX in other app", and "Open FIT in other app".
For Garmin, go with .GPX (since it doesn't support .FIT in the mobile app yet). Whereas for Wahoo go with .FIT since it'll transfer turn by turn directions to the ELEMNT/BOLT.  No worries though on turn by turn for Garmin , I actually used the .GPX version this weekend on the Edge 1030 without issue.
After you click that option, it'll then ask you which app.  Simple choose either Garmin Connect, or Wahoo ELEMNT, depending on what you want.
In the case of Garmin Connect (and this is the part that's new this past week), it'll open up the Course Setup window.  Simply start by selecting what type of course it is.
Then you'll see your course all laid out, magic complete.  You can add course points and tweak things if you need to.  Then you'll just give it a name:
And now you're done.  As normal, you'll need to send it to your device.  So just tap on the little icon in the upper right corner to do that.  As long as your watch/bike computer/whatever is nearby, it'll shoot it over via Bluetooth Smart in a few seconds or so.
That's it!
For Wahoo, it's basically all the same, except they do carry over the name of the course from Easy Route:
You'll then see it listed within the app a few seconds later, which is then also synced to your device.  In the case of Wahoo, you can't change it within the Wahoo app though.  So some minor differences here.
At this point, you just ride or run your route like normal, by selecting it on the device itself within the courses or routes menu.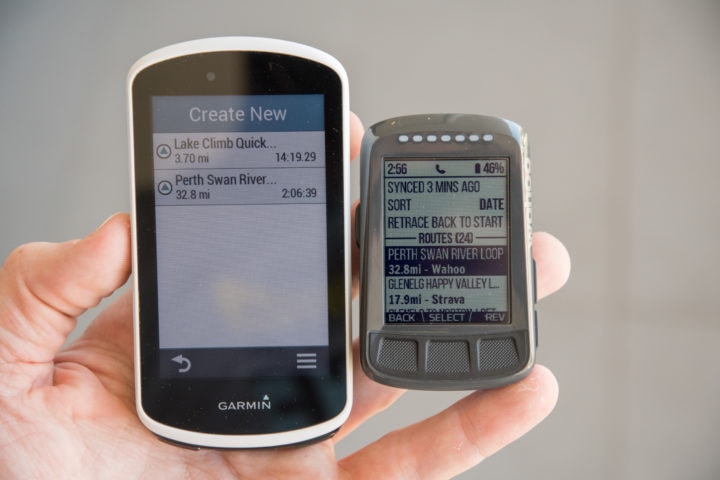 And that's exactly what I did on Sunday.  I did everything exactly as described above on the Edge 1030 and it all worked quite well for me.  So happy days.
Oh – and here's one tiny last tidbit of fun for you.  The Easy Route iOS app I mentioned? The developer actually joined Wahoo Fitness a bit over a year ago.  And thus completing the circle of life.
FAQ:
Just to quickly cover some questions I suspect will come up, here we go:
1) Why do I have to use a 3rd party app?
Because neither Garmin or Wahoo have put manual route creation in their own apps.
2) Which route creator app for Android?
I'd recommend trying MyRoutesMap, it's roughly the same.  But feel free to contribute other recommendations below in the comments.
3) Wait, you said Garmin Connect Mobile can now create automated routes? Why haven't you talked about it?
I was busy eating cookies or something.  But I actually did post about it within my Edge 1030 review. See, fun times.
4) Does this work with my watch too?
Generally, yes.  As long as your watch supports 'Courses', it'll work with it.  That's basically most Garmin watches over $299.
5) What if I have a watch under $299?
Then you'll want to check out a Connect IQ app instead.  The best bet is dwMap+, which many people agree is one of the best all-around solutions here. It's also free for the basic version, and works on all the less expensive Vivoactive watches.
6) What if I create routes on Strava?
Then you can ignore everything I said here.  This is really only for folks like myself that like quick off the cuff solutions to create a route totally from your mobile phone
7) What if I want to create routes on my computer?
Same as previous question – tons of great options there already.  Garmin Connect, Strava, RideWithGPS, and so on.
8) Does this work with Suunto or Polar?
No, neither mobile app has been enabled to consume .GPX files and create courses from them.
9) Why not use Komoot?
Certainly, could use that too, they've got their own app and everything. Works quite well.  But as noted I like the simplicity of the EasyRoute app.
—
With that – thanks for reading!