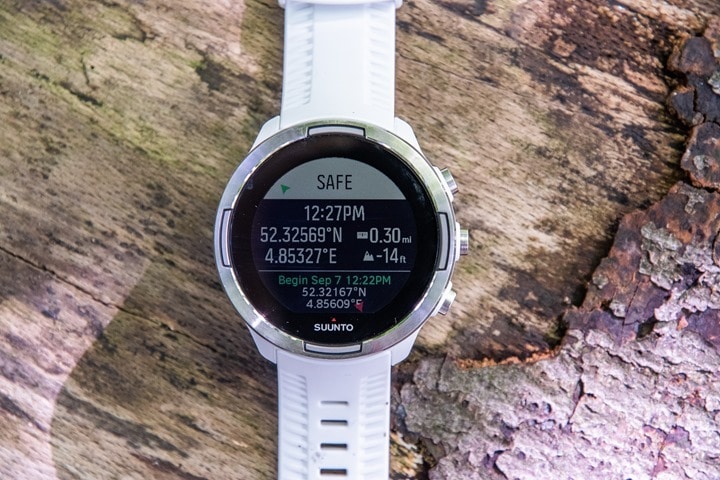 Good things come in threes, and today is the second in a line of updates Suunto is making. You'll remember back last month they started with the app side of the house, adding in a bunch of popularity routing type features. Whereas today is all about existing devices, or, most of them anyway. The Suunto 3, Suunto 5, and Suunto 9 watches are all getting a firmware update that begins distribution today (and will finish by tomorrow evening). That update brings with it a pile of new watch widgets. These are largely SuuntoPlus features, but there are some non-SuuntoPlus items like new watch faces too.
For those unfamiliar with SuuntoPlus, it's not like Apple Plus where you have to pay for it. Instead, it's more akin to a Zwift FutureWorks section on the watch. These features are production-quality though, but not really integrated into the full Suunto ecosystem. Yet, at least. Maybe down the road they'll find their way to full feature status. Suunto says by doing it this way they can roll these out faster than a feature that lives with the rest of the main Suunto watch firmware.
SuuntoPlus Data Pages: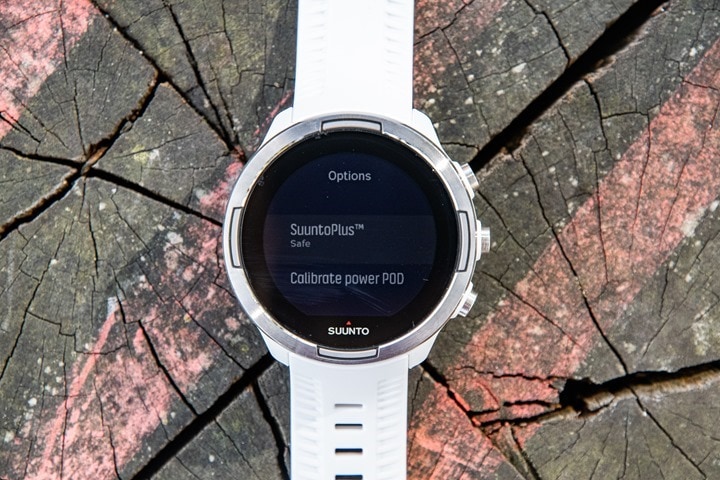 First up are a slate of new data pages that you can add to your workout pages. Now, because these are SuuntoPlus data pages that means you can only add one per workout, which you do just prior to the start of the workout. Versus a normal data page/field that you can add multiple fields too. That's part of the slight quirk with them not being true underlying features of the watch. Still, they are appreciated. Here's the broad-brush look at all the new SuuntoPlus pages: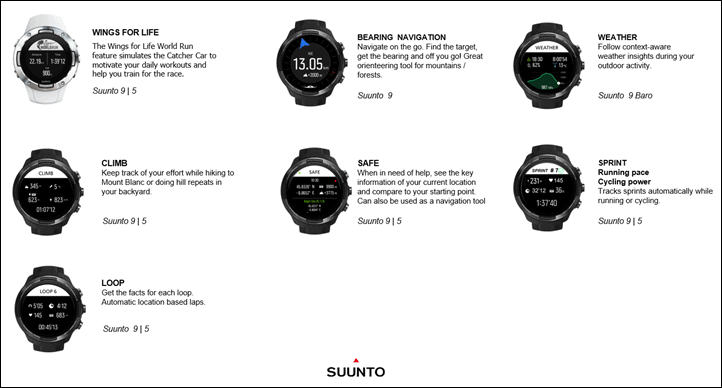 I'll briefly look at some of them a bit more closely. To access the pages, you'll crack open a sport mode just like you normally do (again, all of this is done on the watch – not on the app/site).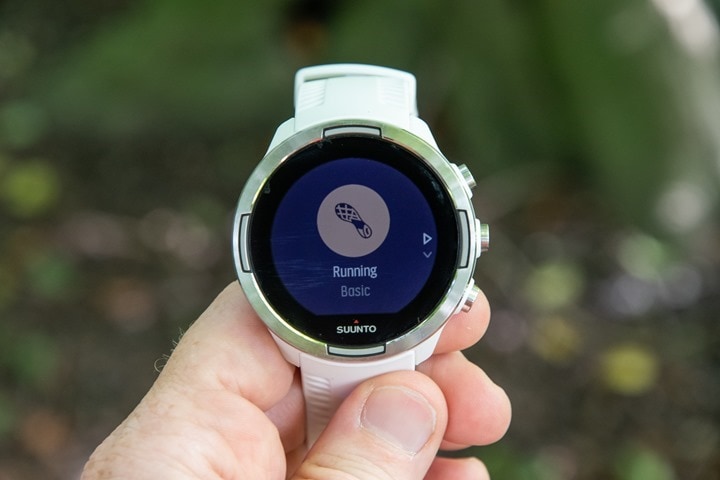 Then, press down to access options: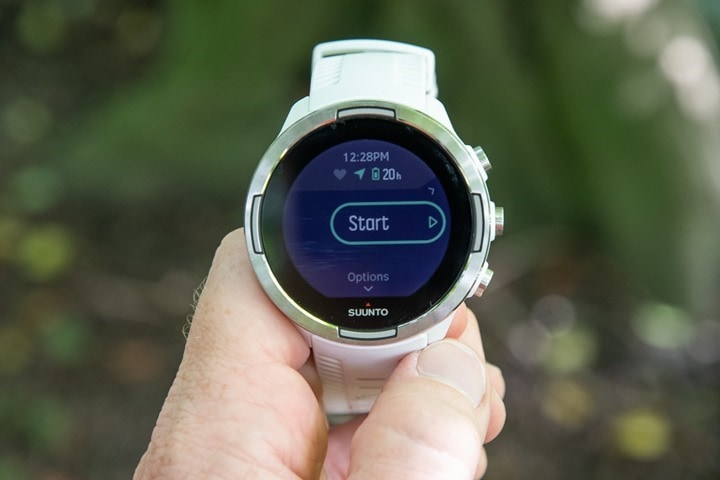 Which is where you'll find SuuntoPlus, it's here you'll see everything listed:
Select which one you want and then hit the start button like normal. Note (as I discovered the hard way this weekend a few kilometers into my run) – these do NOT persist across sessions. So, you have to remember to re-add the SuuntoPlus page/widget you want each time you start a workout. It doesn't remember the one you used on your last workout.
In any case, start the workout and then swipe or press to iterate through the screens till you find your new screen. The first one I'll show is the 'Weather' screen. This isn't pulling weather from weather stations, but rather data from your wrist. It's essentially making some of the baro related info easier to see in one spot, along with the sunset time and time remaining till sunset.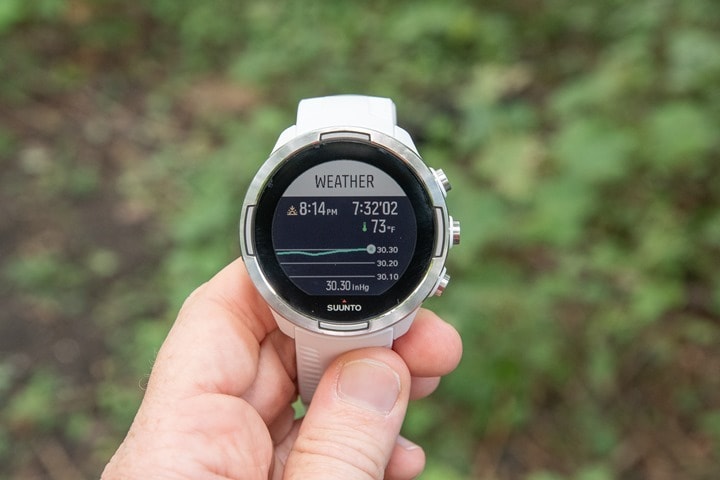 Next, there's SAFE – the idea behind this is that if you need help (such as calling rescue or such) you could have this handy screen to give exact GPS coordinates, but also how far you are from your starting point, as well as how high above your starting point you are. And, it also shows your starting point location. Also, since undoubtedly people will look up these GPS coordinates, they're just in a park – so no, I don't live attached to the horse stables, as much as my kids would prefer we did.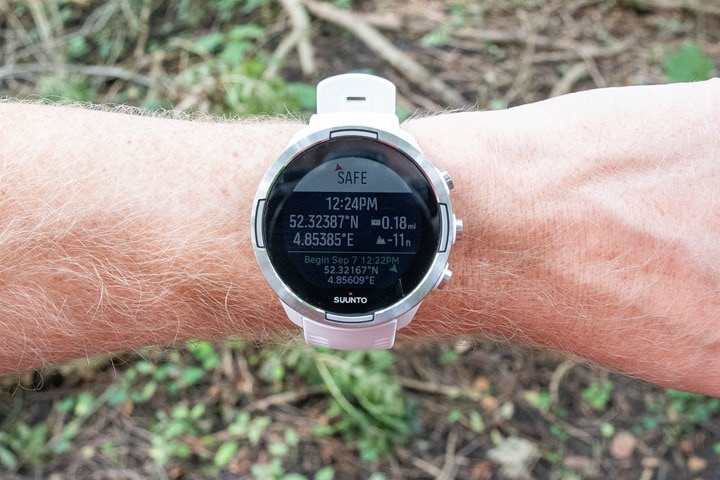 This is a super practical screen, but I think the limitation of either always having it enabled or having something else becomes super apparent here. For example, if we look at the next screen – CLIMB, that's the one I'd most use in the Alps. So now I have to choose between the practical CLIMB screen, or the probably-never-use but handy in case I need it SAFE screen.
Speaking of CLIMB, this shows the current grade, current elevation, climb rate, elevation climbed, and time elapsed. Just be happy that I managed to find a hill with 6% grade at all for this! Interestingly though, the elevation (where the 0 currently shows) did seem surprisingly delayed on this compared to what I see on the Polar & Garmin watches for elevation responsiveness. I had reached the top of the biggest hill I've got around here (15m), before it began to change, and as you can see – I certainly wasn't going that fast.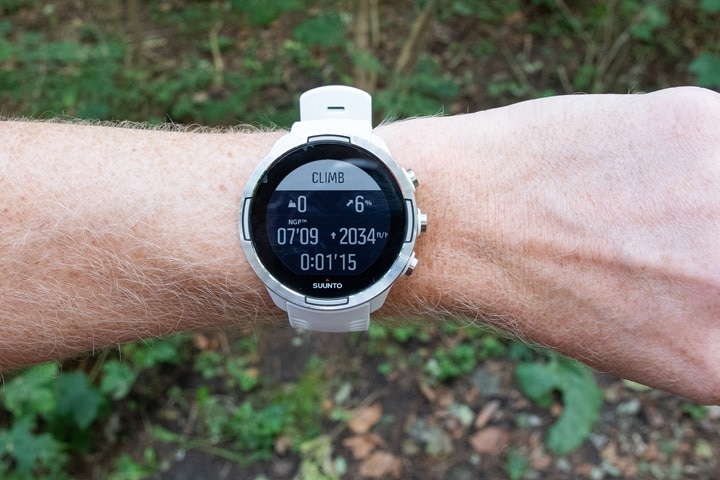 Then there's LOOP, this is essentially auto-lap by position, which lets you create laps each time you pass a given point. So sure, you could use this on a track, but realistically this is far more useful on a short looped course. There's cases while travelling I'll create myself an imaginary track on a short trail or whatever circuit of say 800m, this will auto-lap each time, letting me compare intervals. It's a feature that Garmin disappointingly removed years ago from their wearables, but has stayed on their Edge computers.
The way it works is that it hangs out in the background until you press the lap button, which marks where the loop starts. Once that's done, anytime you pass that point it'll trigger. In playing around with it this morning, it did seem to trigger within a couple meters each time. It'll show you a lap summary upon passing that reference point (and marks it as a lap), as well as current loop status.
Note that there's technically three Loop options, one for average pace, one showing average power, and one showing average speed. Use whichever one you prefer.
Similarly there's the new SPRINT widget, which will automatically track cycling or running sports. This will basically create laps in the same way that the Loop one does, except it automatically triggers the capture of a sprint based on a 25% increase in running pace or cycling power (there's two widgets, one for each). It actually responded pretty darn quick in my testing, within a couple seconds each time.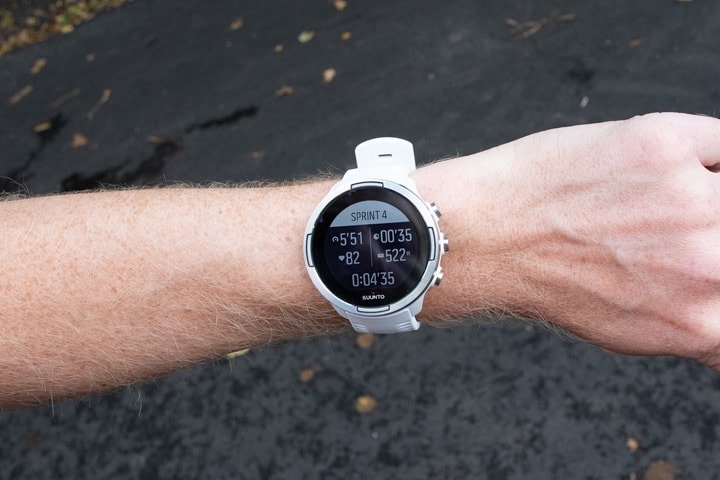 Next, there's BEARING NAVIGATION. This is only available on the Suunto 9, and lets you specify a target and then get the bearing. Now, technically speaking this isn't in the SuuntoPlus section, but rather part of the Navigation features section.
Finally, there's a new 'Wings for Life World Run' page that simulates such a race. The way these races work is that you get a head start on a car, and then you see how far you can get before the car catches you – there's no preset finish line distance. Anyway, this page explains it.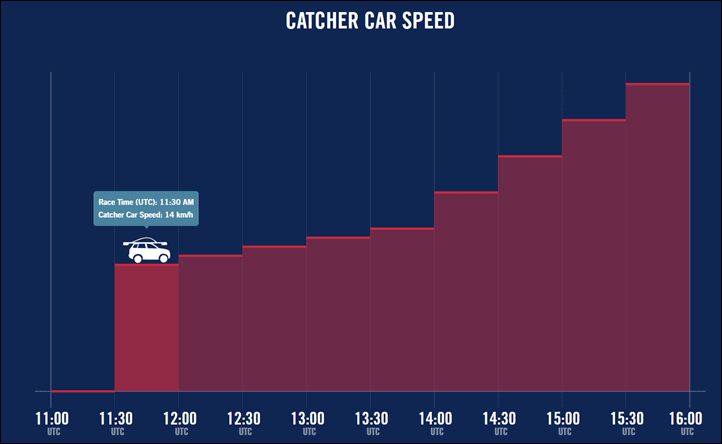 So the widget can then simulate this whole race concept, including showing you how far you'll get until the car catches you, as well as how long that'll take (in other words, how long you'll have to keep running for), based on your current pace.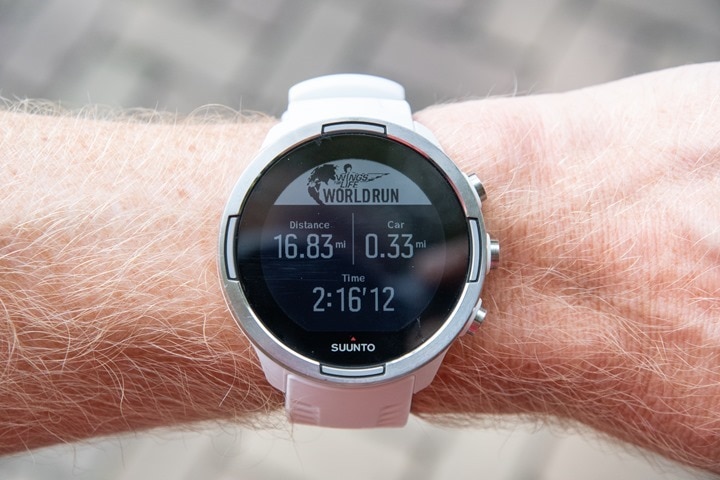 If one was training for this event – it'd probably be the coolest data page of the bunch.
Ok – still with me? Good. Oh, wait, one more thing – all of the following named SuuntoPlus pages also store data that the Suunto app can render/display:

Like I said – these are all cool and practical items that, while you probably won't use all of them, regular Suunto users might find one or two that fit the bill for them.
New Watch Faces:
Next, there are two new (and colorful) watch faces. One for the Suunto 9 Baro with pressure data, and one or the Suunto 3/5/9 (non-baro) with step data.
You can tap the center of the screen, and it'll change between a few variants, including ditching the sunset/sunrise portion, as well as showing two metrics in the middle there (battery life and time until sunset). It's a nice watch face. I think in general we're seeing watch companies find ways to put actionably useful data on watch faces, versus just putting 'all the things', and this is a good example of one that would work well if you were out hiking.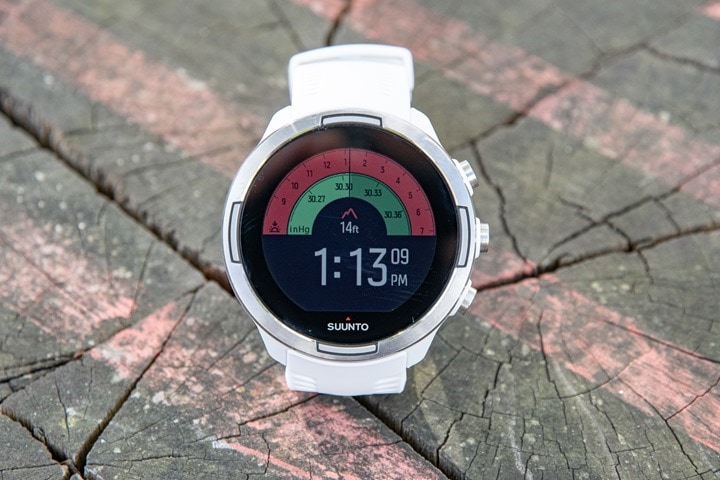 Both of which are pretty self-explanatory in showing those metrics as gauges. Of course, that's virtually impossible to see given I live in Amsterdam and have zero elevation here (actually, slightly below sea level a couple meters). But it apparently looks cooler when you're not on an underwater pancake. And at right, the steps variant, which isn't available on the Suunto 9 Baro, just the Suunto 3/5/9 (non-baro).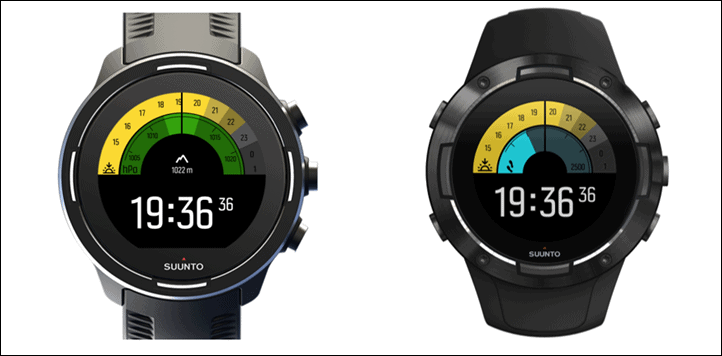 Like with any past watch faces, you can go ahead and change these by scrolling up to Settings > Watch Face, and then selecting the watch face you want.
Wrap-Up:
These are nice touch firmware updates from Suunto, who has otherwise been pretty quiet since the Suunto 7 released back in January. The features are handy if you've got a Suunto 3/5/9 watch. As for Suunto 7 owners…well…this post just covers Suunto 3/5/9 items, but like I said – good things come in three's. So hang tight!
Looking at the list in whole, some of these things are legit new features not seen on any other endurance sports watch. For example – the SAFE concept makes a ton of sense. Sure, Garmin has emergency contact type stuff, but that's very different than this scenario which is when you might be calling/radioing someone else with your position for assistance. This makes it silly simple to use. Love it.
And the sprint auto-tracking is kinda neat too. I haven't put enough time into that widget to see how well it handles a longer workout, but on the surface I think it's a cool concept, especially since it then uses that data via the app for automatic laps (rest/recovery effectively). Others like the Loop (autolap by position effectively) – are handy, even if others have had (and then taken away), those in the past.
Now the challenge Suunto has here is that almost none of these features would by themselves (or even en mass) cause someone to go out and buy a Suunto 9 or 3 or 5. And in the case of the Suunto 9, it's already more than two years old, which in terms of buying into a new device that's been out for two years…it's a tough pitch. Still, given all the other turbulence around the Suunto platform the last year or two, giving features to existing owners (versus taking them away) is undoubtedly welcome.
I'd really love to see though the ability to toggle these from the app as part of a sport profile, and include more than one of them together. For example, ideally the SAFE feature would just always be there by accessing it from the mid-activity settings menu. And then allowing me to just have CLIMB always be there for any hike I start.
But that gives them something to work on going forward.
With that – thanks for reading!