Finally, it's here: The ability to sync a structured workout from TrainingPeaks to Suunto watches, specifically, the Suunto 5 series and Suunto 9 series watches. This is accomplished using the new SuuntoPlus Guides functionality (more on that here), which allows 3rd party companies to develop mini-apps for these Suunto watches. In this case, Suunto has partnered with TrainingPeaks to create a TrainingPeaks SuuntoPlus Guide, that pulls in your planned workouts, giving you guidance as you go through the workout.
Below I'll outline how it all works with a quick interval workout I've created for today and then executed said workout to show how each piece works. Note that while this post focuses on the TrainingPeaks implementation (presumably with a fair bit of Suunto help), there are other companies that have announced integrations as well. Plus there's more on the way.
TrainingPeaks Workout Details:
First up was re-instantiating the connection between the Suunto app and the TrainingPeaks app. Even though I've long had my Suunto accounts (including previously Movescount) sync to TrainingPeaks, pulling in workouts requires a different set of permissions, thus the re-auth. It only takes a second.
Once that's done, it'll automatically pull in any workouts you've created, be it either one-off workouts or training plans. For fun, I've just created a simple one-off structured workout on TrainingPeaks. This one uses target HR zones and specified distances for 800m repeats, with a warm-up and cool-down. However, Suunto says this also works with any target type TrainingPeaks supports, including power (both running and cycling). In effect, they don't care what the targets are, they just take what TrainingPeaks passes them, and uses it: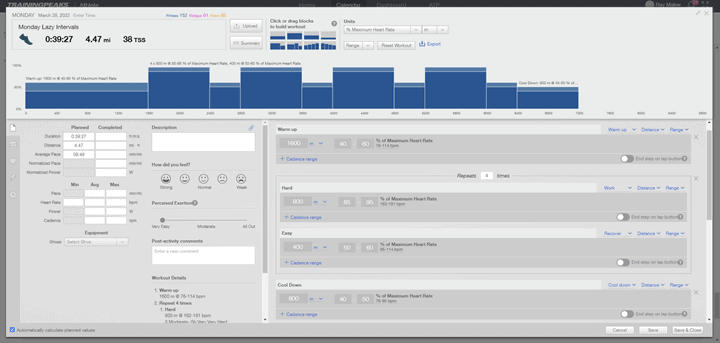 Next, on the Suunto App, you'll want to validate that the Suunto app has selected that guide to push to your watch. In theory, this will happen automatically. Suunto says it uses a combination of date and other logic to properly enable guides to automatically be on your watch, or be removed from your watch. For example, after I did this workout today, it quietly removed it (this guide) from my watch.
Once that's been synced to the watch, it'll automatically be offered to you, assuming you load up the sport it's targeted for. If you look above, you'll notice that it has different sport icons for my trainer workout versus my run one, since my trainer workout is cycling and my running one is…well…running. You can see below that when I opened the run profile up for today, it notices today's date, and offers the scheduled workout:
You can however change the guide (or select no), and then either choose nothing, or any other different SuuntoPlus Guide. Further, you can select a regular SuuntoPlus, but you can't select both.
Once you start the workout it'll immediately give you a notification page with the first step. This is sorta like a text notification, and gives the targets for that particular piece of the interval. The text however is a wee bit small here, though at least it does stay up for a while (maybe 5-seconds or so?).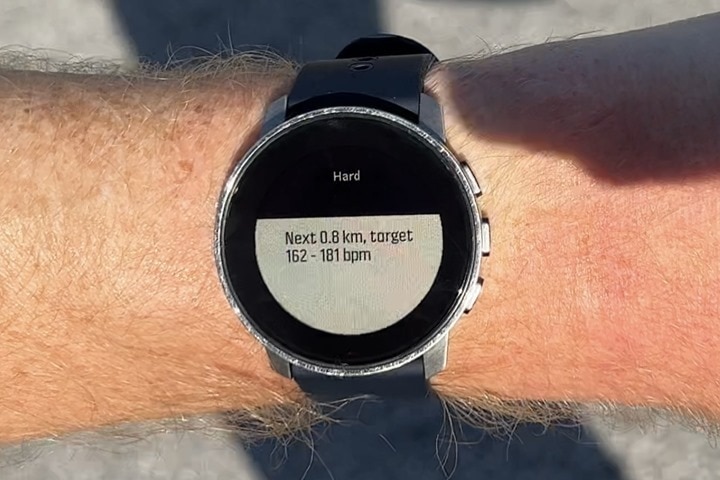 Here's a non-running look at the same instructions page for a cycling workout I created: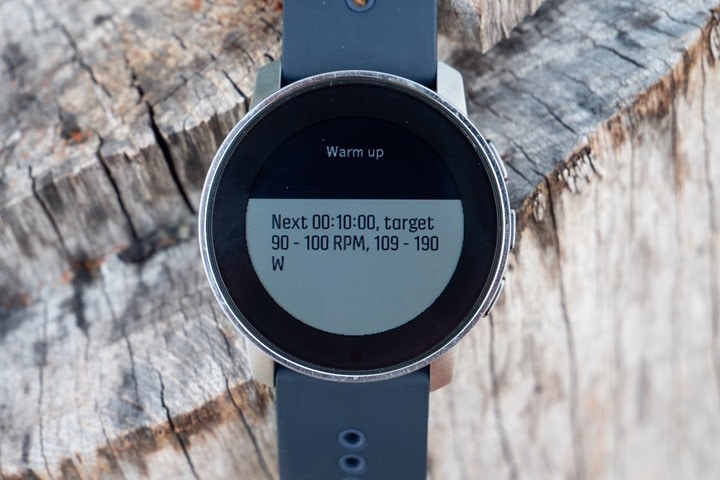 Then, once that goes away in a few seconds, it'll show you a target zone page with your current progress towards the target (in my case, it was a distance target of 800m intervals with a heart rate range target too). Shown below, I've got 159m remaining in this interval.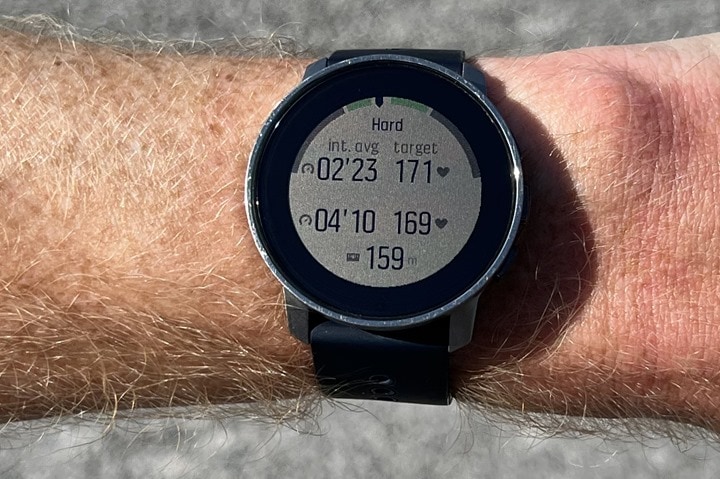 Rinse, and repeat – over and over again until your suffering is done. However, what it won't show you is the interval number you're on. For example, if I had 8×800, it doesn't say Interval 6 of 8. In many ways, this offers the 'core' structured workout experience – which, is totally acceptable and usable (I had no issues today). It's just a no-frills experience.
And again, here's an example of the workout screens from a power-based indoor trainer workout I created (taken without the fuzzy camera movement of trying to run).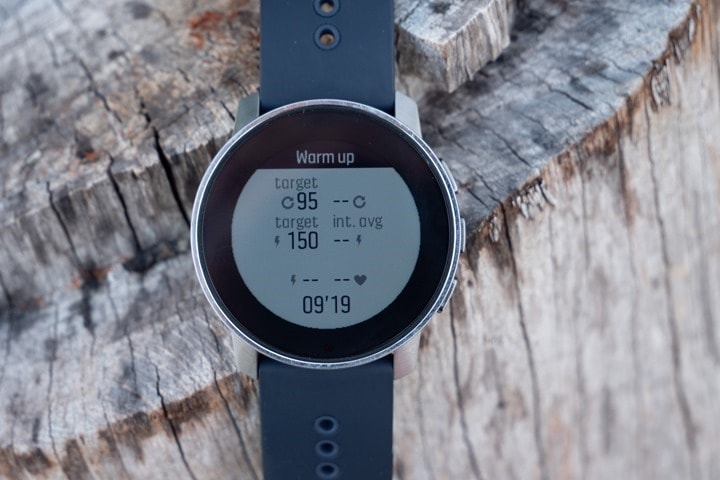 Once the workout is complete, the summary page is the same as before. There's no added information here that's TrainingPeaks specific, or detail related to the guide itself.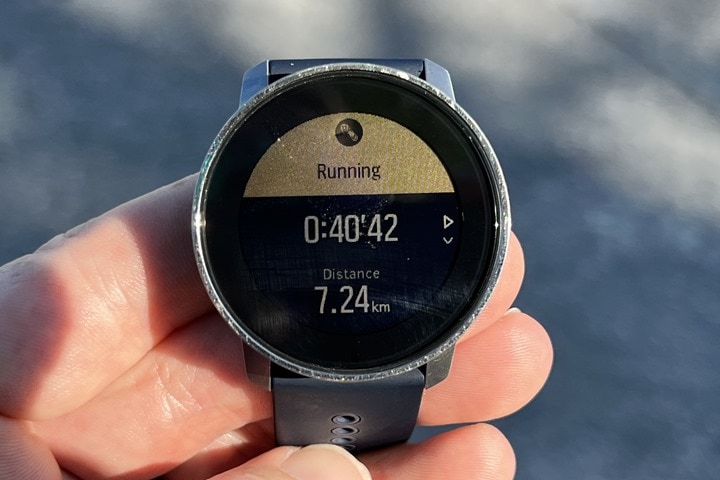 However, because of the sync back to TrainingPeaks, it'll automatically merge your planned workout with your executed one, into one tidy and cohesive picture (just as it does for pretty much any other TrainingPeaks partner):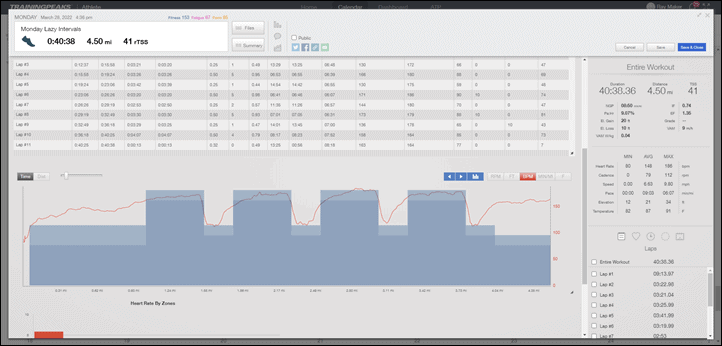 And then, as noted above, following your completion of that workout – upon the next sync it'll remove the workout from the watch automatically to make room for others (albeit, on the indoor trainer workout I synced, it didn't remove it – but I didn't fully do/execute that one).
Wrap-Up: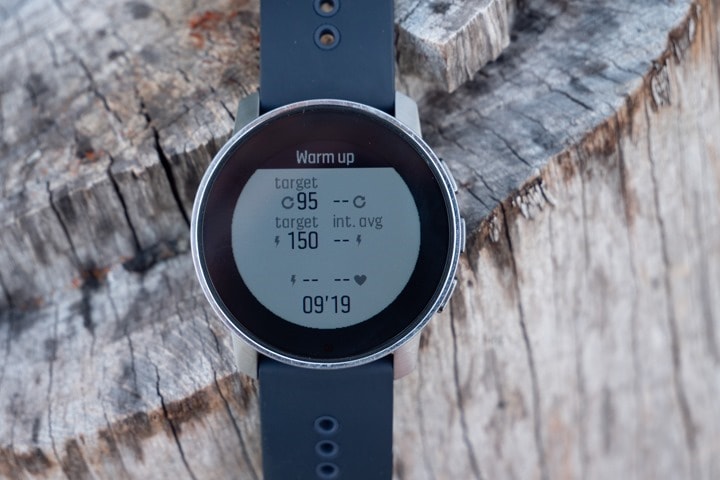 For endurance athletes that do structured workouts (which, is…probably most endurance athletes), this is a huge addition to the Suunto lineup. While TrainingPeaks is the whale in the list of new SuuntoPlus Guides, the reality is there are others that are either in-process or already complete. For example Intervals.icu has completed their integration and is listed as a SuuntoPlus Guides app. And I suspect we'll see other platforms add support as well, especially if the SuuntoPlus Guides are as easy as Suunto makes them out to be (and based on my looking at the developer documentation, they do seem to be).
As noted above, the TrainingPeaks structured workout functionality is somewhat basic, but covers the core requirements well. And it's notable that it includes support for more advanced concepts like power targets or specific HR zones, all with secondary interval goals. I'd love to see things like an interval counter added (e.g. Interval 6 of 8), as well as perhaps a bit of re-arranging of the fonts on the upcoming notification page. And maybe even a typical countdown notice/timer as an interval approaches like most watches.
Still, I had zero issues following the workout for today's run, and got through the scheduled workout as planned, and on-target. So, for a first go at things, Suunto and TrainingPeaks have easily delivered the core functionality on-point, leaving them room to finesse the details down the road with minor iterations. And until then, this implementation will make a lot of people pretty darn happy.
With that – thanks for reading!
Found This Post Useful? Support The Site!
At the end of the day, I'm an athlete just like you looking for the most detail possible on a new purchase. These posts generally take a lot of time to put together, so if you're shopping for the Suunto 5 Peak or Suunto 9 Peak or any other accessory items, please consider using the affiliate links below! As an Amazon Associate I earn from qualifying purchases. It doesn't cost you anything extra, but your purchases help support this website a lot. Even more, if you use Backcountry.com or Competitive Cyclist with coupon code DCRAINMAKER, first time users save 15% on applicable products! Or, with TPC (The Pro's Closet), you'll save $40 on purchases over $200 with coupon code DCRAIN40!
And of course – you can always sign-up to be a DCR Supporter! That gets you an ad-free DCR, access to the DCR Quarantine Corner video series packed with behind the scenes tidbits...and it also makes you awesome. And being awesome is what it's all about!