Suunto's just revamped their existing Suunto 5 multisport GPS watch with the new slimmer and more stylish Suunto 5 Peak. This follows in the footsteps of the Suunto 9 Peak last summer, in terms of cleaning up the external design of the watch while offering a smattering of new software and hardware features. The main appeal of the Suunto 5 series is that it's essentially a gateway drug to a higher-end multisport watch without the price tag. Meaning it has virtually all the same software features as Suunto's top-end Suunto 9 series, but skips on a barometric altimeter, touchscreen and has lesser but still plenty of battery life – clocking in at up to 100 hours of GPS recording time (in a reduced recording rate).
The Suunto 5 Peak adds the new wireless firmware updater option as well as the aforementioned Tour mode with 100-hour battery life. It also carries with it the slate of new features that came to the existing Suunto 5 last summer when they were added to the Suunto 9 Peak, these included music controls, additional SuuntoPlus apps such as Ghost Runner & Burner, Snap to Route, and Android phone pre-defined replies. Said differently, this is mostly a cosmetic hardware change – but one that's welcomed by myself and probably many others. Plus, the price is the same, making it an ideal budget triathlon watch.
With that – I've been testing it for about a month now, putting it through its paces in hikes, swims, 7-hour rides, runs, and plenty more. So we'll dig into all that data as well as my daily usage thoughts down below.
As usual, this watch is a media loaner, and it'll go back to Suunto. This review is not sponsored (nor does any company get to preview anything I review), and I don't take any advertiser money from any companies I review. And as regular readers know, if something is crap, I'm gonna tell it brutally like it is – no matter the brand. Once this unit goes back, I'll go out and get my own for any future testing needs. If you found this review useful, you can use the links at the bottom, or consider becoming a DCR Supporter which makes the site ad-free, while also getting access to a mostly weekly video series behind the scenes of the DCR Cave. And of course, it makes you awesome.
What's New: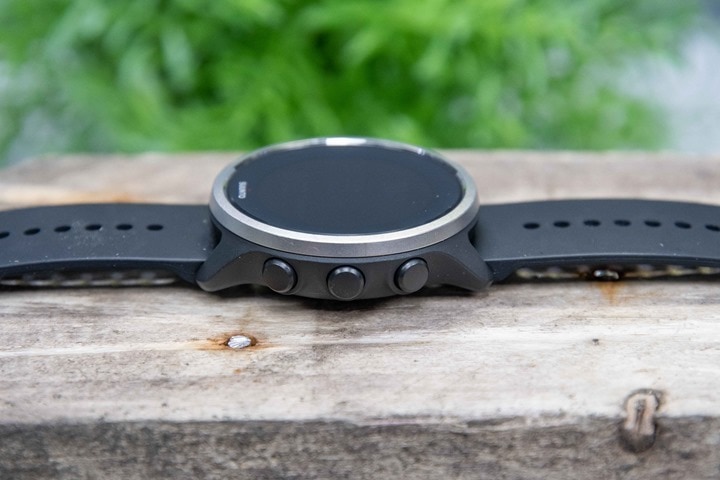 The Suunto 5 Peak is largely an overhaul of the visual hardware design, rather than an overhaul of the interior hardware or features. In fact, virtually all features were previously rolled out to the Suunto 5 series over the course of last summer/fall, which in turn came from the Suunto 9 Peak. So while that might be disappointing for some, I appreciate that Suunto basically gave all these features to existing Suunto 5 owners, rather than holding them here just for the Suunto 5 Peak. The only features that are 'new' here are dependent on newer hardware (the longer GPS modes and the behind-the-scenes firmware updating).
However, there are a pile of things that have changed, and I've tried to consolidate all of them into this simple bulleted list:
– New exterior design, far thinner at 12.9mm compared to 14.6mm for the original Suunto 5
– New standard 22mm removable/replaceable watch straps (boom!)
– New Sony GPS chipset with added satellite systems (matches Suunto 9 Peak)
– New Tour Mode (up to 100hrs of GPS tracking)
– Three core battery modes: 20 hours/40 hours/100 hours, smartwatch mode 10 days
– New wireless firmware updates over Bluetooth Smart
– Raise to wake backlight (added last fall/summer to original Suunto 5)
– New Android pre-defined replies from the watch (added last fall/summer to original Suunto 5)
– New music/media controls (added last fall/summer to original Suunto 5)
– Two new watch faces (added last fall/summer to original Suunto 5)
– New Snap to Route GPS track option (added last fall/summer to original Suunto 5)
– New SuuntoPlus Ghost Runner screen option (added last fall/summer to original Suunto 5)
– New SuuntoPlus Burner app for fat/carb burning option (added last fall/summer to original Suunto 5)
Also, the water resistance is 30-meters, and the display resolution is 218×218 on what is a 43mm wide watch. Pricing is 299EUR/$329USD, and will start shipping February 1st, 2022.
The biggest differences between this and something like the Suunto 9 series are the lack of barometric altimeter, lack of compass, and lack of larger battery. Also, there's no touchscreen here either, and the screen is slightly smaller at 1.1″ versus 1.2″ on the Suunto 9 Peak. Materially there are also different finishes, such as lack of metal buttons. Both units are made in Finland however.
Got all that? Good.
Unboxing: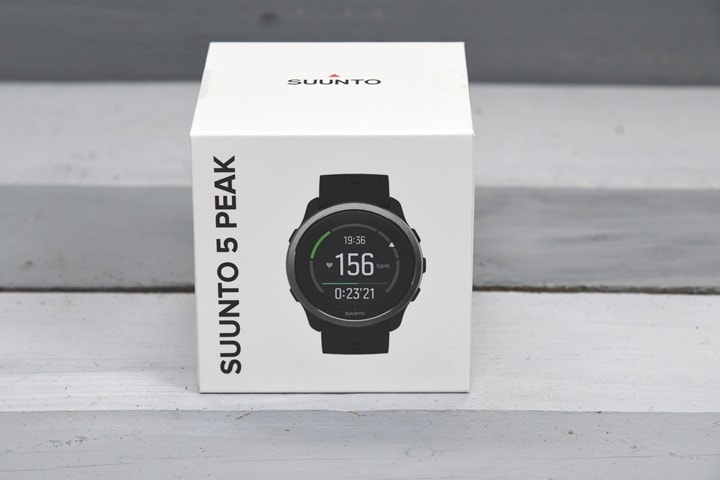 I like efficient unboxing sections, and this indeed will be one of those! We'll find the Suunto 5 Peak in the standard-issue Suunto box, which, once the lid is removed, is on what is essentially a cardboard oval faux-wrist. For some reason, I've always liked this. I know it's silly but just seems clever.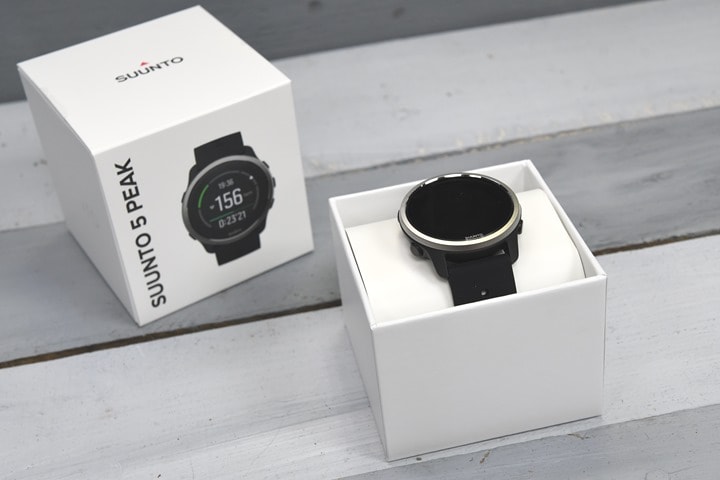 Inside the package, you've got the watch itself, a small pile of papers, and then the Suunto charging clip. This is the same charging clip as most older Suunto units, but not the newer magnetic one.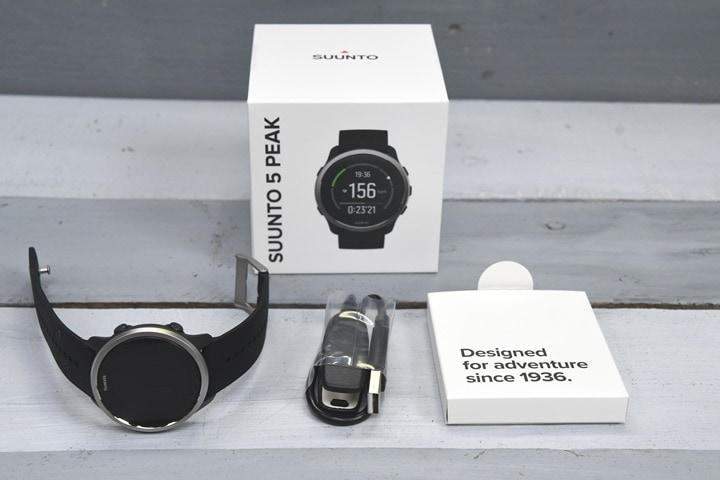 Here's a closer look at the papers – in the unlikely event you'll actually read them after this review. They basically tell you not to do anything stupid with the watch, which undoubtedly you'll promptly and properly ignore.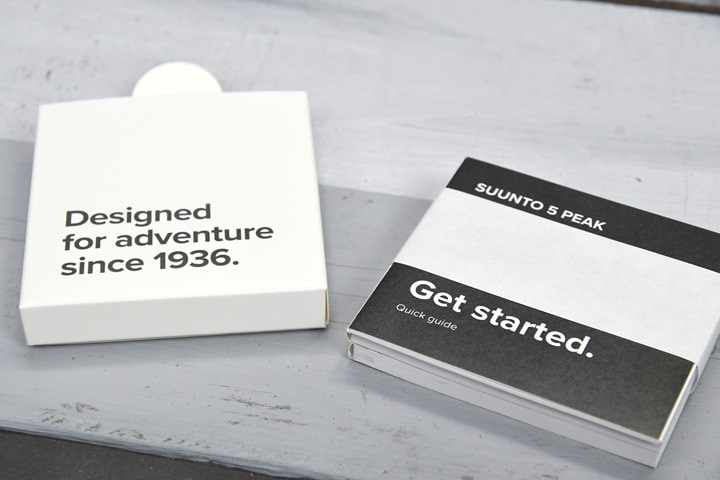 Then there's the front and back of the watch.
And lastly, here's how it compares side by side (on the left) to the Suunto 9 Peak with the new design as well:
The weight of the Suunto 5 Peak on the scale comes in at 39g, which is very very very light. And also matching official specs.
With that, our work here is done. As I said, this section would be efficient!
The Basics: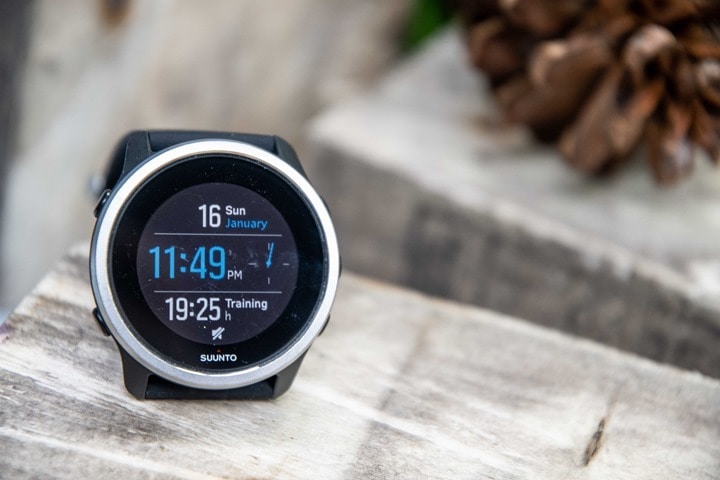 For this first part of the review, I'll cover the core non-sports aspects of the watch. Things like day-to-day usability, 24×7 activity tracking, general portions of the smartphone app, and the hardware.
Starting off, the unit has five buttons, two on the left side and three on the right side. In general, the top/lower right side buttons are used for going up/down, with the middle button used for confirming/entering. On the left, you'll generally use those for going back.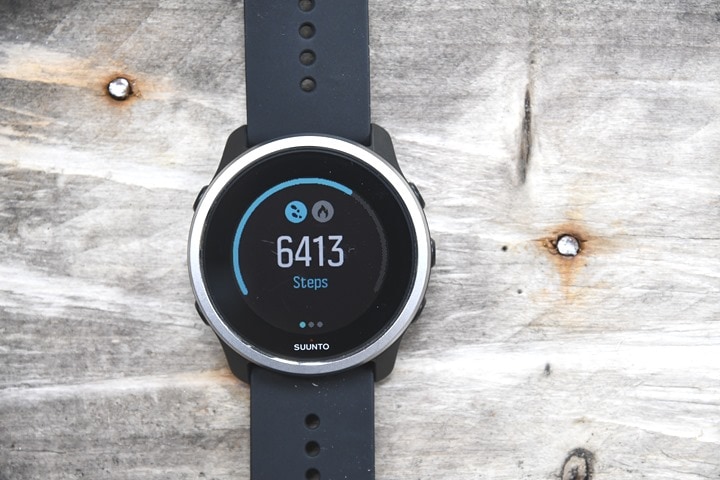 The buttons are all easy to use, even with cycling gloves, and feel fine. They're plastic, so not as fancy as the Suunto 9 Peak's metal buttons, but I haven't had any issues either way. Note on the Suunto 5 Peak there's no touchscreen (which the Suunto 9 Peak has), but I personally don't consider that a major loss. I'm not a huge touchscreen in a sports-watch person, as I find buttons far easier to use when I'm dying during an interval session.
The main downside of the Suunto 5 Peak compared to basically any other watch out there is the screen. Both in terms of visibility and responsiveness. Simply put: It's slow and sluggish, especially by today's standards. Nothing is snappy, you're always waiting.
And as you can see, it's fairly small relative to the size of the entire watch face. This is basically the same tired screen Suunto's been using for years, and they really need to stop using it. While it's largely OK in direct sun for visibility, it's much tougher to see in dimmer conditions or indoors. My camera probably makes it look better than reality. Now I'll note that I don't typically care much about the bezel widths. Some folks have strong anti-wide-bezel stances, and that's cool. For me, it's just not top of my list. That said, I think we can all agree the bezel to actual screen ratio here is pretty non-ideal too. But I'll keep the bezels if we can speed up the responsiveness and make the display brighter.
Flipping it over, it uses the old-school Suunto charging clip connector, as opposed to the newer magnetitic one. The newer one is nice because it auto-aligns to the right points on the watch, making it hard to accidentally get it off-clip or misaligned. Which isn't to say the old connector is all that bad. It's fine, and has been used for years. Plus, I have an entire bin full of them.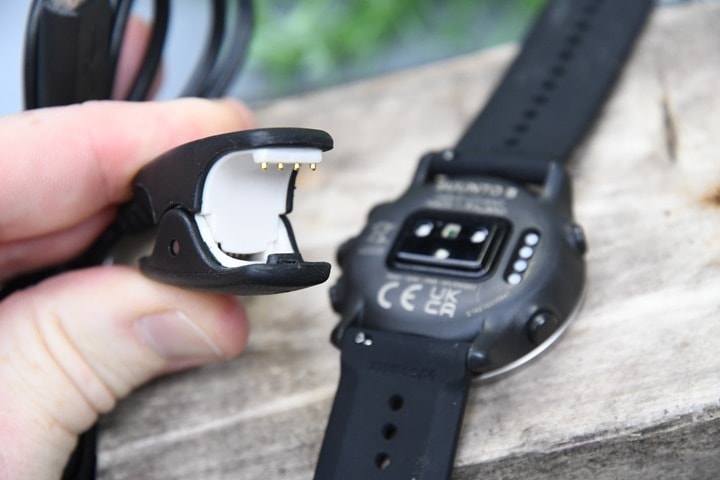 Next to that charging port are the new straps, allowing you to swap it out easily with your own 22mm straps. Standard watch bands, nothing proprietary – which is great. The previous Suunto 5 had a bulky integrated band that was hardly user-friendly, let alone style-friendly.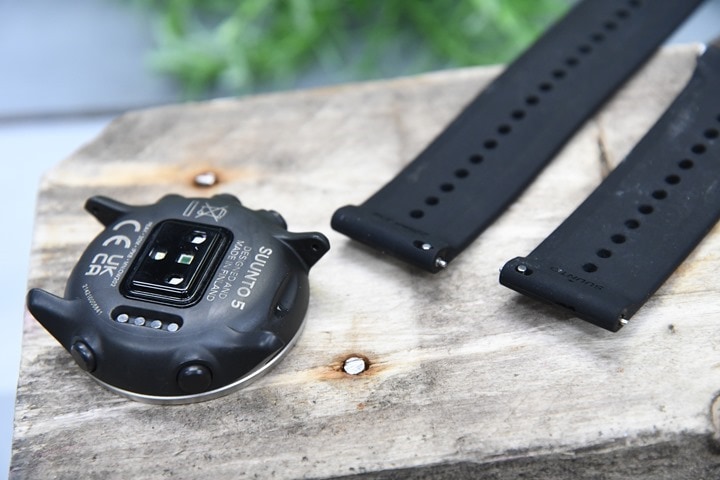 Wrapping up on the back we've got the optical heart rate sensor, which appears to be the same as from the original Suunto 5 series and doesn't match the newer Suunto 9 Peak one (which has SpO2 readings, the Suunto 5 Peak does not). This older Valencell sensor though was generally fine for workouts, though, lacked very efficient/frequent 24×7 readings – recording the values only once per 10 minutes. It has two green lights and one yellow light. The different color LEDs are used to better penetrate both different skin colors but also to different depths for increased accuracy.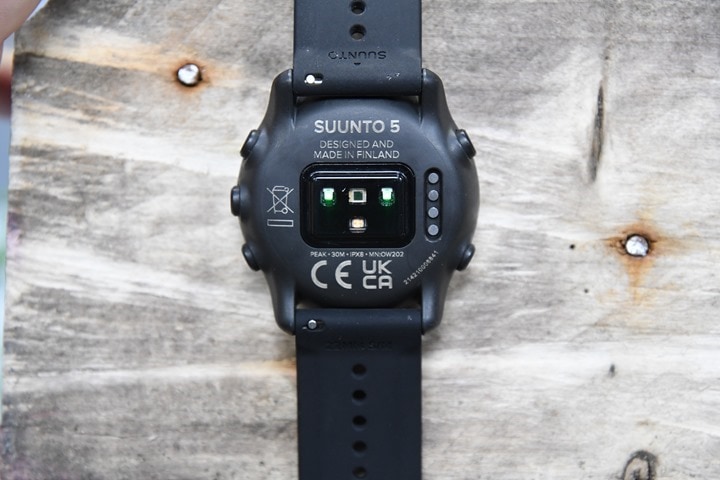 It'll constantly monitor your heart rate, or, you can take spot-checks on the front watch face, as well as look at the past few hours of heart rate details. It'll also track heart rate averages at night too.
Regardless of whether or not you do spot checks, your data is saved and synced with the Suunto App, where you can look at the breakdown as you see fit by picking the date on the calendar, then scrolling down. Alternatively, you can just swipe left and right once tapping into any given day.
Tied into all the heart rate-driven metrics are both Body Resources & Stress. These metrics are using FirstBeat algorithms, and they're effectively identical to what we'd see on other companies that use FirstBeat – like Garmin, except, they call it Body Battery. Suunto uses the term Resources, but ultimately it shows the same thing. Think of it as how much energy you have left, with it ideally refilling each night, and decreasing over the course of the day. The stress tracking is generally pretty reliable for me, at least in terms of a rough idea of things.
Next in the daily watch metrics is steps. You can swipe down to see the daily steps, and then also the weekly average steps. Calories is also shown on a further data page.
All these stats are available on the Suunto smartphone app too. Next, there's the total training hours shown, against a weekly goal.
Plus, it'll show your weekly planned workouts, which do dynamically change based on what you're doing.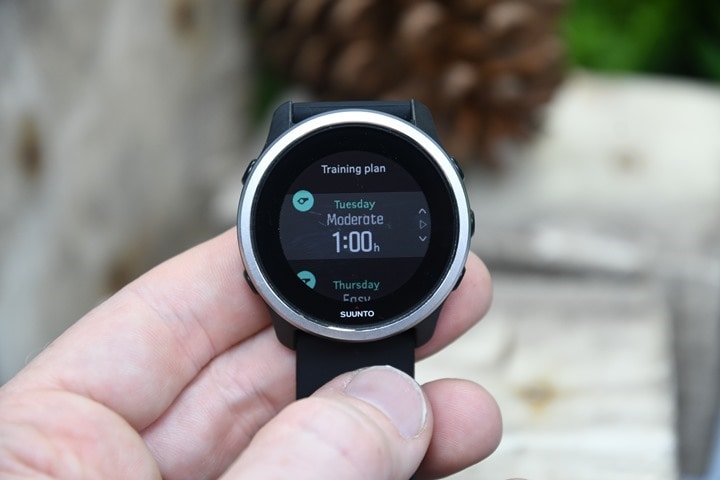 Following that you've got the sleep tracking. Do note that you have to remember to enable this in the menus. I fail to understand why this isn't just turned on by default. Nevertheless, once you do enable it, it'll start tracking that nightly. I find in general it's pretty much spot-on for when I go to sleep and when I wake up.
It'll also give you a quick morning recap when you wake up. Or at least, it mostly did. For some reason it gave up on me over the weekend, but it was giving me little recaps daily till then. It's plausible I've accidentally disabled it somehow. Or maybe it's staging a protest against my sleep patterns lately. Both are viable. Also, shot on my iPhone as opposed to a DSLR camera, and thus probably the most representative look at what the display actually looks like most of the time, especially indoors.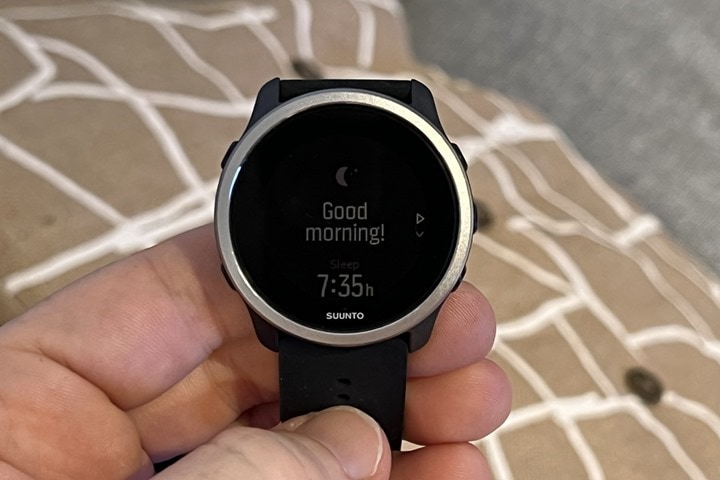 And again, all of this is also available in the smartphone app afterward:
Next, there's the current VO2Max and Fitness Age. Both seem wrong here. Despite having this on workouts for the last month including some beastly workouts at VO2Max intensity, it's showing me at 'only' 48.2. Generally speaking these days I float in the 57-60 range. I'd accept something slightly lower while things acclimate to me, but 48 is abnormally off here. In terms of Fitness Age, that's obviously very optimistic. While I'm certainly in relatively good shape, most platforms wouldn't consider my fitness equal to a 20-year-old (I'm 39yo). But hey, I won't hold any gripes here.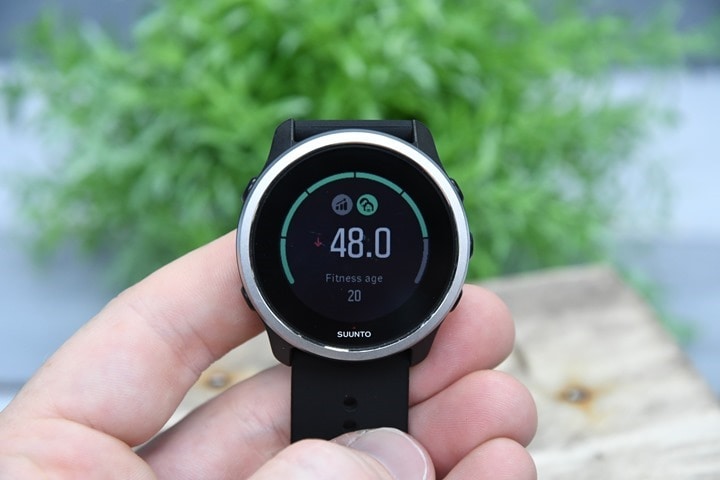 Finally, wrapping things up in this section, if you swipe way back up again you can go into a training log to see past activities: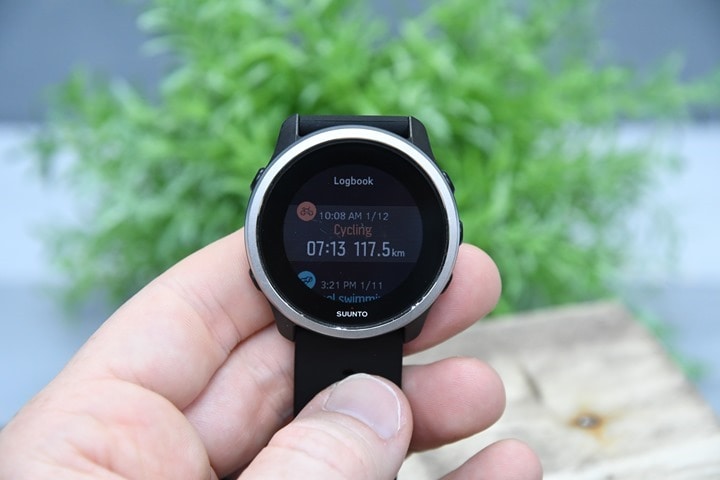 Swipe up once more and you've got the ability to set timers, both a stopwatch and a pre-defined duration timer: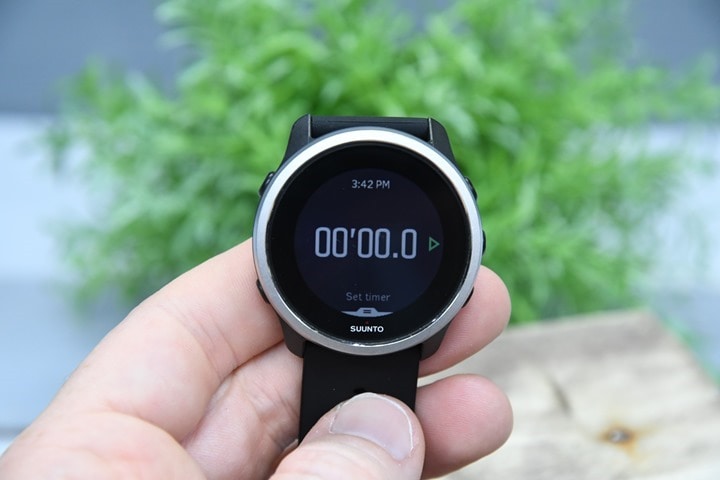 And then further up we've got the Settings options. You can pair sensors here (more on that later), pair your phone, change the watch face, remember to enable sleep tracking, tweak navigation settings like position formats and GPS satellite systems (GPS plus Galileo, Beidou, QZSS, GLONASS), as well as activity tracking options and notifications.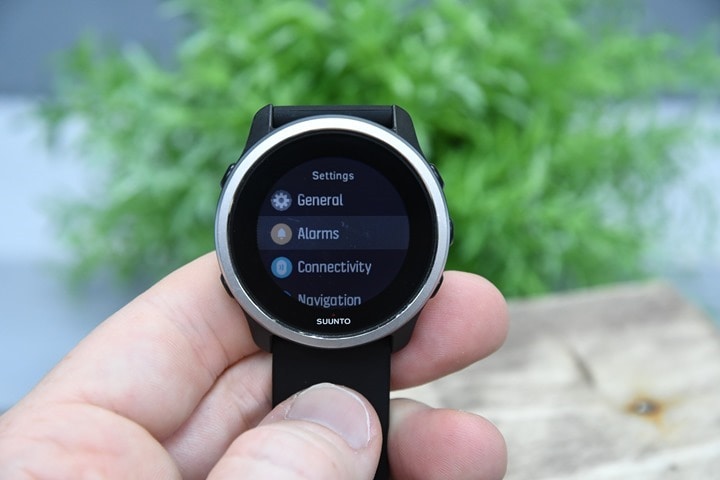 You can lightly tweak the watch faces here, but there's not a ton of options, nor any 3rd party options. This is really an area I'd love to see Suunto invest lightly in, giving more flexibility.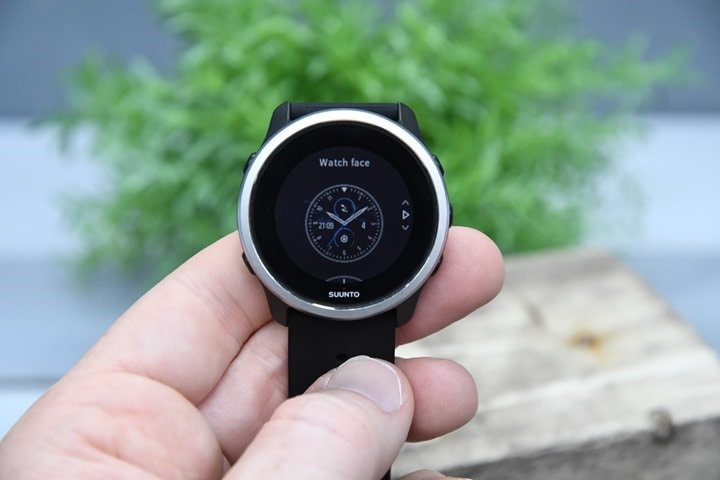 Also, we can toggle music controls on/off. Speaking of that, we'll end here. The Suunto 5 Peak allows you to control music on your phone from the watch. Like most music controls from the wrist, it's fairly basic and limited to play/pause/skip/back/change volume: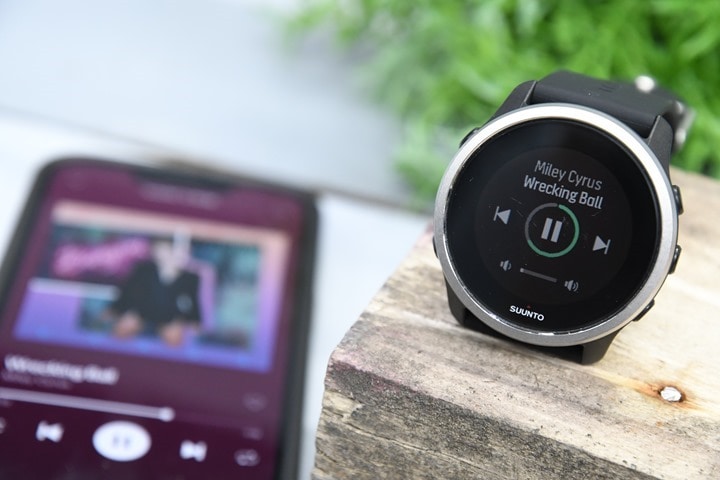 There's no music storage on the device itself. Within the Suunto lineup, that's offered on the Suunto 7 series.
And last but very much not least, is the option for the nightly firmware update checks/updates. This option is enabled by default and will utilize your phone's connection to download any new firmware to the watch automatically behind the scenes, and then quietly install it at night while you (hopefully) sleep. This was introduced on the Suunto 9 Peak and is a notable change compared to the original Suunto 5.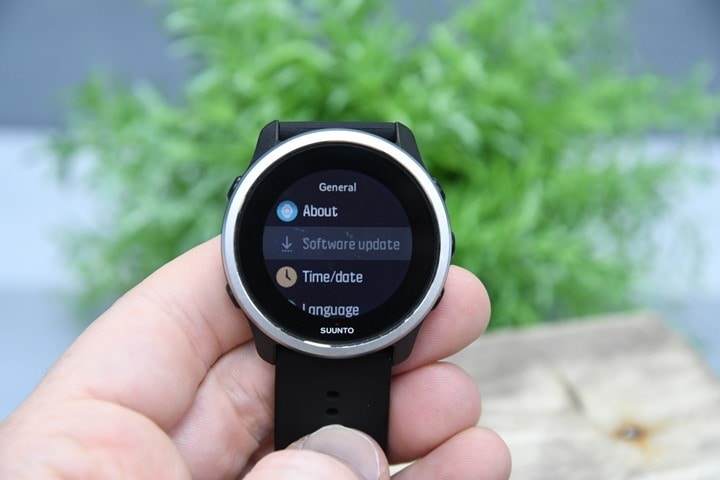 Ok, with that we've covered all the core stuff, let's head outside for some workouts.
Sports Usage: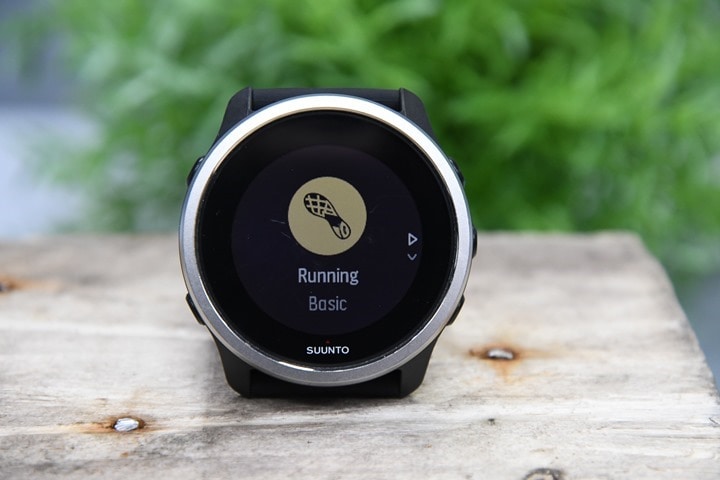 So let's dive into sports usage. After all, that's arguably the point of buying a Suunto watch. Or, also potentially hiking/navigation usage – both of which we'll cover here. In this area, if you're familiar with Suunto watches or the Suunto 5 series, nothing has changed except the addition of the new Tour mode for 100-hour battery life. I'll cover that in a hot second.
First up to start a workout you'll tap up once to the Exercise page, and then over into the sport mode listing.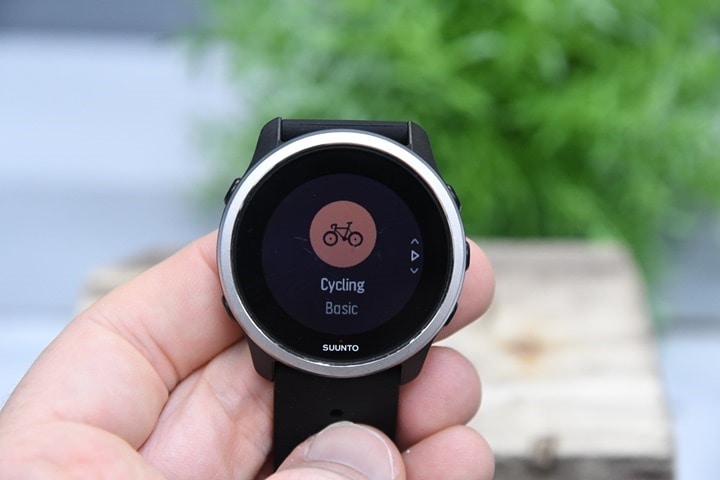 However, before you get to the exercise listing, you'll likely get a notice on a recommended workout for the day. Today it's recommending "30 minutes hard" – likely detecting/preferring the shorter intense workout given the huge training volume last week of longer workouts. Also, another phone photo.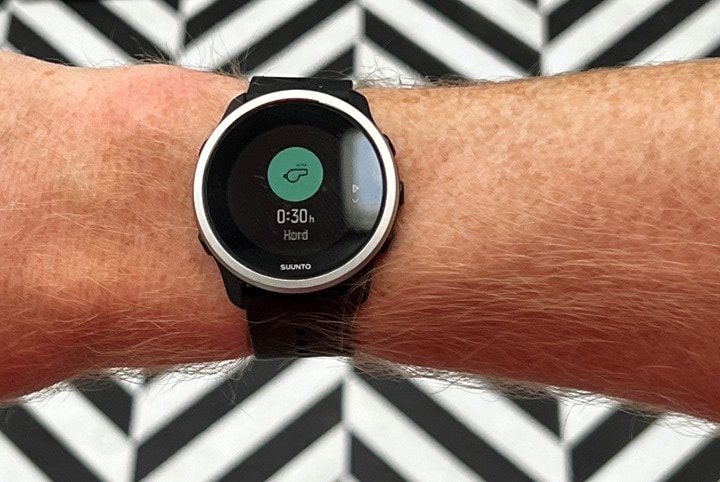 Now the way these work is that they're super basic overall intensity targets for a workout. Meaning, it's not a fancy structured workout like on COROS/Polar/Garmin, but is a more simplistic version. Think of it like an old man sitting in his front yard in a lawn chair, yelling at you each lap you do around the neighborhood. He's mostly just going to tell you to run harder, and that's literally what the Suunto 5 Peak will tell you to do. But Suunto's workout feature doesn't actually care *what* sport you're doing. Again – it's all about getting your heart rate up.
Thus above you'll notice you can either confirm it, or, you can press down to see the sport menu. In both cases though, they actually still take you to choosing a sport profile as your next step.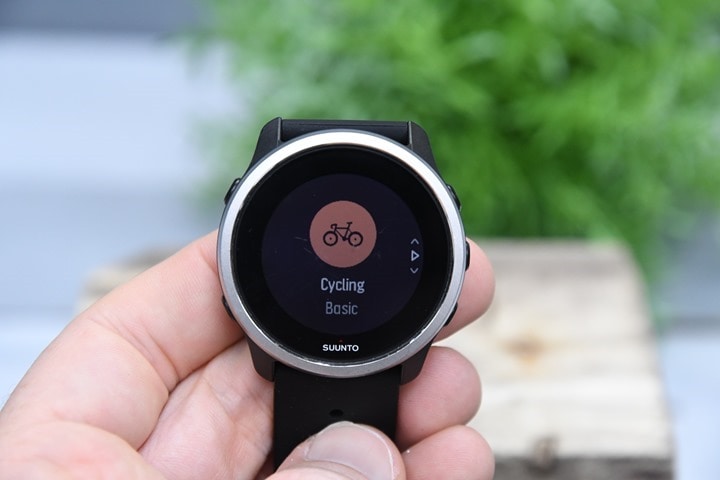 There are boatloads of profiles on the Suunto app, where you can make new sport profiles to send to the watch. The purpose of these profiles is primarily around calories and data field customization, plus sensor support. For example, pairing a cycling power meter while in cycling mode and showing "Speed" (e.g. MPH or KPH) instead of "Pace" (e.g. Minutes/mile or Minutes/kilometer). We tend to see less creative sport tracking metrics on the Suunto lineup than the others, meaning that it's not going to give you a slew of kitesurfing specific jump metrics. But for most people, that's perfectly fine – I don't jump well when I kitesurf either (I'd really just need a 'Sea Gallons Swallowed' metric).
Each of these sport profiles allows customization of the exact data pages, and then data fields on the screen You can select up to 4 data pages per sport profile, and up 7 data fields per page. Plus there's interval and graph pages, including ones that highlight intensity zones:
Once you've selected a sport profile, you'll see the option to tap the upper right hand button to change the battery profiles. Green is the best, and records the most data points. Unless you're short on power, you should always choose this. It shows how many hours in each profile you've got. Each battery profile basically reduces features or tracking to increase hours. For example, shutting off optical heart rate saves battery. It's a quicker and easier way to know how much juice you'll get from a collection of settings, rather than getting frisky yourself. So you can see how I can turn that 4 hours of GPS on-time remaining in the highest mode (with current battery) up to 43 hours in Tour mode.
Meanwhile, if you tap down instead, you'll see various configuration options. These include choosing which SuuntoPlus apps you want to use, per-workout targets and zones, navigation of routes, and sensors like GPS, wrist heart rate, or 3rd party sensors. There's also auto-lap and auto-pause options.
On the SuuntoPlus feature, this allows you to add a one-off data page with various 'apps' that Suunto has created. A few years ago this seemed like a neat idea, but honestly these days it's just frustrating. I shouldn't have to remember to select/add this on every workout, nor should I be limited to just one. Especially because these SuuntoPlus Apps are largely features that should be built into the normal data fields.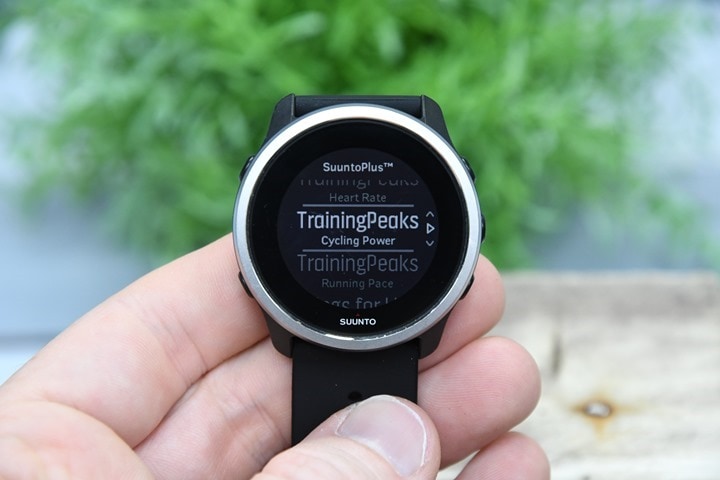 For example TrainingPeaks TSS is done via the TrainingPeaks Cycling Power field. But most of their competitors have these listed as normal data fields, and have done so for nearly a decade. On the bright side, at least Suunto will calculate this after the fact regardless in their app (as others do too).
In any case, for this review I'm going to do a two-fer, and load up some navigation. This was a hike I did last week that I first created in Komoot. Since my Komoot account is linked up to my Suunto account, it automatically transfers it to my Suunto App. here, I simply toggle the 'Use in Watch' option:
Back on the watch, within the sport profile I'll go into the Navigation option and choose 'Routes', and then choose that particular Lava-filled route:
In the case of the Suunto 5 & Suunto 9 series watches, they don't have any maps on them. Instead, it's just a breadcrumb trail. For a ~$300 watch, that's probably fine, but is something to be aware of. The Suunto 7 watch does have mapping on it, and these days the price-point is about the same. But of course that's a Wear OS watch with a fancy display, so it's got all sorts of battery considerations (about 1-2 days total) to consider.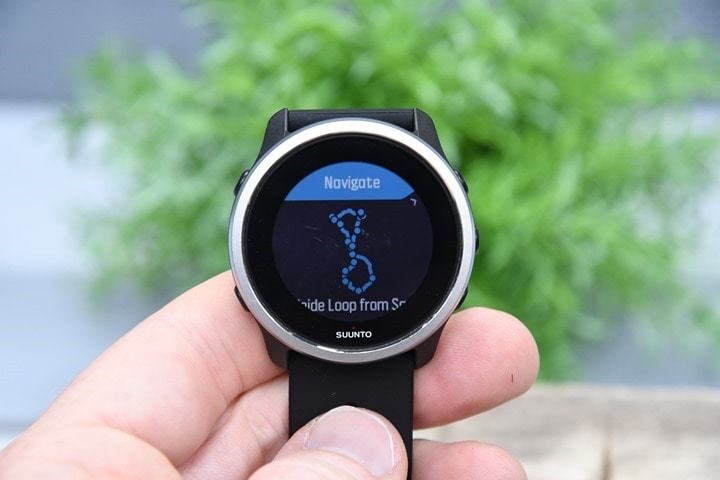 Note that the Suunto 5 series got Snap-to-Route last summer along with the introduction on the Suunto 9 Peak. This basically snaps your recorded GPS track to the planned route. It's ideal for racing, primarily city races where you may have rougher GPS accuracy with tall buildings. It's not however ideal for ad hoc workouts, because it requires you create/load the course ahead of time. Check out the massive snap to route test section in my Suunto 9 Peak review where I dive into detail on how it works. It's not new to the Suunto 5 Peak, but is worthwhile understanding.
In any case, with all that set, off we go. Now you'll get your data fields shown in real-time on the watch as you'd expect. You can tap the buttons to switch between data pages, create a lap, or to pause/resume as needed. There's also the lap view page as well:
From a visibility standpoint, the Suunto 5 Peak is hard to photograph well in certain lights. And the reality is, it's also challenging to see in certain light. That said, outdoors in sun isn't one of those challenges for my eyes to see. Instead, it's indoors that's much tougher (especially on-angle, or in dim lighting).
When it comes to the workout recommendations, the Suunto 5 Peak consistently lawn-chair-grandpa reminded me that I needed to do better: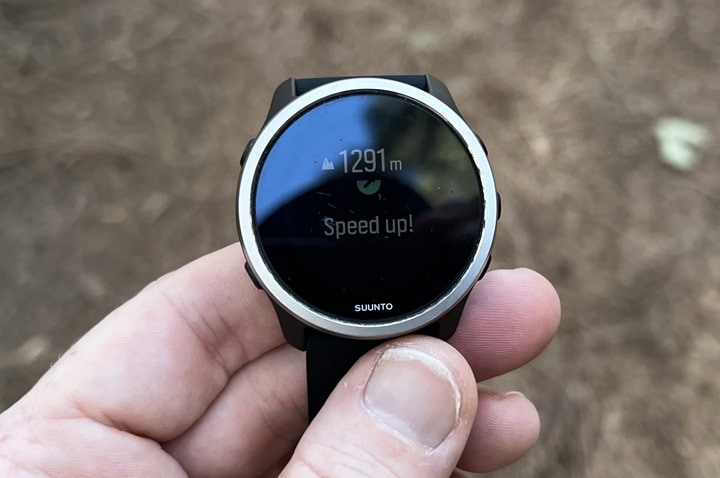 Or, sometimes do less, as was the case during an interval workout this past weekend.
From a navigation standpoint, it gave me turn instructions when it seemed logical – such as junctions – and I only missed one turn. That said, like with the Garmin Epix & Fenix 7 reviews, the one turn I managed to miss was when I went the wrong way around the figure-eight loop. It never warned me that I was off-course when I went the wrong direction. I think the problem with all units was that I was technically on the course and held-out hope I'd turn around and go the right way. It wasn't a huge deal in this particular hike, but certainly could be if I was looking at a one-way mountain bike trail or something. Of course, the Suunto 5 Peak does have proper route chevrons/arrows, I just missed it for this turn.
Still, that aside, navigation overall works fine as far as basic navigation is concerned. Plus, it'll give you the elevation profile and where you sit on that journey as well: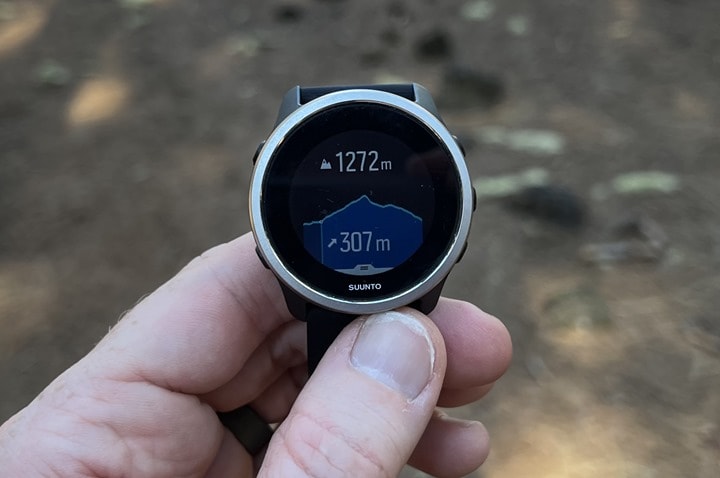 Once all is said and done you'll get a summary of your workout/route on the watch. Here's a look at that from an interval workout this weekend, which had a bit more intensity to make these numbers more interesting than a casual hike/trail run:
And then all of this shows up on the Suunto App as well:
Some of these metrics are Suunto home-baked algorithms, some are TrainingPeaks algorithms, and some are FirstBeat algorithms (such as body resources and sleep). You can further see data like training load trends within the Suunto App too, both daily metrics like sleep and steps, but also training load related metrics – along with a handy little week over week data page.
Now, one area that's worthwhile touching on in more detail is sensors. If for no other reason than to nudge Suunto to make this suck less. Cause right now it's pretty bad, and arguably one of my biggest frustration points. As it stands today Suunto allows you to pair Bluetooth Smart sensors, specifically of the heart rate, cycling power meter, cycling speed/cadence, and running footpod varieties. So basically, the core stuff. And while that's so-so fine (it's not fine compared to their COROS and Garmin competitors with vastly more sensor connectivity), it's OK for the moment.
What annoys me though is the fact that I can't pair multiple sensors at the same time and have them saved – like every one of their competitors can. For example, I can't pair my bike power meter and then also my trainer. Or, two different bike's power meters. Nor can I rename the sensors to even know what's paired. And to that end, it doesn't even show me what it paired to. Was it my bike? Or my trainer? Or did it pair to my wife's bike? I have no idea – instead, I play a silly game of pairing whack-a-mole hoping it works out.
This might sound silly to non-triathletes, or to non-cyclists. And that's fine. But it's a tiny snow globe singular example of why people end up with their competitors: Little features like this absolutely matter. And Suunto needs to start taking these sorts of things seriously – both on this watch and their more expensive ones which mirror this functionality.
Now as a funny testing aside, I'll give credit where credit is due with the Suunto 5 Peak and a "pool" swim and distance tracking. Last week while in the Canary Islands I went to this pool on the coastline of Tenerife. It's an ocean-fed pool, and as you can see, it's about to get fed. Oh, and that's me doing laps. I'm about to get massaged.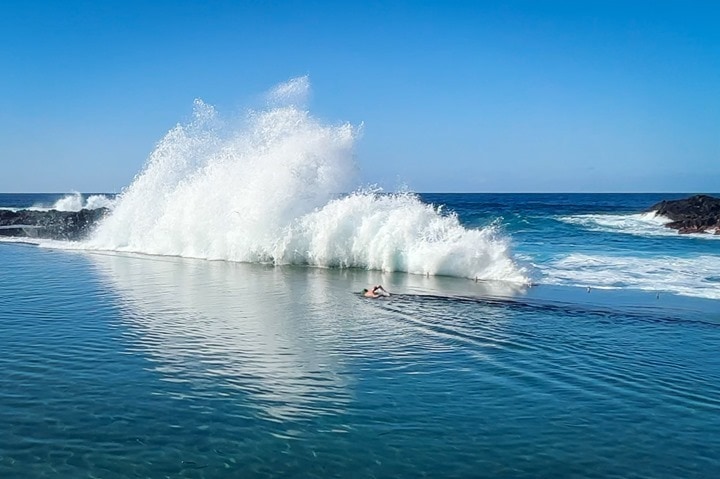 However, what's interesting is that the Suunto 5 Peak actually did a better job of tracking me in this quirky pool than the Fenix 7 did. I say 'quirky' for a few reasons. First, I wasn't really sure of the length when I got there. I estimated it at about 75m, but it looks like it may have been around 65m. Either way, I set the watch for 75m and called it done. However, because I wanted the epic photo above (obviously?) I swam back and forth right along the edge. Which meant every 2.5 lengths a wave like that would crash over me. My hope was that after 2,000m of swimming, I'd have at least one viable snapshot from my camera mounted off to the side.
The interesting tech part is that each time those huge waves crashed over me, it confused the heck out of the watches. Remember that in pool mode (even outdoors), it doesn't use GPS for distance. Instead, it uses an accelerometer. So it's looking for your push off the wall at both ends, and then already knows the per-length distance you entered prior. However, the force of the waves were so great that it was fooling the accelerometers a bit on both watches, often tripping a new length/lap when the wave crashed.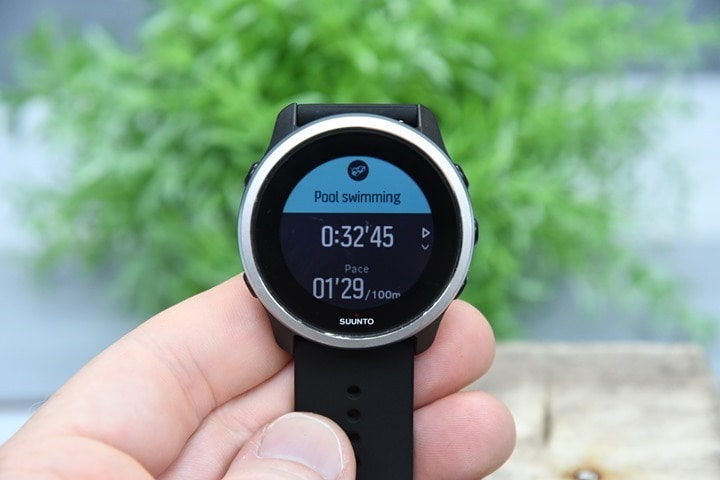 The point of this entire diversion is that the Suunto 5 had the least number of fake-wave-lap errors – by far – than the Fenix 7 did. Albeit, the Suunto 5 Peak did stumble later showing the data properly in the app (which Suunto has already found the bug for). Of course, I'm not judging either watch on their ability to handle lap tracking in the middle of a body-slamming-laden pool swim, that'd be silly. But I thought it was a fun tidbit worth noting.
GPS & HR Accuracy: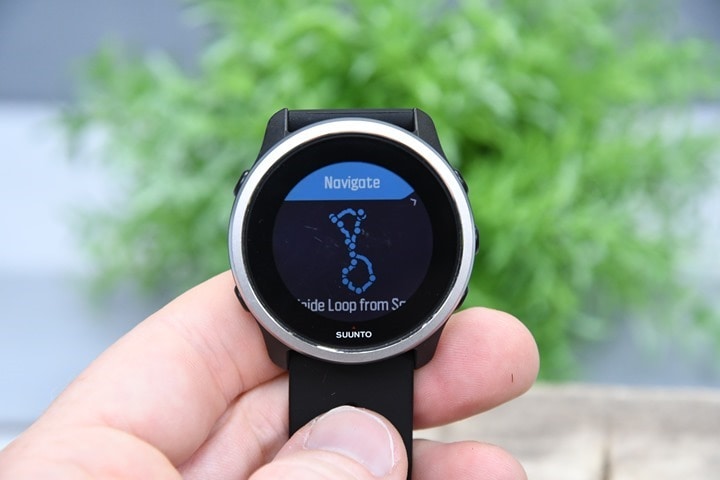 There's likely no topic that stirs as much discussion and passion as GPS or heart rate accuracy.  A watch could fall apart and give you dire electrical shocks while doing so, but if it shows you on the wrong side of the road?  Oh hell no, bring on the fury of the internet!
GPS accuracy can be looked at in a number of different ways, but I prefer to look at it using a number of devices in real-world scenarios across a vast number of activities.  I use 2-6 other devices at once, trying to get a clear picture of how a given set of devices handles conditions on a certain day.  Conditions include everything from tree/building cover to weather.
Over the years, I've continued to tweak my GPS testing methodology.  For example, I don't place two units next to each other on my wrists, as that can impact signal. If I do so, I'll put a thin fabric spacer of about 1"/3cm between them (I didn't do that on any of my Suunto 5 Peak activities however, all workouts only had a single device per wrist).  But often I'll simply carry other units by the straps, or attach them to the shoulder straps of my hydration backpack.  Plus, wearing multiple watches on the same wrist is well known to impact optical HR accuracy.
Meanwhile, for HR accuracy testing I'm typically wearing a chest strap (either the Polar H10 or the Garmin HRM-PRO mostly) as well as another optical HR sensor watch on the bicep (mostly a blend of the Polar OH1 Plus & Polar Verity Sense, as well the Whoop 4.0 band sessions tossed in for fun). Note that the numbers you see in the upper right corner are *not* the averages, but rather just the exact point my mouse is sitting over.  Note all this data is analyzed using the DCR Analyzer, details here.
Let's start with a treadmill workout from just this afternoon. This was a relatively painful interval workout, which is a good way to test out how the optical HR sensor responds. On my right wrist I had the Suunto 5 Peak, and on my left wrist I had the COROS Vertix 2. I then had a Garmin HRM-PRO chest strap, as well as a Whoop 4.0 on my bicep. Here's the data, the Suunto 5 Peak is in blue.

As you can see, things got off to a slightly rough start for the 2nd minute or so with the Suunto 5 Peak, but then it snapped to it pretty quickly. Meanwhile, the COROS Vertix 2 took about 10-12 minutes until it decided to play ball.
After minute 3 though, the Suunto 5 Peak actually didn't do too bad overall for an optical HR sensor on a short interval workout. While it undercut some intervals, it did so usually slightly (except #2). Some intervals were better than others, and on the whole I'd probably grade this a 'B' performance. It's not industry-leading, but it's not bad for the complexity of the workout either.
Here's another indoor workout, this time a Peloton Bike interval session. These were reasonably long and steady intervals, so in theory, in terms of optical heart rate difficulty – this is basically the easiest scenario out there. Every watch I test should ace this test. Unfortunately, it did not. This wasn't ideal, and seemed to really struggle here for no clear reason. You can see the constant drops (in purple) away from the Polar H10 and Whoop 4.0 bands.

Sticking with one last indoor workout, here's another treadmill workout. We can see this is relatively close, but also performed last place out of all the units in terms of semi-unexplained drops (the blue line) from the plot. Again, this isn't horrific or anything, but it's also showing that there's some hesitancy on behalf of the sensor to lock the heart rate.

Next, another run, this time relatively steady-state outdoors. This is compared to the Polar H10 chest strap, which unfortunately had linked to two different watches. So I only have these two sets for this run. But, as you can see for almost the entire run it's very solid. A few minor blips at one point when I slowed down for something, but not too bad.

Looking at the GPS on that run, at a high level, things look pretty good. Keeping in mind that while this does have some bridges/tunnels on it, it's not too complex.

And unfortunately, in most of those crossings, things didn't end well for the Suunto 5 Peak:
You can see below as an example where it was the outlier in both cases with underpasses. In the left-most cases, the FR745 joined it briefly for an incorrect direction (the Epix actually got it right, using multi-band GPS).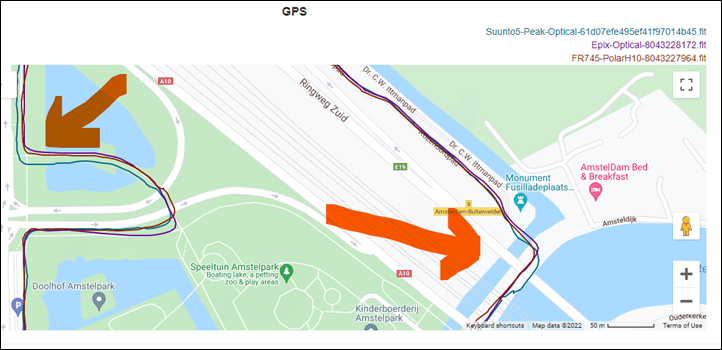 Looking at some more GPS tracks. Here's a ride I did with the unit on my handlebars that had some switchbacks with it, but also just a lot of small roads alongside small buildings. I didn't see any issues at all during this sorta wonky route: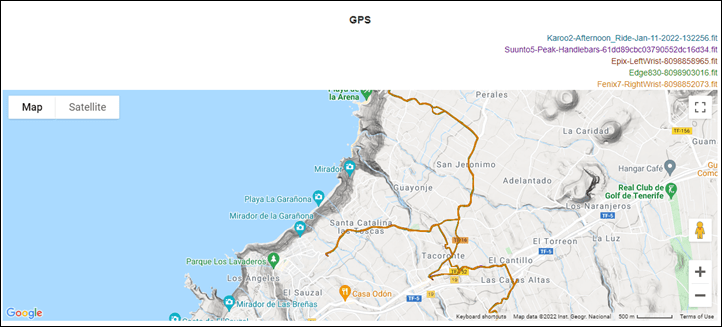 Even if we zoom in, it's virtually identical. Only one brief part going through some taller buildings did it end up on the wrong side of the road, but that's hardly worth complaining about for all of 100 meters or so.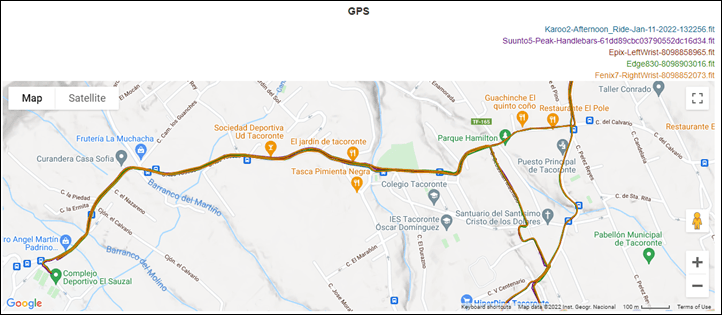 Next we've got a pretty amazing 5-hr long hike through the jungle and cliffs, compared to a slate of higher-end GPS watches. Here's that data set: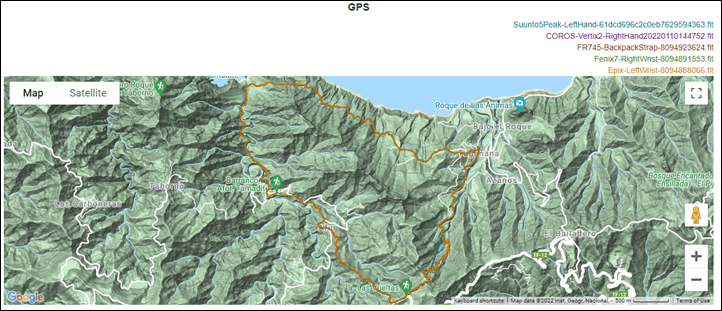 And in general, for the vast majority of this route, it held its own against $1,000 GPS units just fine and dandy: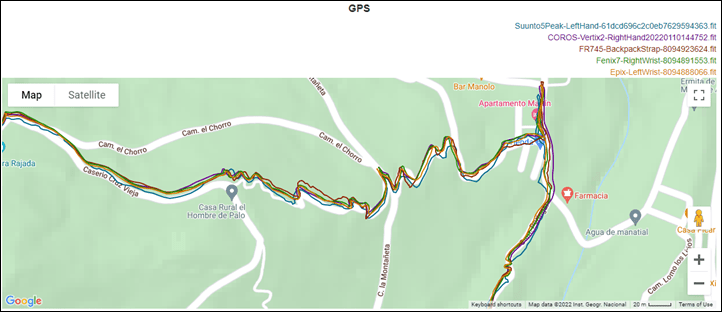 The areas it did differ though, were up against cliffs and other extremely challenging scenarios (mostly cliffs though). In those cases the Garmin FR745 also struggled. However, these were scenarios where the multi-band GPS units largely sailed through: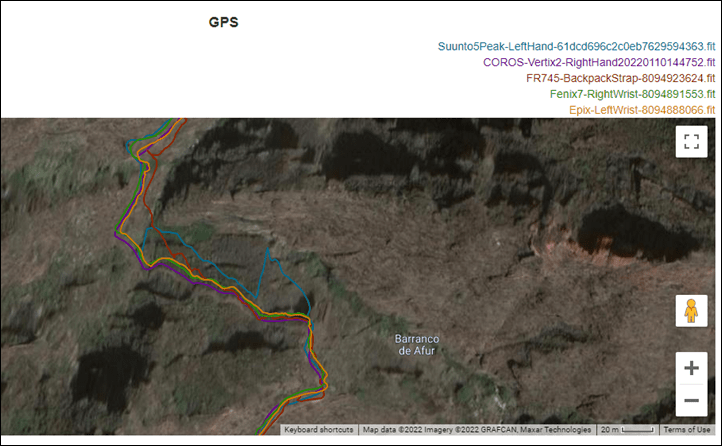 I think this goes to show some of my statements that yes – multi-band GPS can help in extremely difficult scenarios, sometimes (not all the time), but on the whole, it's making minor differences. If you look at the scale of these sections, we're only talking under 100m out of a nearly 17,000m route. Don't get me wrong – multi-band GPS is awesome as the future, but the price point companies are asking is kinda insane.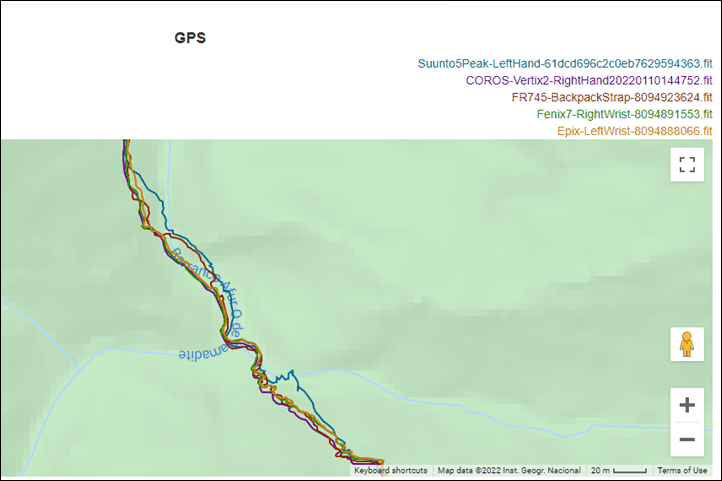 Speaking of holding its own, the GPS-based altimeter mostly did fine here against all these fancy units too. The main difference is that in the fast descent I did (which was basically in a canyon), you can see how the Suunto 5 Peak lagged slightly there (reporting about 15-20m higher/behind). This was largely downhill running on my part, and with tons of switch-backs. So I think for most people, being a tiny bit behind is hardly a big deal.

One more GPS track, this from a 117KM ride through dense forests, up the side of a volcano, then back down again, past cliffs, through tiny crowded towns, and more. Here's that high-level view:

And I'll save you the boring parts – it was essentially flawless. No matter where I looked on that GPS track (you can look yourself at the link above), there's no meaningful differences anywhere to the $1,000 GPS units or bike computers. Here's some of the forests with towering pine trees: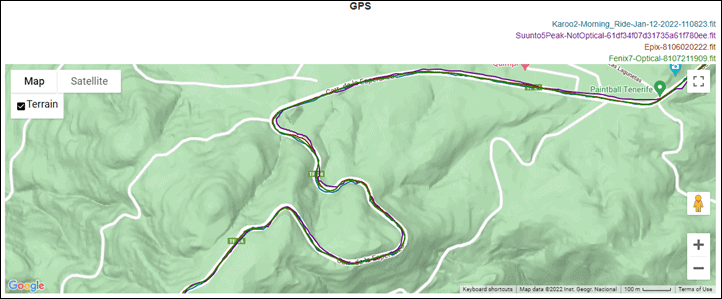 And again, looking at the altimeter data, the GPS-based data on the Suunto 5 Peak is essentially identical to that of the other units:

So overall, where do we stand?
Well, looking at heart rate accuracy first, it's so-so. It struggles here and there – usually for no obvious reason. It often gets the trends right, but then seems to bounce around at times like it's uncertain or not confident. For most applications it's fine, but could use some work (which won't happen, this is an old sensor long past its prime).
On the GPS side, it seems pretty good as long as there's some view of the sky. I know that sounds obvious, but in terms of recovery from going under bridges or tunnels, it struggles a bit there in terms of re-acquisition. Both immediately, and then often for a bit of time afterwards it meanders slightly off the actual route. But on the whole, it's largely good in most scenarios.
Finally, for altimeter (GPS-based) accuracy, it's really strong. I'm very happy with that, though, this has always been one of Suunto's strongest points. Whatever magic they do there, it's good magic.
(Note: All of the charts in these accuracy sections were created using the DCR Analyzer tool.  It allows you to compare power meters/trainers, heart rate, cadence, speed/pace, GPS tracks, and plenty more. You can use it as well for your own gadget comparisons, more details here.)
Wrap-Up: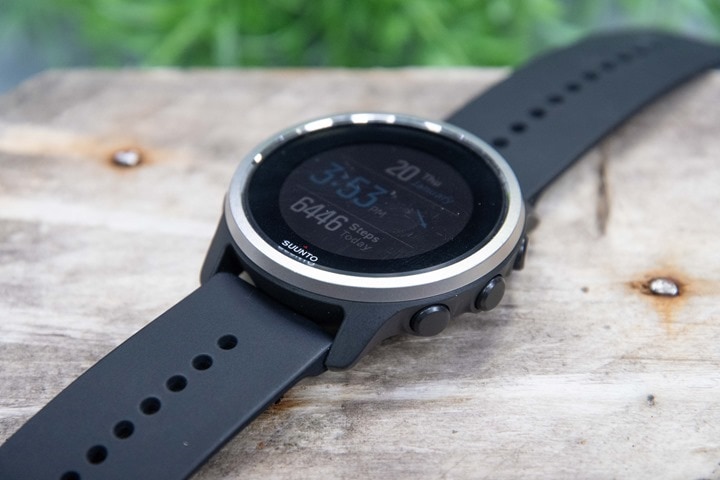 The Suunto 5 Peak is a great little watch for someone looking for an easy-to-use and reasonably priced multisport/triathlon watch. This doesn't mean you should be limited to that either, it also works great for runs and hikes too – including Komoot routes with navigation. As you can see from the review, I used it for all sorts of sports and workouts, both indoors and outdoors.
The new hardware design is much appreciated, and visually a huge step up from the past Suunto 5 in terms of how it looks and also how it feels on the wrist. Plus, the battery options are well on-point for this price bucket, easily competing there. And as we saw, GPS accuracy is largely good, and though I have some issues with the heart rate accuracy, it's mostly in the ballpark and probably fine for most applications. And if it's not, you can pair any Bluetooth Smart heart rate sensor/strap.
My main beef with the unit is simply the display. I know some of my photos – almost all of which are entirely straight out of a camera without any editing (ain't got no time for that), make the display look brighter and more readable. But the reality is that the closest visual representation is the dim phone photos sprinkled in various review sections. That's what it looks like in real life. It's not super clear, nor super crispy. And Suunto really needs to address that going forward. I'd sincerely hope they don't use this or similar screens again, it's just not competitive. Especially if you set aside navigation and look at the COROS Pace 2 at $199 with a much better screen (and the same multisport profiles, but without any navigation).
Setting aside the readability though, I think this price point and feature-set suits Suunto well. As I've said before, it's going to be tough for them to compete at higher price points with the competitors in those spaces. I think making a play for both this price point (and lower) and the Suunto 7 style Wear OS watches is by far the area they have the most potential in. It's very challenging for their competitors to compete in either area at those price points or display technologies with the same historical outdoors and related brand strengths that Suunto has.
With that – thanks for reading!
Found This Post Useful? Support The Site!
Hopefully you found this review useful. At the end of the day, I'm an athlete just like you looking for the most detail possible on a new purchase – so my review is written from the standpoint of how I used the device. The reviews generally take a lot of hours to put together, so it's a fair bit of work (and labor of love). As you probably noticed by looking below, I also take time to answer all the questions posted in the comments – and there's quite a bit of detail in there as well.
If you're shopping for the Suunto 5 Peak or any other accessory items, please consider using the affiliate links below! As an Amazon Associate I earn from qualifying purchases. It doesn't cost you anything extra, but your purchases help support this website a lot. Even more, if you use Backcountry.com or Competitive Cyclist with coupon code DCRAINMAKER, first time users save 15% on applicable products!
And finally, here's a handy list of accessories that work well with the Suunto watches. Given the unit pairs with standard Bluetooth Smart sensors, you can use just about anything though. I'd recommend the Garmin bike sensors over the Wahoo ones, merely because the Garmin have two concurrent Bluetooth channels versus one for the Wahoo RPM/SPEED sensors.
And of course – you can always sign-up to be a DCR Supporter! That gets you an ad-free DCR, access to the DCR Quarantine Corner video series packed with behind the scenes tidbits...and it also makes you awesome. And being awesome is what it's all about!
Thanks for reading! And as always, feel free to post comments or questions in the comments section below, I'll be happy to try and answer them as quickly as possible. And lastly, if you felt this review was useful – I always appreciate feedback in the comments below. Thanks!