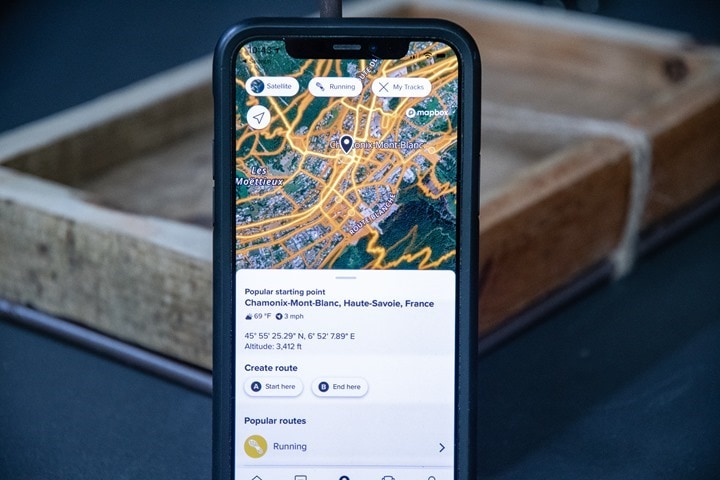 Suunto has begun a Summer update release cycle, starting this week Suunto App updates – rolling out to iOS and Android smartphones near you. While today's updates might seem like merely a minor app update, I'd argue Suunto has really stepped up on the app side here for these routing and navigation features. And especially with the popular starting points – none of the big players (even Strava) have anything like that today.
I've long talked about how cool their heatmaps are (since you can filter them for any sport), but this adds three new features tied to the heatmap data that make it even easier to plan new routes, especially if you're in a location you're not familiar with.
So, let's dive straight into it – after all, it's Friday, so we'll keep things quick!
What's New:
First up, there's basically the following list of changes:
– Revised Home Screen: This is mostly cosmetic, but does make it easier to get to other functions
– Added Popular Routes: This shows popular routes in your area using Suunto's vast collection of others' activities
– Added 'My Tracks' heatmap: This shows where your workouts have been
– Added Popular Starting Points: Creates 'known good' points to start certain routes from (useful especially for hiking trailheads)
So with that, we'll start with the most exciting bit – 'Popular Starting Points'. This works by identifying the most common starting points for popular routes (which I'll talk about in a second). This is notably different than something like Strava's new route generator, because in this case it's saying "This spot, right here on this trailhead, is where people start this particular route from". That's useful mostly in non-city environments where you might not know where the best spot to start from is. It also gives you basically a good idea of where something like parking might be (if far away).
To begin, I'll show a few examples. Here's one for where I am in Amsterdam. First, I tap the location icon at the bottom, then, I found that I needed to zoom out a bit before the swipe-up menu would show something. After that, tap a heatmap sport type (such as running). Without the heatmap, it won't show popular starting points. Now, you can see the little circle dots everywhere:
Once you tap on a dot, you can then ask it for popular routes. And while that did find a route, said route was the Amsterdam Marathon route. I couldn't get it to create/find any other routes except that one. My guess is that they aren't excluding big one-day event data points, which is something that Strava specifically does in their route generation algorithms (since they'd skew towards routes that may not even be rideable/runnable on a regular day).
Let's look at a cycling example next, this time ignoring the starting points feature, and just going for routes in general. You can see that it immediately shows a popular route (called the Ronde Hoep), and the starting point for it. To Suunto's credit – this is bang on, and arguably the most popular cycling route for road cyclists in the greater Amsterdam area. In fact, by pure coincidence as soon as I finish this post I'm gonna head out and ride it.
If I scroll around, I can see other routes, including this straight shot one. This is a little odd in that it appears to be one-way, but is actually an out and back. Same goes for another one sorta nearby. Both of these are fine, and are indeed segments of longer popular routes, but I wouldn't describe either as a popular route unto itself.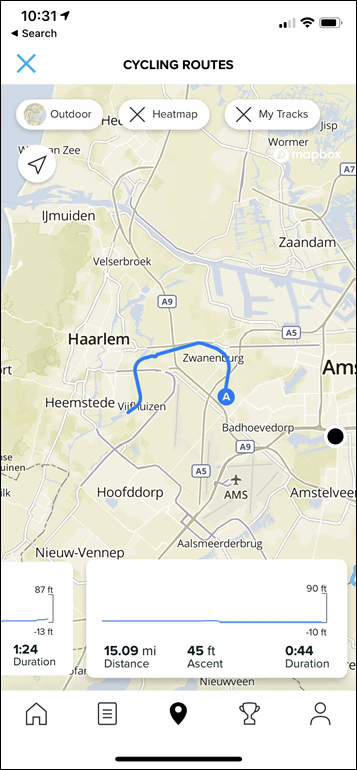 Let's go hiking instead, so I'll zip down to Chamonix, home of UTMB, and see what it comes up with there (and, it's another area I know very well). You can see here I get numerous sport options, including cross-country skiing, mountain biking, and trail running. We'll go with trail running:
Every one of those blue lines is a path, and indeed, if I zoom in on these, these are all really solid trail runs. A number of them I've done before.
It's also notable that you can change the map style, filter tracks, and toggle the heatmaps shown too:
With the heatmap, it's easier to see what's going on around you, and where you might be able to connect two different routes more easily.
Now backing up a second, we can get rid of routes and show the popular starting points. Those are the little dots. In fact, you can then choose to 'Start here' from any dot, and tap somewhere else and it'll create a route.
You can add waypoints, do hand-drawn routes, or anything else you want. Ultimately after which you can send it to your watch to go run/ride/etc…
Virtually all the dots that I see here in the Chamonix valley are indeed popular starting points. Most seem to be aligned to trailheads in the valley floor, or, the top/bottom of lifts where people would take the lift up and start from. It's actually super cool in that respect:
Finally, there's the ability to see your own heatmaps quickly on the app. This option is toggled via the 'My Tracks', and then 'This Year' option. Once you do that, you'll see various heatmaps of where you've been.
The sections will show up brighter the more frequently you've done them.
Finally, note that Suunto is doing a phased release on these smartphone updates. iOS users started receiving the update back on Monday, and should be complete today, whereas Android users starting receiving it Wednesday, and should be complete by Sunday.
Wrap-Up:
While Suunto has been fairly quiet since the Suunto 7 release earlier this year, it does seem like they might be stretching their legs a bit with this latest app release. Hopefully this marks a bit of a turn for the company on not just the mobile app side, but maybe also some device firmware updates down the road.
The starting point feature is pretty handy to quickly identify where people are likely starting their workouts from, and in less urban areas, the popular routes function does a good job at finding routes that you can use as-is, or piece together. In urban areas (I also tried a few other cities), it seems to struggle some and often attaches to race routes, which isn't super ideal for a number of reasons. But that should be an easy thing for Suunto to correct for, as Strava did, by filtering route data points in results tied to large numbers of people on a single event day.
Of course – most people aren't travelling right now – but that doesn't mean you can't explore your own city and nearby areas a bit more. Aside from my ride that I'm about to do where I need something specific on that route to test, I've been trying to find new routes and bits of pavement or trails I've never done before. It's surprising to me how routes even just a few fields over from where I usually ride/run can be so vastly different. Love it!
With that – thanks for reading and have a good weekend ahead!
Found This Post Useful? Support The Site!
At the end of the day, I'm an athlete just like you looking for the most detail possible on a new purchase. These posts generally take a lot of time to put together, so if you're shopping for the Suunto 7 Wear OS Watch or any other accessory items, please consider using the affiliate links below! As an Amazon Associate I earn from qualifying purchases. It doesn't cost you anything extra, but your purchases help support this website a lot. Even more, if you shop with TPC (The Pro's Closet), you'll save $40 on purchases over $200 with coupon code DCRAIN40! The Pro's Closet has been a long-time partner of the site here - including sponsoring videos like my cargo bike race, as well as just being an awesome Colorado-based company full of good humans. Check them out with the links below and the DCRAIN40 coupon!
And of course – you can always sign-up to be a DCR Supporter! That gets you an ad-free DCR, access to the DCR Quarantine Corner video series packed with behind the scenes tidbits...and it also makes you awesome. And being awesome is what it's all about!