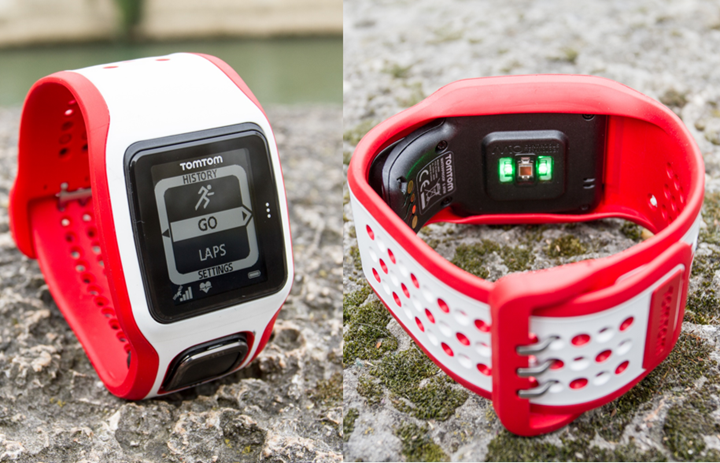 Today TomTom has announced two new versions of their TomTom GPS watches.  These new additions add in optical heart rate monitoring straight into the back of both the TomTom Runner and Multisport GPS watches.  The new line – called the 'Cardio' utilizes the well known Mio sensor technology to measure your heart rate directly at your wrist, and does so in a form factor that's waterproof to 50-meters.
I've been using the unit now on a number of rides and runs, and thus have a very solid grasp of how well they've completed the integration.  Which, is really what this is.  It's essentially taking an existing TomTom Runner (or Multisport unit), and stuffing a Mio optical sensor in the back to measure heart rate and adding a couple of heart-rate specific information screens.  Beyond that, it's basically identical to the existing units.  Of course, the addition of the optical sensor is a pretty huge thing.
Because I want to be transparent about my reviews – TomTom sent me a final production version of the TomTom Multisport unit.  Once I'm complete here, I'll send it back to them in Amsterdam and then go out and buy my own (to be able to support y'all in the comments section down the road). Simple as that. Sorta like hiking in wilderness trails – leave only footprints. If you find my review useful, you can use any of the Amazon or Clever Training links from this page to help support future reviews.
Lastly, at the end of the day keep in mind I'm just like any other regular triathlete out there. I write these reviews because I'm inherently a curious person with a technology background (my day job), and thus I try and be as complete as I can. But, if I've missed something or if you spot something that doesn't quite jive – just let me know and I'll be happy to get it all sorted out. Also, because the technology world constantly changes, I try and go back and update these reviews as new features and functionality are added – or if bugs are fixed.
So – with that intro, let's get into things.
Unboxing and contents:
As is often the case with earlier units, I don't actually yet have a full production box to unbox for you.  I do however have a full production unit, with production firmware. Just…not the box…yet.
Still, as soon as I do I'll quickly add those in.
In the meantime, the core contents are actually rather simple and straight forward.  It consists of three things: The watch pod, the strap, and the charging/sync cable: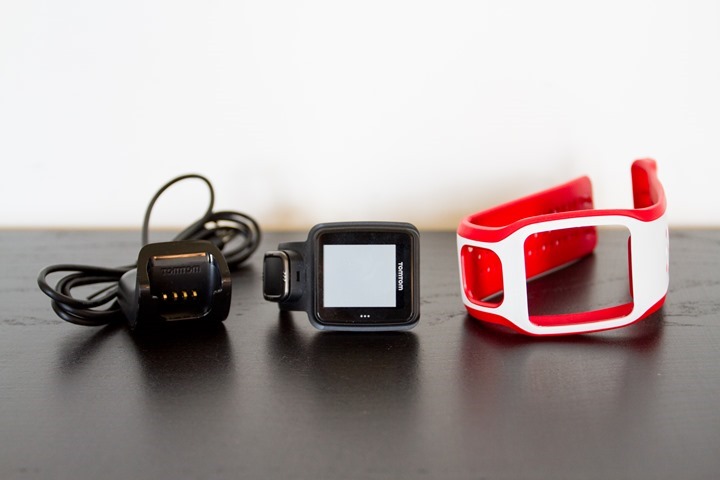 The pod is virtually identical in size and shape to the previous pods (more on that in a minute), and is fully compatible with previous straps.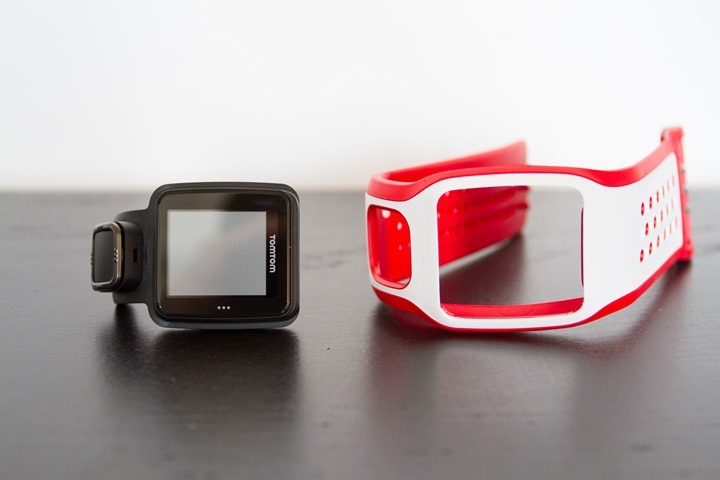 The core difference though is the backside, which now contains the optical sensor.  This sensor will read your heart rate via your wrist, by using optical light sensors to view down into your capillaries and then read your heart rate, which is typically transmitted to you in beats per minute (BPM).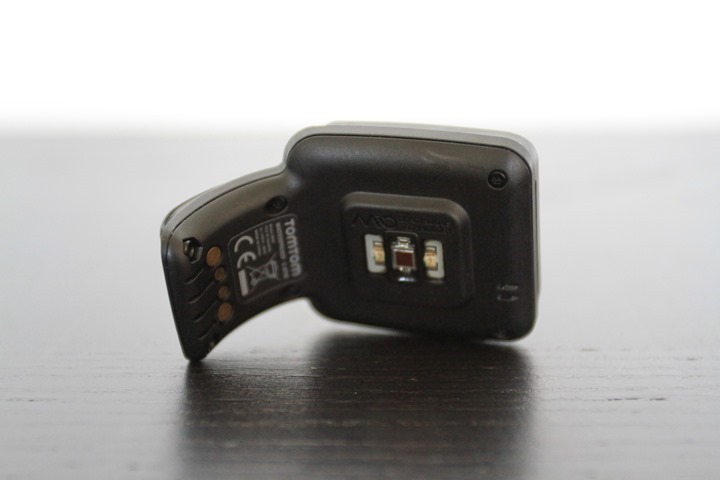 Next, is the strap. The bright red and white won't easily be lost.  And, thankfully they've tweaked the band a tiny bit to fix one issue myself and others had with previous editions: It falling out and hitting the ground.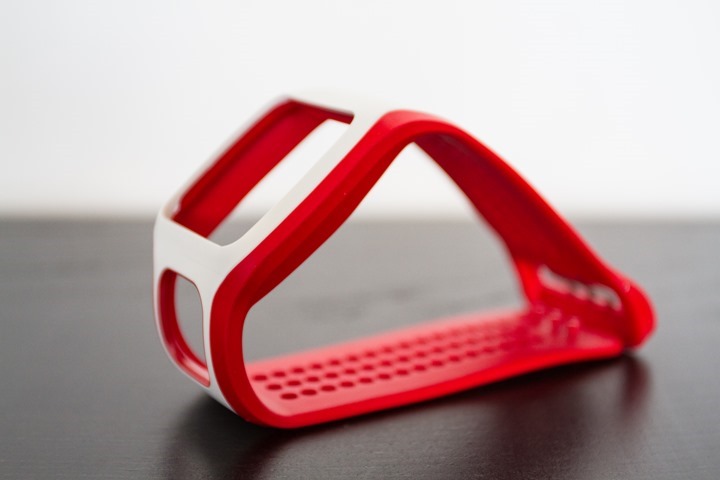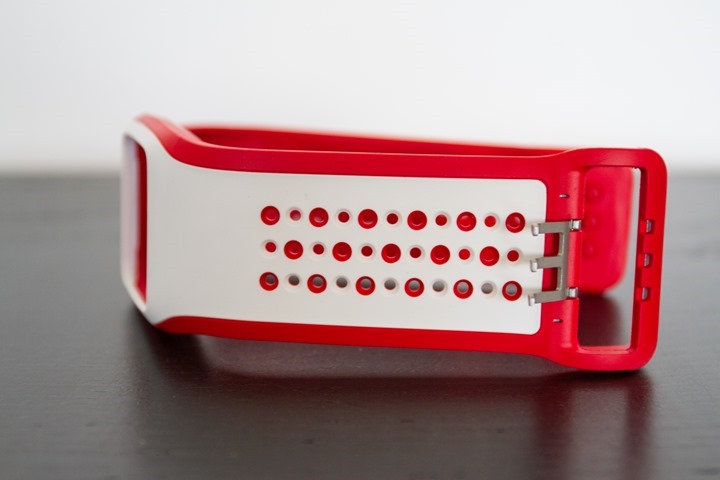 There is also a black edition of the strap as well: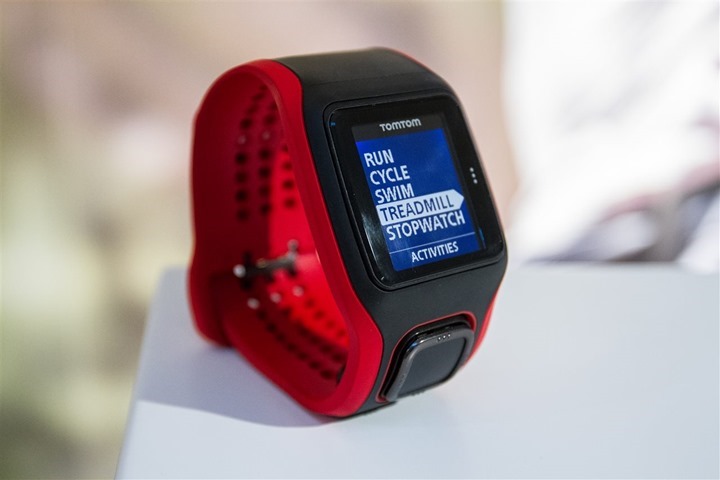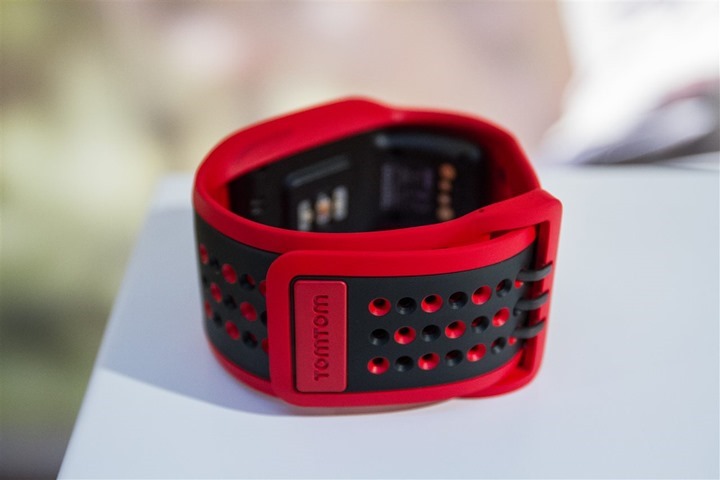 This new strap has a bit more rubber around the edge, making it rather difficult to pull the pod out accidentally (or, even on purpose).  I suspect the additional rubber is actually dual-purpose. First is to reduce incidents of the pod hitting concrete when taking off the watch.  But likely more importantly is because the rubber edging acts as a light barrier.  Light is the evil arch enemy of the optical sensor.  If light gets in, it reduces accuracy.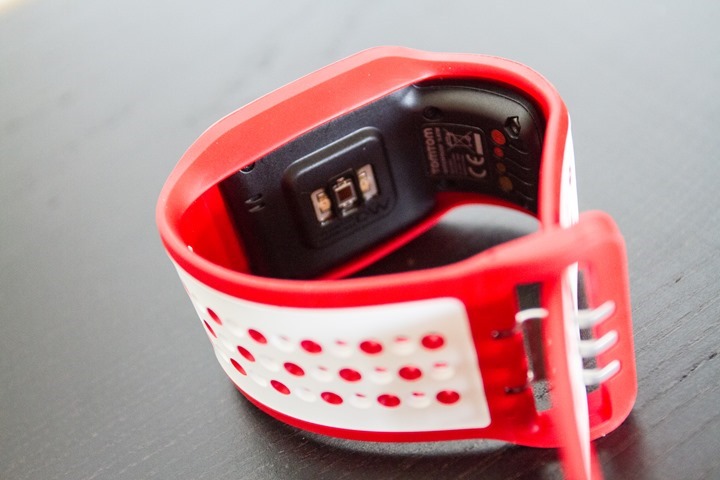 Just to be clear, I've tested the old pods in the new strap, and it works great. And, for fun, you can also place the new pod in the old straps (not sure why you'd want to, but you can).
Adding the strap in with the pod and turning it on, here's how it all looks: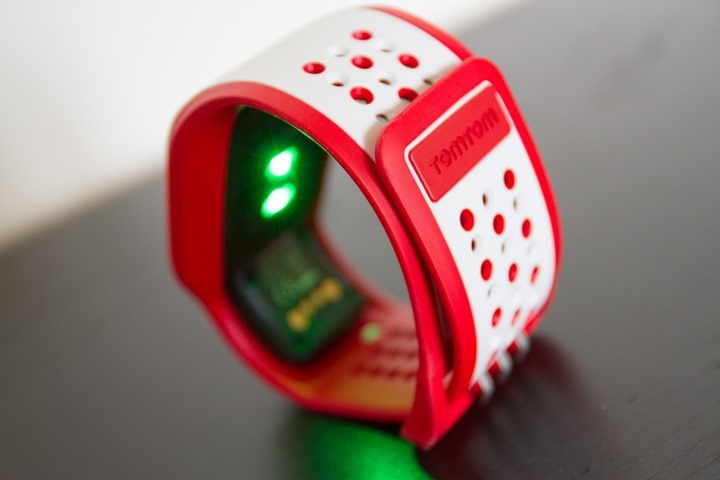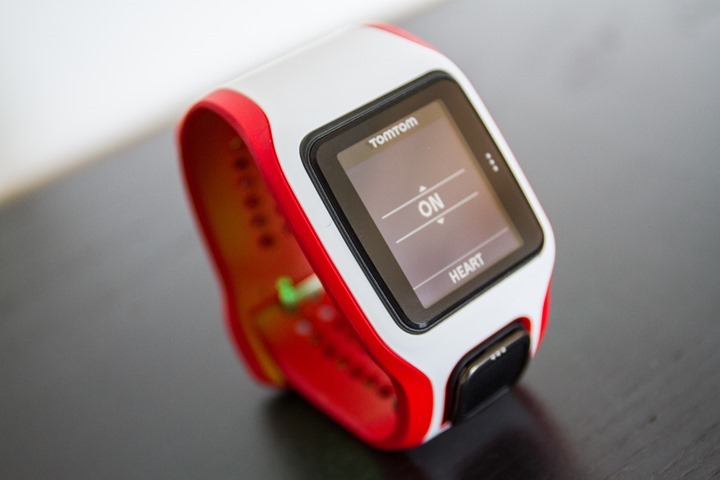 Finally, we've got the USB charging cable. This is used to to both charge the unit as well as to synchronize activities via your computer (PC or Mac).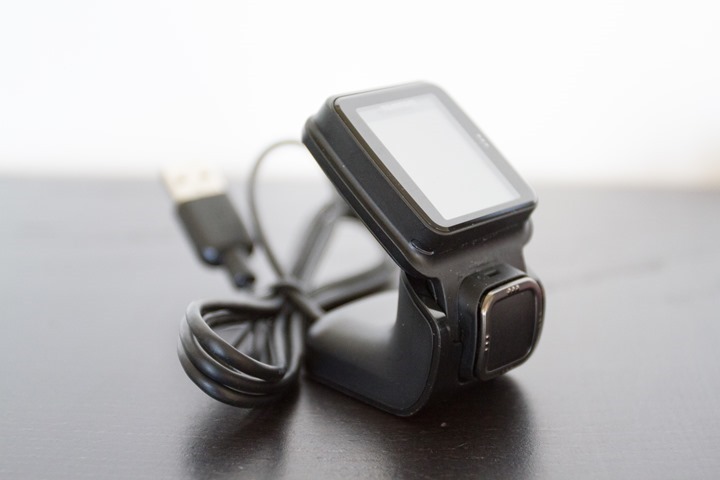 The cable is identical to the existing cable, and works with new and old units alike.  Note that you can also use your phone to sync activities, which I'll cover a bit later on.  Note that the unit does not enumerate as a standard USB mass storage device (like a thumb drive), thus, if you're running a computer operating system outside of Windows/Mac, it won't show up.
Size Comparisons and Weight: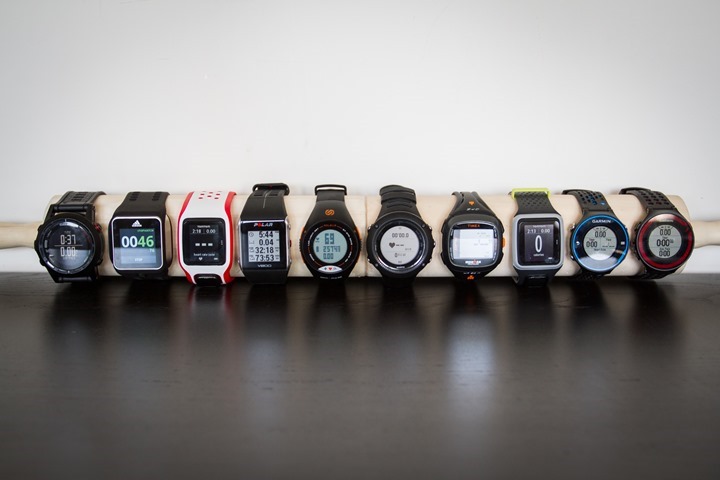 As you'll see shortly, the TomTom Cardio variant of the Runner and Multisport is identical in size to that of the non-cardio versions.  And, both the Runner and Multisport Cardio units are visually identical as well to each other.
But first, we'll look how it compares to other units in the running and triathlon realm.  I tried to put as many competitive units as possible into the same picture, including those that compete with both the Runner and Multisport editions.
From left to right (above/below): Garmin Fenix2, Adidas Smart Run GPS, TomTom Cardio, Polar V800, Soleus Pulse, Suunto Ambit2 R (2S is identical), Timex Run Trainer 2.0, TomTom Runner/Multisport (non-cardio), Garmin FR620, Garmin FR220.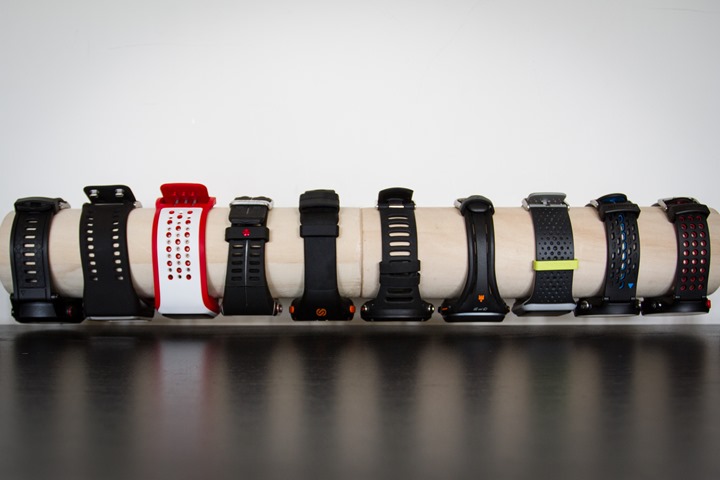 Depth wise you can see that the TomTom is among the skinner of the watches.  However, be aware that it does have a bit more of a curved plastic chunk sticking out the bottom where the button is.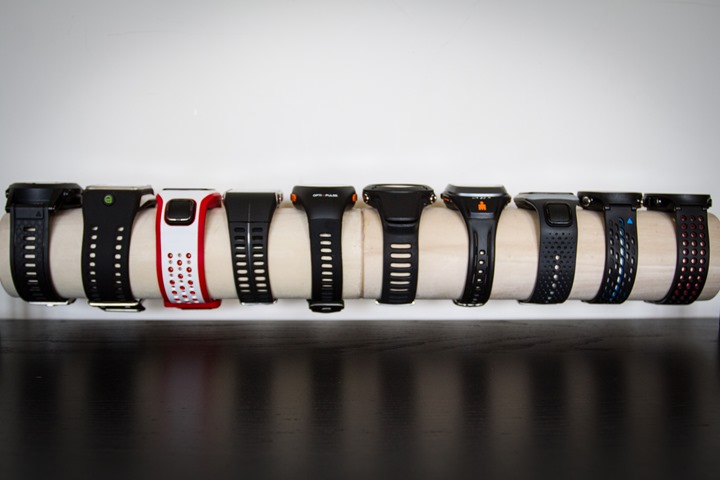 Finally, here's a bit of a closer look at the TomTom and some of the higher end units.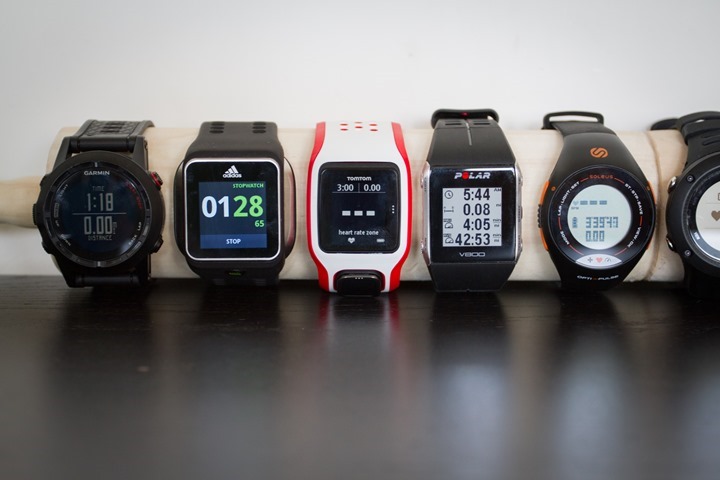 As I noted earlier, the differences between the previous TomTom units and the new Cardio ones are nearly physically indistinguishable.  Below, you can see the two from the front (ignore the screen, I had an older unit not updated with the phone option).
Below, you can see the back of the same units.  In this case, the only physical difference is that the new Cardio unit has the optical sensor, versus a solid backing of the other unit.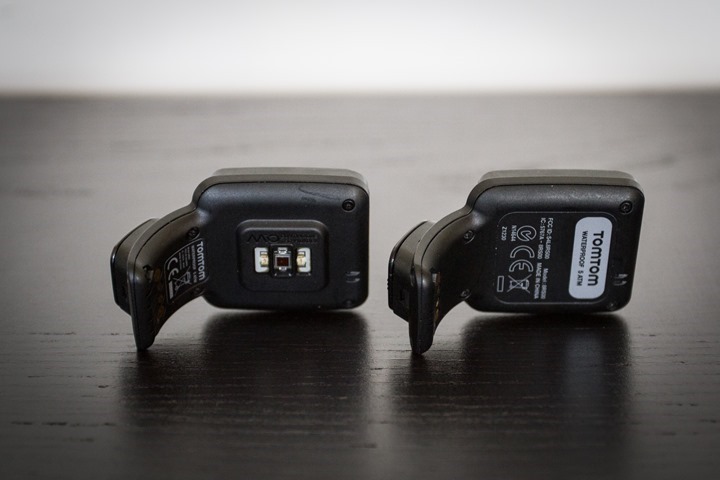 So how does that affect weight?  Well, it doesn't seem to very much.  First, let's start at the full weight including the newly designed strap – 63g: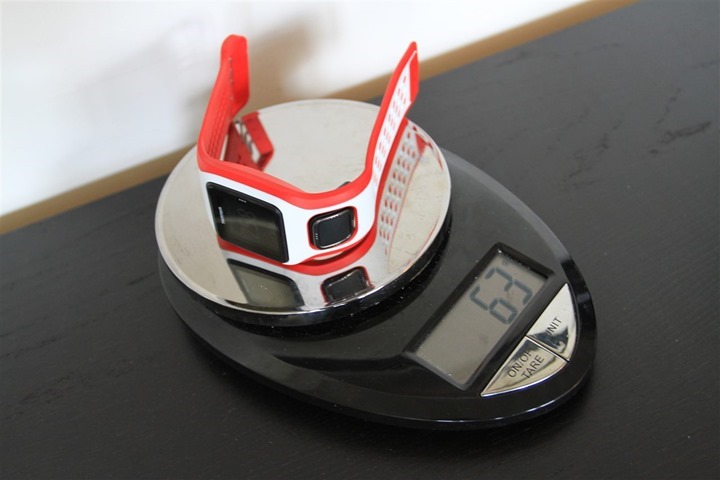 If you compare that to the previous unit with a sorta similar strap, you'd see a 10g increase.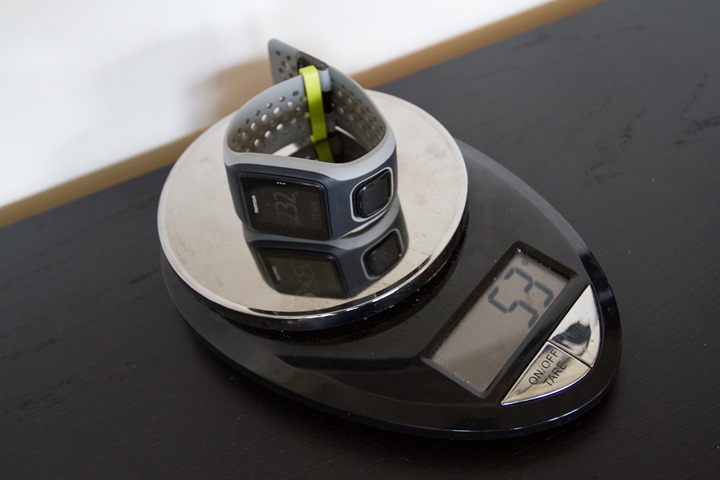 Except, that doesn't really tell the whole story.  Instead, check out the actual pod portions.  Below, is the Cardio at 32g:
And then, the non-cardio at 31g: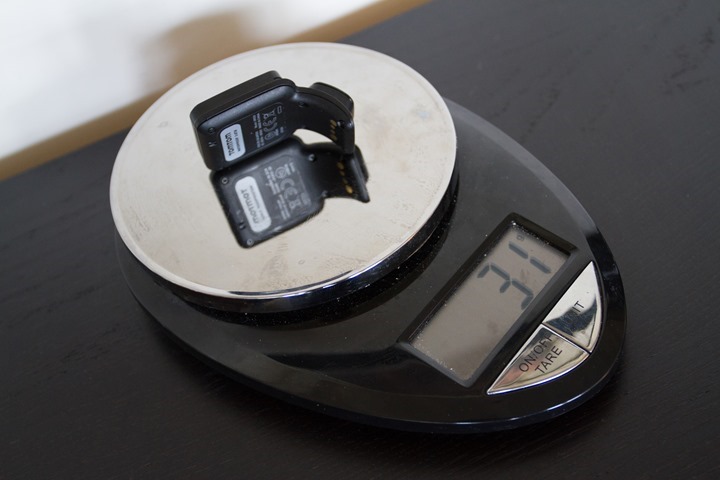 In other words, it all really comes down to the strap adding the weight.  But I don't find the weight excessive, and it's certainly far less than most other multisport watches on the market (most of my reviews have weights in them).
Running – Outdoors:
The TomTom watch is really a runners watch, that happens to bike and swim on the side.  So in many ways, I find that it's at its best while I'm running.  To start off an activity, we'll dive into the menu using the button below the display.  This buttons acts like a little joystick to control the unit.  The display itself can be tapped along the right edge to turn on/off the light, as well as to create laps in certain situations.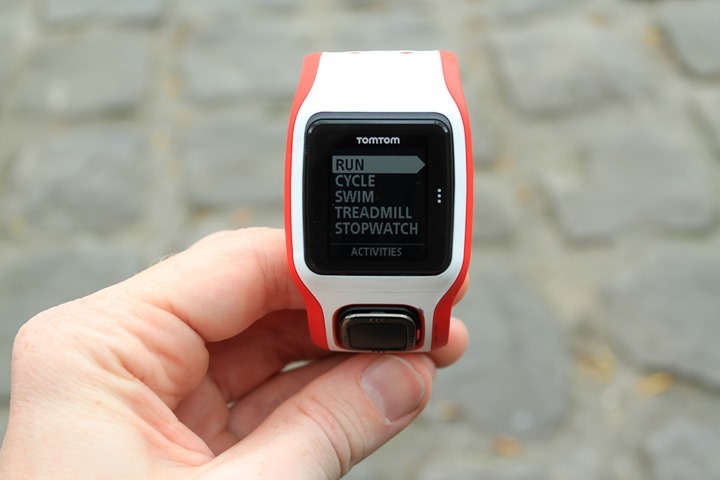 Once we've selected running we'll go ahead and wait for the unit to get satellites and initialize the optical sensor.  Neither take very long.  The TomTom unit will pre-cache satellite information each time you connect it to your computer.  In doing so it knows the satellite locations and can pickup satellites in just a few seconds.  My testing has found that I'm rarely waiting more than those few seconds (literally, a few, like 3-7 seconds).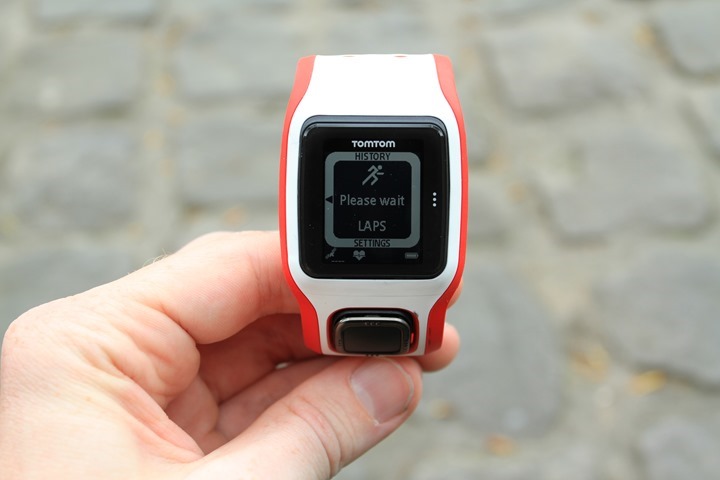 The optical sensor is generally also quite quick, finding my HR in under about 10-seconds.  Though sometimes I'll notice it takes a little bit longer (upwards of 20-30 seconds) to find HR and start displaying it.
Once that's ready, we'll press to the right to start the run.  As we do so the unit will immediately start recording data and displaying the metrics we've chosen.
The unit will always display two metrics up top (known as 'left' and 'right'), as well as one metric down below on the main screen.  You can press up/down to change the main screen metric, and you can customize the left/right metrics in the settings.
For example, here's the current pace:
And here's my lap distance on the main screen, which in this case equals my main distance (shown in the upper left):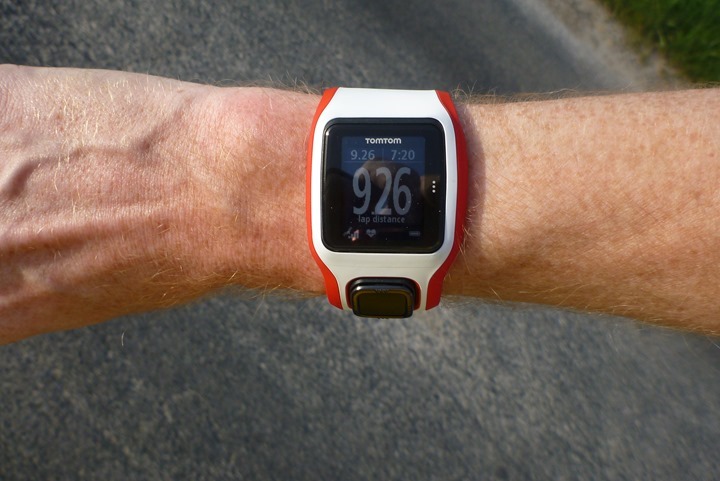 Or my heart rate in beats per minute:
I can then press to the right to trigger some of the heart rate training features.  This includes the ability to see visually where I'm spending my time zone-wise, as well as a heart rate graph of the last little bit of the activity: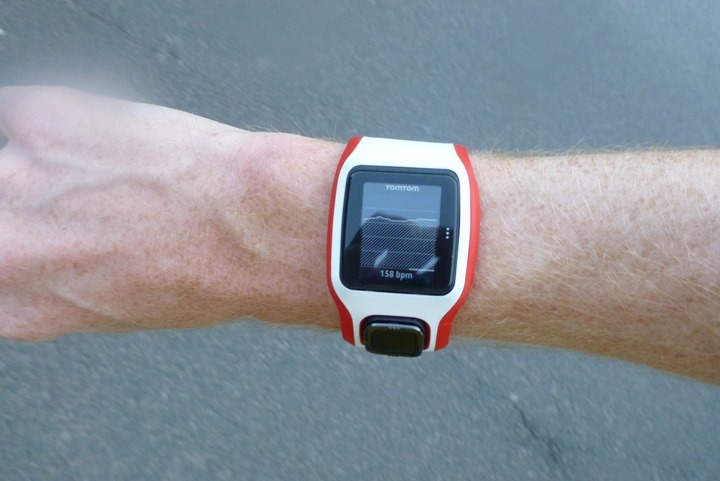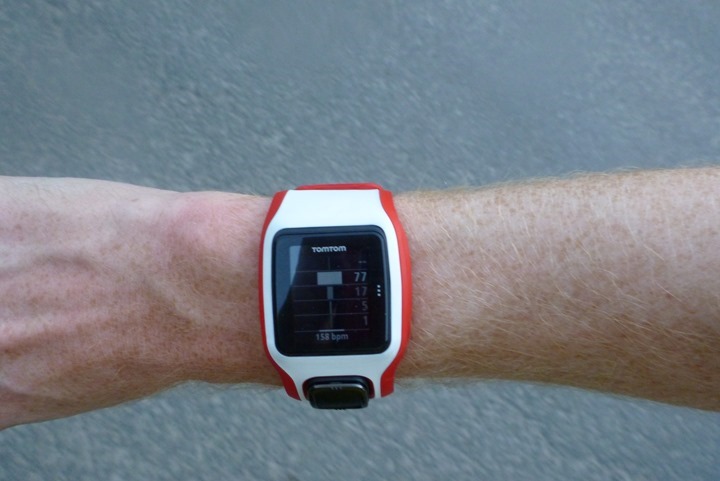 When it comes to breaking up the data, you can use the lap function, which is found in the training menu.  The lap function allows you to tap the screen and create a lap whenever you'd like.  It'll give you the lap count and the average pace for that lap: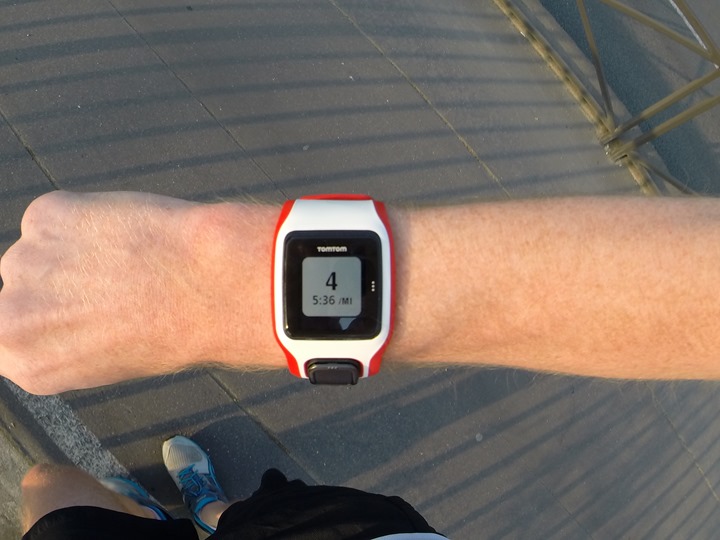 This then also enables the lap data fields such as lap time and lap distance, which will be shown during the activity.  Within laps you can manually set them (as I do when running my custom workouts), or you can have them automatically created based on distance (as I do in my long runs, every 1-mile), or based on time (such as every 10 minutes).
Note that TomTom puts the lap function as a 'Training' option, which means it's not compatible with the other training options, such as goals, intervals, pace, race or zone training…which, I'll describe next.
In the case of goals, you can set a predefined end-state goal – such as 10KM or 60-minutes to run.  When you do so the unit will show a pie chart (like Pacman) of your progress towards that goal: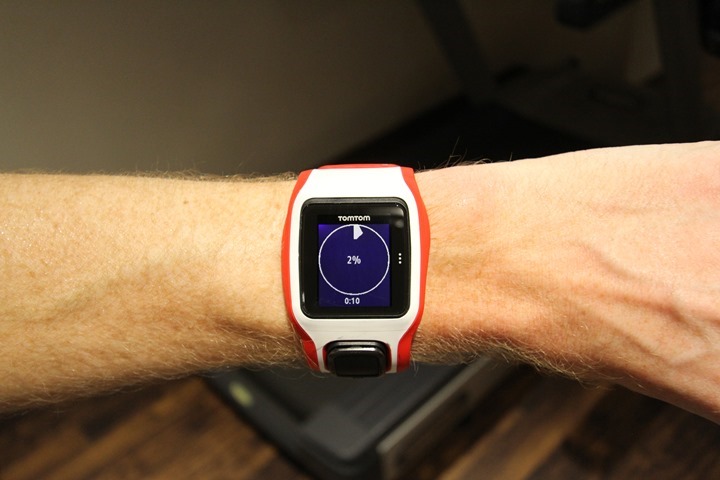 Along the way you'll get notified at 50%, 75%, and 90% of your goal.  Goals can be defined based on calories, time, or distance.
Next, there's the ability to train towards a zone.  This allows you to specify a target for a workout, using either pace or HR.  If you select pace, you can choose a specific pace range.  I like this implementation, as it recognizes the fact that it's virtually impossible for a GPS to pace you to exactly 7:35/mile.  Rather, it's much easier to keep you in between 7:30/mile +/- 20 seconds.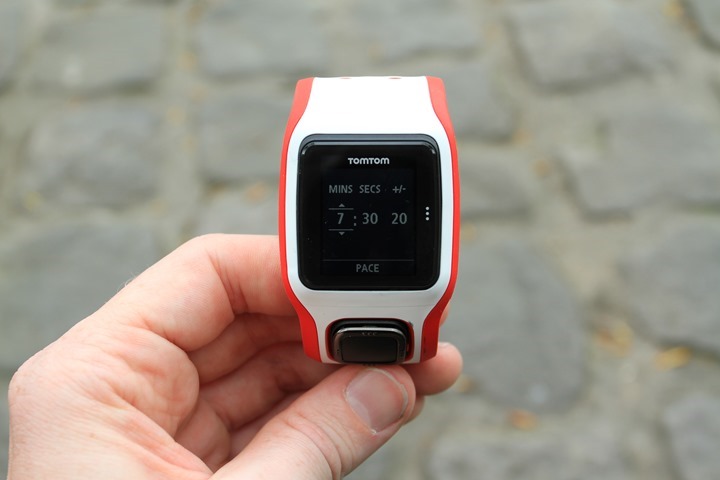 Next there's the interval function.  TomTom has made some solid progress here in the last year, implementing a fairly solid interval function on the unit.  Within this you can define the warm-up (time/distance), the work period (time/distance), the rest period (time/distance), and the cool-down period (time/distance).  Then, you'll simply define the number of reps, and it'll walk you through the workout: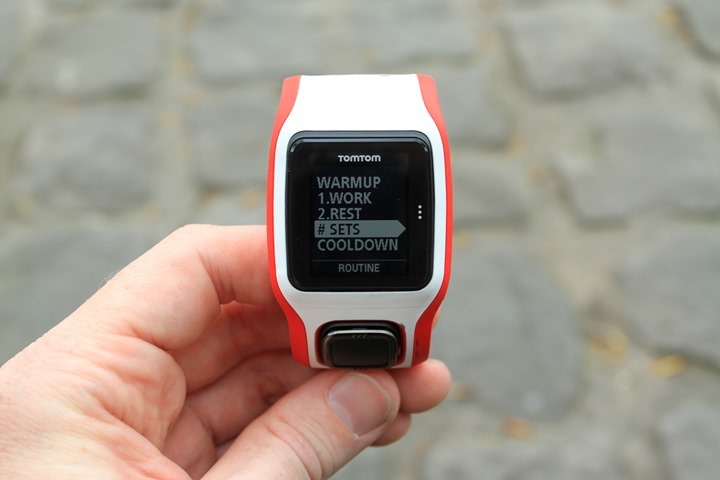 Note however that there's no method to define a target – i.e. '7:30/mile' or HR Zone for any portion of the workout, so you'll have to remember what those are.  Though I suppose most people generally know the defined level of pain of the workout fairly well going into it.  But that means you won't get any sort of alerting or pacing either.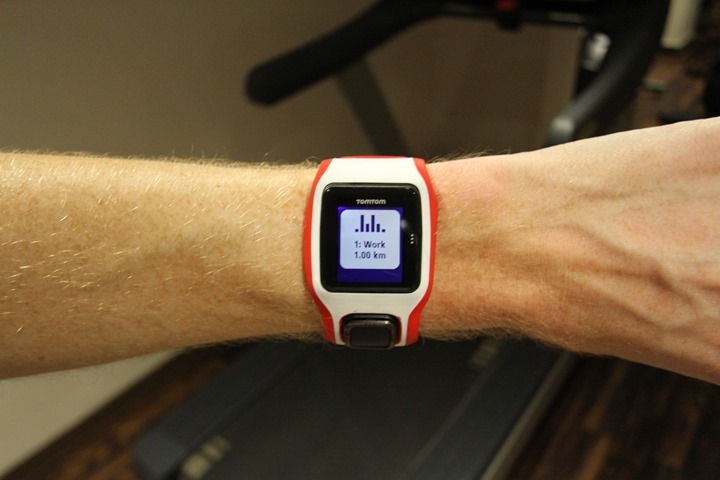 Now, as you're running in any of the modes you can pause the workout at any time by holding the left button down for 3 seconds.  This ensures that accidental button presses don't trigger an immediate pause and then end to the workout.  If however you want that, you can turn off the 'Lock' setting within the unit settings.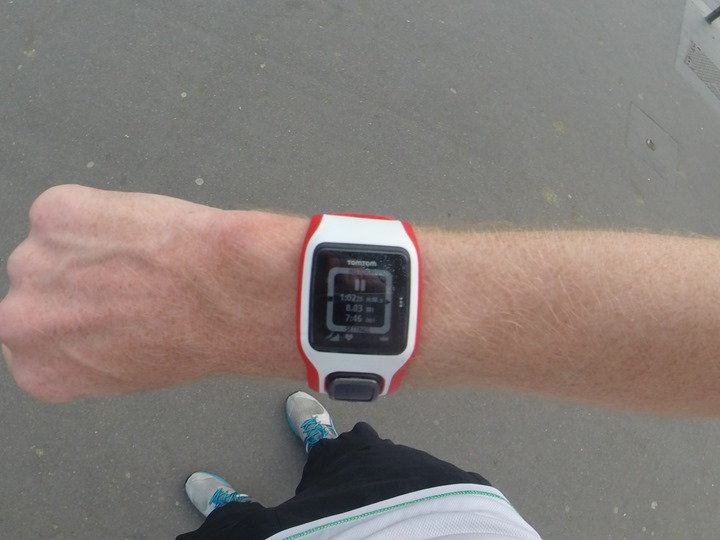 Finally, to end a workout entirely (and thus automatically save it), you'll go ahead and repeat the same procedure from the paused screen, holding for three seconds again.
In looking at accuracy between the units, I saw it perform within 1% of any other GPS I was using at the time.  For example, below, the TomTom measured 8.03Mi, while the Fenix2 measured 8.05Mi.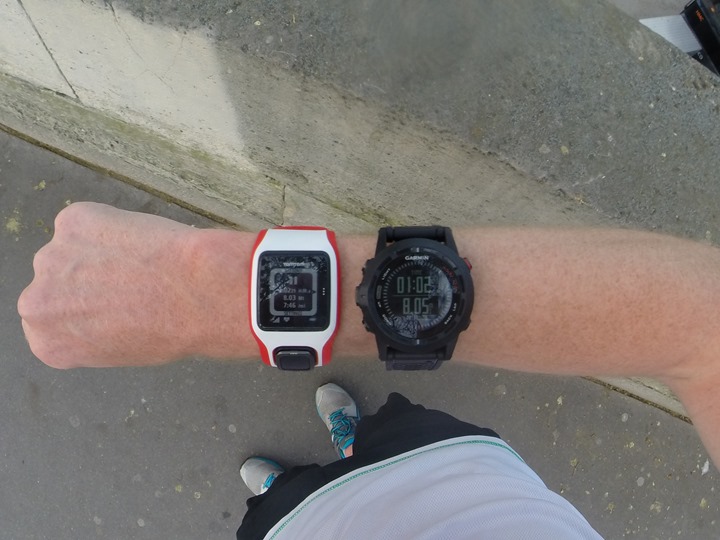 Or here, the TomTom measured 20.75mi, while the Fenix2 measured 20.83mi.  Well within the range of any consumer GPS device for accuracy differences.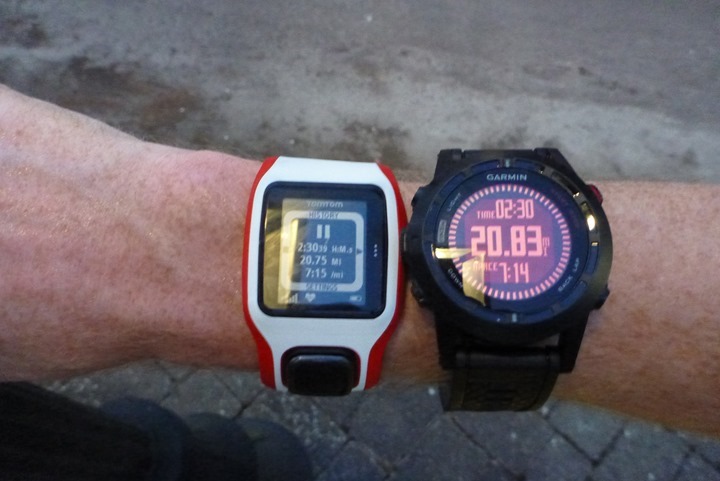 Running – Indoors/Treadmill:
Next, we'll look at treadmill capabilities.  The TomTom utilizes an internal accelerometer to measure pace and distance indoors without the use of GPS.  It does this by evaluating arm swing and cadence to determine pace.  TomTom was among the first major companies to introduce this on their units a year ago, and so I was curious to see how things have progressed since then.  Last time I looked at it upon launch, it generally didn't work too well for me.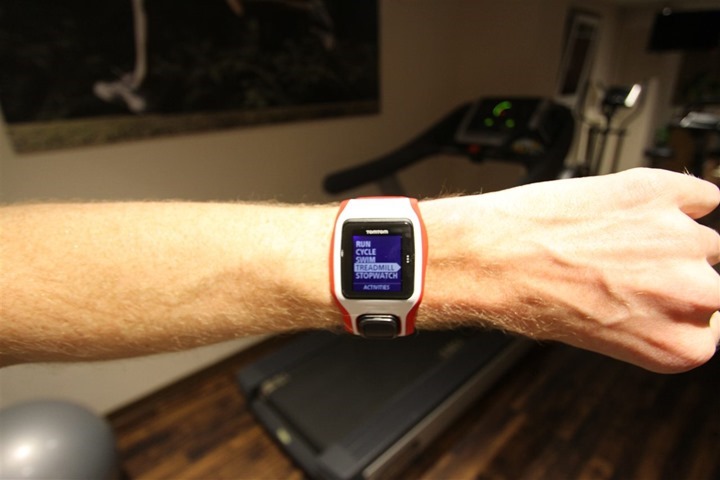 Treadmill mode is a separate standalone mode that simply enables only the optical HR sensor and the accelerometer for measuring the pace/distance.  Note that you'll get most of the same training options as in outdoor running modes – so you can still do functions like laps/zones/intervals.
Once you start it, it'll immediately start recording pace/distance like other modes.
However, upon completion of a treadmill workout it'll give you the opportunity to 'Calibrate' the unit.  So I started off with a short run to calibrate things.  Interestingly, out of the box it was only .01KM away from what I had just ran.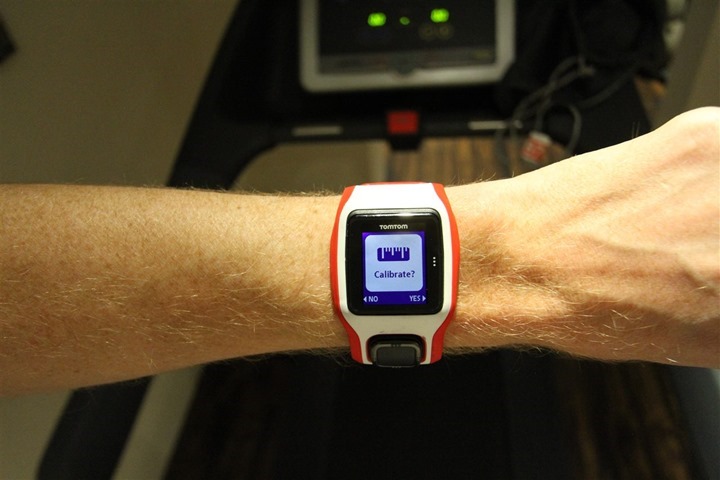 All you do in the calibrate menu is simply enter in the actual distance that you ran, and it then adjusts the file: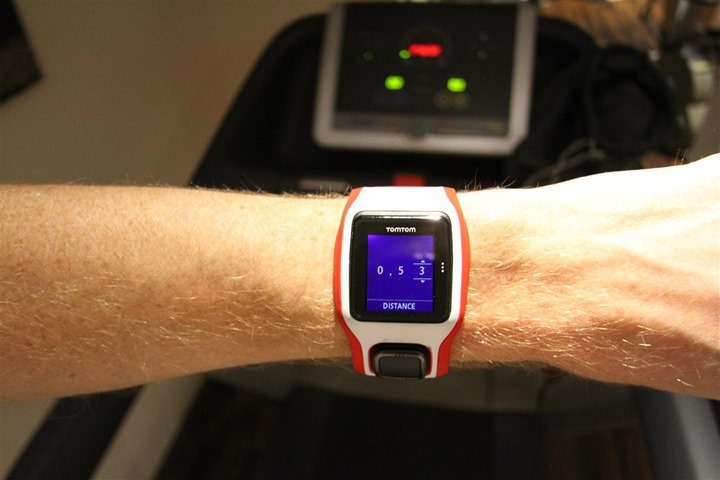 As I often do for these tests, I find it easiest to just work my way through a step ladder of paces on the treadmill.  I start at a pace slower than my usual, then iterate every minute until a much faster pace than my usual long run pace.  In this case, I went with 10KPH (about 6MPH) up to 17KPH (~10.5MPH).  I'm using KPH/MPH simply because that's what my hotel treadmill offered to me.
Here's the result below.  In my case, the actual distance on the treadmill was 2.03KM, not 1.85KM.  Now, the trick is actually being able to see the data in the tiny little chart they give you.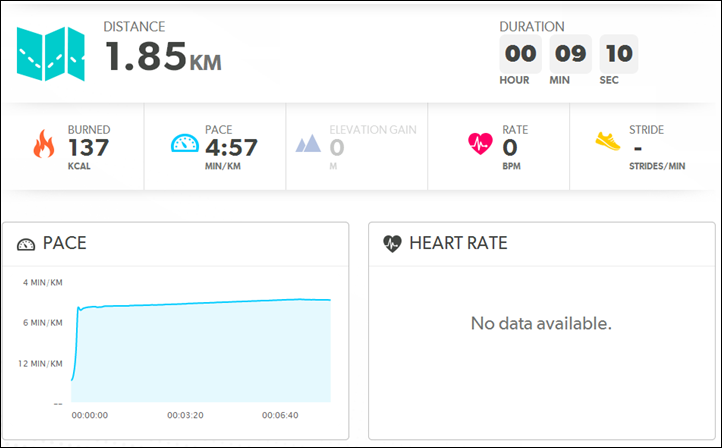 It's really hard to see there, so I had to zoom in and figure out where things were good and where things were bad, one little piece at a time by hovering over the top of the line and matching it to my known paces for each minute.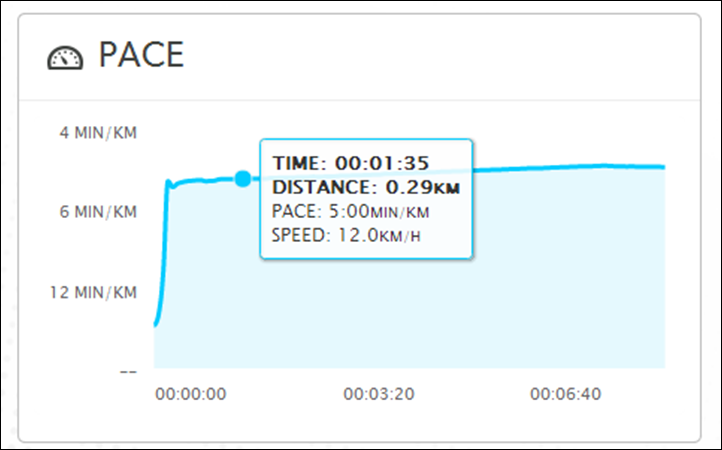 In doing so I found that even though I topped out on the treadmill at 17KPH, the unit thought I topped out at 12.8KPH.  What's also strange is that for the last minute I actually dropped back down again to 12KPH (from 17KPH).  Which, you can see isn't reflected at all in the graph.  Essentially, changing my pace had no effect on it.
So, for the fun of it, I tried another run on the treadmill – a different treadmill no less.  Not that it would have mattered, my body is very clear when I'm running nearly twice as fast in one section as the other.
In this case, I did the first part of the workout on my left wrist, and the second half on my right wrist.  Repeating an abbreviated 4-5minute pyramid build for each section.  Here's what it looked like from a treadmill pace standpoint: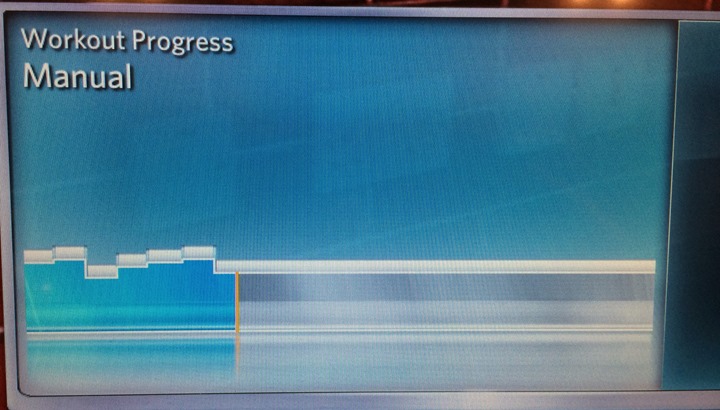 And from the TomTom's perspective? Another flat line, just like the first time.
Essentially, best I can tell, the unit and me only have one basic speed.  When I speed up, it doesn't really do anything (actually, eventually it says I've slowed down).  When I slow down significantly – it does slightly shift my pace, but only by about 10% of actual.
Ultimately, this is similar behavior to what I saw last year.  At the time, they were the first to attempt wrist-based speed detection in a mainstream GPS watch (Bryton had done it previously, as had a few other non-GPS watches).  Since then, others have joined them, including Garmin, Suunto and Polar.  While the jury is out on Polar's attempt for a bit longer, in my testing of Garmin's latest watch – the Fenix2, it pretty much nailed my indoor running based purely on wrist detection.  And Suunto was right behind it as well.
In discussing it with TomTom, they're working on an update for Q2 that they believe should fix many of the treadmill issues I saw, and should give proper speeds.
Cycling: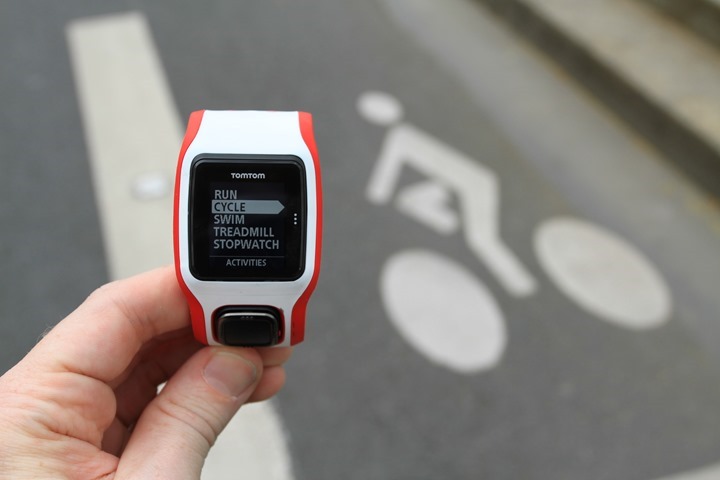 (This section applicable only to Cardio Multisport edition)
The TomTom Multisport Cardio variant supports a cycling mode, which enables you to have a dedicated cycling mode.  Within this mode you can configure slightly different display screens, while also connecting to a cycling speed/cadence sensor.  Further, if you purchase the 'Performance Bundle' edition, you'll also get a barometric altimeter.  Note this is a physical hardware change, and thus, is a separate physical unit and not just a simple firmware update.
In many ways, the cycling mode works very similar to that of the running mode.  The key difference however is that the default metric is 'Speed' (i.e. MPH & KPH) versus 'Pace'.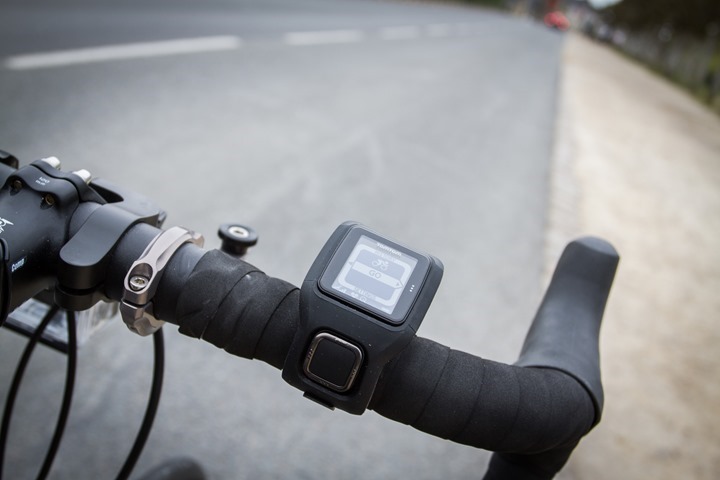 In the cycling mode you can also connect to a Bluetooth Smart Speed/Cadence combo sensor.  This enables two scenarios.  First is that you can get cadence (both indoors and outdoors).  Second is that you can get speed indoors on a trainer, as well as outdoors in scenarios where GPS may not be accurate (i.e. a tunnel, or mountain biking in heavy tree cover with many switchbacks).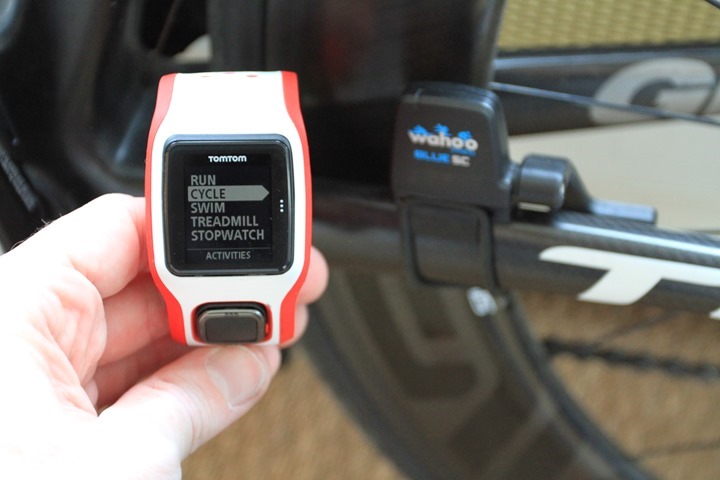 Now, you will want to be aware that the speed/cadence sensor needs to be manually configured with your wheel size.  If you don't do this, you'll get inaccurate distance.  Also of note that I discovered is that the speed sensor speed value will override GPS.  Thus, if you happen to have the magnet fall out of alignment with the sensor, you'll get a zero speed/distance value (been there, done that).  This is a bit different than other units on the market that will look at situations where either GPS or speed sensor values equals '0', and use the other speed source instead.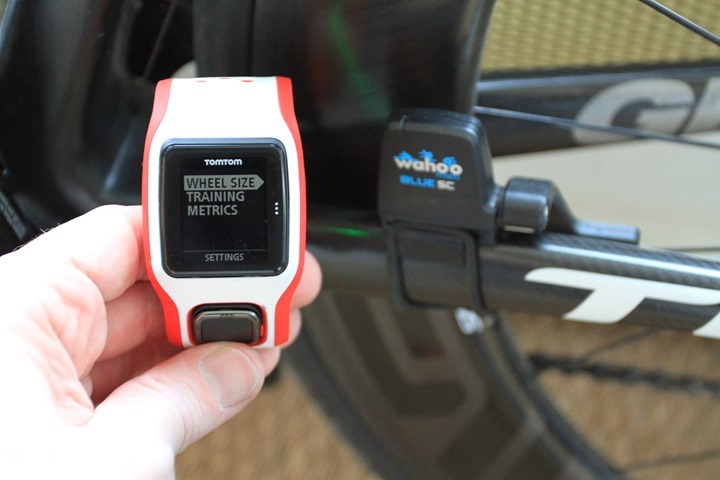 In addition to the speed data, you'll get the cadence data, which can be added as a data field onto the unit itself.  Further, that data will be recorded for later viewing:

In addition to the speed/cadence sensor you can also mount the unit to your handlebars using bike mount kit.  This easily straps on using a rubber band type system, and securely holds the unit in place.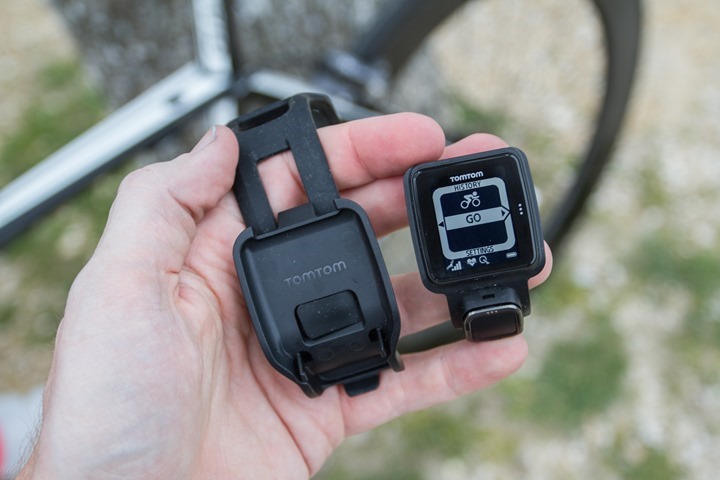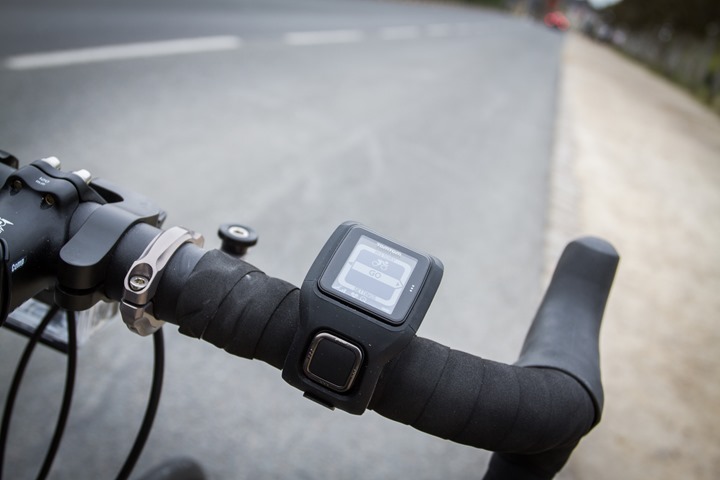 Now, the obvious problem here is that in doing so it'll no longer measure heart rate via your wrist optically.  So instead you'll need a Bluetooth Smart heart rate strap if you want to gather HR data.  The TomTom unit does indeed support connecting to external straps via the sensors menu.
In my case, I just kept the unit on my wrist so I could gather HR data while cycling.  I also paired it to a speed/cadence sensor.
Living in Paris, many of the streets have cobblestones.  It's well known that vibrations and repetitive bumps cause issues with optical sensors (as well as accelerometers in other applications), and thus, it was the perfect place to test the validity of the HR data while riding.  However, instead of covering exactly how that test ended up, I've included all my comparison test data later on in the accuracy section.
Next, I took a look at the elevation data on one of my rides – the only ride with a big hill in it.  In this case I completed a nearly identical out and back – with the top of the hill being my turnaround point.  Now it was 'nearly identical' simply due to the reality of one-way streets limiting my choices.  But the elevation differences between the slightly different routes for a few blocks was minimal.  Below, you can see the graph I made.

Except, here's the thing – in my case, I was using the non-performance bundle, and thus, the elevation data shown on the site is actually from the server based on my GPS route, rather than recorded by the unit itself.  This is true of the runner as well.
Ultimately, only the 'Performance Bundle' unit includes the barometric altimeter, and is/was not one of the units I was provided to test with.  In that unit, you can add/select the 'Elevation' data field into the list of data fields shown on the watch in cycling mode.  Down the road, they'll be enabling it in running mode as well in a software update.
Finally, it's worth noting that while the Multisport unit defaults to speed for cycling, you can actually use the TomTom Runner Cardio in running mode and just change the metric to speed instead of pace.  It'll label your workouts as 'Runs' on TomTom MySports, but ultimately if you export to any other 3rd party sites you can easily just change the activity type to ride.
Swimming: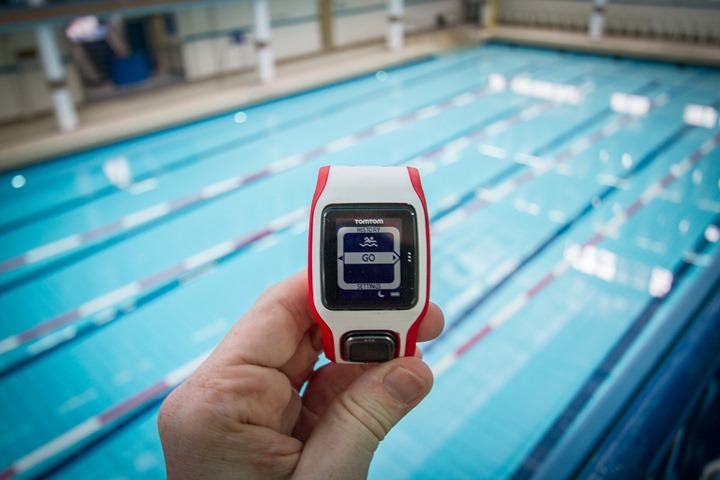 (This section applicable only to Cardio Multisport edition)
The TomTom Cardio Multisport includes the ability to capture swim metrics while in pool.  This includes distance (i.e. 2,100 yards/meters), strokes, time, and SWOLF.  It does not include heart rate while swimming.  Again, let me be really clear – as it stands today, the TomTom Cardio Multisport does NOT capture heart rate while in swimming mode.
Today, it focuses on the standard indoor pool metrics.  In this mode you'll start by selecting your pool size.  The unit allows you to enter in any size from  15y/m to 50y/m.  What's a bit annoying though is that it doesn't allow you to entire either a yards pool or a meters pool.  Rather, you have to go back into your settings and change everything to yards or meters.  Given many swimmers, especially in the US, will alternate between a 25y and a 50m pool depending on availability, it's sorta frustrating this is still an issue nearly a year later.  It also doesn't allow you to enter partial yards (such as the 33.3M pool I swim in).  (Update: They've released a fix to enable this).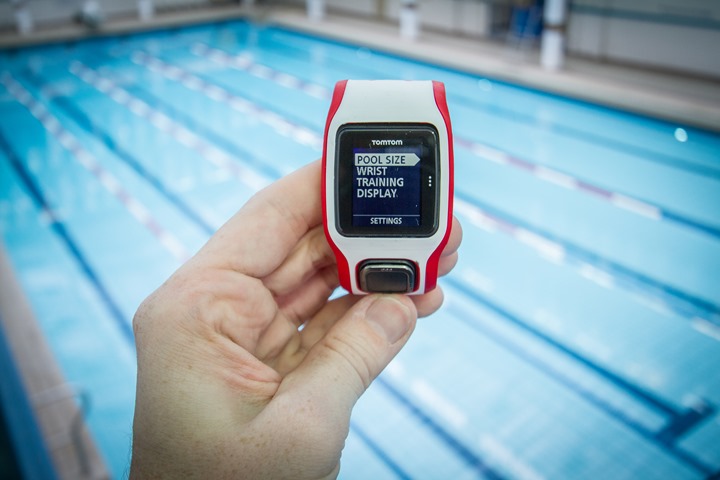 In any case, the size is saved, but you'll need to remember to switch back your total unit settings if your pool size doesn't match what units you normally want displayed in running/cycling.
Once that's done, you're ready to start swimming:
Once you press to the right to start the unit, it'll track each length of the pool.  In doing so it captures strokes, lengths, distance, time and SWOLF.  SWOLF is a combination of Swimming and Golf, and produces a swim efficiency score based on how many strokes you take per length.  In theory, less is better, but in practice you have to be sure you aren't artificially producing less strokes (with paused gliding) simply to hit a number.  All major swim watches on the market today capture this metric.
You can press the up/down button to change display fields, and like in running and swimming you can specify the upper two display fields be whatever you'd like.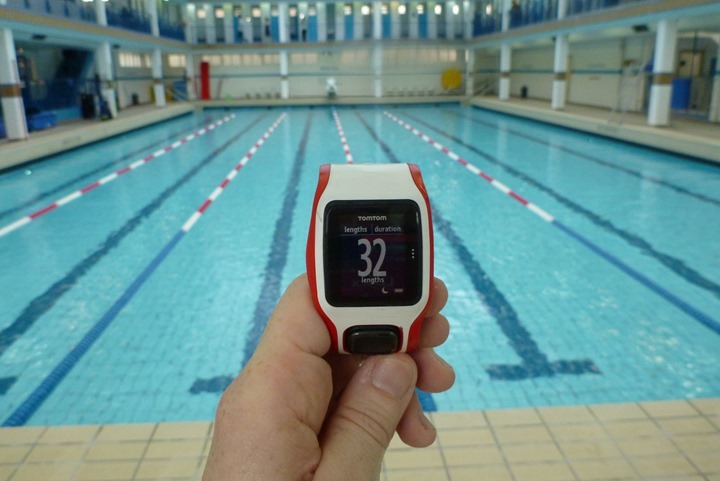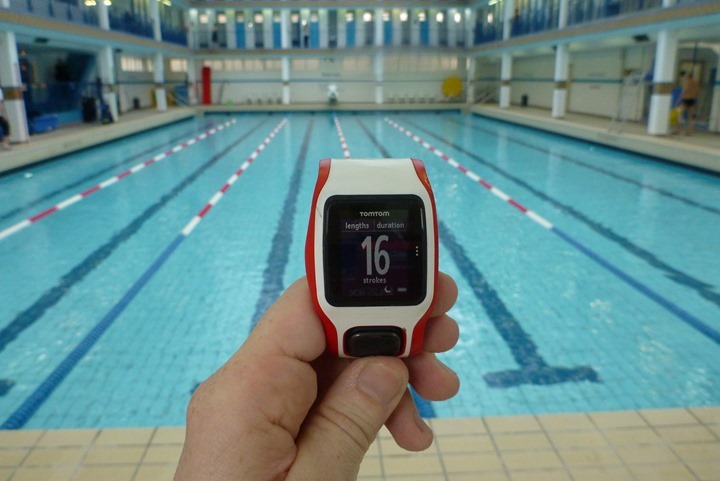 The unit in my testing has no problem with either flip turns or open turns (non-flip turns).  For the swim below, I pretty much alternated each length doing one or the other.  So you can mix them as well.  It's important to note that the way all swim watches on the market work today indoors is not via GPS, but rather via accelerometers.  As such, pushing off the wall is ultimately what tells the watch whether or not you've completed a lap.
Thus it's really important to push off the wall in a crisp manner, and to avoid random wanderings around the end of the lane when not in a paused mode.  Or, going to the bathroom while not in paused mode.  If you're not swimming, pause the watch – simple as that.
I found it very stable in my pool, which on one day when I was testing I had 9 people in my lane, which meant I was constantly accelerating to pass folks, as well as slowing down when I couldn't pass.  It matched the exact distance that I swam, and the Garmin Swim on the other wrist also matched that distance.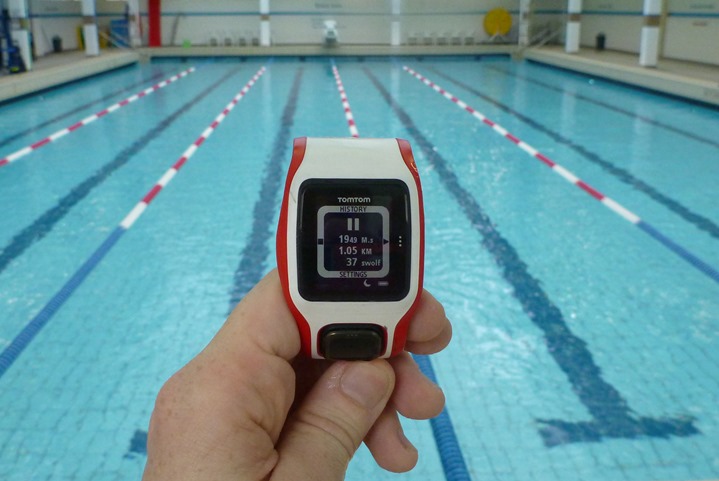 Upon completion you'll be able to see your swim totals online: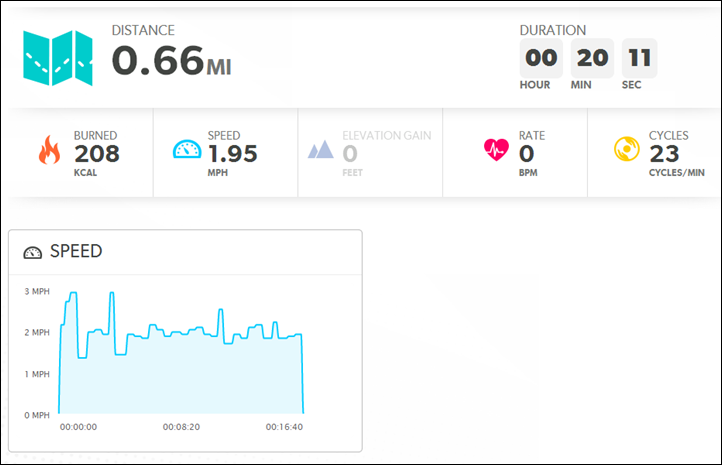 As you can see above, it's pretty minimal.  What you see above is the entirety of what you get.  That's it.
Now, before we move onto the heart rate while swimming piece, I do want to briefly mention a few modes that are within the unit in swimming.  In my case, I just went with a straight 'swim forever' mode.  In this mode there isn't actually a way to mark any laps (kinda annoying), so you can't easily divide up sets.  But they do include the below modes which can help a bit:
Goals Mode: This allows you specify a total distance, time, or calorie target to aim for and gives you progress updates towards that goal.

Interval Mode: This works just like it does in running.  The difference though is that you've got to enter in the distances in miles or kilometers.  Which, isn't really how most people swim.  For kilometers it's easy, but for miles it's a mess.

Lap Mode: This allows you to automatically create laps after a specified time or distance.  Like above, distance is entered in either in miles or kilometers.
Swimming – Heart Rate Metrics:
Now, I know all of you are wondering: How can I get heart rate while swimming?
Well, in the 'Swim' mode per the watch and as I've outlined in the previous section, it doesn't turn on the optical HR sensor, nor will it pair with an external one.  However, for fun, I decided to see what happens if I just told it to use treadmill mode instead.  Treadmill mode on the TomTom Cardio is what I'm using as my 'catch-all' bucket for anything that I want optical HR on, but don't want GPS on.
So, I turned on treadmill mode and waited for it to find my heart rate.  Standing at the end of the lane line (wet), it took longer than normal – almost a minute (versus the usual 5-15 seconds).  But, once it found it, it appeared accurate just standing there.
I then headed on out to swim some laps.  I watched as the heart rate rose steadily and seemingly in concert with my effort, then, I watched as the heart rate stabilized after about two laps.  The screen was incredibly easy to see underwater by just twisting my wrist slightly at the beginning of the 'pull' phase of the stroke, or pushing off the wall.
In doing so, I was able to monitor the HR pretty much constantly during that effort, and at no point did I see the HR veer out of control, or do anything unexpected.  Upon completion of the set, I went ahead and just stood at the wall with my hand still underwater to see how well it would return to normal.  In doing so, I saw no issues returning back to a resting/standing heart rate.
Below, is the heart rate snippet from that time period: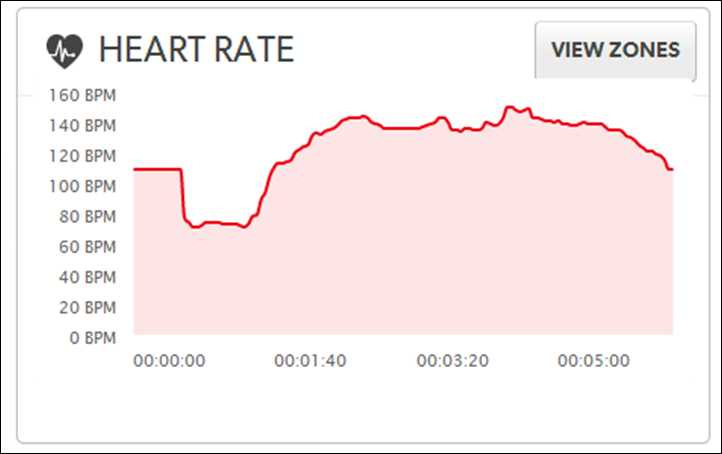 Again, because it's in treadmill mode – there's no strokes/distance/length data.  There's just a bunch of random junk distance data from the watch thinking I'm running on a treadmill.  But, for those wanting the heart rate data, you now have a method of capturing it in a single unit.  Remember that the unit can easily export out to CSV file, or any other file type including .FIT and .TCX (more on that later in the review).
In talking with TomTom about enabling heart rate during swimming mode (so you get swim distance/stroke/pace metrics), they noted it's something they're looking at, but are at the moment focused on ensuring the running experience with the optical sensor is the priority.
Multisport Mode:
(This section applicable only to Cardio Multisport edition)
Like the regular TomTom Multisport unit, the Cardio Multisport unit does not actually have a 'multisport mode'.  Traditional triathlon focused watches tend to have such a mode, which enables you to quickly switch between different sports in a race or brick (training) scenario.
It's a bit puzzling that the unit still doesn't have this functionality nearly a year later – especially given it's focused exclusively on the multisport market.  However, I suspect that lack of feature likely comes from the fact that the unit doesn't do openwater swim tracking and thus, it's limited in usefulness in a full end to end race scenario.
Further, given the typical quick satellite reception, you can easily save (hold left three seconds, then again three seconds) very quickly and then re-start a new session near immediately from the same locale in just a couple seconds.  All of which most triathletes can do while running within transition.
I can only hope down the road we'll see both outdoor swim functionality, as well as a multisport mode.
Optical Heart Rate Sensor Accuracy:
Before I dive into accuracy, let's start back at the beginning though and explain what exactly an optical heart rate (HR) monitor is.  These are heart rate monitors that use optical light sensors to view down into your capillaries and then read your heart rate, which is typically transmitted to you in beats per minute (BPM).  While the end metric is the same, the measurement technology is different from heart rate straps of the last 30 years, which have been worn around your chest and pickup your heart rate electromagnetically.  In the photo below you can see this green light emitting from inside the band of the watch.
Mio initially introduced this technology about 21 months ago with their Kickstarter funded Mio Alpha unit, which I subsequently reviewed once they produced final units.  They subsequently launched their latest edition, the Mio Link, three months ago, which start deliveries in about 10 days.
Following Mio's initial launch, another company – Basis, launched an optical HR device, the Basis B1 watch.  However, that device wasn't aimed at the sports crowd, but rather more at the activity monitor/tracker crowd.  For example, it worked well for the 23 hours of the day you weren't exercising, but didn't measure HR during exercise.  Ultimately, it uses slightly different technology and algorithms on the optical side.
Finally, fast forward to last fall, and Adidas launched their Smart Run GPS with the optical HR sensor built in.  That sensor was provided by Mio.  And just like the Alpha and Link, it worked spot-on for me as well in measuring heart rate optically.
There are other companies as well in this space, for example Texas Instruments supplies sensors to some companies.  And 4iiii's recently announced their optical HR pod products as well.  And further yet other companies utilize various white label and internally developed solutions.  Below, you can see such a solution on the Soleus Pulse watch (non-GPS).
So with that background in place, let's take a look at accuracy on the TomTom Cardio unit, and see if it continues the tradition of quality heart rate data from an optical sensor.
Hard VO2Max Interval Run:
This was an interval run that started off with a 15-minute build period.  Then, it transitioned into 8x800m, each at a fairly quick pace – resulting in a high intensity workout at pretty much my absolute max heart rate values.  Here's how things looked on the TomTom Cardio unit: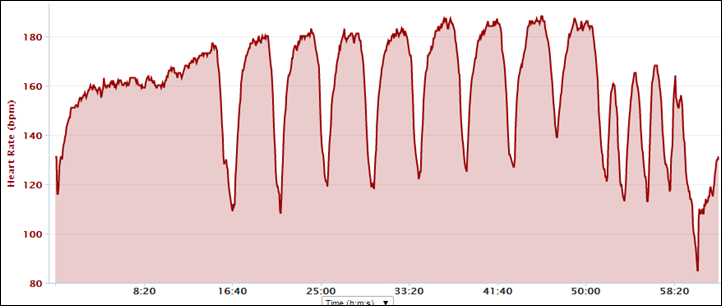 And then next, using a traditional heart rate strap (Garmin HRM-RUN):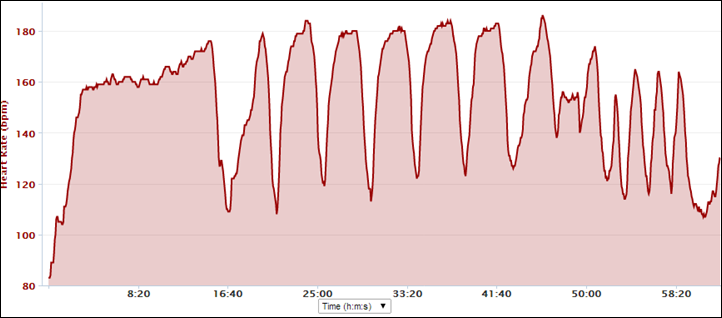 In this case, you see that the HRM-Run for some reason struggled a bit on the 6th and 7th interval.  I wiped away the sweat behind the strap and it immediately went back to normal.  It was a fairly warm night, and combined with the higher intensity workout, I was drenched.  On the first interval you see a bit of a delayed pickup on the HR strap as well.
In the above run, I saw no abnormalities with the Mio optical sensor within the TomTom unit.  It worked flawlessly.
Long Run: 2 hours 30 minutes
This was a long and steady run, once I warmed up into zone, I stayed with it and was completely constant based on heart rate for the entire run.  Here's how things looked, first, the TomTom Multisport: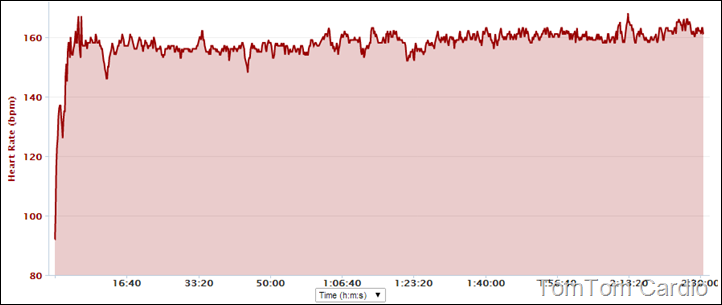 You'll see one minor odditiy around the 7-8 minute marker, with a spike. I noticed it while running, and then tightened the strap. It was a little bit loose.  Once I did that, the spike immediately went away.
Next, we've got data from a traditional heart rate strap (Garmin HRM-RUN):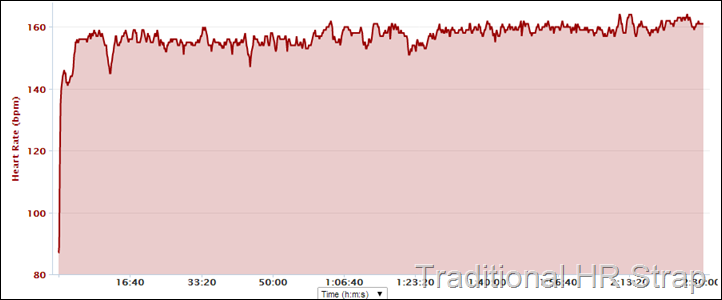 As you can see looking at the two they are virtually identical after about the 8 minute marker once I tightened the strap.  Throughout the run I'd glance and they were always the same or +/- a single BPM.  Very impressive.
Cycling…Cobbles and All:
This was an hour long ride through the streets of Paris.  In this case I wore the unit on my wrist, as opposed to using the bike mount – specifically so I could collect accuracy data.  My route included long stretches of cobbles (upwards of a half a mile at a time), which are notorious for throwing off all sorts of sports technology devices.
First, the TomTom Cardio optical HR data: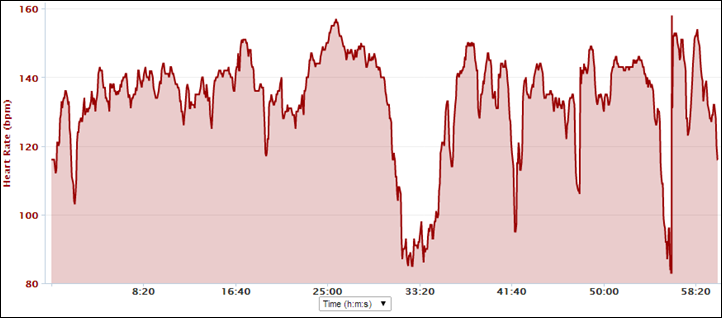 Then next, the traditional HR strap data from a different non-TomTom unit: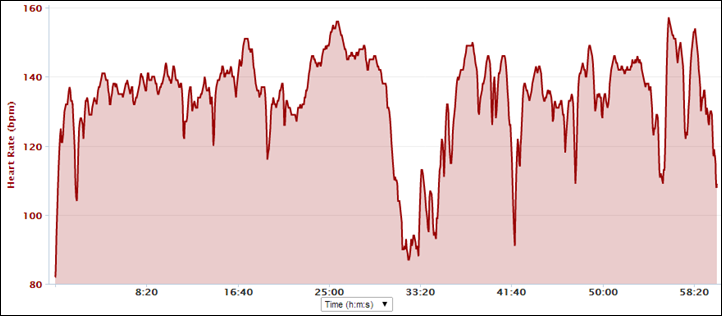 They are very similar.  The one difference you see is around the 33 minute marker, the HR strap seemed to produce a bit of a spike to 110BPM.  I'm actually not clear if this was correct, or if the TomTom was correct here.  I was descending (hence the lower HR's), and thus I would have been surprised to see a spike.  But since I was descending at night on cobbles, I was slightly less focused on the HR's there.
The Girl's Long Run: 3 Hours
In addition to my running and rides, The Girl has also spent some time with the unit, or more specifically, a long 3 hour run with the unit.  I helped her get all set with the unit and then sent her along her way.  Here's the data from the TomTom unit first: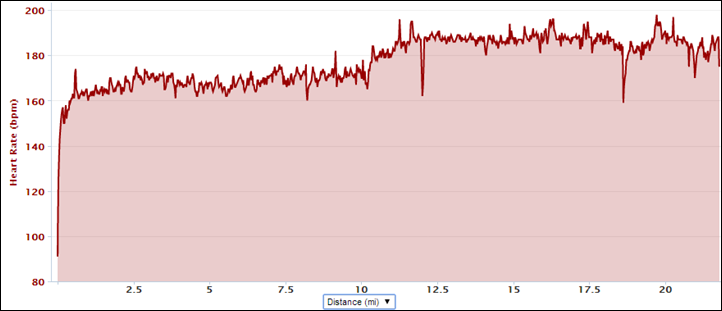 Looking at the above, there's one spot at about the 12 mile marker where the unit seems to drop by about 20bpm.  It's unclear if that was reality or not (since the strap below doesn't show it).  You can also see a bit more variability in the second half of the run with the strap, as she increased intensity.  She noted to me that the numbers were nearly always the same or within 1BPM or so when she looked at the displays.  So from her HR zone pacing perspective, they were both valid.
And then, the data from the traditional HR strap (HRM-RUN).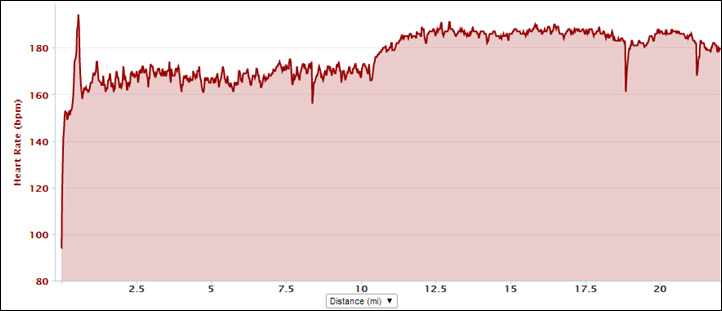 In her case, you can see a single spike early on in the run on the heart rate strap.  I checked with her, and she said that was erroneous and was not some sprint she did.  That brief HR strap spike only lasted a few seconds out of 3 hours of running.
Given we're talking about The Girl's run, I do want to point out that while she found the optical HR piece just fine and dandy, she was not terribly thrilled with the pod on the watch itself.  Specifically, she felt it dug into her wrist bone quite a bit and found it fairly uncomfortable for the run she used it on.  This is likely because the pod is hard plastic and leaves no room for movement or flexibility.
Overall though, looking at all the optical heart rate stats from all the above rides/runs, I don't think anyone could realistically say that the optical HR measurement didn't perform better than the HR strap.  It seemed to in almost every case, both for myself and The Girl.
All Day Activity/HR Recording: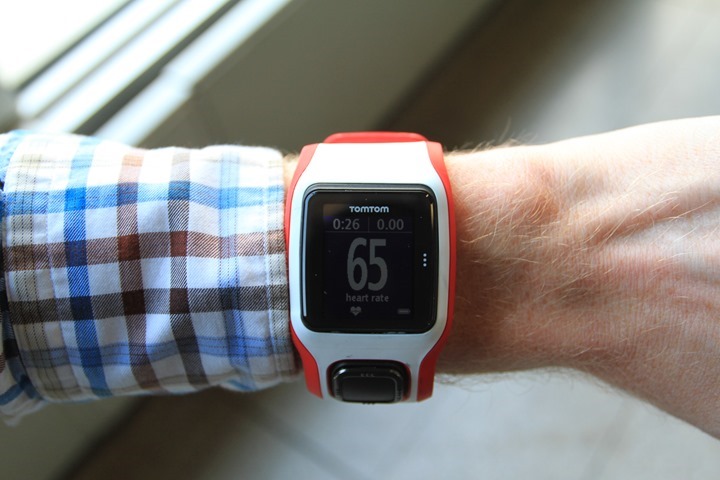 First off, the TomTom Cardio does NOT record your daily steps. Nor, is it an all day activity tracker like a FitBit or Fuelband.  Those products are designed for that purpose.  Again, this is not one of them.
With that out of the way, I was curious.  I was mostly interested in how well it'd be able to track my heart rate over the course of an entire day.  Both in terms of accuracy, but also in terms of battery life.  I previously did this experiment with the Mio Alpha (first generation of the sensor used in the TomTom Cardio).  In that case I had to pair it to a phone in order to capture the data.
In this case though, I simply used just the TomTom Cardio itself.  I started by ensuring I had a 100% full charge.  Then I simply started a 'Treadmill' activity.  In this mode the unit keeps GPS disabled, but turns on the optical HR sensor.  It also tracks distance via the accelerometer inside the unit.  Obviously, it's meant for running on a treadmill.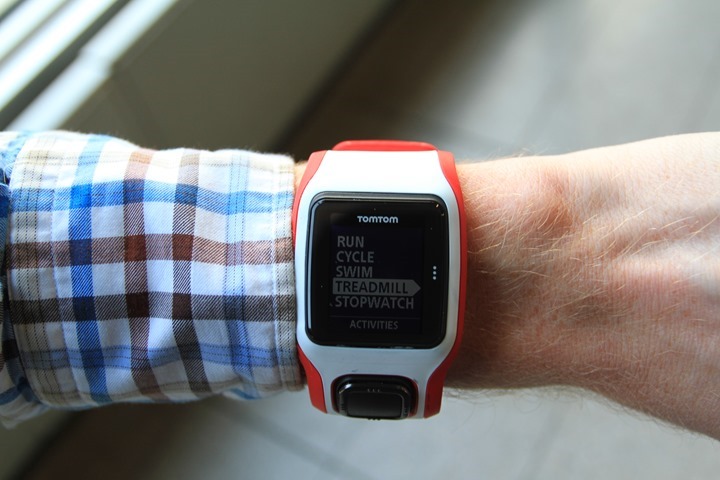 The watch quickly found my heart rate as usual and off about my evening I went.  For my walk to the grocery store the distance was roughly accurate, however, upon returning and starting to cook dinner the distance was no longer in the ballpark of reasonable.  It had chalked up some three miles in about 45 minutes worth of prep work in my kitchen.  My kitchen is roughly the size of two port-a-pottie's floors.  I couldn't walk three miles in there if I tried.  So with distance not really accurate, I focused on the heart rate side.
I'd occasionally glance down and see where things stood accuracy-wise, with each time the unit being right where I'd expect it to be.  While sitting around watching TV I saw my HR fairly low (50's).  And while riding the city share bikes across town I saw it a bit higher (110-130bpm, with a slight spike once trying to make a light).  All was good there.
But perhaps the most impressive feat was the battery.  By the end of the first night the battery was still showing a full charge.  And it wouldn't be too far from the truth.  It would end up taking 26 hours for the battery to drain fully – far longer than I ever expected.  In talking with TomTom, this mode would get anywhere between 24-36 hours, dependent on a bunch of factors, but partially influenced by how hard the sensor has to work to read through your skin (darker skin/hair, etc…).
Looking at the graph at the end, I didn't see a single HR spike in the entire day.  The recording started around 6PM, and you can see when I went to sleep some number of hours later and the corresponding dip in heart rate, then when I woke up and set about my day.  The higher chunk towards the 20hr marker is when I had to bike across a chunk of the city on the bike share bike.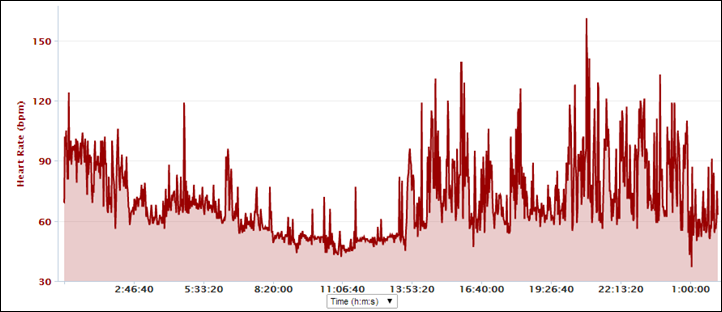 I did note however that the TomTom site failed to display/load my 26-hour journey.  Instead, I just used an export of the file and uploaded it to a 3rd party site that would take the file.  I suspect having a file longer than 24 hours was the issue.
Now obviously, there are devices that are better suited for this purpose.  The Basis B1 comes to mind specifically.  However, for those that want to record heart rate data at a much higher accuracy level than the Basis, this is definitely an option.  I wouldn't use it for activity tracking (distance) though.
Sensor Support:
The TomTom Cardio supports two types of Bluetooth Smart sensors: The bike speed/cadence combo sensor, and the external heart rate sensor.  While you might think it odd that it supports the external heart rate strap given it has a heart rate sensor in the unit itself, with the strap you can then easily mount the watch to your bike for riding and still get heart rate data.
You'll pair both sensor types under the sensor menu: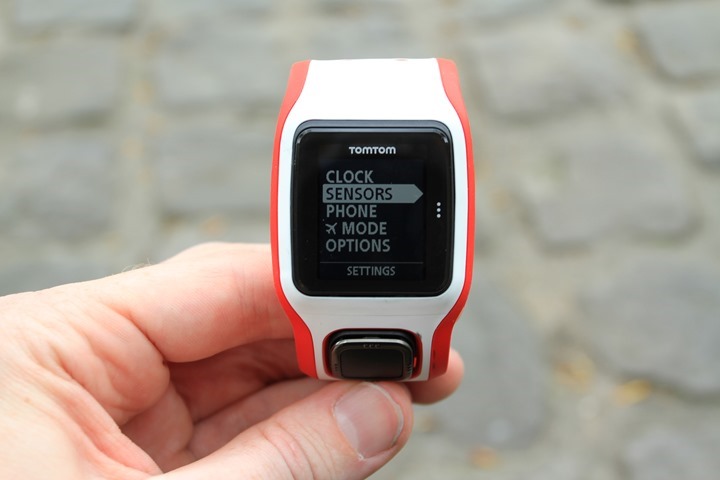 Within the heart rate section you can simply choose 'external' (for the heart rate strap).  For internal, you'll just leave it as 'on'.
For the bike sensor, you'll enable it here as well.  The unit will pair to any Bluetooth Smart Speed/Cadence combination sensor on the market (that uses the official Bluetooth Smart Speed/Cadence device profile).  I happened to use the Wahoo Fitness Blue SC.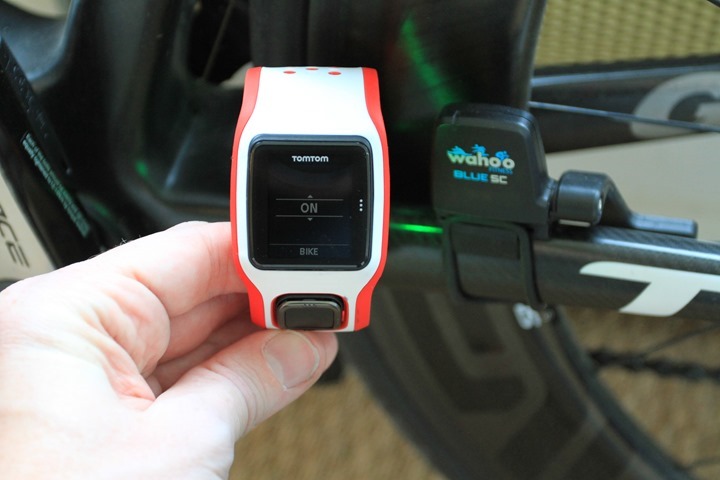 Somewhat frustratingly however, it won't pair to the Bluetooth Smart cadence-only device profile.  This meant I couldn't use the new tiny Wahoo RPM cadence sensor pod.  So, just be aware in case you're buying a speed-only or cadence-only sensor.
Finally, note that the unit ONLY supports those two types.  It does NOT support any ANT+ sensors, nor does it support any analog sensors (such as older Polar straps).  It would support new Polar Bluetooth Smart straps, since those follow the Bluetooth Smart standard.  And lastly, it doesn't support any of the Nike straps, as those don't follow the standards either.
Day to Day Watch Mode, Backlight: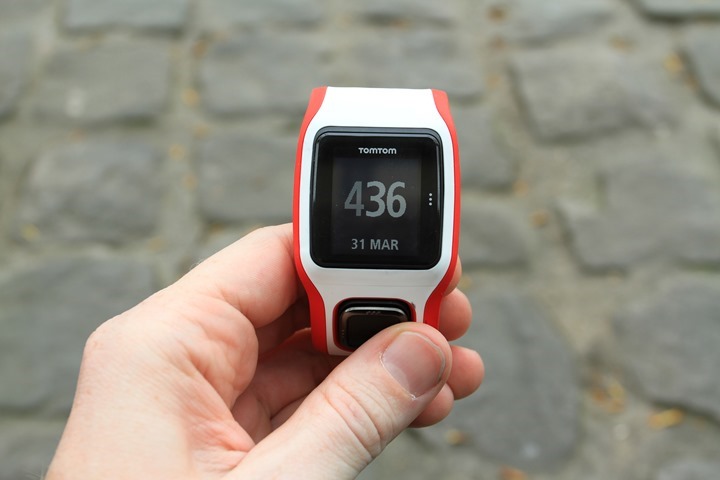 The unit functions as a day to day watch in non-GPS mode for an extended period of time (many weeks).  Within this you can setup a single alarm, such as for waking up.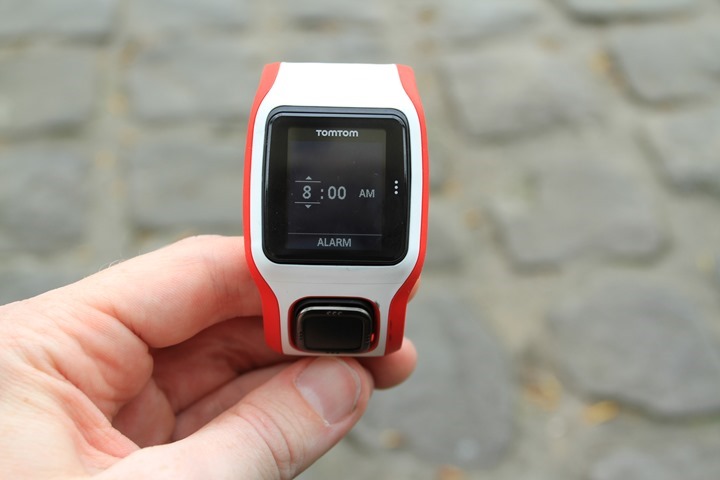 When in standby the unit will always display the time of day (hours:minutes), as well as the date.  It does not have an option to display the day of week, nor seconds.  You can configure the time to display in either 12-hour or 24-hour format (i.e. 1:50PM or 13:50).
The backlight can be enabled at any time in standby mode by simply tapping the right side of the display.  Additionally, the backlight can be switched to enabled for an entire activity, such as a night run.  When you do this however you'll burn through battery much quicker than normal – so be aware.  Below, you can see the backlight in action: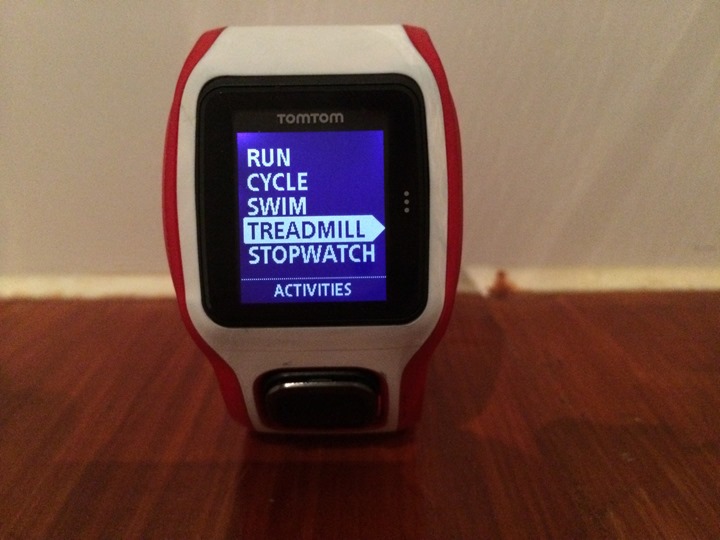 With the backlight on I found it quite easy to see the display and numbers, even while on the bike with the unit on my wrist in a slightly awkward position (for cycling with hands on handlebars).
TomTom Mobile App: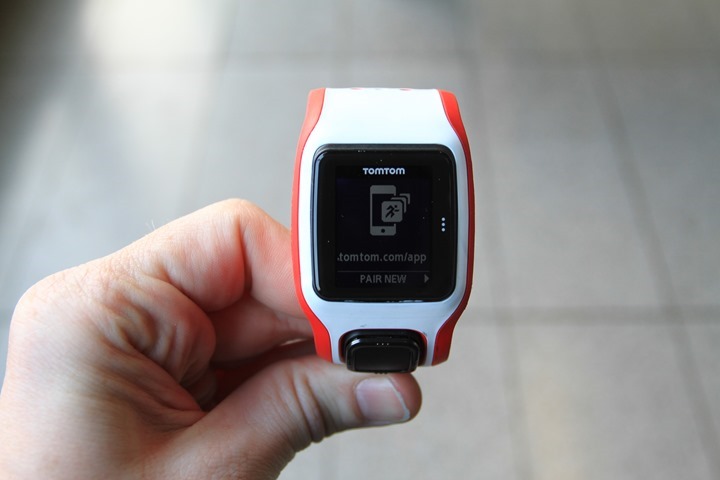 TomTom recently introduced support for uploading completed workouts via your mobile phone to the TomTom MySports site, via Bluetooth Smart.  When this was introduced back in January I did a full (and rather detailed) post on it, so I'd refer to that for more details.  However, I'll run through the basics here.
First, you'll need a compatible phone.  That means a phone with Bluetooth Smart support.  On iOS that's the iPhone 4s or newer, or the 2nd generation iPad or later.  Once that's done and Bluetooth is enabled you'll download the MySports app.  From there you'll open the app up directly.  You do not need to wander into your phone's Bluetooth settings control panel.
You will however need to go into the phone option on your TomTom unit to start the pairing process.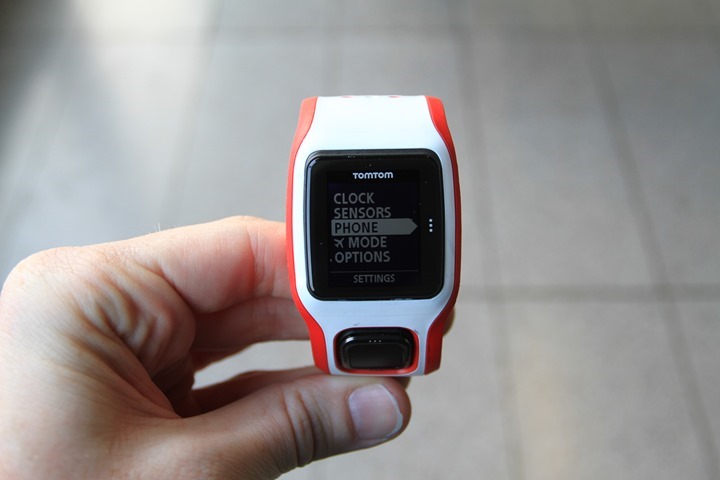 Next, you'll see the watch listed along the bottom in bold when it's in range.  Or, later once paired in a lighter color when not in range.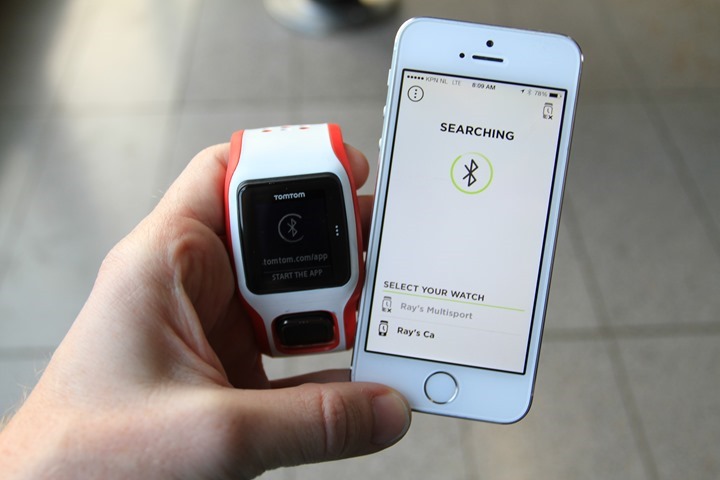 Simply tap on that line to start the pairing process.  Once you do so it'll show you a pin code on the watch, which you'll enter in on the phone to validate you're not trying to commit some sort of devious hacking of other people's TomTom units within a few meters of you.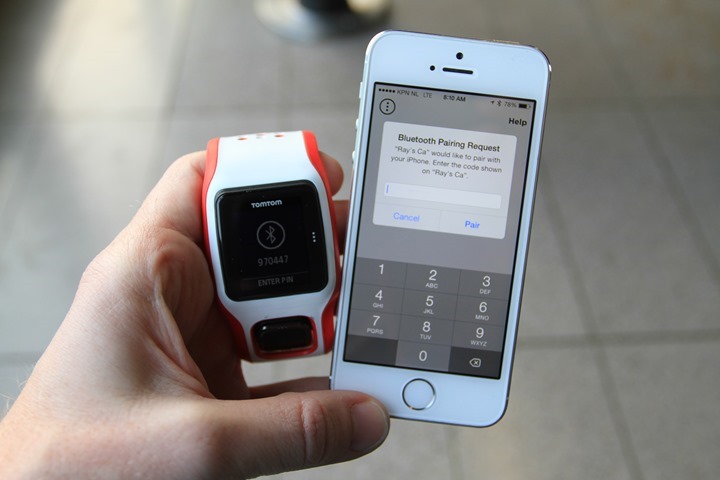 As soon as that's completed the phone app will immediately enumerate the workouts from the watch and transfer them over.  It'll then upload them to the MySports site: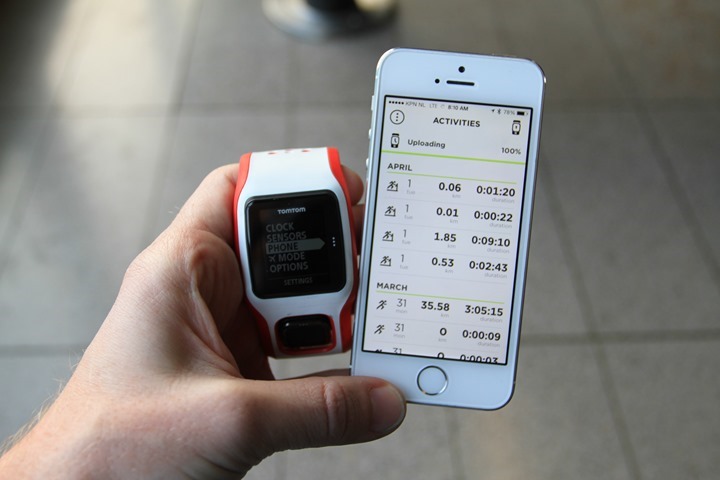 From the phone app you can also view workout overview information as well: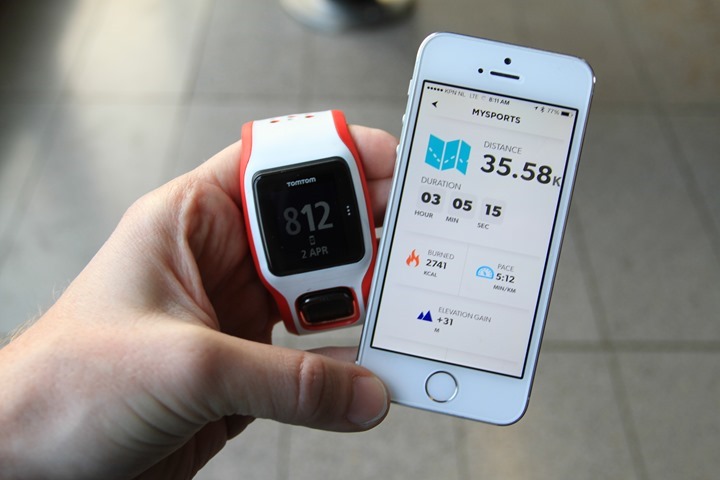 Note that with the phone app you won't get exports of other file formats like .FIT for export to 3rd party services, so that's one downside.  TomTom has previously stated that they intend on adding in support for popular 3rd party companies directly from the app (i.e. a sync to Training Peaks for example).  However, that hasn't quite materialized as of yet.
TomTom Training Website:
As part of the platform TomTom makes available a training log site called TomTom MySports, which allows you to see information about the activities recorded on your TomTom unit.  Like many sites in the industry, the backend is ultimately handled by MapMyFitness, and thus, one of the options you have is to link your MapMyFitness account to your TomTom unit.
For the purposes of this review though, I'll just focus on the core MySports site experience.  To begin, you'll need to get data uploaded to the site. For that, there's two options.  The first, as previously shown is to use your mobile phone.  The second, is to use the TomTom MySports Connect upload agent that can be installed on your computer.  Once you plug the unit in via USB, it'll automatically upload the workout to the MySports site: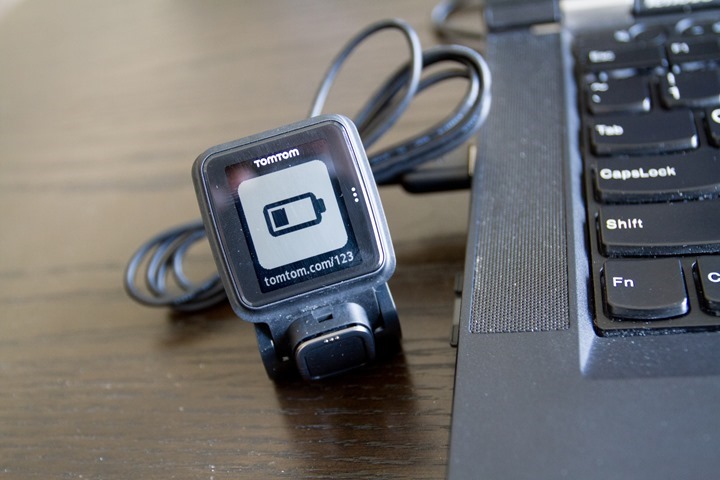 Once on the site you'll start at the dashboard.  The dashboard shows you a list of your activities, along the top, the most recent activity on the left, and then activity totals along the right.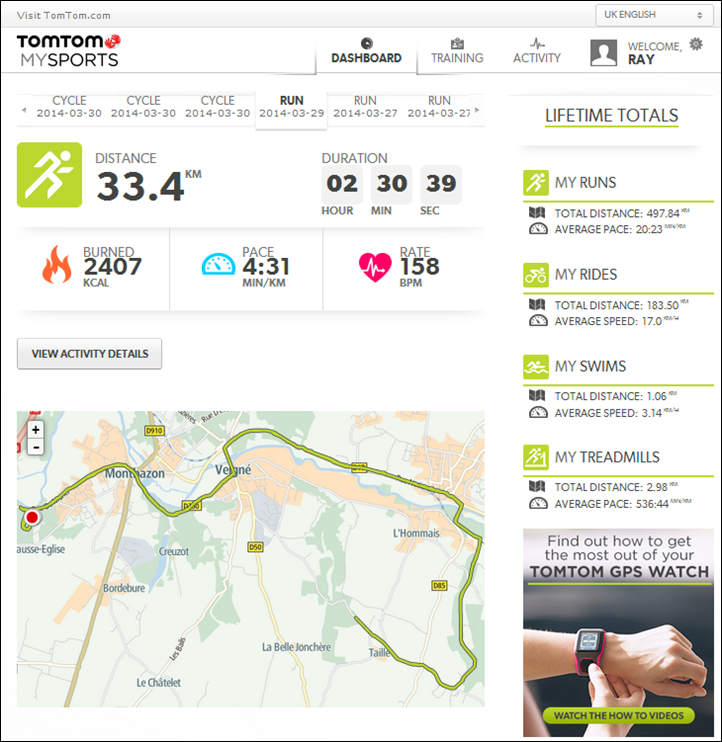 If we click on 'View Activity Details', we'll be brought to the activity detail page for that particular activity, where we can dive further into charts and graphs.
The upper half of the page shows your activity totals, such as calories, pace, time, distance and elevation gain.
Meanwhile, if you scroll down you'll get charts shown for a handful of metrics, including pace, elevation and heart rate.  While the Multisport bundle will add barometric altimeter information, all TomTom units will show elevation on the site derived from the GPS path and then calculated by servers once uploaded to TomTom's site.
You can mouse over any given spot on the chart to get the exact value for that particular point in the run: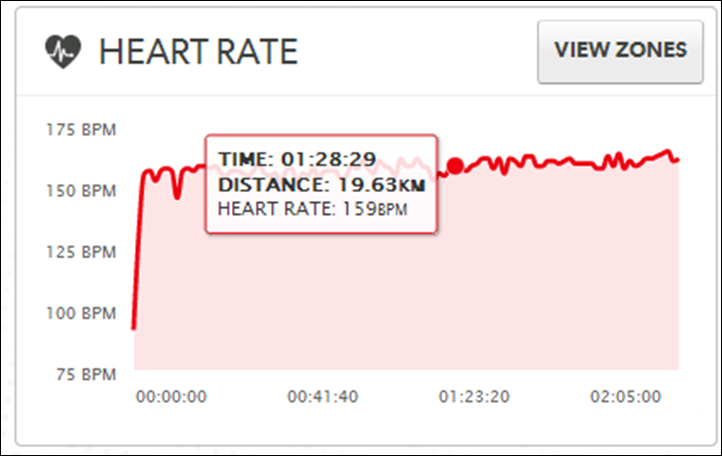 Finally, there's the option along the top to show your activity totals across a given timeframe.  In this case, I went with the month of March.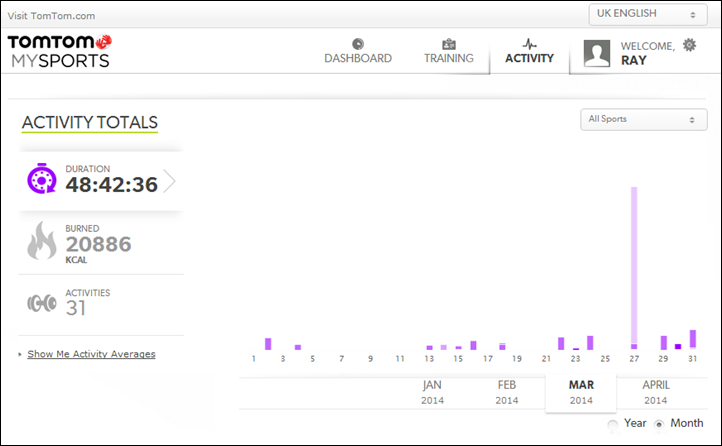 In addition to reports and graphs, you can also tweak a few settings from the site.  First up is the ability to modify your heart rate zones as shown on the unit.  You'll define a maximum heart rate, and then you can use the little sliders to change the zones.  You are unable however to change the labels.  This is kinda a bummer, because most training plans don't use those terms, but rather use terms like 'Zone 1'.  I'd really love to be able to tweak the names as well.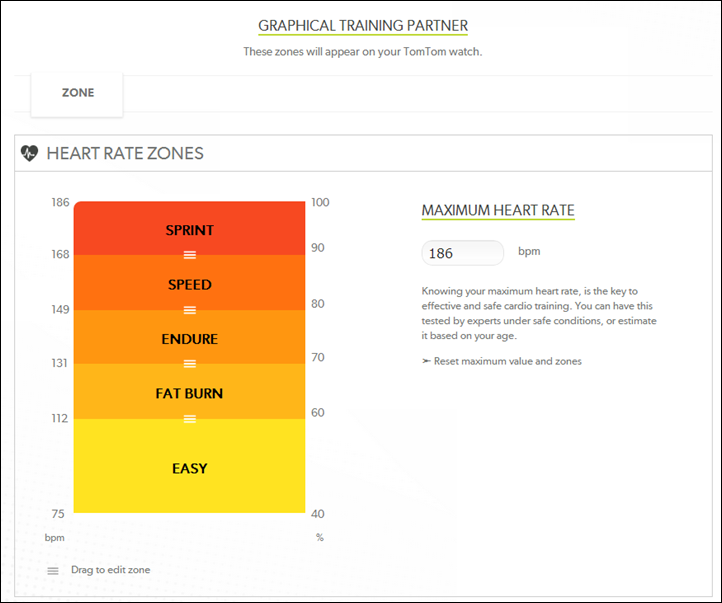 Lastly, you've got the ability to change settings within the account.  For most people here, the primary item to tweak will be the measurement units.  You can change from miles to kilometers, as well as changing the weight from kilograms to pounds.  Why my country is currently showing as 'Brazil' in the below…I have no idea.  Maybe it's telling me I should go to the beach.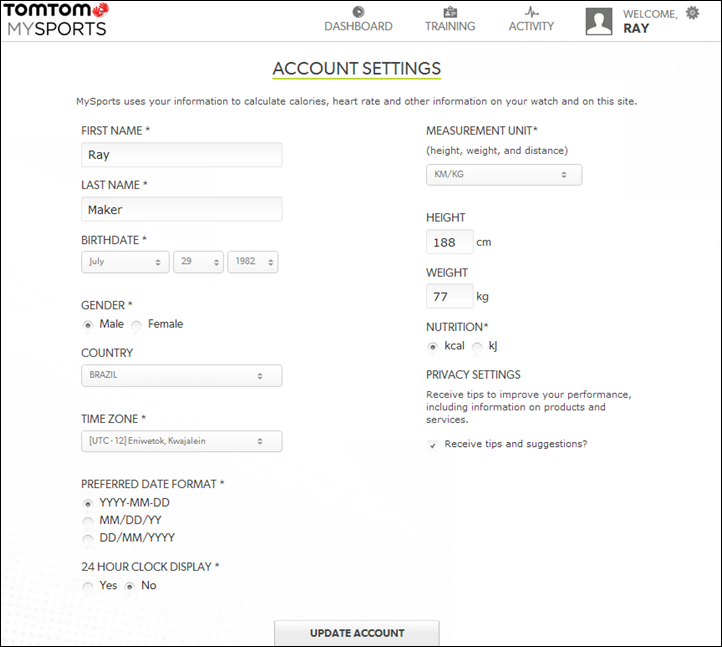 Now, while it may seem like I rushed through this section – in reality, that's all there is.  Seriously, there's no other things to show or display.  What you see above in these half a dozen screenshots is the entirety of the MySports site.  There's no ability to dive deeper intro metrics, nor any ability to display stats like laps that were recorded on the unit. And the granularity of the data leaves much to be desired, due to how smoothed it is.  Finally, you can't tweak any other settings on the unit, such as data field display options.
All of this is sorta mind-boggling, because the MapMyFitness backend allows for much more depth than the TomTom site provides.  And every other training log site on the internet provides more depth as well, many of those sites totally free.
The good news here though is that TomTom makes it easy to use all those other sites.  As part of the MySports Connect desktop upload agent, you can configure the software to export out a multitude of file types that you can easily upload to any of the major services:
I've uploaded these files to all sorts of sites from Strava, to Training Peaks, to Sport Tracks, and even Garmin Connect, with no issues at all.  Plus, all those sites offer tons more options for slicing and dicing the information.
And, starting tomorrow (April 3rd, 2014), TomTom will enable automatic sync to Strava, which means as soon as you sync your watch via either phone or desktop, the watch will send the data to Strava.  TomTom plans to enable this for other services in the coming months.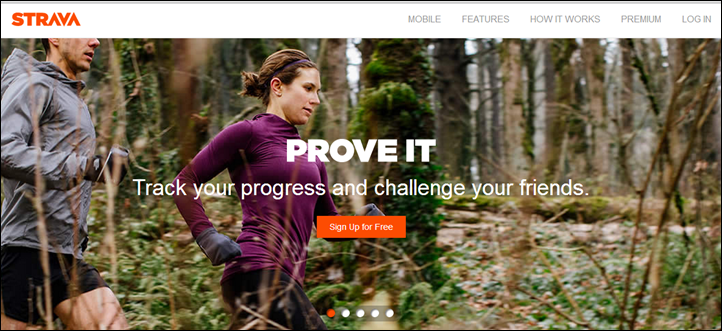 As a side note, the unit does not enumerate as a standard USB mass storage device.  Thus, in order to access the files you must install either the Windows or Mac MySports Connect software.
Bugs and Notes: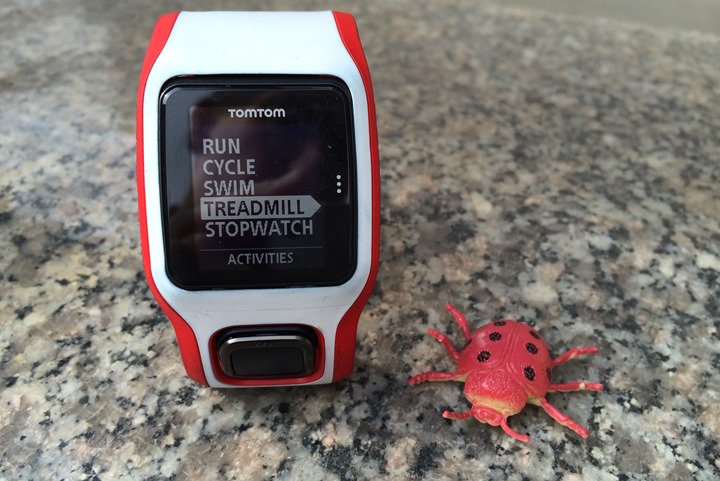 As I've been doing on all reviews over the past year or so, I've been including a section on bugs and/or issues that I've seen within my timeframe using the unit.  Do remember that  a 'bug' is different than 'by design'.  For example, the lack of a feature is something I highlight within a given section is considered 'by design', whereas something not really working right is considered a bug. In the case of the TomTom units, such bugs fall into one of two categories: The device, and the platform (uploader/site).
Device: These are items that I've seen on the device itself – outside of uploading to the web:
1) I see the GPS pace dropout occasionally on the display (it just shows a dash line). Sometimes for no particular reason, though sometimes closer to buildings (2-3 story ones).  That said, it hasn't seemed to impact distances at all.
2) I saw a single case where the unit failed to turn on the optical sensor, and appeared to have some sort of failure of the accelerometer.  As if the software had sorta crashed internally.  I only saw this once.
3) I'm not seeing accurate readings on a treadmill.  This was continued from the first generation device.
Website: These are items that are specific to the TomTom MySports website.
1) I often saw a scenario where when I plugged in the device and completed upload and the site would automatically upload, the page would fail to load any data metrics.  I'd have to refresh for a few minutes until it finally loads the metrics.  In talking with TomTom, they are working to minimize this time delay, however, it still seems kinda silly to me to have any delay at all.
As far as the rest of bug-type issues on the site, it's honestly a bit hard to find bugs.  As I discussed in a previous section about it, the site is so overwhelmingly underwhelming that to talk about specific broken things is actually really tough.  Thus, I kinda have to leave it at that.
Product Comparison Tables:
I've added both the TomTom Cardio Runner & Multisport units to the Product Comparison Tool, which means you can mix and match it against any other watch/unit that I've ever reviewed for feature comparisons.  Now, I'll save you a tiny bit of time and just point out that the TomTom Runner and Runner Cardio are identical except for the line item regarding optical HR sensor.  That's it.  Same goes for the Multisport and Multisport Cardio.
For the below, I've compared the TomTom Runner Cardio, Garmin FR220, and Suunto Ambit 2R.  However, you can easily make your own change with any device you want here at this link.
Function/Feature

TomTom Runner Cardio
TomTom Multisport Cardio
Copyright DC Rainmaker - Updated June 9th, 2016 @ 10:43 am New Window
Price
$269.00
$299
Product Announcement Date
Apr 2, 2014
APR 2, 2014
Actual Availability/Shipping Date
Mid-April 2014
Mid-April 2014
GPS Recording Functionality
Yes
Yes
Data Transfer
USB/Bluetooth Smart
USB/Bluetooth Smart
Waterproofing
ATM5 (~50m)
ATM5 (50m roughly)
Battery Life (GPS)
10hrs with GPS-on
10hrs
Recording Interval
1-second
1-second
Alerts
Audio/Visual/Vibrate
Vibrate/Sound/Visual
Backlight Greatness
Great
Great
Ability to download custom apps to unit/device
No
No
Acts as daily activity monitor (steps, etc...)
No
No

Music

TomTom Runner Cardio
TomTom Multisport Cardio
Can control phone music
No
Has music storage and playback
No

Connectivity

TomTom Runner Cardio
TomTom Multisport Cardio
Bluetooth Smart to Phone Uploading
Yes
Yes
Phone Notifications to unit (i.e. texts/calls/etc...)
No
No
Live Tracking (streaming location to website)
No
No
Emergency/SOS Message Notification (from watch to contacts)
No
No
Built-in cellular chip (no phone required)
No
No

Cycling

TomTom Runner Cardio
TomTom Multisport Cardio
Designed for cycling
No
Yes
Power Meter Capable
N/A
No
Speed/Cadence Sensor Capable
N/A
Yes
Strava segments live on device
No
No

Running

TomTom Runner Cardio
TomTom Multisport Cardio
Designed for running
Yes
Yes
Footpod Capable (For treadmills)
No, has internal accelerometer
No (Can use internal accelerometer)
Running Dynamics (vertical oscillation, ground contact time, etc...)
No
No
VO2Max Estimation
No
No
Race Predictor
No
No
Recovery Advisor
No
No
Run/Walk Mode
No
No

Swimming

TomTom Runner Cardio
TomTom Multisport Cardio
Designed for swimming
No (protected though just fine)
Yes
Openwater swimming mode
N/A
No
Lap/Indoor Distance Tracking
N/A
Yes
Record HR underwater
N/A
No (not enabled in swim mode)
Openwater Metrics (Stroke/etc.)
N/A
No
Indoor Metrics (Stroke/etc.)
N/A
Yes
Indoor Drill Mode
N/A
No
Indoor auto-pause feature
N/A
No
Change pool size
N/A
Yes
Indoor Min/Max Pool Lengths
N/A
15m-50m
Ability to customize data fields
N/A
Yes
Captures per length data - indoors
N/A
Yes
Indoor Alerts
N/A
Goals only

Triathlon

TomTom Runner Cardio
TomTom Multisport Cardio
Designed for triathlon
No
Sorta
Multisport mode
No
No

Workouts

TomTom Runner Cardio
TomTom Multisport Cardio
Create/Follow custom workouts
No
No
On-unit interval Feature
Yes
Yes
Training Calendar Functionality
No
No

Functions

TomTom Runner Cardio
TomTom Multisport Cardio
Auto Start/Stop
No
No
Virtual Partner Feature
Yes
Yes
Virtual Racer Feature
Yes
Yes
Records PR's - Personal Records (diff than history)
No
No
Tidal Tables (Tide Information)
No
No
Weather Display (live data)
No
No

Navigate

TomTom Runner Cardio
TomTom Multisport Cardio
Follow GPS Track (Courses/Waypoints)
No
No
Markers/Waypoint Direction
No
No
Routable/Visual Maps (like car GPS)
No
No
Back to start
No
No
Impromptu Round Trip Route Creation
No
No
Download courses/routes from phone to unit
No
No

Sensors

TomTom Runner Cardio
TomTom Multisport Cardio
Altimeter Type
GPS
GPS (Barometric for Performance Bundle)
Compass Type
N/A
None
Optical Heart Rate Sensor internally
Yes
Yes
Heart Rate Strap Compatible
Yes (also internal optical HR sensor)
Yes (also contains optical HR sensor)
ANT+ Heart Rate Strap Capable
No
No
ANT+ Speed/Cadence Capable
No
No
ANT+ Footpod Capable
No, has internal accelerometer
No
ANT+ Power Meter Capable
No
No
ANT+ Lighting Control
No
No
ANT+ Bike Radar Integration
No
No
ANT+ Trainer Control (FE-C)
No
No
ANT+ Remote Control
No
No
ANT+ eBike Compatibility
No
No
Shimano Di2 Shifting
No
No
Bluetooth Smart HR Strap Capable
Yes (also internal optical HR sensor)
Yes
Bluetooth Smart Speed/Cadence Capable
No
Yes
Bluetooth Smart Footpod Capable
No
No, has internal accelerometer
Bluetooth Smart Power Meter Capable
No
No
Temp Recording (internal sensor)
No
No
Temp Recording (external sensor)
No
No

Software

TomTom Runner Cardio
TomTom Multisport Cardio
PC Application
MySports Connect
MySports Connect
Web Application
TomTom MySports
TomTom MySports
Phone App
iOS/Android
iOS/Android
Ability to Export Settings
No
No

Purchase

TomTom Runner Cardio
TomTom Multisport Cardio
Amazon
Link
Link

DCRainmaker

TomTom Runner Cardio
TomTom Multisport Cardio
Review Link
Link
Link
Again, remember that you can mix and match and make your own comparison table quickly via the product comparison tool here.
Summary: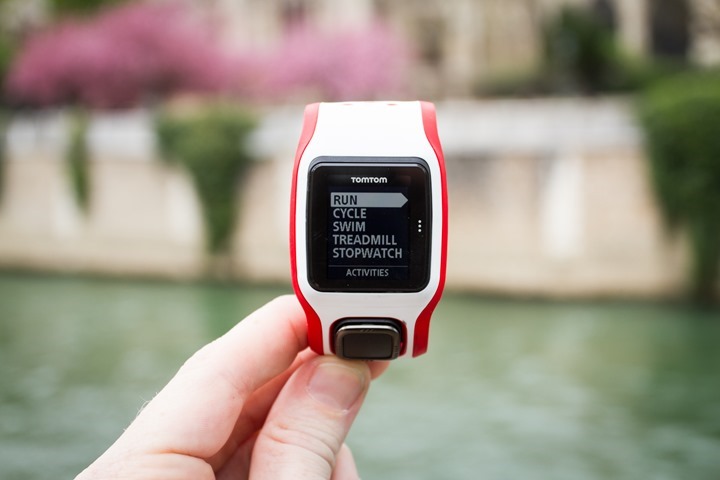 Sometimes, it's the simple things.  It's the 'just works' factor.  And in this case, the TomTom unit really delivers, especially on the heart rate monitoring side.  A little less than a year ago, when the TomTom units first came out, I felt they were a bit unpolished, and somewhat rushed to market.  Since then, the company has polished most of those edges on the device itself.  The addition of the optical sensor – and most importantly, the fact that it just works, makes this an awesome running watch.
However, while I feel that TomTom has made strides on polishing the device (except indoor running), I still feel that the website is complacent at best.  It just lacks even a fraction of what every other company in the industry is doing when it comes to web enablement.
Now they have done well with implementing the phone upload support a few months back, as well as offering what I see as the widest file format export options in the industry.  For that specifically, I give them huge credit.  And to some degree it makes up for the fact that the web site lacks, because it's so easy to use other 3rd party sites with more functionality.
Overall, I'm impressed with it.  While I'd love to see the option to enable heart rate recording while in swim mode, I think that the watch as it stands today is now definitely a contender in the mid-range running watch category.  True it lacks some of the advanced features of the Garmin FR220, but in many people's eyes, getting rid of the heart rate strap will balance that out quickly.
Found this review useful? Or just want a good deal? Here's how:
Hopefully you found this review useful. At the end of the day, I'm an athlete just like you looking for the most detail possible on a new purchase – so my review is written from the standpoint of how I used the device. The reviews generally take a lot of hours to put together, so it's a fair bit of work (and labor of love). As you probably noticed by looking below, I also take time to answer all the questions posted in the comments – and there's quite a bit of detail in there as well.
I've partnered with Clever Training to offer all DC Rainmaker readers exclusive benefits on all products purchased. You can read more about the benefits of this partnership here. You can pickup the TomTom Cardio units or accessories through Clever Training using the link below. By doing so, you not only support the site (and all the work I do here) – but you also get to enjoy the significant partnership benefits that are just for DC Rainmaker readers. And, since this item is more than $75, you get free US shipping as well.
TomTom Runner Cardio (select dropdown for color)
TomTom Multisport Cardio (select dropdown for color/performance bundle)
Additionally, you can also use Amazon to purchase the TomTom unit or accessories (though, no discount). Or, anything else you pickup on Amazon helps support the site as well (socks, laundry detergent, cowbells). If you're outside the US, I've got links to all of the major individual country Amazon stores on the sidebar towards the top.
As you've seen throughout the review there are numerous compatible accessories for both units. I've consolidated them all into the below chart, with additional information (full posts) available on some of the accessories to the far right. Also, everything here is verified by me – so if it's on the list, you'll know it'll work (note that the bike sensors only work on the Multisport unit). And as you can see, I mix and match accessories based on compatibility – so if a compatible accessory is available at a lower price below, you can grab that instead.
Thanks for reading! And as always, feel free to post comments or questions in the comments section below, I'll be happy to try and answer them as quickly as possible.