I semi-intended on writing a blog post up Friday afternoon about one thing.  And then I planned to do it Friday night.  And then Saturday I had a different one planned, and then I realized I spent every waking second of Saturday going somewhere or doing something.  So that didn't happen either.  So…instead of a really specific post about something – you get a random smattering of the last three to four days.
How to induce pain
I'll likely recycle this subtitle again for my post on Monday or so – but I took a VO2 Max test on Friday morning, this one done while running.  I've got tons of interesting data that I'll share (in the later post).  The test culminated with my coach 'finishing me off' by adding a 6% grade to the treadmill….while the pace was already at 5:40/mile.  Ummm…ouch.  Did I mention it was only 7AM when I did it?  I'm not an early bird.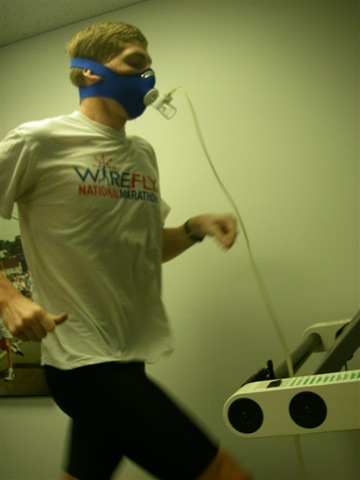 Carbo-loading for no purpose
While proper carbo loading is actually done over a longer period of time than just one night – that certainly didn't stop me from making fresh pasta.  I had a friend from out of town here for a few days.  We would cook some cool dinners when she lived here (before she moved to Germany and then San Fran back a few years ago), so spent some time and put together a fun semi-Italian dinner (but easy to make).
Appetizer: Bruchetta…yes, I've made this before – but it's so quick and simple.

Salad: Baby Spinach with Peaches and Walnuts, tossed with a balsamic dressing

Main: Fresh home made pasta (yes, really, we made it) and an Alfredo sauce with peas, onions, mushrooms (oysters/cremini) and some ground up Italian sausage.  We decided on a slightly wider noodle, which helps to hold the sauce/stuff better

Dessert: I had planned to make chocolate volcano cakes…but then we both got lazy (the whole wine bottle plus some port didn't help either), so we just had ice cream.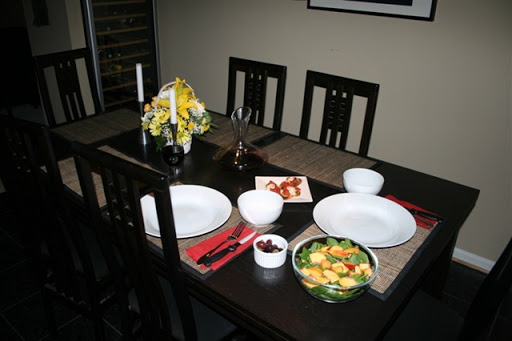 (The table awaits…)

(I need more burners! Fresh pasta being made to the right.)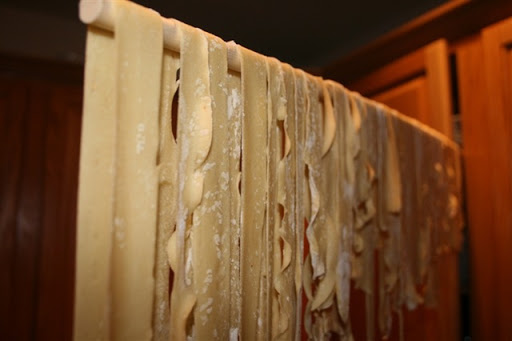 (If you make fresh pasta – you're often left trying to figure out where to hang it temporarily, I use 50 cent dowels from Home Depot, and then just wedge them in my high up cabinets)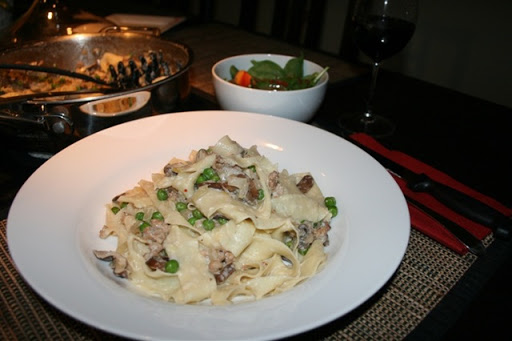 (Final resultant, Alfredo-based pastas are often hard to take photos of)
Less Pain
By comparison, Saturday's workouts were 'easy' compared to Friday's test. The short version is:
8:00AM – Run starting at Roosevelt Island and going to Bethesda and back along the Capitol Crescent Trail.  Total 17.4 miles in a few minutes over 2 hours.

11:00AM – After a quick drive home, hopped on the trainer for an hour of low-cadence and low heart rate action

3:00PM – 3,000 yards in the pool, one kid bulldozed during a sprint set
Not much pain
After lounging in bed for hours doing nothing…I finally got my ass up and headed out.  I had a three hour ride scheduled, just keeping it in Z2.  I started through some quiet sections of Alexandria, before catching Four Mile Run to the Mt. Vernon trail (which is generally acceptable mid-afternoon on non-summer Sundays).  From there I crossed over the Key Bridge and up the CCT (just like yesterday).  Coming back down is always fun with 6 miles of slightly downhill and then cruised  over to Haines point for a few laps before heading back home.  The Cherry blossoms are just barely starting to bloom, with a couple of random ones going early.  I was hoping they'd be a bit later this year since I'm out next weekend.  Maybe tomorrow's rain/snow (yes, seriously) will slow things down a touch.  Here's a couple of shots from today's ride.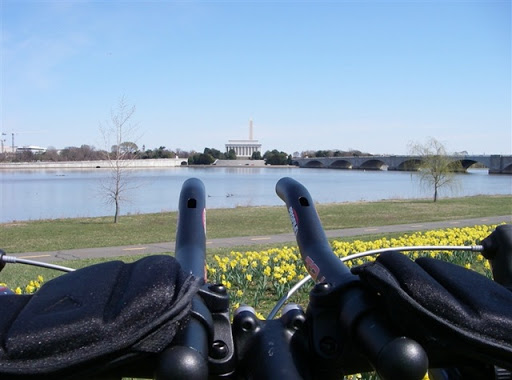 (On the Mt. Vernon Trail with some flowers blooming and Lincoln Memorial in the background)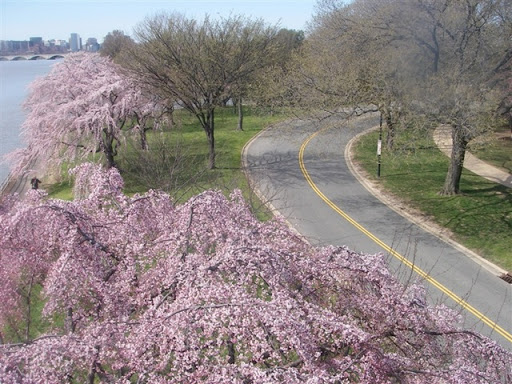 (A couple of early-blooming cherry trees, at the start to Haines Point from the bridge)
Oh…as I was finishing up my ride – I passed a cyclist chick who was wearing bunny rabbit ears.  Really big pink ones sticking up out of the helmet.  Nice touch for Easter.
The week ahead:
And now we begin what will be a water slide of a week.  Busy busy busy.  All culminating in a flight out Thursday evening to San Diego for Oceanside 70.3 on Saturday.  Friday should be fun – just wandering around, doing little bits of nothing – and having the day off.  Have a good week (and Happy Easter if you celebrate it!).