A few weeks back Canadian* blogger Bruno from 70.3Challenge e-mailed me to let me know he's going to be in town.  I immediately jumped at the opportunity to take an 'out of towner' on a whirlwind tour of the city.  But not with a car…nope – on foot, and running at that!  This would be my third blog world meet up (I, II).
*This is officially my favorite song about Canada ever, and Robin Williams performance that year was amazingly memorable.
I often run a variant of this DC tour on the weekends by myself (or with a group of friends).  And when relatives are in town, I do the same thing late at night (9-10PM) when all of the monuments are lit up (but usually via car).  Sometime I'll go out at night and take photos of them all.  I've got some really nice ones I like that I took a few years back, but I want to refresh them.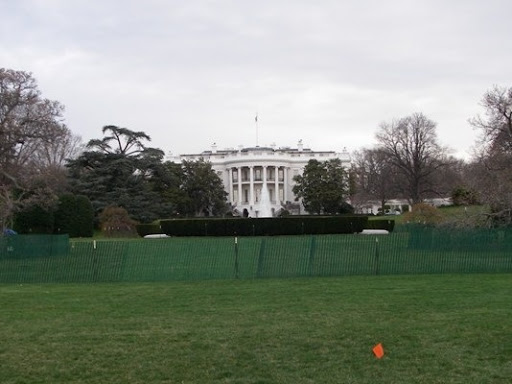 I met up with Bruno in front of the White House after work yesterday.  From there we made a big circle around the mall through and to all of the major monuments.  It wasn't a continuous run, we stopped at some of the monuments and took some photos as well.  If only he was here two weeks later DC would be in brilliant bloom with Cherry Blossoms…but, alas – we got sprinkled on instead.  En route tonight was (in order of appearance):
White House

Constitution Gardens (ponds near reflecting pool)

Vietnam Memorial

Lincoln Memorial

Korean War Memorial

Potomac river water front

FDR Memorial

Inner Tidal Basin

Jefferson Memorial

Past Bureau of Engraving and Printing & Holocaust Memorial

Onto the mall and down in front of all of the Smithsonian's

Past the planets in front of the Smith's

Past the Botanic Gardens

U.S. Capitol

Past the National History Museum

Up to the Washington Monument, and around it

Down to the World War II Memorial

And finally…back over to the White House
For the more visual learners in the group: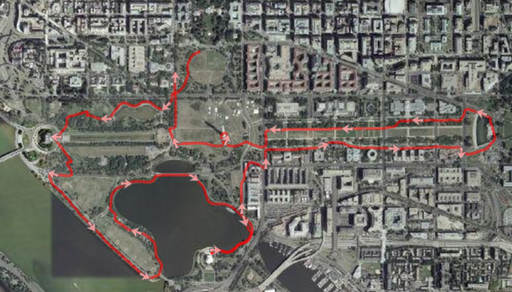 Bruno's a pretty cool guy – he's got his first 70.3 later this year that he'll be kicking ass on.  He's definitely more than on track for that.  Plus, he's got some pretty cool posts on this blog that are really informative.  Check him out!
Here's a couple of photos I took along the way: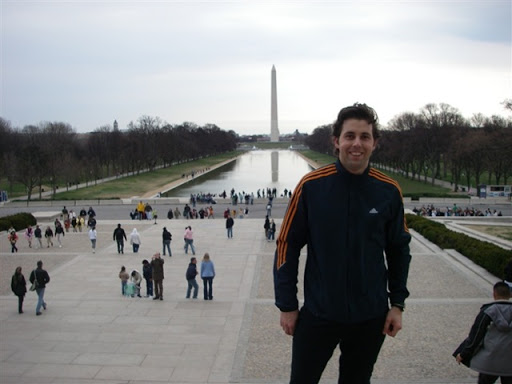 (Bruno at the Lincoln Memorial, with the reflecting pool and Washington Monument behind him)
(The first inklings of the Cherry Blossoms to the left, with a shot across the tidal basin)
(At the end of the 7 mile run – near the reflecting pool)
Thanks Bruno for going out for the run!  I had a great time.
If anyone else plans to be in DC and wants to meet up – just let me know and I'd be happy to catch up, or take you on a tour!