It wasn't actually the time zone shift with the trip that hosed things up for me.  But rather, the work hours in the week leading up to the trip, and then the work hours post trip.  This gummy bear was simply not designed to be up at 6AM working out and then doing it again 14 hours later in the evening day after day with 6 hours of sleep.
Thus, by time Friday afternoon came around I was carrying a pretty sweet 101.8*F fever and still starring down two workouts to go – a 3-4K swim and a 62 minute moderate intensity trainer ride.  A quick check of my resting heart rate (an good indicator of how the body is fairing) showed I was over 20 bpm higher than my baseline of 44ish bpm.  I shot off the stats to the coach and took a 90 minute nap in hopes things would improve.
However, post nap the story was the same and the coach had called and canned the rest of the day's workouts (I didn't argue since I'd clearly once before found out the impacts of being sick on quality workouts).  I was to report temp and RHR again in the morning.  With 10+ hours of sleep in the coffer, things improved quite a bit, but I was still lagging in the exhaustion department.  Even before I gave him the numbers he had already canned my high intensity track workout for the day as well as my two hour ride on Sunday.  Instead the track workout was replaced with an easy 30 minute ride to keep the legs loosened up.
And by easy, we're talking simple spin style.  Not even on my road bike, but rather the trusty mountain bike and bumbling along at speeds that I can run faster than.  Just like a post-long-run ride.
That brings me to today's run (instead of a 2hr Z2 bike).  He had me do a 40 minute Z2 run, but to err on the side of easy.  The first two minutes were pretty much a disaster.  My HR skyrocketed, and my pace slackened.  But, within about 2-3 more minutes my body readjusted to this whole workout concept and was back in action.  By the 5 minute marker I was actually maintaining a very nice Z2 pace that was clearly showing signs of a taper.  Sweet!

Not so sweet was becoming one with nature not once, not twice, but three times on this short 40 minute run.  Seriously.  All I ate was cereal and a smoothie.  It's not like I had a bowl of curry and pepperoni for breakfast!  Oh, and this is NOT the right time of year for soft fuzzy maple tree leafs on the branches.  Nonetheless, I am resourceful…
Anyway…
Lest you think that I've forgotten to cook…last night the girl and I made Baby Portabella Mushroom Ravioli's from scratch for dinner.  I also made a meat sauce from scratch late afternoon and let it slowly simmer for about 4 hours.  It  was pretty kickass.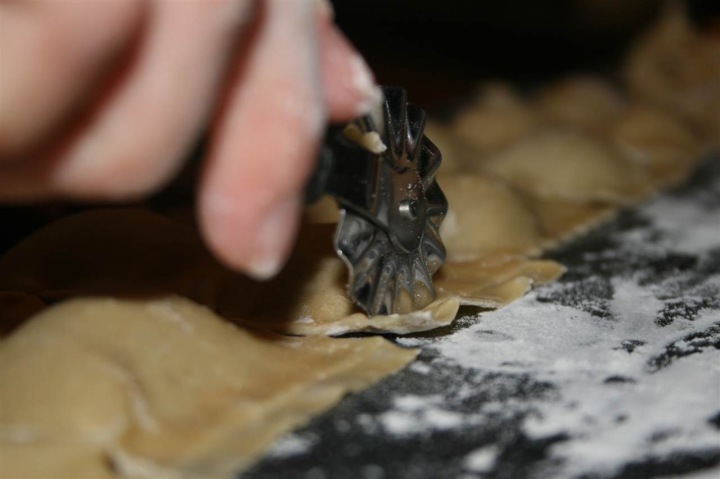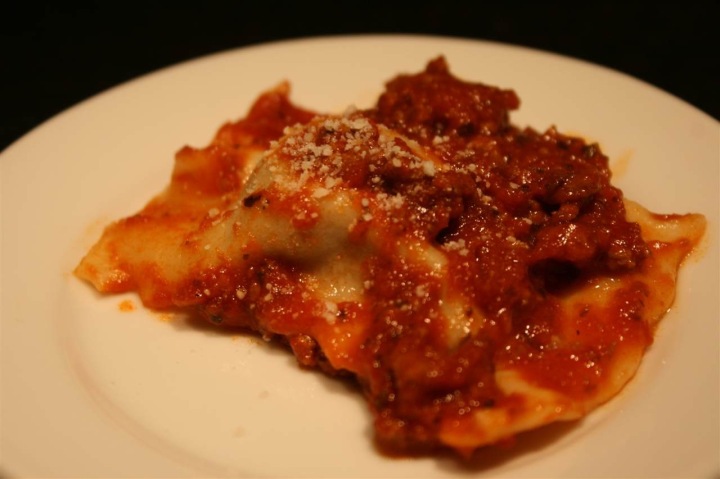 The week ahead should be a blast workout wise.  The coach approved my latest HR, sleep, and temperature numbers and I'm all clear for the week.  Given the National Half-Marathon on Saturday, it's a fun taper week of fast and short but semi-intense workouts.  I'll have all the deets on that tomorrow sometime and give the full rundown of the week's training plan.
Oh, one last item – I need to borrow a bike case for the girl for an upcoming triathlon on the weekend of April 11th (we're both racing, otherwise she'd just use my case).  Anyone in the DC area have one I could borrow for that weekend?  I'll make ya cupcakes!  Thanks!