Well no, actually, she didn't.  She didn't mention anything about these days.  This was definitely not on the talking points list anywhere in my childhood.
After 4.5 hours of sleep after working past midnight, it was up at 5:50AM to get to the pool and be footwet the moment the lifeguards blew the whistle allowing folks into the water.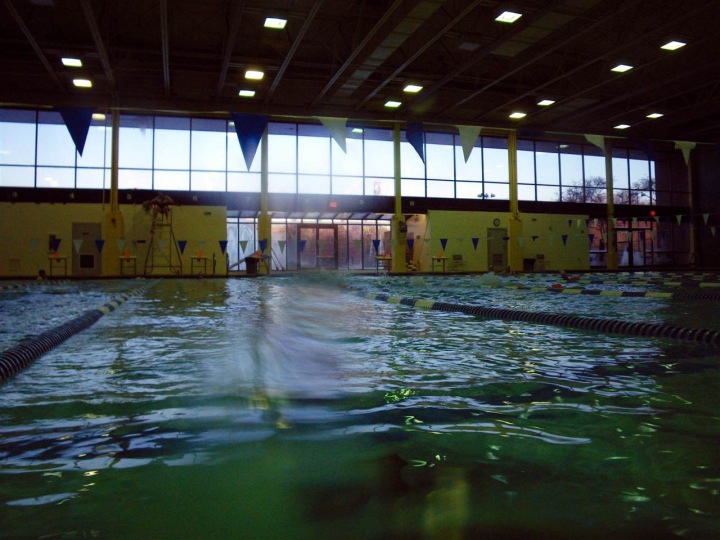 (No camera one-shot work is good between sets at 6:45AM)
The good news is that it was a fairly routine 3,400 yard set.  And with some masters club fast lane next door to mine, it kept things at a solid clip.  I enjoy faster swimmers in the lanes next to mine.  But really, you can pace off of any speed swimmer if you just make little games of it.  I often try and reduce the equidistant lane-lines from the wall during each lap.  So for example, if I pass them at +3 lines to the wall, next time I'll try and get to +1 line to the wall.  Anyway…  An hour later it was quickly out of the pool and into the car and off to 12 hours worth of work meetings.
Yes.12.hours.of..meeting.stuff. (Read: athletic scheduling nightmare)
Which also happened to include a team dinner at Maggiano's (chain Italian place where you eat a lot of food).  The trick to that though was eating enough food to fuel me for my next workout less than an hour later, but not too much food (damn you Cheesecake!  Thrice!) that I'd be pasta (and Cheesecake) tossing mid-workout induced via a 175bpm heart rate.
Out of the two weekly workouts I dislike the most each week, tonight takes the cake for the most hate (last night was the messy running treadmill one – almost 11 miles of treadmill hill hell – see Tuesday here for deets).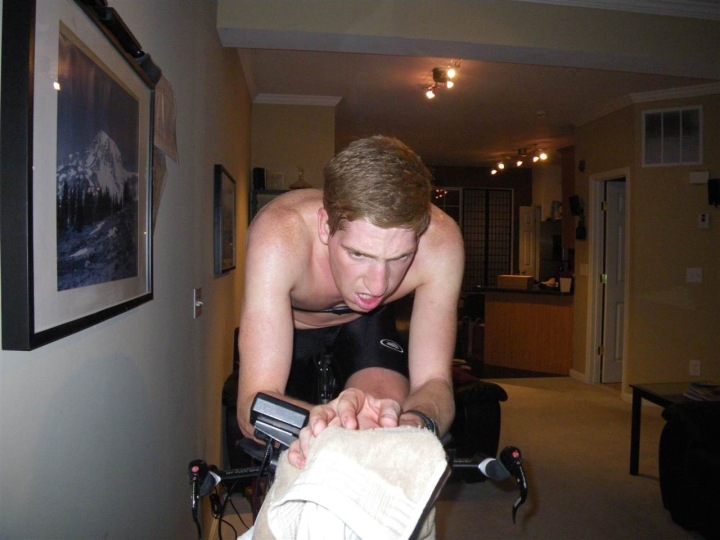 (The last push on the last set.  Btw, leaving your camera on interval mode you get some randomly interesting shots.  I didn't even know my camera had an interval mode.)
To my surprise (given the day and the time now at 9PM), I actually held fairly descent wattages with 5 sets by five minutes at 320w per set after an initial 31 minute build set up to that wattage.  It's the last 7-8 minutes of that initial buildup that you realize how much suckage the next 40 minutes will be.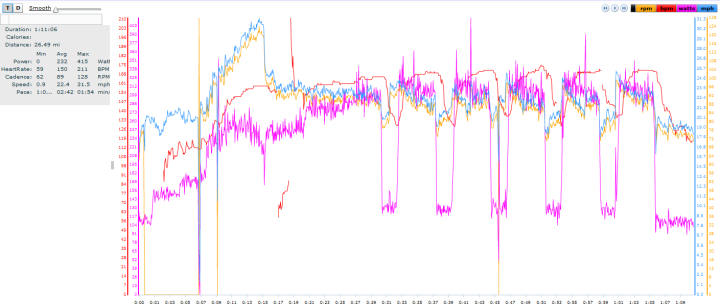 (My HRM strap was rather ADHD tonight and kept on dropping out randomly)
This wattage trending continues to show rather even progress over the past two months with the bike.  And looking back at my peak fitness last summer pre-Ironman I'm already above those wattages.  So I'm happy with it, and even more happy when I stepped (err..stumbled) off the trainer just after 10:10PM.
Now, only 5 hours and 7 minutes until it begins again.  Tomorrow includes a sweet 12×800 track workout.  Although those ones are a piece of cheesecake compared to the Tuesday/Wednesday treadmill & trainer workouts…