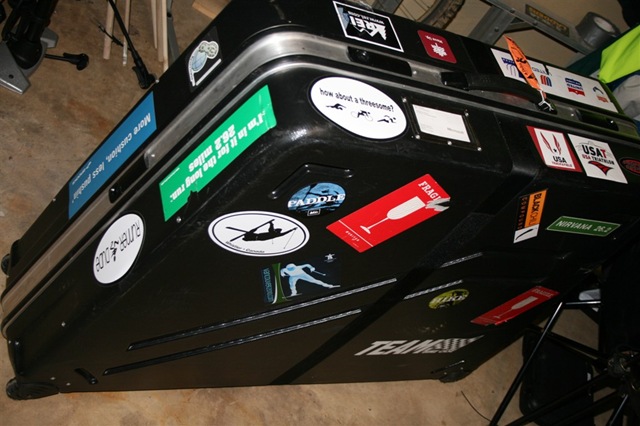 Back a month ago Jade Lady commented that I seem to have 'rules' for everything. That's not entirely true. I only have rules for everything that should have rules. As Calyx pointed out – logical things: Like Sticker Accumulation, Cowbell Ringing and even commenting of blog posts.
"Rules for sticker stickin'? I can' wait for you to unveil that! Come on – publish that draft post!

Posted by Jade Lady to DC Rainmaker at May 22, 2008 2:24 PM"
So without further blabbering, I present thy rules:
I must get the sticker in person. This can either be done at an expo, event or on location. It's acceptable to use the sticker if mailed to me where I am clearly the recipient and there is a

reason it's being mailed

to me. Also, stickers included in products that I buy (such as wheels/bikes) are completely acceptable. Buying a sticker off of eBay would be a massive no-no.

(Wildflower Expo – Sticker Haven!)


There must be some correlation to ME with the sticker. I must have either completed the event, been to the location, or have some relationship to the sticker. In other words, I can't go off putting a sticker for a ski resort I haven't skied at on my case if I haven't skied there. That's like

wearing a race shirt that you didn't race

.

(Great sticker slogan…never skied there – no go, into the pile of unused stickers)


If all else fails – the sticker must serve a purpose. For example, the below United Airlines sticker has two purposes. One – I fly a CRAPLOAD on them (100,000+ miles a year), so it's semi-meaningful to me. More importantly though, that sticker (or my charming personality) has managed to get me charged the bike case fee only 50% of the time. Boo-yeah!

(A United historical logo sticker I got at their company store on a tour a few years back)
As for sticker placement – it's wherever it fits! And here's the pile of 'rejected' stickers (duplicates, dumb, not stickers, but window thingies, etc):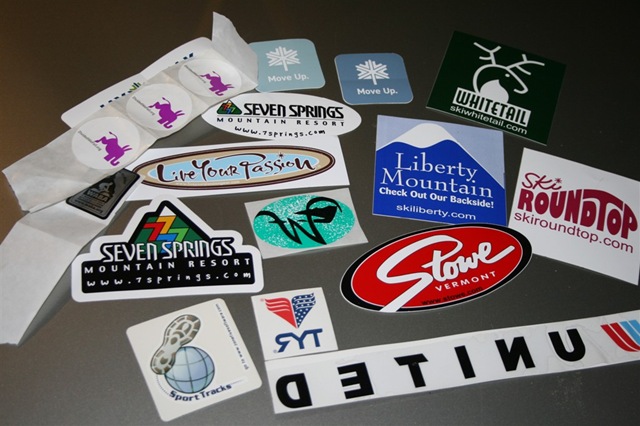 Ancillary Notes Section:
Yes, it's been some 4-5 days since I last blogged. Since my

little incident

, I had a bunch of draft posts that were lost and that bummed me out. I got the recovered disk back yesterday, but some of those posts were corrupted. Double-bummer.

A fellow

blogger

and triathlete needs our help! Steve is attempting two Ironmans in one week later this summer. As part of that effort he is raising money for the Aplastic Anemia Foundation. You see, Steve's wife was diagnosed with Aplastic Anemia, an incurable and deadly bone marrow disease. Go check out his blog, his training – and then donate a few bucks. If everyone who reads my blog donated just $10 – it would make a HUGE difference.

Gotta run…no…literally – I gotta go run!