Tis the story of my day.  For some reason, I rarely think through how it will all fit together – until after I do it.  I just simply take one item at a time and then deal with the next once I get to it.  Thus it wasn't until after taking a shower at the end of the day that I  realized what my day ended up looking like.  Many transitions (T's).
8:30AM: Bike, T1, Work
Up and out we go, off to work.  I had brought my car in for service the night before to the dealership.  The dealership is located 3 miles by car my house…or one mile by bike on a bike/running trail.  Go figure.  I don't enjoy biking to work – but I do enjoy biking home from work.  I think it's the stress of trying to get to work, taking a shower, etc… that I don't enjoy.  The bike ride to work only takes about 18-20 minutes on a road bike (by car, about 10-12) – about 5.4 miles.  But because I was too lazy to remove my road bike from the trainer – I decided to take my trusty mountain bike…pictured below.  Yes…the one from middle school.  In some ways it helped to make the ride more fun.  I could bumble along wherever I wanted not having to worry about pokey or sketchy things.  Sidewalks, roads, trails, mud – all within my domain.  The downside is that with the beast weighing in close to 40 pounds it's not exactly a fast moving mode of transportation.
After getting to work, a quick shower and then a oddly busy whirlwind of a day, I didn't get to eat lunch until 2:30PM.  Grrr…
5:03PM: T2, Bike
Some $600 in unneeded & uncritical repairs later my car was ready for pickup.  So I biked from work to pick it up, another five or so miles.  I took a different route that more efficiently went to the dealership.  This is where the pros of a mountain bike came in handy.  Cause really – I couldn't have done the below section on my road bike successfully.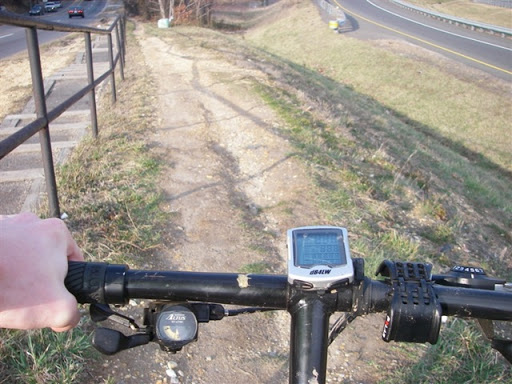 5:53PM: T3, Bike Again
Back home on the trainer into actual cycling gear.  Time to begin my first workout as prescribed to me by the new coach.  About an hours worth of variety on the trainer.  Everything from one-legged drills to high cadence to low cadence high wattage stuff.  It actually made it fun, the variety.  Tiring…but fun.
6:53PM: T4
In what could only rival my best transition times I managed to change from cycling to running stuff in a matter of 60 seconds…ahh…the benefits of not sharing a house with anyone.  Then it was off for a quick couple minute drive to the Old Town Pacers Location for the Tues/Thurs fun runs.
7:05PM: Run
Off we go.  A fairly big group tonight, now that it's slightly light out and the weather is nice.  Maybe 25 or so folks.  My coaches instructions for the second prescribed workout of the day was to keep my heart rate within Zone 2 and run whatever pace that meant for 40 minutes.  So I did.  Averaged a 161HR (smack in the middle of my Zone 2), which resulted in a 6:50 pace.
8:00PM: Jump, T5
Drove home, time to complete the last prescribed item of the night.  Jumping.  Yes…Jumping.  Up and down in place, at 180 bounces per minute for a number of sequential sets.
Best of all though was that on the short drive after picking up my car I saw the Brickman truck again!  Woot!  Since I happen to have my little camera handy from my bike ride, I quickly snapped a photo….ahh…my day was complete!