Last summer I did my first triathlon. This was before my blogging days. I originally wrote up this race report for a triathlon distribution group/list within my company, as is customary after a race. I realized I had never posted it here – so I figured I'd toss it out there for fun. Boy has a lot changed in 8 or so months. Here's the original post, unedited.
———
(Written July 15th, 2007)
Background:
I decided back in April to try out this whole tri thing. I had been running a fair bit throughout the winter (30-35 miles per week) after running the Marine Corps Marathon last fall, so it was really a matter of focusing on the swimming and cycling. The only catch being the only 'swimming' I'd done was recreational (i.e. floating on a inflatable pool toy). And cycling…maybe once a year on an old rickety mountain bike. That said, I set my sights on a fall half-ironman (shoot high, right?). I figured if I could survive the swim, I figured I could finish the bike, at which point I knew I'd be fine on the run (I run a 10-14 mile runs most weekends). I followed a training plan and went from not being able to swim 25 yards across the pool without nearly drowning, to being able to do 2,500 yards in the pool without issue.
So, armed with all that, the training plan had me doing a Sprint Tri around now, and an olympic in August – leading to the HIM in September. The Seafair Tri was a good fit – and I'm always up for an excuse to get back to Seattle (I live in DC, but used to live in Seattle).
251. Rainmaker 24 M 1:20:05 11 0:16:08 401 2:29 0:38:55 512 1:29 405 0:21:04 94 Alexandria, VA
The Swim:
So, I wasn't sure what exactly to expect, I'd only done a few open water swims – all in the last week. The nearest place I can swim open water around me is 1.5 hours away. My goal time was between 16-18 minutes, but I knew if I got into a groove I could probably get cooking. I started off in the middle of the pack and quickly got to the right hand side of the pack per others suggestions about getting out of the way. That worked fairly well and I avoided any limbs to the face. The first hundred yards or so I never really got into any sort of freestyle pattern, it seemed like I could only get in one stroke before needing to breathe again (I normally bilaterally breathe every 3 strokes). No matter how hard I tried I just couldn't get my breathing calmed down enough to get into a good pattern. This isn't to say I wasn't keeping pace, I was doing a darn effective job doing whatever forward moving thing my legs and arms were doing. It really wasn't until the final turn on the triangle (last ¼ or so) that I got into any form of rhythm.
Clearly I need to improve my open water swim. I think one thing that would have helped would have been a brief warm up swim a few mins prior to the start – more just to calm breathing/nerves. I was happy that my ability to swim in a straight line was fairly solid (while in that last portion where I was actually doing freestyle). But the fact that I couldn't get into a freestyle swim for 75% of it was a Debbie Downer.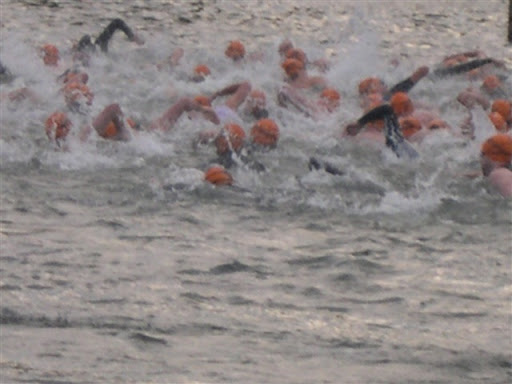 T1:
I was fairly satisfied with my T1 given I'd never done a transition before. I had a separate cycling shirt that I put on after the swim, clearly I could gain a few seconds by just doing a tri-top under the wetsuit. I got the wetsuit top mostly off during the short run from the beach to the bike, and finished the rest at my bike. I didn't put my gloves on until about half a mile into the bike, which saved some time as well – but that wasn't as refined as it could be.
The Bike:
I got up and cruising without any issue. Nothing of real note until the hill getting up to I-90. I was somewhat bummed that I got stuck behind a slew of folks that I couldn't get pass due to blockage. I train on hills and my MPH went down to a painful 4mph up the hill (according to Mr. Garmin) due to the blockage. I figured I lost at least 30 seconds there stuck in the queue. Once I got on the bridge I was keeping a fairly constant rate. I didn't bring my normal bike out from DC, and instead purchased a cheaper $450 Fuji bike back a few weeks ago to keep in Seattle since I'm out so often. I could clearly tell the difference out on the open bridge between my normal bike and the cheaper bike in terms of how clean/fluid everything felt. That said, it was awesome passing people with very expensive bikes on my cheap one. J
As I was getting close to the end of the flat portion of the bridge (heading East) I started noticing a weird clunk/clanking sound and while riding tried to figure out what it was. I discovered that my small bike pump had expanded and was dragging on the front gears. No big deal I figured, just grab it and clip it back together – problem solved. So I grabbed it, and it fell apart in two – depositing behind me at 20mph on the bridge. Crap would be an understatement. I quickly pulled over, ran back, grabbed the pump pieces and then continued cycling and put it back together while heading up the hill. Got it all secured to the bike and then noticed that my timing chip band was ripped and starting to fall apart. No biggie, just go ahead and stuff it deep into my socks and it'll be all good. As I reach down, the chip and band go flying (again, depositing behind me on the bridge). Double-crap. Rinse & repeat run, pickup and remount procedure. Total time lost: 1:18 (according to Mr. Garmin's "stopped time"). The rest of the bike was just fine, it was merely a matter of re-passing as many people as I possibly could. Total was 38:55 for the bike.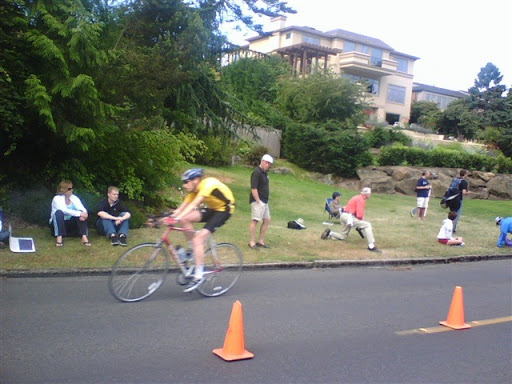 T2:
Swapped shoes, took off helmet and then subsequently broke the frame apart on my sunglasses. I decided to take them with me on the run out of the transition figuring I could fix them. Got them fixed before I got to the end of T2. I seriously need to stop having stuff break/fall apart on me.
The Run:
No part of my tri was complete without having to backtrack for anything. About 200 yards out of the transition area I noticed I had left a uneaten Clif Bar in my cycling Jersey (my intent was to practice forcing myself to eat on the bike). As I started running, it was bouncing around driving me crazy. I saw a small course cart coming towards me and figured I'd just toss it in the back instead of littering. Well, my aim was less than stellar. Lost about 8 seconds to backtracking and picking it up from the ground.
I started off at about a 7 min pace, somewhat conservative for me. I didn't want to start off too fast, and knew I could easily turn it up as I go. I slowly increased my pace, until I found the hill. That was fun – no seriously – I loved the hill, I screamed up it. And then screamed back down it. By time I got off the hill my pace was in the low 6's, I then decided to just let it hang. Got it down sub-6 minute pace (5:28/mile) for the remainder of the race. Ended up with a 21:04 pace, or 6:48 per mile. Good, but certainly higher than I could have done for that distance – now that I know the course I know I could get it down closer to 6:10-6:20 miles (the hill being the only wrench). Next time I need to be less conservative on the run for that distance and just fly.
In summary
As Erik [coworker] just posted in his report – the sprint tri is indeed playground crack. It was a blast and so much fun. I'm really looking forward to the Olympic one I'm doing in August (and the HIM in September). I know that I need to get out into OW more. I'm not concerned about the OW swim distance, just getting into the groove. The bike continues to be a weak spot for me, but I think time will improve that situation. Overall I finished 11th in my age group (out of 37), although I was one second behind 10th place. Overall – I had a great time, really looking forward to doing it again!
-Rainmaker