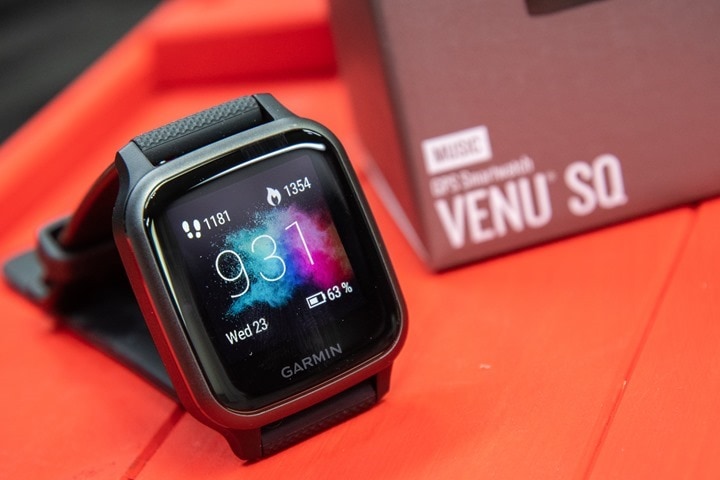 Roughly a year after Garmin introduced their first AMOLED display unit, the Garmin Venu, the company is back at it with a stripped-down rectangular version – the Venu SQ. This less expensive variant still packs the vast majority of the features of the higher-end Venu, while finding itself back nearer the original roots of the Garmin Vivo-series lineup in terms of its rectangular design. And yes, it looks a little bit like an Apple Watch.
But first, the most important piece: How to pronounce it.
I asked. And the answer is officially by pronouncing both SQ letters individually – S….Q. Not square, nor squared, nor squiggle face, or anything else. Which, means I'll definitely call it something else.
Unlike virtually every other watch Garmin has released lately, this one actually doesn't pack any new or unique features that aren't already in the Garmin stable. Instead, it's simply taking the vast majority of the Venu features and putting them into a lower price point watch, $199 for the Venu SQ, and $249 for the music-enabled edition. Super simple.
Now, if you want a side by side comparison of the Venu & Venu SQ, then look no further than the following video:
With that, I've been quietly using this watch alongside many other new wearables lately – including the Apple Watch SE, Fitbit Sense, Apple Watch Series 6, and others. Once I'm done with this media loaner I'll send it back to Garmin and go pick up my own unit via normal retail channels. If you found this review useful, simply hit up the links at the end of the post. Or, consider joining to become a DCR Supporter, which makes you extra awesome.
With that, let's get into it.
What's Different: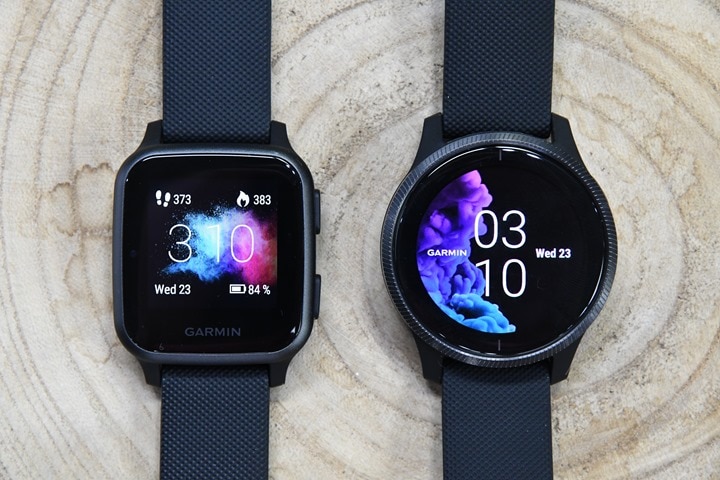 So rather than a 'What's new' section, let's talk about how it differs from the original Venu. Keeping in mind that the original Venu and Vivoactive 4 are incredibly similar, with the main difference being the display (Venu has AMOLED, Vivoactive doesn't), so when mentally considering those watches, you'll want to determine what type of display/battery life you want first.
In any case, let's dive into the differences (and similarities) between the bigger Venu and the smaller Venu SQ.
– Changed from circle-design to rectangular watch
– AMOLED Screen size was 1.2" diameter on Venu, now it's 1.3" Color LCD screen on Venu SQ (diagonal)
– Both are Corning Gorilla Glass touchscreen displays
– Venu SQ GPS battery life is 14 hours, versus 20 hours for the full Venu
– Standby battery life is 6 days for both
– Both have ~3.4GB of usable music storage (Venu SQ Music Edition only)
– Both have two physical buttons on the right side
– Removed barometric altimeter in Venu SQ (GPS altimeter used instead)
– Removed floor/stairs tracking (depends on altimeter), and ascent/descent tracking in workouts
– Removed gyro sensors in Venu SQ
– Removed workout animations (namely for Yoga/Strength/Cardio/Pilates)
– Removed Live Watch faces (those were the fancy ones, regular watch faces and Connect IQ watch faces still there)
As far as all the major features that are still there (which is literally everything else):
– Optical HR sensor with PulseOx (SpO2 tracking)
– GPS with GLONASS & Galileo options for workout tracking
– Downloadable structured workout support
– Music storage and streaming with Spotify/Deezer (music edition only)
– Contactless Payments with Garmin Pay
– Respiration rate, 24×7 HR, stress tracking, body battery
– Sleep tracking, step/activity tracking, nacho cheese usage tracking
– Female menstrual cycle tracking
– Connecting to ANT+ & Bluetooth Smart sensors
– LiveTrack for workouts & safety alerts for day to day usage
And of course, a gazillion other features I'm not thinking of. But I figured I'd mention those core ones above, since that establishes a bit of a baseline for those that might be new to the Garmin ecosystem.
Also, it's worth noting that we have routinely seen the full-sized Venu at $299 (and occasionally below) over the last 6-9 months. As such, the jump up to $299 from $249 isn't massive if you're looking for those extra items.
Now, let's get it unboxed.
Unboxing: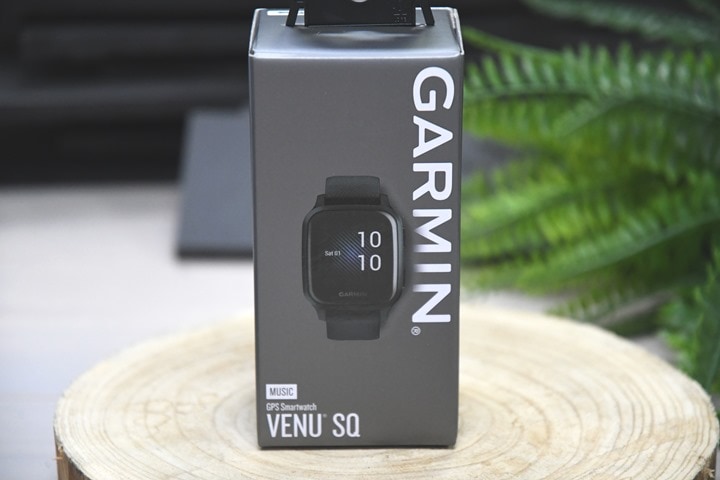 The Venu SQ comes in the same looking box as basically every other Garmin device made in the last…many years. Except the MARQ series of course, because that costs $2,000. Gotta have standards I guess.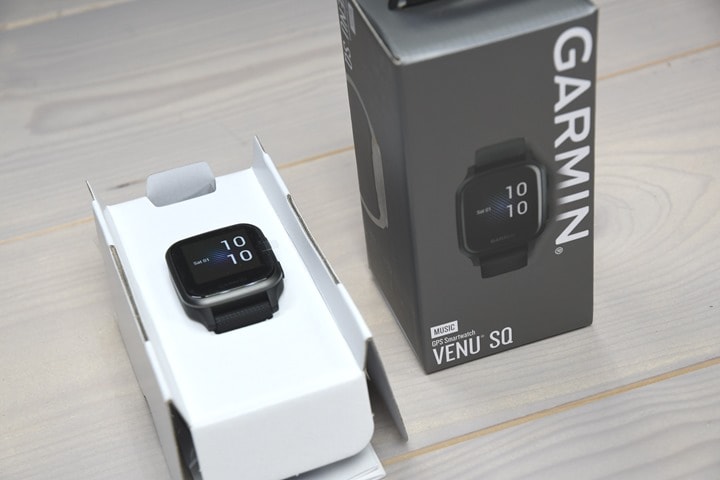 There's not much inside, just the USB charging cable with the standard Garmin wearable connector used on most things the last few years, as well as the watch itself. And a small pile of paper you'll never read.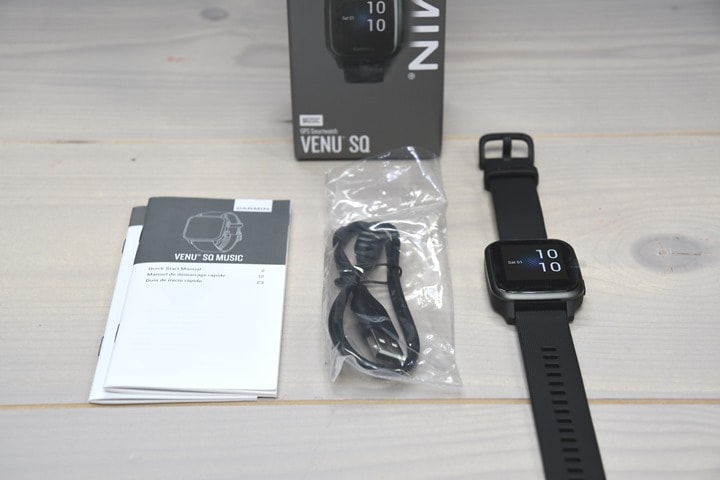 See, a closer look at that pile of paper: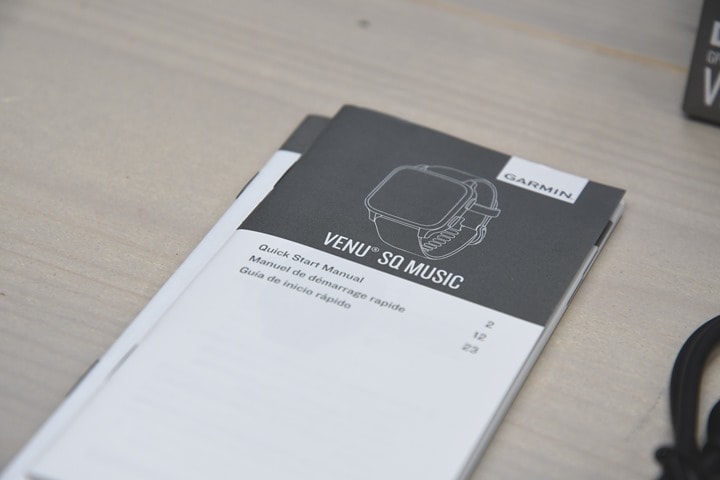 And the charging cable: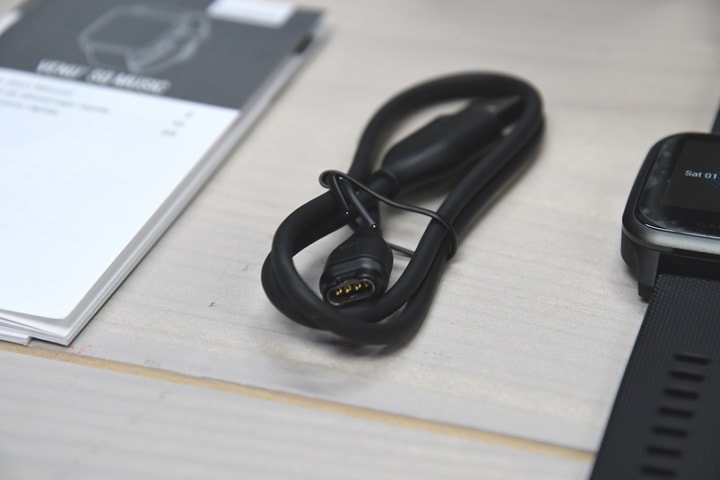 And finally the watch, complete with sticker still on it: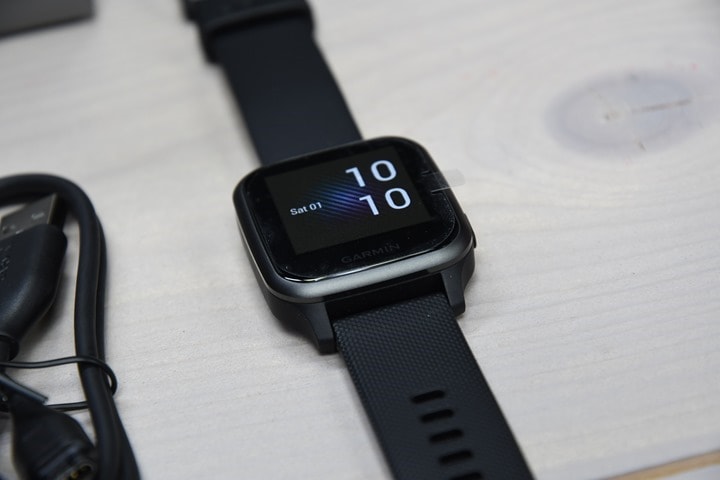 The back of the watch includes the charging port and the same Garmin Elevate optical sensor with PulseOx found on most Garmin devices in the last 18 months or so.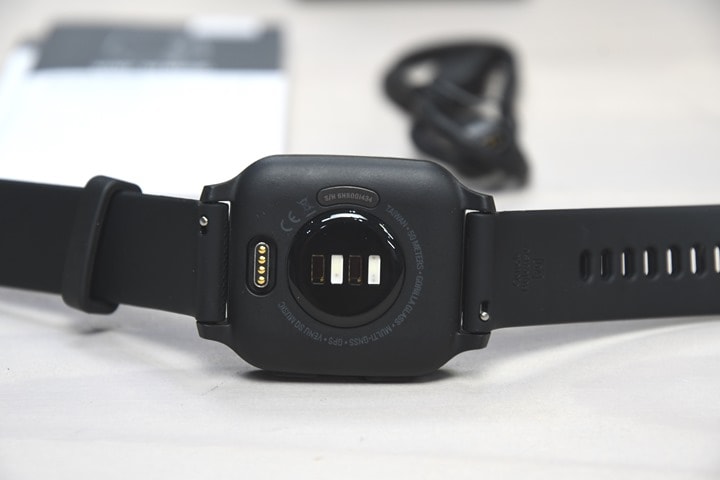 And with that, you'll simply do a quick setup with your phone. Unfortunately, there's still no configuration/setup of data fields from your phone. But as you'll see later it's not that hard to do on the device itself given there are far less configuration options than something like a Fenix series watch.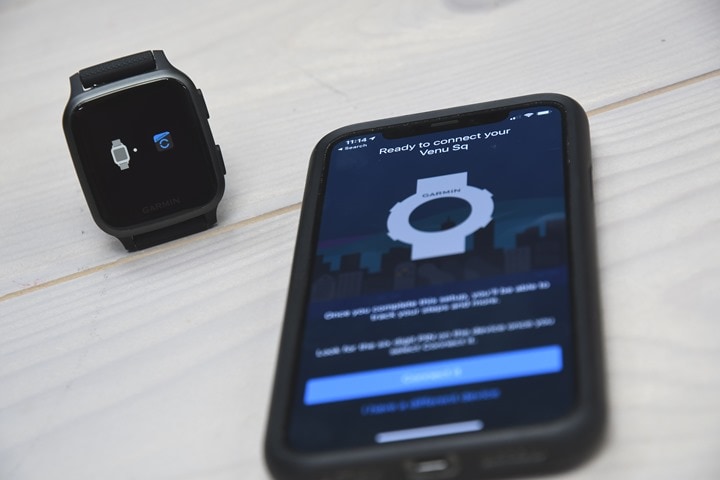 And finally, for a quick size comparison to the original Garmin Venu, here's the two side by side: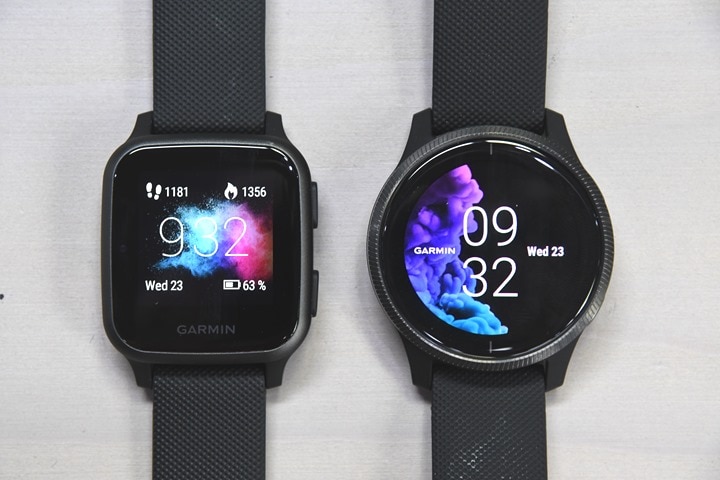 And thickness-wise, basically they're identical: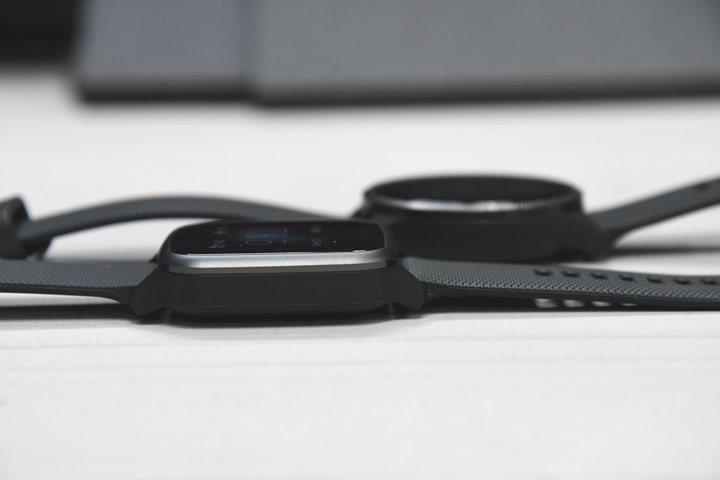 Since we're on a roll, the backs of both: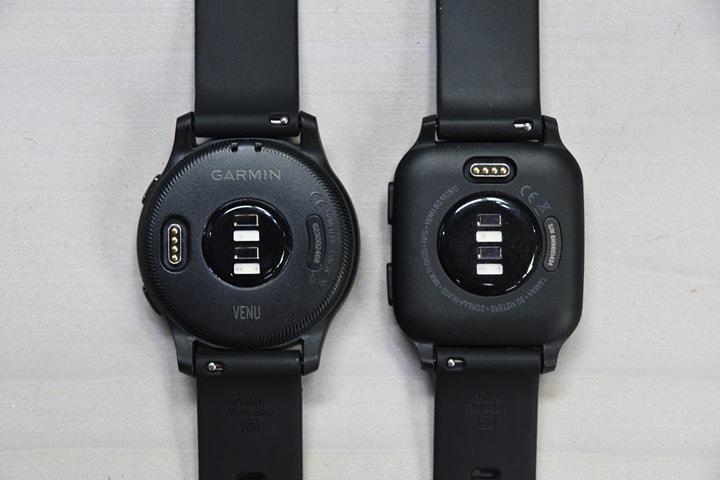 And finally, weight of the Venu SQ, which comes in at 38g, versus 47g for the round Venu:
Got all that? Let's start using it.
The Basics: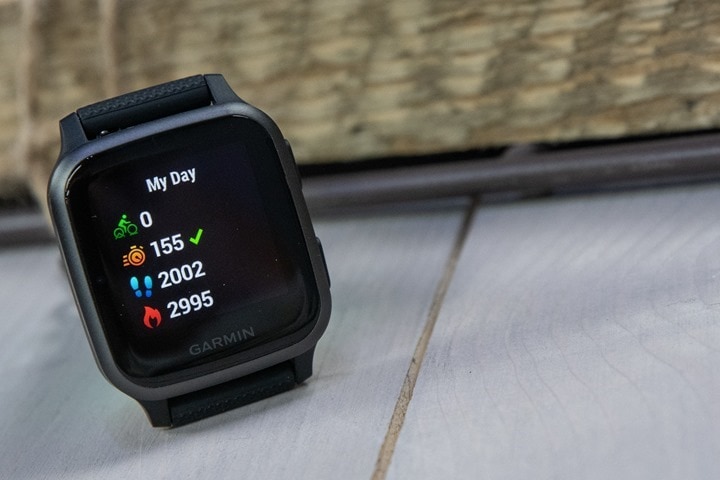 To begin, the Garmin Venu SQ is a touch-screen display, just like the Venu before it. And like that watch as well, it's got two buttons on the right side. These buttons are most helpful while working out, but they're also just as useful for quickly navigating menus, performing as Yes/Confirm and Escape/Back type options.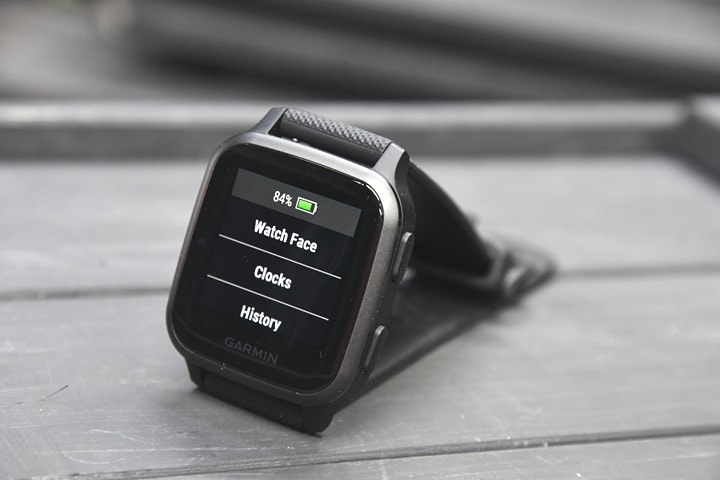 The Venu SQ by default will come in 'raise to wake' mode, which means the display turns off when not looking at it. However, you can toggle always-on mode, which means the display stays on, which is how I've been using it. Btw, speaking of battery life – the official claim is 6 days in not-always-on mode, 14 hours of GPS-on time, and 6 hours of GPS+Music time.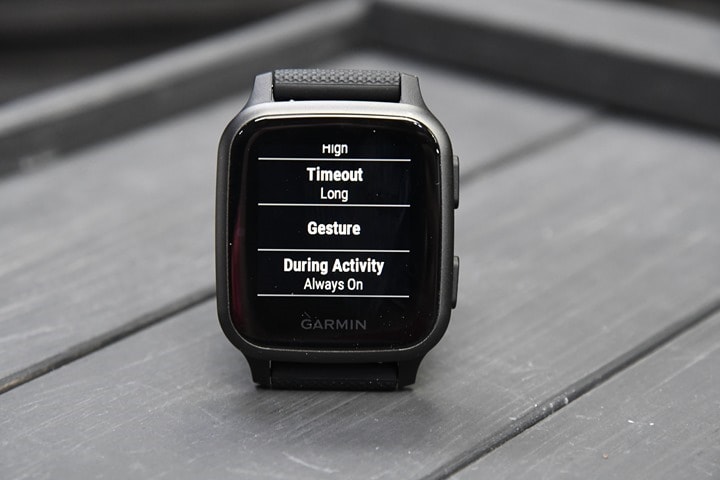 When you use the 'Always on' option (by also changing the timeout setting above from 'Long' to 'Always on'), it'll essentially remove the background of your watch face to save battery when your wrist is down, so you see the time/date, but not other metrics.
The watch face is customizable, both on the unit itself, as well as via 3rd party Connect IQ watch faces downloadable via the app. At the start of this section is a two-second variation I whipped up using a default background, and then choosing the clock style and each of the four metrics.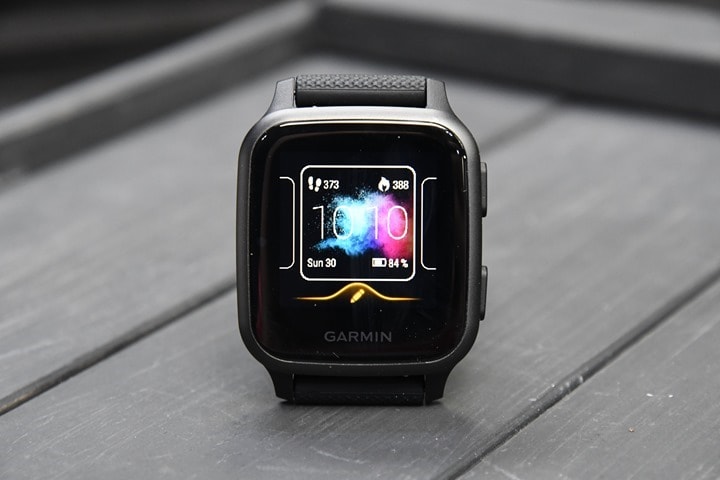 Or again, you can just go to the Garmin Connect IQ app store and download one of a gazillion watch faces. Well, eventually. Right now the Venu SQ is actually one of the fairly rare Garmin watches that's got a rectangular watch face, versus the round faces that have proliferated Garmin devices over the last few years since the Garmin FR920XT days. So, I was only able to choose from a handful. I'm sure in due time it'll bloom again. Speaking of which, here's one of the handful of available watch faces: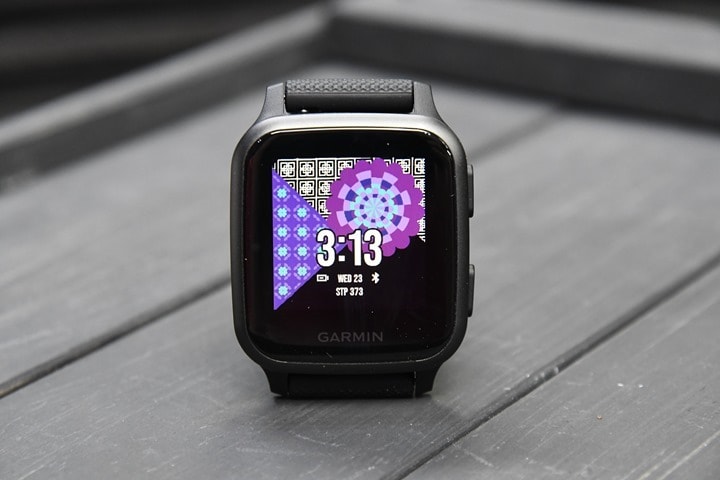 The Venu SQ can accept widgets, data fields, watch faces, and full-blown apps. Also, the music version can install music apps. Though I suspect there will be some teething initially on the sizing/layout. Keep in mind the 7MB shown below is for Connect IQ apps (which are tiny), not things like music/etc.
Anyway, moving along to activity tracking, the unit will monitor your steps/sleep/distance using the accelerometer inside it. You can add that to various watch faces (as shown above), or, simply swipe down into the widgets to see the first 'My Day' widget, which includes stats for the day: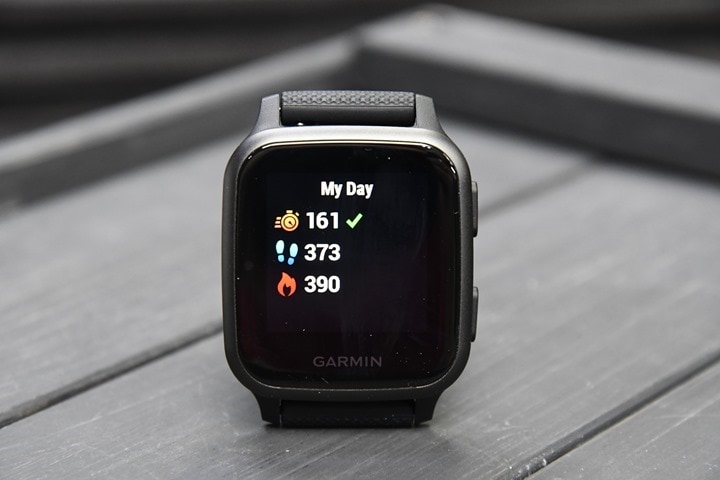 Note however that since the Venu SQ doesn't have a barometric altimeter you won't get flights/stairs climbed.  All these steps/distance/etc type stats are also shown/recorded in Garmin Connect Mobile on your smartphone, as well as Garmin Connect Web online:
If we swipe down again you'll find the 'Health Stats' for the day, which are basically all the stats driven by the 24×7 optical HR sensor. These include heart rate, stress level, body battery, and respiration (breathing) rate. Also, if you enable PulseOx it'll include that SpO2 information as well.
You can tap on this to get more detailed information on each of these stats, with what is generally the last 4 hours of data shown for each stat, in the case below, Body Battery.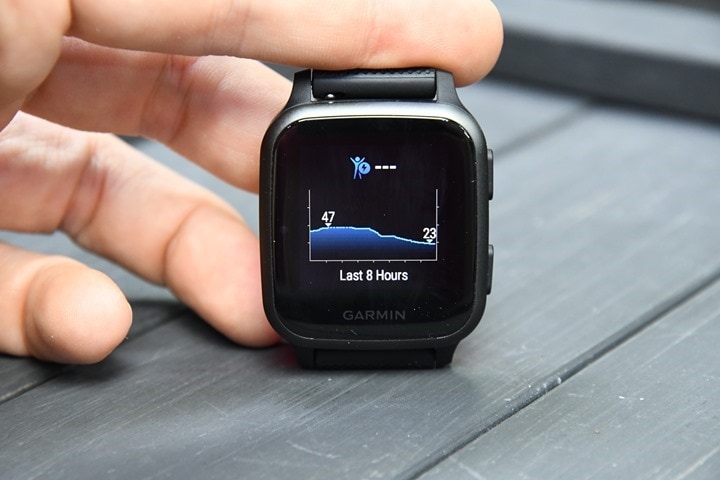 If we keep swiping down we'll find a dedicated page to heart rate, which includes the last 4 hours of heart rate data, but when we tap it we get the resting HR values for the last 7 days. Note, on the RHR chart to the left, the higher value for today (Wednesday), is cause I took this photo around 2-3AM, and haven't quite stopped moving yet. Thus, the only values it has are of higher levels.
In this bundle of things is PulseOx, or SpO2 tracking. Garmin offers two ways to do this (three if you include just turning it off, which is the default to save battery). The first is behind the scenes at night while you sleep. This puts it in line with what Fitbit does, except Garmin gives you far more granularity of data control/access. The second is both at sleep and the rest of the day. And then with either of those, you can take manual readings whenever you want (similar to Apple's new Series 6 watch).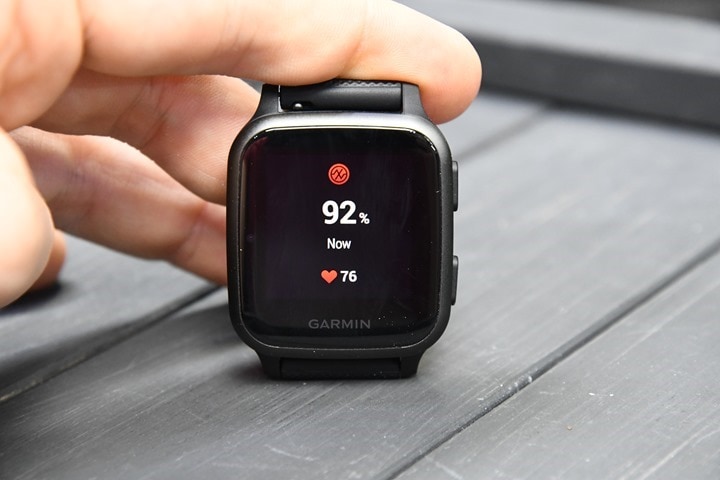 In general, I don't put a ton of faith in the values produced here, mostly due to the variability. For example, I just got off the Peloton bike and watched as the red light lit up taking my PulseOx reading mid-workout. That's going to result in an accurate reading (as it did, about 92%), and adversely impact the real benefit of this stat if trended over time. Though even that benefit is questionable at best right now. Still, the data is there for the taking.
Sliding down we can see the Body Battery and Stress widgets, which can also be overlaid together. Body battery is as the name implies and attempts to offer a look at how much energy you have, sorta like the old Street Fighter gauge. In general, I actually find it reasonably close to how I feel. Though I find it tends to struggle a bit at the extremes (for example a 20 hour day or something), where I got beyond what it typically charts me against. This same information is shown on Garmin Connect Mobile as well, both with and without stress:
There are also widgets for calendar information, weather, and smartphone notifications. Further, you can setup/configure/add widgets for other things like music, menstrual tracking, Garmin Coach, Garmin Varia cycling lights, last workout details, and more. Plus whatever you download from Garmin Connect IQ.
When it comes to smartphone notifications, it's simply reading them and dismissing them. You can't (on iOS anyway) respond to them, due to a limitation imposed by Apple on all companies.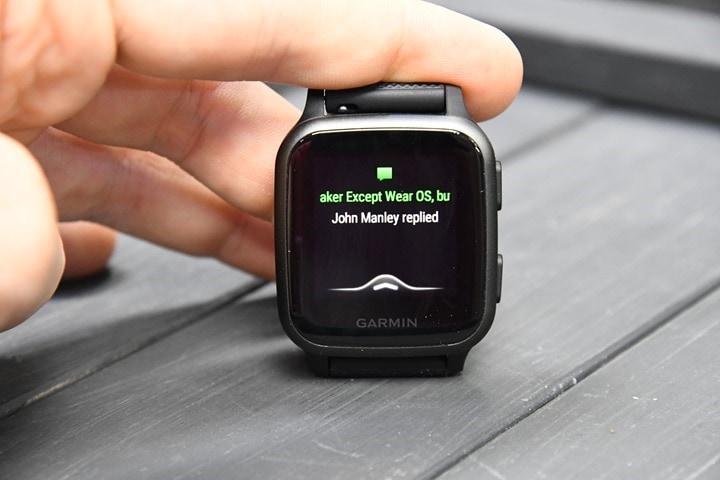 Finally, a quick look at sleep tracking. The unit uses Garmin's 'older' style sleep tracking where it quietly does its thing in the background and sends it off to Garmin Connect for processing. Then you'll see your sleep stats on the Garmin Connect mobile app, but not on the watch itself. This includes sleep stages, respiration rate, and then if enabled, Pulse Ox (see above a few paragraphs for that screenshot while sleeping).
I get that the 'new style' is still only a couple of months old for Garmin, but it would have seemed like this would have been a good time to launch it on Venu/Venu SQ as part of the product launch. After all, all their competitor devices now have on-device sleep display (Apple Watch SE, Fitbit Versa 3, Polar Ignite/Unite, and so on). It's time for that to be a baseline for all Garmin devices.
Oh – and in terms of sleep accuracy, I've found the Garmin Venu SQ to be pretty much spot on for going to sleep/wake times, as well as when I was up in the middle of the night. Note that it won't track/record naps. And also, I've got no viable way to test the sleep phases/stages that it records.
Finally, on charging and stuffs, it uses the same charging port as virtually every other recent Garmin device: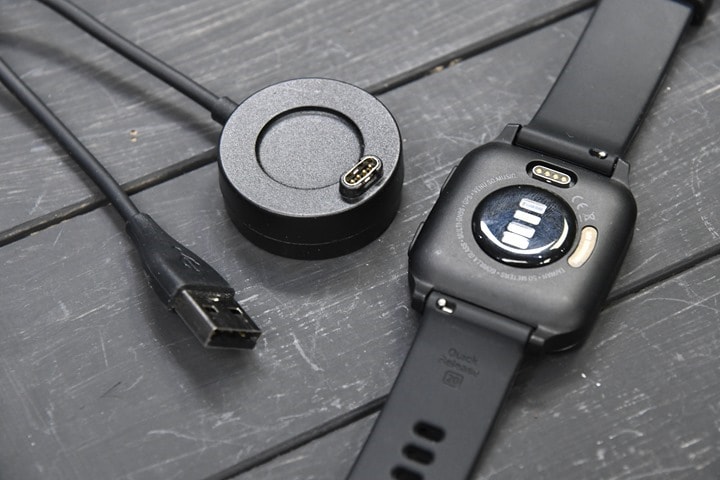 That cable works for both charging and data sync to our computer. You can use that, or pick up 3rd party chargers like this awesome puck one I reviewed last year. It's how I just charged the unit a few hours ago actually.  Battery life seems pretty consistent with what they've said of approximately 6 days for raise to wake. I've been using a mix, mostly being in always-on mode the last few days – all with about 1-1.5hrs a day of GPS workout activity.
Sport Mode: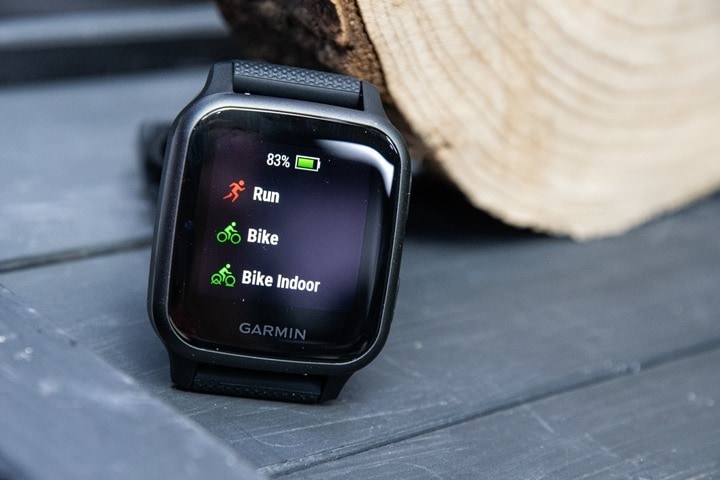 One would presume that the reason you picked up a Garmin watch is that you're of the sporty type. Or perhaps the ambitiously sporty type. It's not that Garmin does the other stuff poorly per se, but just that they specialize in the sports side of the house.
The Venu SQ, as part of the greater Vivo family, attempts to straddle that divide between Garmin's higher-end Forerunner and Fenix lineups, with features that have more widespread usage. To be clear – you can absolutely use the Venu family to run a marathon or train for any sort of other event. It's got scheduled workouts and far more sport features than any stock Apple Watch or Fitbit. Where you see the gaps to the higher end Forerunner/Fenix lineups are for things like advanced training load/recovery metrics, PacePro/ClimbPro, audio coaching, and more advanced cycling sensor support (among numerous other things). But, most people wouldn't know (or perhaps even care) about those things unless you're into endurance sports.
To start a workout on the Venu SQ you'll tap the upper right button, which opens the sport menu. Here's where you'll choose the sport you want to start, and then down below there are plenty more sports to choose from:
In total there's: Run, Bike, Bike Indoor, Treadmill, Indoor Track, Walk, Walk Indoor, Pool Swim, Golf, Ski, Snowboard, XC Classic Ski, SUP, Strength, Cardio, Yoga, Pilates, Breathwork, Elliptical, Stair Stepper, Row, Row Indoor, Navigate, other.
And before you get too far into sport mode, you can hold down menu and pair up ANT+ & Bluetooth Smart sensors (this is also where you can pair up headphones too).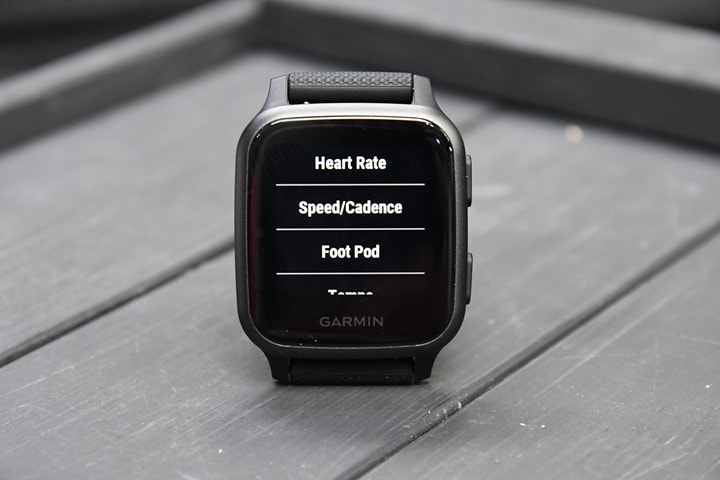 The supported sensor types are: Headphones, Heart Rate, Cycling Speed/Cadence, Running Footpods, Tempe (Temperature), ANT+ Cycling Lights, ANT+ Cycling Radar, Golf Club sensors. Note; Running dynamics are not support on the Venu/Vivoactive series.
Anyway, back to the sport mode. In our case, we'll go with a standard outdoor run. Once you've done that it'll go off and find GPS satellites, as well as confirm your heart rate lock via the optical HR sensor (or an ANT+/Bluetooth HR sensor if you prefer instead).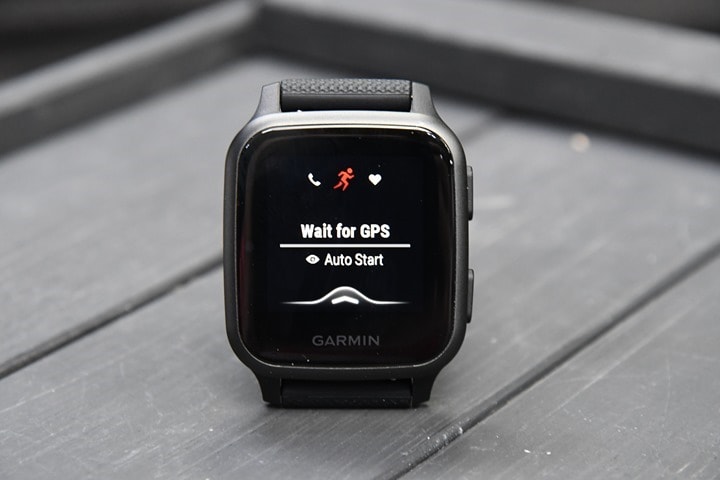 However, you can swipe up and access structured workouts. There's a handful of run workouts Garmin has pre-loaded on the watch (as well as ones for other sports):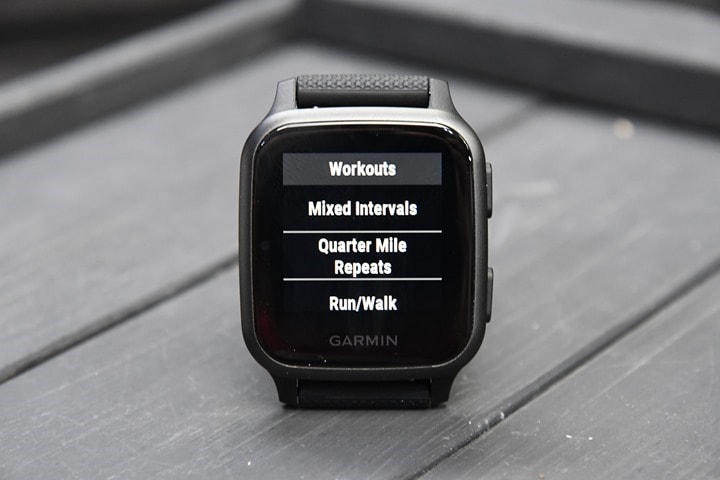 Or, you can download a boatload more from Garmin Connect that you make, or from any training plan site that syncs to it, or from Garmin Coach. Or…or….or, seriously, there's so many options here, it's nuts.
In fact, in my case, TrainerRoad had pushed a workout to the watch ready to go, and scheduled for today. As such, it'll be offered when I start an indoor bike for example (since it's a bike workout):
Training Calendar and Garmin Coach workouts automatically appear on the days they're scheduled, and you can also pull them up easily if you miss them a day too.
When it comes to customization of data screens mid-workout, there are three customizable data screens, each with up to three data fields. In addition there's a HR zone gauge.
You can also configure alerts for heart rate, run/walk, pace, time, distance, cadence, and calories. Which is different than auto-lap, which can be configured for a distance of your choosing, all the way down to 0.10 miles to 99.99 miles. Most of us probably just leave it on 1mi/1km. Or, simply turn it off altogether and manual lap instead (or, do both). There's also auto-pause and auto-scroll (which automatically iterates through your data pages).
Also, you can enable LiveTrack to automatically notify a predefined list of recipients every time you start a workout, which sends them an e-mailed link with your exact position and historical data for that workout (including heart rate/pace/speed/etc…). Note that the Venu doesn't support courses, so it doesn't send them that.
In any case, let's start this workout to get cookin'. Once we've started we'll see our data live on the display, which is also recorded as expect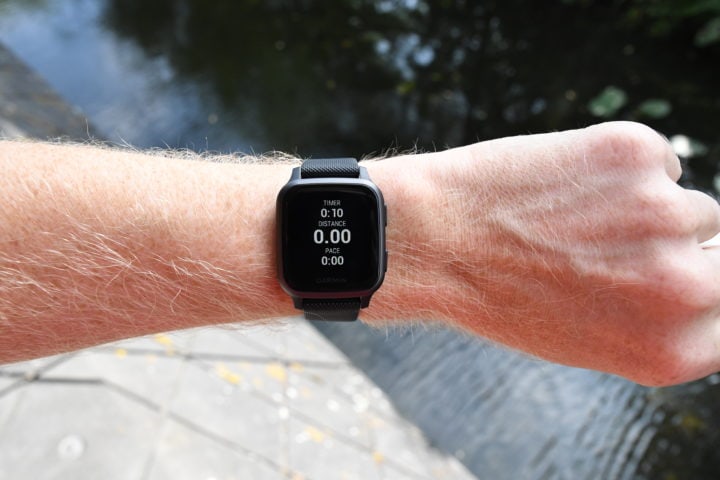 ed.
I haven't had any issues with pace stability on the Venu SQ in my workouts, nor with pace responsiveness. I've been able to pace short 200m sprints without issues for example, using only GPS/accelerometer pacing.
If you've loaded a structured workout, it'll step through each portion of the workout, including listing the targets for that workout. You can pause the workout at any time by pressing the upper right button, and in the case of structured workouts you can skip ahead a segment by pressing the lap button.
Once you're done with your workout you'll stop the workout, which then gives you the option to save or discard it: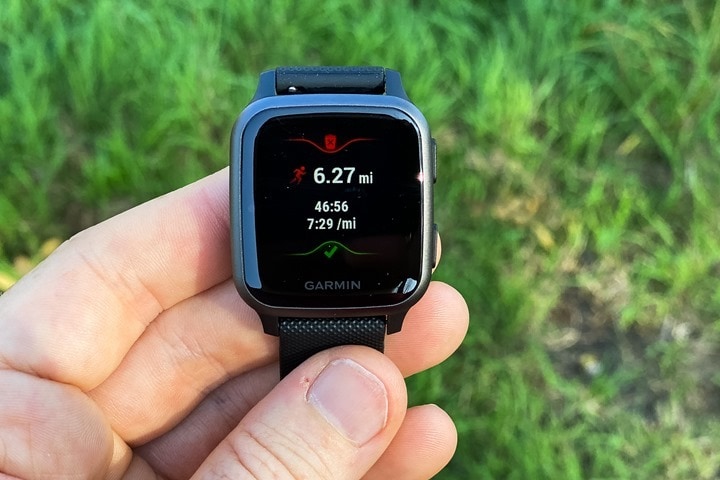 After that, you'll get a summary screen which includes a GPS track, as well as your VO2Max value at the top. Keep in mind the VO2Max value tends to take a few runs to settle in.
Also, you'll get this screen (seen on a different run). And it's this screen below that makes me cringe, especially compared to the Fitbit Versa series/Fitbit Sense, as well as the Apple Watch Series 3. While I appreciate the data they're trying to convey, it's just such a terribly ugly screen that feels like it was served up on an eHarmony date between CompuServe and AOL. I'm far from a user interface designer, but so many elements are clunky. Why display this gigantic grey area below a resting HR value for a workout? Why display thin grey sidebars at all? Why doesn't it take advantage of the entire width of the screen? Why do we care about the lowest HR value for a workout? When has that *EVER* been valuable?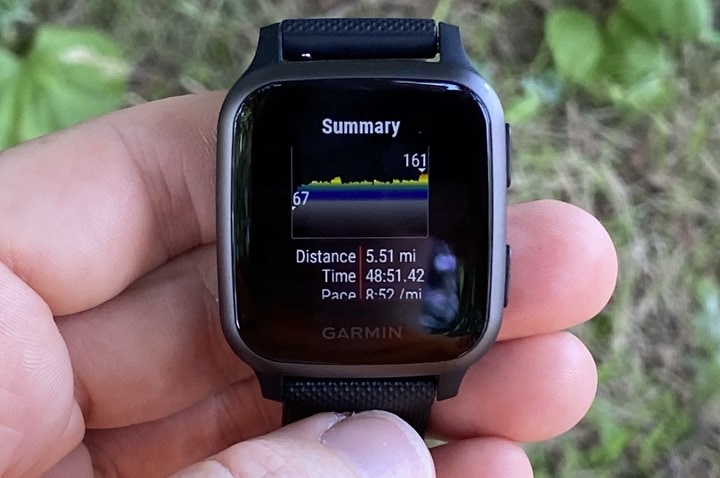 And I know some will think I'm nitpicking. And some in Kansas will roll their eyes (probably because they've gotten used to it by now) – but here's the deal: A constant criticism lobbed at Garmin is that it feels 'aged', compared to a Fitbit or Apple or Samsung or pick your flavor 'modern' watch. And this single screen above demonstrates that exceptionally well. It's not super functional compared to what it could be, nor does it feel in any way like the rest of the Garmin user interface on the watch.
In any case, you can scroll down to see other summary stats, as well as dive into the lap details and zone details:
All of this information is uploaded to Garmin Connect via Garmin Connect Mobile (smartphone app via Bluetooth Smart), via WiFi, or via USB cable. Whatever you want. Once there, you can pull it up on the smartphone app. Here's an example of all the data from a recent run with the Venu SQ:
It's also accessible via Garmin Connect web online too: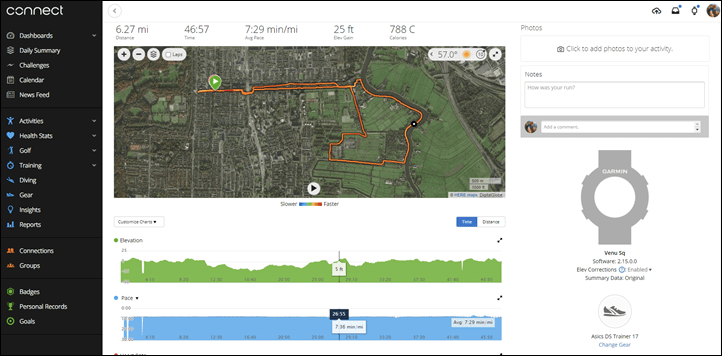 And of course, all this will sync off to 3rd parties like Strava, TrainingPeaks, and plenty more automatically. That usually happens a few seconds after the workout uploads, which usually happens a few seconds after I press save.
Finally, a brief note that while the Venu SQ does include Yoga and Pilates (as well as strength training), and also structured workouts for both of those activities, they do *NOT* include the animations found on the Venu and Vivoactive 4. Meaning, you'll see the steps listed, below, but you won't see any actual animations.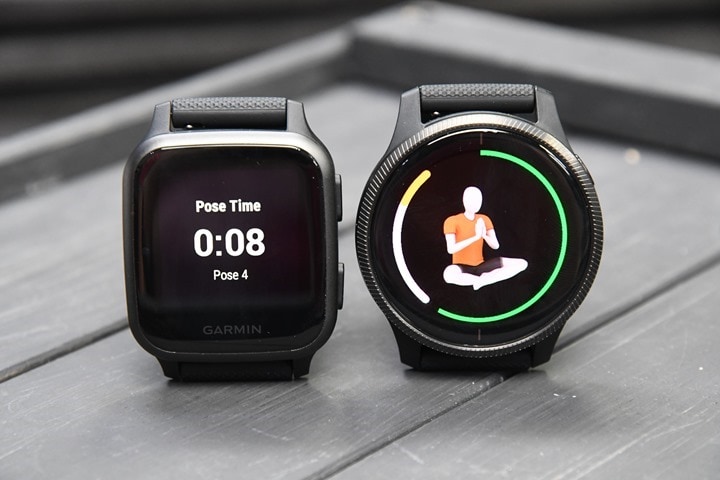 This is a bit quirky since I wouldn't have expected that there would be any display issues with showing those. It also means I'm more unlikely to do these workout types on the Garmin, since I've got no idea what the movements are without them.
In any case, just a quick reminder on that. But otherwise the workout features have worked well for me, both indoors and out.
Music & Payments: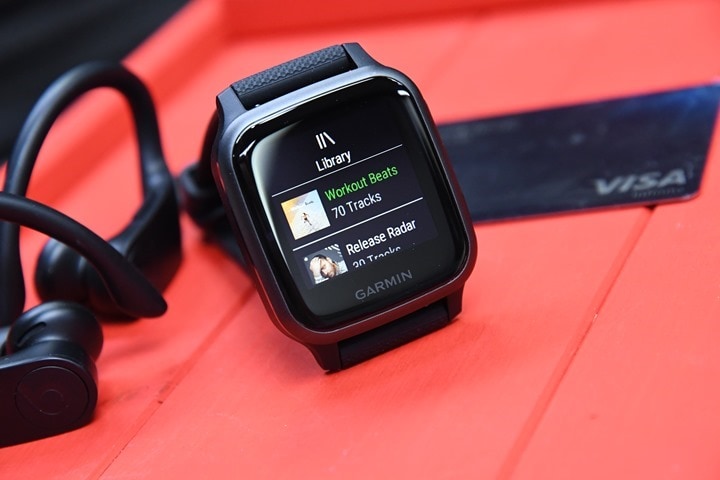 The Venu SQ supports both music and contactless payments. In the case of music, that includes both loading music onto it (à la MP3-style), as well as streaming services including Spotify, Amazon Music, and Deezer. In my case, I used it with Spotify (+ Beats PowerBeats Pro).
The setup process for the Venu SQ and music via a streaming service is pretty straightforward. You'll crack open the music control panel on the watch, and then it'll go off and authenticate you with that service via your smartphone. This is a one-time process. Once that's done, you'll go into the music service (Spotify in my case), and choose the playlists you want. It'll sync those playlists to your watch.
It recommends you plug your watch into power while it does this, also, it'll do this over WiFi. This will take a bit of time, it's not super fast. Simple math is 5-10 seconds per minute depending on your connection, tidal conditions, and moon phases. Syncing a 60 track playlist took about 10 minutes this morning, I've had others take less time on other days.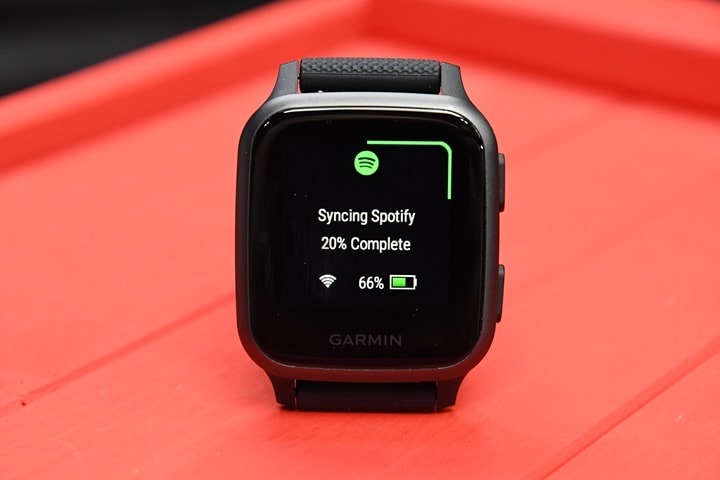 Once that's done, you can playback the music both in a workout or outside a workout using the music widget. You can change playlists, skip songs, change volume, pause/play. All the usual music stuffs.
Note that you'll need to 'check-in' at least once per month by opening the app when your phone is nearby, for the streaming services to keep your music as valid (meaning, it checks to see if you're still paying your music provider). But that's not a big deal, and it'll also update any dynamic playlists if you have any. The Venu SQ has ~3.4GB of usable storage, which is the same as the Venu.
Meanwhile, switching to another unchanged technology here, is the Garmin Pay contactless payments. For this, you'll need your bank to be supported by Garmin. That's many of the big banks in the US, but beyond that it varies quite a bit. It's hit or miss. A full list is here.
Adding your credit card to the Garmin watch takes about 2-3 minutes to complete, and usually includes an authentication/validation message from your bank via text.
As part of that, you'll set up a pin code, for when you access the Garmin Pay section. The pin code isn't needed otherwise. Also, as long as you haven't removed the watch from your wrist, it won't ask you the pin code more than once per 24 hours. To access the Garmin Pay wallet, simply long-hold the upper right button.
Once that's entered, you'll then have a reasonable window of time to tap your watch near-enough the payment scanner to pay for whatever it is you're paying for. In this case, a DCR Water Bottle. Why yes, I finally got a NFC card reader at the DCR Studio (though, I also paid for milk this morning at the mini-mart).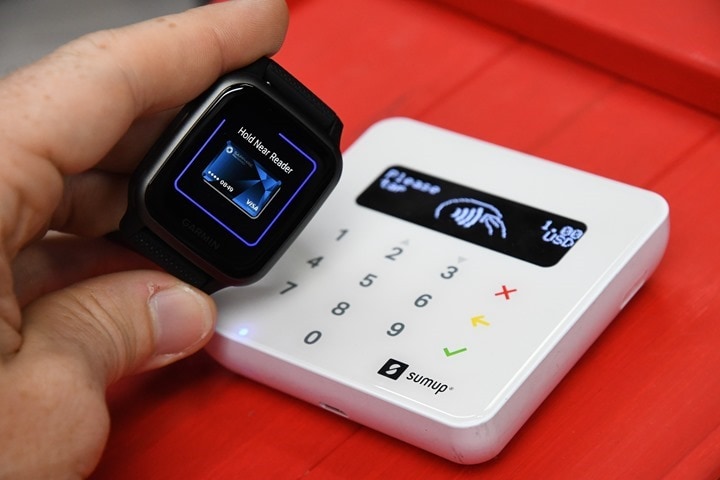 Afterwards you'll get a confirmation on your device, though you won't get a mini-receipt confirmation like you do on Apple Watch. It just goes back to doing whatever you were doing.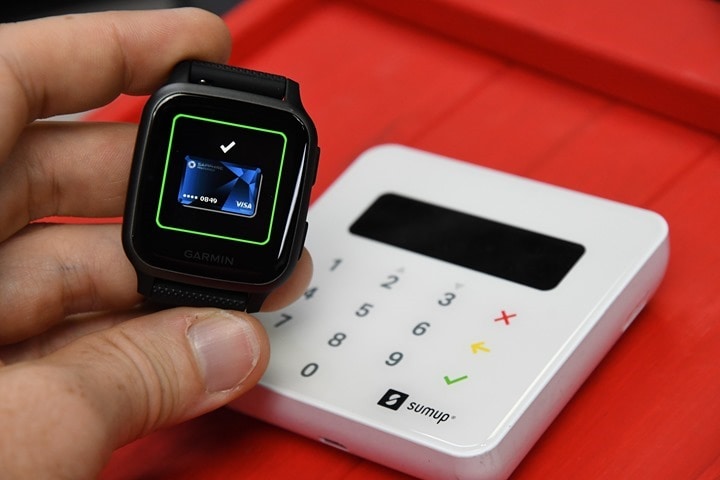 As always with contactless payments, you'll want to know for sure the store/merchant you're going to supports contactless payments and the card you plan to use, before relying on it 100%. Meaning, if you're travelling (2020?) to a new city, and go out for a run and expect to pay for a coffee at a random café afterwards, you might find they don't accept contactless payments (becoming more rare, but hey, depends on your area). Whereas if you're nearby home and know which coffee shops accept contactless payments then you're good to depend on that. No different than phone payments.
Again, nothing in this section has changed from the Venu in the past, or any other Garmin wearables that support payments or music.
GPS & HR Accuracy: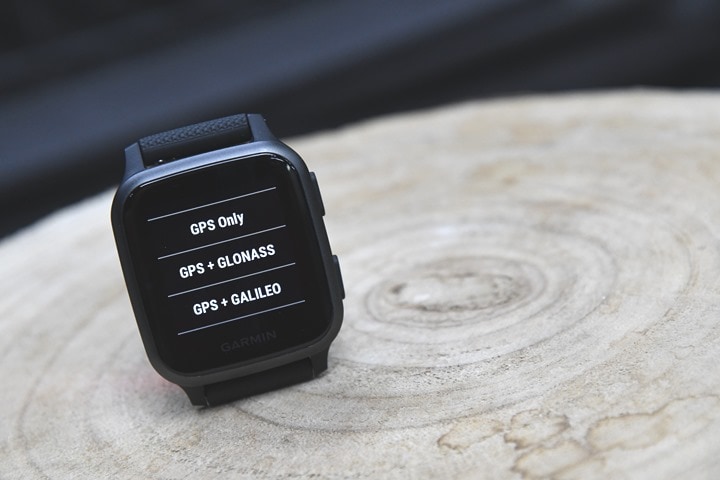 We'll start off with some heart rate charts. Here's a run I did on Sunday, compared with the Garmin HRM-PRO chest strap, Fitbit Sense on the other wrist, and a Whoop strap on the upper arm. As you can see it was largely pretty darn close to the chest strap. Oh, and you can dive more deeply into the data here at this link as well:

However, it did struggle the first minute or two and was slightly low:

And later in the run it easily nailed the short sprints I did without problem:

Next, let's take a look at an easier lower-intensity run I did. In this case, we see that it's pretty similar for most of it, however, we'll want to dig slightly deeper:

In particular, for this little section. It's here that the Venu SQ went off the rails for about 10-15 seconds. So did the Fitbit Sense, but honestly, it was mostly off the rails since the beginning of this run, and continued being lost for quite a bit longer. I looked back at cadence, pace, position, and where I was, and I don't see anything odd/unique about this spot. So not sure what happened there to both units.

Towards the end of the run my wife decided to sprint it out. She always does this, mostly cause she knows she can usually out-sprint me. But, that gave way to a nice interval HR increase. You see the optical HR sensor of the Venu SQ lagged very slightly – about 2-3 seconds, behind the chest strap HRM-PRO. However, the Fitbit Sense lagged considerably more, and then wobbled at the top-end. A 2-3 second lag for optical HR sensors is completely normal, and frankly, you'd never notice it.

Next, let's take a look at an indoor cycling workout, this one on Peloton. This was a high intensity interval workout, which was essentially 30×30 repeats. It's a good test for any optical sensor (or…cycling power meter), and shows how well things respond. And, as you can see at a high level, things are pretty darn close across this set. This is compared to the Apple Watch Series 6 on the other wrist, a Polar OH1 Plus, Garmin HRM-PRO chest strap, and Whoop arm band.

However, it's not perfect. There are two mostly minor errors here. The first is during one of the recoveries, the Venu SQ was a bit latent, and seemed to miss the message that it was recovery time:

And then later on, towards the end, it spiked the HR briefly for a couple of seconds, up about 9bpm over all the other sensors.

But otherwise, this set was pretty solid, especially notable since I did the recovery of each one of these standing, holding onto the bars, and thus exerting pressure onto the wrists, which typically can cause optical HR issues. Also of note – the Apple Watch Series 6 was basically flawless again.
Switching over to GPS, here's a run against the Forerunner 745, Fitbit Sense, and yes, the FR735XT. Look, it was charged, sitting on my desk, and I was curious. At a high level, they look pretty similar.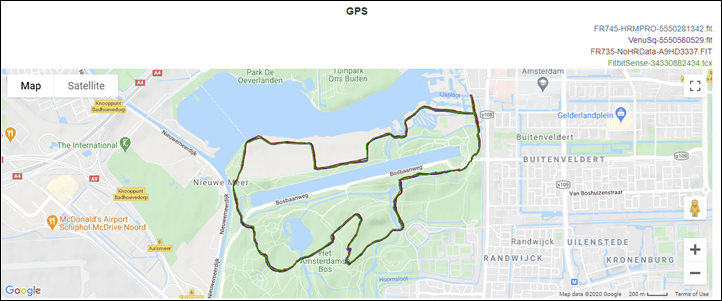 Zooming in it seems to vary. In the forest, it's mostly close, but there are some cases where either the Venu SQ or the Fitbit Sense flip-flop on being most or least correct. For example here the Venu SQ takes the lead: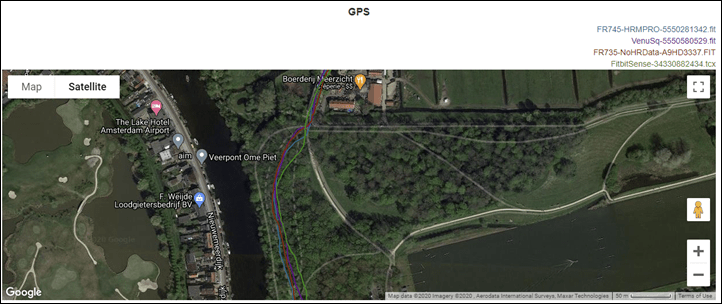 And here the Fitbit Sense is more correct: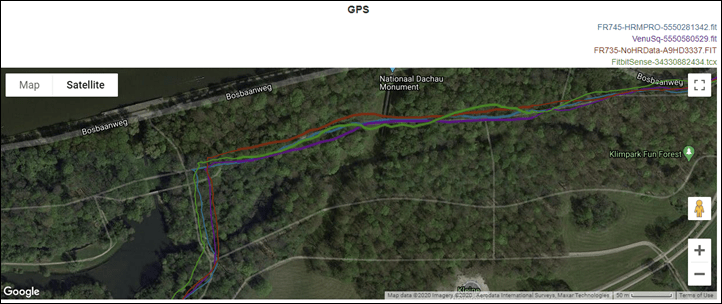 Neither are quite as good as the Garmin FR745 across the entirety of the forest, but they aren't horrible either.
Here's a different run in a different direction – this time initially on a tree-lined path with a tunnel/bridge, and then off to cow fields.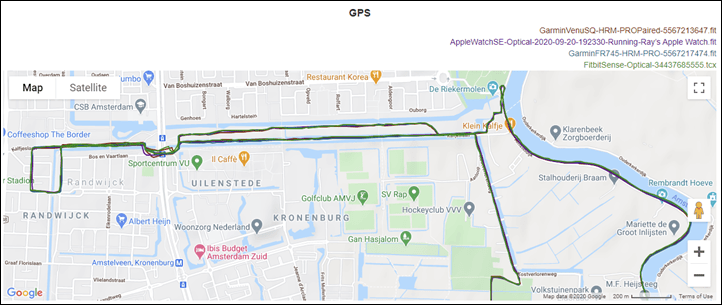 On the tunnel section, both the Fitbit Sense and Venu SQ slightly offset the exit from under the bridge, where it doesn't plot that exit point. Though, they only messed up on one direction, not both. This is a trickier bridge in that you actually turn coming in/out of it, so it's confusing.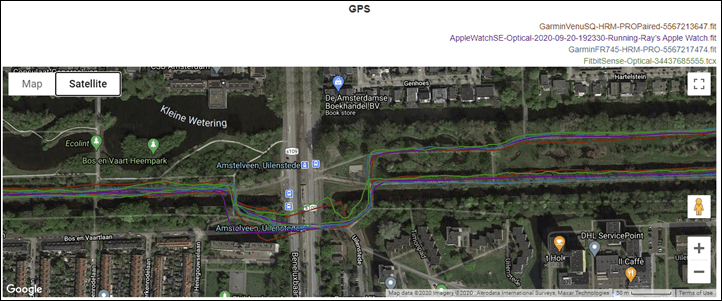 Meanwhile, out on the cow fields, it was just fine as expected: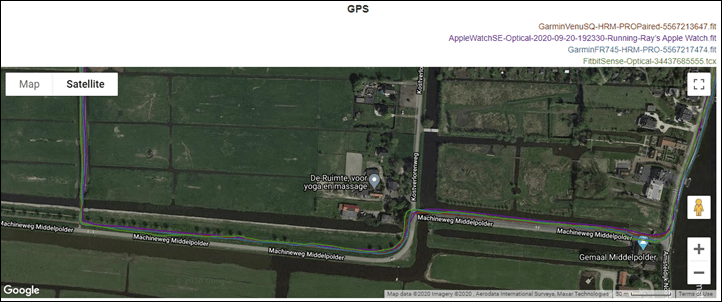 And here's another attempt at that bridge on a different run, with again the Venu SQ and Fitbit Sense struggling in one direction.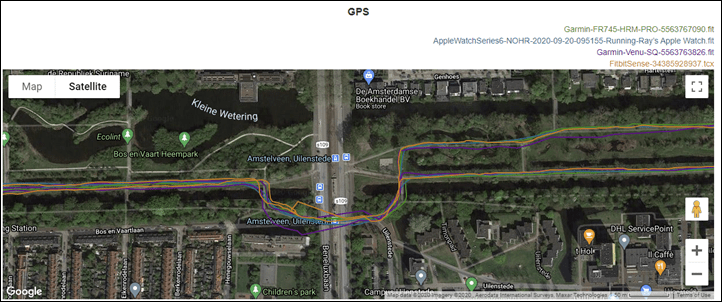 But otherwise plotting perfectly fine GPS data for the rest of the run.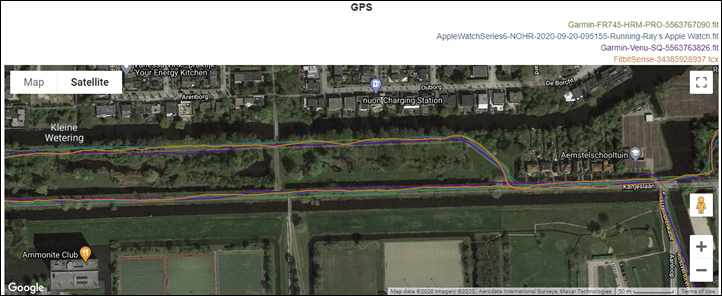 So the general gist of things is that the Venu SQ plots largely acceptable/fine GPS tracks, though does seem to be perplexed easily coming out of tunnels (as does the Fitbit Sense). But it doesn't Mario Kart around many corners like the Apple Watch SE does. It's not quite as accurate as the FR745 GPS-wise, which may be a form-factor thing.
On optical HR, it's mostly pretty good there too, save what seems to be the first couple of minutes where it's more susceptible to issues. But always corrects itself quickly. That's not terribly uncommon for optical HR sensors, though as you warm-up in those first few minutes more accurate readings become easier.
(Note: All of the charts in these accuracy sections were created using the DCR Analyzer tool.  It allows you to compare power meters/trainers, heart rate, cadence, speed/pace, GPS tracks, and plenty more. You can use it as well, more details here.)
Product Comparison:
I've added the Garmin Venu SQ into the product comparison database, allowing you to compare it against other products that I've reviewed in the past.
For the purposes of below I've compared it against the Garmin Venu (non-SQ), Fitbit Versa 3, and Apple Watch Series 3 –  which are the ones most people will be comparing it against from a sports/fitness standpoint.
Note that with all these watches – but especially the Apple Watch, there are many cases below where "with 3rd party apps" can be used.  The same is largely true of Garmin, Samsung, and somewhat with Fitbit.  But the Apple Watch tends to offload more core fitness functionality to 3rd party apps than the others. I've tried to thread the needle of apps that I roughly know exist where I've listed that.  But it's not perfection in terms of knowing every app on earth.  Ultimately, I don't think any consumer does (or should). Plus, we've actually seen a pulling back of wearable apps from companies over the last year (basically, they stop updating them). Making it even harder to know an up to date app from a dysfunctional one dying on the vine.
Function/Feature

Garmin Venu SQ
Garmin Venu
Apple Watch Series 3
Fitbit Versa 3
Copyright DC Rainmaker - Updated November 25th, 2022 @ 2:00 pm New Window
Price
$199/$249 with Music
$299
$169-$179
$229
Product Announcement Date
Sept 23rd, 2020
Sept 5th, 2019
Sept 12th, 2017
Sept 2020
Actual Availability/Shipping Date
Sept 23rd, 2020
Sept 5th, 2019
Sept 22nd, 2017
Sept 25th, 2020
GPS Recording Functionality
Yes
Yes
Yes
Yes
Data Transfer
USB, BLUETOOTH SMART, WiFi
USB, BLUETOOTH SMART, WiFi
Bluetooth Smart
Bluetooth Smart
Waterproofing
50 meters
50 meters
50m
50m
Battery Life (GPS)
14 hrs (just GPS), up to 6hrs GPS+Music
20 hrs (just GPS), up to 6hrs GPS+Music
5hrs GPS on time (24-48hrs standby)
12 hours (6 days standby)
Recording Interval
1s or Smart Recording
1s or Smart Recording
Varies
1-second
Alerts
Vibrate/Visual
Vibrate/Visual
Vibration/Audio/Visual
Visual/Vibrate
Backlight Greatness
Great
Great
Great
Great
Ability to download custom apps to unit/device
Yes
Yes
Yes
Yes
Acts as daily activity monitor (steps, etc...)
Yes
Yes
Yes
Yes

Music

Garmin Venu SQ
Garmin Venu
Apple Watch Series 3
Fitbit Versa 3
Can control phone music
Yes
Yes
Yes
Yes
Has music storage and playback
Yes
Yes
Yes
Yes
Streaming Services
Spotify, Amazon Music, Deezer
Spotify, Amazon Music, Deezer
Apple Music, Spotify (but not offline yet)
Pandora, Deezer

Payments

Garmin Venu SQ
Garmin Venu
Apple Watch Series 3
Fitbit Versa 3
Contactless-NFC Payments
Yes
Yes
Yes
Yes

Connectivity

Garmin Venu SQ
Garmin Venu
Apple Watch Series 3
Fitbit Versa 3
Bluetooth Smart to Phone Uploading
Yes
Yes
Yes
Yes
Phone Notifications to unit (i.e. texts/calls/etc...)
Yes
Yes
Yes
Yes
Live Tracking (streaming location to website)
Yes
Yes
With 3rd party apps
No
Group tracking
No
No
No
No
Emergency/SOS Message Notification (from watch to contacts)
Yes
Yes
Yes
No
Built-in cellular chip (no phone required)
No
No
Yes (with cellular version)
No

Cycling

Garmin Venu SQ
Garmin Venu
Apple Watch Series 3
Fitbit Versa 3
Designed for cycling
Yes
Yes
Yes
Yes
Power Meter Capable
With some Connect IQ apps
With some Connect IQ apps
No
No
Speed/Cadence Sensor Capable
Yes
Yes
No
No
Strava segments live on device
No
No
No
No
Crash detection
Yes
Yes
No
No

Running

Garmin Venu SQ
Garmin Venu
Apple Watch Series 3
Fitbit Versa 3
Designed for running
Yes
Yes
Yes
Yes
Footpod Capable (For treadmills)
Yes
Yes
With 3rd party apps
No (but has treadmill functionality)
Running Dynamics (vertical oscillation, ground contact time, etc...)
No
No
No
No
Running Power
No
No
No
VO2Max Estimation
Yes
Yes
Yes
Yes, via app
Race Predictor
No
No
No
No
Recovery Advisor
No
No
No
No
Run/Walk Mode
Yes
Yes
With 3rd party apps
No
Track Recognition Mode
No

Swimming

Garmin Venu SQ
Garmin Venu
Apple Watch Series 3
Fitbit Versa 3
Designed for swimming
Yes
Yes
Yes
Yes
Openwater swimming mode
No
No
YEs
No
Lap/Indoor Distance Tracking
Yes
Yes
Yes
Yes
Record HR underwater
Yes
Yes
Yes
No
Openwater Metrics (Stroke/etc.)
No
No
Basic stroke type only
No
Indoor Metrics (Stroke/etc.)
Yes
Yes
Basic stroke type only
Yes
Indoor Drill Mode
No
No
No
No
Indoor auto-pause feature
No
No
Yes
No
Change pool size
Yes
Yes
Yes
Yes
Indoor Min/Max Pool Lengths
13M/15Y TO 150Y/M
13M/15Y TO 150Y/M
1y/m to 1,500y/m+
10m/y-100m/y
Ability to customize data fields
Yes
Yes
Very limited
Yes
Captures per length data - indoors
Yes
Yes
Yes
Yes
Indoor Alerts
Yes
Yes
Yes (goals)
Yes (distance)

Triathlon

Garmin Venu SQ
Garmin Venu
Apple Watch Series 3
Fitbit Versa 3
Designed for triathlon
No
No
Not really
No
Multisport mode
No
No
Yes
No

Workouts

Garmin Venu SQ
Garmin Venu
Apple Watch Series 3
Fitbit Versa 3
Create/Follow custom workouts
Yes
Yes
With 3rd party apps
No (Premium Coached only)
On-unit interval Feature
Sorta (Pre-loaded)
Sorta (Pre-loaded)
With 3rd party apps
No
Training Calendar Functionality
Yes
Yes
With 3rd party apps
No

Functions

Garmin Venu SQ
Garmin Venu
Apple Watch Series 3
Fitbit Versa 3
Auto Start/Stop
Yes
Yes
Yes
Yes
Virtual Partner Feature
No
No
No
No
Virtual Racer Feature
No
No
No
no
Records PR's - Personal Records (diff than history)
Yes
Yes
No
No
Tidal Tables (Tide Information)
No
No
No
No
Weather Display (live data)
Yes
Yes
Yes
Yes

Navigate

Garmin Venu SQ
Garmin Venu
Apple Watch Series 3
Fitbit Versa 3
Follow GPS Track (Courses/Waypoints)
No (but some 3rd party apps can)
No (but some 3rd party apps can)
With 3rd party apps
No
Markers/Waypoint Direction
No
No
With 3rd party apps
No
Routable/Visual Maps (like car GPS)
No
No
With 3rd party apps
No
Back to start
YEs
YEs
With 3rd party apps
No
Impromptu Round Trip Route Creation
No
No
With 3rd party apps
No
Download courses/routes from phone to unit
NO
NO
With 3rd party apps
No

Sensors

Garmin Venu SQ
Garmin Venu
Apple Watch Series 3
Fitbit Versa 3
Altimeter Type
GPS
Barometric
Barometric
Barometric
Compass Type
Magnetic
N/A
N/A
Optical Heart Rate Sensor internally
Yes
Yes
Yes
Yes
SpO2 (aka Pulse Oximetry)
Yes
Yes
No
Yes
ECG Functionality
No
Heart Rate Strap Compatible
Yes
Yes
Yes
No
ANT+ Heart Rate Strap Capable
YEs
YEs
No
No
ANT+ Speed/Cadence Capable
Yes
Yes
no
No
ANT+ Footpod Capable
Yes
Yes
No
No
ANT+ Power Meter Capable
No
No
No
nO
ANT+ Lighting Control
Yes
Yes
No
nO
ANT+ Bike Radar Integration
Yes
Yes
No
No
ANT+ Trainer Control (FE-C)
No
No
No
No
ANT+ Remote Control
No
No (Yes for VIRB camera control)
No
No
ANT+ eBike Compatibility
No
No
No
No
ANT+ Gear Shifting (i.e. SRAM ETAP)
No
No
No
No
Shimano Di2 Shifting
No
No
No
No
Bluetooth Smart HR Strap Capable
YEs
YEs
Yes
No
Bluetooth Smart Speed/Cadence Capable
Yes
Yes
No
No
Bluetooth Smart Footpod Capable
Yes
Yes
No
No
Bluetooth Smart Power Meter Capable
No
No
No
No
Temp Recording (internal sensor)
No
No
No
No
Temp Recording (external sensor)
Yes
Yes
No
no

Software

Garmin Venu SQ
Garmin Venu
Apple Watch Series 3
Fitbit Versa 3
PC Application
Garmin Express
Garmin Express
None
-
Web Application
Garmin Connect
Garmin Connect
None
YEs
Phone App
iOS/Android/Windows
iOS/Android/Windows
iOS only
iOS/Android
Ability to Export Settings
No
No
No
No

Purchase

Garmin Venu SQ
Garmin Venu
Apple Watch Series 3
Fitbit Versa 3
Amazon
Link
Link
Link
Link
Backcountry.com
Link
Link
Link
Link
Chain Reaction Cycles
Link
Link
Link
Link
Competitive Cyclist
Link
Link
Link
Link
REI
Link
Link
Link
Link
Wiggle
Link
Link
Link
Link

DCRainmaker

Garmin Venu SQ
Garmin Venu
Apple Watch Series 3
Fitbit Versa 3
Review Link
Link
Link
Link
Link
And again – don't forget you can make your own product comparison charts comparing any products using the product comparison database.
Wrap-Up: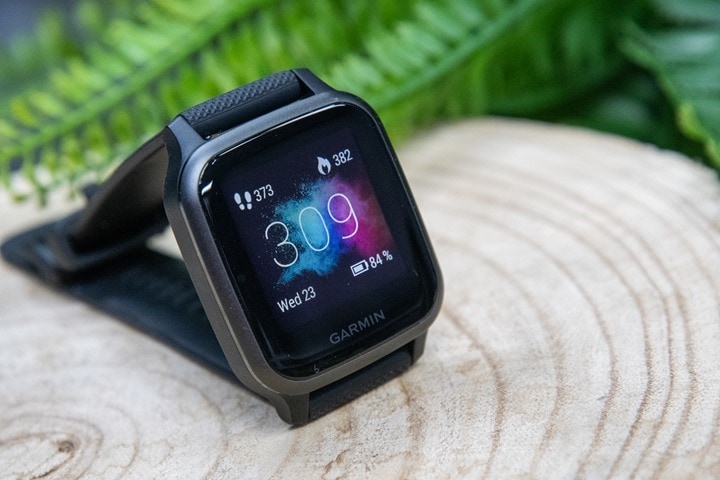 In an interesting contrast to yesterday's Fitbit Sense review, the Garmin Venu SQ has actually grown on me slightly since I started using it (whereas I got more confused the more I used the Fitbit Sense). I think perhaps because it's a good example of Garmin pricing things correctly, and perhaps because for the most part, this is a pretty well-oiled machine/watch by now. After all, it's basically just a square Venu, with a few more things removed. It's largely a known good, versus a complete revamp.
But with that, it starts to show its age. While the Fitbit Sense may have fallen flat functionally speaking, the user interface on that and the Versa 3 series is far ahead of Garmin in the AMOLED/LCD display realm (which they both use). Same goes for the Apple Watch SE, a mere $29 more than the music-SQ. The display, and more importantly, how Apple (or Fitbit) utilizes that display, aren't close to comparable. Nowhere was this more apparent to me than when I finished my first workout and saw the HR summary graph at the top, I could only cringe at the lack of UI cleanliness on those pages. While on my other wrist the Fitbit looked stunning. Both have similar battery life.
And look – I get why Garmin has opted for a simplistic user interface. It's not trying to be an Apple Watch, and I think that's a good thing. But there's also no reason for basic graphical cringe either. And as I think Garmin looks towards 2021, it's probably time to re-think elements of their AMOLED/LCD-screen units from a user interface standpoint.
Still, for what the Venu SQ is today, and where it's targeted today – it largely nails it. It accurately tracks my workouts in an easy to use way that doesn't require waiting on a slow interface, or daily charging. The 'just work's factor is super high right now, and if you're looking for a lightweight low maintenance sports watch that also does music and 24×7 activity tracking, it's certainly a contender to consider.
With that – thanks for reading!

Found This Post Useful? Support The Site!
Hopefully you found this review useful. At the end of the day, I'm an athlete just like you looking for the most detail possible on a new purchase – so my review is written from the standpoint of how I used the device. The reviews generally take a lot of hours to put together, so it's a fair bit of work (and labor of love). As you probably noticed by looking below, I also take time to answer all the questions posted in the comments – and there's quite a bit of detail in there as well.
If you're shopping for the Garmin Venu SQ or any other accessory items, please consider using the affiliate links below! As an Amazon Associate I earn from qualifying purchases. It doesn't cost you anything extra, but your purchases help support this website a lot. Even more, if you use Backcountry.com or Competitive Cyclist with coupon code DCRAINMAKER, first time users save 15% on applicable products!
And finally, here's a handy list of accessories that work well with this unit (and some that I showed in the review). Given the unit pairs with ANT+ & Bluetooth Smart sensors, you can use just about anything though.
And of course – you can always sign-up to be a DCR Supporter! That gets you an ad-free DCR, access to the DCR Quarantine Corner video series packed with behind the scenes tidbits...and it also makes you awesome. And being awesome is what it's all about!
Thanks for reading! And as always, feel free to post comments or questions in the comments section below, I'll be happy to try and answer them as quickly as possible. And lastly, if you felt this review was useful – I always appreciate feedback in the comments below. Thanks!