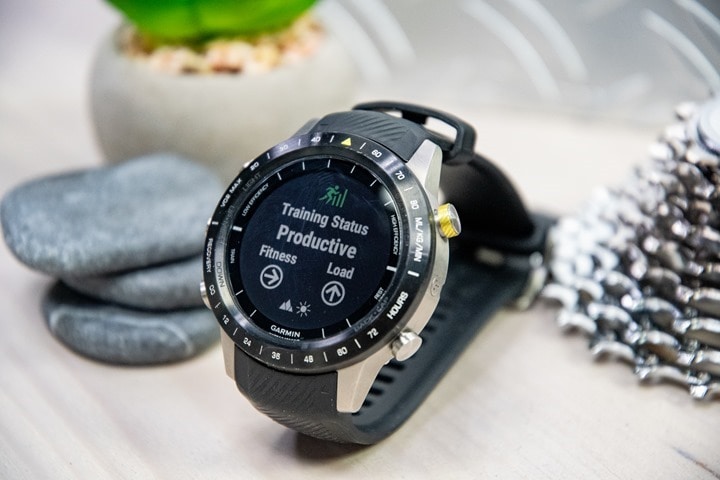 It's been nearly five months since Garmin first announced their high-end MARQ series watches, which top out at $2,500 for the Driver edition. Though the Athlete variant that this review is focused on will set you back 'only' $1,500. All-in, there's five different MARQ units, representing each of Garmin's core business segments (Aviation, Outdoors, Fitness, Marine, and Automotive).
For the majority of those five months the MARQ has been on my left wrist. I've got more MARQ data than I know what to do with. But more importantly, more time than most reviews to dive into the good…and then the less than awesome, of using the unit.
Now, before we get too far into things one has to realize that when you're talking watches into the thousands of dollars – it's not about the features anymore. After all, the new Garmin FR945 at $599 contains every single bit of software functionality as the MARQ Athlete. Seriously, all of it (and has better battery life). Instead, buying something like the MARQ series is because you want the look of it. Whether or not one feels said look is worth that price is a different question, the reality is that people are buying these watches just like I buy expensive camera gear. And just like that camera gear, these watches will be mostly obsolete in 3-5 years. But we'll get back to that a bit later.
First, let's go through an overview of the whole series. If you've already seen my hands-on post a few months back, then you can skip over this next overview section. Oh, and lastly, I've been using a media loaner from Garmin (two units actually). Once I wrap up this review I'll (extra) carefully pack these back up and ship them back to them with all the extra insurance boxes checked. If you found this review useful you can become a DCR Supporter/Member and help support the site. I appreciate it!
The MARQ Series Overview: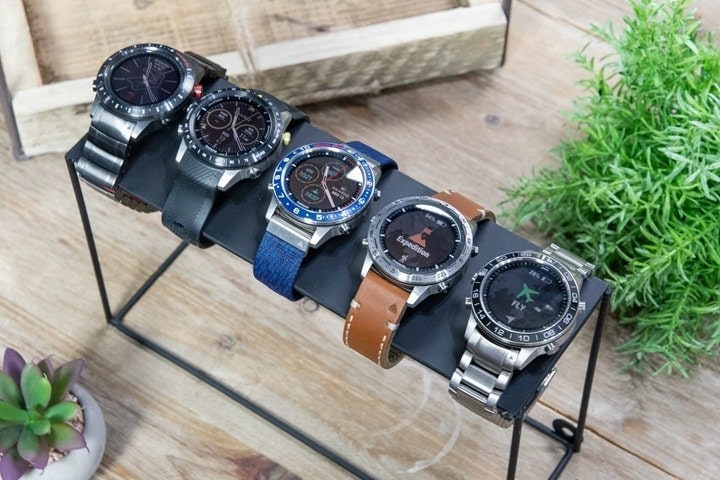 Before we get into all the nuances of the MARQ Athlete specifically, we're going to step back and discuss the greater MARQ series. If you already saw my initial hands-on MARQ post, then frankly you can skip this section – it's nearly identical.
The MARQ Series has five versions, each targeting a different market. Effectively Garmin has taken the lower end variants of each of these watches and elevated them from a materials and user interface standpoint. For example, the Aviator watch is based on the D2, the Expedition and Athlete watches are based on the Fenix 5 Plus (with bits of the FR945), and the Captain is based on the Quatix. So software-features wise these all carry over, though with some new hardware tweaks, like a different GPS chipset and different optical heart rate sensor, as well as more than double the storage space of the Fenix 5 Plus series.
I'm going to run through each version briefly below in terms of feature highlights, along with a bit of a gallery of shots to sip your coffee against.
Common features:
All watches include the same baseline, which is essentially the features of the Fenix 5 Plus series watches, with some twists. So that includes:
– Detailed maps for the region you bought it in (e.g. North America)
– Offline music playback/storage, including Spotify support
– Garmin Pay contactless payment support (load credit cards/etc onto it)
– PulseOx SpO2 measurement
– New physio features around training load, recovery, and acclimation
– Swim/Bike/Run/Golf/Ski, and numerous other sports all included
– Full global database of ski resort runs/maps included
– Full global database of golf courses included
– Revamped user interface for the MARQ lineup
– Revamped Garmin ELEVATE optical HR sensor (officially 'Gen3')
– All watches have incident detection and safety alert features (similar to Vivoactive 3 Music LTE, except without the LTE)
Now, there are some interesting twists in here. For example, above you see the ski resort database, which is new to Garmin starting with MARQ. They've had a ski mode, but not a ski map aligned to that while actually skiing. So that's cool. However, Garmin Connect Mobile (on your phone), lacks that map overlay – so things do fall apart a bit once you upload your ski day. Still, it's progress.
Side-stepping slightly, there are some hardware specific notables that are common to all variants:
– Smaller 46mm size (so basically same as the Fenix 5/Plus, not the S or X models)
– Battery life: 12 days in watch mode, 28hrs GPS-on, 48hrs UltraTrac GPS
– Ceramic Bezel: For the Aviator, Captain, and Driver editions
– New charging cable: Like a blend between the Fenix 5 cables and the Forerunner 645 cables
On the ceramic bezel, Garmin made note to me numerous times on multiple occasions on multiple continents that they went to extreme measures to try and find an ultra-scratch resistant material compared to any watch they've ever made. Many months later I haven't managed to scratch mine yet, but I also haven't dragged it along the concrete walls either. I'm clumsy, so at least so far so good.
From a service standpoint, all watches share the same level, no matter where they were bought:
– 2 years full warranty
– 5 years of parts serviceability from date of purchase (i.e. if bought June 2021, it'd go until June 2026)
– Battery replacement program through both Garmin and dealer
The slide to support battery replacement through the dealer is an interesting twist. Garmin previously required customers contact them directly via their support channels. So this battery replacement aligns more closely with higher-end watch shops.
Even more interesting are two core hardware choices Garmin has made:
1) They've switched to the Sony GPS chipsets (a choice that repeated for all the April/May launched watches/bike computers)
2) They've increased the storage up to 32GB – a huge upgrade over the typical 8-16GB Garmin has used in other units
The first change was the biggest shift in direction we've seen Garmin make in years. Up until MARQ all of their more recent watches have been using MediaTek GPS chipsets. In fact, Sony is a relatively new player in this space. But they've garnered significant attention due to their extremely low power profile. Suunto and Polar both switched to Sony GPS chipsets this past year for their top-end watches, however, that didn't go terribly well. COROS also introduced a watch with it too – and again, GPS accuracy was hardly stellar. It's a dangerous gamble for Garmin to make. They're effectively entrusting their ability to 'fix' Sony's GPS challenges, in order to save significant battery life.  Does it work? I've got more thoughts later in the post after doing some tests.
The second change related to storage space is also interesting, but also confusing. Garmin adopting a sprawling 32GB of space would set the stage for far more maps to be available on the device. But despite that, Garmin is only loading the local region maps, and not the full international detailed map set. So you're still stuck either paying for maps when you travel, or downloading them via clunky steps from 3rd parties. I fail to see how people spending $2,500 on a watch want to take those steps. It seems petty by Garmin.
Athlete Edition Differences:
This variant is as close to a Fenix 5 Plus as you can get from a feature standpoint. But it also has a slew of new fitness-focused features that Garmin further expanded on back in May with the Forerunner 45/245/945 series:
– They've improved the race predictor
– They added training load focus and deeper trainer effect details
– They added heat & altitude acclimation, including VO2Max/Training Status compensation for heat
– They added respiration rate
– They added Incident Detection & Safety/Tracking Assistance
– They added PulseOx (not on all Fenix 5 Plus units previously, only the 5X Plus)
Virtually all of these announced metrics above are driven by FirstBeat. Most of them aren't terribly different than before, but they manifest themselves in cleaner ways. I'm going to dive into that in the breakout Athlete section below. Note that the Athlete edition only comes with a silicone strap, which honestly, I find kinda disappointing. After all, there are Fenix 5 Plus variants for some $500 less that include both a silicone strap and a fancy metal strap – and the FR945 even less expensive with the exact same features.
Expedition Edition Differences:
This variant is like taking a Fenix 5 Plus, but then steering the direction towards longer range tracking and away from normal sport/fitness features. The two unique bits this has compared to a Fenix series unit are:
– Expedition App: This allows you to do 4 continuous weeks of GPS track at 1-hr intervals
– Orienting lock: Allows you to lock a heading from within the map view by holding the start button
And again, for these features, I'm going to cover them down below in the Athlete/Expedition detailed section.  The first one though related to a four-week GPS track is fascinating. Not just because of the watch side of the house, but also Garmin working on the backend platform to ensure it properly supports files uploaded from that. The Expedition includes an Italian Vacchetta leather strap. Without question, it's the prettiest strap out of all the editions in my eyes.
Aviator Edition Differences:
This watch is based upon the Garmin D2 PX Delta unit (which is in turn based upon the Fenix 5 Plus series). It's focused on piloting an aircraft, including integration with some of Garmin's flight management systems via the Flight Stream 510, and has pre-loaded aviation maps and airport databases.  [Updated] In addition, beyond all the features of the D2 PX Delta watch (which came out last July), there doesn't appear to be anything new. The below three features Garmin noted as new were added via firmware update to the D2 PX back in December.
I'm a bit of an aviation geek. One of these days I'll finish my pilot's license. But looking at both this and the D2 PX, there's so much cool stuff packed in here, especially around things like NEXRAD weather radar. One of these days I'll get to use it for its intended purpose. The strap is titanium with a "multi-link swept wing design" (their description, not mine).
Captain Edition Differences:
This watch follows after the Garmin Quatix series, and is actually a notable upgrade from the Quatix 5, since that unit as based on the Fenix 5 and not 5 Plus series. So this variant gains all the music/contactless payment/maps bits that one lacked. The main focus here is connecting to Garmin's marine units to actually control your boat from your wrist. For example, when connected to the GHC 20 you can control autopilot. It also supports hotkeys for actions like man overboard plotting and automatic navigation to it, as well as functions like anchor alarms and tack assist modes.
With the Captain edition they're adding the following:
– Current weather watch face, including at specified home port
– Regatta Timer with GPS and dedicated bezel markings using start/stop hotkey
And again, the big update here is also the mapping compared to the previous Quatix 5, which didn't contain mapping. The strap is Jacquard Weave and is pretty stunning in real-life. If it wasn't so costly, I'd definitely consider it for my Fenix 5 Plus unit.
Driver Edition Differences:
Ok, 'differences' is the wrong word here. Because Garmin has never created a watch in this category before. So this is a first for Garmin. Still, these are new features above/beyond what a Garmin Fenix provides today, and they're all aimed at driving versus sporting.  They are:
– 260+ pre-loaded race tracks (full list here)
– Race App
– Track Timer
– Live Delta Time
– Auto Lap Splits based on position
– Lap Time Repeatability Score (LTR)
– Last Race Summary
– Virtual Pit Wall
Unfortunately this particular item isn't one I can readily test, and since there's no past context to base features on, my ability to discuss it in depth is somewhat slim. Still, I went ahead and tried to find these features and apps on the watch as best as possible for the gallery below.
Phew – got all that? Good, that's a lot of watch imagery goodness for you!  Now, to put some cold water on that, here's a nifty graphic from Garmin showing you how many clams you're going to need to shell out for each version:
Eeks! At least they're pretty.
Now interestingly, you won't find these in any of the Garmin retailers/stores you know today. Garmin will only be selling these watches through high-end watch shops (some of which sold the Garmin CHRONOS lineup previously, but most are new to Garmin). That's a big shift for Garmin, which won't offer the watches through retailers that are specific to each product group. Garmin says they expect customers looking at this range of watches to be going to dealers that sell TAG, Breitling and others – and thus, they'd likely already have a connection with that watch shop.
That may be true, but it's also questionable. As a runner, I'd never go to a high-end watch shop to find a running…err…Athlete watch. Similarly, if I was into Garmin's marine gear (where I'd probably have dropped over $10,000 to begin with for their systems), I'd likely go to my marine dealer. Same with aviation, and so on. I'm not terribly sure that I'm going to get someone that fully understands the nuances of all the tech features in a Garmin watch from a typical high-end watch dealer. And given Garmin's entire pitch is the tech, that seems questionable.
In fact, as of today if you want to purchase one in the US, your best bet is to go to Macy's. You know, where you buy socks, underwear, and Kitchen Aide stand mixers on sale with a 20% coupon clipped from your Sunday circular. Though, this weekend's underwear coupon isn't valid on the MARQ series. I checked.
Note that I don't plan to review the Driver, Aviator, Captain, or Expedition editions. Mainly because I currently lack a racecar, airplane, boat, or mountain. If anyone wishes to donate one of those objects to me, I'll happily review said watches.
Unboxing:
I'll be honest, the initial exterior of the Garmin MARQ box is horribly underwhelming. It's just a blank white box. Less exciting than even the most inconspicuous white box of illegal narcotics.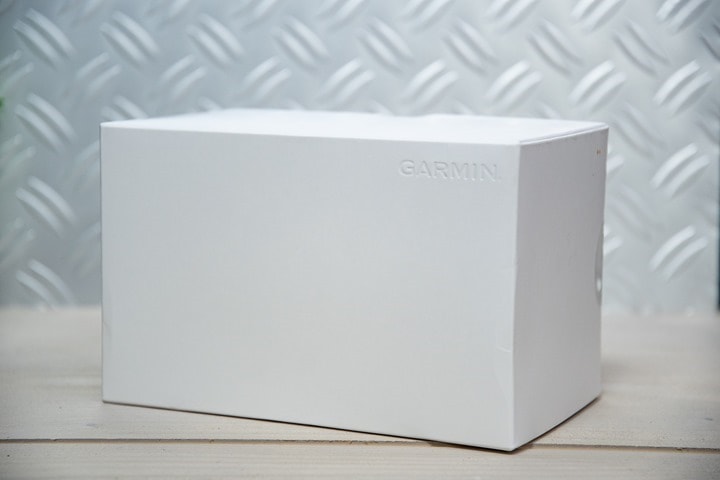 However, once you take away the vanilla exterior you're left with a far more interesting box…err…case. Yup, it's an actual metal case. Roughly akin in size to one of those squarish tissue boxes.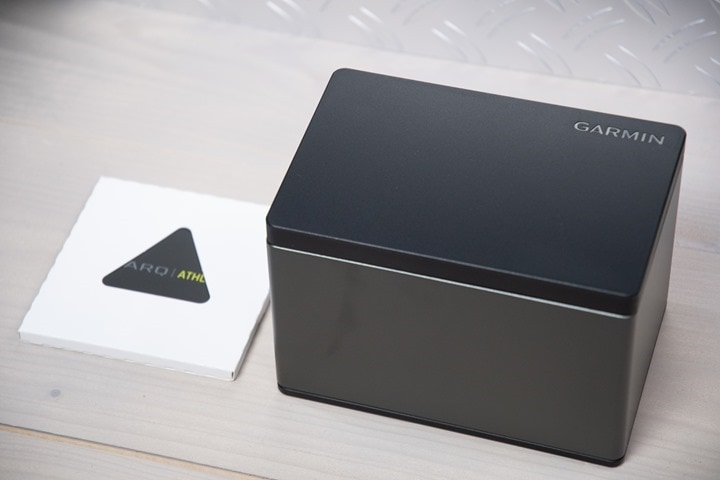 Crack the lid on that artillery case and you'll find a small pile of paperwork, which includes an international warranty card. An attempt to be like the fancy watch companies.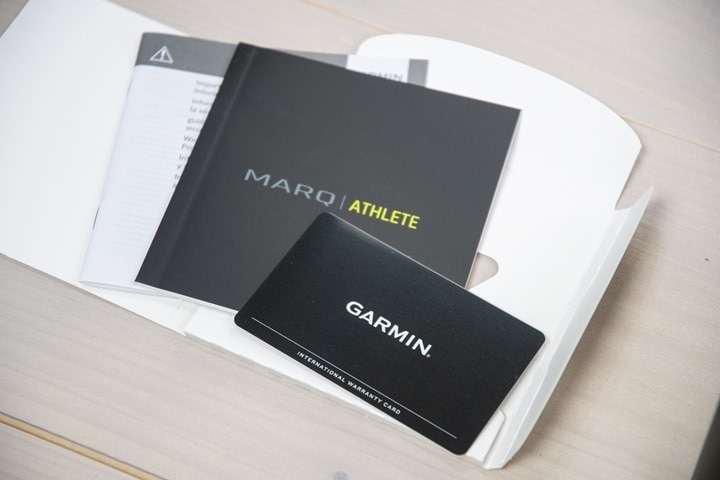 I'm curious though – if you buy at Macy's, do you get a Macy's 'stamp' in that spot? I mean, just asking for a friend.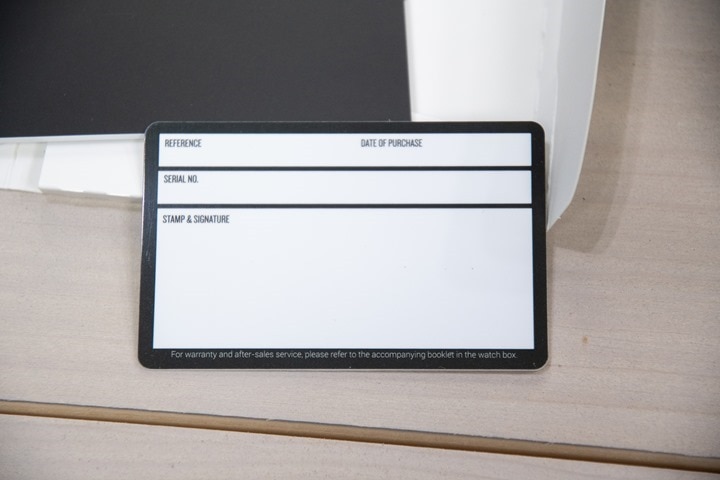 Below all that you'll find the watch longingly looking up at you: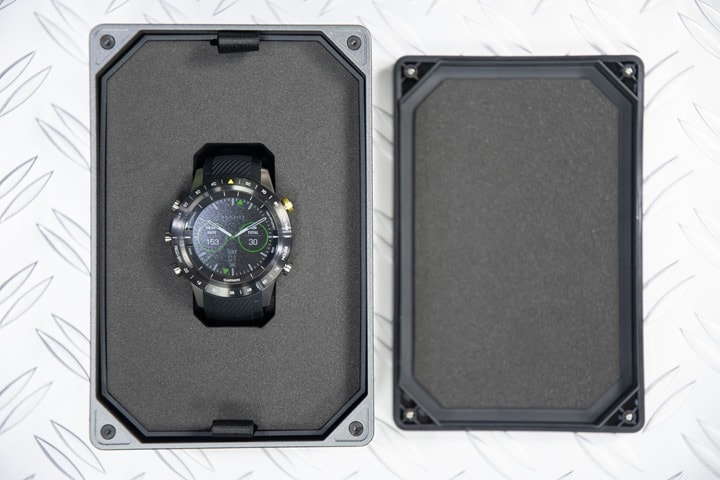 Remove a few decks, and here's what you've got: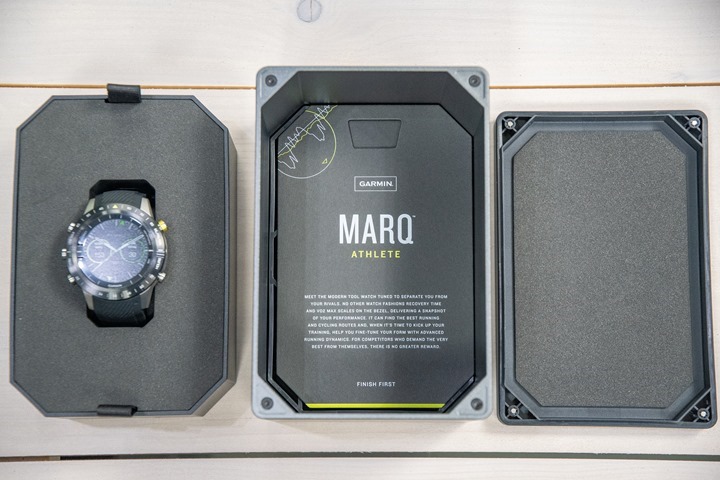 There's a hard card that on one side warms your heart with the best motivational moment Kansas could muster, and the flip side explains the meaning of MARQ button and bezel life:
Then you've got the tightly wound charging/syncing cable. No Garmin cable ever produced has exhibited as much Type-A personality.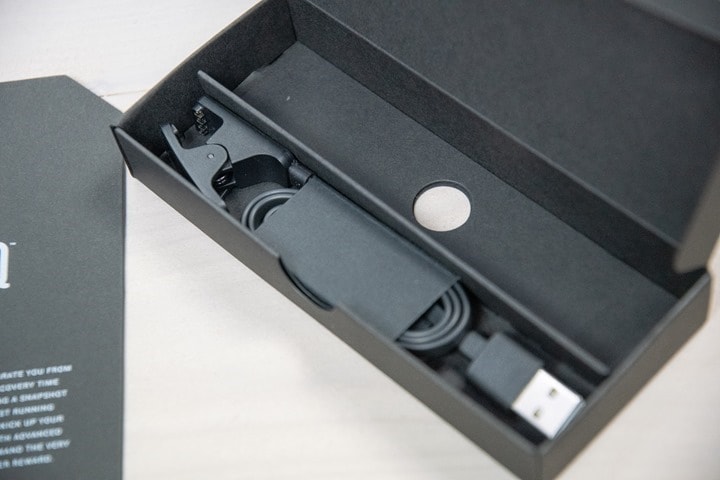 This one even glistens in the light, knowing it's totally unique in the Garmin family – compatible with nothing else the company makes.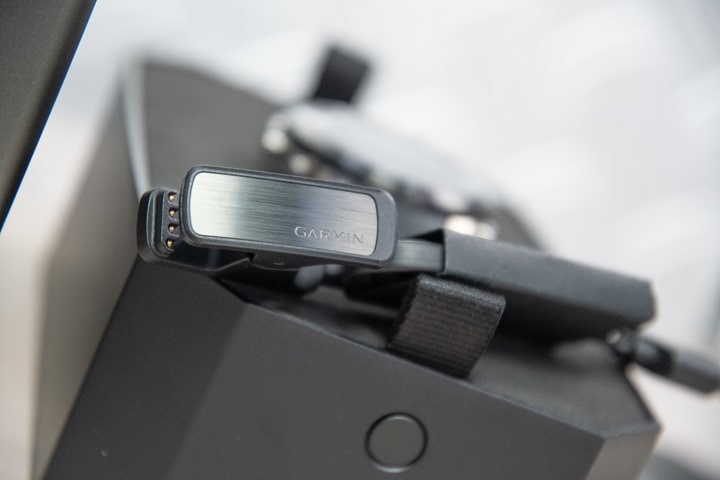 As for the watch itself, here's the backside of it. Fear not, we'll see plenty of the face of it by the end of this review: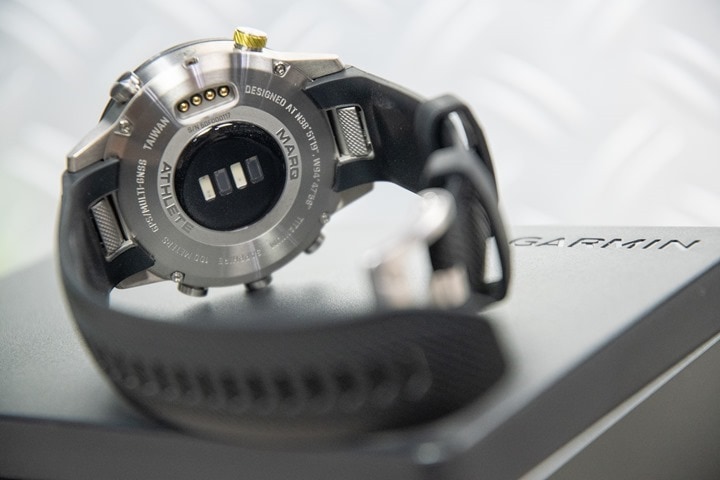 You can release the bands by pressing the small buttons on the underside of the straps nearest the watch. That allows you to spend another $100+ for additional straps. Meanwhile, the underside gives you the coordinates of Garmin's Olathe headquarters in Kansas. While also letting you know it was still made in Taiwan like every other Garmin Fitness/Outdoors device.
With that, you're ready to get it all paired up to your phone via Garmin's smartphone app Garmin Connect Mobile.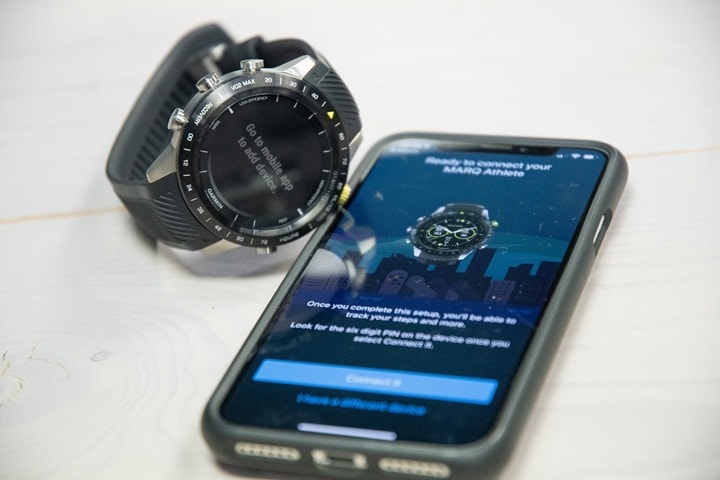 While you technically don't have to do this, it's how you'll get things like smartphone notifications, setup streaming services like Spotify, and automatically sync your workouts to sites like Strava. Among a million other things.
Day to Day Basics: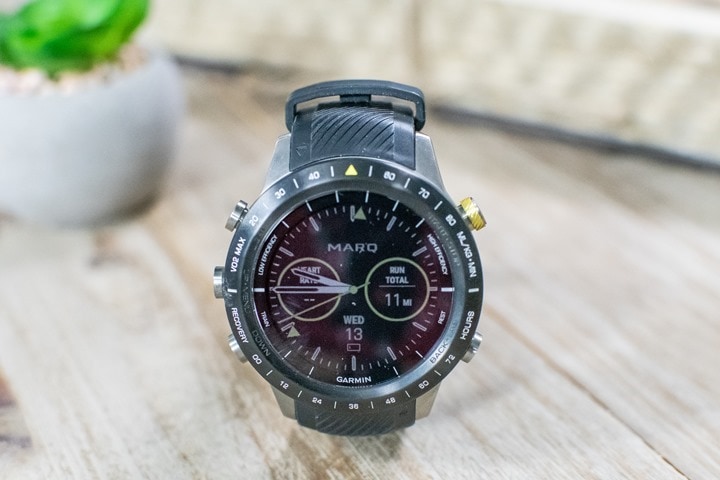 This section is essentially a walk-through of the basics of the watch and how it works with Garmin Connect Mobile. If you've been around the Garmin watch block a few times, then honestly none of this will be super new. What will differ though is the user interface, which is updated on the watch compared to a Fenix 5 series. Not drastically different, but different nonetheless.
However, if you're totally new to Garmin watches and reading this – then consider this section a bit of a primer.
First up is the watch face. Each of the MARQ watches have a unique watch face for that edition. Like almost all Garmin watches, these are customizable both with watch faces from the Connect IQ app store, but also just by tweaking virtually every bit of data you see on it.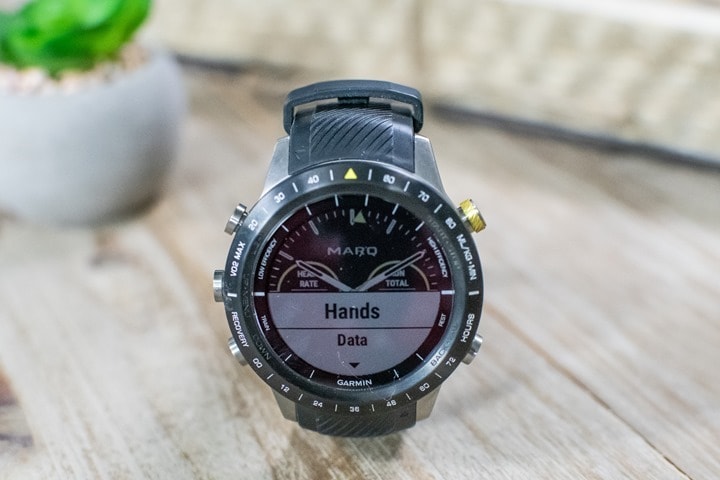 All of the watches have the same button layout, and this mirrors the Fenix series. The left up/down buttons iterate through the widgets. These include current weather (newly revamped widget), your last workout, training status, history, music, health stats, and plenty more. Here's a small gallery of what it looks like. Note that virtually all of these widgets have had the UI (user interface) tweaked compared to the Fenix series:
The middle button on the left side accesses the settings controls area. This is both for individual sports/apps, but also watch settings. This too starts off similar to the Fenix 5 series, but then takes a tweak to the user interface down lower in the menu. The settings options here are all the same best I can tell, just simply re-arranged.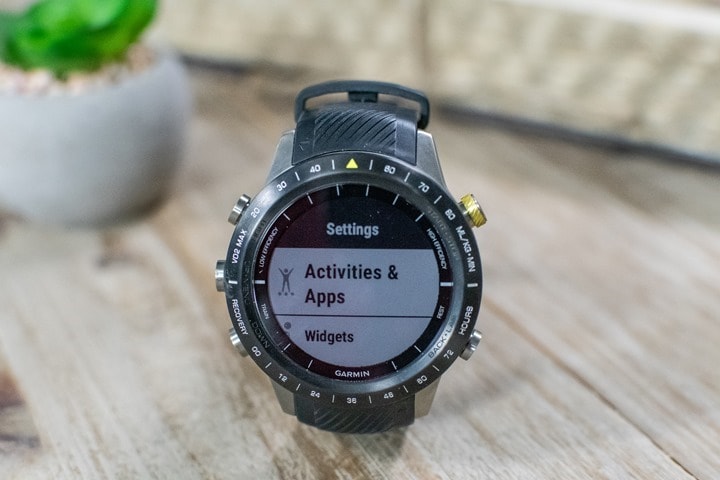 Next, you've got the upper right button. If you tap this once this takes you to the sport mode selection. It's also where you'll choose to start apps that you've downloaded. Again, this is updated. There's a continuously sliding view of the earth behind each sport/app. It's a clean never-ending animation in real-life that adds a nice touch to things.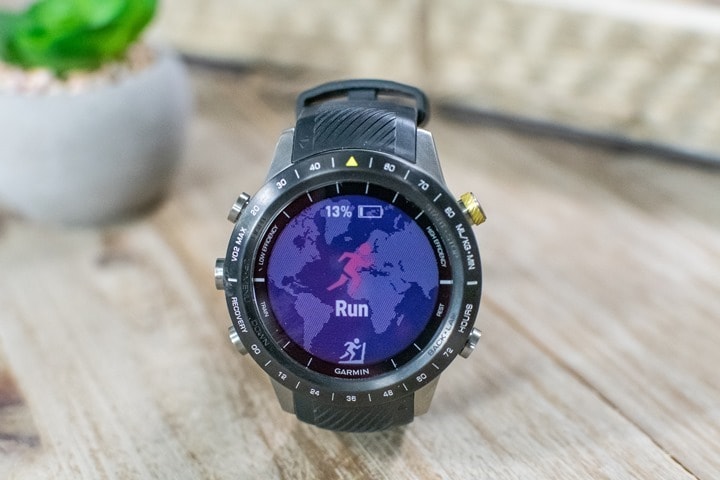 By selecting a sport or app it'll go off and start connecting to the relevant sensors, as well as acquiring GPS. So for the Athlete edition that means connecting to sport sensors like speed/cadence/power sensors (and plenty more). Whereas for the Aviator edition that would be to flight management systems, and with the Marine unit that'd be to Garmin's suite of control systems there.  If selecting an indoor sport (like Yoga), then it wouldn't enable GPS.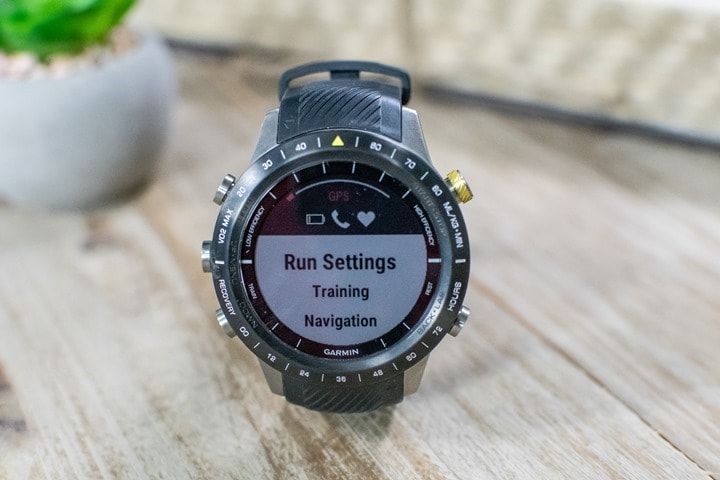 Fear not, we'll talk all about the sports bit in the next section. So I'll save all of that for there.  Meanwhile, for the Aviator/Driver/Captain units, I've tried to include as many photos above in the galleries in the earlier sections, to cover some of those features. But given I lack a boat/plane/race track, that's a bit tricky.
In addition to having pressed that upper right button once, you can also long-hold it. Consider that the party-trick of each edition. For example on the Athlete edition if you long-hold the start/stop button it'll bring you to a new training metrics page unique to the MARQ Athlete. Whereas on the Aviator edition it'll bring you to the DIRECT-TO option for navigating to a given ident. On the Captain edition it pulls up the Regatta timer, and on Expedition it pulls up the heading lock on map screen. Essentially, for each edition it connects to the banner new feature not seen on other watches.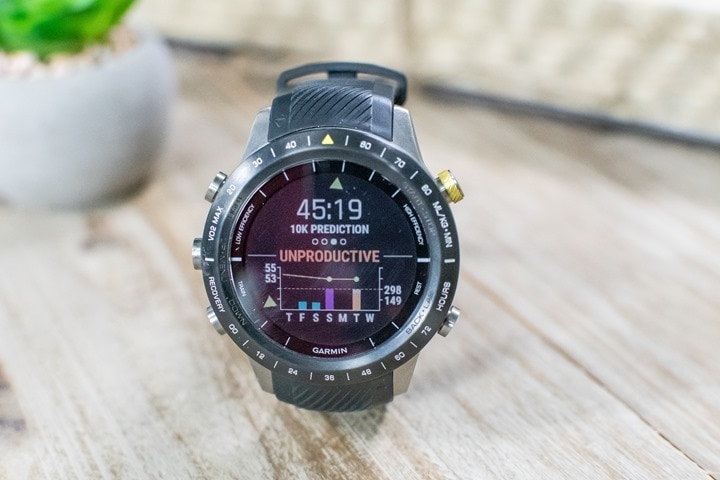 Meanwhile, on the back of the unit you've got the optical HR sensor. This is what Garmin calls their 3rd generation ELEVATE sensor, though in reality there's been many more minor editions in between. Still, this essentially takes the Garmin Fenix 5X Plus optical HR sensor with PulseOx and upgrades it yet again. It's the same sensor used in the Forerunner 945 and Forerunner 245.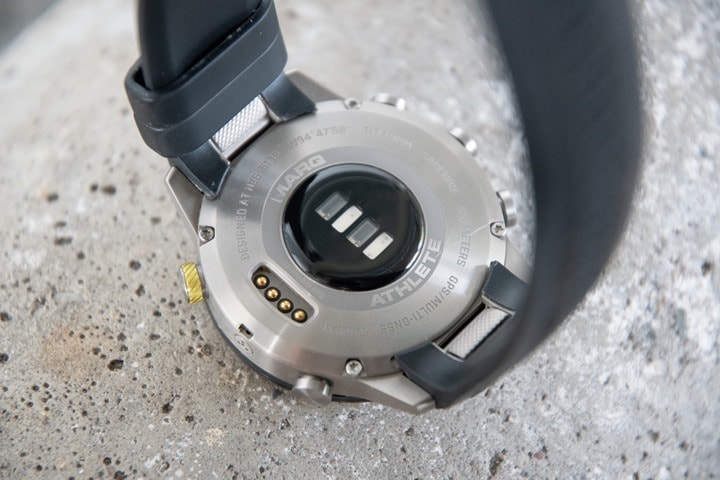 Also on the back you'll see the ability to utilize the QuickFit type straps that Garmin has. These lock onto the watch pretty securely, and are slightly updated with the MARQ series. All watches include a single strap on the watch itself in the box, but no secondary straps. If you want those, you'll need to shell out a boatload of cash.
Meanwhile, virtually everything you do with the watch is being synchronized to Garmin Connect via their smartphone app (Garmin Connect Mobile).  For example, that optical HR sensor is constantly monitoring your heart rate 24×7 with its little green LED. That's uploaded alongside the more frequent SpO2 readings taken via the red LED on the back. That's also uploaded and charted on Garmin Connect Mobile:
In addition, all your daily activity stats like steps, stairs, distance walked, etc… is also present within the app as well as online on the website too:
Newer metrics found on the more recent Garmin devices are also seen there too – like Body Battery, which aims to quantify the blend of sleep, stress, and activity together.
The calendar app will show both manually started workouts, as well as automatically detected exercise. For example, my run yesterday was a manually started workout, whereas the numerous bike rides around town between office and home were automatically detected:
Finally – one last thing to briefly touch on is notifications. All watches will display smartphone notifications from both iOS and Android. You can control these via the notification centers on both platforms. The notifications are simplistic, and not on the same level as the Apple Watch in terms of things like pictures or such (but some emoji do show up):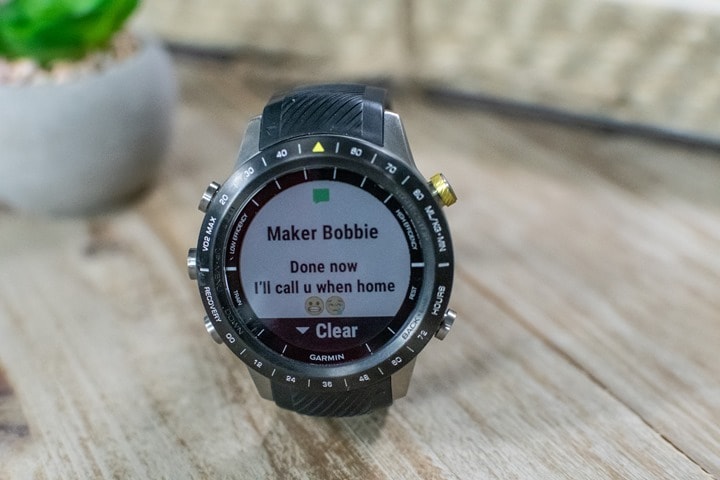 Note that with an iOS device you can't reply/answer back notifications, due to restrictions by/from Apple (which doesn't allow 3rd parties access to text messages). My understanding is on Android however you can reply back from the watch itself.
Ok, with that I think we've covered all the basics, now it's time to get sporty.
Sport & Training Specifics: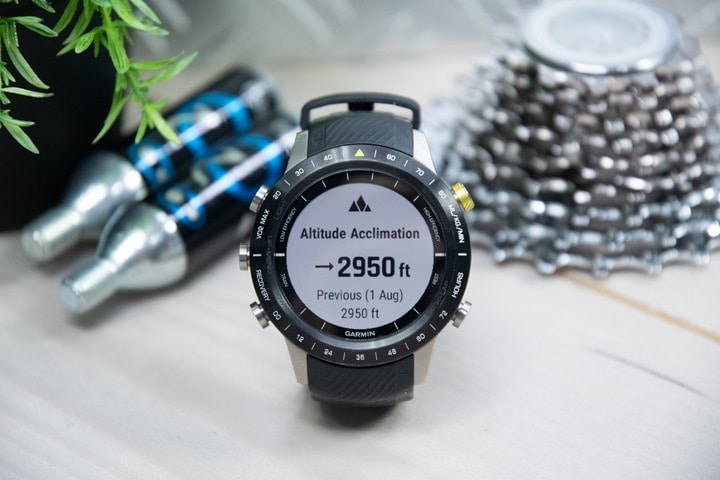 In a bit of a weird twist, when the MARQ series was first announced we actually didn't know many of the new fitness features that lurked below the surface. Sure, some hints of changes were visible – but the entire story took another month or two to fully light up, roughly when the Garmin Forerunner 945 was launched. That's when the full extent of all the new physio-focused features became far more clear and the differences to the Fenix 5/5 Plus series became more marked.
For example, all of the following fitness-focused features are above/beyond the Fenix 5 Plus series (all are also on the Forerunner 945 though):
– Added training load focus stats
– Added deeper training effect details/metrics
– Added heat acclimation (for any workouts in temps over 71°F/21.6°C)
– Added altitude acclimation (for any time or workouts spent above 850m/2,788ft)
– Added Incident Detection (if you crash your bike it notifies someone)
– Added respiration rate (with a chest strap)
– Added Safety/Tracking Assistance (you can press button to send help alert to friends/family)
– Revamped race predictor to be a bit more strict on predictions (more than just VO2Max lookup charts now)
– VO2Max now compensates for heat (previously it didn't)
– Training Status now compensates for heat (previously it didn't)
– Added PulseOx sensor (was only on Fenix 5X Plus previously)
And to be honest, if you added atop that list 'changed GPS sensor to Sony', then you'd basically have the entirety of changes over the Fenix 5 Plus series, as all other changes in the MARQ are specific to materials and more cosmetic in nature. Ultimately, if you distill this entire review down – the only difference between a MARQ Athlete and a far cheaper (and plastic) Forerunner 945 is materials (and battery life, which is more on the FR945). All the sport-focused software features are identical except it does have a few additional modes like Jumpmaster and Tactical, which harken from the earlier Fenix/Tactix days.
So let's start at the beginning, and that starts with choosing a sport. To do so you'll simply tap the upper right button to display the sport modes. Once you tap this button the unit will actually start looking for GPS, even before you select an outdoor sport. It's trying to get a jump on the task at hand.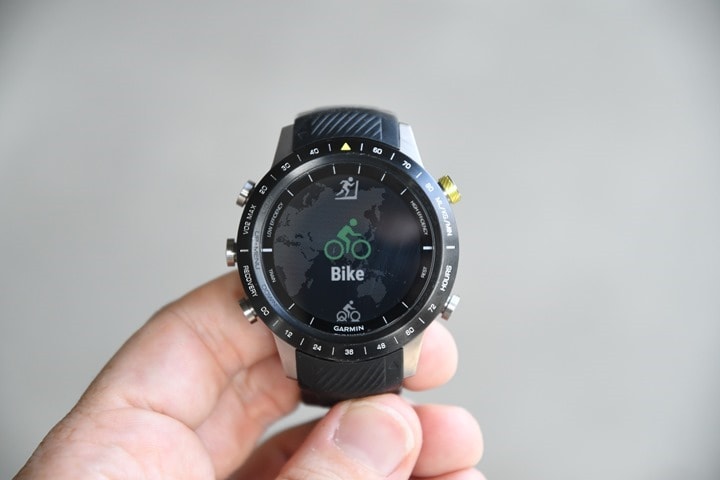 There are numerous sport modes available (which technically speaking are apps). Some sports have super detailed metrics, whereas others are a bit more bland. For example the detail and focus on running and cycling is strong. But if you go to kayaking or rowing, you'll get overall metrics just fine, but not things like paddling rates. So again, it varies. In any case, here's the complete sporting listing:
Trail Run, Run, Hike, Bike, Bike Indoor, Open Water Swim, Triathlon, Golf, Navigate, Track Me, Map, Multisport, Treadmill, Indoor Track, Climb, MTB, Pool Swim, Ski, Snowboard, XC Ski, SUP, Row, Row Indoor, TruSwing (Golf related), Project Waypoint, Walk, SwimRun, Kayak, Strength, Cardio, Yoga, Floor Climb, Elliptical, Stair Stepper, Clocks, Boat, Tactical, Jumpmaster, Other [Custom]
You can iterate through the list by simply pressing up/down, as well as add sports to your favorites section (for quicker access). One minor nuance is that I've found it somewhat easy to randomly end up in the sport selection menu (pending me waiting to actually select a sport). For example, as I went through security the other day at the airport I came out the other side and found my watch on the sport selection screen (whereby it's burning GPS time already).
This is likely because the larger yellow selector button butts right up against my wrist bone, and is more easily accidentally pressed. While the menu will time-out automatically after a few mins, I find myself on this menu multiple times per day somehow.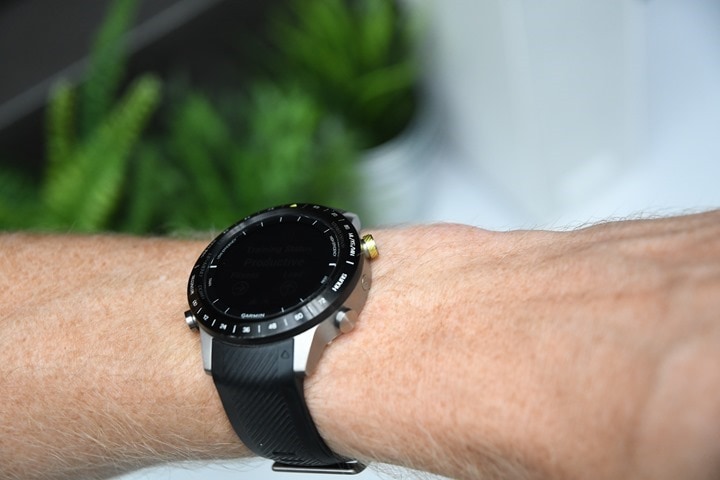 Once you've picked a mode for your sweat session, it'll complete finding GPS, as well as connect to any sensors (such as heart rate monitors or cycling sensors). The MARQ series supports all the same sensors as the Fenix 5 series and the FR9945 did, including Bluetooth Smart sensors as well.  There's no additional/new sensor types support here. Here's the full listing of sensor types it supports:
Headphones (Bluetooth), External Heart Rate (ANT+/Bluetooth Smart), Speed/Cadence (ANT+/Bluetooth Smart), Cycling Power Meters (ANT+/Bluetooth Smart), Footpods (ANT+/Bluetooth Smart), VIRB Action Camera (ANT+), Tempe temperature sensor (ANT+), Shimano Di2 (private-ANT), Cycling Gear Shifting (ANT+), Cycling Lights (ANT+), Cycling Radar (ANT+), Extended Display (ANT+), RD Pod (ANT+), Muscle O2 (ANT+), Garmin inReach (ANT+).
So basically, anything and everything you could want. Also, it supports Garmin's 'Xero' lineup of range finders/sights (you add those in a slightly different spot).  The only notable exception to the list above is cycling ANT+ FE-C trainers, which are not connectable here (but are using Garmin's Edge devices).
You can save/connect multiple sensors of the same type.  For example, if you have multiple bikes, each with their own cadence sensors on them, it'll save those and automatically connect to them when those sensors turn on.  Additionally, via data fields and apps, companies can create their own sensor types.  We've seen companies create tire pressure sensors and aero sensors.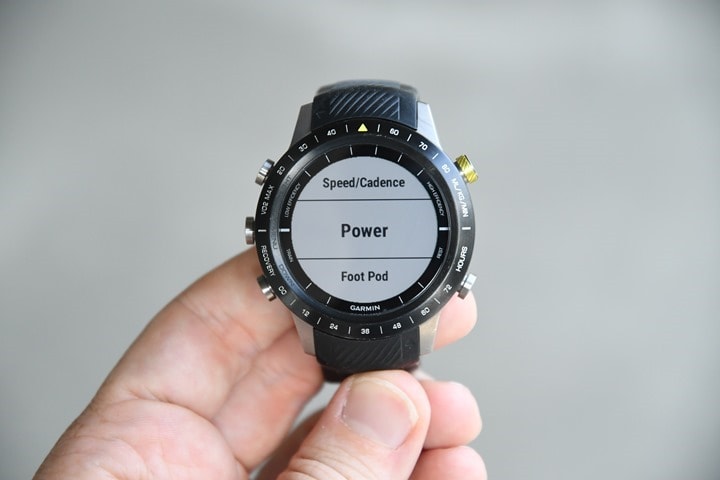 Note that sensors are across the entire device. So you define sensors and all activity profiles/sports can use them. I've saved numerous sensors to my watch, and if I've got two sensors active that 'conflict' (like two HR straps nearby), it'll simply ask which one to use.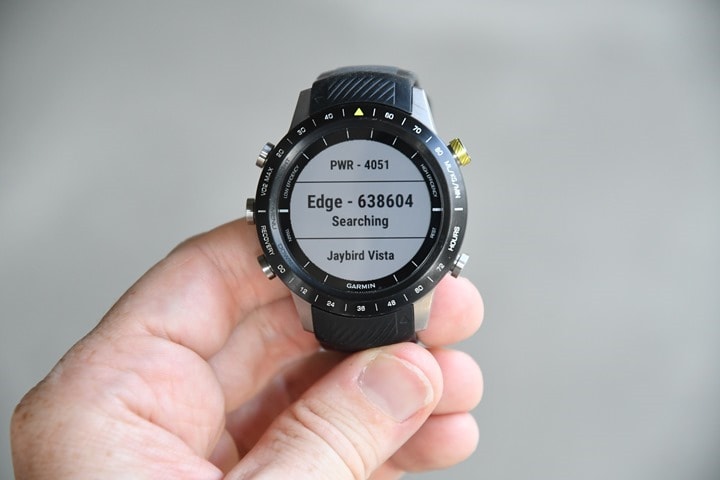 Speaking of those sports above, each one is customizable with unique data pages/metrics, and settings.  All of these screens are customizable, and you can create/add new pages/screens as you see fit (a crapton of them, more than I could create). There are also stock screens with certain data types, including Virtual Partner, Compass, Elevation, Map, and Music controls.
However, custom data pages can have up to four data fields on them, in a variety of patterns.  You can choose the pattern and then choose the individual data fields to add to those pages. Here's a gallery of different page looks:
Like I said in the Forerunner 945 review, I'd like to see Garmin allow users to put more data on these screens. Especially when looking at the larger MARQ screen. After all, Suunto allows significantly more data on their custom pages. And while you can download some 3rd party Connect IQ app data fields that do such things, that's quite frankly cumbersome. There's no good reason to limit it to 4 data fields per page on such a large screen.
Now that we've spent half our life setting things up (in reality, you don't need to do anything above I noted, you can just press start and go), it's time to begin our workout. Just press the start button again and it'll start recording and displaying your metrics. Here's a quick look at what some of those metrics look like in yet another gallery. You can never have enough galleries:
With everything cooking along you'll be out running, riding, or what-not. For a sport like running, I saw no issues with pace stability. It reacted just fine to my changes/shifts in pace. I'm usually looking for quick responsiveness when doing something like a track workout, yet more stability on a longer run. Either way, that hasn't been a problem for me (or perhaps I'm just a stable runner).
Note that the MARQ series does include incident detection (as well as safety alerts if you are in a situation where you want to quickly notify friends/family something might be up). Where incident detection is basically if you crash while riding your bike, it'll trigger. The unit is essentially looking for a high g-force type event followed by nothing. Meaning, merely landing a jump hard shouldn't trigger it, but rather crash-landing a jump and then having your speed go to zero will likely trigger it.
In practice, I have had one false positive while riding (and then another false positive on the FR945, which employs identical tech). In the case of the FR945 I understand why it triggered (I was riding along and dropped off a sidewalk and then immediately stopped quickly at a stop-light). But with the singular MARQ false-positive I was happily riding along in the Alps and it just randomly triggered. Mind you, this is like nearly 5 months of riding with it and only having it false-positive trigger once isn't the end of the world. You've got 10 seconds to cancel it (though that can be tricky to do while mid-descent).  You can tweak who it contacts and how it works in the settings of both the device and the app:
Once you've completed your workout (by pressing stop, then save) you're going to see the new post-workout screens. These start by showing a quick outline of your route if outdoors, and some high-level stats. It's divided up into a rotating upper portion that lists Summary, Training Effect, VO2Max & Recovery, and Training Status.
Then lower down you'll get more detailed stats about different areas, such as laps or a map or training effect.
It's within these Recovery & Training Status bits that you'll start to see some of the new features that were also launched on the FR945 this past spring. First is that there's new Training Effect details and labels. Training Effect itself has been around a long time on Garmin watches/bike computers, but now it'll list the exact training benefit of each workout you do. For example my ride last night it shows the training load (181) at the bottom, and the specific benefit up top in orange (Threshold). You'll also see the breakout between anaerobic vs aerobic listed too.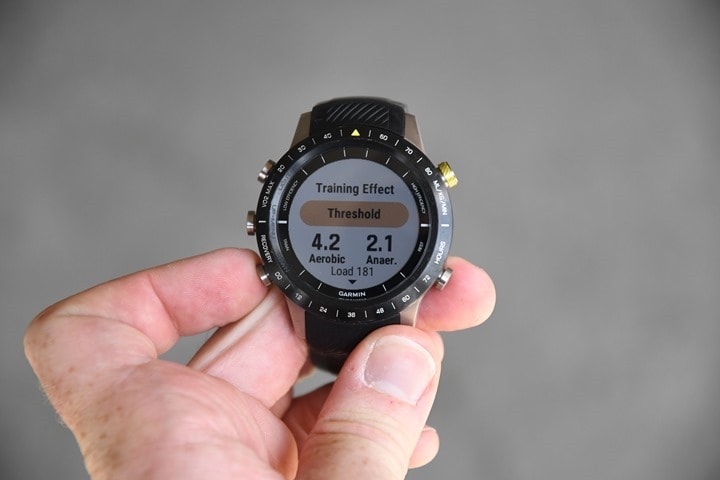 If I press the down button, I'll then get a tiny bit more detail for both aerobic and anaerobic, each on separate screens. It'll indicate exactly what within each of those two classes it was benefiting.
But for a lot of folks the above detail wasn't super helpful. It's kinda just noise for the average athlete. So within the FR945/MARQ series you'll now get more specific training status details for fitness and load. This basically tells you whether your fitness is improving or declining (or maintaining), and then what your load is doing (up/down/maintaining).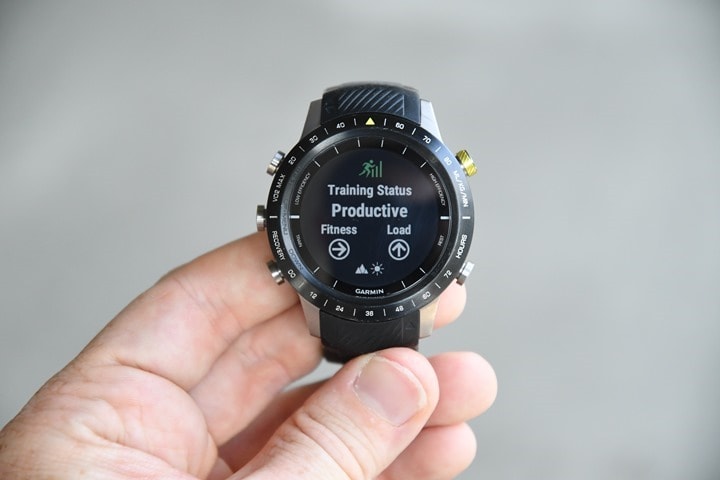 If you press down you'll get a 7-day load widget, showing you the types of load and the amount of load you accumulated each day. Additionally, it'll list the optimal range of load for you, based on your current load. Meaning that if you've just started training and it'll keep that load lower, versus if you're pumping out 10-12 hour weeks each week – you'll see that be higher.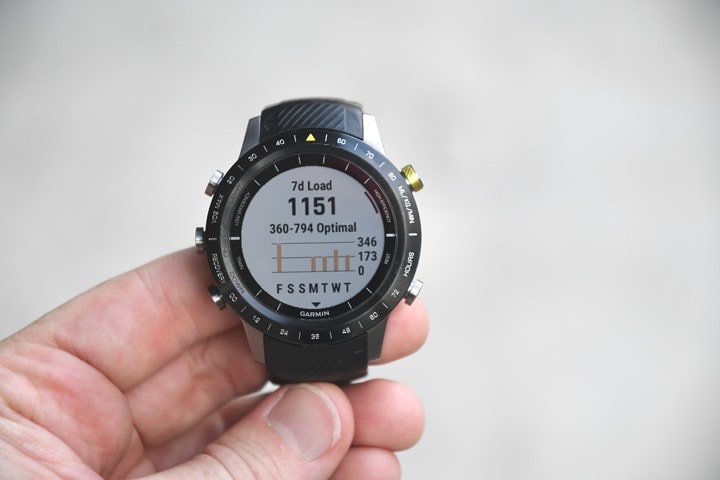 As usual with these sorts of metrics, you're really looking at about a four-week timeframe until it really starts to learn you. And in fact, the next page is geared exactly towards that. This page will show your four-week load focus, including these little pill icons that basically show you whether each load type is balanced correctly. Thus if you've got too much high-intensity load versus not, it'll indicate that. Like eating, varying intensity in your workout diet is important. Simply doing a hard workout every time isn't the path to getting faster.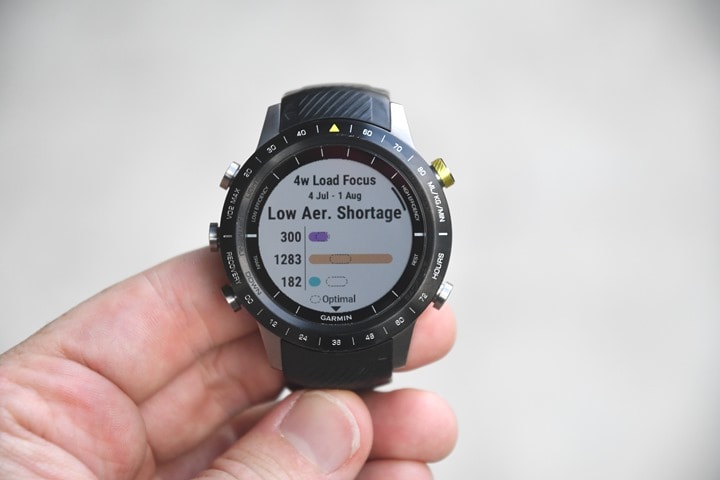 In fact, if you press the enter button it'll tell you exactly how you should tweak your training diet to better align things: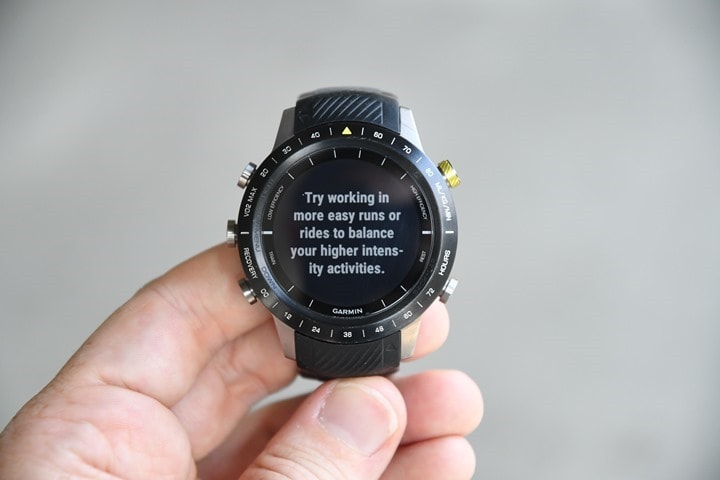 After that, the next page shows your current recovery time. In general, this is for your next 'hard workout' and not just the next workout in general. I've always somewhat taken this number with a grain of salt, and usually find it a bit too conservative.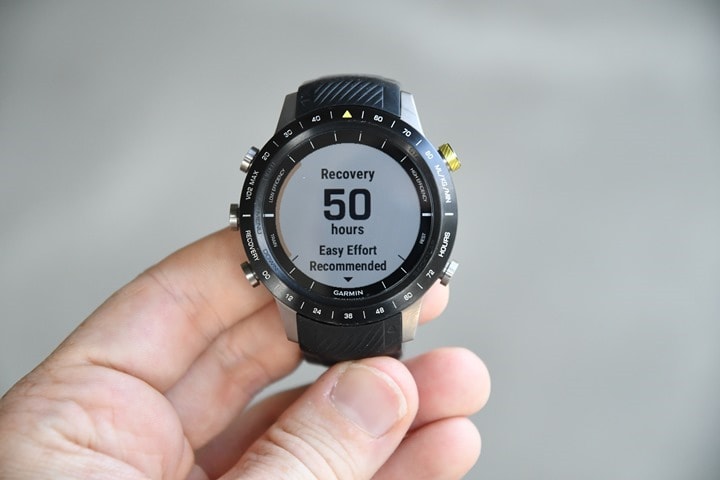 After that, I've got altitude acclimation, which is on both the FR945 and MARQ. The goal behind both of these are post-workout calculations tied to figuring out whether or not you're acclimated to a given temperature or altitude. Obviously, both can significantly impact performance.  Starting with heat acclimation, the function leverages nearby weather stations. So your unit has to have connected to Garmin Connect Mobile within 3 hours of starting your ride in order to receive that weather data (it doesn't use on-device temperature).
You'll see small icons on the bottom of the training status page if you're in the midst of acclimating to anything. In the case of below last week, I managed to score both heat and altitude acclimation icons at the bottom: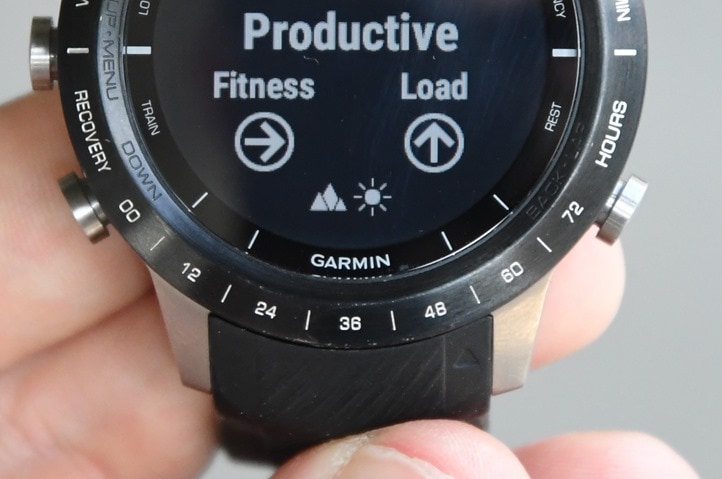 Altitude acclimation/adaption starts with a minimum threshold at altitudes above 850m/2,788ft, and tops out at 4,000m/13,123ft (Garmin doesn't calculate above that level, sorry folks). Garmin says that they divide up training vs living altitudes, just as typical studies would. The company says that adaptation algorithms within the MARQ/Forerunner 945/Edge 530/830 assume total adaptation after 21 days, and that adaptation is faster at the beginning of altitude exposure. Additionally, adaptation will decay within 21-28 days depending on acclimation level.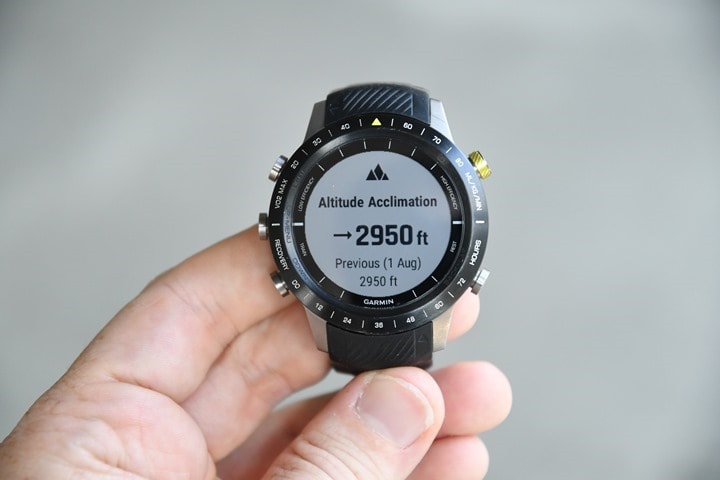 Fun geekery moment for you: On the Forerunner 945/MARQ, the altitude acclimation is based both on workouts, but also on where you sleep each night. At midnight the unit will quietly take an altitude reading (actually, it's doing it all the time anyway), and then use that reading to determine acclimation. Where this gets fun is when you take redeye flights, as it'll take that reading at between 6,000-8,000ft (pressurized cabin altitude of a commercial airliner). At first you may think this would skew results, but in reality – it's actually correct. Your body is acclimating to that altitude. Where it's slightly off is that it assumes you're spending 24 hours at that altitude, rather than the 5-14 hours you're likely spending at that elevation.
Meanwhile, the next screen is heat acclimation.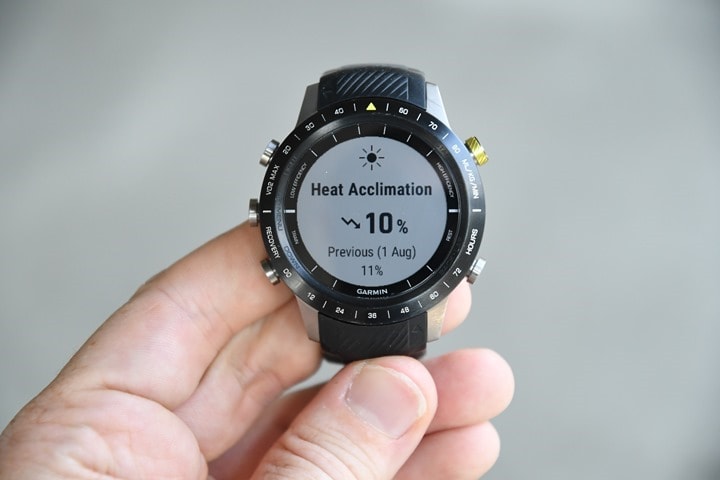 For heat acclimation it applies a heat correction factor for rides above 71°F/22°C, using a percentage based amount from published studies (humidity is also factored into this as well). This is then shown in the training status widget. Garmin says they assume full acclimation takes a minimum of 4 days, and acclimation/adaptation to a given high temperature will automatically decay after 3 days of skipped training within that heat level.
Some of this is available within the Garmin Connect Mobile app, but it's messy and scattered at best. For example, here's the Training Effect pages (under Performance stats, but not the self-titled 'Training Stats' section) – but this is missing the matching color coding of the device itself (no purple here):
However, the 'Training Status' section gets you a bit closer. Showing altitude acclimation as well as heat acclimation. But there's still weird gaps. For example, the 'Load' metric on the screen is missing a value on the main page. Though, it does do an interesting job at dividing up whether any given week was productive or not.
In any event, re-winding a little bit to where we left off post-workout, the workouts are automatically synced to Garmin Connect via Bluetooth to your phone or WiFi if you've configured that. From there you can open it on Garmin Connect Mobile:
Or, on Garmin Connect itself. Here's a recent workout of mine from last night if you want to poke around by clicking on the link: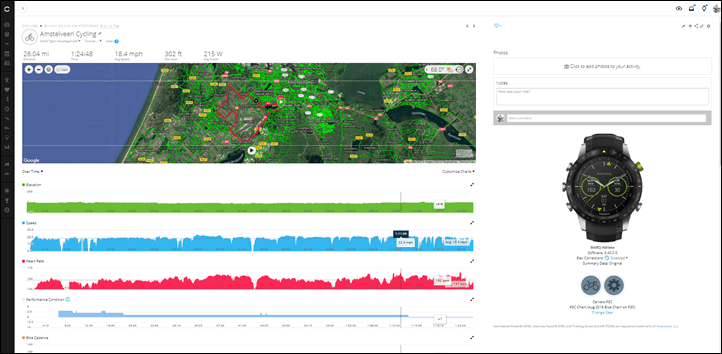 In addition, at the same moment these activities are sent to any 3rd parties that you've connected to your account, like Strava or TrainingPeaks, among many others. At which point, we've covered how everything works from a sport specific standpoint. Of course, there's countless nuances to other metrics you can dive into like VO2Max (which now accounts for heat), or stress tracking via HRV data.
Now switching very briefly to swimming is that as of today, in the official production firmware, Garmin doesn't leverage the optical HR sensor while swimming, whereas Polar and Suunto do. But that's already changing in beta builds for the FR945, and likely soon the MARQ too. Whether or not it's accurate will vary (even Polar & Suunto admit it's a bit variable).
In the meantime, you'll need either the HRM-TRI or HRM-SWIM HR straps. These straps will capture data while swimming, and then download it after the swim to your watch, merging the data together.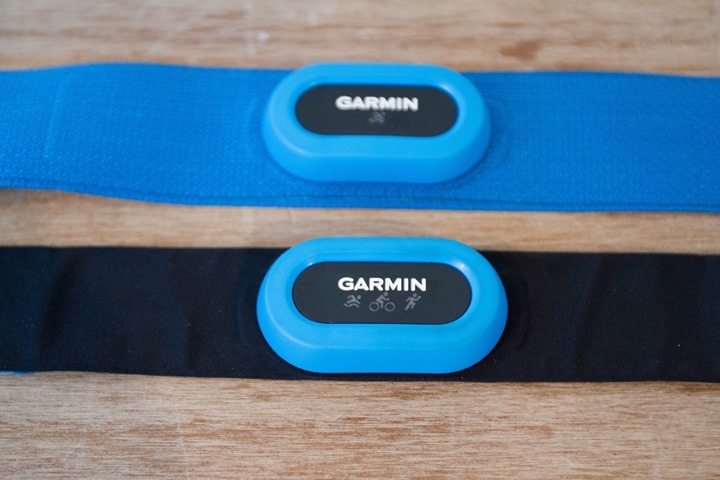 The HRM-SWIM strap is designed for pool swims (it has a sticky surface on the back that holds well for flip/tumble turns). The downside to the much larger blue HRM-SWIM is that it's not very comfortable out of the water, such as running. Whereas the HRM-TRI is designed primarily for openwater swims worn under a tri suit as it doesn't have the stickiness, but is more akin to a regular HR strap that feels normal when out of the water running or riding.
The catch with both straps is that you can't see your HR live in the pool, as the digital signal won't go through water (only analog signals will, and even Polar's latest Vantage series doesn't support that anymore).  The other catch to both straps is that they're ANT+ only, unlike the new HRM-DUAL strap that has ANT+ & Bluetooth Smart. So you're kinda in a pickle. Undoubtedly Garmin will eventually upgrade the HRM-TRI/SWIM with dual ANT+/Bluetooth, though it doesn't sound like that's going to happen immediately. Just sucks to buy something that's basically so limited. Though frankly, if you want HR data this season, you've really only got one choice.
Finally, I want to briefly touch on maps. I discuss this far more extensively in my Fenix 5 Plus review (mapping/navigation/ClimbPro section here), where the features/functions are identical. But, all MARQ units have detailed maps for the region they were bought in. So if you bought the unit in Europe, you'll have European maps, and in the US, North American maps. And so on.  These maps include digital elevation data as well within them.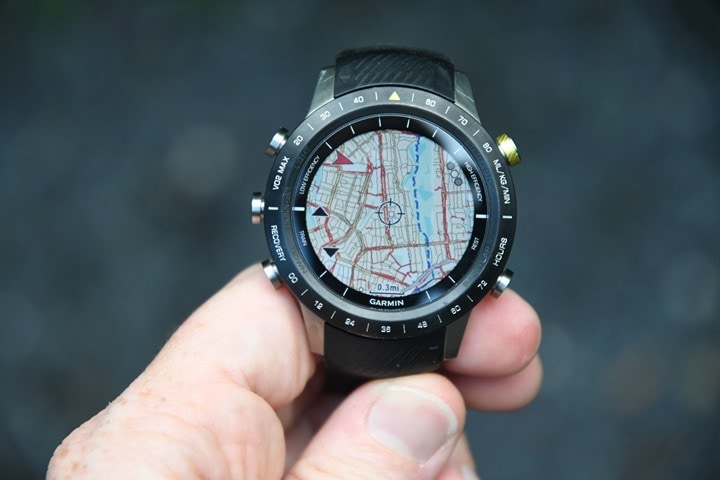 What's frustrating to me though is that here's MARQ at $1,500 and yet you still have to either pay Garmin, or go through the cumbersome process of downloading 3rd party maps for travel outside your region. I mean, this is a watch that's pitched at a person that is likely to travel internationally. And if you take a US watch on a European trip, those US maps are totally useless in Europe. Here was the one opportunity for Garmin to offer a singular and unique premium software feature on MARQ not found on the FR945 (which is 1/3rd the price), and they missed it.
You can move around the map using the upper right button, which iterates between zoom/pan/scroll. This allows you to both see the terrain around you, as well as navigate to points of interest or other places.  For example, there's a full POI (points of interest) database on the unit, so you can find nearby restaurants, monuments, lodging, geographic points, and a slew of other spots. Functionally this is useful if perhaps you're hiking and want to know how far it might be to a campsite or food, or to a given landmark.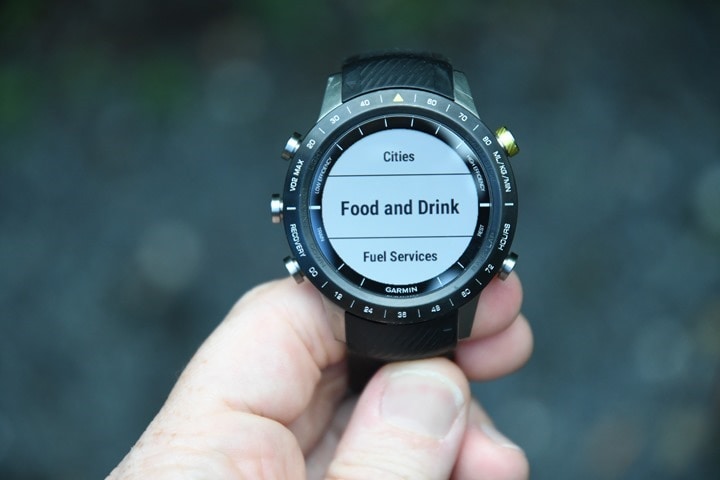 You can also create 'Round-Trip Courses' for both running and cycling that allow you to set a given distance and desired direction of travel (if you want) and it'll come up with a course using the internal heatmap data (aka 'Trendline Popularity Routing' data). It takes about 1-3 minutes (kinda a long time) and comes up with three differences courses. No internet connection is required for this.
Finally, you can follow any downloaded courses as well, using Garmin's new (albeit cumbersome and horrifically slow) smartphone course creator, or any other downloaded GPS files:
Once following these routes, you'll get instructions on when to turn, and when you're off-route. The value of having the underlying map data becomes clear when you're at an intersection of multiple trails and trying to have context of what's around you. Previously with a non-mapping unit you had breadcrumb trails but it was just over a grey background of nothingness. Now you can see that you're along a river, or going towards a mountain. Or just near a donut shop. Whatever's important in life.
Music & Garmin Pay: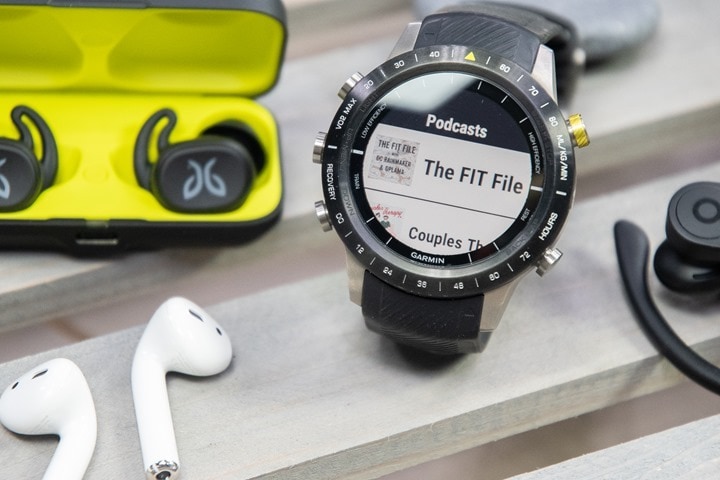 The MARQ Athlete includes both onboard music storage and Garmin Pay. The music bits can be used to store regular music files (like MP3's), but also to cache music from streaming services including Spotify and Deezer. This allows you to playback music to Bluetooth headphones without your phone. So you can head out for a run and listen to any cached Spotify (or other platform) music you've downloaded ahead of time.
I've detailed how music works extensively in numerous posts, and when it comes to the MARQ Athlete, it's all the same as Garmin's other watches (mainly mirroring that of the Fenix 5 Plus/FR945 variants). For example, if you want Spotify, here's an in-depth piece on how that works.
In my case, I largely used Spotify with the MARQ, since that's my primary streaming platform for the rest of my life. Setup only takes a few seconds, and then it'll allow you to choose which playlists, albums, or even podcasts to download.  Downloading occurs via WiFi, so you need to have that handy in order to get streaming music onto the device. Whereas for regular MP3 files you can drag/drop those on manually.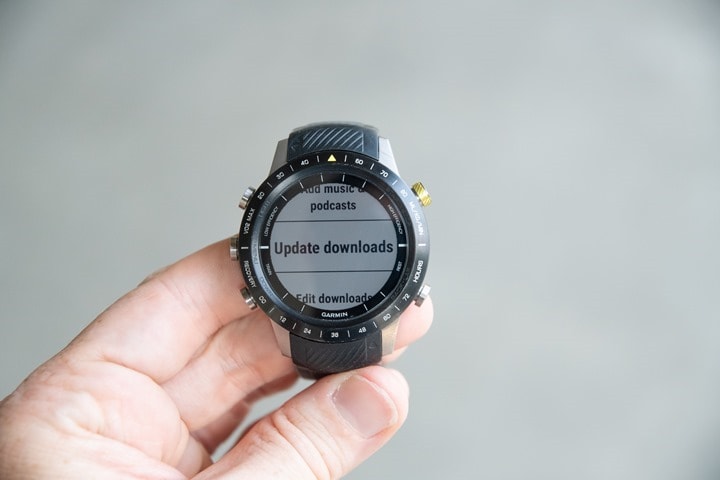 You'll need some sort of Bluetooth audio device to playback the music. There's no playback speaker (or microphone) on the MARQ Athlete (or any other Garmin watch for that matter). In my case I've used a variety of headphones including the AirPods, PowerBeats Pro, Jaybird Vista, and an older PowerBeats headphone. All of them have largely worked great for me.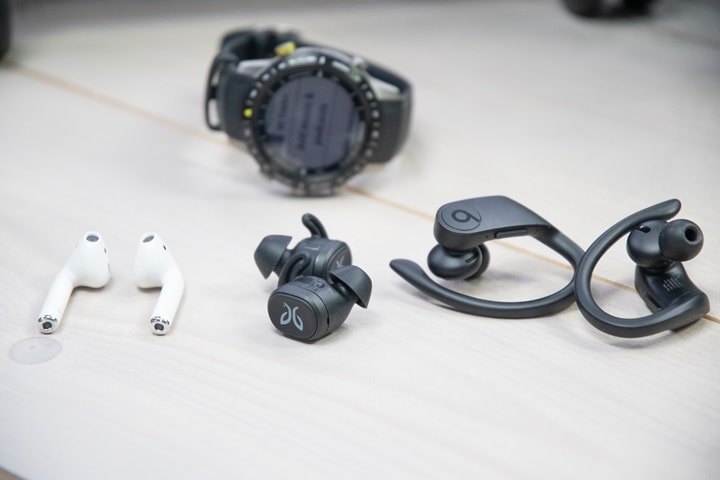 Garmin has made specific improvements around audio connectivity in each successive product since their first music-enabled watches in early 2018. So if the last time you tried music was on a Garmin Forerunner 645 Music, the company has learned a lot in that timeframe (just as Apple has as well around improving compatibility with things like the AirPods). Bluetooth connectivity between power-limited wearables has always been tough, but it's largely good and transparent on the MARQ series.
Playback is easy and you can do so from either inside or outside a workout, including music controls. Additionally, you can add in audio prompts/overlays for stuff like laps and heart rate alerts:
Meanwhile, on the Garmin Pay side, this allows you to load supported bank cards onto the watch and then simply tap to pay at retailers that support it. This isn't tied to Visa or Mastercard per se, but rather to individual banks that Garmin has set up ties with to load onto the watch. A few years ago this was fairly limited, but these days it supports most of the major credit card companies in the US, and many top international banks as well.  But it really varies by country. For example, all of my US credit cards are supported, but neither my French HSBC or Netherlands ING is supported yet. Full listing of banks is here (it changes often). Given ING just finally lit up on Apple Watch in the last month or so, I suspect we'll see it soon on Garmin too.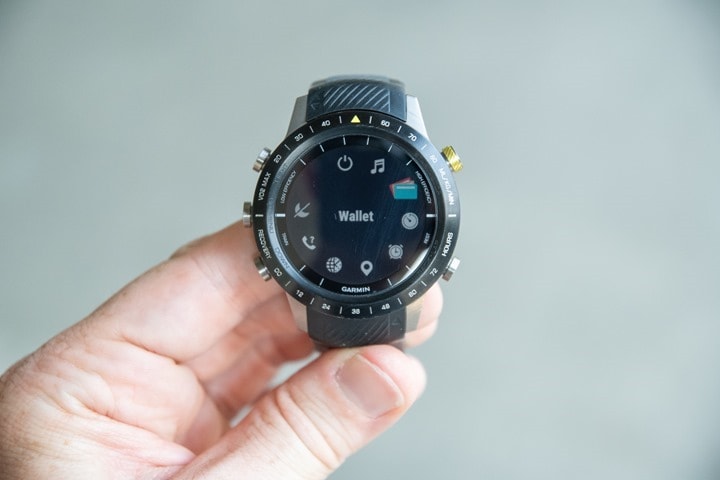 Loading up a card is pretty quick and easy, assuming your bank is supported. As part of loading it onto your watch it'll have you create a PIN. If you want to perform a Garmin Pay transaction it'll ask for your pin (just like it would on your phone).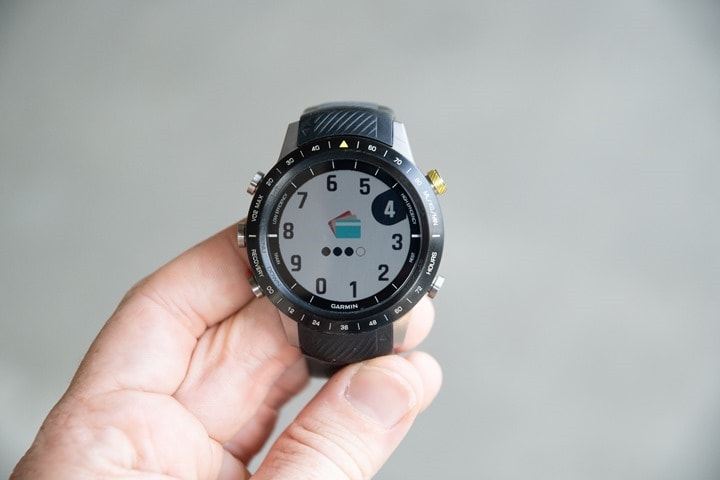 However, the watch is smart enough that once you've entered in your pin it'll save it for 24 hours as long as you don't take the watch off your wrist. In other words – the same as Apple or Fitbit. You can also create a hotkey shortcut to access the Garmin Pay menu more quickly if you want (by long-holding a given button of your choice). Once you've opened up the wallet/card it'll give you a timer to tap it on the payment surface.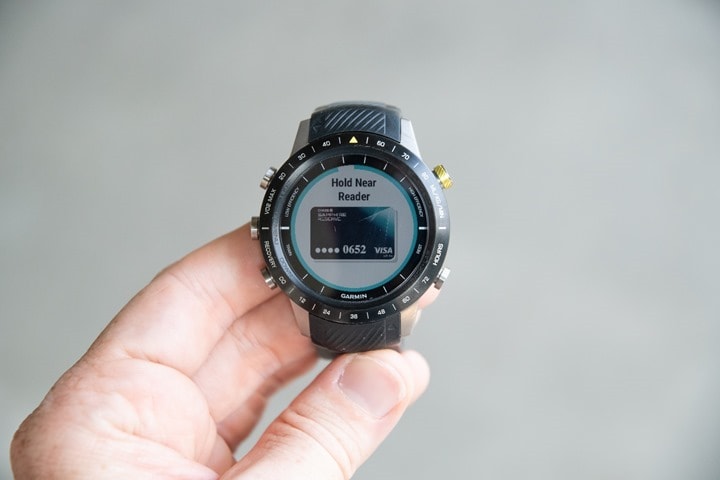 It'll complete the transaction in a second or two and then you're on your way. These days as long as the retailer supports contactless payments, everything largely 'just works', and that's true with the MARQ and payments as well.
GPS Accuracy: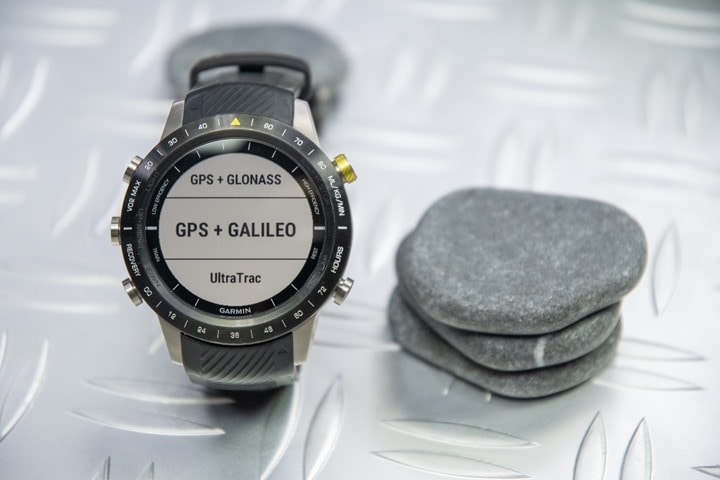 There's likely no topic that stirs as much discussion and passion as GPS accuracy.  A watch could fall apart and give you dire electrical shocks while doing so, but if it shows you on the wrong side of the road?  Oh hell no, bring on the fury of the internet!
GPS accuracy can be looked at in a number of different ways, but I prefer to look at it using a number of devices in real-world scenarios across a vast number of activities.  I use 2-6 other devices at once, trying to get a clear picture of how a given set of devices handles conditions on a certain day.  Conditions include everything from tree/building cover to weather.
Over the years I've continued to tweak my GPS testing methodology.  For example, I try to not place two units next to each other on my wrists, as that can impact signal. If I do so, I'll put a thin fabric spacer of about 1"/3cm between them (I didn't do that on any of my MARQ workouts).  But often I'll simply carry other units by the straps, or attach them to the shoulder straps of my hydration backpack.  Plus, wearing multiple watches on the same wrist is well known to impact optical HR accuracy.
Next, as noted, I use just my daily training routes.  Using a single route over and over again isn't really indicative of real-world conditions, it's just indicative of one trail.  The workouts you see here are just my normal daily workouts.
I've had quite a bit of variety of terrain within the time period of MARQ Athlete testing.  This has included runs in: Paris, Amsterdam, Kansas, Mallorca (Spain), Canada, Greece, California, and plenty more I can't remember at this point. We're talking nearly 5 months of testing.  Cities and countryside, mountains, trees and open-air. It's been everywhere!
All of the workouts you see here I did with Galileo enabled, mostly because I was curious how well it would perform, given it was new.
First up we'll start with a run through Amsterdam two days ago. In this rare case I only had a single other device, but I'm including it since it's only two days old and with this particular route it's silly easy to confirm where I was and wasn't from a path standpoint (versus hiking in the wilderness somewhere). Here's the full data set:

Things started off a bit rough for both watches. Somewhat unusual in this perfectly straight spot:

But they did settle out a few minutes later and straighten up:

Some 5-10 minutes down the road I entered Vondelpark, and the MARQ handled it OK. Not great, but OK I guess. The FR945 seemed to be having a bad day with anything resembling basic tree cover. You can see it continued to lose the plot and cut through trees and buildings. Note this was a super simple test with only a single watch on each wrist.

Now above you'll see that MARQ was hardly great. In fact, I wouldn't even grade this 'good'. I'd say it was more of a 'sigh'.
And as I continued towards the end of the park, the results from both watches were blah at best. This is the new Sony chipset at work here, and unfortunately what every GPS fitness company has gone to in 2019.

Sure, it'll get better, but this is also the reality too. Some days are great (as I'll show), and some days are crap, like above. And some days two watches using identical chipsets and near identical firmware on two different wrists produce dramatically different results for the same stretch of road as seen below:

Next, let's switch over to doing loops around in Newfoundland, Canada in the woods. These trees weren't crazy high or anything, but it's a good test of correct positioning nonetheless:

Now I know the above/below can be a bit hard to see, but the key thing to look for is the red line. That's not the MARQ, but the Polar. And it's always off in the trees. The MARQ and FR945 are actually largely on the trail or within a meter or two of it.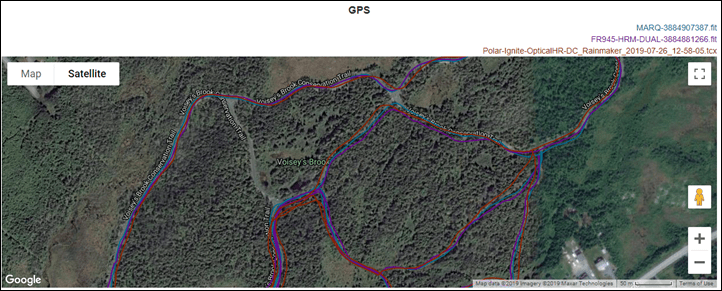 Though, all watches, including the Polar Ignite and MARQ did quite well on this brief out and back section when I left the woods and stumbled into a neighborhood. Including most notably staying on the outer edge of this cul-de-sac: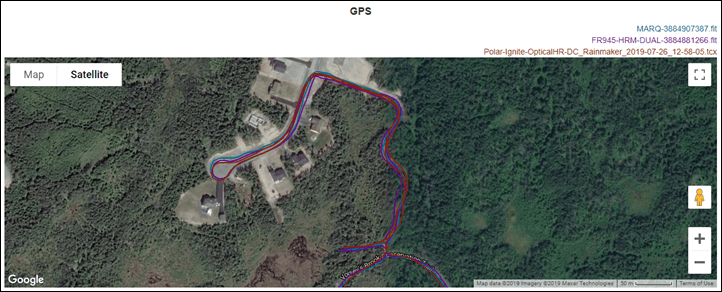 But I've actually got no complaints about the MARQ (or FR945) on this particular tree-laden effort.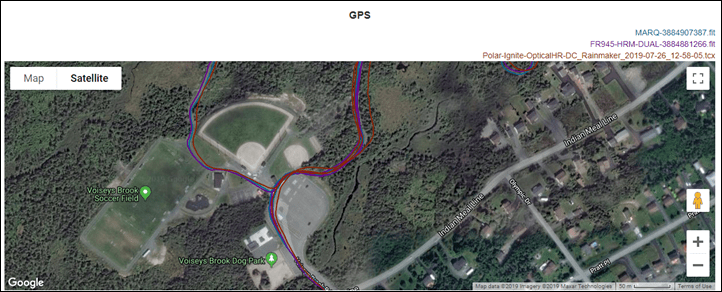 So let's zip back across the pond to Paris. Sure, this run was in early June and GPS has improved slightly since then. But still, it's not too shabby. This was against a FR945 and a COROS Vertix beta unit. The Vertix launch was delayed to deal with continued GPS accuracy issues, like this track shows.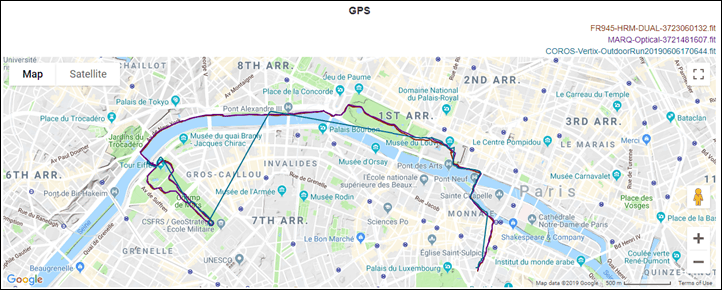 The MARQ (and FR945) handled the start of the run pretty well. This is a section I've run countless times down (and up) Boulevard Saint-Michael. It's not easy for GPS because it's only 3 lanes wide but has taller 6-8 story buildings on both sides. But the watches color in the lines: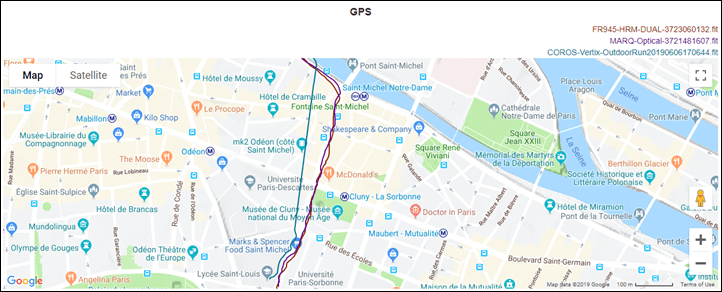 And in fact, the MARQ was the only watch of the three to correctly nail my actual route through the Louvre, including cutting through the tunnels in correct spots.
And the remainder of the run along the river was fairly good too (for both MARQ and FR945). As I neared the Eiffel Tower the MARQ was also the better of the two there as well. Minor differences, but technically more correct.

Now let's shift over to a quick ride. Well, a quick review of the ride. The reality is that for road bike riding most GPS units handle it fairly well, and this was no different. Here's that overview/data set: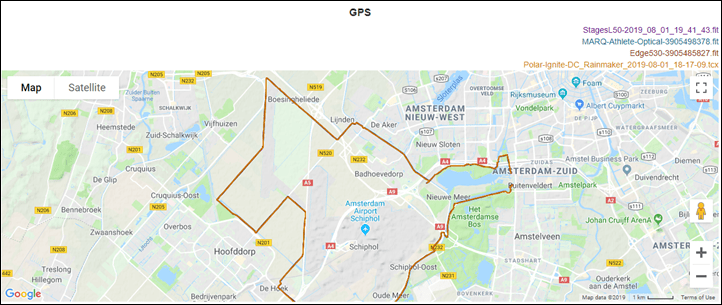 Zooming into some of the forested bike path section for the fun of it: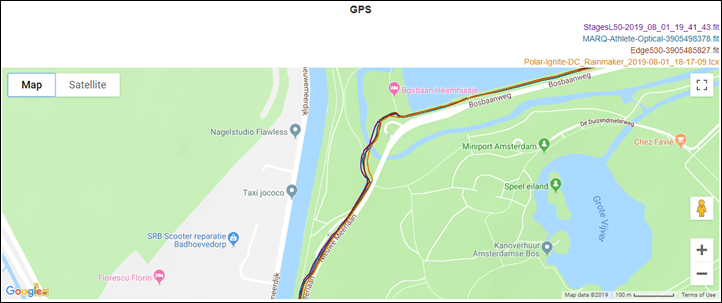 You'll see that the MARQ (along with the Edge 530 & Stages L50) do just fine. Whereas the Polar Ignite GPS cuts the corners a bit. Other times though all units easily make the corners, even under some relatively significant 4+ lane highway overpasses that this little zig-zag goes under.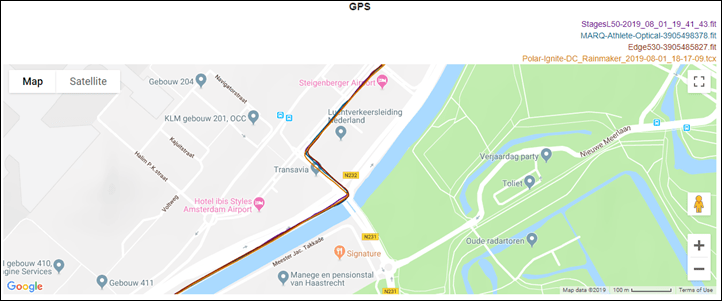 Ultimately, the MARQ GPS accuracy ranges between 'blah' and 'perfectly fine'. It just depends on the day, though sometimes less so on the circumstances. Sometimes I think that the unit actually performs better in harder spots (Central Paris), and then stumbles in easier spots like Vondelpark in Amsterdam. Then again, the same can be said for many GPS units.
The thing is that this point in 2019, everyone's going to be on Sony for new units. So anything announced in 2019 (and most things non-Garmin announced in 2018) are running the Sony chipset. Be it Polar, Suunto, or Garmin (I haven't seen anyone pin down what chipset Apple uses for the Apple Watch, but frankly it doesn't matter – GPS accuracy on land is worse there), you're gonna end up with a Sony chipset. And while all these companies are pressuring Sony to get better, the results are still kinda variable. There are good days and bad days, and there's not a lot we can do about that.
One can try and find whether Galileo or GLONASS works better for your routes/area, though I suspect we'll see Garmin shift their focus more to Galileo in the near to medium term, which should ultimately help across the board. I've used both modes and it's hard to see a specific pattern at this point.
Note that I did have one epic openwater swimming failure back in May, which ultimately was a core driver for this post. Garmin says as of last week they continue to make progress on openwater swim across all units, with another openwater swim focused GPS beta due in the next week or two. They say they've been sending out lots of employees into the waters around Olathe to constantly test and try and eradicate the issues I and others have had. And for my part, I've lucked out on recent MARQ swims with them actually nailing it (really well).

With the openwater swim issues, it's either zero or hero. Literally. Either you'll have a great GPS track or you'll record virtually nothing (as in, like a few dozen meters). There's no in between. While Garmin has said they wanted to solve this by the end of June initially, I think the more realistic timeframe is the end of 'summer'. Either way, we'll see.
(Note: All of the charts in these accuracy portions were created using the DCR Analyzer tool.  It allows you to compare power meters/trainers, heart rate, cadence, speed/pace, GPS tracks and plenty more. You can use it as well for your own gadget comparisons, more details here.)
HR Accuracy: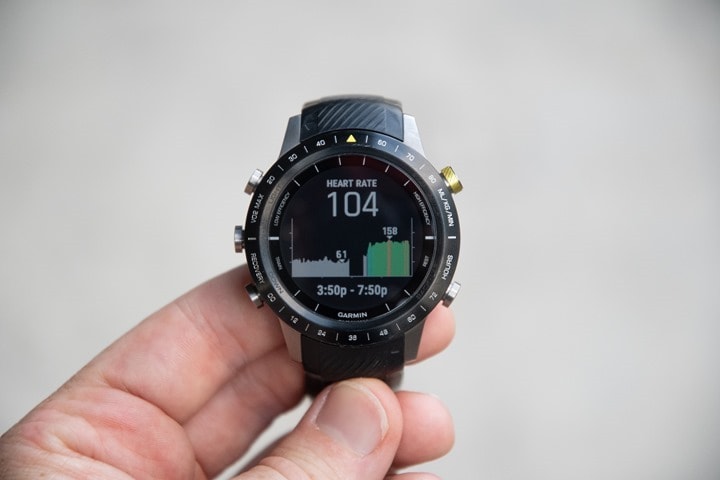 Before we move on to the test results, note that optical HR sensor accuracy is rather varied from individual to individual.  Aspects such as skin color, hair density, and position can impact accuracy.  Position, and how the band is worn, are *the most important* pieces.  A unit with an optical HR sensor should be snug.  It doesn't need to leave marks, but you shouldn't be able to slide a finger under the band (at least during workouts).  You can wear it a tiny bit looser the rest of the day.
Ok, so in my testing, I simply use the watch throughout my normal workouts.  Those workouts include a wide variety of intensities and conditions, making them great for accuracy testing.  I've got steady runs, interval workouts on both bike and running, as well as tempo runs and rides – and even running up and down a mountain.
For each test, I'm wearing additional devices, usually 3-4 in total, which capture data from other sensors.  Typically I'd wear a chest strap (usually the Garmin HRM-DUAL), as well as another optical HR sensor watch on the other arm (primarily the Polar OH1+, but occasionally the Wahoo TICKR FIT, and Scosche 24 too).  Note that the numbers you see in the upper right corner are *not* the averages, but rather just the exact point my mouse is sitting over.  Note all this data is analyzed using the DCR Analyzer, details here.
Note that while I've been using the MARQ Athlete since late February, I'm mostly going to use the most recent data in this review – since that's the firmware that it's currently on and the production firmware that real-world people are using. So let's start with my ride from last night. Simple road cycling prior to sunset around the countryside with a friend. Nothing crazy intensity or temperature-wise, just a nice ride. Data set here.

That teal line is the Garmin MARQ. It's the one that sticks out the most as least like the others. The others being the Garmin HRM-DUAL chest strap, the Polar OH-1 Plus optical HR sensor, and the Polar Ignite GPS watch (with optical HR sensor). That said, cycling outdoors is typically one of the most challenging things for wrist-based optical HR sensors, primarily in any shifts in intensity.
And that's what we see above/below. During relatively steady-state time (the vast majority of the workout), the HR's are nearly identical. But in cases where I shifted intensity, that's where things are delayed or otherwise fall apart. And you can see that below in this zoomed-in section where we were shifting intensity a bit and things went askew.

But the vast majority of the ride things were generally within 1-2BPM of the rest of the sensors.

What happens though if we slide indoors and get rid of the wobble of outside roads? Ask and you shall receive. Here's an indoor trainer workout from Wednesday where it was basically just put one's head down and pedal through the intervals. Data set here:

You can see the MARQ stumbles briefly at about the two-minute marker, but then is mostly pretty good. There's a point around the 15-minute marker where I do a calibration (which requires my hands) that causes the MARQ some confusion. But by and large it handles things pretty good. Even the harder intervals it nails:

Ultimately, I don't really have much in the way of complaints above.
Next, let's transition to a run from two days prior, this one around Amsterdam. Again, nothing too crazy here either, though it was raining buckets out. Usually rain isn't an issue for optical HR sensors (whereas swimming can be). Here's that data set:

The above was a relatively steady run, and you can see that for the most part things were fairly good. A bit of wobble around the 26-30 minute markers though, where we see some moderate separation from reality.

To the best of my knowledge I wasn't doing anything funky here, since at this point my camera battery has sadly long since died. There's no real good reason for the separation. Though, I suspect the reason is more simple: The MARQ is a heavy watch, and as such it 'bounces' a bit more – even when nice and tight and snug. Universally heavier watches (be it Garmin, Suunto, or otherwise) do more poorly with optical HR sensors on the wrist than lighter watches. A well-established fact. And there are elements of that likely shining through here.
Still, let's shift to a nice interval workout. This one's got some great data against the Polar Ignite GPS watch, Polar OH-1 Plus optical HR sensor, and the Garmin HRM-DUAL. Here's the full set:

As you can see, everything starts off fairly good. A nice steady build, and in fact I'd argue the MARQ probably nailed this the most correct out of everyone:

After that point, all the watches easily handle my gradual build period. No issues. As I go through some initial casual intensity shifts, we see the MARQ lag a little bit compared to the rest. Just a couple seconds, and something you'd be unlikely to notice if just carrying a single device.

This is a pattern we'd see continue slightly into the first interval, though the unit mostly nailed the 2nd/3rd/4th intervals. So not too shabby actually.

As I shift into some 60-second long intervals below you'll see that the MARQ does lag a few seconds, though so do the other optical HR sensors. Only the traditional chest strap HRM-DUAL didn't have any lag. That's not super unusual, but it's not always the case either. Just sorta depends on the day. There are plenty of cases (especially in cooler/dryer temps) where an optical HR sensor will handle better.

Ultimately though, I suspect most people wouldn't have noticed any differences between MARQ and their regular HR sensor on this interval run. And it's pretty unlikely any coaches would have well. A few seconds delay isn't something that really matters for HR to most people. What tends to matter is major misses and spikes/dropouts.
Essentially the MARQ follows along with most of Garmin's other wearables. I find it generally fine for me (when worn correctly) for most runs, even intervals. Whereas I find for outdoor cycling it's usually non-ideal, and for indoor cycling it's mostly OK. This rough overview hasn't really changed much for Garmin in the last few years. But they do make progress on it each year. Fixing an outlier here and an outlier there, slowly but surely making it better. Which is probably why I'm able to run intervals with the Garmin ELEVATE V3 sensor (used in MARQ) now, whereas that wasn't always the case a few years ago.
Product Comparison:
I've added the MARQ Athlete into the product comparison tool, which allows you to compare it against any watches I've reviewed to date.
For the purposes of the below table, I've compared it against the existing Fenix 5 Plus, Forerunner 945, Suunto 9 (I thought about adding the Polar Vantage V, but looks wise it's not really competing here). Realistically though, my tables don't capture data points like 'swanky band' or 'fancy looking bezel'. So looking purely at this chart you'd come away with the (mostly correct) impression that there's no difference between a FR945 and a MARQ Athlete watch.
Still, from a features standpoint you can easily mix and match against any other products within the database here, by creating your own product comparison tables.  Note that in some cases nuanced features (like being able to calibrate altitude based on the map DEM data), doesn't really fit well into product comparison tools designed to host hundreds of watches (when only a single watch has it).
Remember, you can mix and match and create your own product comparison tables here, for watches not seen above.
Summary: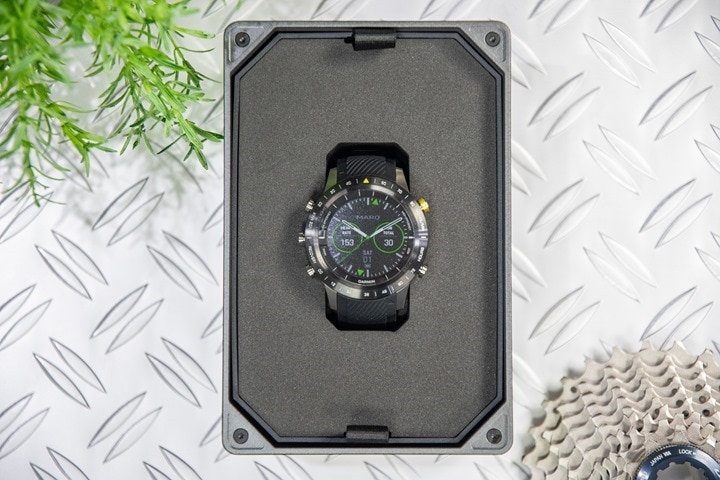 Here's the thing about the MARQ series: Either you think it's a silly waste of money, or you think it's perfect for your wrist and lifestyle. There's likely little chance anyone is going to shift someone from one camp to another. And that's perfectly fine. There's no reason to belittle opinions in either camp. It is what it is, and like it or not – there's definitely a market for such a device. Whether or not Garmin can sort out how to tap into and address the needs of that market is frankly more the question.
From a functional standpoint – the MARQ Athlete has largely been working great for me these last 5 months. Perfect though? No, definitely not. But pretty darn good. Certainly as good or better than any other sports-focused watch on the market. It's had its trying moments earlier on, and continues to in certain areas (such as openwater swimming that Garmin says they're still working on), but for the bulk of what I do day to day it's working great for me. Would I personally buy this watch over the FR945? Honestly, I'm not really that customer. There's nothing wrong with this watch at all, it's just that for me personally I'd rather spend that extra $1,000 on a new camera lens or weekend in the south of France. To each their own.
I do think Garmin needs to do more to differentiate this product from others in their lineup. They needed take features 'away' from the Fenix series or the higher end Forerunner's, but they can find ways to go the extra mile. The mapping I mentioned earlier is a great example of that. For this market and this price point Garmin should absolutely be providing detailed maps globally included. It shouldn't even be a discussion point, it should just be there. Find a reason, a draw, for someone that's teetering between the Fenix series and the MARQ series to just press the easy button on MARQ. Right now, that draw evaporates after we talk materialistic differences.
Ultimately, I'm curious to see where and how Garmin treats the MARQ product line. Will they follow a roughly every 14-18 month refresh cycle like Fenix series? Or will they do the 'Shrug, eventually' update cycle of Chronos? If Garmin wants to carve out a niche following of people at this price point they're going to need regularity and draw. As I said above – there's absolutely a market for this device, and they've got a good device to address it, but it's up to Garmin to figure out how to capture it.
With that – thanks for reading!