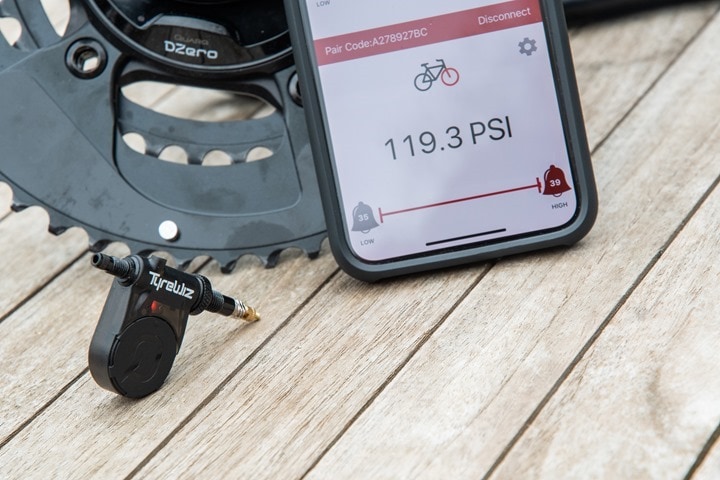 Today Quarq announced their latest creation – the TyreWiz, which monitors your tire pressure on your bike.  These small sensors attach to Presta tire values, so basically most bike tires that this target market would care about (mountain, road, fat bikes).  From there the unit then transmits your tire pressure second by second to your head unit, be it a Garmin device or a Wahoo ELEMNT/BOLT, or even just your phone.
I've been trying this out for the last week on my rides, and have come away pretty intrigued. So I figured I'd dive into all the details on how it works, and perhaps more interesting how I think it could be leveraged down the road.  Since it's not a super complex product, I'll try and keep this post as streamlined as possible.
The Tech Details:
The TyreWiz kit comes with two sensors in the box, for your two wheels.  In the event you have a single-wheeled contraption (looking at you, Ed), you'll be able to equip two such contraptions.  And if you have a three-wheeled device…well, so does my 1 year old (just kidding).  There isn't a one sensor version of the package, which makes sense because monitoring only one of your two wheels doesn't really make a lot of sense.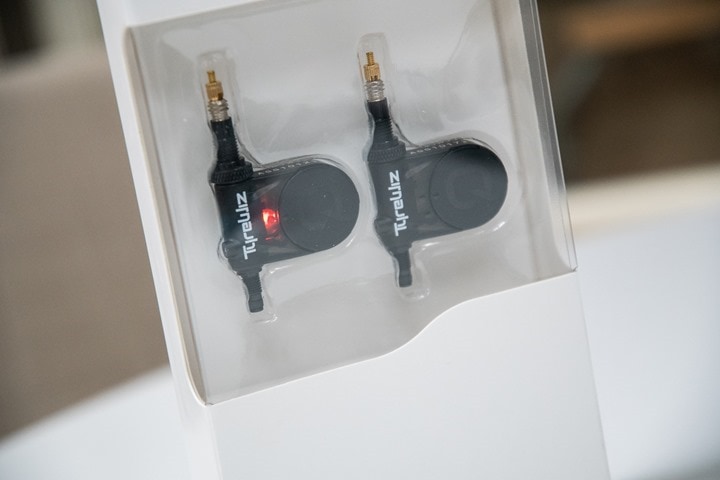 Within the box is a somewhat important tool, the valve stem removal tool.  This tiny little doohicky allows you to twist out and remove your valve stem. Of course, removing valve stems is hardly new, so if you lose this little thing you can use a wide assortment of methods on YouTube with varying degrees of success.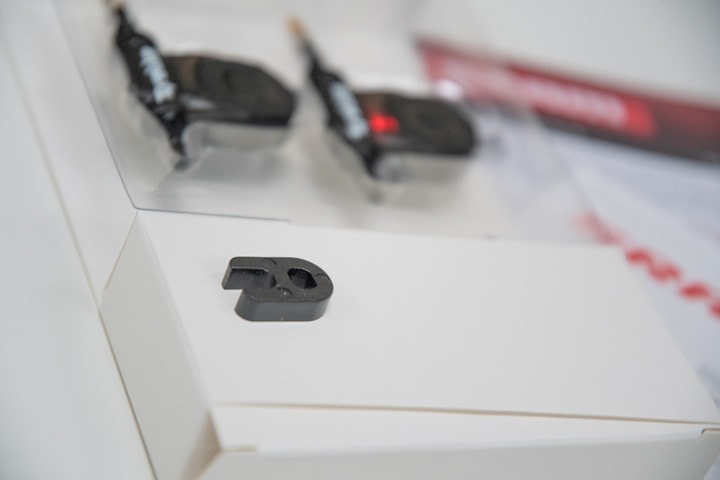 Which gets us right to that stage – removing the valve stem from your tubes. First, let out the air in your tires, or at least, some of it. I found out interestingly that if you don't do that and remove the valve stem that your valve stem will eventually depart the bicycle with the speed and fury of a Falcon 9 rocket. It's impressive actually, it left the kitchen and shot about 8 meters away down a hallway.  Ignoring the rocket-assisted removal, the process to take out a valve stem only takes a few seconds.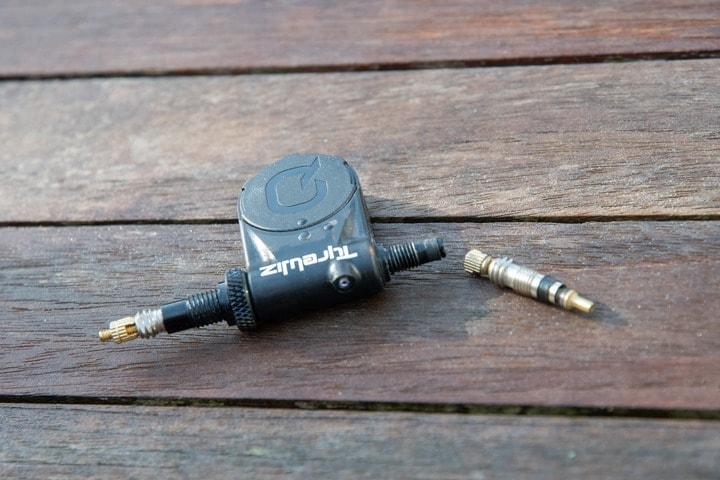 Once it's removed you'll take one of the TyreWiz pods and twist it back on the valve. This will take a long time, perhaps 3-4 seconds, maybe 5 seconds if you want to ensure it's perfectly aligned.
After which, you'll go ahead and pump up the tube like you normally would. The top of the TyreWiz is identical to the valve stem that you just removed, so it's just like normal there.  Note that you don't utilize your old valve stem in this design. Obviously, you probably want to keep it in your toolbox somewhere in case you remove the TyreWiz devices (especially if you have fancier tubes that cost a bunch).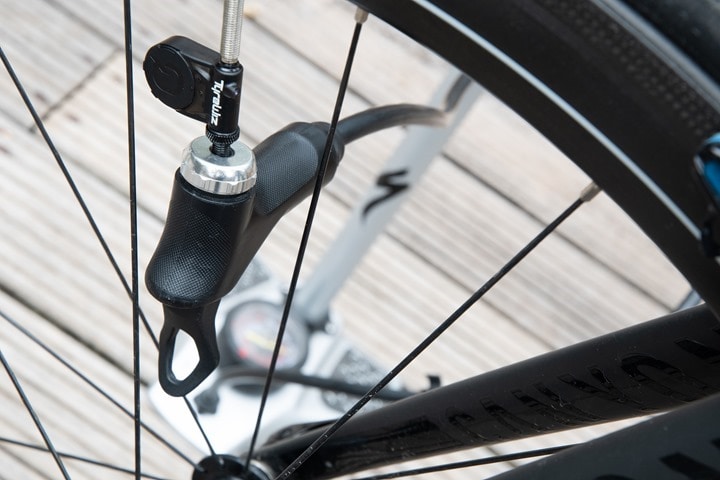 The battery is a CR1632 battery that they claim will last about 300 hours of use. Also, it's IPX7 waterproofed (so 30 minutes at 1-meter depth), and the weight is 10g each.
Next, you'll want to get it paired up to the app. Technically speaking this isn't required if you just use Garmin/Wahoo devices to view the data, but the app allows you to set 'ranges' for acceptable tire pressure for your wheels.  So without that configuration you'd just get the straight tire pressure.
On the Bike: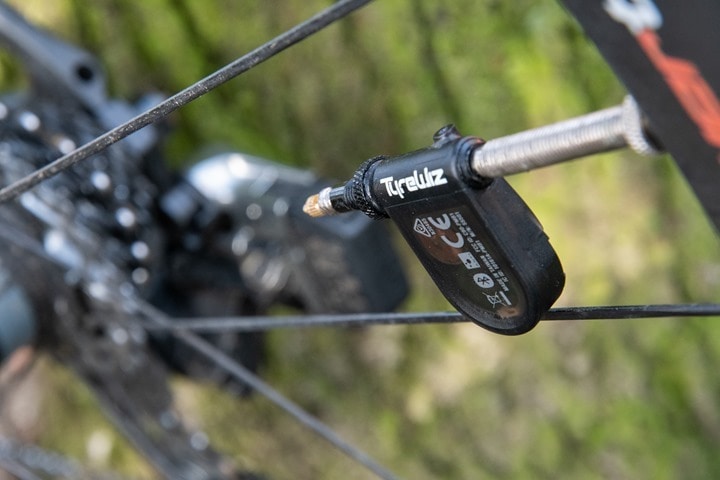 Pairing to the mobile app is super simple, you just crack open the app and then spin the wheel to wake up the sensors. From there you'll see the app has both a front and rear wheel section, where you'll pair each one individually.  Oh, and the pods can have their firmware updated too.  You may even notice that the units can be paired via NFC as well.
The actual ID of the sensor is etched into the side of the sensor, making it super easy to figure out which is which.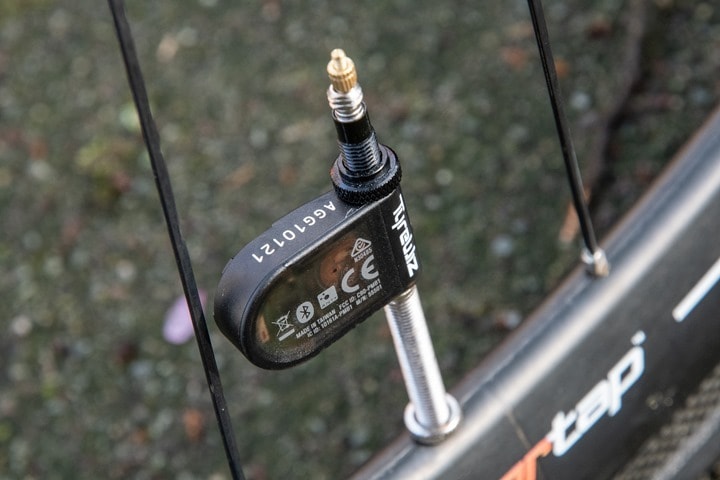 Next, you can configure your weight and tire size, which will then give you suggested tire pressures.  Of course, tire pressure is a super religious thing like tater tots vs onion rings – so this is just a suggestion, not a mandate. You can override it as you see fit via the app, specifying the ranges you want.  These ranges then allow the data field, later on, to show when you're above/below what you've specified.
With all that setup, you'll likely want to get things cookin' on your head unit.  Now I've consolidated everything into a single video, so you can see what it looks like from setup to out on the road here:
For now, I'm using a Garmin with it (for the simple reason the Wahoo firmware beta build isn't quite ready yet, as soon as it is, I'll include it here).  In the case of Garmin, you're downloading their Connect IQ data field, which is compatible with just about every Garmin Connect IQ watch/head unit you can think of.  In my case, I used it on an Edge 1030, Edge 520 Plus, and Edge 520.  No issues with any of them. The data field simply shows your tire pressure for both wheels.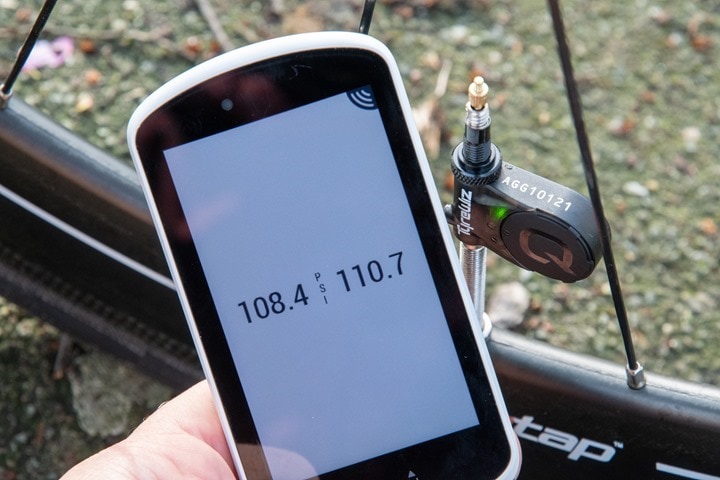 If you've setup ranges, then it shows that information as well by highlighting when something is out of range: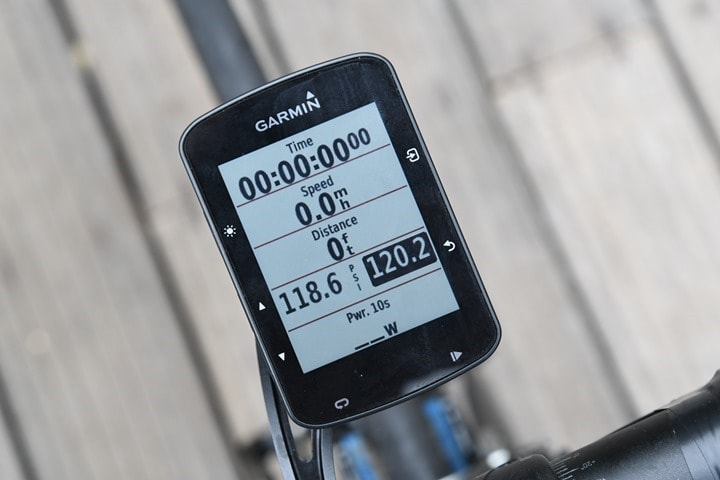 I'd like to say there's more to show here, but honestly, that's it. It just shows your tire pressure in real-time.  It's instantaneous though, in fact, you can see this when pumping up a tire, as it responds instantly to each pump. Super cool (you can see that in my video).
Also note that via the app you can change how you'd like tire pressure to be shown – including PSI, BAR, and Kpa.
Now, behind the scenes, it's also recording your tire pressure into the .FIT file, so that it shows up later on Garmin Connect, as well as for 3rd parties to access.  The earlier beta Connect IQ apps I was using didn't have the code to write to the .FIT file, so I can't show you that today. I got the updated beta app about the exact same time I boarded the plane to the US on Monday.  But the good news is I'll be giving these a whirl mountain biking over the next few days at Sea Otter, so I'll share some data there and post it here. Also note that there is an ANT+ Tire Pressure device profile in the works, making it such that this kind of data can be better standardized.
Further, Quarq says that their Qollector unit now already supports this, enabling you to transmit that data in real-time to others watching over you (or, just recording the data).
Oh – about accuracy.  The unit claims "+/- 2% accuracy at .1 PSI resolution".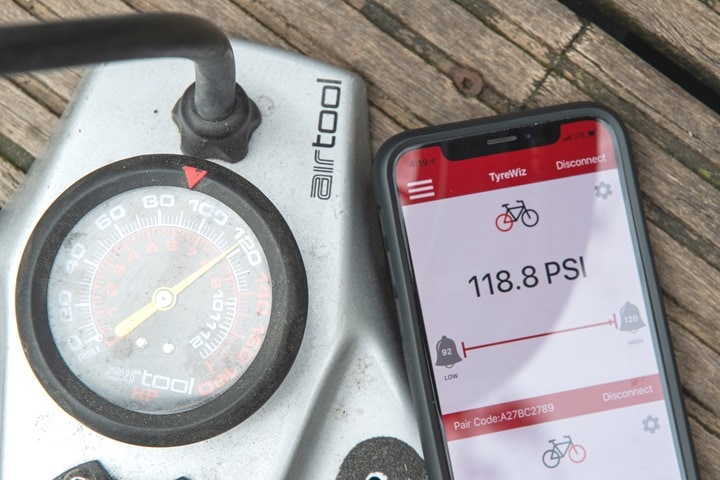 While I can't speak to the accuracy of my bike pump (some sort of Specialized model that says 'Airtool' on it), the two matched almost perfectly, within 1PSI, the entire time.
And finally, just to be super clear – this works with mountain bike tires: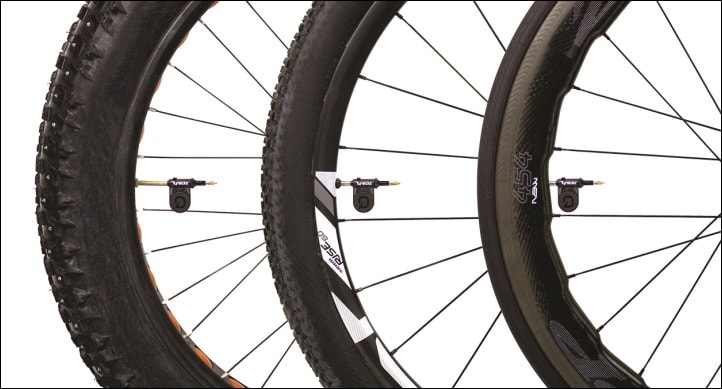 Above is some imagery from Quarq showing that, but I'll capture my own photo goodness tomorrow when I steal someone's mountain bike at Sea Otter.
Wrap-up: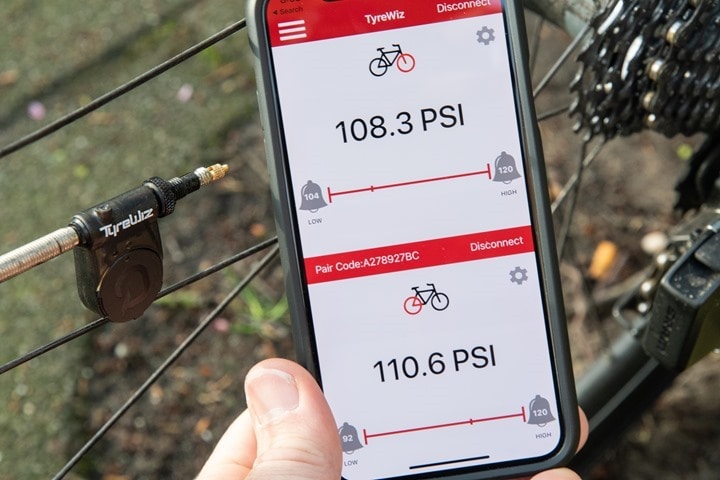 There will undoubtedly be some that say that spending $199 to know if you've got a flat tire is silly. And, I probably wouldn't disagree. As I noted in the video, I think the sweet spot for this device is $99 for the pair.
That aside, I think there's some really fascinating data to be had here.  Both in the real-time sense, but also in the historical sense.  Sure, knowing whether I've got a slow-leak in the middle of an Ironman is hugely valuable.  And after you've spent thousands of dollars to get to that 'A' race, another $200 that you'll use for years probably isn't horrible.
But I'm actually more interested in the trending data that you can develop with it.  For example – what do tire pressure trends look like on a hot day versus a cold day?  How quickly does tire pressure decline on rough roads versus smooth pavement?  How does that differ between mountain biking versus road biking?  If I leave my bike sitting in my garage, how much does the tire pressure decline each day, exactly?
Speaking of precision – exactly how much air/pressure do you lose when you take the pump off the valve and you hear that air spit out? The answer as I found out: Almost nothing, well under 1PSI (I suspect the air you're hearing is actually from the pump, not your tire).  I used the app to figure this out.
I should also note that Quarq isn't the first looking at this space, in fact, 4 years ago I showed a prototype at Eurobike from Lightweight. And last year at Eurobike, Hutchinson also showed a prototype. Neither though have brought a product to market that's ready to buy and about to ship.
In any event – I'm looking forward to collecting data over the next month or so to answer some of these questions, which I'll include in my full in-depth review once the device starts shipping sometime later next month.  Plus, by then I'll hopefully be able to test the Wahoo implementation as well.
With that – thanks for reading!
—
Update: You can now order the TyreWiz from Clever Training. In doing so you help support the site, plus, you can save 10% via DCR Coupon Code DCR10BTF, as well as get free US shipping.  Enjoy!